Samsung Galaxy S10 Rumours
Release Dates, Innovations, Colours...
Only you know what you expect from Santa, yet what we all expect once the Christmas craze is over is well-known - Samsung releases its new flagships from the S-series at the beginning of 2019.
While this South Korean company is wrapped in a veil of mystery, the curious public has been constantly releasing new hints and guesses. So, what we hope for are three new models from this series.
The colours might have already been introduced by the company earlier but we cannot be sure - we can only rely on what we have heard and make our own assumptions.
But what we definitely hope to see on the new models are innovative technologies, improved cameras and brand new designs.
Having that in mind, you would probably have to put some serious money aside if you prefer to own the highest-end model, while the most "basic" option might have a more reasonable price.
When to Expect The New Samsung Phones
The release date of Samsung's new flagships might be one of the most assumed facts on the World Wide Web lately.
What is most probable is that they would come out in the first quarter of 2019 but nobody can be certain if it's going to be for the Mobile World Congress in Barcelona in February or some time earlier.
Though there are some guesses that the release date might be in early January, the highest odds are on the 24th February 2019 (the day before MWC starts).
What's Beyond? A New S-series?
Known under the code names Beyond 0, Beyond 1 and Beyond 2, the flagships from the new series are assumed to be the successors to the Samsung Galaxy S9 models.
That is why it is most probable for Beyond 1 and Beyond 2 to be named Samsung Galaxy S10 and Samsung Galaxy S10 Plus (or S10+).
Beyond 0, however, is considered to be a whole new unprecedented device with a possible name Samsung Galaxy lite. But since it hasn't got an older brother, it is hard to say.
Galaxy S10 Models Introduce Some Incredible Innovations
Some of the rumours found on the web state that the new Samsung phones might come in two dimensions: Beyond 0 and 1 might be 5.8 inchers, while Beyond 2 might come with a 6.2-inch screen.
On the other hand, there are some assumptions that all three models will house a different size screen and the highest-end model might be as large as 6.4-inches.
It is almost certain that the Plus model is going to house a triple lens kamera, even the S10. The other set of guesses, however, is related to the camera array. Though some say that at least one of the new models might have up to 6 cameras, four rear and two front-facing, some set their hopes on as many as three, some even two, rear cameras.
When it comes to the front camera position (since selfie camera is what matters), it is believed that the cut-out would stay since the new screen will be notchless and with minimal bezels.
There are also doubts about the phones' scanning systems. While it is almost certain that they will feature an in-screen fingerprint scanner, the enthusiasts go one step further assigning an ultrasonic scanner feature to the Beyond 2 model.
This innovative technology enables capturing 3D pictures which makes it one of the most progressive mobile features.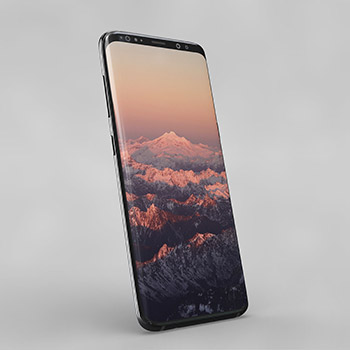 Now You Can Pick The Colour
Some time ago on the Samsung Developer Conference we have witnessed the presentation of the company's revolutionary foldable phone which might have revealed the colours the new S-series might be made in.
Demonstrating their new Android interface feature and its adaptability to the back of the phone, the company showed prototypes in black, silver, blue, green and pink. However, the presentation does not clearly show which Samsung phone model is in question.
Those who look on the bright side, though, add white and even yellow to this list.
Coming what may, we definitely have a lot to look forward to. For how long? Not too long anyway.
Don't just sit there waiting, however - visit our online shop and get some new phone accessories for any new version of Galaxy. MyTrendyPhone already offers a vast selection of Samsung Galaxy S10e accessories, Samsung Galaxy S10 accessories and it's highness' Samsung Galaxy S10+ accessories.