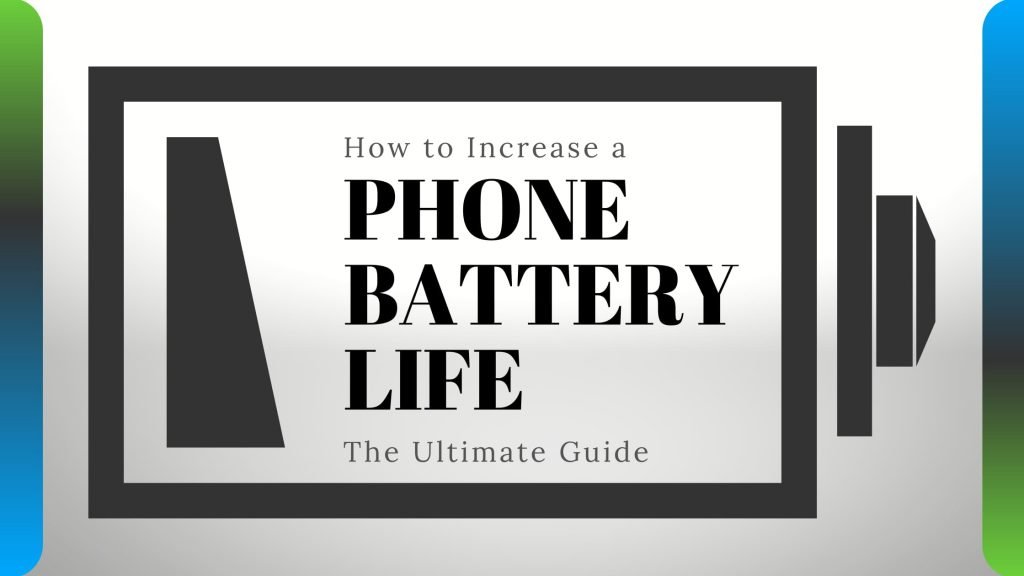 Has your mobile phone ever shutdown because its battery died? Your smartphone promised you that its battery can deliver the necessary peak power but still failed you?
Smartphones are more than just an essential gadget to stay connected. While the latest Androids and iPhone models have many waiting in line for them, how to increase battery life remains the main concern for many users.
Gone are the days of 2G mobile phones that gave you days of battery life. Those were the days when your mobile phone was nothing more than a straightforward and convenient communication gadget.
In today's world, your mobile phones do more than send and receive calls and texts! They have become your on-the-go office and school, favourite books, mini-cinemas, thrilling gaming gizmos, bridges in long-distance relationships and more! But all these features and capabilities require energy that comes from your smartphone's powerhouse, its battery.
In our blog post, we will answer some of the most commonly asked questions regarding mobile phone batteries and how to get the most out of them.
Let us dive right in!
It's Not Been Too Long Since I Bought My Mobile Phone
You are keeping your mobile phone spick and span, regularly updating its operating system and avoiding using any heavy battery draining application. Yet, the battery capacity seems to not be at the same level as before when you first purchased your smartphone.
So, you must be thinking, "How long does the phone battery last?"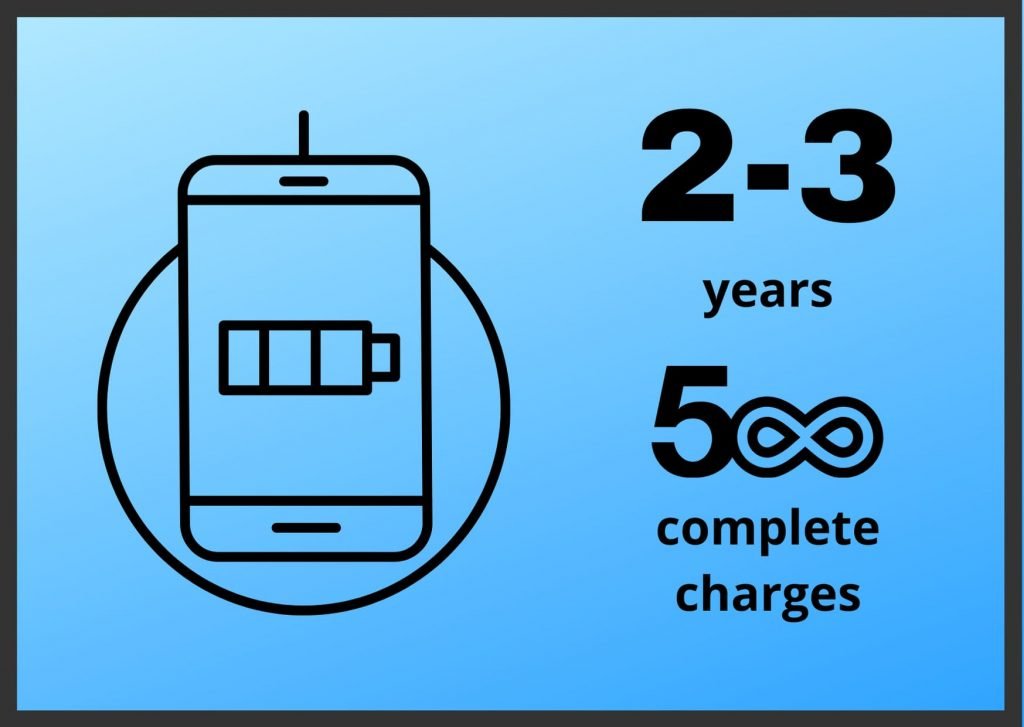 On average, most smartphone batteries should last you two to three years. It should be able to deliver a minimum of 500 complete charges. However, this estimation will vary depending on mobile phone usage.
Modern mobile phone batteries are designed to retain as much energy as possible. On the other hand, as you continue to charge and use the battery for your smartphone activities, it degrades with time, and battery life reduces. This decrease in battery capacity is unavoidable.
Phone batteries, like all technologies and everything else about life, have their functional lifespan. Once it reaches its limit and battery health is significantly degraded or it even experiences an unexpected shutdown, it is time to replace your smartphone battery or even get a new smartphone.
However, sometimes your smartphone's battery zaps out, without you using it to such an extent, within the first year of buying it. In that case, it is quite possible the phone battery is defective, and you need a battery replacement service.
I Haven't Been Using My Phone as Much, But the Battery is Draining!
As we have mentioned above, if your phone battery is draining suspiciously quickly within the first year of purchase, you have been likely given a defective product. In these cases, if you have a valid warranty or guarantee card, you can take advantage of them.
However, a defective battery may not be the cause, or at least the only cause, as to why your phone batteries are dropping in their battery level. We cover some of the common reasons why your phone battery may be draining, below.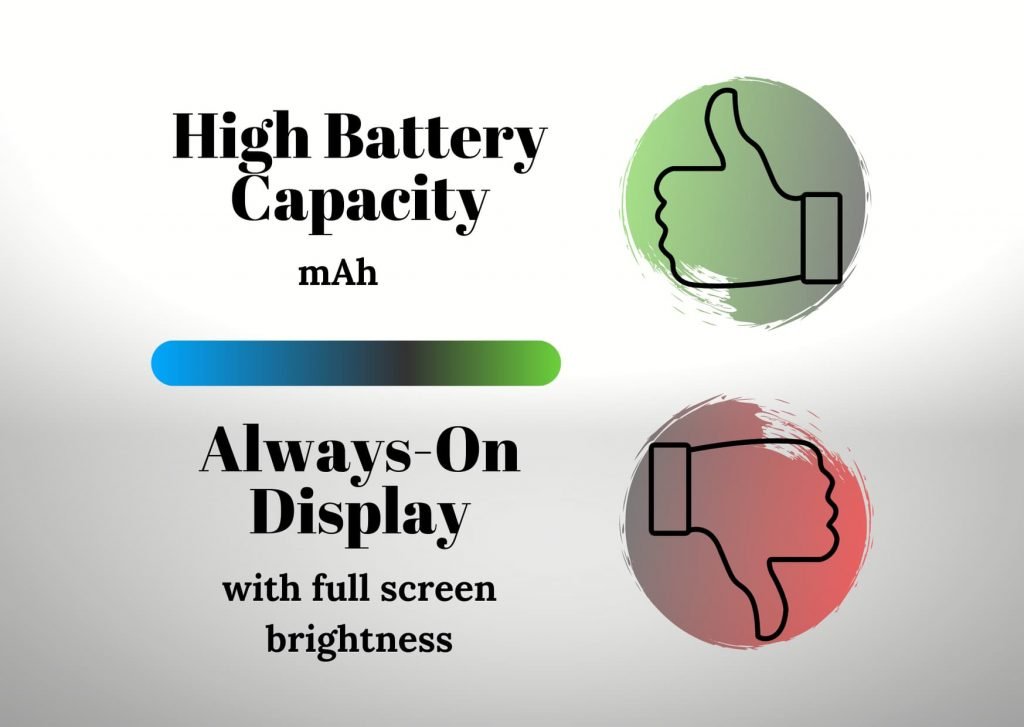 High Battery Capacity – Size Matters When It Comes to Batteries
When purchasing a new smartphone or even a second-hand phone, most people these days tend to prioritise the appearance and camera quality. However, the battery size is the one thing that determines how long you get to enjoy all the features of your new purchase in a day.
Smartphones like the Samsung Galaxy S20 Ultra and the OnePlus Nord N100 come with a monstrous 5,000 mAh battery units, which in comparison to the 3,687mAh phone battery of the latest Apple offering, iPhone 12 Pro Max, technically, gives you more battery life.
Have you wondered why your previous smartphone's battery was unable to deliver like your most recent purchase? It could be most likely due to the difference in battery sizes. A phone battery with high capacity will allow you more usage between charges.
All Things Bright and Power Consuming
It does not need to be said, but, your mobile phone's display is the top component of your device that hogs all that power.
For touchscreen mobile phones, displays are the primary method of interactions with all its features. Hence, given the amount of time they stay turned on, it is a no-brainer that they consume quite a bit of your battery's energy.
There are different aspects of the display screen that contribute to power consumption. We have summarised them below!
Your preference for the screen size of your mobile phone does influence the battery consumption. Whilst larger displays make them an excellent choice for those that use their smartphones for gaming and watching videos, it also requires more power to light up because of the large surface.
However, most large-screen mobile phones also come with a larger battery. So, power usage may be relative.
You want a display screen that beautifully projects your personalised mobile phone themes, images and videos. But a higher resolution means extra processing power.
The difference between a 1440p display and a 1080p display is negligible, in terms of everyday use. The power consumption between the different screen resolutions is minute while it culminates into an enormous impact for an always-on display.
Shine Bright Like a Smartphone Screen
Everyone strives to have a bright future, but a bright screen isn't the dream of your phone's battery. The more vivid you make your screen, the more power it consumes.
If you are someone who uses their phone with its screen brightness set to full in dark environments, you might end up harming your eyes in the process as well.
Like with the display resolution, the refresh rate of your mobile phone also contributes to battery consumption. The higher the refresh rate, the more power it requires to process it.
While higher refresh rates will allow you smoother visuals, which is a blessing, especially if you enjoy gaming on your smartphone, the trade-off is the battery life.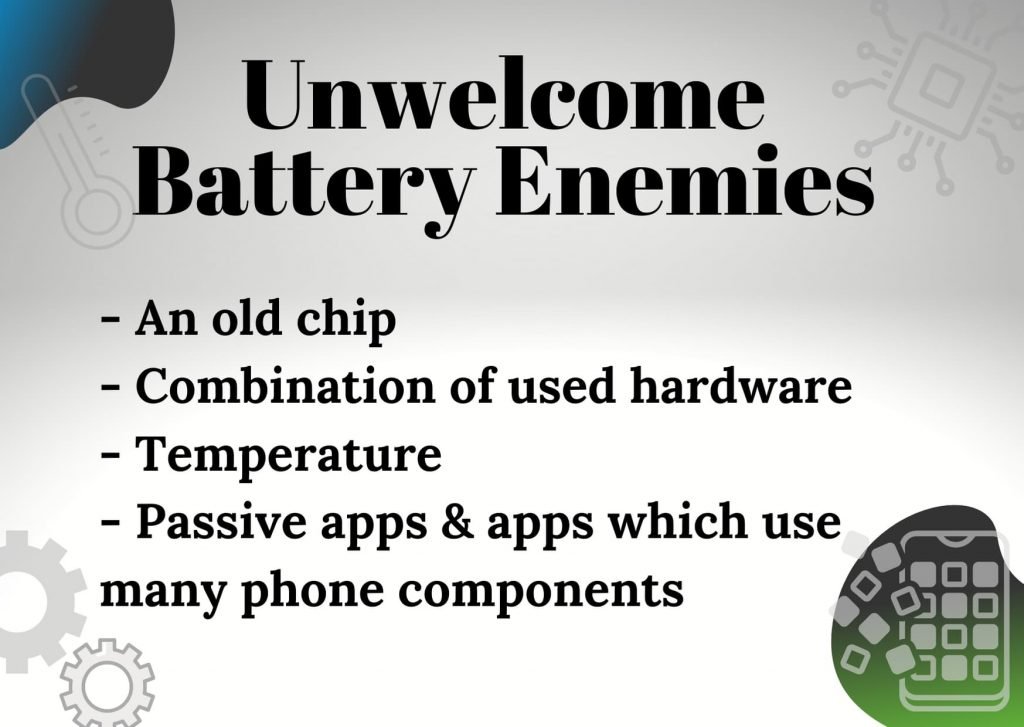 Always on the Grid
Your stable and reliable Bluetooth connectivity with your Apple AirPods Pro is fantastic only if you are using these in-ear wireless earphones. But do you need third-party applications to have constant access to your GPS?
Your smartphone's connections to your mobile networks, Wi-Fi, data, Bluetooth and location services all affect battery life when they are active.
It would defeat the purpose of having a smartphone if you can't make use of these connections. So, we just wanted you to know that too many unwanted phone connections are taxing on battery life.
A Chip Off the New Block
Unless you love tech and look for spare parts to upgrade your smartphone yourself, the intricacies of chipsets are a little hard to understand. Simply put, the latest chipsets give you better performance while consuming less energy.
Have you ever wondered, "Why is my phone hot and losing battery charge?" It could be because of an overworked chipset unable to match up to your mobile phone usage needs.
Say Cheese for the Camera!
Are you a digital social butterfly that regularly relies on your phone camera to get that perfect swoon-worthy picture or catch a double-rainbow? Then, there is your answer to, "Why is my phone battery dying so fast all of a sudden?"
The combination of display screens, post-processing and special features like night-mode photography, requires a share of power. Some camera apps apply auto brightness when you open them.
Also, videography takes more processing power, and combined with the resolution quality, affects the phone's batteries.
The Hardware Puzzle
Smartphones come with many convenient features these days, such as the fingerprint sensor on the Sony Xperia 5 II or the stylus of the Samsung Galaxy Note 20. All our modern technology's hardware relies on power.
The problem of battery draining arises according to how we use the hardware. For example, turning on the vibration notification will not be an issue, when it comes to battery consumption if you use it moderately.
Always-on features, such as gesture or voice command, require continuous processing to meet your demands. Thus, as we have learned, more processing, more power consumption.
Too Old for This
Your gadgets and gizmos have a set lifespan. With use and technological advancements, your smartphone and its battery continue to degrade and become outdated.
Older phones can't meet the newer requirements of mobile phones. Hence, you might encounter many problems with these devices that are not just limited to sudden battery drainage and overheating.
Another factor that influences the 'ageing process' of your phone battery is the temperature. As you know, batteries are chemical reactions generating energy. Different temperatures affect the battery differently. Extreme cold or hot temperatures can cause permanent damage to your phone's battery life.
Apps! Apps! Apps!
Every application you download to your device relies on your mobile phone's processors and memory components to function. Apps also make use of different phone components.
A car racing gaming app with impeccable graphic quality depends on your mobile phone's sensors for interactive gameplay. Snapchat needs your phone's camera for all those snaps. Apps like Snapchat are notorious for being power-hungry.
The more components an app needs, and the more accessibility it has to connections like Wi-Fi for its updates and features, the more battery power it requires.
But it is not just the active apps that can affect your phone battery. Passive apps, such as mail apps and music players, work even when your screen is off. Therefore, they can also have a significant impact because of their general background app refresh.
The operating systems work with tasks that run in the background. They are essential for the proper functioning of your smartphone. Hence, an inefficient or outdated OS can be a reason for poor battery performance.
How Do I Check My Battery's Health Status?

Touchscreen technology has allowed us to overcome the hassle of navigating menus with button presses. If your mobile screen is without cracks thanks to a screen protector, checking your battery status and its other details is a simple process.
You can check the status of your Android mobile phone's battery via the Settings / Battery menu. Additionally, instead of going menu by menu to check the battery function and stats, you can type 'Battery' in the search bar and find all battery-related menus.
On some older versions of Android phones, you can test a phone battery. Follow the below steps to open its in-built hidden menu and run a diagnostic test. Codes may vary depending on the brand or model.
1. Open the dialler application.
2. Dial *#*#4636#*#*.
3. Tap "Battery Information".
For iPhones running iOS 11.3 or older, you need to update the OS to access battery health in the phone settings. In the Settings section, navigate to Battery and then Battery Health.
The Battery Health screen will display "Maximum Capacity" and "Peak Performance Capability". These will let you know the current battery capacity, compared to its starting capacity and battery health information, respectively.
Your mobile phones should be able to retain up to 80% of original battery capacity once it has reached its 500 charge cycle.
Native apps of your mobile phone will cover a lot of battery-related information. The data includes daily battery usage statistics and apps that devour a large amount of battery power. On the other hand, a reliable third-party app is also a good idea if you want a more detailed assessment that includes hidden power consuming applications.
Tips and Tricks to Make Your iPhone and Smartphone Battery Last Longer
We have looked at why and how your mobile phone drains its battery life. Now, let's look at ways to extend battery life.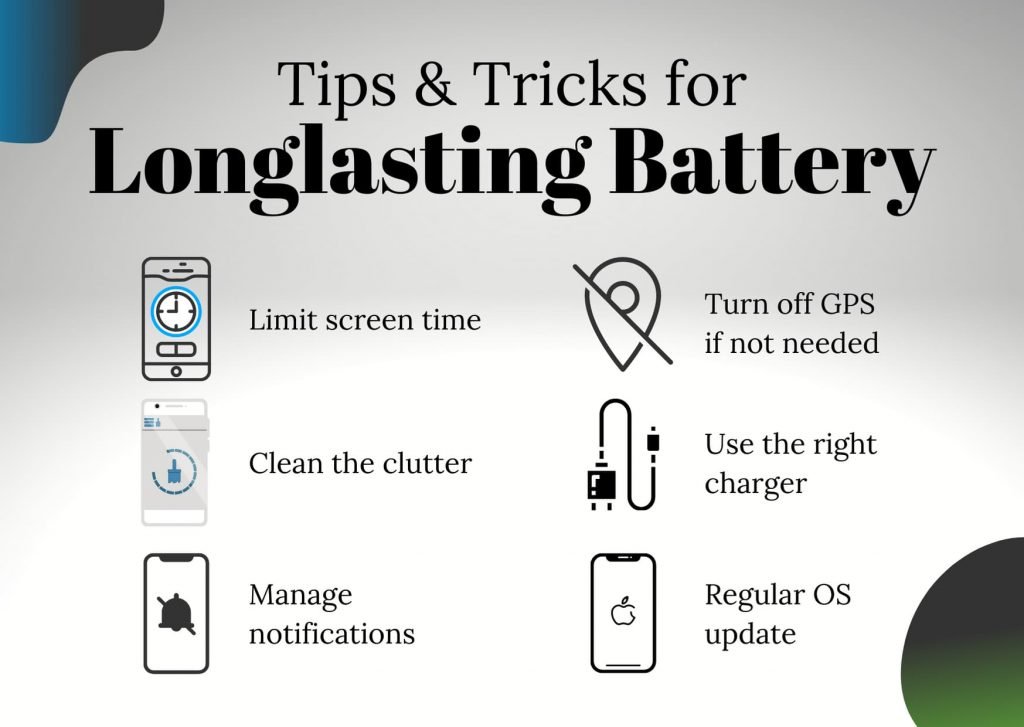 As we have mentioned, displays tend to be one of the components that contribute to battery draining.
If you aren't already using adaptive brightness or the auto-brightness feature, you better turn it on and save phone battery power. On the latest phones, you can activate this feature from the brightness slider. Alternatively, you can also head over to the display settings of your phone.
Opting for static wallpapers and backgrounds is also a smart choice for your mobile phone's battery health. Animated backgrounds require extra processing, and as we have learned, more processing equals more power consumption.
If your smartphone has an OLED screen, then switching to a dark theme can help extend the battery life. OLED displays work by turning off pixels for the black colour! Adjusting the screen resolution, if your smartphone supports it, is also a way to improve battery life.
We recommend reducing the sleep timeout setting since you don't need your phone display activated when you don't use it.
Do you have any apps that you are no longer using? Then, it is best to uninstall them entirely and save yourself some memory and battery life. Most apps, especially free apps, rely on ads. If you have no intention of using these apps, then it makes no sense to allow them access to your internet connection.
Also, poorly coded apps can be power suckers on your mobile phone. Checking which power-hungry apps your phone battery is currently supporting will help you decide which ones to let go of and replace with better apps.
Heading over to Settings / General / Background App Refresh on Android phones will allow you to optimise the app settings for better battery life.
Widgets are another cause of clutter that you need to clean up. Unless it is an absolute necessity, you can do more for your phone by removing them, since they require constant syncing and processing power for their animations.
Sound and Notification Check
Restrict apps whose notifications you don't need. Constant waking-up of the screen for unnecessary reasons isn't helping your phone battery. It is a good idea to restrict permissions for some apps. It especially applies to apps you don't need continually syncing or having access to features like GPS.
Haptic feedback, keyboard sounds, vibrate alert are options, not a requirement. When your smartphone doesn't have to work with unimportant embellishments, it will serve you longer throughout the day.
You can also turn off the GPS feature you might have used to get to the party last week. Location services tend to be power-hungry, and it is best to keep them activated only when they are in use.
It is also beneficial to turn off location tracking on apps you may have on your phone. Apps don't need access to your location 24/7.
In low signal areas, you can save on your battery power by turning on the Airplane mode. Since Airplane modes allow Wi-Fi access, you can take advantage of it. However, only opt for the Airplane mode in locations where you won't need to depend on mobile networks. Safety first!
Turning off connections when they are not in use is a simple and efficient way to cut down on battery usage. Setting the phone to Airplane mode at night might also help you improve your sleep.
Always use the chargers that your mobile phone came with, especially when they are fast chargers. Using chargers that are not certified or original to your device can have a detrimental effect on your phone's battery.
The latest smartphones also come with power-saving features such as Adaptive Battery Mode or Battery Optimisation for when your battery levels have dropped down low. Once proper battery management is applied, only the most deserving apps get access to the phone battery.
Is your iPhone still stuck with iOS 11.3? In that case, you can't complain about the battery optimisation you are missing out on now. Keeping your operating system and other applications updated to their latest versions will allow you to enjoy better battery optimisation.
When it comes to app updates, there can be situations where an update results in being more power-consuming than usual. These might be temporary situations that the next update will tweak and fix. Yet, if the app consumption is extensive, it might be best to uninstall the update.
Though virtual assistance is a smart feature of many smartphones, it is a regularly processed, always-on feature. Turning them off can save you some battery life.
Problems Not Solved?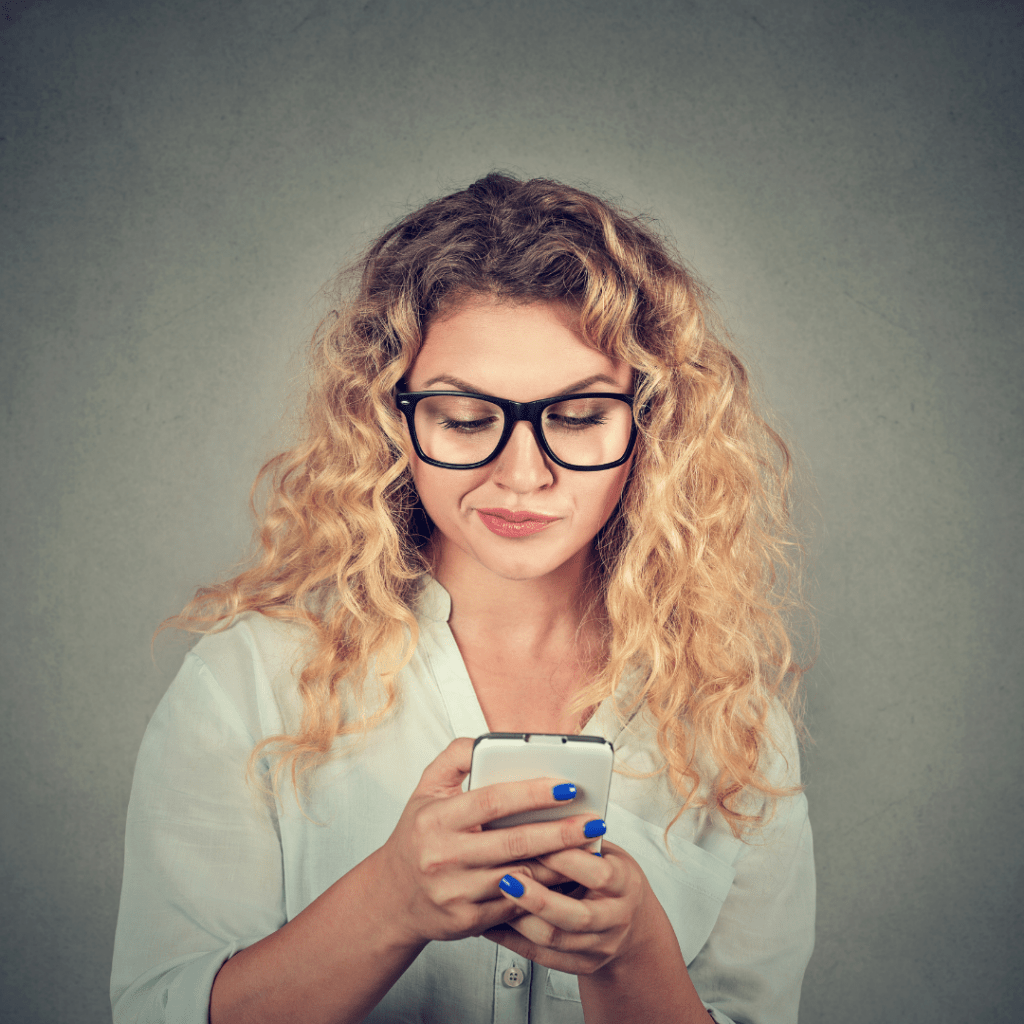 Have you already taken care of background app settings, done an app refresh, checked your battery and followed all the abovementioned tips? Then you are going the right way to extend the average lifespan of your phone battery.
But if you are still experiencing battery issues, we recommend that you reboot your mobile phone. In the worst-case scenario, perform a factory data reset. Please note that a factory reset will erase all your data. Hence, make sure you have backed up the content of your mobile phone.
We also suggest to drain your battery to below 10% once a month and charge it to maximum capacity overnight. Many smartphones also come with circuitry and features applied to help prevent overcharging of your smartphone. However, it is good practice to keep your fully-charged phones unplugged.
Also, pay attention to the temperatures your smartphone is exposed to during the day. As we have mentioned before, extreme temperatures can cause permanent damage to your phone's battery. Avoid using your smartphone to the extent of overheating it.
Enjoy Your Improved iPhone and Smartphone Battery Life!
We hope our blog post helped you recognise some of the common predators of battery life. Our helpful tips will help you improve iPhone battery health and for other smartphones as well.
But don't just stop with batteries. Make sure you use phone covers and screen protectors to extend the average use cycle of your gadget. A power bank is also a great companion for your smartphone on long trips.
Want to find products that improve your smartphone experience? Visit our website, or have a chat with us for any questions about phone accessories and more!