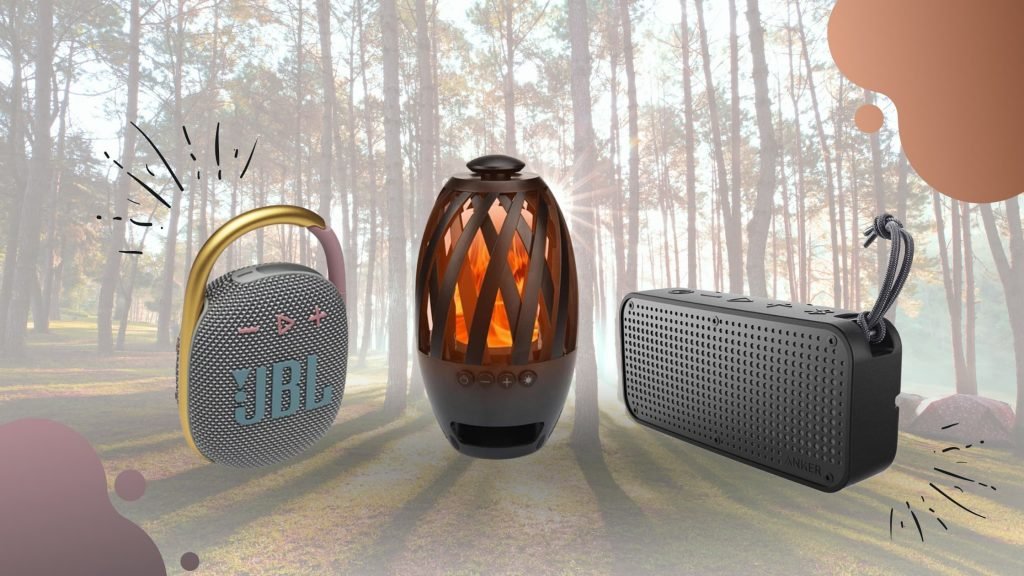 Your search for the best Bluetooth outdoor speakers ends here! Whilst all Bluetooth speakers allow you to have a wireless experience, outdoor speakers come with extra features that make them more durable.
Home speakers are not necessarily made to deal with the weather. A camping site that might receive a little downpour, needs a waterproof Bluetooth speaker to lighten the mood.
If you are looking for speakers that do more than just play music, we have got just the thing for you. Speakers that come with additional features like LED lights and those that even function as a power bank are perfect for picnics and camping.
We have picked some very stylish speakers that cater to every taste. Like something rugged and military-like? You'll love the camouflage JBL Flip 5. For something small and cute, check out the JBL Clip 4.
If you are planning on setting the mood for a romantic outdoor date, you can never go wrong with the warmth of a fire. We have picked some dazzling speakers with LED flames that will create the atmosphere minus the fire hazard.
When it comes to style, and the Wi-Fi is out of sight, Bluetooth speakers are always the best choice. Whether it's a party that lasts more than 20 hours or you just need some relaxing time in the backyard, the right speaker will make all the difference.
What are you waiting for? Check out our best outdoor wireless speakers!
Party Lights to Mood Lights
These portable speakers are also mood setters. They come with built-in LED lights that create the perfect ambience to go with your music. Enjoy the light show as your groove.
BTS-596 Bluetooth Speaker to Light up the Evening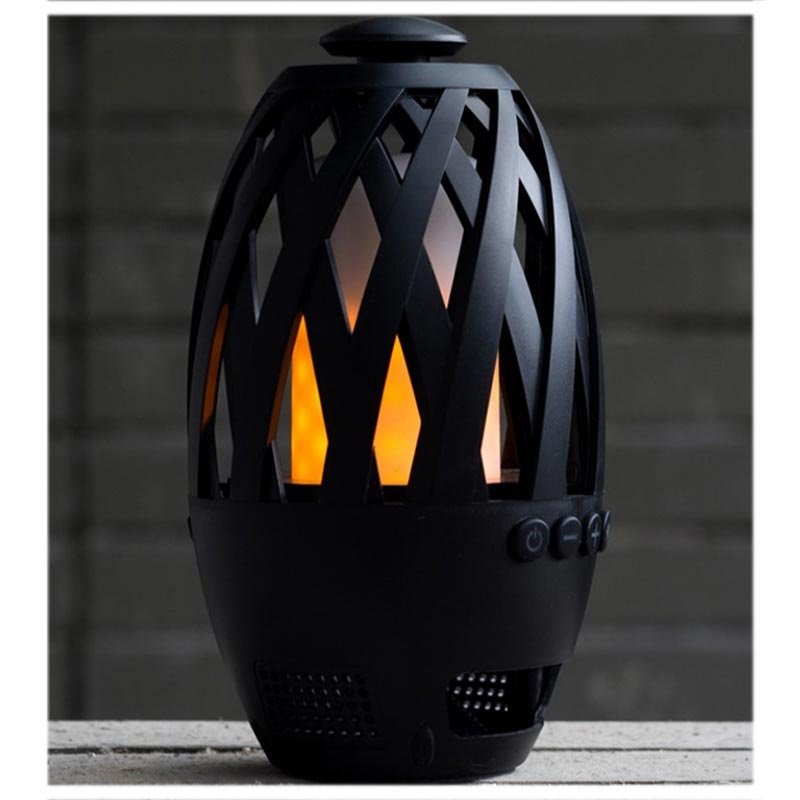 Liven up an outdoor date with the Bluetooth speaker with LED flame atmosphere lamp BTS-596. Its 60 in-built LED lights give you a realistic flame look without the dangers of a real fire.
This speaker supports Bluetooth version 4.2 allowing you a reliable connection with your device. Additionally, it also comes with a micro SD TF card slot to play music directly from the speaker.
Get loud and wild with these features:
Create a warm ambience with its built-in realistic flame LED lights.
Enjoy up to 4 hours of playback with its 1800mAh rechargeable lithium-ion battery.
Easily manage music, volume and the LED lights with easy-to-use buttons on the speaker.
In addition to Bluetooth connectivity, you can also use your micro SD TF card to directly play music.
Anker Soundcore Flare 2 as the Ultimate Party Light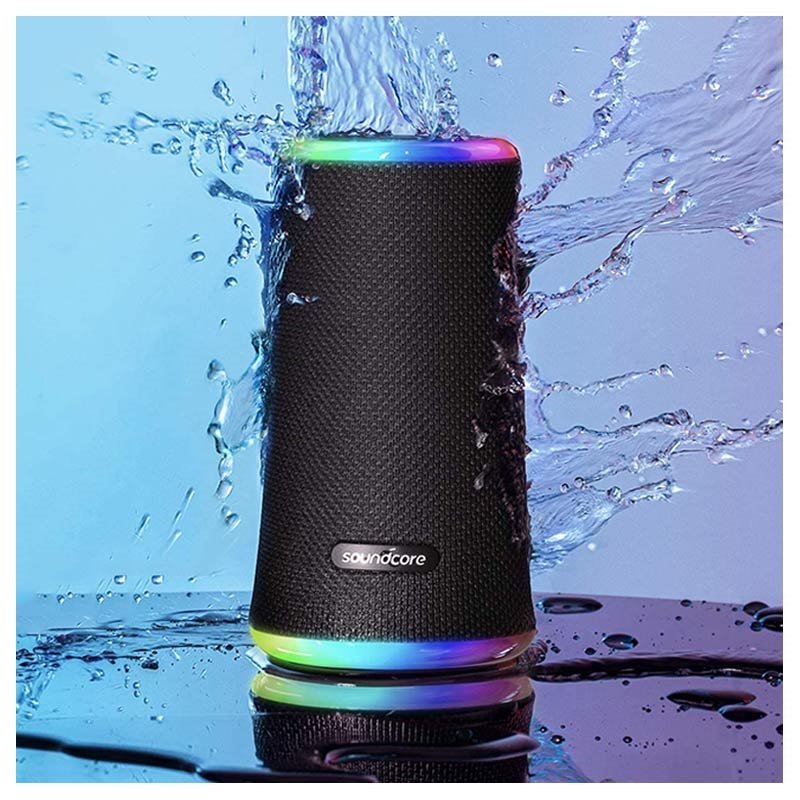 Use the Soundcore app to create a unique atmosphere to set the mood for any occasion with the Anker Soundcore Flare 2. The speaker comes with six lighting modes that give you the right combination for all your music.
Its Bluetooth version 5.0 lets you enjoy reliable and stable connections. Take it with you anywhere you want! Its IPX7 waterproof rating will keep it safe and protected from rain and dust.
Get loud and wild with these features:
Soundcore Flare 2's 5200mAh battery will give you up to 12 hours of battery life, so the party never stops.
Take your music experience up a level with its two powerful drivers and BassUp technology for clear sound with great bass.
Get a full 360-degree listening experience with its stylish design.
Thanks to its IPX7 rating, this speaker can survive submersion in water up to two times.
Multifunctional Portable Bluetooth Speaker
Get more than just a wireless speaker with these amazing picks. These speakers come with multiple functions that make them extremely useful beyond just playing music.
3-in-1 Portable Bluetooth Speaker to Stay Charged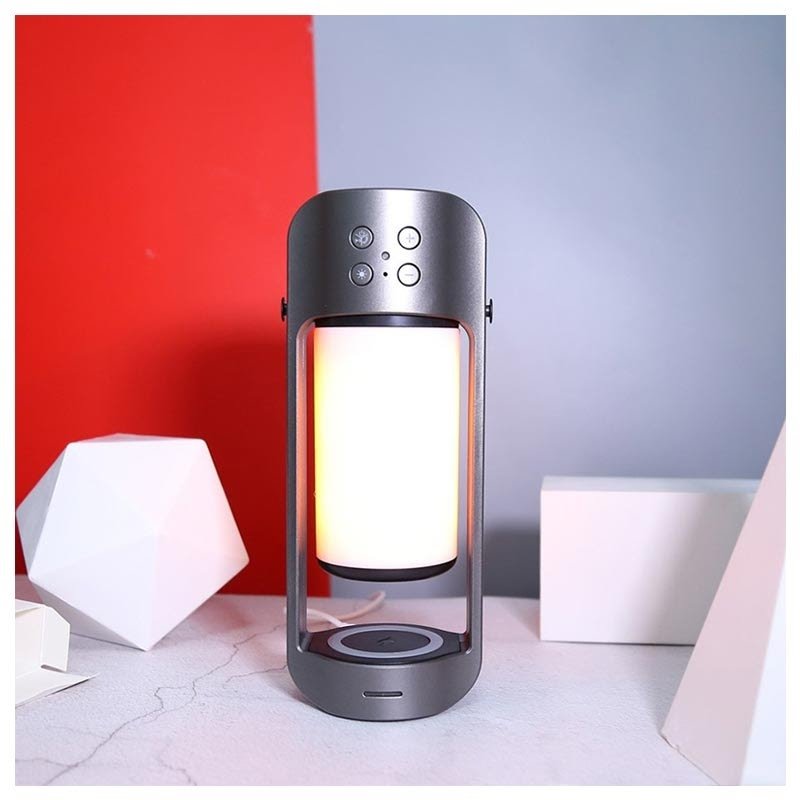 This 3-in-1 portable Bluetooth speaker allows you to enjoy brooding flames with its LED lights that mimic real flames. Create a cosy set-up with the mood light, and enjoy your music wirelessly with its Bluetooth version 4.0.
This speaker also lets you connect your devices using a 3.5mm AUX or USB port, or you can use it with your MicroSD. And if your smartphone runs out of charge, you can also use this speaker as a power bank.
Get loud and wild with these features:
This speaker comes with a waterproof rating of IP65 to protect against water damage.
The speaker comes with control buttons and an integrated microphone allowing you easy music management and even answering calls.
You can also wirelessly charge your phone with its built-in 10W wireless charger for compatible smartphones.
In addition to its Bluetooth connection, you can also connect using the AUX cable, USB port or MicroSD.
Zealot S1 Multifunctional Wireless Speaker for the Best Bicycle Ride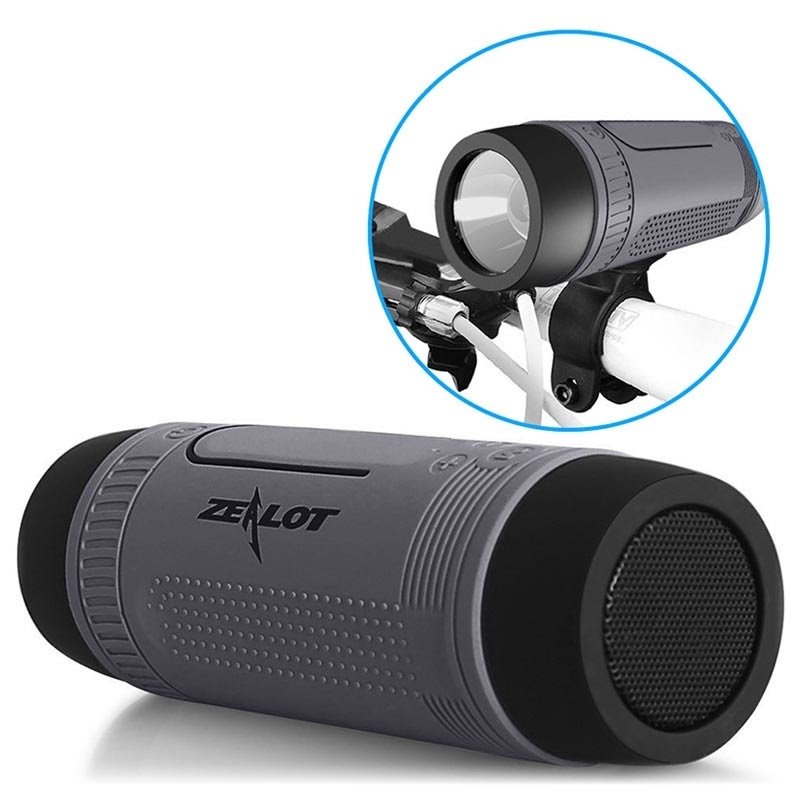 With the Zealot S1 multifunctional wireless speaker, enjoy your evening bike rides worry-free. This speaker not only delivers amazing sound quality but also comes with a powerful built-in LED to light your way.
Your smartphone is out of charge? Thanks to its 400mAh battery you can easily recharge your mobile with its power bank feature. This multifunctional gadget also comes with an integrated microphone to make calling a hands free experience.
Get loud and wild with these features:
Zealot speaker's compact design makes it extremely portable. Its bike clip lets you easily fix it to your bike handle.
The built-in LED light can operate in three modes based on your requirements.
In addition to a Bluetooth connection, you can also use MicroSD/TF cards or listen to radio with its wide FM frequency support.
The speaker also acts as a power bank with a battery capacity of 4000mAh to keep your devices always charged.
Link Up to Boost the Party!
If one speaker does not cut it for you, how about speakers that connect together? These speakers offer the opportunity to connect with multiple speakers to create your very own sound system! Forget about splashing out on expensive audio set-ups with these affordable speakers.
JBL Flip 5 for Exceptional Sound Every Time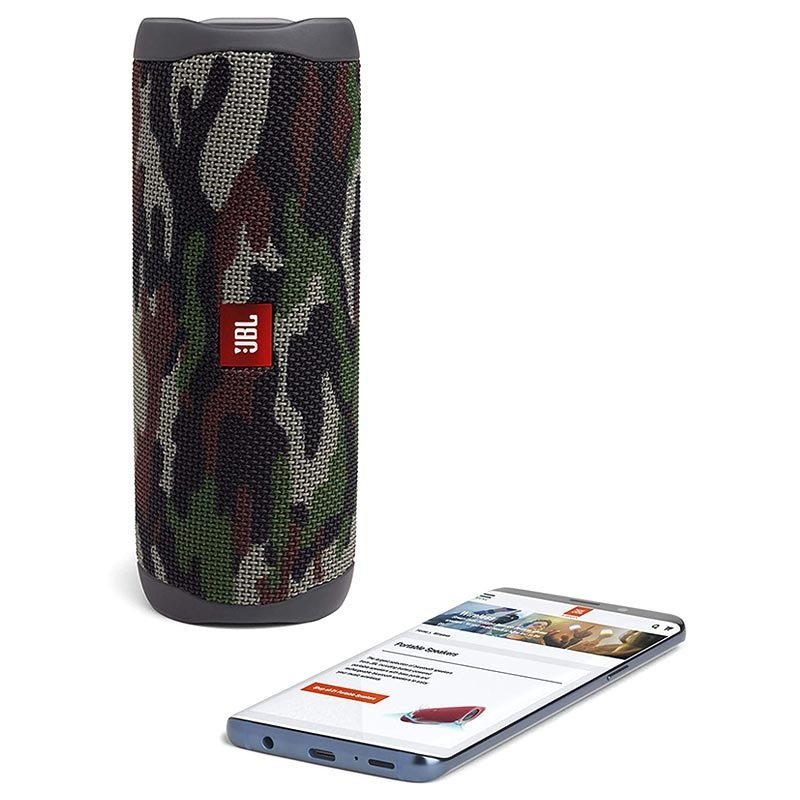 The JBL Flip 5 comes in a stylish camouflage pattern making it very attractive. This speaker offers you the opportunity to scale up with JBL's PartyBoost technology. Easily connect multiple supporting speakers simultaneously and blast your music.
The JBL Flip 5 has a compact and durable design to withstand any party grooving. The portable design also has an IPX7 waterproofing rating to protect it against the elements. Additionally, its amazing battery life will keep the party going.
Get loud and wild with these features:
Its stylish camouflage design makes it stand apart from the boring range of Bluetooth speakers.
The Flip 5 comes with a 4800mAh rechargeable battery to keep the party going for up to 12 hours.
Its waterproof rating and durable design let it survive any rough handling.
You can simultaneously connect multiple speakers with the JBL PartyBoost feature to enhance the listening experience.
JBL Xtreme 2, Taking Music to the Extreme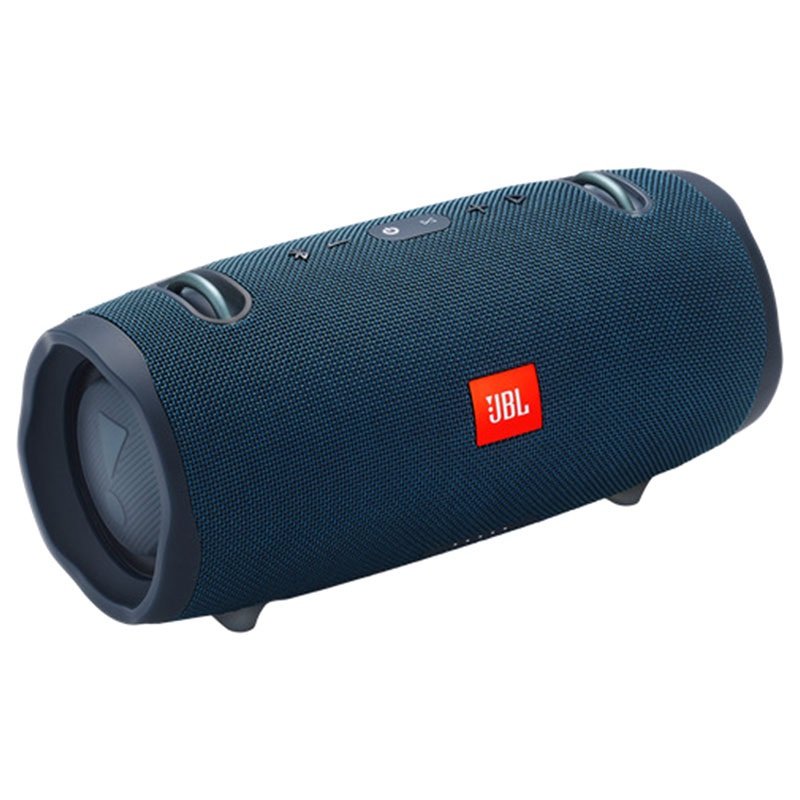 With dual passive radiators with upgraded drivers, the JBL Xtreme 2 delivers loud and crystal clear surround sound. This gadget can last up to 15 hours with its built-in 10000mAh rechargeable Li-ion battery.
Get the pool party going with more than 100 JBL Connect+ enabled speakers connected together! And don't worry about a little splash damaging your speakers. The Xtreme 2 is water-resistant thanks to its IPX7 certification.
Get loud and wild with these features:
This speaker has a compact design with a stand, integrated hooks and a carrying strap with a bottle opener making it party-ready.
The speaker comes with a noise- and echo-cancelling speakerphone along with control buttons for easy call and music management.
Its IPX7 certification makes it highly portable and durable.
Connect supporting JBL speakers together via the JBL Connect+ technology and take your music up to a grand scale.
Party Speakers that Keep the Party Going
Get the best battery life with these waterproof outdoor wireless speakers. These speakers give you the rich, thumping bass that keeps your feet moving. With their compact and durable design, every beach day turns into a fun party.
Ultimate Ears Boom 3 for 360-degree Sound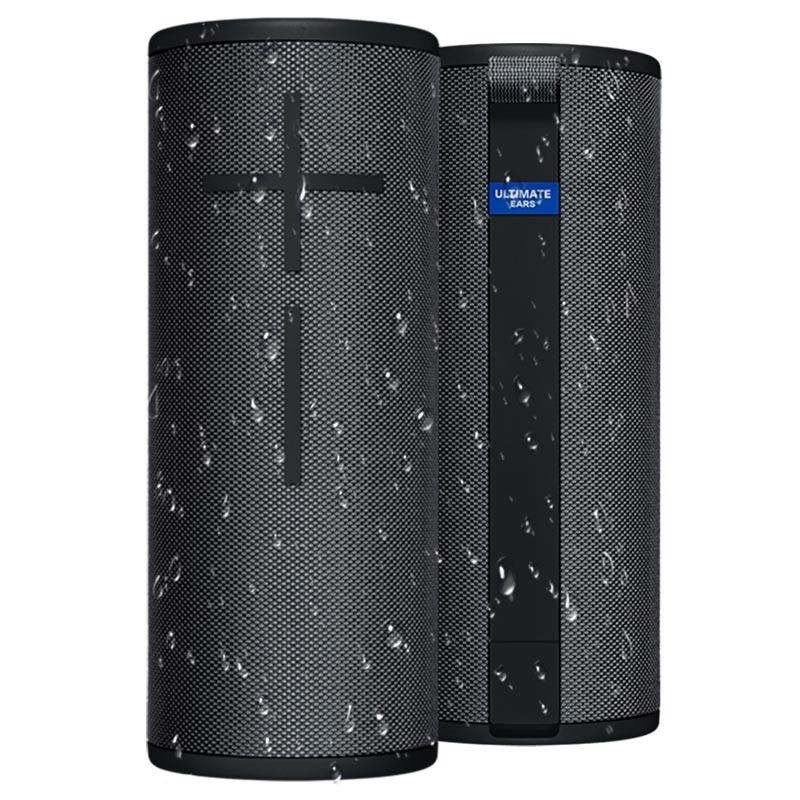 When it comes to waterproof speakers, nothing beats the stylish look of the Ultimate Ears Boom 3. This speaker comes with an IP67 certification which lets it be completely submerged in 1m-deep water for up to 30 minutes without any damage.
Enjoy distortion-free immersive audio with deep, rich bass delivered in balanced 360-degree sound. The speakers support all devices with Bluetooth and Bluetooth Smart wireless audio profile support.
Get loud and wild with these features:
Its integrated control buttons allow easy music management.
Install its corresponding app and enjoy features like Block Party, PartyUp Remote On/Off or Customizable EQ.
Connect with up to two source devices simultaneously with the Ultimate Ears Boom 3. You can also pair with up to eight Bluetooth enabled devices.
This speaker has a wireless range of 45m of stable and reliable Bluetooth connectivity with your device.
Anker SoundCore Sport XL for Double Duty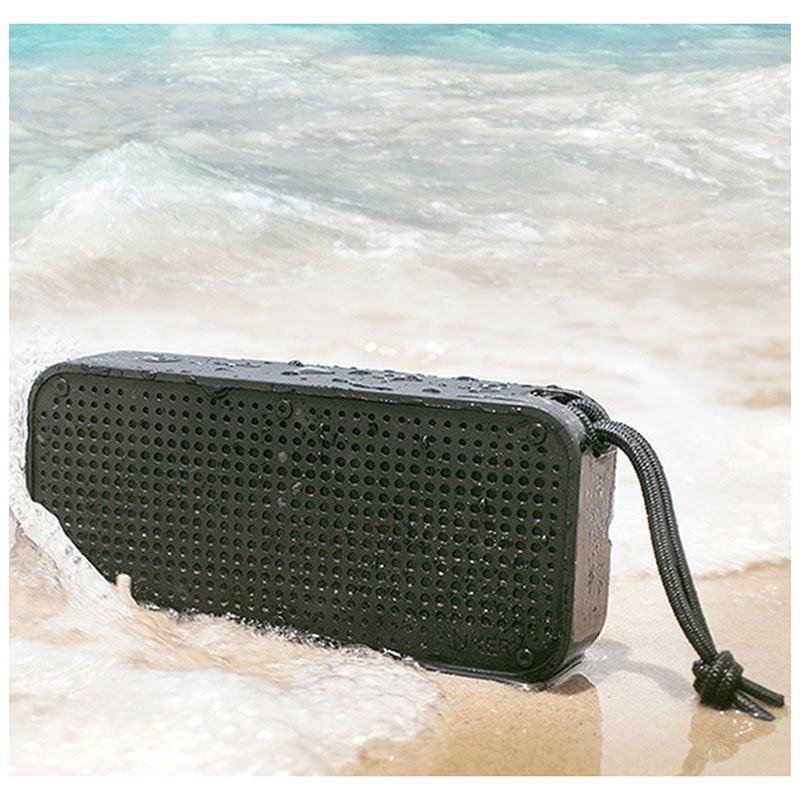 With two 8W drivers and two passive subwoofers, the Anker SoundCore Sport XL delivers impressive stereo sound. Its shock-proof construction and IP67 waterproof certification make it extremely durable.
Its included hand strap allows you to keep your SoundCore Sport XL on you at the beach or whilst camping. This portable speaker also acts as a power bank with a 1A USB port outlet.
Get loud and wild with these features:
The speaker comes with a Lithium-Ion rechargeable battery that delivers 15 hours of music playback and also acts as a power bank.
This speaker is dustproof, shockproof and waterproof proving itself to be extremely durable.
It comes with integrated control buttons and also a built-in noise-cancelling microphone for clear calls.
You can also use the 3.5mm audio port to stream your music from devices with no Bluetooth support.
Trendy Speakers to Play Your Music On
If you are looking for Bluetooth speakers that add an oomph of style and uniqueness, then these picks are for you. Enjoy amazing music playback quality whilst looking trendy with our favourite wireless outdoor speakers.
JBL Clip 4 for the Trend Setters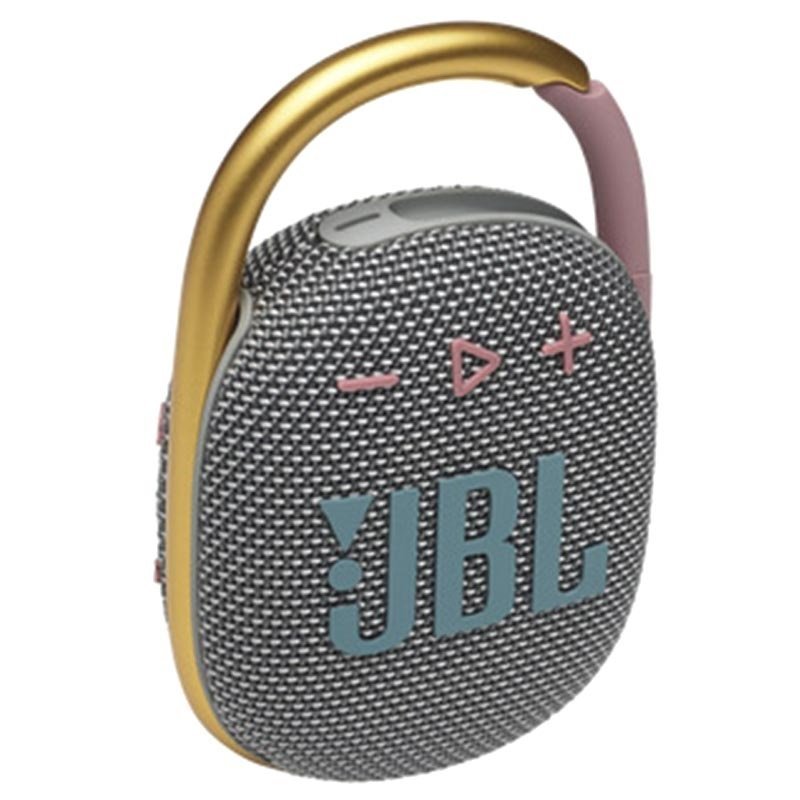 Get trendy with the JBL Clip 4's unique trendy design. This mini speaker packs a punch despite weighing just 239g. Enjoy up to 10 hours of playback with clear sounds and absolute deep bass.
This speaker comes with a waterproof rating of IP67 allowing you to enjoy your favourite tunes regardless of the weather. Stream your music from any Bluetooth-enabled device using its Bluetooth version 5.0.
Get loud and wild with these features:
Its cute and unique design makes it a gadget that's both functional and trendy.
The JBL Clip 4 is extremely portable and durable and comes with an integrated carabiner for easy carrying.
With its IP67 certification, you do not have to worry about dust or water damage while you enjoy your music.
Place your JBL speaker vertically or horizontally. The backside of the speaker comes with rubber ribs to prevent slipping.
V8 Pro Bluetooth Speaker for Cinema-like Experiences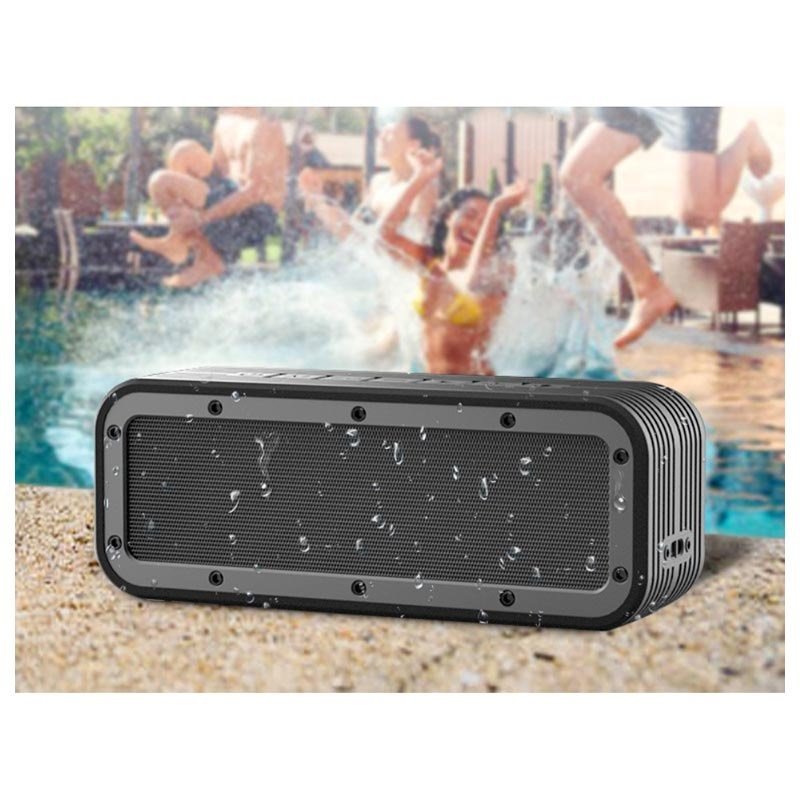 Connect two V8 Pro Bluetooth speakers, and get a cinema-like experience no matter where you are thanks to its TWS function. This speaker comes with DSP noise-cancelling technology that improves sound quality.
Experience extreme clarity in audio when taking calls with the V8 pro. The speaker comes with an integrated microphone to allow a hands-free calling experience. You can also play your music with its AUX cable port and TF card support.
Get loud and wild with these features:
The V8 Pro speaker supports TWS function allowing you to connect two speakers for an enhanced listening experience.
It comes with an integrated microphone and control buttons for easy call and music management.
Its DSP noise-cancelling technology ensures crisp calls and excellent music playback without any distortions.
It has an IPX7 waterproof rating and durable construction, making it a good choice for an outdoor Bluetooth wireless speaker.
Dancing in the Rain
We hope you found your perfect Bluetooth outdoor speakers to get the celebrations going. Wireless speakers can also get a little more work out of your Google Assistant or Alexa!
Having issues with your Bluetooth speaker? Check out our blog on how to solve the most common problems. For more fun gadgets get in touch with us!