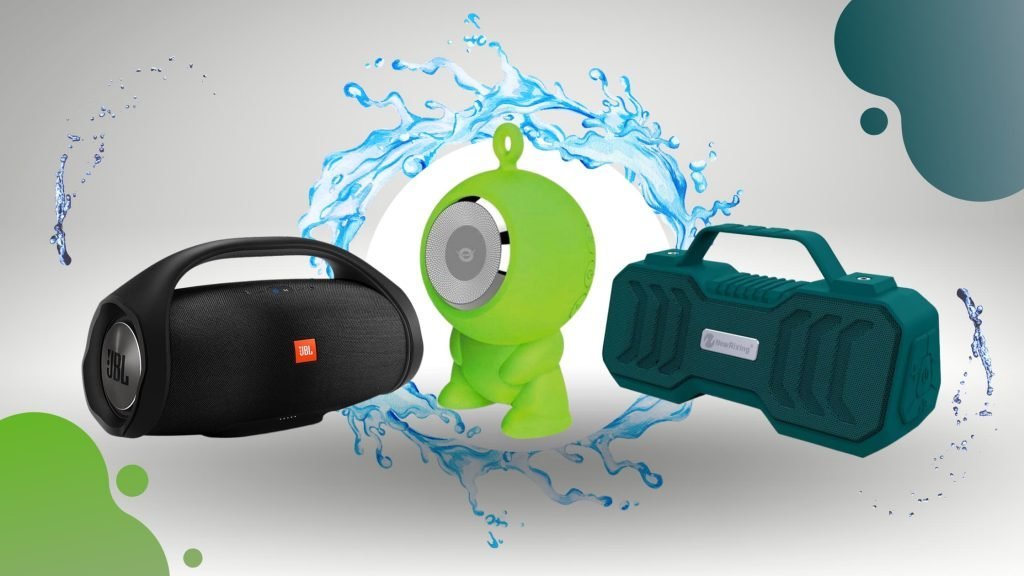 When thinking about Bluetooth speakers, the sound is not the only thing to consider. The portable speakers market has a wide variety available, from the Sonos Move to smart speakers such as a Google Nest mini with Google Assistant. But which one is the right choice for you?
If you love poolside parties, then waterproof Bluetooth speakers that will save themselves from an unfortunate dive into the pool are the ones for you. If you are looking for something small and compact for a gym workout or cycling through a little rainy trail, we have got you covered.
Make your showers more exciting with shower-friendly speakers that are wall mountable. And while the music makes for a great camping trip, a speaker that doubles up as a power bank will be a bonus.
Our list of the ten best waterproof Bluetooth speakers will help you narrow down the search for the right portable speaker for you. Get ready to start the party!
Waterproof Shower Speaker with Bluetooth Connectivity
Dancing in the shower just got a lot more fun. Do not just hum your favourite tunes because you forgot the lyrics. With these portable waterproof Bluetooth speakers, you can sing along to your favourite song and enjoy your baths or mini pool parties.
C6 Waterproof Bluetooth Speaker for the Shower Parties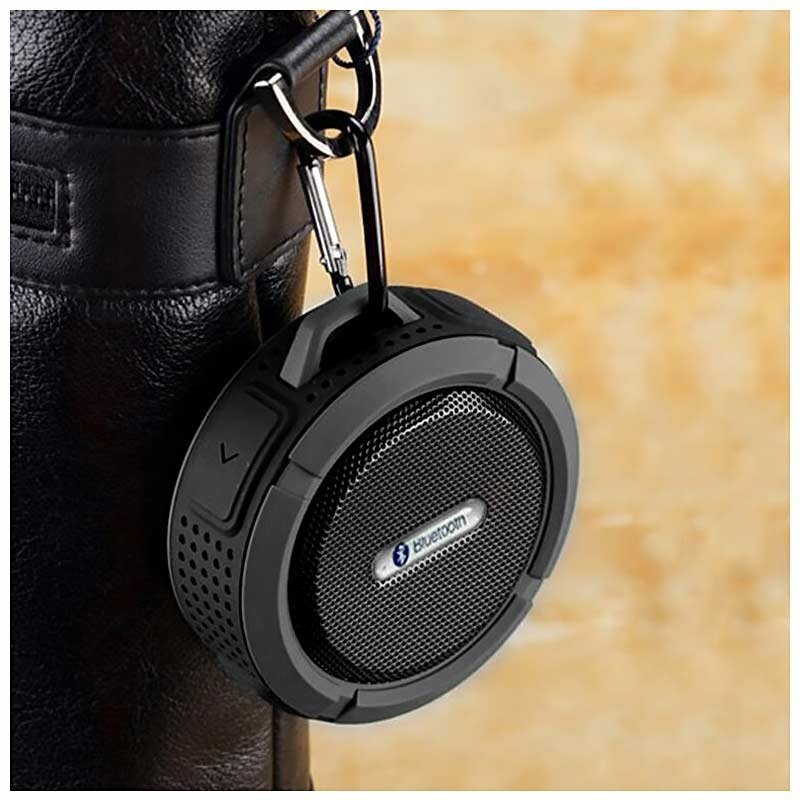 The C6 waterproof Bluetooth speaker comes with a suction cup that lets you stick it onto the walls of your bathroom. Enjoy your favourite mood-lifting music while you take a shower or a bath without any worries.
This compact Bluetooth speaker is highly portable. The attached carabiner clip means you can attach it to your backpacks or even your belt loops. Take your playlists wherever you go, and have a good day.
Fantastic features that make this the best portable speaker:
The C6 speaker comes with a suction cup and carabiner clip, allowing you to use it anytime and anywhere.
It has a waterproof rating of IP65 that lets you use it in wet environments hassle-free.
Despite its small size, it packs powerful speakers. Additionally, it comes with a built-in microphone for answering calls.
The speaker comes with a micro-USB cable to recharge it, so the fun never has to stop.
Tronsmart Splash Portable Speaker for Premium Sound Quality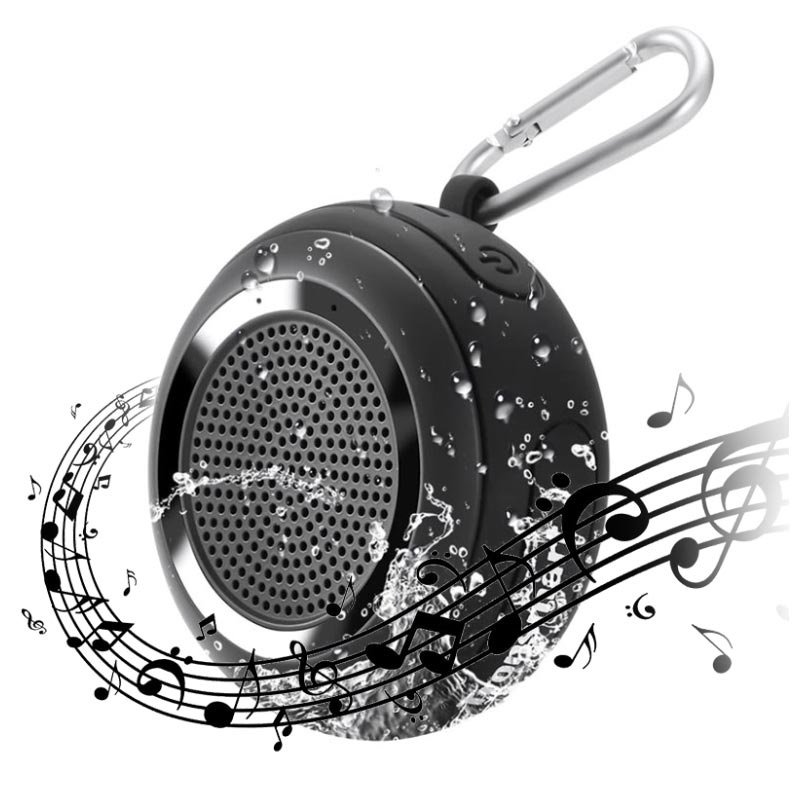 Forget about noise disturbing your music experience with the Tronsmart Splash portable waterproof Bluetooth speaker. This speaker is one of the best outdoor speakers with advanced digital sound, noise reduction, and a special void structure.
This wireless speaker is compatible with HSP, HFP, A2DP and AVRCP protocols, allowing you to connect just about any Bluetooth-enabled device. Enjoy its outstanding bass and premium audio quality for up to 10 hours with a single charge.
Fantastic features that make this the best portable speaker:
This speaker has a water resistance of IP67 rating and therefore is resistant to splashes, water, dust, and sand.
Experience fast and reliable connections with your devices with its Bluetooth version 4.2.
This wireless speaker also has a provision for a MicroSD card, allowing you to enjoy your music without any additional devices.
It comes with a carabiner clip allowing you to latch it on and enjoy your music anywhere.
Waterproof Wireless Speakers You Can Bank On
Want more out of your wireless speakers? These speakers are not just water-resistant but also act as a power bank. Stay connected with your social media and post your goofiest and coolest photos when you have a portable speaker that is also a portable charger.
JBL Charge 4 For a Quick Recharge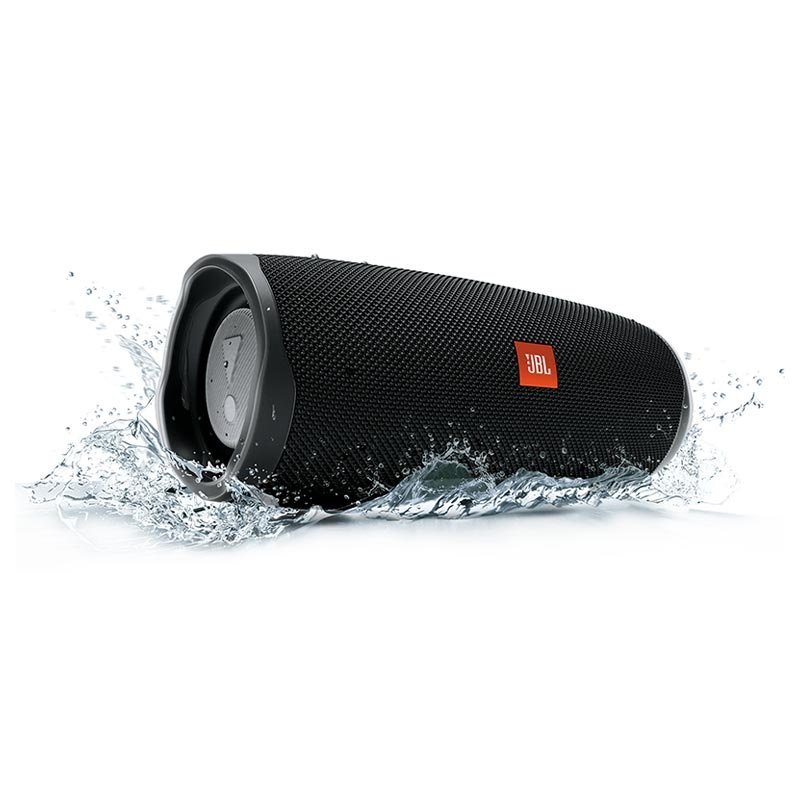 With the JBL Charge 4, you get both a great wireless speaker and a powerhouse that will charge your smartphone. This speaker comes with support for simultaneous device connection, so you never miss out on anything.
It has 20 hours of battery life to play your tunes non-stop, whether you are traversing a rainy forest or going on a long drive. Its IPX7 rating makes it water-resistant, so no weather can bring gloom over your mood.
Fantastic features that make this the best portable speaker:
The JBL Charge comes with control buttons that let you manage playback and navigate your playlists conveniently.
The speaker has a battery capacity of 7500mAh and can also charge your smartphones.
These speakers feature JBL's powerful speakers that deliver powerful and ultra-clear sound.
With its 20 hours of battery life and an IPX7 rating, you can enjoy your music just about anywhere for as long as you want.
JBL Boombox for Hard-Hitting Bass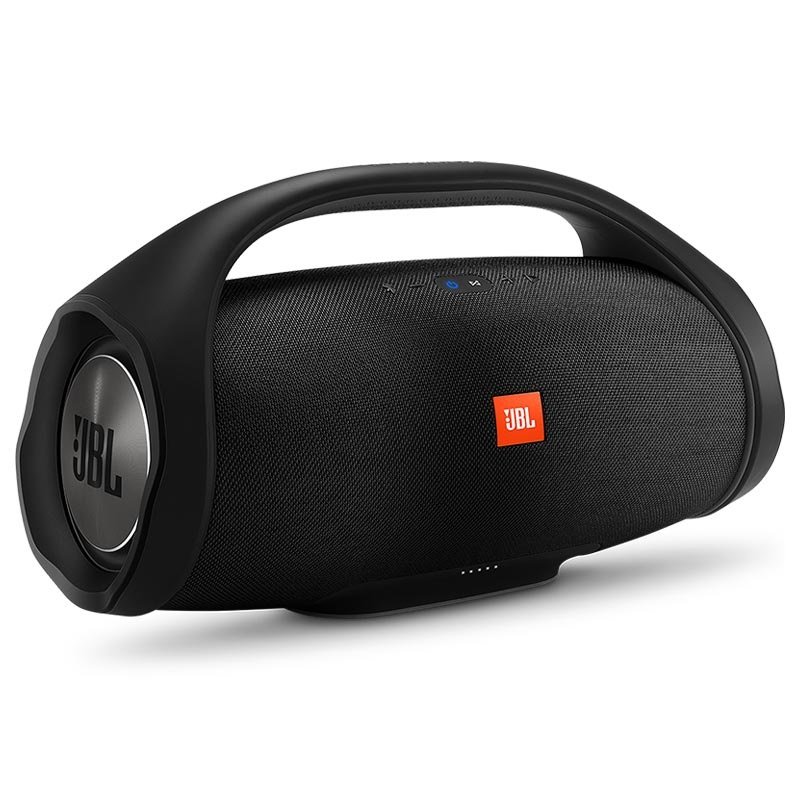 The JBL Boombox portable Bluetooth speaker comes with an IPX7 rating that protects it from water damage. The stylish design also boasts two 30W speakers that bring you the most intense sounds without any audio distortion, even for the most bass-heavy songs.
The speaker also sports two USB Type-A ports that will let you charge up your phones, tablets, and other devices. Want to increase the groove? The Boombox supports connectivity with compatible speakers via the JBL Connect+ technology.
Fantastic features that make this the best portable speaker:
The Boombox speaker has an outstanding 24 hours of battery life that will make it the life of any raging party.
You can connect your speakers with any Bluetooth-enabled device via Bluetooth version 4.2 or directly connect using the 3.5mm AUX port.
Grow the party with additional speakers using the JBL Connect+ technology to interconnect compatible speakers.
Enjoy your music indoors or outdoors with Signature JBL sound with hard-hitting bass delivery.
Fully Waterproof Bluetooth Speakers that Can Handle a Dive
Do not let accidental slips ruin the moment. These brilliant and durable Bluetooth speakers come with waterproof capabilities of up to 1m for 30 minutes. Pool parties will be way more fun and energetic with these clever gadgets.
Anker SoundCore Sport XL for High-Capacity Music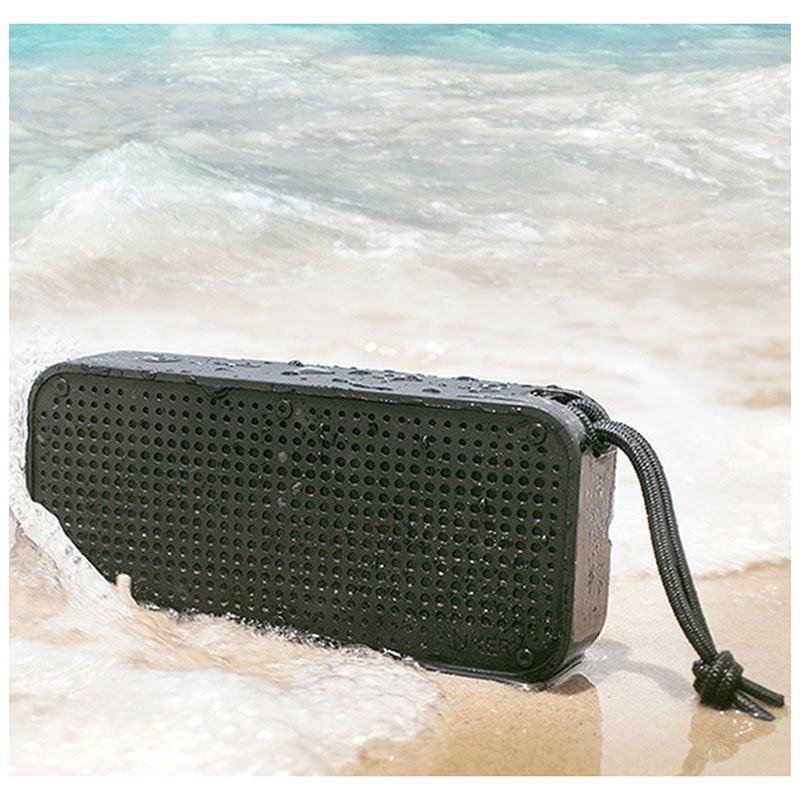 The Anker SoundCore Sport XL comes with an IP67 waterproof certification that makes it dust-, shock- and waterproof up to 1m for up to 30 minutes. This Anker speaker is perfect for outdoor use, whether by the beach or by the pool.
The speaker comes with a high-capacity built-in battery that gives you up to 15 hours of continuous playback. Additionally, it also comes with a 1A USB port that lets you recharge your smartphone when it needs a boost.
Fantastic features that make this the best portable speaker:
Enjoy brilliant stereo sound with its two passive subwoofers and 8W drivers.
You can also answer your calls with its built-in noise-cancelling microphone with just a touch.
Connect any Bluetooth-enabled device with its Bluetooth version 4.1 or connect your device using the 3.5mm audio port.
Get an impressive 15 hours of music playback with its lithium-ion battery.
Ultimate Ears Boom 3 for 360 Degrees of Music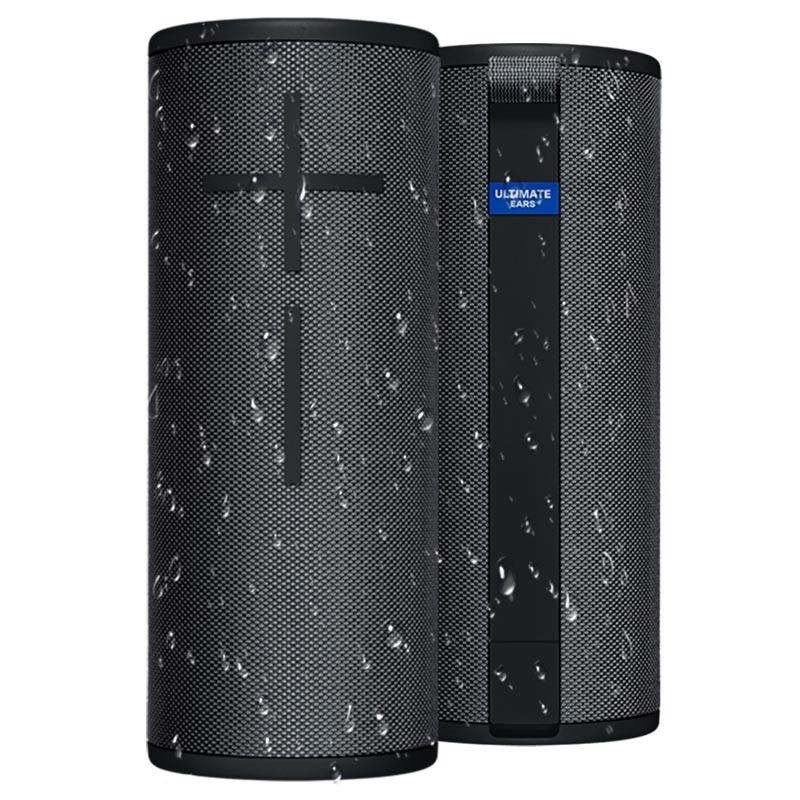 The Ultimate Ears Boom 3 is the ultimate party maker. This stylish cylindrical Bluetooth speaker features 360 degrees of balanced sound delivery with deep bass. Enjoy your music non-stop for 15 hours with its lithium-ion battery.
The wireless speaker can also dive up to 1m for 30 minutes and be damage-free. This gadget additionally boasts pairing with up to 8 devices and up to two sources simultaneously. Letting everybody's playlist shine has never been smoother.
Fantastic features that make this the best portable speaker:
This elegant speaker comes with an integrated button that lets you directly manage music playback such as play, pause and skip tracks.
Its accompanying app offers features like Block Party, PartyUp Remote On/Off and Customizable EQ to elevate your experience.
Boom 3 is compatible with Bluetooth and Bluetooth Smart wireless audio profile supporting devices.
Immerse in the deep, rich bass without any distortion with the Boom 3's 360-degree sound delivery.
Bluetooth Speakers for a Party Night with IPX7 Rating
These speakers will have you moving and grooving with their excellent sound delivery. Their small size makes them highly portable while delivering the best sounds.
JBL Flip 5 Waterproof Wireless Speaker for a Ground-shaking Party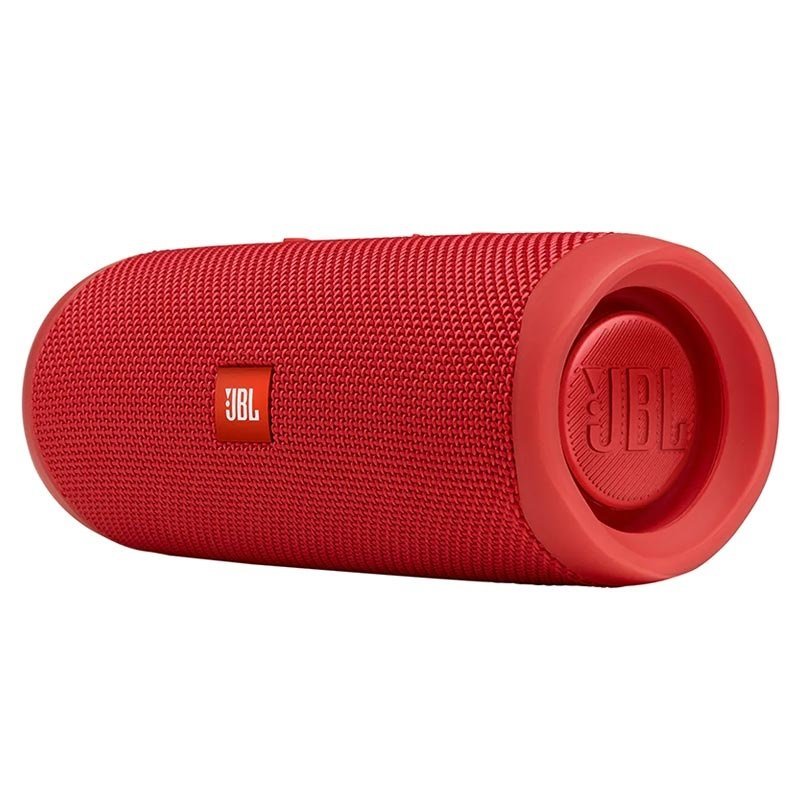 The JBL Flip 5 waterproof wireless speaker features JBL's PartyBoost technology that allows you to create an army of interconnected compatible speakers. With simultaneously connected and playing speakers, you will get the feel of being at a concert right in your own back garden.
The Flip 5 comes with a durable design and an in-built battery that delivers 12 hours of music playback. Enjoy the speaker's sounds that are crystal clear and ground-shaking. It also comes with an IPX7 rating ensuring protection from water damage.
Fantastic features that make this the best portable speaker:
Bring concerts and clubs into your house with its support for pairing multiple compatible speakers via JBL's PartyBoost technology.
Flip 5's design and IPX7 waterproof rating make it durable and able to handle splashes.
The speakers deliver excellent sound quality that is loud and clear.
Its Bluetooth version 4.2 connectivity gives you a reliable and stable connection with any Bluetooth-enabled device.
Harman/Kardon Neo Bluetooth Speaker, a Mini Music Powerhouse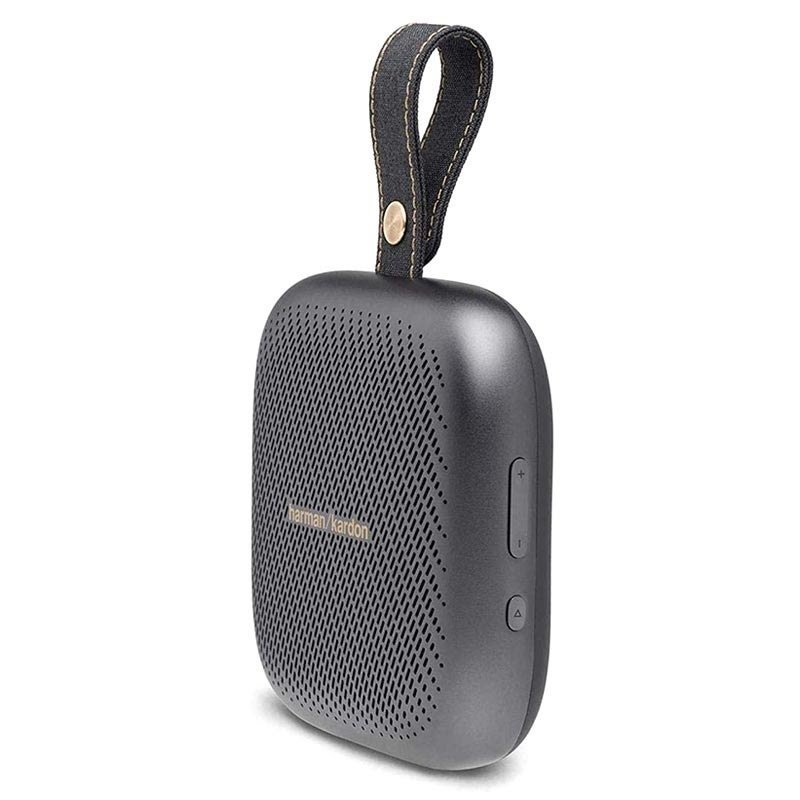 Weighing barely 195g, the Harman/Kardon Neo portable Bluetooth speaker is a powerhouse when it comes to music. The speaker comes with an IPX7 rating and a button strap that allow you to take your little gadget anywhere.
Its compact design packs a punch with a rich and clear sound delivery system. The Neo speakers feature an echo-cancelling speakerphone which allows you to answer your calls with crystal-clear audio.
Fantastic features that make this the best portable speaker:
The Neo portable speaker has a compact size and attached strap for extreme portability.
Its durable design and IPX7 rating allow you to enjoy your music by pools and even in rugged environments.
Its lithium-ion polymer battery delivers up to 10 hours of non-stop music playback.
Smoothly and reliably connect your Bluetooth-enabled devices with this fantastic portable speaker using its Bluetooth version 4.2 connectivity.
Bluetooth Speakers with Unique Personalities
Portable speakers are great. But how can you make them better? Add a little bit of spice to boring wireless speakers, and you get one that screams party. These funky speakers will jazz up any pool party with their unique looks and great sounds.
Conceptronic Bluetooth Speaker, a Little Party Alien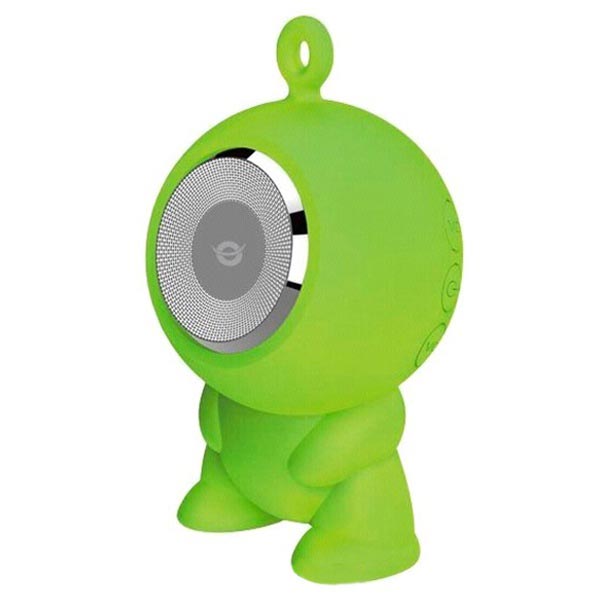 This little alien will bring all the galactic vibes to your party. The Conceptronic water-resistant Bluetooth speaker adds a splash of colour to a party that's out of this world. You do not have to worry about water splashes from ruining the mood with its IPX5 water-resistance standards.
The portable speaker weighs just 89g and has a soft silicone body. This speaker also makes for a fantastic gift for kids who love moving and grooving. Its durable design makes it ideal for kids who may handle it roughly.
Fantastic features that make this the best portable speaker:
This speaker comes with three side buttons that allow easy control of volume and music playback.
The soft silicone body, combined with an IPX5 rating, makes it resistant to water damage, dust and shocks.
Conceptonic's funky speaker comes with its micro-USB charging cable.
It lets you connect with any Bluetooth-enabled device with its Bluetooth version 3.0.
NewRixing NR4500 Wireless Speaker with an Old School Twist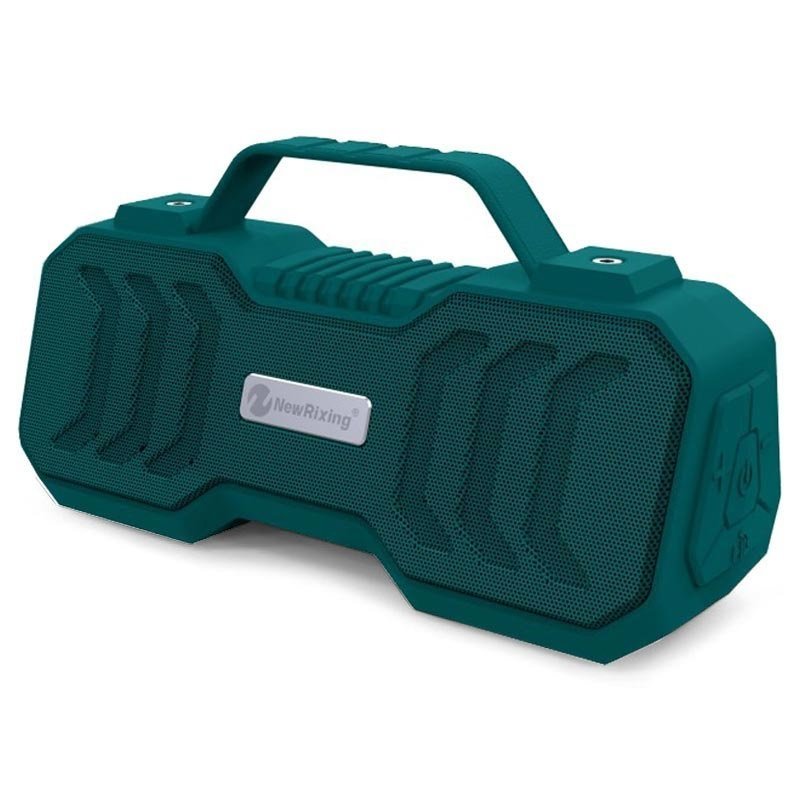 Like a touch of retro without going way back in time? The NewRixing NR4500 water-resistant wireless speaker is the perfect fit for you. This gorgeous, ultra-cool wireless speaker takes inspiration from the boombox.
Make a statement at any party with its design twist. Enjoy its powerful music delivery and its bonus features too. The NR4500 also serves as a power bank capable of charging devices like your smartphones and tablets.
Fantastic features that make this the best portable speaker:
Its ultra-stylish design will make you stand apart from the crowd.
This boombox speaker has an IPX4 waterproof rating allowing you to enjoy sandy beaches.
The NR4500 also comes with a MicroSD/TF card slot to allow you to completely ditch your other gadgets.
Connect your devices via Bluetooth version 5.0 connectivity, or use a 3.5mm AUX cable and enjoy your music.
It's Party Time!
We hope our top ten best waterproof Bluetooth speakers helped you find the right one for your next party. But remember, while these gadgets are waterproof speakers, we do not encourage you to splash them with water. Always practise safe usage with any electronic devices.
Are you looking for more music delivering gadgets and gizmos? Get in touch with us, and we will help you find the right one.