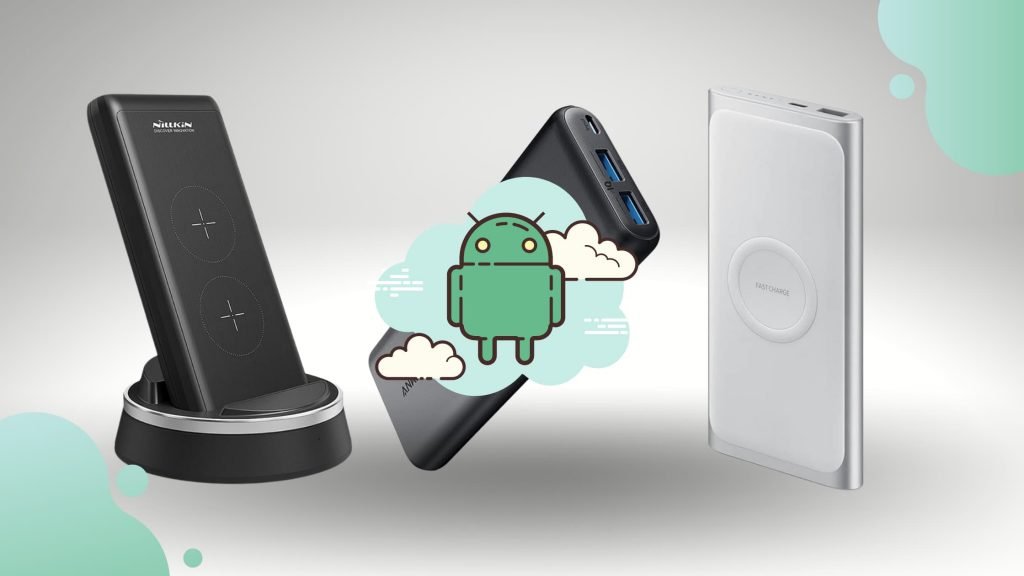 Despite the large battery sizes Samsung devices come with, you eventually do run out of power. But with the right power bank charging your smartphone, you'll have your gadget up and running in no time.
In this blog post, we'll help you narrow down your search for the best power banks for Samsung smartphones and other devices. You'll also learn a few crucial tips on how to choose portable chargers.
Are you an iPhone user? Our top five picks may also be suitable for iPhone users with the right charging cable. But we recommend you head over to our blog on Best Power Banks for iPhone for more suitable options.
Top 5 Power Bank to Charge Your Samsung Phone
Portable chargers are your best friend when finding an outlet for wall chargers becomes impossible. We have picked our top five best power banks that will charge your Samsung devices quickly and efficiently.
Samsung Wireless Battery EB-U1200CSEGWW for Rapid Charges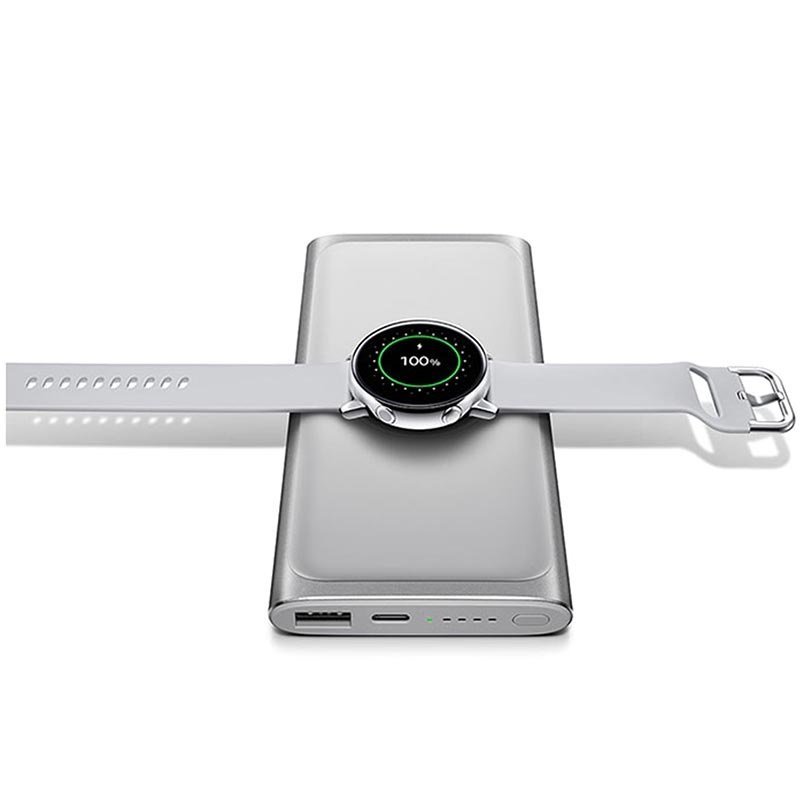 Experience rapid charging with the Samsung wireless battery. This Samsung power bank comes with a 10,000mAh battery capacity. Its sleek and stylish silver design makes it extremely portable.
In addition to the USB-C port, the power bank also supports wireless charging. The Qi wireless charging feature boosts any phone or tablet that is Qi-enabled. You can even simultaneously charge two devices.
Charging your device gets better with these features:
Enjoy hassle-free wireless charging by placing your Qi-enabled device on top of the power bank.
The battery supports fast charging with USB port output levels of 5V/2A, 9V/1.67A, and 12V/1.25A.
The power bank makes for a perfect match with your Galaxy S10e, S10, S10+ and Galaxy Watch Active.
This wireless charger comes with a USB-C cable to recharge it.
Anker PowerCore II with PowerIQ 2.0 Technology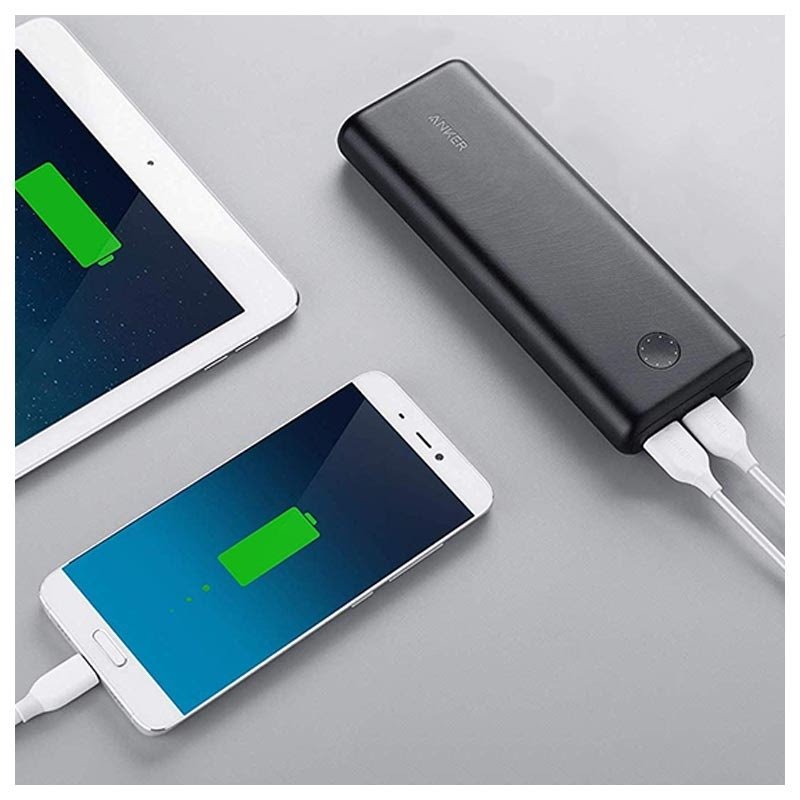 The Anker PowerCore II hosts a 20,000mAh capacity battery within its slim casing. If you are looking for a massive powerhouse for your travels, this is the one for you. Its small and compact size makes it extremely portable.
This high-capacity battery pack comes with two USB ports that allow you simultaneous charging. Both the ports support PowerIQ 2.0 technology for intelligent, fast charging of your connected devices.
Charging your device gets better with these features:
Thanks to its PowerIQ 2.0 technology, you can experience faster charging with both its USB ports.
Its compact and small size makes it extremely travel-friendly.
Its high-capacity battery will give you multiple charges with just a single charge.
The Anker power bank also ensures the safe charging of your devices.
Samsung Wireless Power Bank EB-U3300XJEGEU for On-the-go Charging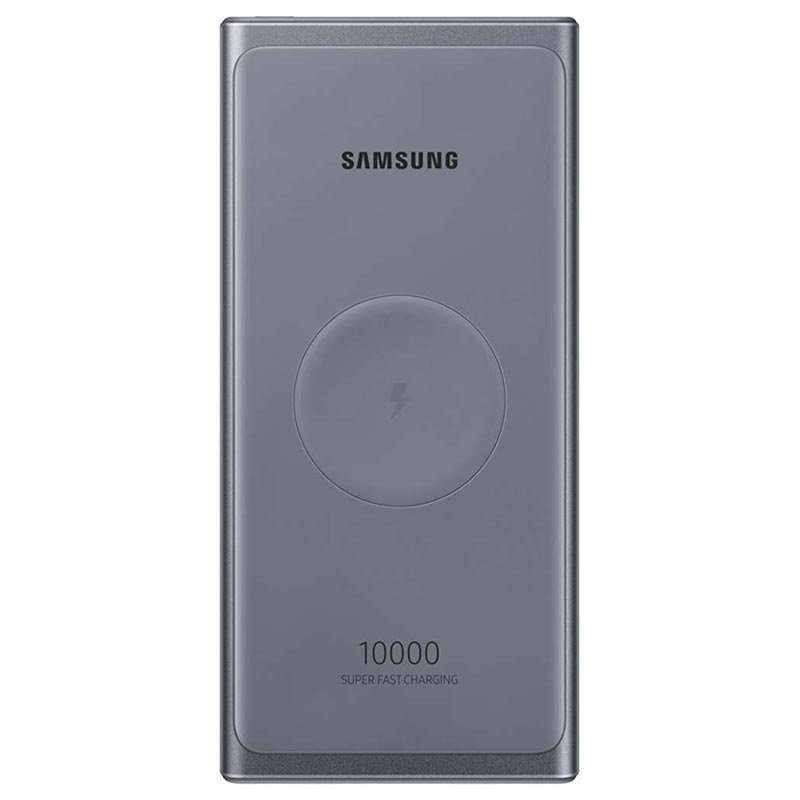 The Samsung wireless power bank comes with two USB-C ports in addition to a 7.5W wireless charging feature. The official Samsung power bank has fast charge support to get your devices quickly recharged.
This device also supports two-way fast charging to deliver energy and recharge itself. This portable battery weighs only 251g but, despite its compact size, it offers maximum power.
Charging your device gets better with these features:
Its multiple ports for charging, along with the wireless charging feature, let you boost up to three devices simultaneously.
The 10,000mAh battery gives you several charges for a single device. On the other hand, you can choose to freshen up multiple devices at once.
The charger comes with a two-way fast charging feature so that your power bank is always ready and charges your connected devices quickly.
It works perfectly with any device that comes with built-in wireless charging or a Qi wireless receiver. (Purchase a Qi wireless receiver here.)
Prio Fast Charge Power Bank with Capacity Indicator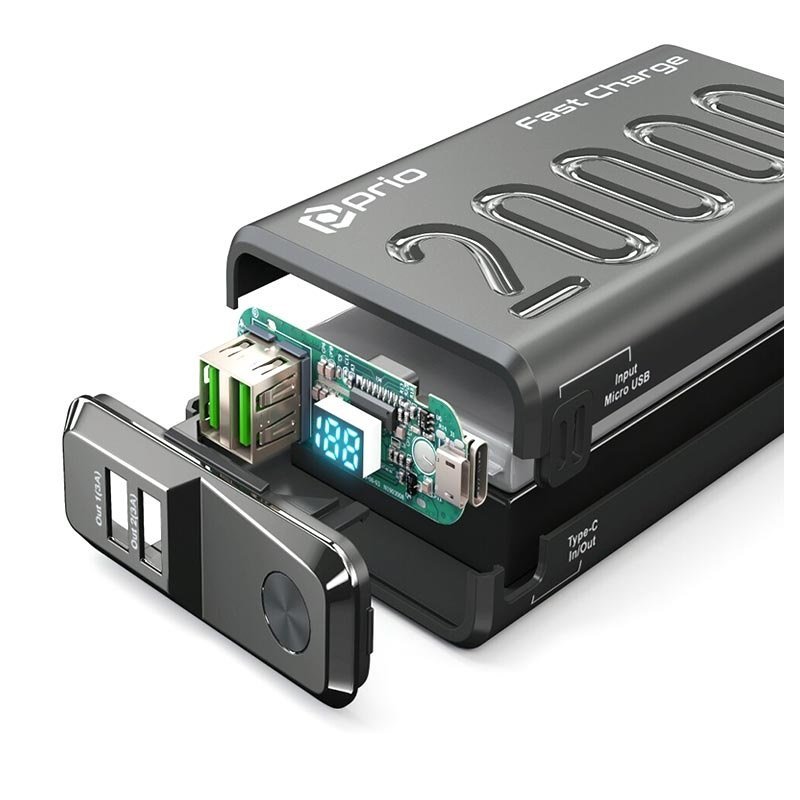 The Prio Fast Charge power bank offers a 20,000mAh battery capacity that will allow you to get multiple charges throughout the day. It has dual USB-A and one Type-C port, which let you charge up to three devices simultaneously.
This portable charger does not just charge your Samsung smartphones. You can use it for your tablets and laptops too! Its small size and compact design allow you to carry it in your carry-on luggage and make the most of your trip without charging worries.
Charging your device gets better with these features:
The Prio power bank comes with a 30cm long USB Type-C charging cable.
Enjoy fast charging with its 18W PD Power Delivery and Quick Charge 3.0 technology.
Smoothly charge up to three devices simultaneously with this little powerhouse of energy.
The power bank also sports an LED indicator that keeps you updated on the portable charger's power capacity.
Nillkin PowerMount Power Bank with Docking Station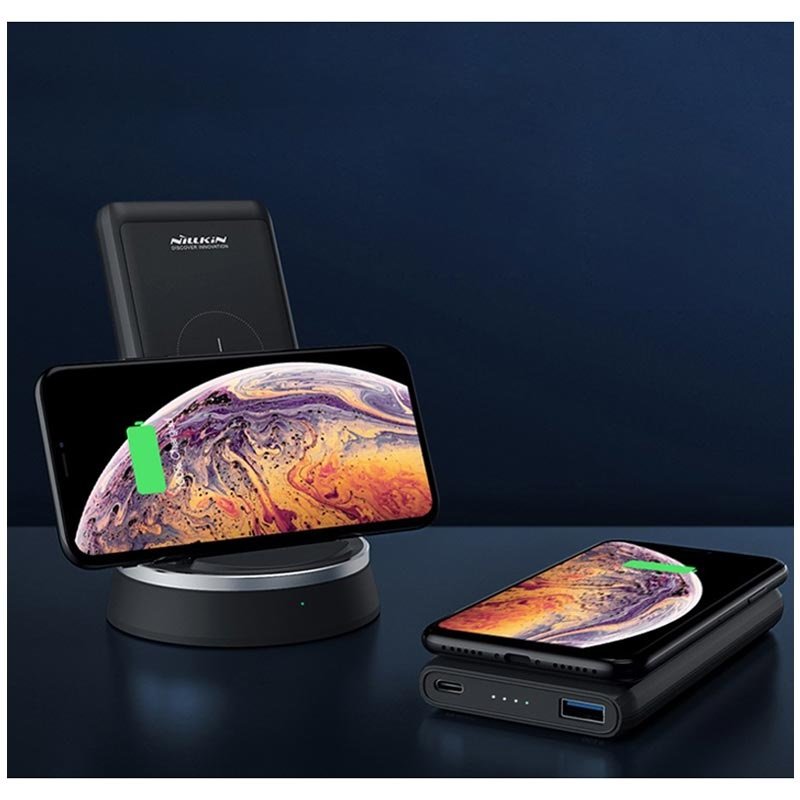 The Nillkin PowerMount power bank's stylish design will wow you. It comes with a docking station, which doesn't disrupt the organisation of your space. The docking station also doubles up as a stand for your smartphone. So, enjoy your favourite shows while your device charges.
This power bank also serves as a 10W wireless charger. Its built-in coils allow you to charge your phone vertically or horizontally. Charge up to three devices simultaneously in combination with its wireless charging feature.
Charging your device gets better with these features:
This 10,000mAh power bank comes with two coils to charge your wireless-charge supporting devices in either a vertical or horizontal configuration.
The Nillkin power bank comes with QC3.0, AFC, and FCP supporting USB port and a Power Delivery 3.0 supporting USB Type-C input/output.
Its elegant design blends perfectly with any workspace.
You can remove the power bank from the dock and use it as a portable charger.
Characteristics and Features to Look for in a Power Bank
Not all power banks are the same. They come in different sizes and capacities. Our pointers below will help you understand common power bank features and what to expect from them.
This quick cheat-sheet will help you pick the best power bank for your Samsung smartphone if you have not already chosen one from our top five.
Battery Capacity: The Higher, the Better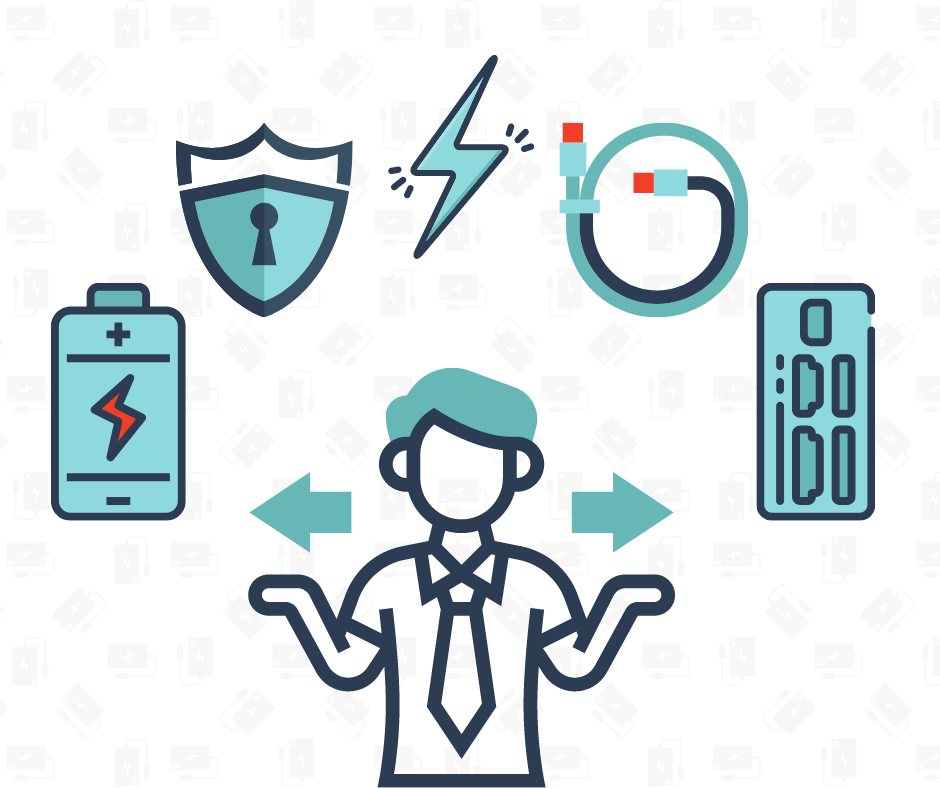 Large capacity power banks will get you multiple charges in a day. This option is always welcome, especially if you are always on the go and extensively use your device.
It is always best to opt for a power bank that offers more capacity than the battery of the device you are charging. This feature will ensure that you will get at least one full charge for your device with more to spare.
Consider Certifications for Safe Charging
As with any electronic devices, safety features are a crucial aspect. If you intend to use your power bank in a wet environment, look for water-resistant varieties. But in general, look for safety features such as overcharge and overheating protection to get the safest charging and for the longevity of your power bank.
The Power Bank's Portability
Power banks with many features and high-capacity batteries tend to be larger. Consider the portability aspect of your power bank. From our list, the Nillkin PowerMount is the model, which allows you to use it both as a stand and as a portable charger.
For Faster Charging, Look at the Output Levels
Charging speed delivery differs from power bank to power bank and sometimes from port to port. Look at the output levels of the charging ports on your portable charger. Usually, a 5V/2.4A output level is a Fast Charge battery, and a 9V/3A output charging speed is a Quick Charge. Your device must support this technology if you want to take advantage of the Quick Charge feature.
The Right Cable to Get the Job Done
Power banks do not always come with charging cables and may require you to use your smartphone's cables to get the job done. While some power banks may come with a built-in lightning cable, this feature is not available on all of them.
Single Port or Multiple Port
Whether they support wireless charging or not, you will have at least one USB charging port on your power bank. However, if you intend to charge multiple devices, consider opting for a multi-port power bank. Though we must warn you that simultaneous charging can slightly reduce the charging speed.
Spruce Up Your Gadgets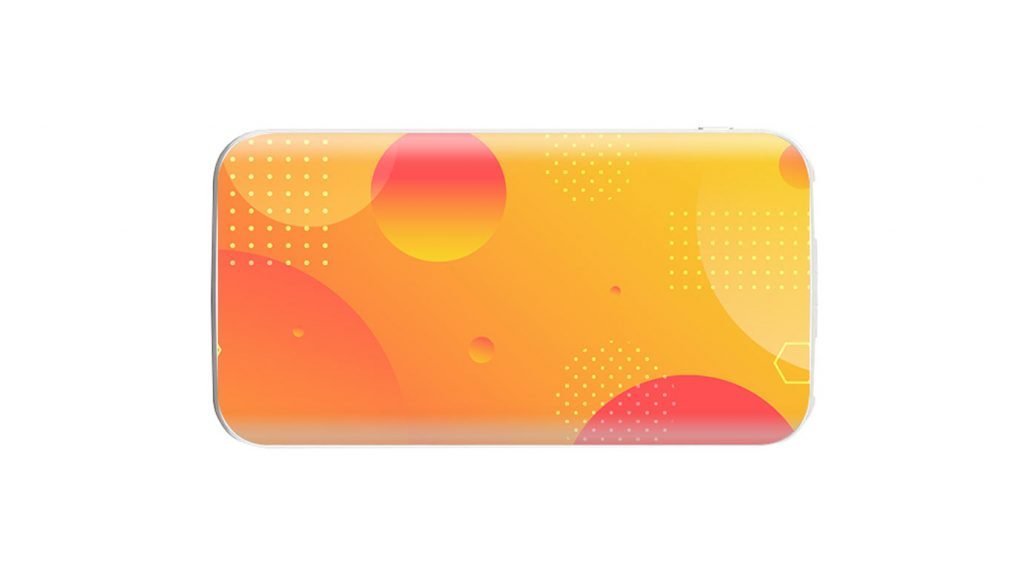 The run of the mill power banks and phone cases may not be your style. You can always bring uniqueness to your smartphones with our 2-minute 3-step online personalisation app!
Step 1: Select your device.
Step 2: Select the model and case style you prefer.
Step 3: Upload the desired image.
Preview the final result in our preview window and click 'Buy', once you are ready!
Always on the Run
Busy lifestyles need smart solutions, and our top five best power banks for Samsung smartphones intend to be just that. But there are more gadgets and gizmos that can up your smartphone's abilities and the efficiency of your life.
Why don't you get in touch with us and allow us to show you the world of smart gadgets?