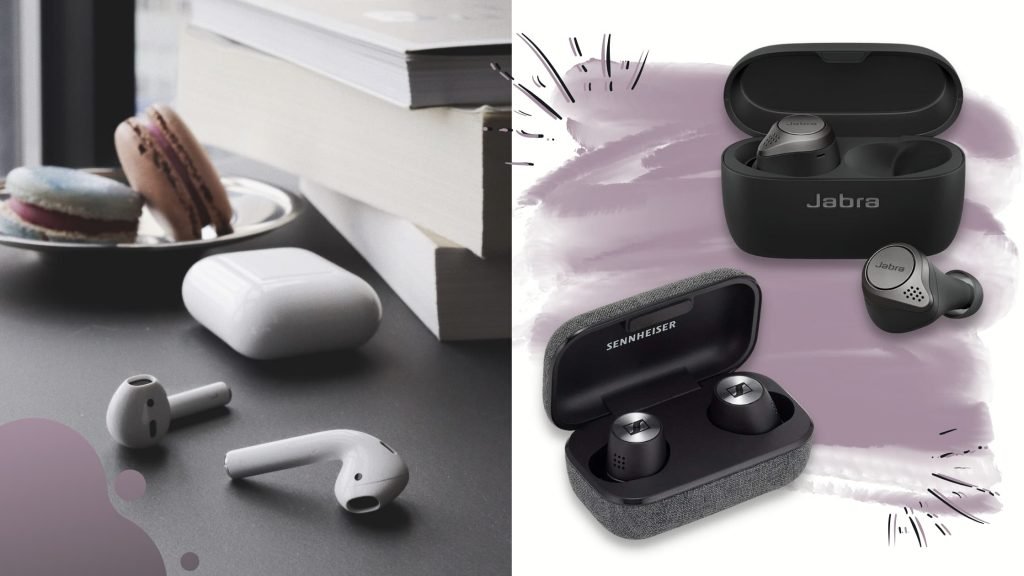 The Apple AirPods have become a must-have accessory for every iPhone user or Apple lover. Their distinctive white colour and stems make them recognisable anywhere. Not to mention the Hey Siri functionality that manages so much as to allow you a hands-free experience, and the wireless charging cases that completely eliminate wires.
Whilst the AirPods are a remarkable piece of technology, their lack of waterproofing (only AirPods Pro come with IPX4 water resistance) limits the environments within which you can use them. Additionally, the one-size-fits-all design is not really the best fit for ears that come in different shapes and sizes.
If you are not a fan of the white ensemble and the stiff professional looking design of the AirPods, we understand. Our picks of AirPods alternatives will give you a taste of the variety of wireless earphones available today.
Whether you are looking to shift from wired to wireless without breaking the bank or just want something that offers a secure and comfortable fit, we have got you covered. We have also included some great wireless earbuds that give you the true active noise cancellation experience.
You do not have to sacrifice your bond with Siri when you opt for these true wireless headphones. And most of these will give a full 24 hours of playback with their charging case top-up. Let us find you the perfect AirPods alternative!
Top 5 Best Cheap Alternatives to Apple AirPods
Just because they are cheaper than AirPods, it does not mean you are losing out on brilliant features. Our top 5 stylish earbuds are jam-packed with features that will enhance your listening experience.
Back to Basics with Ksix True Buds 2
If you are simply looking for a basic pair of wireless earphones that deliver great sound without being heavy on your wallet, Ksix comes to your rescue. Their simple, minimal design and great battery life despite the affordable price will impress you.
Ksix True Buds 2 for Good Music at a Great Price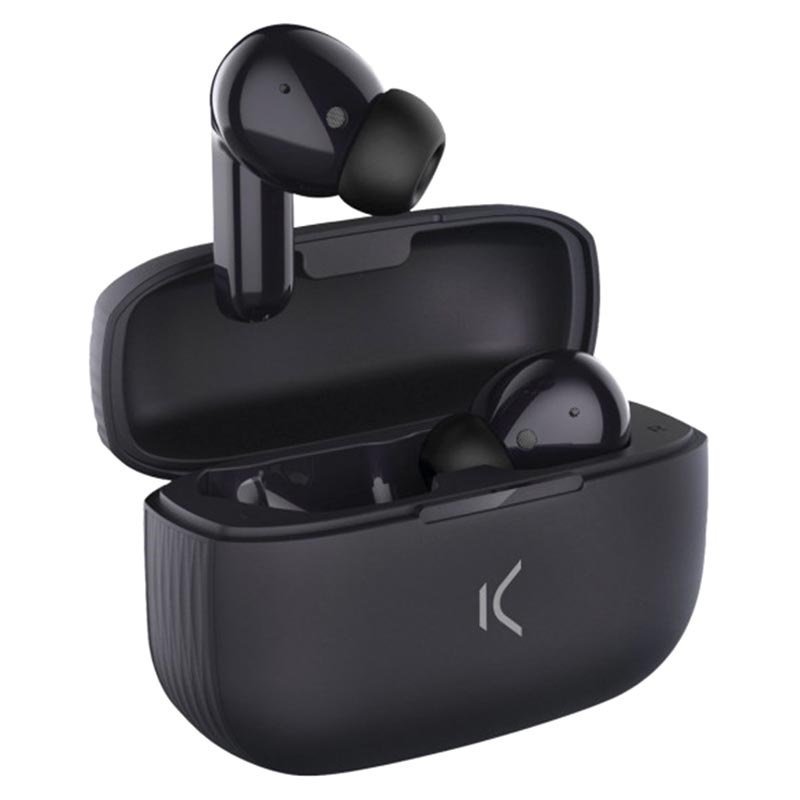 Do not let the small price tag of Ksix True Buds 2 worry you. This pair of True Wireless earbuds offers great audio quality. The Ksix earbuds are a great choice if you are venturing into the true wireless scene of earphones from the traditional wired earphones.
With the True Buds 2, you can easily control your music list or take a call with its multifunctional button. The Ksix earbuds also support Siri, so you can enjoy using the virtual assistant's help as always. With the True Buds 2, you get a total of up to 20 hours of playback time.
Features that make this AirPods alternative a great choice:
On a single charge, the Ksix True Buds 2 will give you up to 6 hours of playback. You can extend the battery life using the charging case by up to 14 hours.
These earbuds come with a built-in microphone allowing you to enjoy a hands-free experience when taking calls.
You can enjoy the virtual assistance of both Siri and Google Assistant, making the Ksix earbuds a match for both iOS and Android devices.
The multifunctional button on the earbuds makes managing and controlling music playback and calls easy.
Budget-friendly and Stylish M20 TWS Earbuds
If you want a little bit of wow factor with your wireless earbuds, the M20 earphones are for you. These reasonably priced earphones feature touch controls and a splash of colour that will brighten up your day.
M20 TWS Earphones a Pop of Pink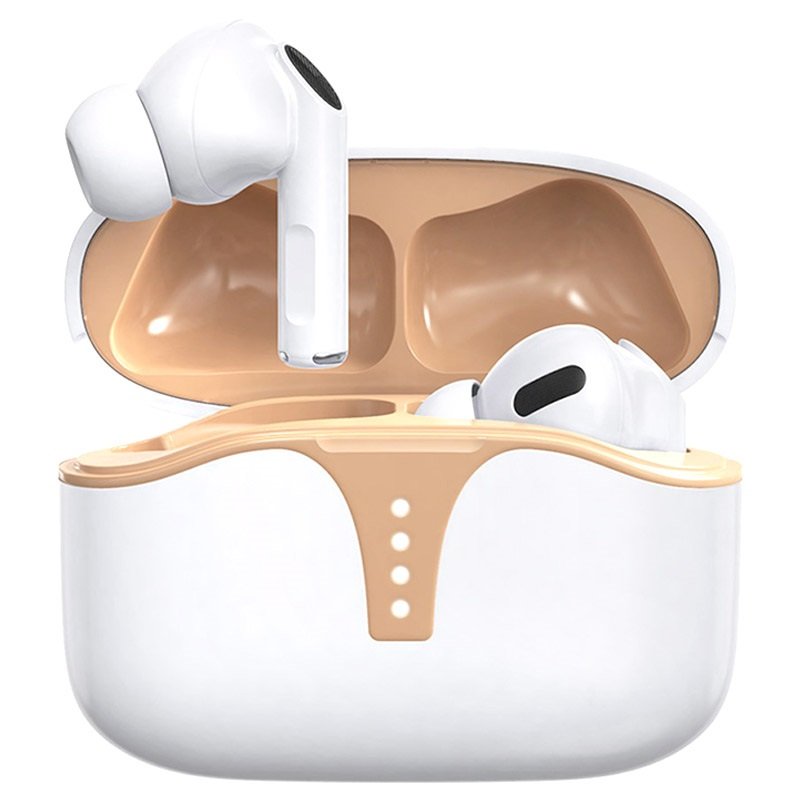 The M20 TWS Earphones are another great pair of budget-friendly wireless earbuds that you can consider. These earbuds come in white with a touch of desert pink on the charging case, making them a cute and stylish accessory.
In addition to the soft silicone ear tips that provide a comfortable fit, the M20 also boasts active noise cancellation technology. Furthermore, the smart touch controls allow efficient management of music playback and calls. You can also access Siri with these controls.
Features that make this AirPods alternative a great choice:
Enjoy an immersive music listening experience with its active noise-cancelling technology that silences the outside world.
You can reliably connect with Bluetooth-enabled Android and iOS devices with its Bluetooth version 5.1 with up to a 15m connectivity range.
Its smart touch controls and sensitive built-in microphones make using them a great experience.
You can easily disconnect your earbuds from the device by simply closing the charging case.
Its ergonomic and AirPods-reminiscent design ensure a secure fit while looking stylish.
Level Up to ANC with Nillkin Go TWS
Another great budget-friendly alternative comes from Nillkin. They are a great option when it comes to noise-cancelling wireless earphones at a decent price. Additionally, they also boast simultaneous connectivity with up to two devices.
Nillkin Go TWS for HD Sound Anywhere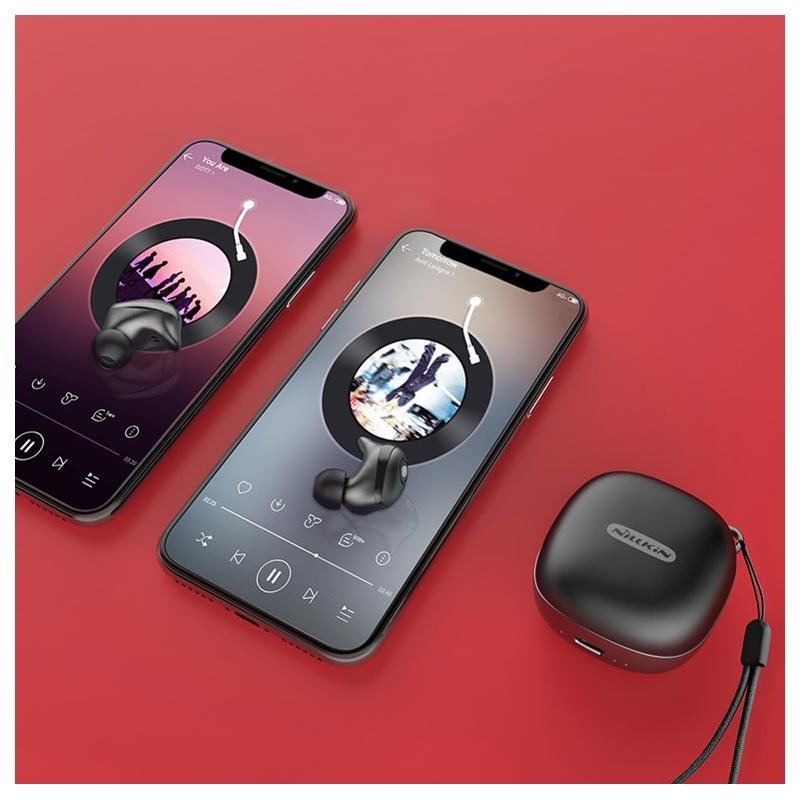 Nillkin Go TWS offers excellent voice and sound clarity that won't leave you longing for AirPods. These earbuds come with DSP acoustic noise-cancelling technology along with a MEMS microphone. No matter how noisy the world around you gets, you will always enjoy clear calls and smooth music playback.
The Nillkin earbuds feature a binaural separation design that allows you to connect to two devices simultaneously. The multifunctional button also makes controlling and managing your music playback and calls easy. Want Siri's assistance? Long press the button and say, Hey Siri!
Features that make this AirPods' alternative a great choice:
Nillkin Go comes with a water resistance rating of IPX5 making it an excellent companion during workouts and for outdoor activities.
You get a multifunctional button on each earbud that allows you to manage your calls, music, volume and even connect with Siri on your Apple devices.
Get a stable and reliable connection without any transmission delay with its class 2 Bluetooth version 5.0 with reduced power consumption.
Just take out your pair of earbuds from their case and get automatically connected to the last connected device.
Get an extra 25 hours of battery life with its charging case to top up the 5 hours of playtime of a single charge.
Absolute Clarity with Jabra Elite 75T
On the higher end of AirPods alternatives, we have the Jabra Elite 75T. These in-ear earphones come packed with features that will have you falling in love with them.
Jabra Elite 75T to Filter Out Disruptive Noise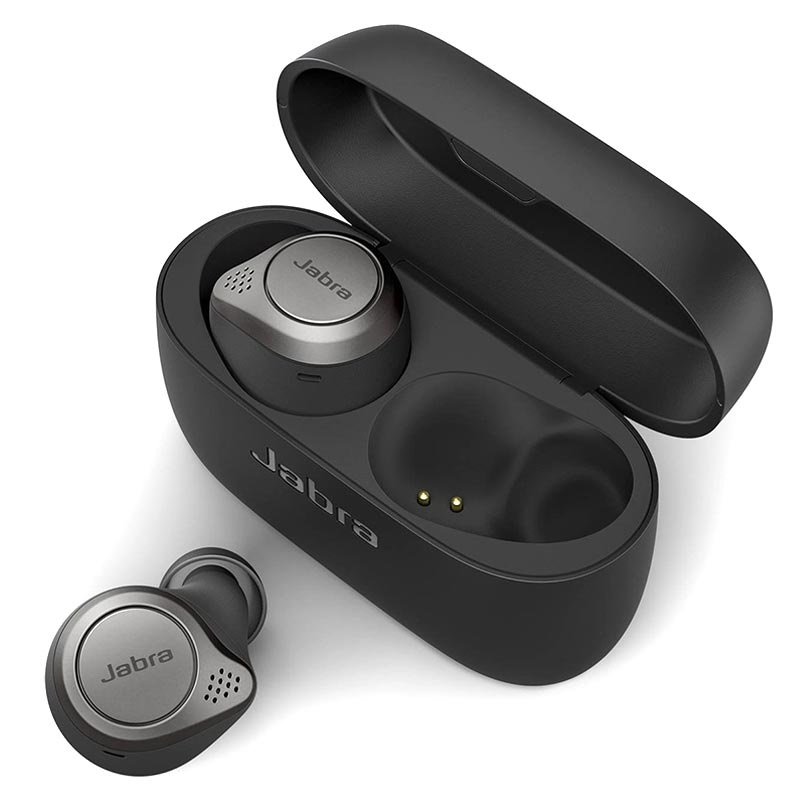 The Jabra Elite 75T has a compact, small design without the odd stems of AirPods. These stylish earbuds in black will give you a crystal-clear sound. Thanks to the 4 microphones built into it, the sound clarity is greatly improved.
With the passive noise-cancelling technology you enhance the experience of listening to your favourite songs. The Elite 75T also supports voice assistance. You can connect not just with Siri but you can also stay connected with Amazon Alexa and Google Assistant.
Features that make this AirPods alternative a great choice:
The Jabra Elite 75T gives you up to 7.5 hours of playback time on a single charge.
Its compact charging case helps boost the playtime of your earbuds by up to 28 hours.
Do not worry about sweat damage with the Elite 75T, thanks to its IP55 waterproof certification.
These in-ear headphones also come with a quick load function for faster charging of your wireless earbuds.
Connect reliably with any Bluetooth device with its stable Bluetooth version 5.0 connectivity.
The Boss Earbuds: Sennheiser Momentum True Wireless 2
The priciest on the list but the best of the best, the Sennheiser earbuds can be considered the best and true alternative to Apple's AirPods. These earbuds are the ultimate sound accessory when it comes to features that can be packed into wireless earphones.
Sennheiser Momentum True Wireless 2 the Ultimate Earbuds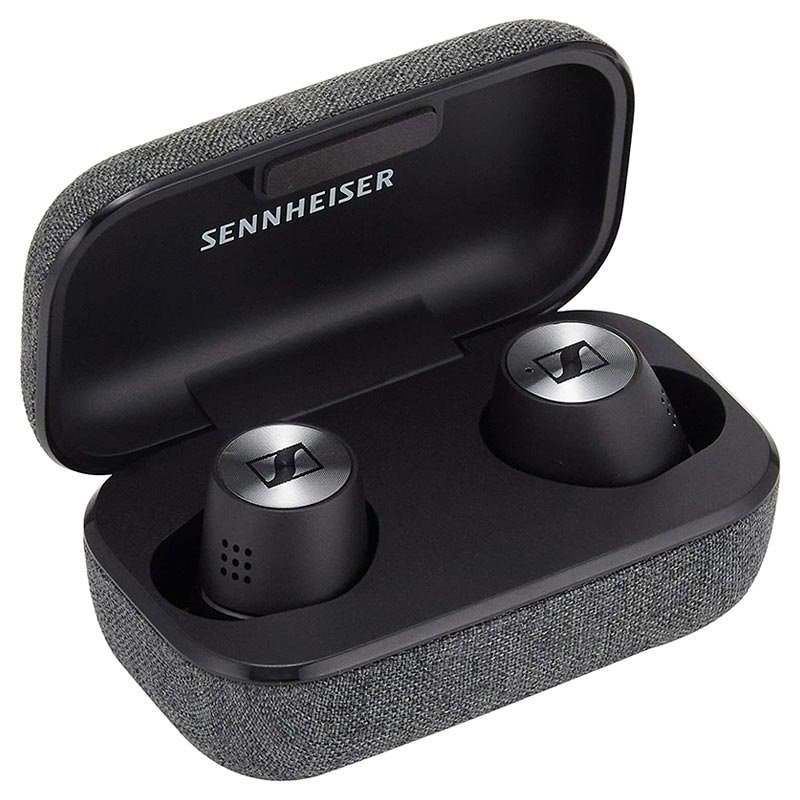 The Sennheiser Momentum True Wireless 2 makes for a true alternative to Apple's AirPods. These gorgeous in-ear earbuds come with a stylish grey charging case that extends your listening time by up to 28 hours.
These earphones allow you to voice control Siri as well as Google Assistant. Like the AirPods Pro, the Sennheiser earbuds also offer three modes of playback. Use the active noise cancellation mode to cancel out all the noise. The transparency mode helps you stay alert of your surroundings while you enjoy your music.
Features that make this AirPods' alternative a great choice:
The Momentum True Wireless 2 comes with a companion app, Sennheiser Smart Control, available for iOS 13.0+, Android 8.0+, and Apple Watch for an improved experience.
The included four sizes of silicone tips ensure you get the best and the most secure fit.
These earbuds have an IPX4 waterproof rating allowing you to use them during your workouts without worrying about sweat or splash damage.
Enjoy excellent audio quality with its 7mm dynamic drivers and built-in equalizers in addition to the noise-cancelling modes.
Get up to 7 hours of playback on a single charge. Add an additional 1.5 hours of battery life with just 10 minutes of charging.
Taking Care of Your Wireless Earbuds
Like any gadget, your wireless earbuds also need to be taken care of to last an exceptionally long time. We recommend that you clean your earbuds with disinfectant, such as the Benks disinfectant wipe, to keep germs and bacteria off your earphones and their charging case. Use a cotton bud to gently clean dirt and other debris from hard-to-reach corners, nooks and crannies.
While our list features wireless earbuds with waterproof certification, always remember they are not fully waterproof. Wipe your earbuds after a workout session or if they have been splashed to ensure they do not get damaged. Never fully submerge your earbuds in liquids to avoid permanently damaging them.
While your charging cases are meant to top up your earbud's battery life, they too need to be recharged. We suggest that you invest in a power bank that will come in handy in the unfortunate event that you forget to charge the case. You can check out our wide variety of power banks and portable chargers for the perfect match.
Can't Get Enough?
We hope our top 5 picks have helped you find your favourite alternative to AirPods. Are you still looking for more alternatives to Apple's AirPods? Check out a huge collection of TWS headphones!
If you are looking for something more traditional, like an over-the-head earphone, or a stylish, statement-making Bluetooth speaker, then get in touch with us! We have a large, delightful collection of audio gadgets that you will love.