No longer a science fiction fantasy, a communication device you can wear on your wrist has become a standard accessory. With 46.9 million of the projected 113 million smartwatches sold by 2022 being an Apple Watch, Apple has been dominating the smartwatch market since it introduced its first generation product in 2015.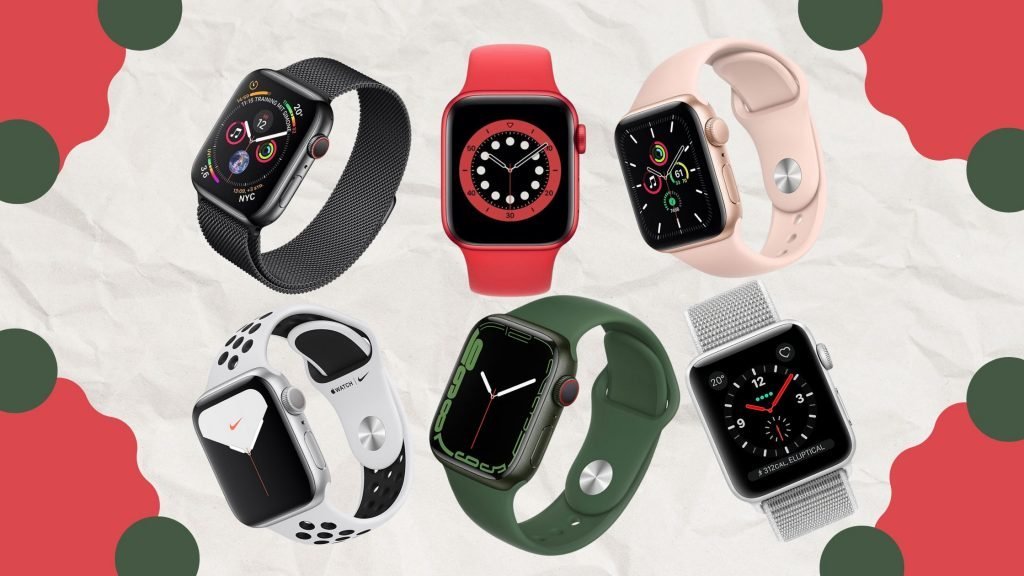 Apple Watch Series Compared
There are currently nine models of Apple's popular smartwatch and seven different series. An eighth series is in the early stages of development. Three of these models, the Series 7, SE and Series 3, are currently available for purchase from Apple.
First Generation
The first generation Apple Watch was released on 24th April 2015, and discontinued on 7th September 2016. The original model ran on a single-core S1 system-on-chip. It relied on a paired iPhone for location services because it did not have a built-in GPS chip.
The watch's Taptic Engine provided users with haptic feedback when the watch received alerts or notifications. The watch featured a heart rate sensor that used visible-light LEDs, infrared and photodiodes. It came with 8 gigabytes of storage and could be used to control the music on a paired iPhone.
The final version of the watchOS to receive software support was 4.3.2. The original watch was available in a silver, space grey, rose gold or gold aluminium case or a polished or space black stainless steel case. The stainless steel model featured a more durable sapphire glass display and a ceramic back and was available in a rose or yellow 18k gold Hermès special edition.
Series 1
This Apple Watch Series was released on 16th September 2016, and discontinued on 21st September 2018. It ran on the Apple S1P processor. It was released with a lower starting price than the first generation of the watch and was only available in space grey, gold, rose gold and silver aluminium case options.
Series 2
Series 2 was released at the same time as Series 1 but was discontinued on 12th September 2017. It featured an upgraded Apple S2 processor and was water resistant for up to 50 metres deep. Additional improvements over the Series 1 included a 1000 nit display that was twice as bright and a built-in GPS.
The Series 2 was available in space grey, gold, rose gold and silver aluminium, white ceramic and space black or polished stainless steel cases. The stainless steel model was available in a Hermès special edition. The last watchOS supported for Series 1 and Series 2 was 6.3.
Series 3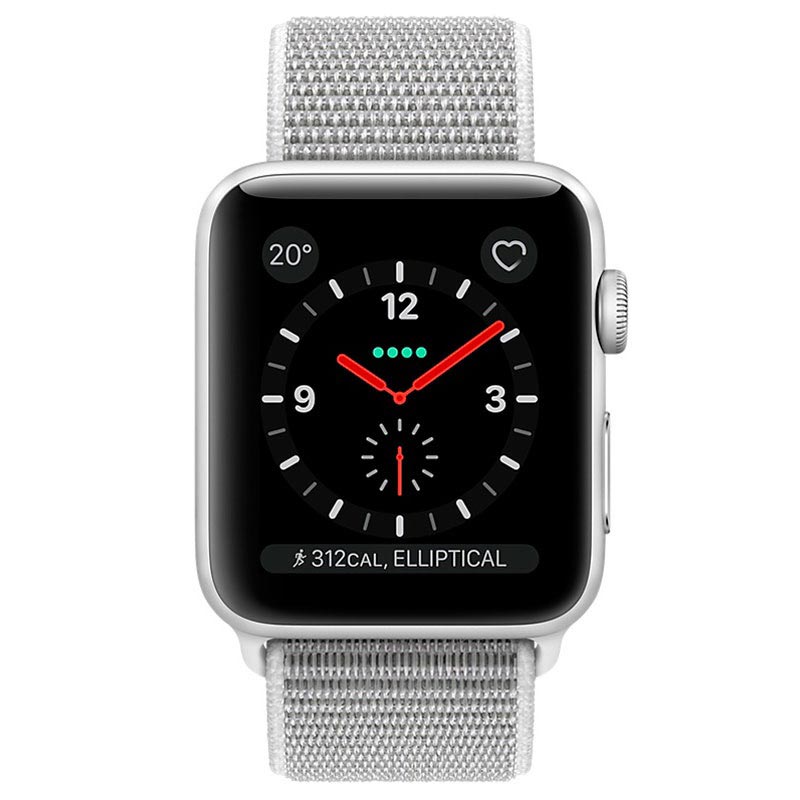 This Apple Watch model was released on 22nd September 2017. It is available with a 38mm or 42mm display. Improvements over the previous models include a built-in altimeter for tracking stairs climbed, more RAM and optional LTE connectivity. The addition of the LTE option made it possible to utilise some of the watch's features, such as making and receiving phone calls, using iMessage or streaming music, without having your iPhone nearby. However, to make use of this feature, you must pay a monthly fee to your mobile network provider.
It runs on the faster S3 SiP dual-core processor and has 8GB of storage. The increased processing speed made it possible for Siri to speak through the watch's onboard speaker. It is swim-proof and has an 18-hour battery life. Unlike the models that have been discontinued by Apple, the Series 3 is still supported by the latest watchOS software, making it one of the best models for budget-conscious shoppers who want a watch that is still supported by the manufacturer.
However, this Apple Watch still has the original design, which at 11.4mm thick features a chunkier display that may seem outdated when compared with the latest offerings. Additionally, it is only currently available with a dark space grey or silver aluminium case. If you purchase a used model or an older model from another retailer, there is a gold aluminium case, space black and polished stainless steel case, and white or grey ceramic option. Additionally, there was a stainless steel Hermès edition.
Series 4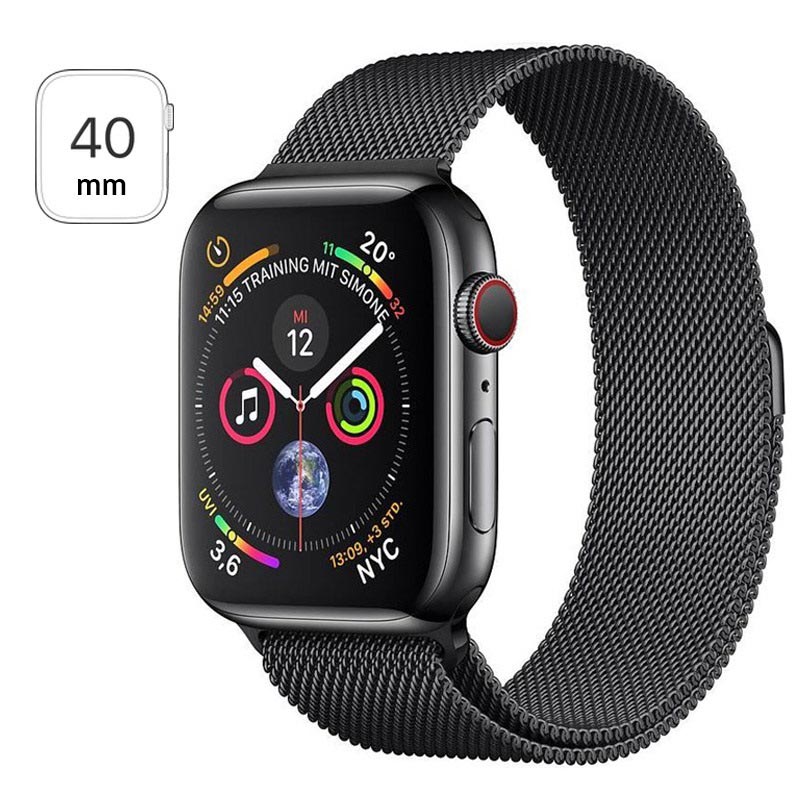 This series was released on 21st September 2018, and discontinued on 10th September 2019. The Series 4 was the first major redesign of the product. Its main upgrades included a 40mm display that had a 30% larger screen, thinner bezels, rounded corners and a redesigned ceramic back.
It ran on the S4 SiP 64-bit dual-core processor, which had twice the capability of the S3 processor and had 16GB of storage. This model also added an electrical heart rate sensor. The Series 4 microphone was repositioned to the area between the digital crown and the side button to improve call quality. Additionally, the digital crown in this model incorporated haptic feedback and the watch had an upgraded W3 wireless chip.
The ECG system first featured in this Apple Watch Series was approved by the United States Food and Drug Administration and endorsed by the American Heart Association. Additional safety features added to this Series included fall detection that can automatically contact emergency services if the user does not cancel the call.
This model was available with a space grey, gold or silver aluminium case or space black, polished or gold stainless steel case. There was also an aluminium Nike special edition and stainless steel Hermès model.
Series 5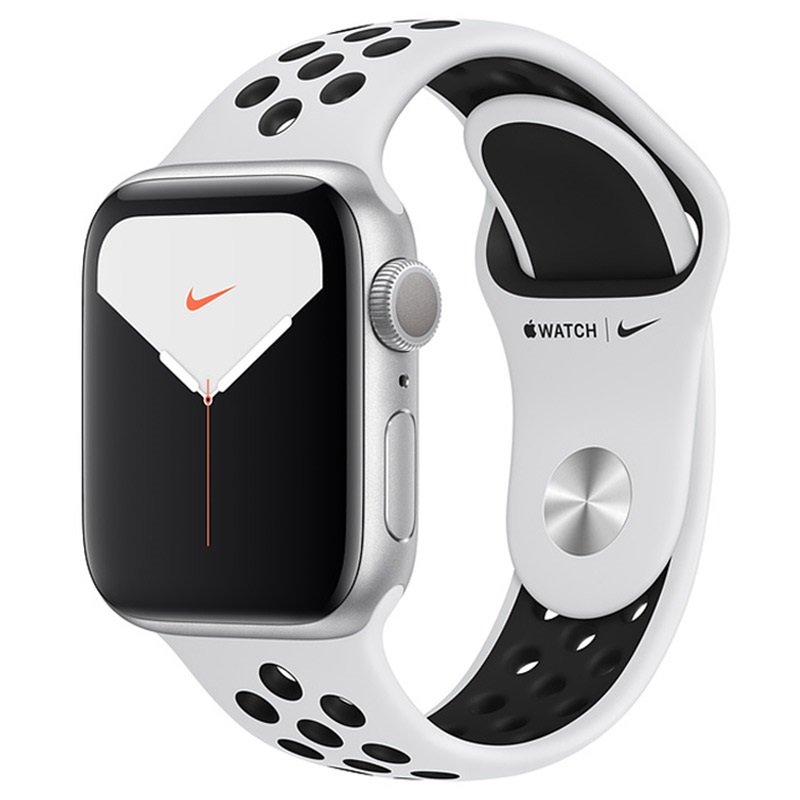 Series 5 was released on 20th September 2019, and discontinued on 15th September 2020. This series was the first to feature an always-on display and also added a compass. Previous models and the SE model feature a screen that turns black when the watch is not in use.
These displays are supposed to turn back on when the user turns their wrist; however, sometimes this feature doesn't work and it can take a few seconds for the information to update. Users can also light up the screen by tapping it or twisting the digital crown on the side of the watch. The always-on display dims when not in use, but remains visible.
When the user moves their wrist or turns the digital crown, the screen returns to normal brightness. The advantage of the always-on screen is that you can always check the time without having to wake the screen. This feature may be particularly useful for users who want to quickly check the time, heart rate or other features while working out or doing some other activity. Users can choose to turn off the Apple Watch always-on display if they want the screen to go black when not in use.
The downside to the always-on option is that it lowers the refresh rate from 60Hz to 1Hz to conserve the battery but still reduces the battery life. Additionally, some users may prefer the look of the black screen.
The watch runs on the S5 SiP 64-bit dual-core processor and has 32GB of storage. It has electrical and optical heart rate sensors and can take an ECG but does not have the blood oxygen sensor featured in newer models. Other upgrades over previous models included international emergency calling for more than 150 countries, an improved ambient light sensor and a more energy-efficient processor.
This watch was available with a space grey, gold or silver aluminium case or a space black, gold or polished stainless steel case. The Series added a ceramic model that was not offered in Series 4 called the Edition model. It also added the space black and natural colours to the titanium options. A special edition Nike model was available in aluminium and an Hermès model in stainless steel.
SE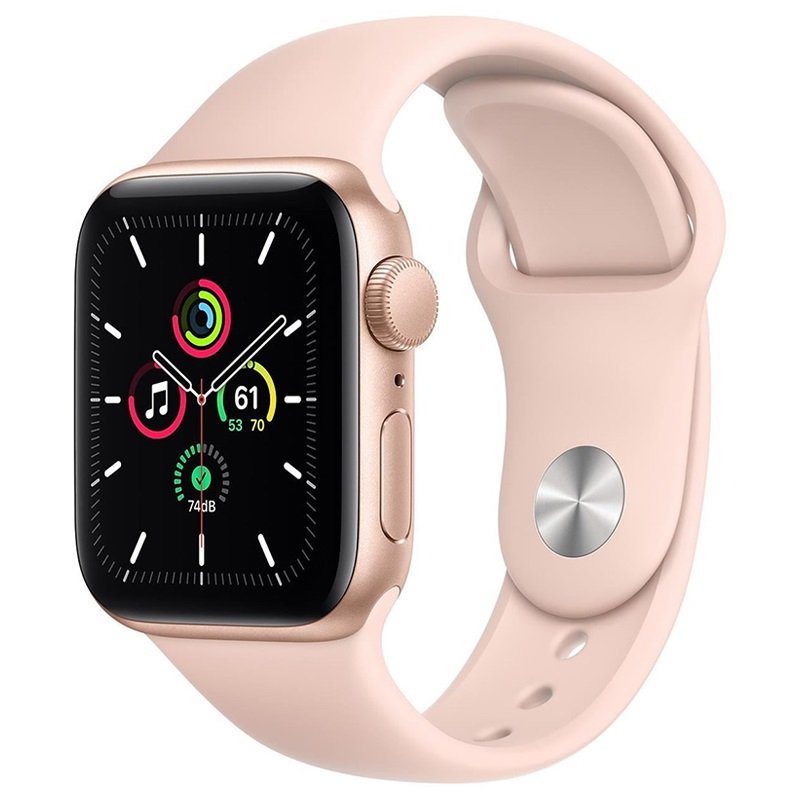 The SE model of the Apple Watch was released on 18th September 2020, as a less expensive alternative to the Series 6. It is a hybrid between Series 5 and Series 3 that runs on the S5 SiP 64-bit dual-core processor and has 32GB of storage.
It is available in 40mm and 44mm display sizes, is 10.7mm thick and includes heart rate monitoring, GPS and optional LTE connectivity. Like the Series 6, this model added an always-on altimeter. It is swim-proof, has an 18-hour battery life and has 16GB of storage.
It lacks the always-on display, ECG and SpO2 features found in Series 6. The SE is available with a space grey, silver or gold aluminium case. There is also a Nike special edition.
Series 6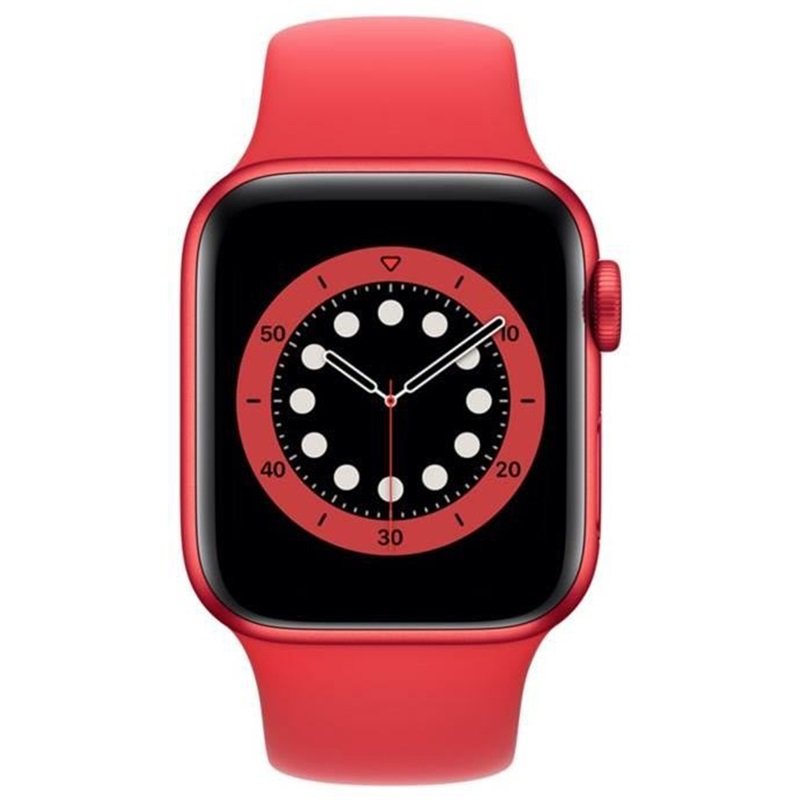 The Series 6 Apple Watch was released on 18th September 2020, and discontinued on 8th October 2021. It runs on the S6 SiP 64-bit dual-core processor and has 32GB of storage space. Improvements over the Series 5 include a 2.5 times brighter, always-on display, always-on altimeter, blood oxygen saturation sensor and a newer processor that is up to 20% faster.
The model's main advantage over the less expensive SE was the always-on display. It also has ECG and SpO2 monitoring. However, because this model has been discontinued, Apple no longer releases software updates for it. The watch was available in a blue, gold, red, silver or space grey aluminium case. You could get a stainless steel case in gold, graphite or silver or a titanium model in space black or silver. The Nike and Hermès editions returned in aluminium or stainless steel.
Series 7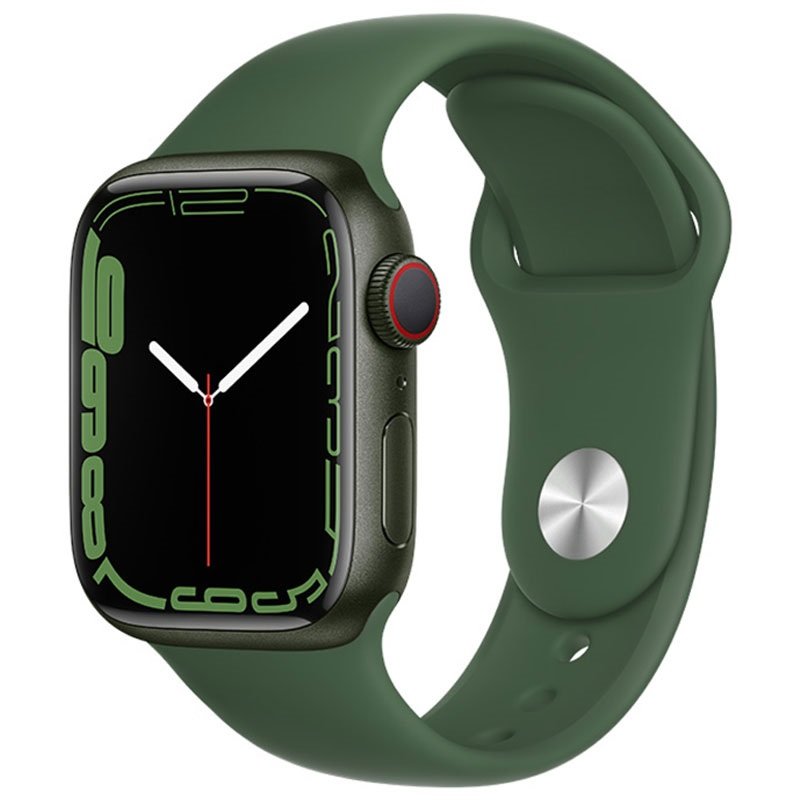 The latest Apple Watch was released on 15th October 2021 and features a 41mm or 45mm case and screen that is 20% larger than Series 4-6/SE and 50% larger than Series 3. The bezels on this model are thinner and the corners more rounded than the Series 6 which makes more watch faces and interphases possible and makes the display easier to use and navigate.
It has the same sensors and 64-bit dual-core processor as the previous model. The S7 processing chip is up to 20% faster than the Series 5 chip. It is swim-proof and has heart rate monitoring and GPS tracking. It comes with optional LTE connectivity, 32GB of storage space and a battery life of 18 hours.
Improvements over previous models include the larger display, brighter always-on mode, included USB-C magnetic charger, exclusive watch faces and a full QWERTY keyboard. It takes about one hour to fully charge this model, which is about 33% faster than the Series 6. For users who track their sleep statistics, Apple advertises that an eight-minute charge will provide enough power to track eight hours' worth of sleep.
The Series 7 Apple Watch features a more durable design that is IP6X rated for improved dust resistance. The watch is available in a blue, midnight, starlight, green or red aluminium case. Stainless steel models come in gold, graphite or silver. The titanium case is available in space black or silver.
The aluminium case models feature an upgraded, more difficult-to-crack Ion-X glass display. The Nike Series 7 is available in midnight or starlight and comes with a Nike Sport Loop band and Nike Bounce watch face. The Hermès Series 7 is available in silver, space grey or black stainless steel and features the Gourmette Double Tour, Circuit H, Classic, Attelage and Jumping Single Tour faces.
Series 8
The Series 8 Apple Watch is still in the speculation phase; however, it is expected to feature an updated design and additional health and fitness tracking sensors. It is not expected to be a lot different than the Series 7 but should have some new specs and features.
It is believed that Series 8 will be released at the same price point as Series 7. There may also be a new version of the lower-cost SE model. It may feature the same rounded design as the series 7 or incorporate a more iPhone-like flat-edged design. There are also rumours that Apple is working on a more rugged version for outdoor sports enthusiasts.
Some rumours suggest the new model may come with a body temperature sensor. Improved battery life management and a low-power mode may also be in the works.
Shop for Apple Watch Accessories at MyTrendyPhone
MyTrendyPhone sells quality gadgets and accessories for a variety of products, including the Apple Watch. We carry over 100,000 products and have a team of more than 300 employees ready to assist you. Visit us online to shop our selection.