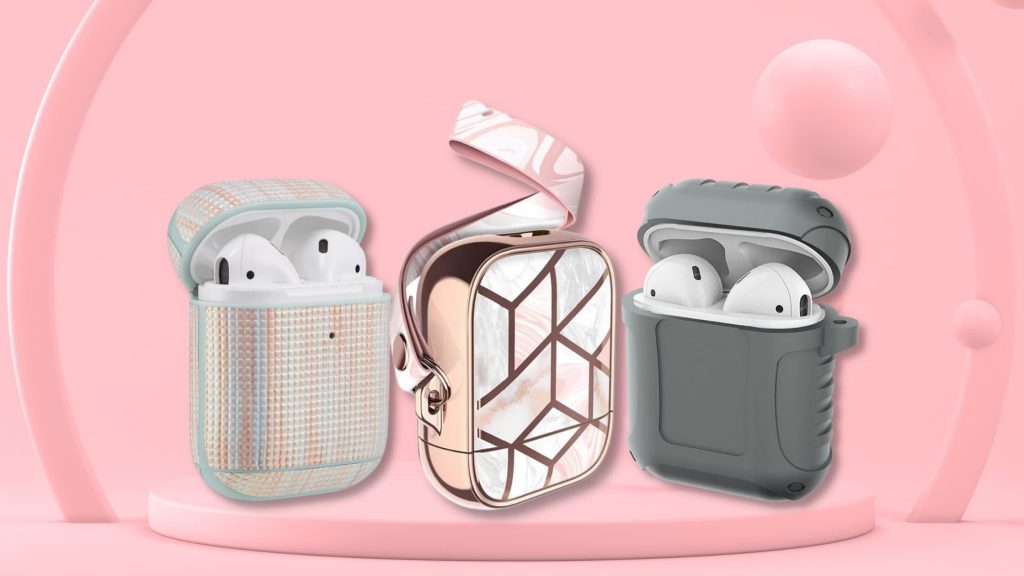 Imagining your life without your favourite pair of AirPods might feel like a nightmare. These compact audio gadgets by Apple have made life much more hands-free. They have become a great companion to your iPhone when taking calls whilst driving. And for your Apple Watch too, making workouts much more fun and enjoyable.
But the plain and boring white AirPods cover could use some spicing up. In this post, we have handpicked some of our favourite case covers that will impress you.
If you are looking for something that matches the weirdness and quirkiness of your personality, our furry monster case is the right choice. Like something retro? We bet we have picked the right one to match your taste.
Maybe you want something that is different but still classy and stylish. Our leather case cover could be the one for you. A little razzle-dazzle you say? We bring you the cosmos!
If you are an adventurer trekking through rough and unkept paths, you need something more than just a cover. You need armour that will keep your AirPods and its charging case safe and sound.
Do not worry if you are just looking for something simple that will not look unprofessional in your work environment. We have picked some minimal yet stylish cases that will meet your requirements.
Without further ado, let us find your next AirPods accessory!
Get Wild with these Rough and Tough Cases for AirPods
If you are prone to dropping your AirPods case or like the outdoors a little too much, then these cases are a must. These cases are designed to handle extreme usage and keep your AirPods safe and sound at all times.
Spigen Tough Armor Silicone Case to Keep You Hooked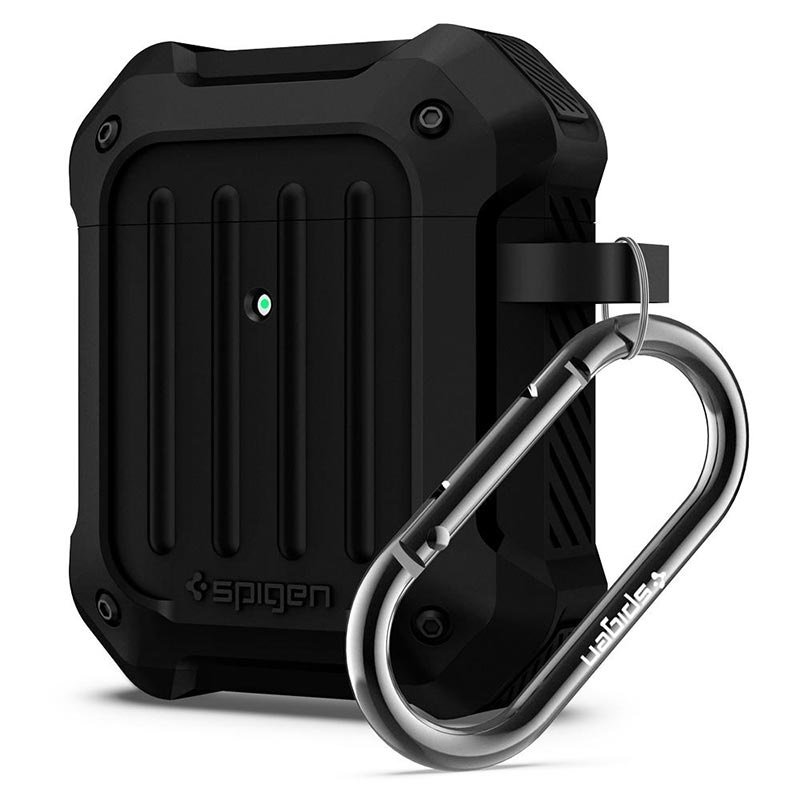 The Spigen Tough Armor silicone case offers great protection for your AirPods. It comes with a military grade certification of MIL-STD 810G-516. This cover has undergone testing for falling 26 times from a height of up to 1.2m, and still provides the best protection.
The Spigen case also comes with a carabiner allowing you to easily attach it to your belt, bag, or just about anything else. In addition to providing the ultimate grip with its rugged design, this silicone case also protects your gadget from impact damage.
Features that make this case the right purchase for you:
The Spigen cover uses soft silicone of the best quality that offers scratch defence.
The rugged design makes the case easy to grip and provides shock-proofing for protection against drops and falls.
The included carabiner allows you to carry it anywhere with you and prevents the loss of your AirPods.
This cover also lets you use your AirPods charging case's wireless charging feature.
Shockproof Armor Silicone Case in Stylish Grey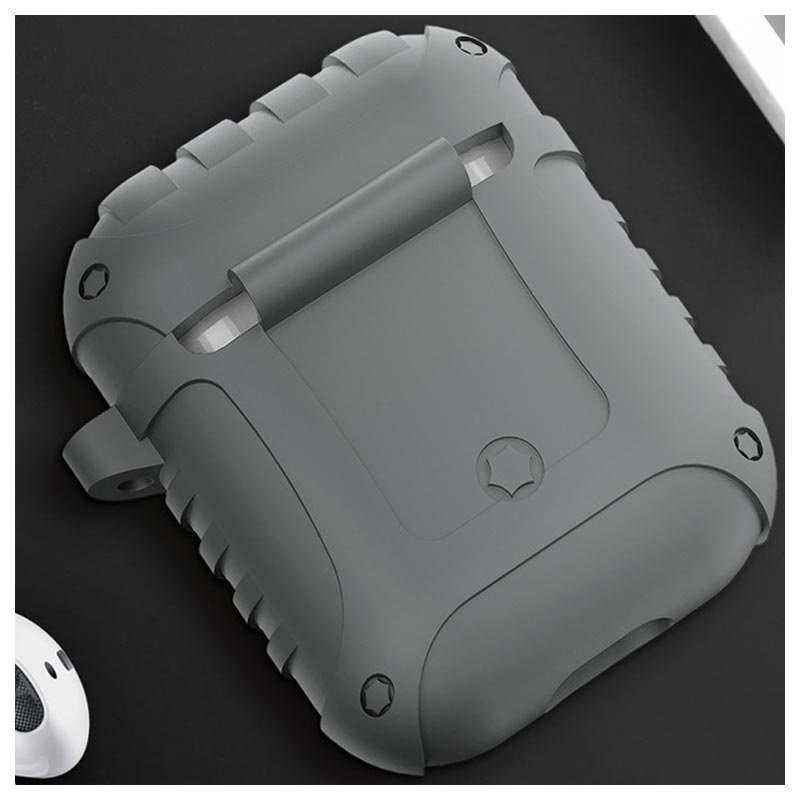 A step away from the blacks and whites, the shockproof armor silicone case comes in a soft grey colour to bring a bit of uniqueness. This case cover offers great grip with the rugged, ribbed design.
Choose this shockproof armour for your AirPods if you are a nature lover. The case offers resistance to dirt, dust and water splashes. With this case, you can rest assured that your AirPods are safe from the elements on your camping trips and nature trail treks.
Features that make this case the right purchase for you:
This AirPods charging case cover comes in an anti-slip, rigid design with a hook clip for easy carrying.
The silicone material safeguards your AirPods against falls, impacts and other damage.
Its lightweight composition means that you do not feel like you are carrying extra weight.
The case has precision-cut holes to allow access to the AirPods charging port so you can easily connect your lightning cable.
Simple and Stylish AirPod Case Covers for the Minimalists
Simple does not have to be boring. These cases feature all-time favourite colours that will never go out of fashion. Their elegant and minimalist design is a winning choice.
Guess Silicone Case, Speckled in Glamour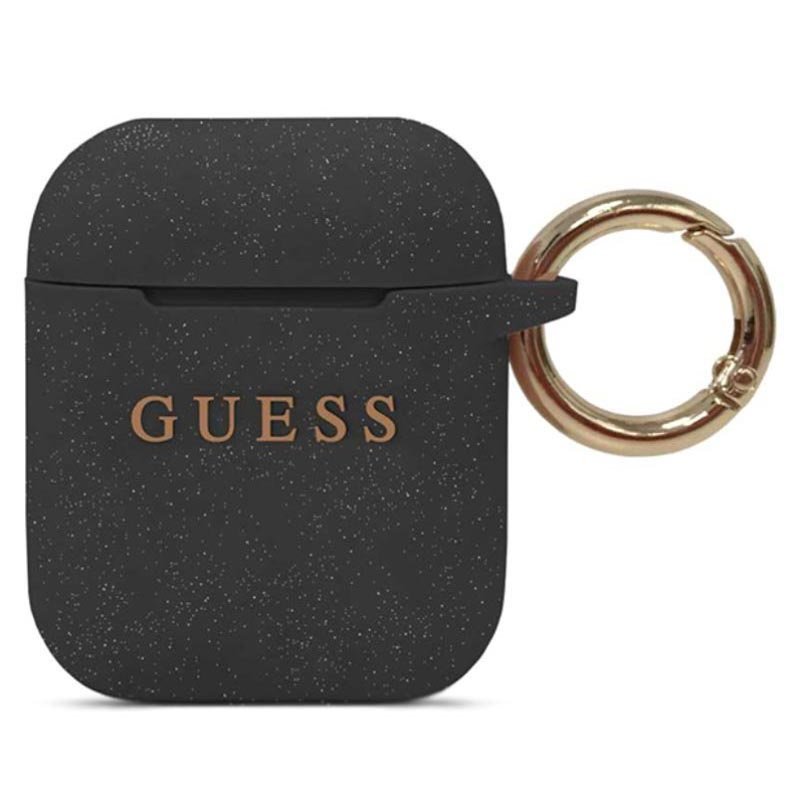 The Guess silicone case features a classy speckled look that adds to the glam of any outfit. The gorgeous silicone case is available in three different shades that are subtle and stylish. In addition to making your case glamorous, the case protects your AirPods against damage.
This exclusive offering from Guess will make you the talk of the town. The case's premium silicone material protects the case from dust and scratches. The cover also comes with a gold keychain ring that easily attaches to your bag or belt.
Features that make this case the right purchase for you:
This stylish silicone case is an exclusive offering from Guess for your AirPods.
The silicone case protects your charging case from dust, scratches and impact damage.
The case has a flexible wrap-around design for easy installation and a metal ring to improve mobility.
The case has a precise cut-out for easy access to the charging port.
Puro Icon Silicone Case for Lightweight Protection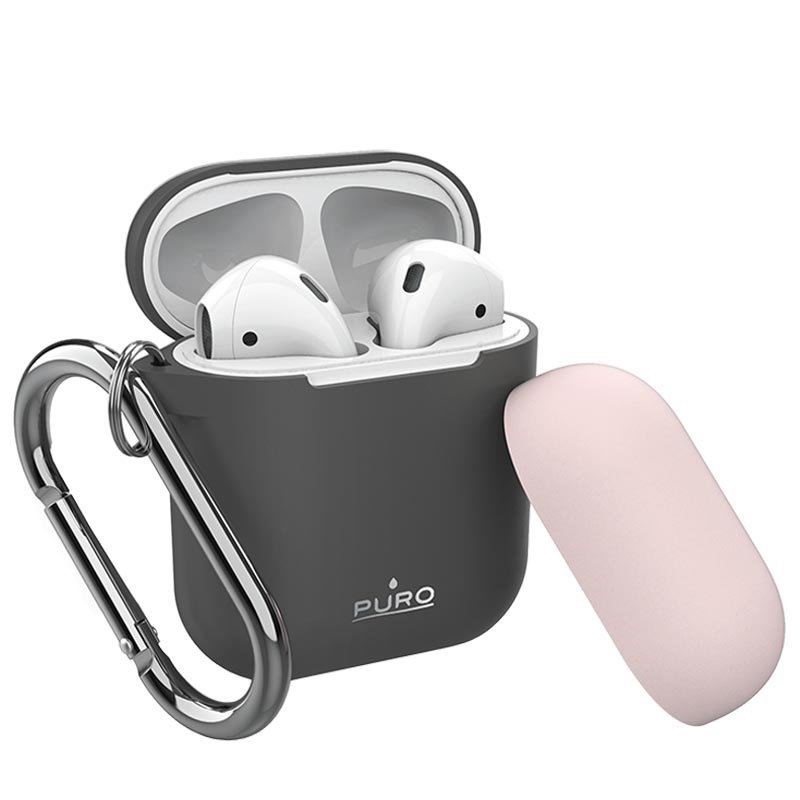 The Puro Icon silicone case with carabiner allows you to take your AirPods anywhere without the fear of losing them. The silicone case is ultra-lightweight This premium case provides the perfect fit for your charging case.
The Puro Icon case also comes with an additional cap to allow you to mix and match. The soft black colour will complement all of your outfits. The soft-to-touch silicone material will make you forget it is even there.
Features that make this case the right purchase for you:
The Puro Icon uses a 0.88mm thick durable silicone material for an extremely lightweight case.
The case comes with an extra cap in a contrasting colour to allow you to change up your style whenever you want.
The included hook lets you keep your AirPods always on you and prevents them being misplaced.
The case comes with a cut-out for easy access to the charging port.
Something Funky, Something Kooky for Your AirPods
If breaking the mould is your style, here are the top picks that will help you do just that. These funky, yet functional, AirPod cases are a great choice for gifting to kids or even to delight the kid in you.
Furry Monster Series Silicone Case to Add the Fun Factor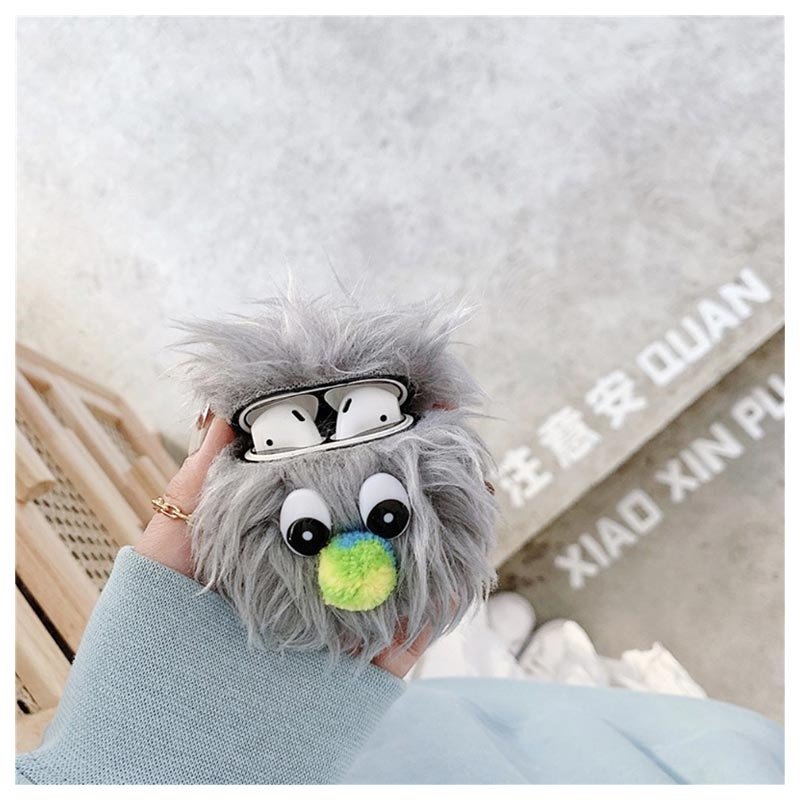 The Furry Monster Series silicone case is constructed with a cute plush design that will attract all the "Awww!" This little fluffy monster is a great choice for children and adults alike who like something extraordinary.
The cute design uses silicone and plush materials to give you a lightweight AirPods case that is one of a kind. Be the cool kid in a crowd of boring white AirPods cases with this easy to install monster case.
Features that make this case the right purchase for you:
The friendly design will encourage you to always keep your AirPods in the case when not in use.
The design also makes the case easy to spot if you leave it lying around.
The charging case cover comes with precision-cut holes for access to the charging port.
You no longer have to worry about scratches, bumps, and accidental drops from affecting your AirPods case.
Retro Series Silicone Case, a Tribute to the Old School Style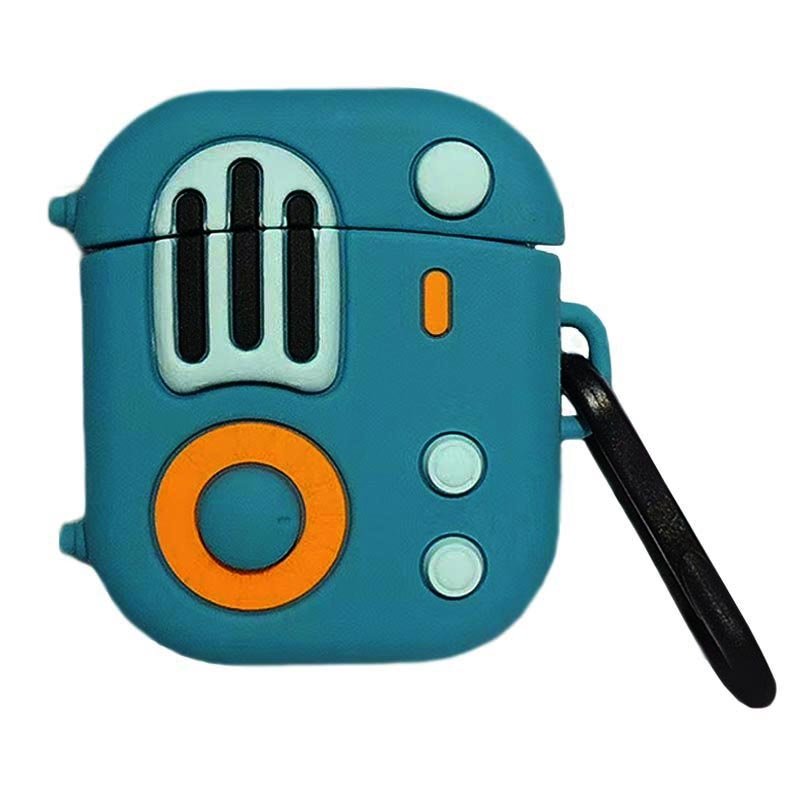 The Retro Series silicone case is a must-have accessory to add a little bit of nostalgia to your everyday life. The retro case features a radio design that gives it a charming appearance. Additionally, its colourful design will always catch your eye no matter where you forget it.
This silicone cover offers protection from bumps, scratch, and other damage without adding too much bulk to your case. It is extremely easy to install and makes your device even more portable with the included hook.
Features that make this case the right purchase for you:
The Retro series cases are a great choice for those that like standing out from the crowd. It is also available in other colours!
The soft silicone material protects your charging cases against damage from falls, bumps and scratches, while being an absolutely cute accessory.
The case comes with a hook that attaches to just about anything to make carrying your AirPods easy.
The unique and colourful charging case cover is great for travelling and trips.
A Cool Mix of Elegance and Style to Upgrade Your AirPod Case
Are you looking for something extraordinary and unique for your AirPods charging case? Look no further than our favourite picks below. These cases will not just protect your case but add a dash of glamour to your favourite gadget.
Leather Coated Case for the Fashionable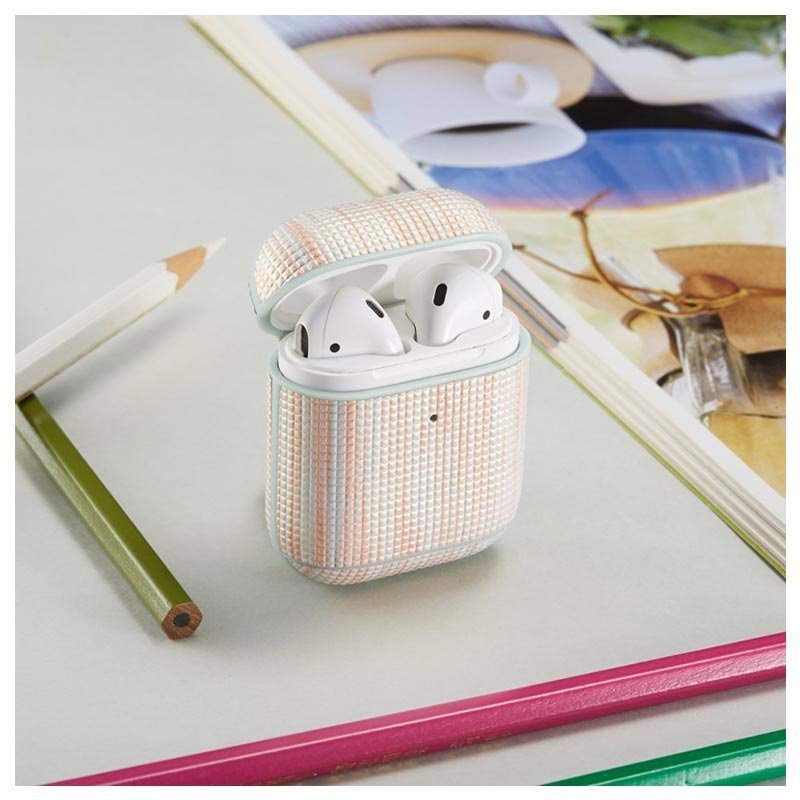 This stylish leather coated case is a big step away from the simple silicone cases. With this leather case cover you will add sophistication to your gadgets. A perfect choice if you want to be different but still look professional in your work or study environment.
This leather case is available in three colours allowing you to choose the right one for you. The case comes with cut-outs for easy access to the charging port as well as the LED indicator. Protect your AirPods with confidence with this luxurious choice.
Features that make this case the right purchase for you:
The leather case comes with a stylish pattern and in three different colours.
The cut-outs ensure the case does not hinder the AirPods charging case's functionality by allowing access to the charging port and the LED indicator.
The luxurious construction will make you stand out in any crowd without looking over the top.
The no-fuss installation will have your case protected and ready in moments.
Supcase Cosmo Case for the Bold and the Beautiful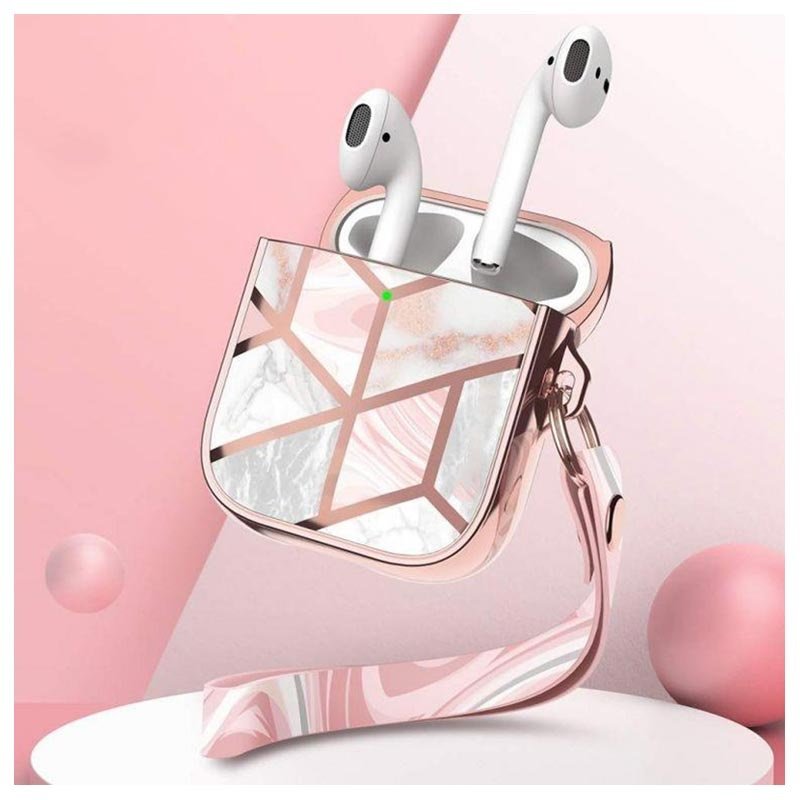 The Supcase Cosmo case is not for the faint-hearted. The bold design concept and the glamorous lustre of this case will grab everybody's attention. Designed to make a statement, this case has us going gaga over it.
The Supcase uses polycarbonate and metal to give your AirPods case the ultimate luxurious appeal. The included lanyard also adds to its style and practicality. Make your case look fabulous and keep it protected.
Features that make this case the right purchase for you:
The Supcase Cosmo Case uses polycarbonate and metal materials to give you a highly fashionable accessory for your AirPods.
The case effectively protects your charging case from dust, scratches and impact damage without being too bulky.
The included lanyard improves its practicality while also adding to the style quotient.
In addition to the charging port cut-out, use the wireless charging feature of your AirPods wireless charging case without removing the protective case.
Stay on Trend with an AirPod Case with the Power of Qi
Get the best of both style and functionality with the Qi-enabled charging cases. These charging cases will upgrade the plain, traditional whites of Apple's charging case. Make a splash with these beautiful AirPods cases.
Baseus Silicone Charging Case, a Red-Hot Upgrade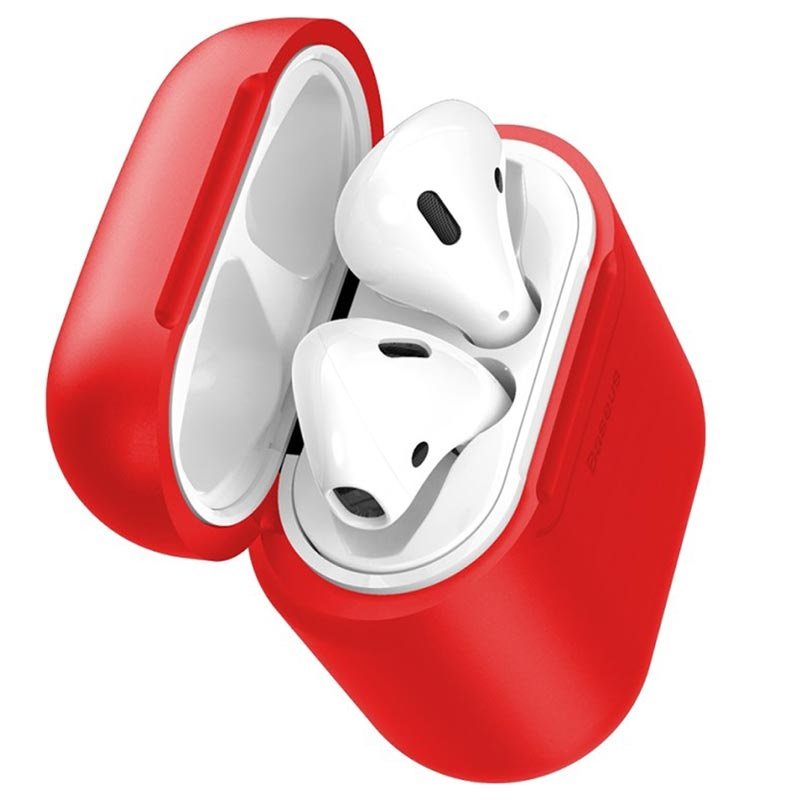 The Baseus silicone Qi wireless charging case comes in a gorgeous silicone design that is smooth and soft to the touch. The rich red colour of the case will have you falling in love with it. But if red is not your thing, you can get this case in black as well.
The Baseus case protects your AirPods wireless charging case from fingerprints, dust and all kinds of damage. In addition to being protective, the case allows you to enjoy Qi-charging of your favourite pair of earphones.
Features that make this case the right purchase for you:
This silicone case allows you to wirelessly charge your AirPods while ensuring they are not overcharged.
The case also comes with a cut-out for the charging port to allow you to charge the traditional way.
This stylish case protects your AirPods from dust particles, stains and scratches.
Its soft, flexible silicone material will be gentle with your AirPods case, while simultaneously making it stylish.
Bundled Up in Protection
While protective cases for your AirPods are essential, keeping your AirPods will require a little effort from your end too.
Practising good hygiene, such as wiping your earbuds with a disinfectant wipe, will help keep ear infections away. Also, designating a specific place to keep your AirPods will ensure you never lose them.
You can learn a few tips and tricks about your Airpods to get the most out of them. Curious to learn more? Check out our blog posts for amazing and useful information on your Apple products.
Looking for more functional accessories or perhaps a new Apple product? Get in touch with us and we will help you make the right choice.