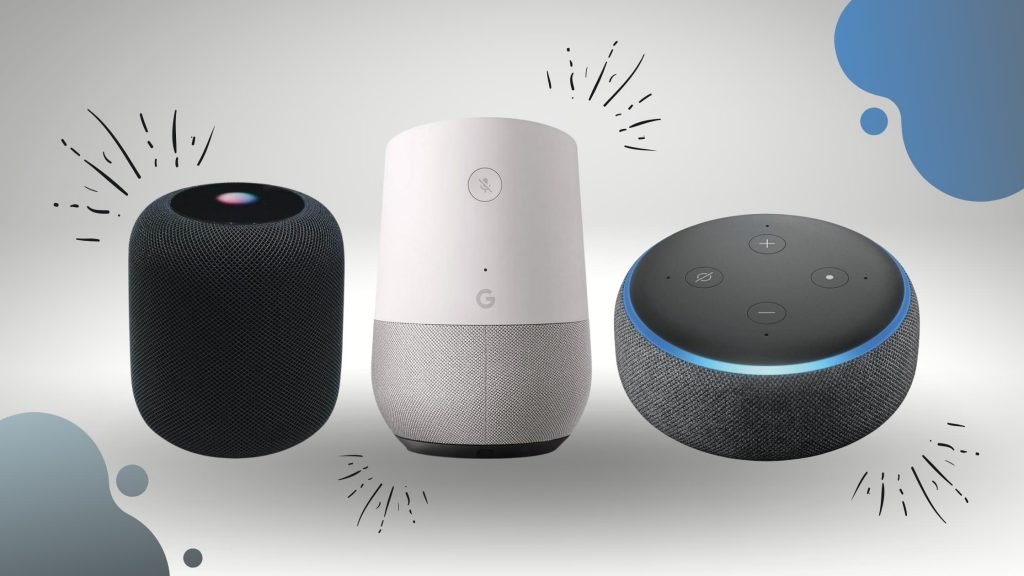 Bluetooth speakers are very popular lately but a smart speaker with a personal smart assistant should be a part of your smart home devices.
Find out about the weather, news reports, set reminders and even turn on/off the lights just by speaking to your virtual voice assistant. Have we tickled your fancy?
With access to different music streaming services such as Apple Music, Deezer and Spotify, depending on your brand preferences, Siri, Alexa or Google Assistant will play your favourite music on your command.
Avoid typing into the phone and get everything done with virtual voice assistance. Most of these smart device options include multi-room audio. Consider all of the features and, with our help, find the best smart speaker for 2021.
Compare compatibility and choose between Google Home, Apple Home and Amazon Echo Smart Speaker. Check out their features, or simply let the voice assistant determine your choice between Alexa, Siri or Google Assistant.
Compatibility – How to Choose a Voice Assistant?
Deciding which assistant you want around your house is a tough but important decision. If you use Apple devices then Siri would be your first choice, the same goes for Android phones and Google Assistant. Remember that both Alexa and Google Assistant can work on both iOS and Android smartphones but you can't use Siri if you have an Android phone.
Even though most devices are platform-agnostic, most of them have features that are more accessible for a particular platform. Platform-agnostic refers to a type of software that has design attributes that run equally well across multiple platforms.
With voice assistance, you can control any smart device in your home. Compatibility matters. Setting up multi-step routines in your home with one device is a smarter choice.
In that case, if you already have Google's services, such as Calendar, Maps, Gmail, Alarms, Reminders and, you already know how Google Assistant works, then a product with Google Home assistant would be the best choice for you.
Smart home devices you buy should be HomeKit-compatible so you should be able to create groups and multi-step routines. You`ll also be able to control your devices remotely. So if Siri controls your home devices you could only control your devices from iOS. Apple's Home app is awesome, but make sure you are all-in with Apple to get the best out of it.
Echo Dot 3 the Most Popular Amazon Device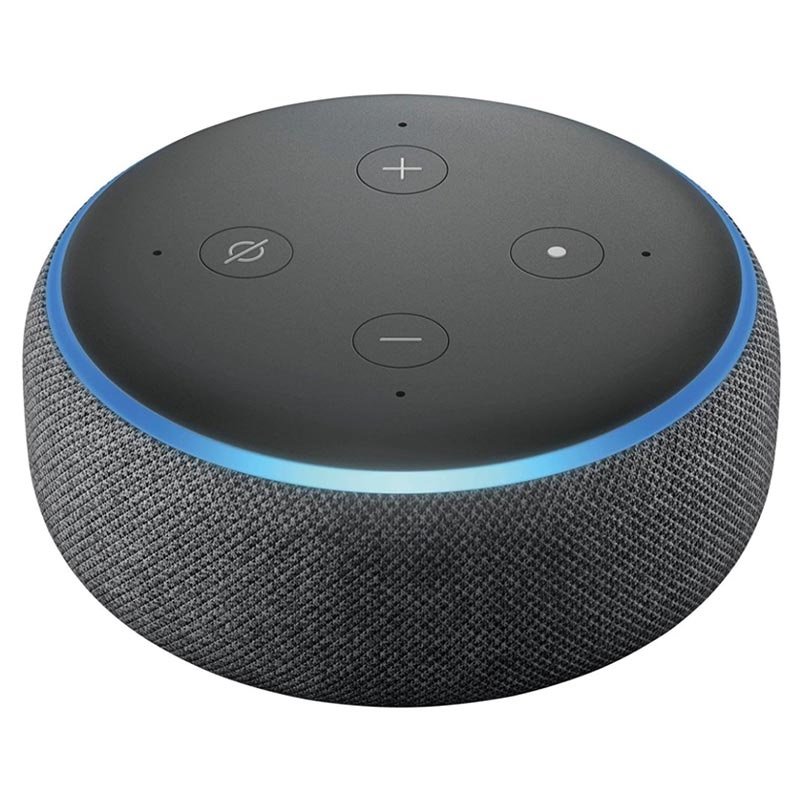 Amazon launched its first Echo device back in 2014. Since then there have been many updates and changes in its form and features. Even then the sound and features were pretty decent for its price. Amazon's Echo was the first popular smart speaker but the Echo Dot quickly became the most popular Amazon device.
Affordable prices and its compact design have contributed to the popularity of the Echo Dot smart speaker.
Does the Sound Quality Correspond to Its Size?
Amazon`s third-generation Echo Dot has a premium look with its soft design with a fabric rim around the edge that makes it more appropriate for the home. Amazon's first two Dots hit the market without any real competitors, but now, Echo Dot 3 has to contend with other smart speakers. The new fabric rim and the great sound quality of the new Dot are both obvious attempts to play to its advantages.
The sound quality of the new Dot is 70% stronger than the older models, and the difference is very obvious. The sound quality cannot compete with a full-sized smart speaker, but it can certainly fill the room.
Get Things Done Around the House With Alexa
The Echo Dot 3 Smart Speaker can be connected to other speakers using only Bluetooth or a 3.5mm audio jack. Another advantage is that you can pair two devices at once for stereo audio, that way you can easily link them up and set left or right channels. The Intercom system is a great feature, so if you have two devices and one of them is in another room, you can call it through the device, which is also great if you want to wake someone up.
For this device, you will need an Alexa app and Alexa will be your voice assistant. Amazon Assistant is a few steps behind Google Assistant and Siri, so you have to be more precise with this assistant, but if you`re already used to the syntax it won't be a problem. Having a smart speaker that works with a voice assistant is a great way to get things done around the house when your hands are full.
Just by speaking to it, you can find out about weather conditions and news. You can use your voice commands to set reminders, timers, make calls and play music from different music streaming services such as Amazon Music, Apple Music, Spotify, Pandora. You can even connect to the video streaming service, Amazon Prime.
Even with the improved design and stronger sound, it's still an appealing and affordable device.
Assistant in a Box With Google Home Smart Speaker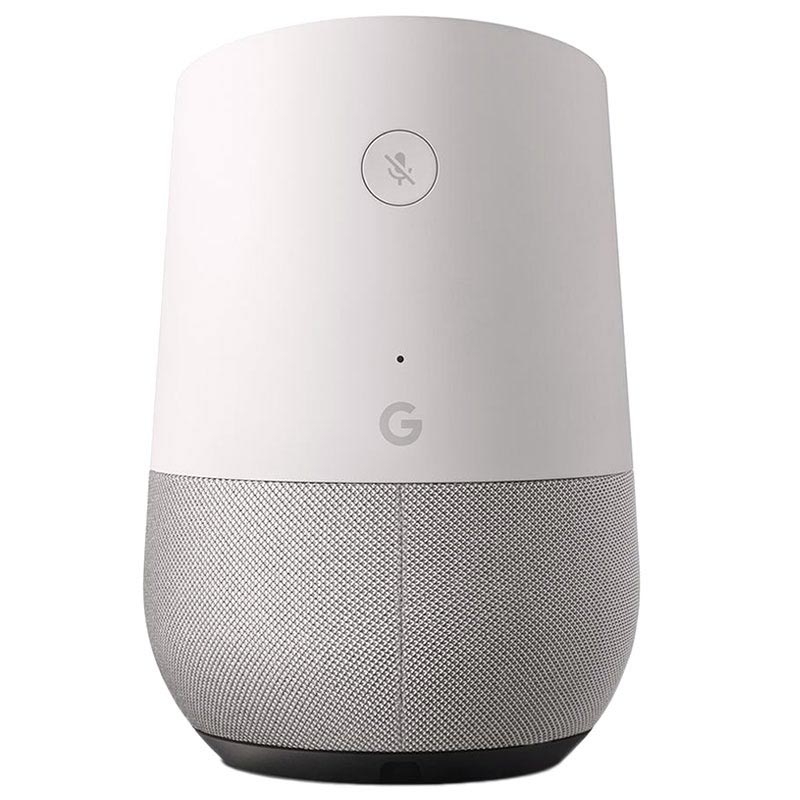 Google did work on the overall impression of the Google Home smart speaker, so you have the design, sound quality and smart feature functionality that get the job done.
Google Home's Simple-Looking Design
Google Home is simple-looking, with its elegant design, it can fit into most homes or flats without standing out. This device has a fabric cover on its lower half which makes it more visually appealing. Its rich sound and extra bass make it very competitive.
There is a touchpad at the top that has LED lights, which can also be used to change the speaker volume. A couple of speakers, pointing in every direction are placed at the bottom along with the microphone to hear your voice. The speaker quality is pretty decent, and it definitely can replace the speakers on your phone.
A More Personalised Experience With Google Virtual Assistant
The Google virtual assistant is superior when it comes to commands and more conversational speaking patterns. It is easier to talk to with its free-form conversation abilities, so the voice control is great, and the assistant can even understand follow-up questions. You can play music, get the latest news and weather information along with the latest updates about traffic jams.
You can also get help with calls, reminders and other information from your calendar.
The interesting thing with the Google Home Smart Speaker is that it works with other smart accessories so that you can stream movies and music on your Chromecast.
You can play Google Play and YouTube music, and also the tracks you have uploaded to your own Google account. The integrated Google Assistant makes it easier and more personalised to you.
Connecting and pairing the Google Home device itself is very simple and does not require any special skills. You just plug the cable into the smart speaker and download the Google Home app on your device.
Google also launched the Google Nest Mini as a follow up to its smallest smart speaker and, better yet, it's made from recycled materials. A perfect, small smart speaker that plays music, controls media and home devices and answers general queries.
Apple Getting Along With the Competition With the HomePod Smart Speaker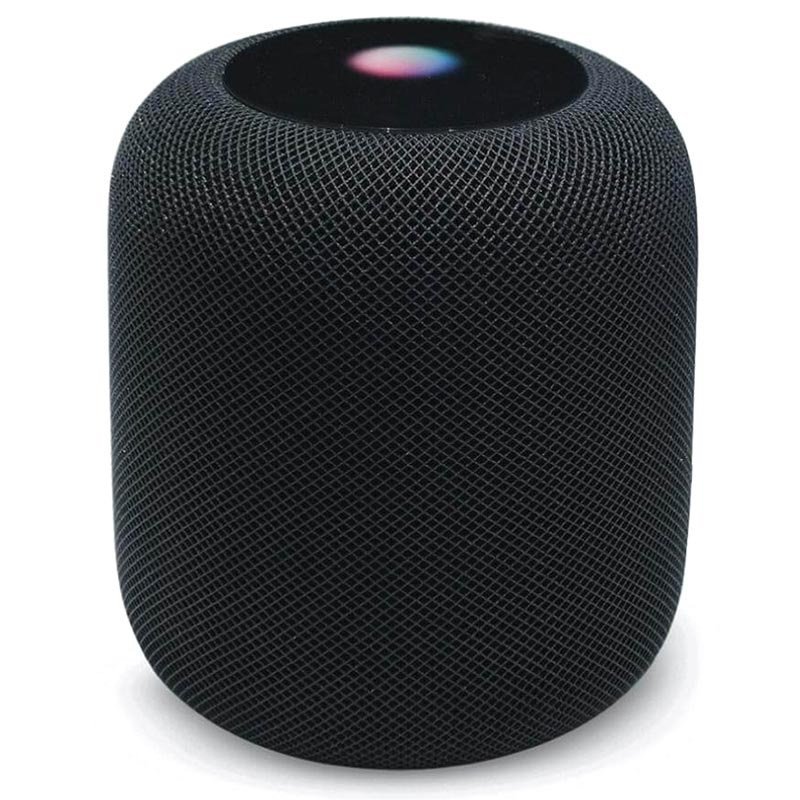 Apple wanted to go along with the competition. The Apple HomePod did come out a while back but they have since worked on the sound quality. Setting up HomePod is very easy. All you need to do is have your iPhone near it and it shows up on your screen along with your name and the room you`re in, just like with AirPods.
Appealing Design and Balanced Sound Quality
The design of the HomePod is very appealing. It looks like a fabric ball that sits in your room, with a little screen at the top with volume buttons and a Siri indicator that lights up when you're using it.
The inside of the speaker is a bit different. It has 7 tweeters that go around in a circle and one high excursion woofer at the top firing upwards. That way it creates a 360-degree sound that you can hear equally well from any direction all around the home.
It also analyses the space around the HomePad and then adjusts the sound levels for the optimum quality from every angle. The sound is perfectly balanced and it also does great instrument separation. Despite being such a small device, it can get really loud and even at 100% volume, it sounds really good.
Siri Is Waiting for Your Commands
Siri can listen for your voice all the time, from across the room, even when loud music is playing. Music can be played through Apple music and you can ask Siri to play a song or a playlist, but if you want to use Spotify, it technically can work, but it lacks a few features. For example, you can airplay from Spotify through a HomePad, but you can't ask for a specific song or a playlist.
Classic things like asking Siri about weather, news, setting up reminders, reading your text messages, or sending a text, all work pretty well.
Even though the Apple HomePad can hear your voice from across the room, it can't distinguish your voice. So if someone else is in the room, HomePod will think of you both as one voice, meaning that anyone who is in the room with you can ask your HomePod to read a message out loud, because it thinks it is you.
Apple HomePod only works with Apple devices, it can`t be used with a Bluetooth wireless speaker and there is no audio-jack so you cannot plug anything in.
Don't forget to check out the Apple HomePod Mini, a small Bluetooth speaker from Apple with all the smart skills and with a better user experience and stunning audio performance.
So, Should You Buy a Smart Speaker?
A smart speaker is a must in your household. If you are a fan of smart devices, this is a no-brainer.
Amazon Echo Dot 3 vs. Google Home vs. Apple HomePod: Who Wins?
Let's have a quick overview of the main features of all three devices.
Amazon Echo Dot 3
Google Home
Apple HomePod
Channels
Mono
Mono
Mono
Bluetooth
Yes
Yes
No
WiFi
Yes
Yes
Yes
Multi-room
Yes
Yes
Yes
Physical connections
3.5mm, power input
3.5 mm
None
Voice Assistant
Amazon Alexa, Google Assistant
Google Assistant
Apple Siri
Multiple Users
Yes
Yes
No
Third-party music streaming apps
Yes
Yes
Only Apple Music




Extra features
Control your smart homeManage your everyday tasksHands-free
Manage your everyday tasksControl your smart homeWorks with Chromecast
Everyday tasks with SiriControl your smart homeHands-free
How to Choose the Best Smart Speaker for You
There are many things to consider when choosing speakers. Let us go over a few of them:
Do you already have other smart devices in the house and how are they connected?
What phone and operative system do you use?
Do you already use a virtual voice assistant?
What music streaming services do you prefer?
How good a sound quality do you need?
However, sound quality should not be the only consideration when making a decision, as you must also consider that it's a smart device we are talking about. So, taking everything into account, the sound quality might not be as crucial for you at this point, because it's mainly about the virtual assistant, and the things it can do for you.
The sound quality is better with the Apple HomePad compared to Google Home and Amazon Echo Dot 3, but when it comes to smartness Siri cannot compete with Google Assistant and Alexa.