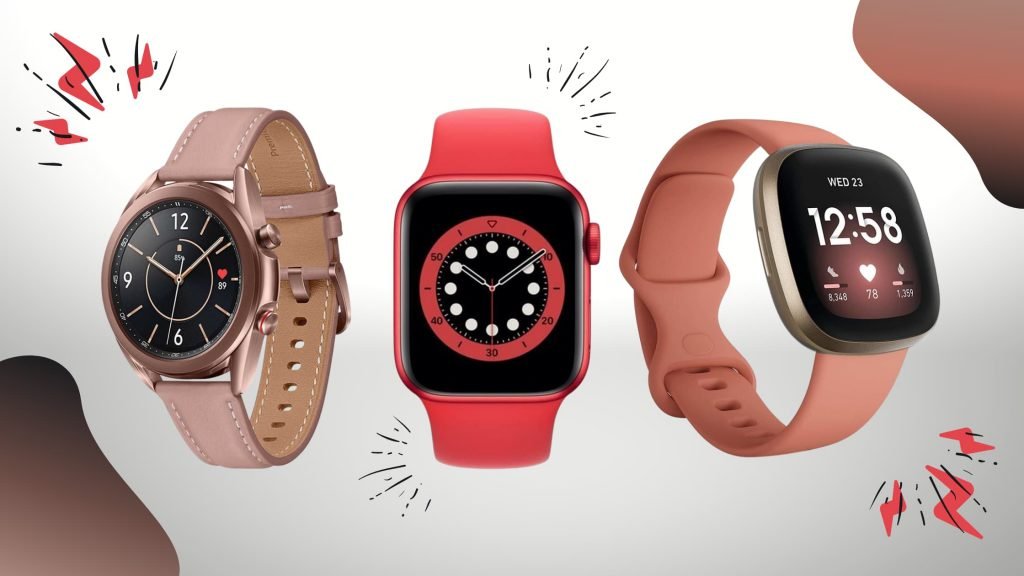 Are you looking for a smart watch to keep you ''connected''? If you are a fan of ease of use and mobility, you are in the right place! Accessories, such as smartwatches are practical and stylish.
From email and messages to information about your health, they offer the possibility to follow all your important notifications right on your wrist.
Take a look at our guide of the best smartwatches for women that are both stylish and functional.
Apple Watch for the Apple Loyalists
If you are an Apple lover, you will certainly find your perfect match for your iPhone. Not only do iWatches have a beautiful design, but they also come with many helpful features. They will give you extra motivation to get moving, record your workouts, monitor your health and much more.
We present here the top two models from a wide range of Apple Watches. We find them especially interesting for women thanks to their design and features.
Best Beginners Smartwatch for Women – Apple Watch SE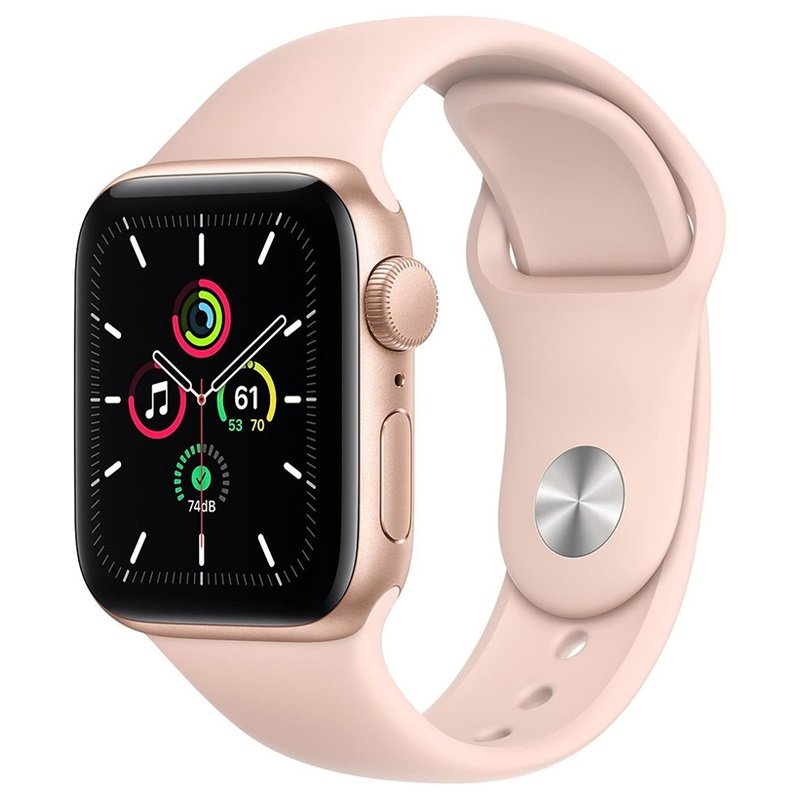 From tracking your health to making calls and texts, the Apple Watch SE will give you everything you need and more. An always-on altimeter, high and low heart rate notifications, a compass, fall detection and Emergency SOS are some of the amazing features of this model.
You can track resting heart rate and calories burnt thanks to the integrated optical heart rate sensor. You can even see the altitude difference in real-time when ascending or descending thanks to the integrated always-on altimeter. Tracking of fitness and exercise goals is available thanks to its advanced sensors.
If you are looking for a smartwatch that encourages better habits and keeps you more informed, you should buy an Apple Watch SE. You get immediate help in an emergency by pressing and holding the side button. With its optional cellular connectivity, you can go without your smartphone.
Some of the latest Apple health features aren't available on this iWatch, such as blood oxygen
and the ECG apps. There's no stainless steel or titanium finish, so you have to opt for an aluminium finish. One of the biggest trade-offs with this model is that there's no always-on display, but that means that the battery lasts longer.
Why we recommend it
Good value
Optional cellular
Fall detection
Cons
No always-on display
Superior Features and Stunning Design – Apple Watch Series 6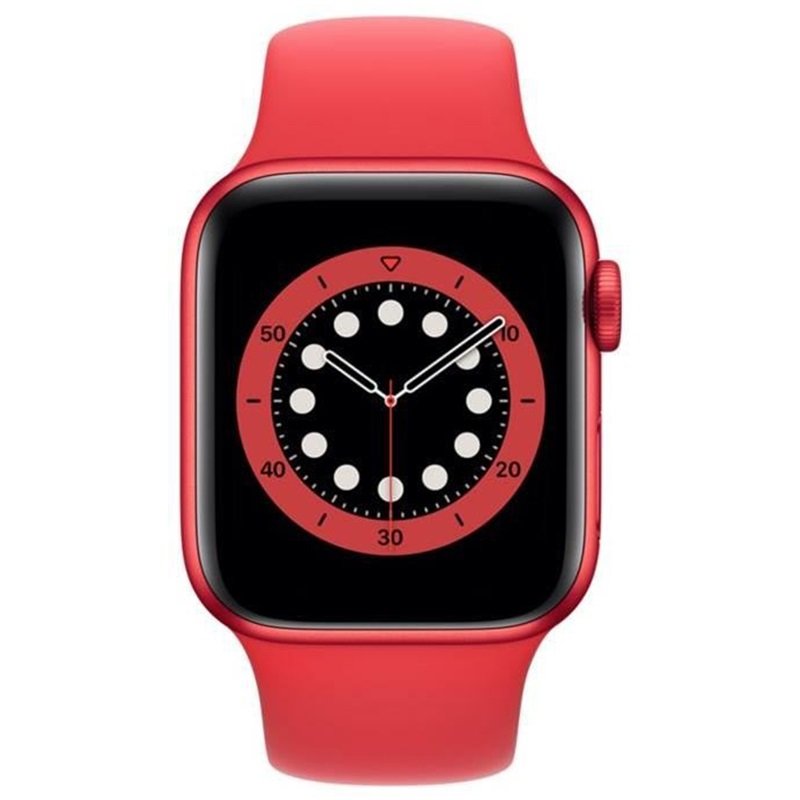 The Apple Watch Series 6 offers the best combination of health tracking, style, general smart features and customisation options. This model brings improvements like faster charging, a brighter always-on display and the ability to measure blood oxygen levels. This function offers additional insights into your current state of fitness. There's also an app for tracking your menstrual cycle and another to monitor your hearing.
This iWatch comes in more colour options than any other Apple Watch. This new red finish adds a touch of originality to your personal style. If you prefer more subtle colours, you can also opt for a different finish, such as titanium, stainless steel or aluminium. Like the Series 5, the Apple Watch Series 6 comes in two sizes: 40mm and 44mm.
When you're away from your phone you can still make calls and stream music because this model has built-in GPS and LTE. You can establish a regular bedtime routine thanks to a new sleep tracking function while an ECG sensor can detect irregular heart rhythms. If you are looking for a fitness tracker, health device and flawlessly-finished smartwatch this model will be a great choice for you.
Why we recommend it
Always-on retina display
Water-resistant
Built-in GPS and LTE
Samsung Galaxy Watches for the Android Loyalist
If you are an Android fan, you should consider buying one of the Samsung Galaxy watches. These models are equipped with many useful functions, so you can control your day from your wrist. They also have an attractive design that adds a touch of originality to your personal style.
When deciding which model to buy don't forget to consider what features are essential to your purpose!
Best Fitness Smartwatch – Galaxy Active2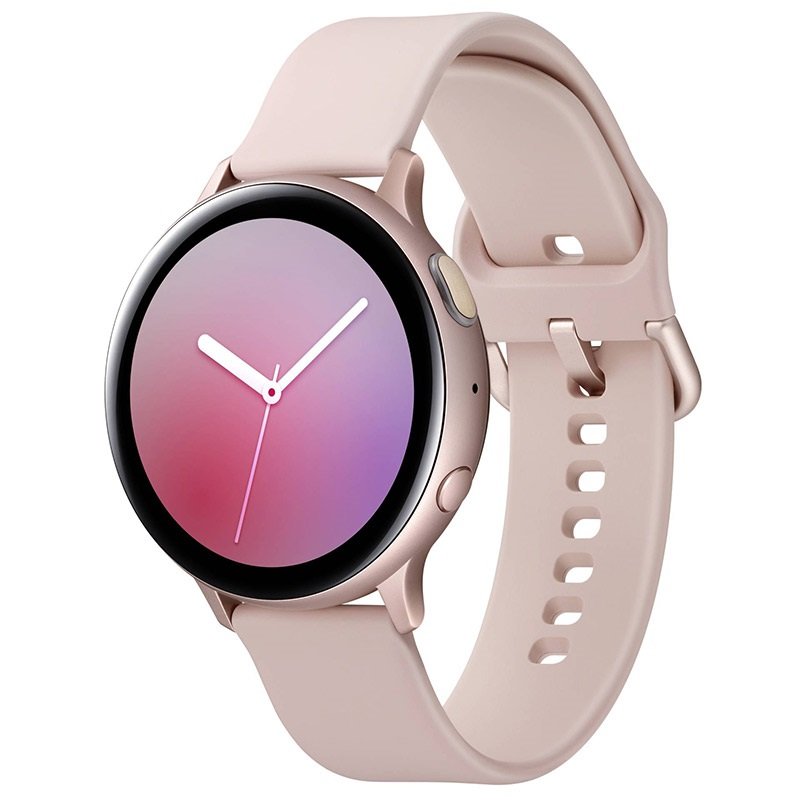 The Galaxy Active2 has built-in GPS, improved sensors and more size options than its predecessor. This smartwatch works with Bluetooth-enabled Android and iOS devices and supports convenient Qi wireless charging. You can track up to 39 fitness activities as well as your menstrual cycle.
Battery life has been beefed up from the first model and Samsung has started to roll out ECG, blood pressure monitoring features and fall detection for it too. The Galaxy Active2 can last several days on a single charge which is one of its biggest advantages.
This smartwatch comes in a variety of colours for both its 40mm and 44mm sizes. The overall effect is stylish and elegant. You can wear it for nice occasions, such as a wedding or a fancy dinner.
Thanks to its sleek design and rich offering of case finishes and straps, you can't go wrong with this model.
Why we recommend it
Long battery life
Excellent fitness tracking features
GPS and improved sensors
Cons
Features may be limited with iPhones
Classic Watch with Modern Functions – Samsung Galaxy Watch 3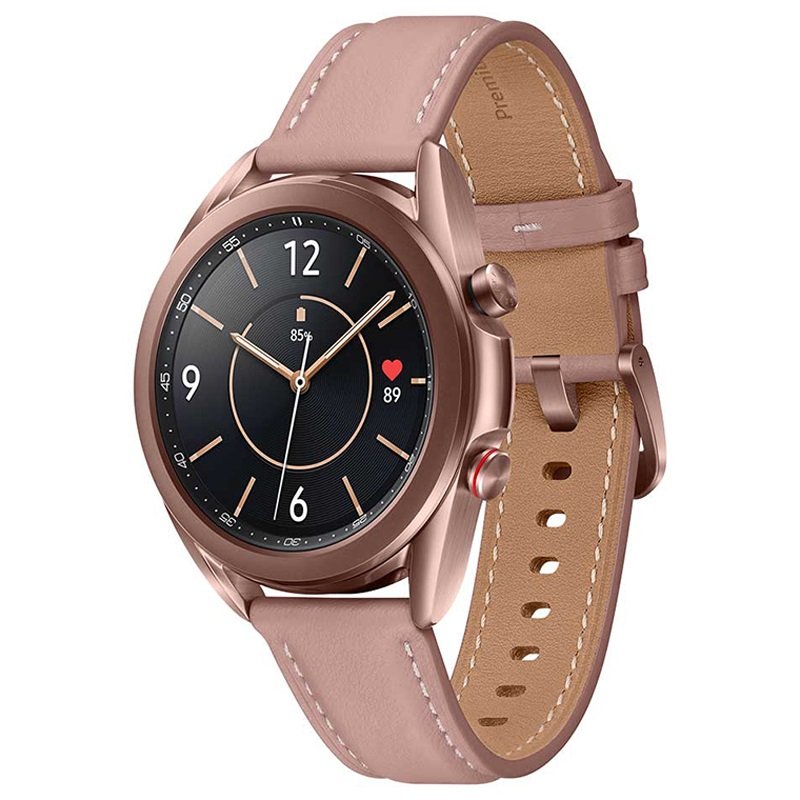 Galaxy Watch 3 looks more like an analogue timepiece than most of today's smartwatches. The largest defining element of this model is Samsung's distinctive rotating bezel. As this model is 14% slimmer than the previous model, it is not bulky and is comfortable to wear.
This watch is always with you, so you can train when and where you want. Galaxy Watch 3 can automatically recognise seven typical types of sports activities, such as running, walking, cycling, swimming, elliptical trainers, dynamic workouts or rowing. More than 120 workouts are available on the pre-installed Samsung Health app. You can also listen to your favourite music while you relax or workout thanks to the integrated MP3 player.
Galaxy Watch 3 is one of the best options for a wearable companion, especially if you have an Android phone. Not only can you view messages and email on your wrist, but you can also see photos. With functions like sleep monitoring, smart alarm, calorie calculation, pulse rate, pedometer, fall detection, you'll never need another tech device again.
Why we recommend it
Refined design
Fitness and health features
Rotating bezel
Cons
Disappointing battery life
The Best Running Smartwatches
Despite their main feature, the running smartwatches can track more than just runs. If you want to plan your training and check your progress, these models will be the best fit for you. You can get the max out of your workouts, swimming, cycling and other types of exercises.
These models present the high-end combination of smartwatches and fitness trackers which help you take your fitness to the highest level.
Best Running Watch – Garmin Forerunner 45S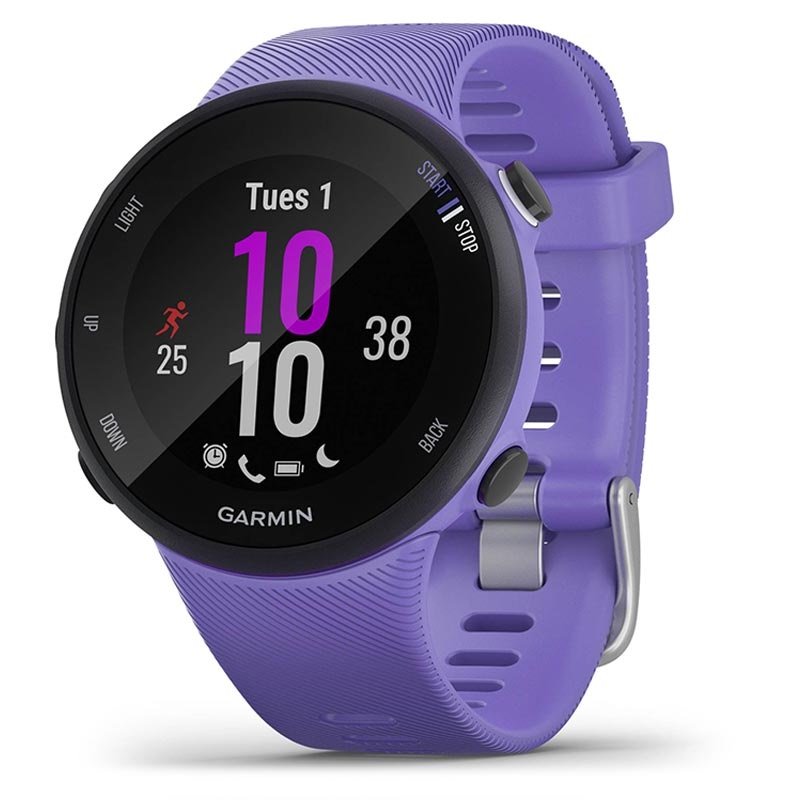 The Garmin Forerunner 45S is the perfect option for runners. Thanks to an advanced GPS tracking system, you can track how far, how long and how fast you've been running. This watch comes with pre-installed maps of Europe and is designed with different sports apps such as treadmill running, cycling, indoor track, cardio, yoga, and more. By connecting it to your phone, you will receive alerts, SMS and emails on your watch.
You can feel safe because this smartwatch has built-in incident detection and assistance features, so it can send your location in case of an emergency. Garmin Forerunner 45S also has automatic daylight saving time, alarm, stopwatch and timer. By downloading the Garmin Connect app, you will get more fantastic features.
Many of Garmin's wearables are solid options for women. It is compatible with Android and iOS devices. You can get adaptive training plans from the personal Garmin coach. Wherever you go, this watch will help you stay connected.
Why we recommend it
Designed for runners
Light and sporty materials
Long battery life
Cons
No third-party app support
Best Fitbit Smartwatch for Women – Fitbit Versa 3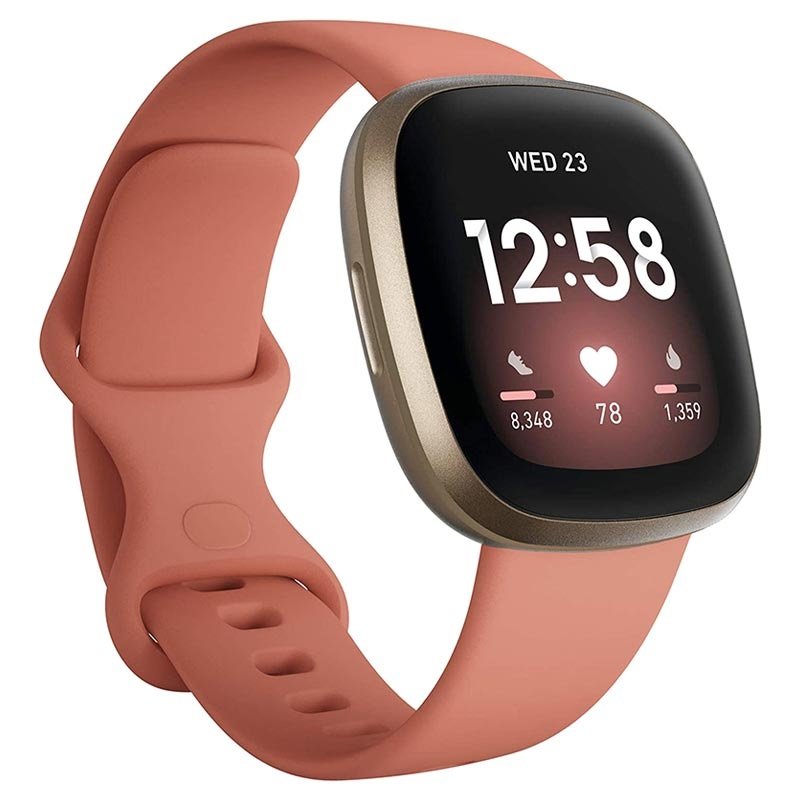 Fitbit Versa 3 is packed with wellness and fitness features, including 24/7 heart rate tracking and built-in GPS. You can use the Fitbit app for tracking your daily performance. This smartwatch helps you understand how your body handles stress with sleep and heart rate tools. It registers sleep quality, distance, daily steps, burnt calories, and more.
The built-in GPS offers outdoor tracking without your smartphone. With 50m water resistance it can be taken swimming. This model features a built-in speaker and microphone so that you can take hands-free calls. It also records workouts in real-time with 20+ goal-based exercise modes. By downloading the Fitbit app on your phone, you can improve your user experience.
It has a vibrant AMOLED display, which makes it a solid workout companion. It can store music, do playback and has support for smart voice assistants (Google Assistant and Amazon Alexa). The battery lasts up to 12 hours with GPS on, and up to 6 days otherwise. This smartwatch will help change your bad habits. You will get all the necessary information about your health and training and you will start living healthier.
Why we recommend it
24/7 heart rate tracking
Built-in GPS
Sleep monitoring
Elegant and Durable Smartwatch – Huawei Watch GT 2 Sport Edition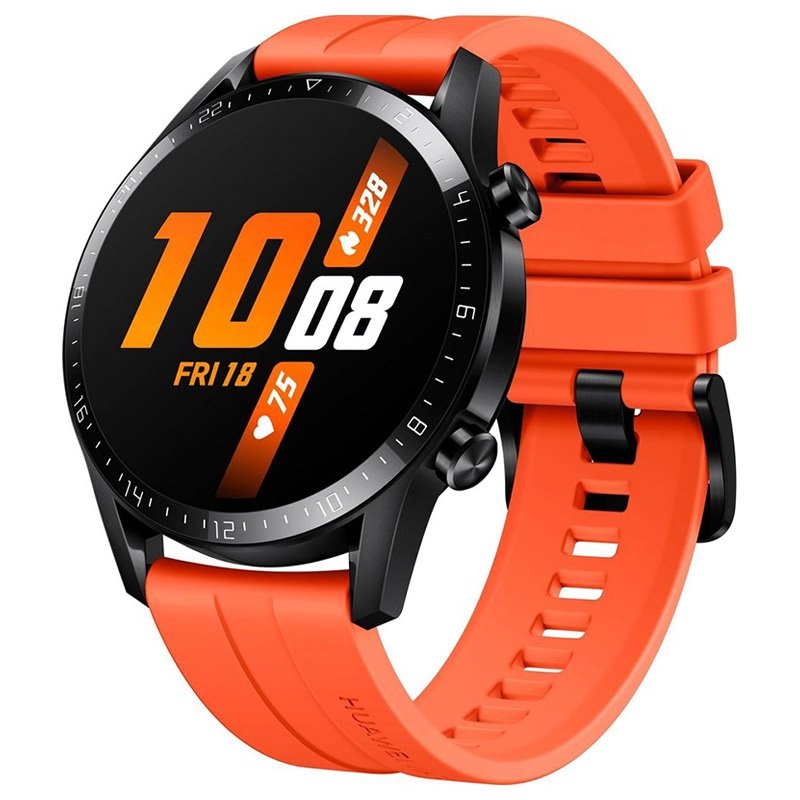 If you are looking for a smartwatch that doesn't feel chunky on the wrist, the Huawei Watch GT 2 Sport Edition is the perfect choice for you. There are two buttons on the right side of the watch. One is for health tracking and launching workouts, while the other is to select built-in apps. As this model has different sport modes, it will help you lead a healthier life.
The Huawei Watch GT 2 has a lot of sensors for tracking and detection, such as an optical heart rate monitor, gyroscope, accelerometer, ambient light sensor and air pressure sensor. You can improve your lifestyle by keeping track of your activity. This model also has 4GB of internal memory for storing your favourite music.
One of the biggest advantages of this model is the long battery life – it lasts up to two weeks with one charge. Inspired by minimalism, this model integrates a high quality 3D glass watch face.
Why we recommend it
Elegant design
Automatic sleep detection
50m water resistant
Cons
Only the 46mm model supports Bluetooth calling
Best Cheap Smartwatches to Keep Your Budget on Track
Do you need a smart watch for reminding you of appointments or you want to track your health and workout sessions? A cheap smartwatch offers a lot of possibilities, but may not have every feature possible.
Think about what's most important to you when buying a smart watch as you need to make some concessions and take a look at our selection of affordable smartwatches below.
Female Waterproof Smartwatch with Heart Rate KW10 Pro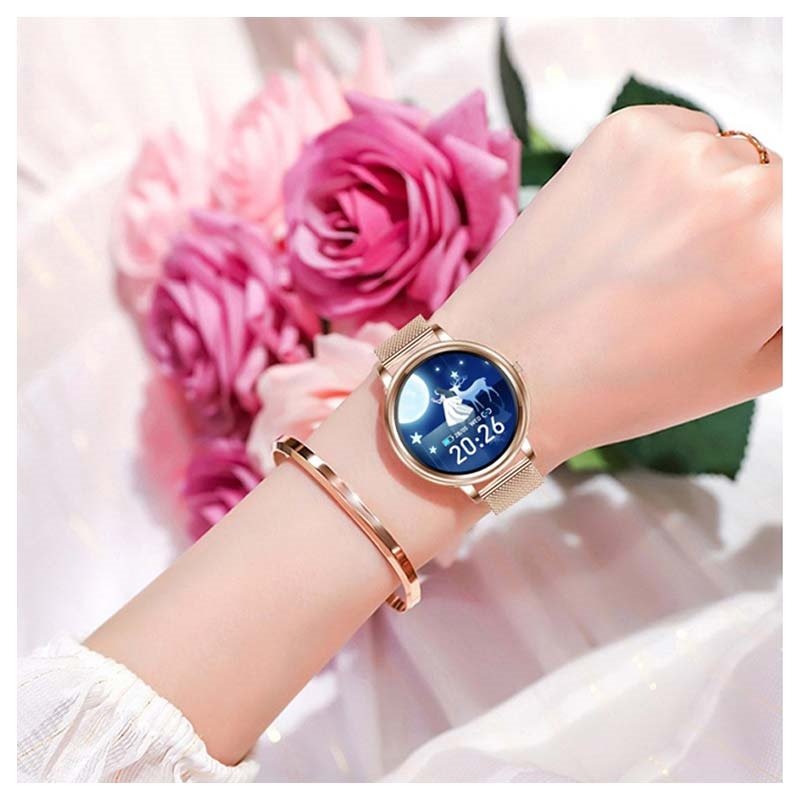 This rose-gold smartwatch with Heart Rate KW10 Pro will be there for everything you need, whether you want to go for a swim or text a friend back. You can see your messages, track your activity, steps or heart rate.
This smartwatch also has other interesting features – intelligent monitor sleep quality, water drinking reminder, alarm clock, multi-sport mode, sedentary reminder, etc. By pairing KW10 Pro with your phone, it becomes your personal assistant with a variety of intelligent capabilities. You can receive messages and calls, control the music player, etc. It also has a lot of sports modes that can be switched between freely.
If you're looking for a sleek style, this one's for you. It will highlight your personal style wherever you go with its truly elegant appearance.
Why we recommend it
Waterproof: IP68
Feminine design
Magnetic charging
Cons
No always-on display
Waterproof Smartwatch with Heart Rate K12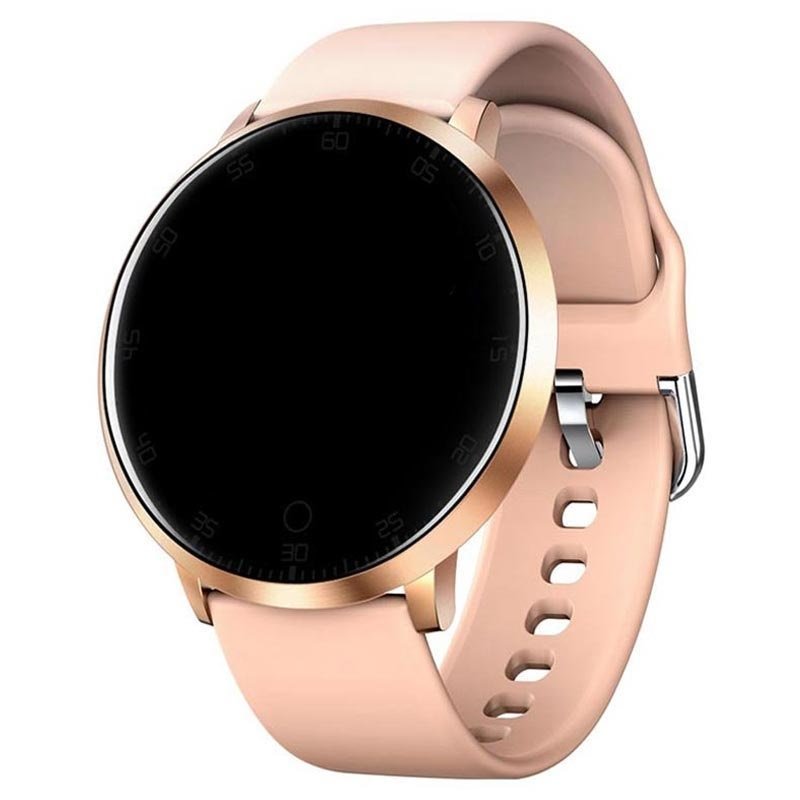 Pair this smartwatch with your phone and you'll receive all your calls, messages and notifications, plus it will track things such as your burnt calories, heart rate, menstrual cycle, sleep and activity. You can also use it as a stopwatch, alarm clock or music remote. The K12 is designed with eight modes – swim, basketball, walk, run, rope skip, cycle, badminton and football.
As this model is a combination of a smartwatch and smart-band, it will be great for elegant, as well as sporty, occasions. You can enjoy a lot of useful functions by simply downloading the corresponding applications. On some occasions checking your phone can be rude. If you replace that with a quick glance at your wrist, it will be subtler, simpler and quicker.
Get bored while working out? You can always play your favourite music to keep you motivated!
You can also adjust the volume, pause or line-up the next track. Even though it sounds trivial, it really does make listening to music easier. You are underwater? No problem at all! This smartwatch has a waterproof rating IP68. You can check up on your notifications while swimming without having to leave the pool.
Why we recommend it
Affordable
Great personal assistant
Standby time: up to 14 days
Luxury Female Waterproof Stainless Steel Smartwatch with Heart Rate LW07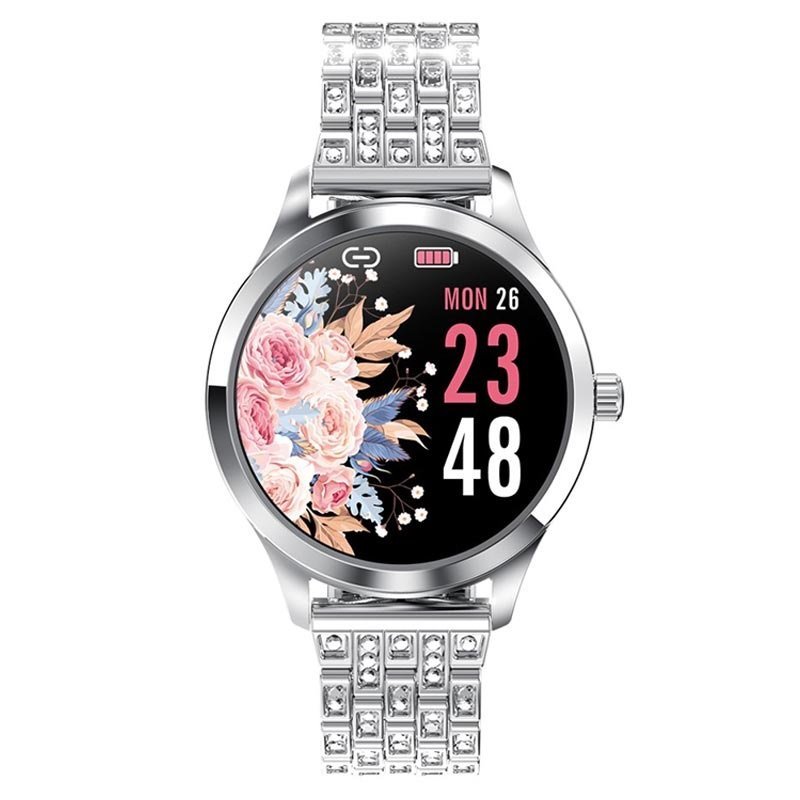 The LW07 smartwatch is an excellent choice for women. If you are looking for a practical smart watch, you can't go wrong with this model. It supports many functions, such as blood pressure monitoring, weather, heart rate monitoring, find phone, stopwatch, etc.
When you are swimming, running, cycling, or any other form of exercise, you might want to peek at your calls or messages. The LW07 keeps you connected throughout your everyday activities. You can also watch videos and play music on the go.
By seeing the notifications on your wrist, you'll be able to identify their importance without removing your smartphone from a pocket or bag. Not only does it simplify your life, but it also saves time – and time is important, isn't it?
Why we recommend it
Standby time: up to 25 days
Excellent functions
Cons
Lacking some features, like fall detection
Need some smartwatch accessories? Visit MyTrendyPhone
We hope our guide to choosing the best smartwatch for women has helped you learn more about the different models available on the market and that you will easily find the best fit for you.
We also have a wide range of smartwatch accessories that will help you improve your user experience. If you are looking for more gadgets that will improve your quality of life, visit our webshop!
In case you have any questions, don't hesitate to contact us!