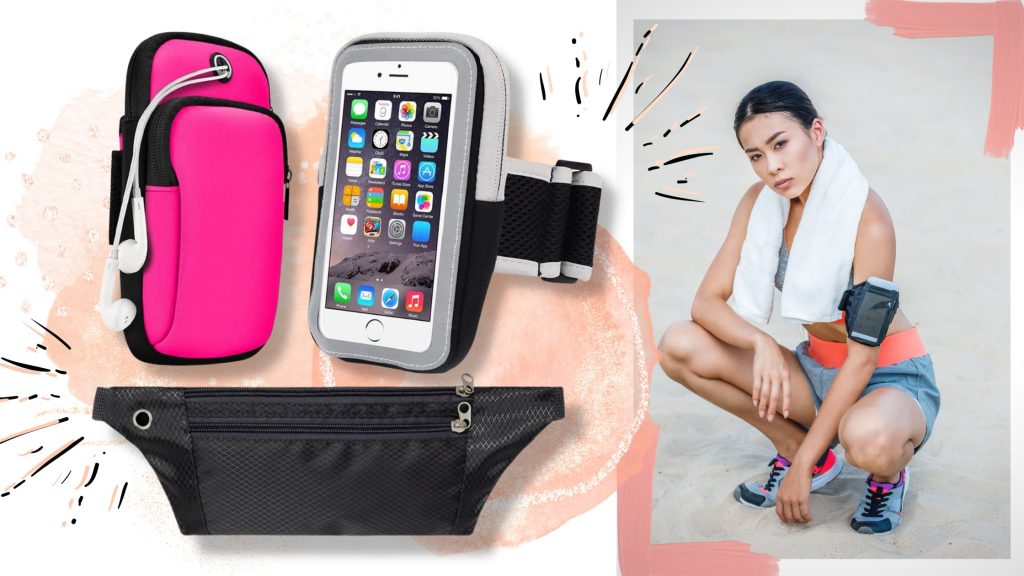 Mobile phone cases, such as silicone cases for Apple iPhone X, iPhone 12 or Samsung Galaxy smartphones, are a great choice, but not great when it comes to working out. However, personalising your mobile case is fun for everyday use.
Your traditional iPhone cases or other smartphone cases do not offer the features that your workouts and exercises need. That is why we have compiled the list of our Top 10 Sports Phone Cases that will allow you to stay focused on your workouts.
You should choose a sports phone case depending on the type of workout or exercise you indulge in. If your sport of choice is swimming, a case that fully protects against water damage is the way to go. Cyclists can benefit from a case that easily attaches to their bikes and allows them to navigate easily.
While armbands are the most common choice, you can also opt for a sports belt that will give you more storage options, such as a bottle holder that keeps you mindful about staying hydrated. You could also opt for wrist wallets that hold not just your phone but also your keys, cards and cash.
We can go on and on about why a sports case is right for you, but why not just check them out? Let's get to the top 10 best phone cases for exercising that are out there for you.
Running Armbands that Keep Up with Your Speed
These sports armbands will keep your mobile phone safe and secure while running and during high-intensity workouts. Their ease of use and adjustable fit ensure there are no mishaps that spoil your workout.
Premium Universal Sports Armband to Enhance Your Running Experience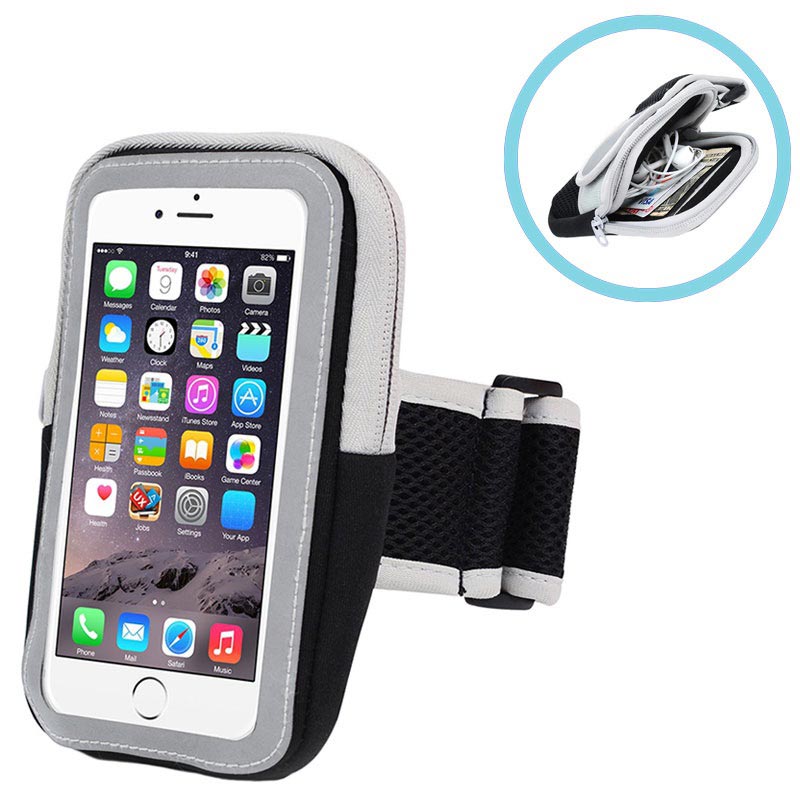 The premium universal sports armband with a zipper pocket lets you enjoy your jogs and runs without bulking up your pockets. This sports armband comes with a zipper pocket to sort your everyday essentials like credit cards, cash and keys.
In addition to holding mobile phones of sizes up to 15cm, this phone armband also has an opening for your wired earphones. Enjoy your music while you run across your favourite trails hassle-free.
Features that make workouts fun and hassle-free:
This sports armband features a touch-sensitive foil over the phone cover that permits regular usage of the touchscreen of your smartphone.
The case comes with a separate spacious and practical zipper pocket that securely stores away essential items.
Its durable and breathable material ensures it is soft and comfortable to wear on your hikes, runs and jogs.
The adjustable strap ensures the perfect and comfortable fit for most arm sizes.
The design also features a reflective border to increase your visibility in low light conditions.
Spigen A700 Velo Universal Sweat-Resistant Sports Armband for HIIT Workouts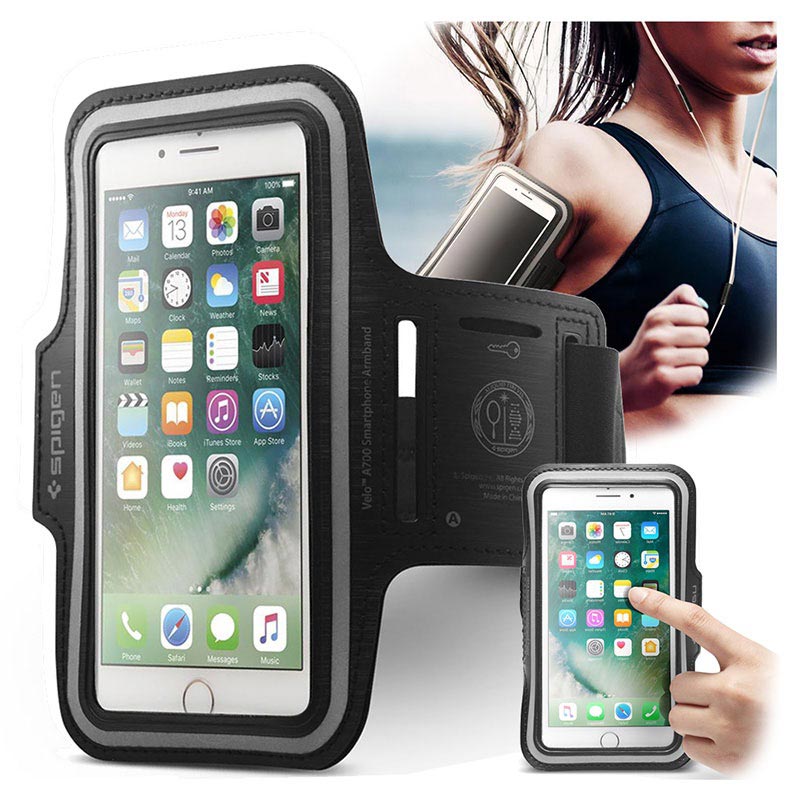 Sweat it out with the Spigen A700 Velo universal sweat-resistant sports armband. This sports armband is perfect for high-intensity workouts that have you sweating buckets at the end of it.
The armband comes with a broad adjustable strap that offers the best and most comfortable fit. Additionally, it also features a side slot to store away important items like your keys and cards safely.
Features that make workouts fun and hassle-free:
The Spigen A700 Velo uses high-quality neoprene material that ensures it is sweat-proof while also being extremely comfortable to wear.
The phone case covers the screen of your smartphone with a touch-sensitive material that protects it without disrupting the touchscreen capabilities.
The adjustable armband ensures the right fit for most arms while safely securing smartphones up to 15cm during workouts.
The case also comes with a side slot for storing keys and other important items that cannot be left around.
Sports Phone Case Bands that Double Up as Wallets
Pockets are a must-have, but exercising with heavy pockets is not a great feeling. Our picks of phone cases for exercising come with zipper pockets that allow you to keep your earbuds, money, credit cards and more all in one place.
Universal Running Armband for Smartphones to Keep You Distraction Free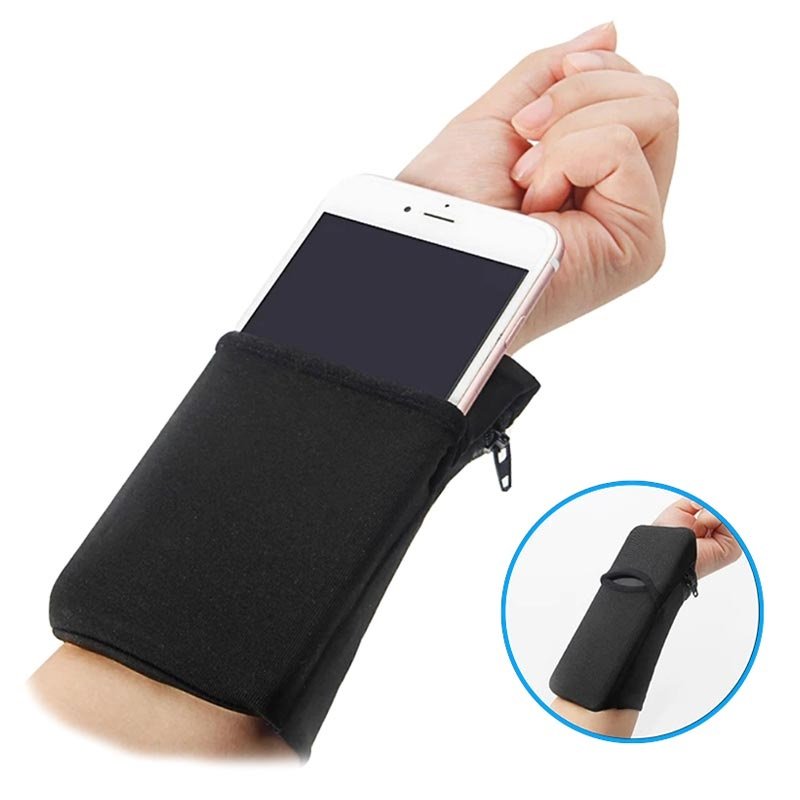 The universal running armband for smartphones/wrist wallet lets you enjoy your runs through scenic routes without any distraction. The unisex and minimalist design makes it ideal for any runner.
The band uses quick-drying material that will wick the sweat away and keep your belongings safe. This wrist wallet comes with two pockets to store any phone sized between 10 and 15cm as well as other essentials.
Features that make workouts fun and hassle-free:
This sports band doubles up as an arm as well as a wristband that also serves as your wallet.
It comes with two pockets: one pocket holds phones sized between 10 and 15cm, and the other zipper pouch allows storing away knick-knacks.
The unisex design and quick-drying material of this phone case ensures comfortable wear for all runners.
It is an excellent lightweight choice for runners that do not like bulky designs.
Universal Water-Resistant Dual Pocket Sports Armband for Secure Storage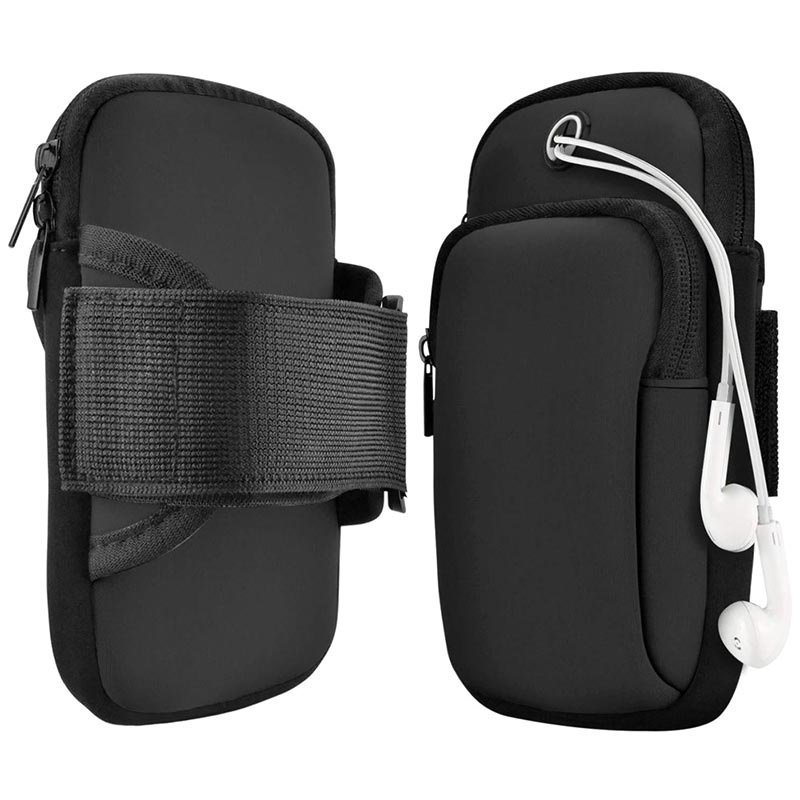 Keep your smartphone safe and secure with the universal water-resistant dual pocket sports armband for smartphones. This water-resistant armband features a mobile phone pouch that holds smartphones up to 162mm x 78mm x 14mm in size.
This sports armband features zippered pouches that store your smartphone and other necessary small items securely. Additionally, this phone holder also comes with a cut out for wired earphones so you can enjoy your music while you work out.
Features that make workouts fun and hassle-free:
This universal sports armband has a water-resistant design that can handle sweat and splash damage allowing you to work out in any weather.
The two zippered pouches ensure your essentials and mobile phone are safely put away so you may enjoy your workout distraction-free.
The pouch comes with an elastic band with Velcro closure for a secure and comfortable fit for an arm circumference of up to 34cm.
The cutout for wired headphones allows you to keep yourself pumped up with your workout playlists.
Sports Belts to do the Heavy-Duty Stuff
Armbands and wristbands offer limited storage options. And they may sometimes make you paranoid about slipping right off your arm. With sports belts, you can keep all your necessary items in one place.
Ultimate Water-Resistant Sports Belt with Triple Pocket for More Storage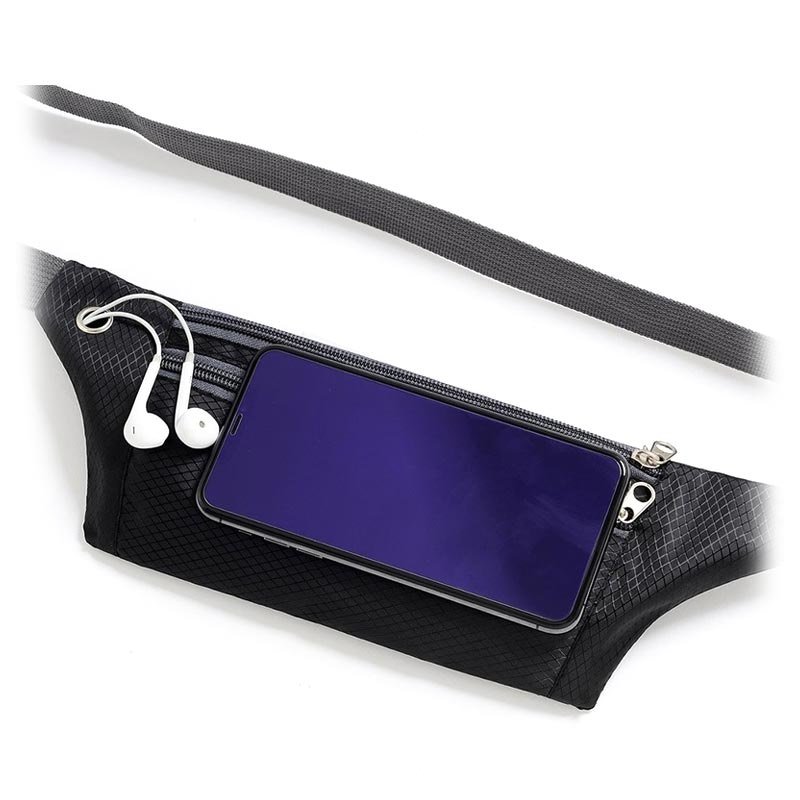 The Ultimate water-resistant sports belt with a triple pocket lets you store more and forget about carrying your wallet or purse. The zipped pockets allow you to compartmentalise and safely store all your belongings when you are out for your run or workout.
The canvas fabric and polyester material of this sports belt ensures full protection from rain, sweat, and splashing water. Enjoy working out in any weather without straining your arms and wrist by carrying the bulk of your items.
Features that make workouts fun and hassle-free:
The universal belt comes with three zippered pouches to hold your smartphone (phone sizes up to 200mm x 110mm), keys, cards and other small items.
The belt comes with an adjustable strap with a fastener for a perfectly comfortable fit.
Its water-resistant construction materials allow you to enjoy your workouts without worrying about the elements.
The belt also comes with a cutout for wired headphones so you can enjoy your favourite tunes.
Ultimate Water-Resistant Sports Belt with Bottle Holder for a Vibrant Workout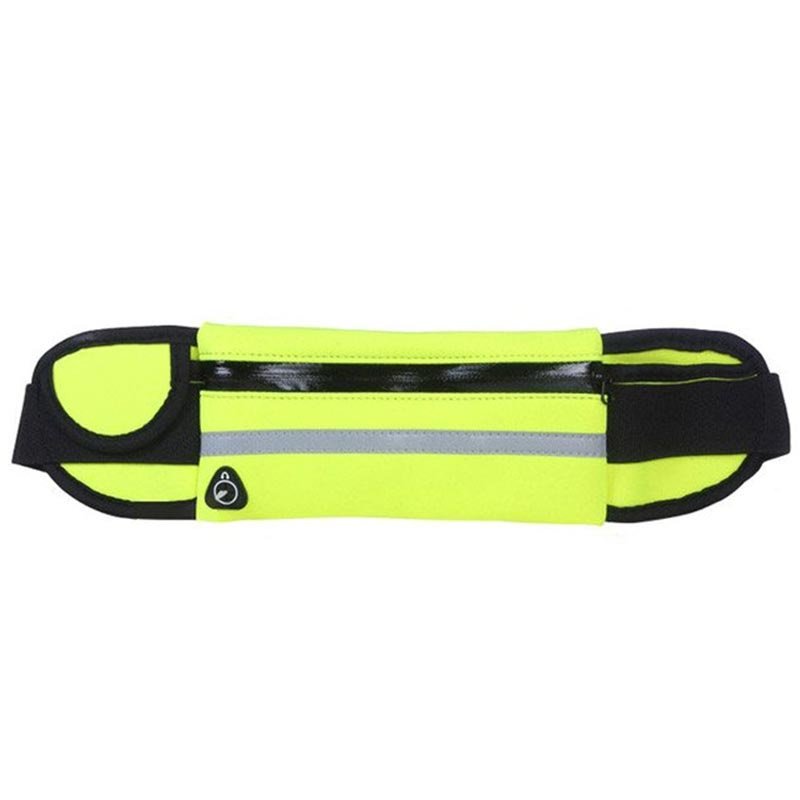 The vibrant colours of the Ultimate water-resistant sports belt with bottle holder will ensure visibility when you are out for your run in the evening. This sports belt comes with zippered pouches that allow you to store your essential items and smartphones safely.
With the cutout for wired headphones, you can enjoy your music and boost your motivation. The belt also comes with a bottle holder that helps remind you to stay hydrated.
Features that make workouts fun and hassle-free:
This ultimate sports belt comes with three compartments, a large compartment with 21cm width by 10cm height, and two smaller compartments on either side for storing smaller items.
The water-resistant construction materials ensure your smartphone and other stored items remain safe from any sweat or water damage.
The belt also features a bottle holder that encourages you to stay hydrated during your runs, hikes and jogs.
The belt has a total length of 770mm to 960mm, allowing a comfortable fit for a range of sizes.
Sports Phone Case for Adventures that Invite the Elements
Sports such as swimming and cycling need a far sturdier and more durable phone case. We understand this and hence we have carefully chosen the two cases below. Enjoy your adventures without worrying about the weather!
Ringke U-Fix Round Universal Waterproof Case so you can Dive Right in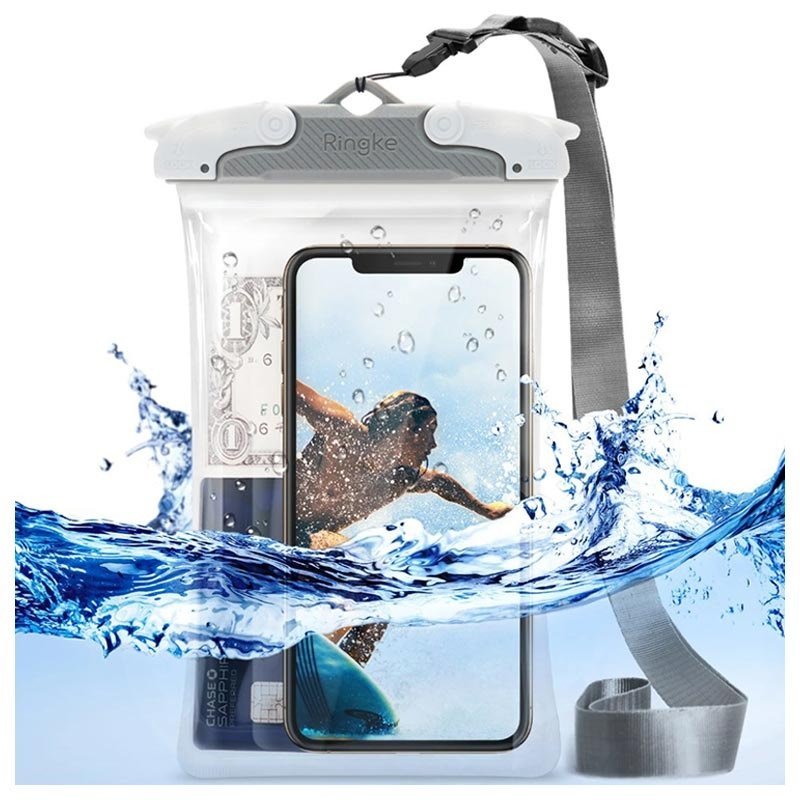 The Ringke U-Fix Round universal waterproof case comes with an IPX8 water resistance rating that allows you to take your smartphones for a dive. This single compartment phone has dimensions of 12cm width by 18cm height.
Now you can safely snap underwater pictures on the iPhone 11 Pro Max with this transparent case that does not obstruct the touch functionality. This case can also be used to store your cards and other important items.
Features that make workouts fun and hassle-free:
The Ringke U-Fix Round case comes with a detachable neck strap attached to a key holder for easy carrying.
The clear compartment allows you visual access to all the items you have stored within it.
The waterproof construction and IPX8 water resistance certification mean you can go diving and swimming with your belongings.
The case does not obstruct the touchscreen features allowing you to capture amazing underwater videos and pictures with your smartphone.
West Biking Water Resistant Bicycle Case to Always Stay on Course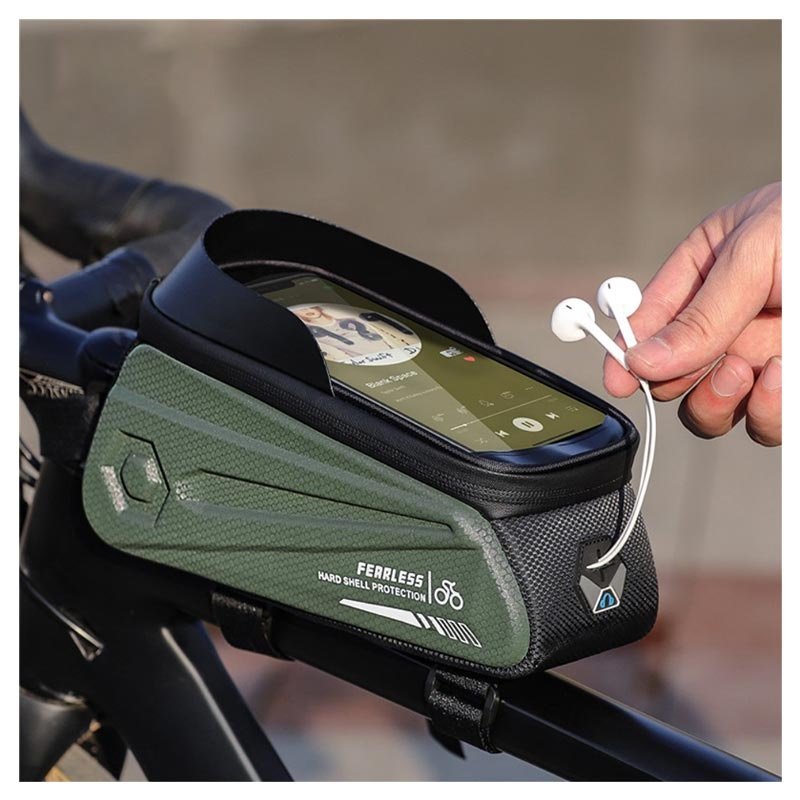 Love travelling through the hills and valleys of your biking trails? Then the West Biking water-resistant bicycle case is for you! This phone case offers a TPU front that keeps your smartphone visible to you, making it perfect for turning your mobile phone into a navigation system.
The case also features a large compartment with mesh pockets that allow you to compartmentalise and store all your small items like keys, cards, sunglasses and more! You can easily mount it on your bike's front tube and enjoy your ride.
Features that make workouts fun and hassle-free:
The West Biking case for bicycles uses water-resistant materials that allow you to enjoy your biking trail without having to worry about weather conditions damaging your mobile phone and other items.
This case is cleverly designed to meet all your needs. It comes with a dual zip compartment and a sun visor over the clear TPU front.
The adjustable strap allows you to mount it on to just about any size frame with a secure fit.
The case is suitable for phone sizes up to 18cm and also comes with a cutout for wired headphones.
Rotary Sports Armbands for Obstruction-free Movement
These phone bands for exercising do more than just hold your smartphone in place. These cases come with a swivel feature that allows you to rotate the mobile phone by 180° without having to take it out. Go ahead and watch your favourite clips during your breaks.
180° Universal Rotary Armband for Smartphone for Unobstructed Access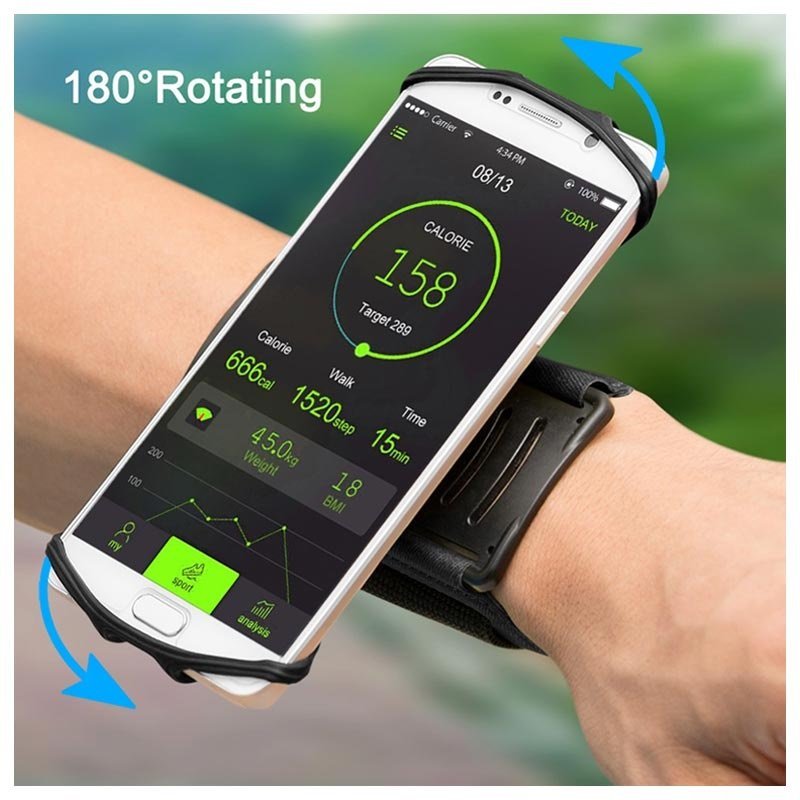 The 180° universal rotary armband for smartphones is a great choice for those that love a minimal design that keeps them focused on the task. This armband easily fits on wrists between 26cm and 40cm with its adjustable straps.
The armband holds your smartphone securely without obstructing any of its buttons or ports. Additionally, you can rotate your mobile phone by 180 degrees allowing you to use it in either landscape or portrait mode.
Features that make workouts fun and hassle-free:
The universal rotary armband uses breathable spandex material that offers comfortable wear. This band is also available in other colours to add vibrancy to your workouts.
The adjustable strap offers the perfect fit whether you wear it on your wrist or your arms.
The phone holder accommodates mobile phones between sizes of 10 to 15cm and securely holds them in place.
The band allows you to rotate your mobile phone by 180 degrees and does not obstruct the buttons, port or screen.
4smarts Athlete Pro Universal Smartphone Armband for a Secure Fit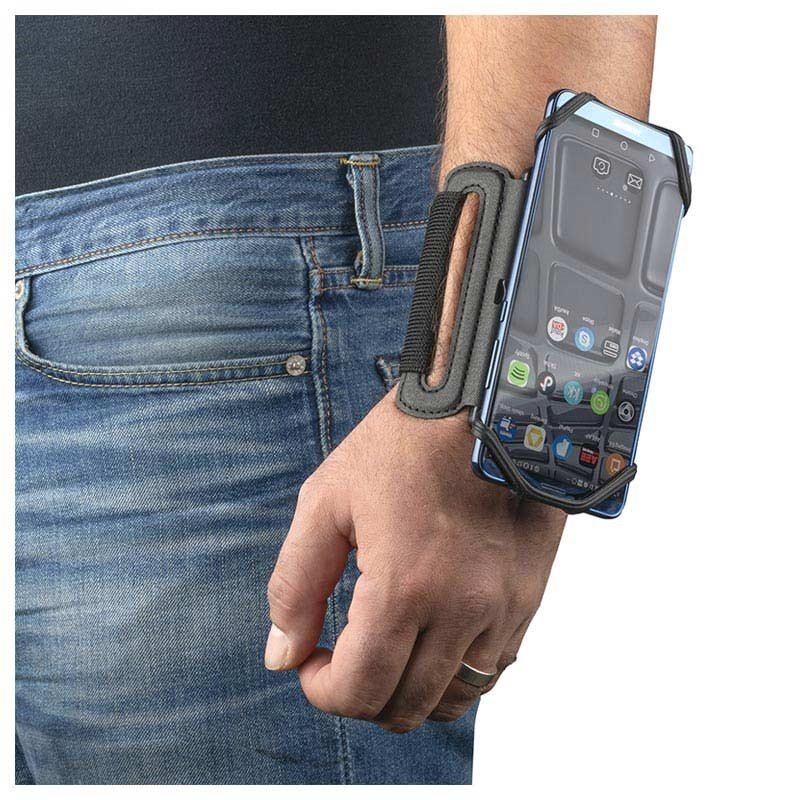 The 4smarts Athlete Pro universal smartphone armband's breathable spandex material is gentle on the skin and makes wearing it comfortable. This armband offers a secure fit with its adjustable strap and can be worn on the wrist or upper arm depending on your exercise needs.
The band holds smartphones sized between 10 to 18cm securely without disrupting access to its ports or buttons. The pivot feature allows you to rotate your screen by 180 degrees, making it a great way to enjoy a good movie when you take a break.
Features that make workouts fun and hassle-free:
The 4smarts Athlete Pro band securely holds your smartphones and allows you to rotate them by 180 degrees.
The design of the band ensures no disruption of the functionality of the buttons, ports and screen of your mobile phone.
The armband effectively accommodates a circumference of 15cm up to 25cm with its adjustable strap.
The breathable spandex material prevents your skin from getting irritated during long wear and ensures comfortable wear.
Stay Motivated to Stay Fit
Exercise no longer has to be boring with our picks of the best sports cases for your mobile phone. With the right case, you can keep your smartphone within range so that you can easily track your progress.
Additionally, when you opt for cases with pouches or additional compartments, you can safely keep all your valuables in one place without ever having to worry about losing them.
Are you looking for more exercise-friendly accessories and gadgets? Get in touch with us, and we will guide you to the right one for you!