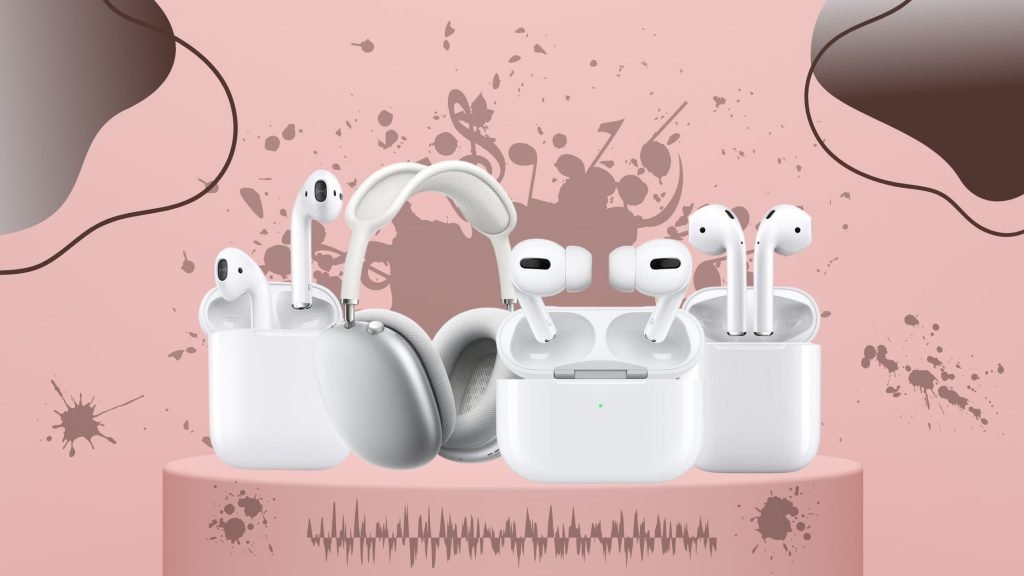 When Apple introduced the new AirPods into the market, it took the world by storm. These wireless earphones became all the rage with everyone wanting a pair. With new Airpods introduced into the mix, you might be wondering what the difference between them is.
In this guide, we will look into the different aspects of Apple AirPods 1st and 2nd generation. We will also compare them with the latest AirPods Pro and the new AirPods Max, to help you make the best choice amongst true wireless stereo earbuds.
Apple AirPods 1st generation vs. Apple AirPods 2nd Generation: An Upgrade?
The Apple AirPods 2nd generation varies very minimally from the 1st generation. Introduced a little over 2 years after the 1st generation, the second generation AirPods continue to have the same design for both their earpods and charging cases, though the newer charging case is wireless and about 40g heavier.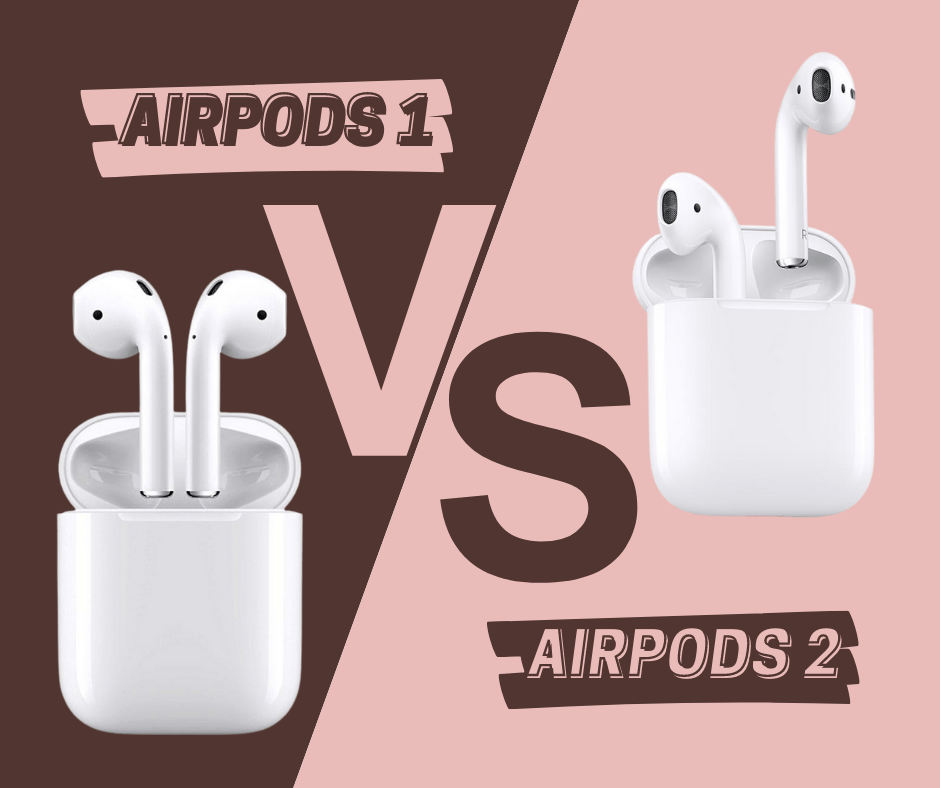 Chipset Upgrade: Efficiency Improvements
Though there is no newness in design or even a new colour option, the second generation does come with an H1-based chip system. This chip offers better performance in comparison to the AirPods' W1 chipset.
You can expect better performance and efficiency with the second generation. When talking about the difference between AirPods 1 and 2, you cannot overlook the latter's ability to pair faster and switch devices twice as fast.
A Gamer's Friend: Stable Connection and Better Latency
If you are a gamer, then you will also love the 2nd gen's 30% latency. Additionally, you can expect a 50% boost in talk time in comparison to the older version and a more stable connection with your devices.
Hey Siri! Nice to Meet You
The first-gen relied on double taps to get Siri activated. But with the 2nd generation AirPods, you can use voice commands to do the same, thanks to the H1 chipset. This greatly improves the hands-free experience of these wireless headphones.
Sound Quality: It's a Draw
While the AirPods 2 offer better efficiency than the AirPods 1, there have been no improvements in the sound quality. Both Bluetooth AirPods offer the same audio performance at the end of the day.
Battery Life and Charging Case Improvements
Though the two AirPods look the same in almost every physical aspect, the charging cases offer a slight degree of newness. The 2nd gen AirPods' charging case features Qi charging capabilities. This charging case can also be used with the first-gen.
Both earphones offer three hours of listening time or two hours of talk time from just 15 minutes of case charging. However, as mentioned earlier, AirPods 2 offer an additional 1 hour of talk time in comparison to AirPods 1.
Getting a Little Pricey
At the base rate, both earphones cost the same. However, buying the AirPods 2 with the charging case can get a little pricey. And if you opt to buy the wireless charging case separately, it won't be a bargain either.
AirPods 1 vs. AirPods 2: Verdict
There is no doubt that the AirPods 2 comes with welcome upgrades, such as boosted talk time and wireless charging cases. But if you are looking for better sound quality and not just a voice control bonus, maybe you should check out AirPods Pro.
Generation AirPods Pro: AirPods Generations 1 and 2 vs. AirPods Pro
If you are looking for AirPods by Apple that can handle your workout, then Apple's AirPods Pro are the best choice for you. In comparison to Apple's AirPods generations 1 and 2, the Pro comes in a newer design.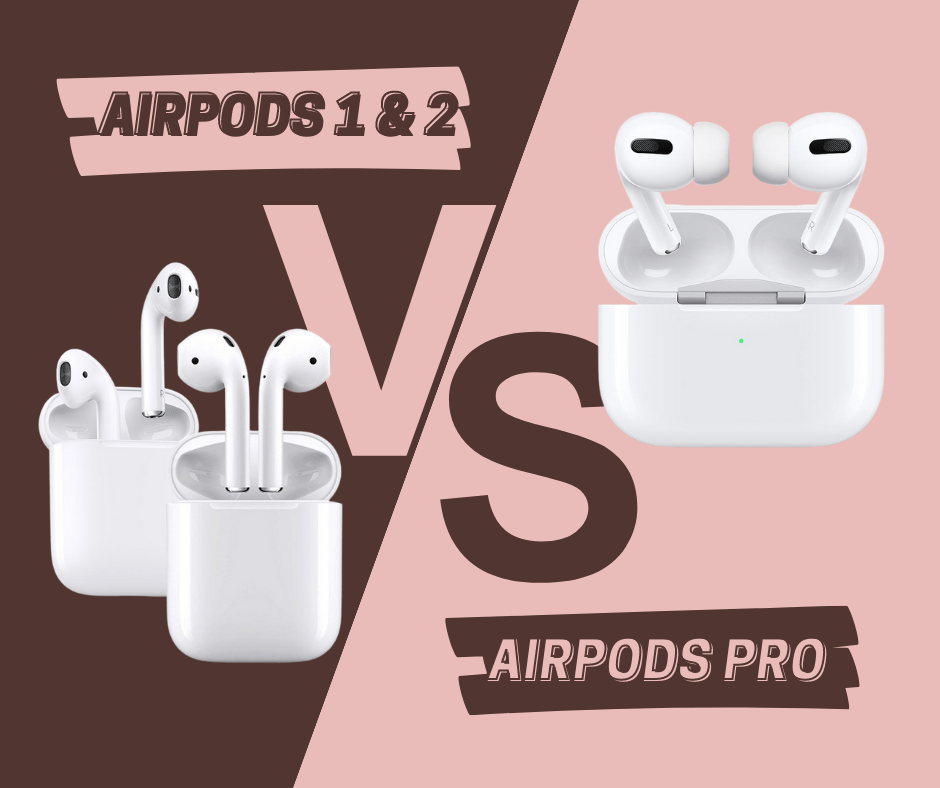 Improved Design: More Comfortable Fit
The AirPods Pro's design forgoes the AirPods' original design of long stems. The newer model has shorter stems and a better fitting earbud design. The newer vent system helps equalise pressure, making the Pro comfortable to wear.
Additionally, the Pro comes with three ear tips, small, medium and large, to allow customisation for a perfect fit. The click-in feature of these tips also makes changing them easy.
Noise-free: Noise Cancellation Feature
Unlike the previous generation AirPods, the Pro comes with three listening mode settings. This latest addition, allows you to completely shut out the outside world with the Active Noise Cancellation mode.
The AirPods Pro also comes with Transparency mode to stay aware of your surroundings. When you are not looking for any noise cancellation, you can easily turn off the ANC or Transparency modes. Additionally, the volume control in your iPhone's Control Centre can also be used to switch between modes.
Superior Audio: Adaptive EQ
The AirPods Pro comes with an adaptive EQ feature that adjusts the EQ levels based on the shape of your ear as well as the music you are listening to. The inward-facing microphone along with the dual beamforming microphones help improve the overall listening experience in comparison to the previous generation of AirPods.
Sweat It Out: Waterproof Certification
The AirPods did not come with any waterproofing rating, making them a less than ideal choice for workouts. But with IPX4 water-resistant certification, the Pro makes for an ideal companion for sweating out in the gym.
While not recommended for water sport activity, the AirPods Pro's sweat and water resistance is a definite win over the previous generation.
Battery Life: Does ANC Affect Battery Life?
The H1 chipset in AirPods 2 and AirPods Pro is a definite improvement over the first generation's W1-based chipset when it comes to efficiency. Between the two H1 chipset models, the Pro also assists with active real-time noise cancellation without affecting performance.
In terms of battery life, both provide the same number of hours of playback and talk time; though, the Pro gives relatively less talk time in ANC mode. The wireless charging case comes included in the hefty price of Apple AirPods Pro, while it is only included for the premium version of the AirPods 2.
What Makes the Pro Special?
In addition to the dual optical sensors, motion-detecting accelerometer and speech-detecting accelerometer, the AirPods Pro also comes with a force sensor in their grooved design. This force-sensitive control makes switching between ANC, and Transparency mode easy.
Like AirPods 2, the Pro version also supports voice commands that invoke Siri and the auto-switching feature that connects with supported Apple devices. You can also experience Dolby Atmos spatial audio on the Pro model with iOS version 14.
AirPods vs AirPods Pro: Verdict
AirPods Pro are the best choice for an audiophile when it comes to Apple's True Wireless AirPods. This model costs much more than the AirPods 2, though the features packed into these shorter and stouter earbuds are well worth it.
But if you are looking for the ultimate in sound quality and are not much inclined towards the wireless design, the Apple AirPods Max may be for you.
True Wireless Earbuds or Wireless Headphones? AirPods Pro vs. AirPods Max
The new AirPods 2020, AirPods Max, and the AirPods Pro offer much better audio quality over Apple's generation 1 and 2 AirPods. However, the better quality also comes with a higher price tag.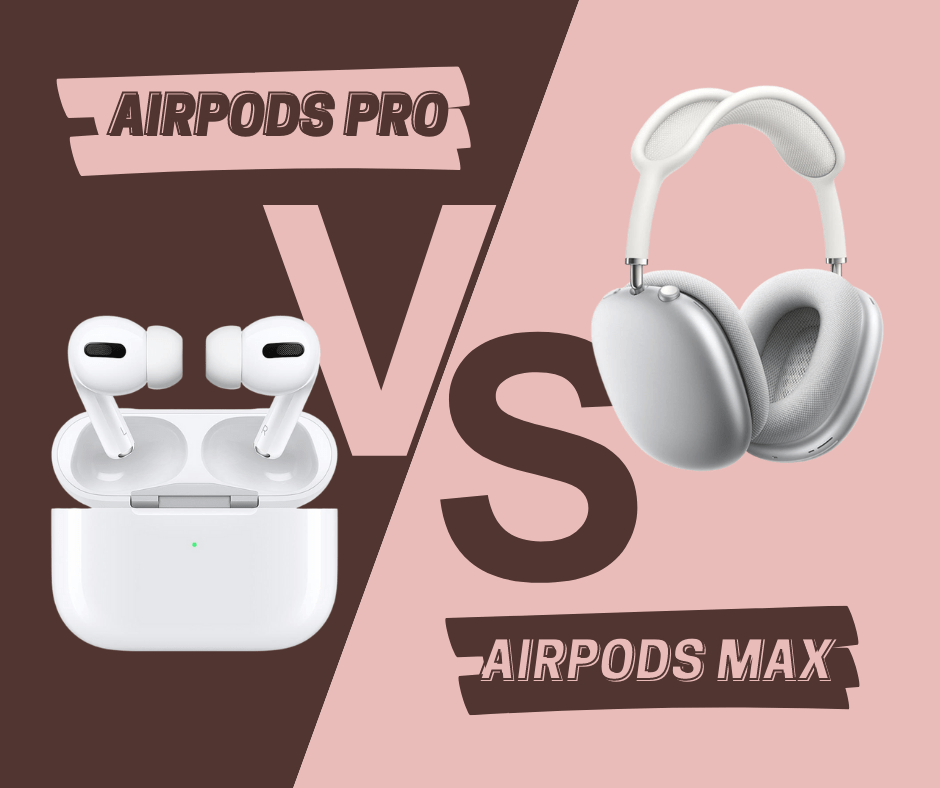 The Obvious Difference: Design
The AirPods Max are wireless headphones as opposed to the True Wireless in-ear earbud designs of the previous three AirPods. The Max features telescopic arms that provide the best fit by expanding and contracting. The mesh headband also ensures the distribution of weight across the head for comfortable wear.
The over-the-ear design comes with cushioned ear cups that rest comfortably over the ears and provide sound insulation. While the sturdy construction ensures a good fit, the aluminium and stainless steel materials add up to 384 grams in weight.
Ultimate Audio Performance: The Best Among Apple AirPods
With the AirPods Max, you can expect the best in audio quality. The Max gives you powerful bass with smooth mids and terrific trebles. In comparison to Apple AirPods Pro, the Max offers clean and clear audio output.
Similar to the Pro model, the AirPods Max also offers a Spatial Audio feature, which works for content in 5.1, 7.1 and Dolby Atmos with iOS 14. This feature improves your overall audio experience especially when watching movies or playing games.
The Max also features three modes of listening: Active Noise Cancellation, Transparent and Off modes.
Microphones Galore: Improved Listening Experience
The Max model comes with a total of nine microphones. Eight of them allow you to experience high-quality Active Noise Cancellation. Then 3 microphones are used for voice pickup, two of which are shared with ANC.
No Waterproof Rating: Keep It Dry and Safe
Like the original versions of the AirPods, the Max does not offer any water or dust resistance. Only the AirPods Pro comes with an IPX4 certification, making it the preferred choice for those that want some workout music.
Forget the Qi: Wired Charging
The Apple AirPods Max does not come with a charging case like the True Wireless Apple in-ear earpods. Instead, you receive a lightning cable that offers faster charging.
All Day Listening: Best Battery Life
When it comes to battery life, there is nothing compared to the AirPods Max. In comparison to the other three models that offer around 5 hours of battery life, you get up to 20 hours of battery life with the AirPods Max.
However, since the Max does not come with its own charging case, a charge top-up is not possible as with the other models.
Get into the Groove with AirPods Max: Verdict
The AirPods Max offers an excellent listening experience to match its hefty price tag. However, it lacks water and dust resistance, which is available with the relatively cheaper and lighter AirPods Pro.
Additionally, unlike other wireless headphones, the Max does not come with support for an audio port. You will have to purchase a USB-C to 3.5mm audio port adaptor if you wish to use it as a pair of wired headphones.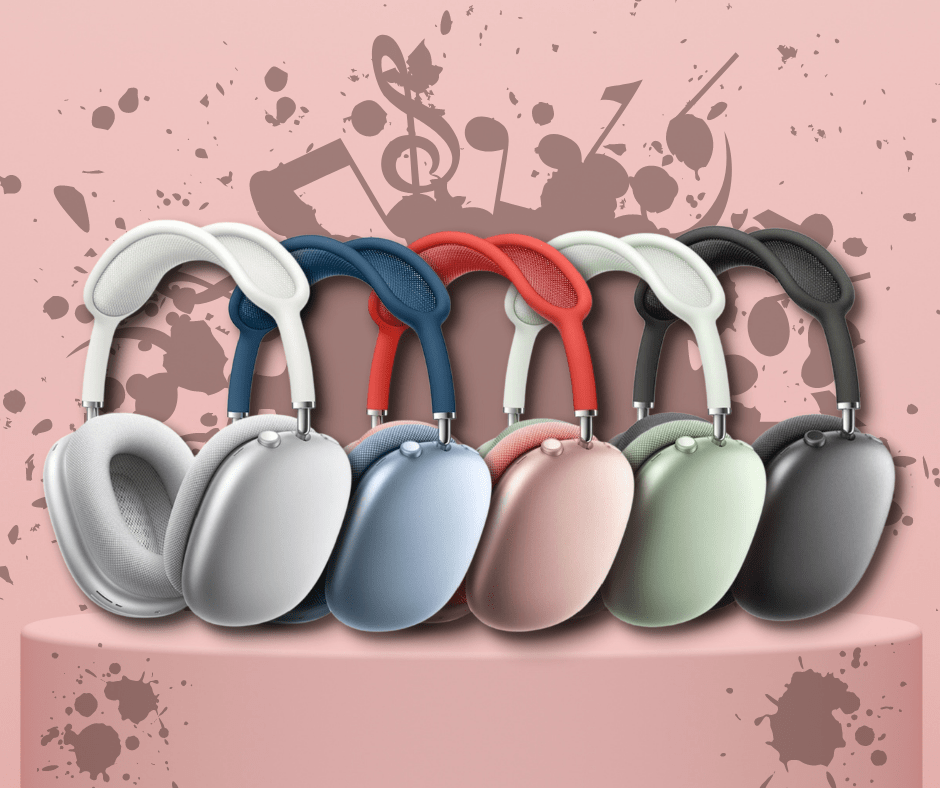 Apple AirPods Comparison Cheat Sheet: Everything You Need to Know at a Quick Glance
Here is a summary of the overall features of Apple's AirPods 1, AirPods 2, AirPods Pro and AirPods Max that will help you choose the best fit for your lifestyle and listening needs.
| | | | | |
| --- | --- | --- | --- | --- |
| AirPods Features | AirPods | AirPods 2 | AirPods Pro | AirPods Max |
| Release Date | December 2016 | March 2019 | October 2019 | December 2020 |
| Type | Wireless earbuds | Wireless earbuds | Wireless earbuds | Wireless headphones |
| Bluetooth version | 4.2 | 5.0 | 5.0 | 5.0 |
| Chip | W1-based system | H1-based system | H1-based system | H1-based system (Each ear cup) |
| iOS Requirements | iOS 10 or later | iOS 12.2 or later | iOS 13.2 or later | iOS 14.3 or later |
| Battery Life(Single Charge) | Up to 2 hours talk time and up to 5 hours of music playback | Up to 3 hours talk time and up to 5 hours of music playback | Up to 3.5 hours of talk time and up to 4.5 hours of music playback | Up to 20 hours of talk time and music playback |
| Wireless Charging | Additional wireless | Wireless Charging Case | Wireless Charging Case | No (lightning cable) |
| Weight | 4g per earbud | 4g per earbud | 5.4g per earbud | 384.8g |
| Active Noise Cancellation | No | No | Yes | Yes |
| Transparency Mode | No | No | Yes | Yes |
| Water Resistant | No | No | IPX4 | No |
| Siri Connection | Double-tap to activate | Voice-activated or double-tap | Voice-activated or Force sensor-based activation | Voice-activated or Digital Crown activation |
| Microphones | Dual beamforming microphones | Dual beamforming microphones | Dual beamforming microphones, inward-facing microphone | 8 microphones for Active Noise Cancellation, 3 microphones for voice pickup (2 shared with Active Noise Cancellation and 1 additional microphone) |
| Sensors | Dual optical sensors, motion-detecting accelerometer, speech-detecting accelerometer | Dual optical sensors, motion-detecting accelerometer, speech-detecting accelerometer | Dual optical sensors, motion-detecting accelerometer. speech-detecting accelerometer, force sensor | An optical sensor in each cup, position sensor, case-detect sensor, accelerometer, gyroscope |
| Accessibility | Live Listen audio, Assistive Switch Control | Live Listen audio | Live Listen audio | Live Listen audio, Headphone levels, Headphone Accommodations |
Latest News: New Apple AirPods
The wait for the new AirPods will be a little longer. The Apple Spring Loaded Event held on the 20th April showcased the arrival of new products. While the show featured the new iPad Pro, Apple AirTag and the new iMac. However, no announcements regarding the Apple AirPods release date were made.
From the rumour mills, the latter half of 2021 might give us a sneak-peak into the AirPods 3 and the AirPods Pro 2. The new AirPods 3 are expected to take on some of the features of the Pro models, such as potential spatial audio support and compact design.
A potential upgrade to the powerful H2 chip is also expected for these models. Additionally, a possible indication of Hi-Res audio for Apple Music subscribers is being hinted at with the iOS 14.6 beta version.
Speculation regarding new additions to the Pro series is also high. There are hopes of the AirPods Pro 2 coming with health-based features such as a step counter, motion detection, and a heart rate monitor.
In terms of AirPods Pro accessories, Apple lovers could be introduced to MagSafe AirPods. This accessory would create an on-the-go charging solution that would replace the charging cases of AirPods. A plausible design rumour points to a thin magnetic folio that can be attached to an Apple device.
The Right Choice
We hope our guide has helped you figure out which would be the best Apple AirPods for you.
Get your Apple devices more organised. Browse through our huge collection of AirPods accessories to step up your game. You can also customise your charging cases with our offering of stylish AirPods cases to add a bit of personality to them.
Are you looking to upgrade yourself with an Apple device? Get in touch with us, and we will help you find the right Apple product for you!