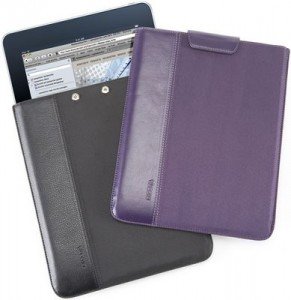 This Dicota iPad Case for Apple iPad fits all models (except mini iPad – it is too big for it) and is made of polyester with leather details and a snap closure. This protective iPad, iPad 2, iPad 3 and iPad 4 case will keep your device safe and protected from bumps, scratches, dust and dirt. Weighing approximately 200 g and with size 25.0 x 20.5 x 1.5 cm, PadGuard can take all tablets (and, theoretically, super slim notebooks) measuring up to 24.3 x 19.0 x 1.4 cm.
The Dicota PadGuard Case is an affordable and elegant case for iPad 2 / 3 / 4, offering simple elegance in two colours, black and purple. High quality materials and finish are ideal for any situation. The cover is also compatible with the iPad Smart Cover.
Conclusion: Dicota PadGuard Prime Series Case for iPad and iPad 2 is the perfect iPad case for traveling and is also ideal to use in conjunction with the iPad, iPad 2, iPad 3 and iPad 4 Smart Cover. The cover features very sturdy finish, and can absorb shocks, yet is lightweight and easy to carry.
Robust construction, good workmanship and perfect fit – everything you need from a good iPad pouch. And the Dicota PadGuard is definitely one of the best options for your new iPad 4. Check out our online store and find many high quality iPad 4 / iPad 3 cases, covers and other accessories.