If you've recently bought a phone that needs a micro SIM card to work, you can go to your network operator's store and ask them to replace your standard SIM for a micro SIM card. The price of this service largely depends on your operator of choice, but it is usually about £10. Once you've requested a replacement, it won't be long before your new micro SIM card is activated. If you don't wish to wait, you can also try cutting the SIM card on your own.
Can I Cut a SIM Card by Myself?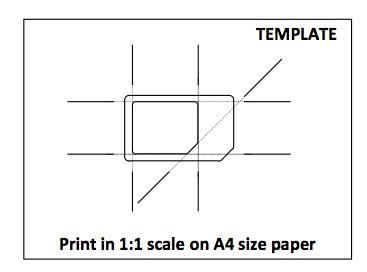 Yes, you can, but we advise you to proceed with caution.
You will need:
a marker with a fine tip
a ruler
scissors
a nail file
Take the ruler and the marker, and use them to trace the SIM card's lines. You will need to cut your card along them later on with scissors. A standard SIM card measures 25 x 15mm (height x length), whereas a micro SIM one measure 12 x 15mm. Be sure to measure around the metal contacts. Cut the SIM card, file its edges if necessary, and you're done.
If you think that you cannot cut the SIM card on your own, head over to your operator's store, and ask them to do it for you.