HTC is the first to use Facebook in mobile, with the cleverly named HTC First. Can it do better than the last Facebook Mobile, ChaCha, did?
Facebook and HTC announced First, the first Android phone that will run the Facebook Home. Facebook Home is a home screen that can be downloaded to any Android phone, but comes pre-installed on First which is supposed to lead the campaign. However, Facebook Home is much more than a home screen. It's a new way to interact with your Android mobile. When you unlock your phone, you are taken directly to a feed of status updates and photos from your circle of friends on Facebook, called Cover Feed. Scroll through them to get the latest news. The content is displayed even when the screen is locked. Content flow is called Facebook Cover Feed.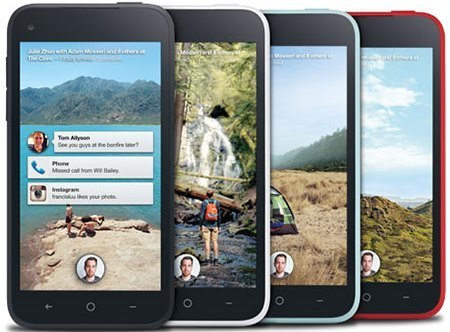 Through a face icon at the bottom of the screen, you can scrap all updates if you've read them. Magician, or home button, is also your gateway to a more traditional telephone experience. By holding down your finger on the button, you can swipe up to access your apps and settings. To the left you have a Facebook Messenger, and to the right opens the last app you had open. Facebook Home will also have Chat Heads, which are small pictures that represent your friends. You can send messages to them, which is collected in a thread of messages from both email clients and Messenger.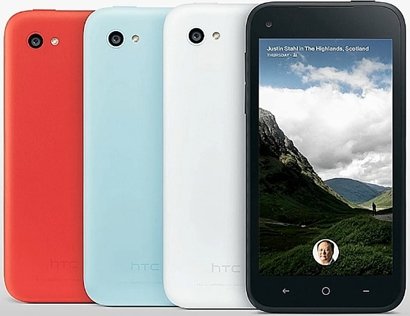 HTC First, just as it was rumoured, is not a top model that will compete with the Galaxy S4 or HTC One when it comes to performance. Instead, it is driven by Qualcomm's budget chip, Snapdragon 400, with a dual core processor at 1.4 GHz and 1 GB ram. The screen is 4.3 inch with a resolution of 1280 x 720 pixels. 16 GB built-in memory is available to store the status updates and photos on Facebook, photos which can be taken with the rear-mounted camera of five megapixels. On the front is a camera of 1.6 mega pixels and inside the phone we also find a battery of 2000 mAh and an LTE radio. HTC is the first manufacturer to come with pre-installed Facebook Home.
Facebook Home will be released as downloadable and free app from Google Play Store on April 12th in the U.S. and will support the HTC One X , HTC One X +, Samsung Galaxy S3 and Samsung Galaxy Note 2, as well as the new HTC One and Samsung Galaxy S4.