New Potato Technologies, a company that produces iPod accessories and iPhone accessories, has announced the launch of Live Rider, the first bike computer and system for iPhone and iPod touch.
With the help of New Potato advanced 2.4 GHz wireless technology, is a permanently closed sensor mounted on the frame to the wheel and sends information about speed on the bike to a receiver connected to the iPhone.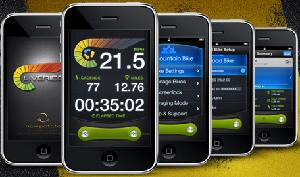 Unlike other bike computers, Live Rider uses the advanced features of the iPhone and iPod Touch using a high-resolution Touchscreen, GPS capabilities, etc.