Check out the Incipio NGP IP-972 for iPod Nano 6G – Incipio's innovative response to the wrist bags. Incipio is a company famous for its high-quality iPhone accessories. With a comfortable, adjustable Velcro closure, your Nano 6G be firmly attached to the wrist, so you can use it as both a clock and a portable media player. The solid and robust Linq Watch is the perfect solution for users who want instant access to all iPod Nano 6G features. The frame is made from Incipio popular NGP material with nylon and Velcro strap that can be replaced. Unique shape, and trendy design give you maximum comfort and easy access to all buttons on your iPod Nano 6G, including the headphone output. This carrying solution from Incipio is one of those iPod accessories you can't live without!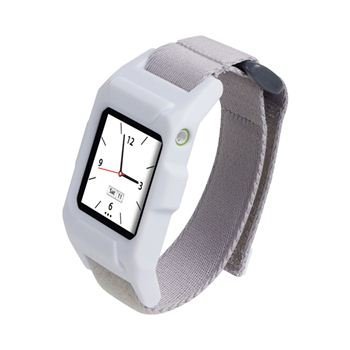 * Slim and lightweight
* Available in several colour combinations
* Easy access to all buttons and headphone jack
* NGP material provides excellent shock absorption and protection
* Backed by Incipio lifetime warranty
About NGP:
Incipio robust material NGP stands for Next Generation Polymer – very durable and shock-absorbing polymer that is more elastic and tear resistant than silicone. NGP has a strong but malleable enough to allow easy installation and removal. Available in a variety of colors, the NGP Linq Watch Case for iPod Nano 6G colorful add protection to your media player and turn it into a vibrant and stylish watch.