JBL On Stage 200ID loudspeaker dock is a speaker system compatible with iPod and iPhone. It is a complete audio system, no extra wires on your desktop are required. Connected to your iPod or iPhone, MP3 player or any other music source JBL On Stage 200ID delivers pure and powerful sound. iPhone and iPod compatible speaker system offers a combination of high out-of-box sound quality and clean design in a form that fits almost anywhere. With this piece of iPod accessories you also get a screen protector to prevent scratches on the iPhone and other wireless devices. Infrared remote control, audio jack and cable for use with a computer or non-iPod devices are also included.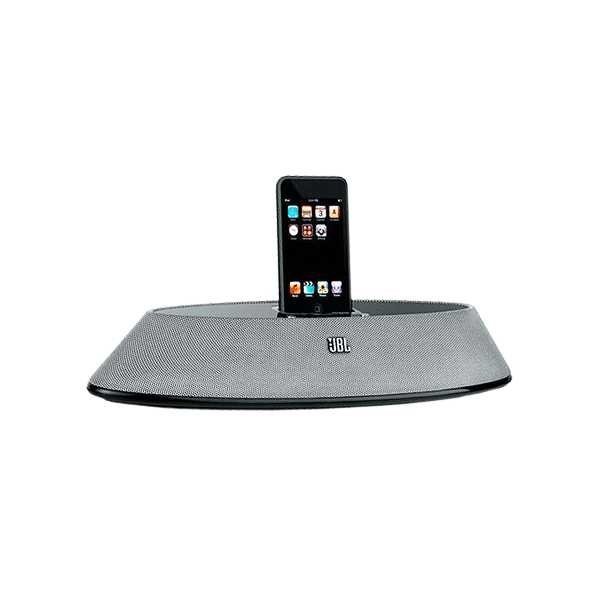 For iPod owners who are looking for a speaker they can use at home, the JBL On Stage 200ID is a good option with a futuristic look and a remote control. This basic speaker delivers good sound and is a perfect iPod accessory for all iPod users.
JBL On Stage 200ID Dock is compatible with iPod, including iPod touch, iPod nano and iPod 3G. With a stereo mini jack connection you also get to enjoy high quality audio from a variety of other devices such as MP3 and CD players, desktop computers (all platforms), satellite radio and laptops.
Enjoy your photos or high quality videos. Connect the USB cable to your computer for full compatibility with iPod and iTunes. JBL On Stage 200ID loudspeaker combines many advanced technologies for high-quality sound with amazing bass and clear sound from all directions. JBL On Stage 200ID loudspeaker is a highly advanced and useful piece of iPhone accessories.
Compatibility: iPod mini 1G, iPod nano 1G, iPod nano 2G, iPod nano 3G, iPod 3G, iPod 4G, iPod 5G, 6G iPod, iPod touch, iPhone