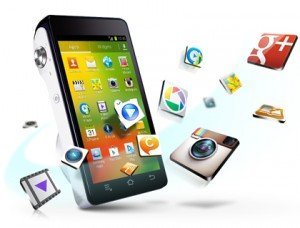 If you like to share photos quickly on social networks, but the quality of images taken with your smartphone lets you down; the Samsung Galaxy Camera will definitely meet your expectations.
The operating system is Android 4.1 Jelly Bean; and Wi-Fi, GPS, Bluetooth and 3G are all integrated, providing the flexibility and connectivity as a smartphone. It must be said that this smart camera does not allow calls, but it goes much further, because with its large screen, and 16.3 megapixels, you will take perfect photos.
Galaxy Camera is much more than a smartphone or tablet with a better camera – the camera itself has a 16.3-megapixels and a lens features a 21x zoom. It's got 10GB of built-in flash storage, of which just 3.87GB is available for use, for storing photos and apps. If you need more storage space, you will need to buy a microSD card.
Smart Mode
Faced with the opportunity of a 4.8-inch screen and the challenge of building an Android-based interface, smart mode gives you everything you want to have. Now there are 15 preset shooting options, which can regulate the camera to get beautiful photos to show all your friends.
Dropbox
Dropbox is a free service that lets you bring all your photos, documents and videos anywhere. This means that all files stored on Dropbox are automatically available to all your computers, phones and even the Dropbox website. The 50 GB free on Dropbox are more than enough to have storage problems no longer. You can upload photos to your Dropbox account and you can free up memory on your camera and take your own photos to infinity.

Specifications:
Dimensions: 7.08 x 12.87 x 1.91 cm
Weight: 300 g
Display 4.8″ HD Super Clear LCD
Resolution of 1280 x 720 (HD)
Internal memory 8 GB
OS: Android 4.1 Jelly Bean
Opening: 2.8 (min) ~ 5.9 (max)
Optical zoom: 21x
Galaxy Camera is a unique proposition, and one that's easy to recommend. MyTrendyPhone offers Smart Camera accessories as well as other Samsung accessories to equip you with everything you need your favorite gadgets. Visit our website!