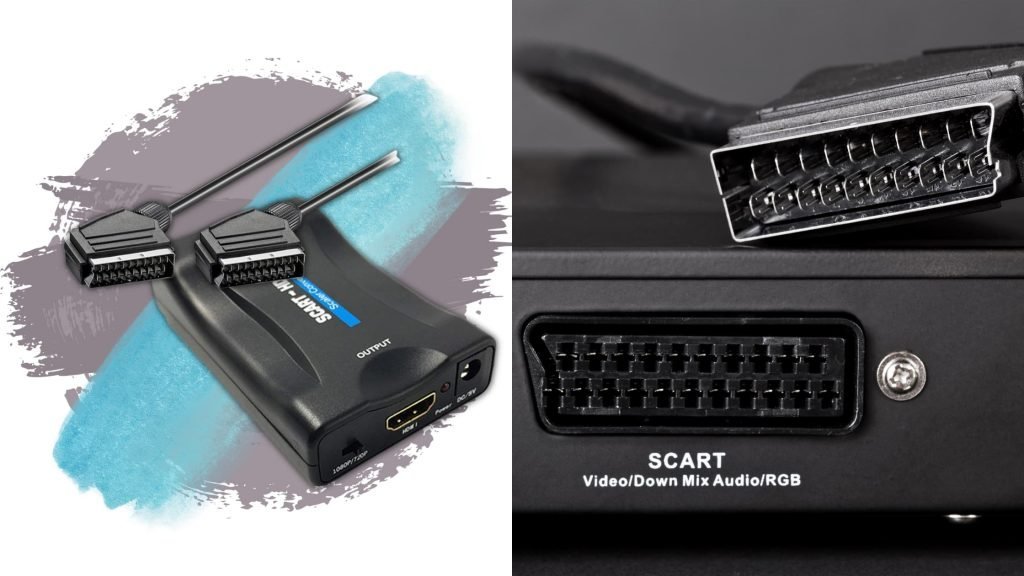 SCART cables and connectors are used for connecting audio-visual devices. The European standard was created in France and introduced in 1977 as a way to standardise inputting signals.
The SCART system came to replace RF antenna connectors and became a standard on AV equipment like DVD players, VCRs and other devices. These connections constituted single cables gathering analogue signal connections and a unique SCART connector which helped resolve connectivity issues.
While you can still find SCART sockets on some devices today, HDMI and DVI connections are the preferred choices of digital transfer. In this blog, we will look at the different features of SCART cables and their functionality.
What Does SCART Stand For?
SCART stands for Syndicat des Constructeurs d' Appareils Radiorécepteurs et Téléviseurs which is the organisation that introduced it.
What is a SCART Cable?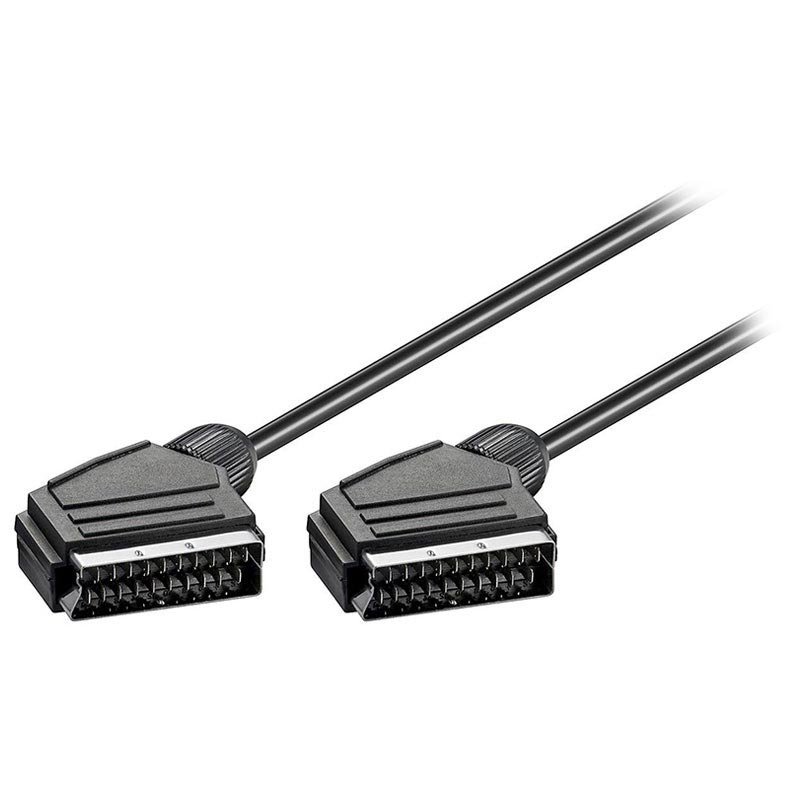 SCART is a 21-pin connector that can handle standard-definition video signals between two AV devices. It is also bi-directional, allowing data to be transferred from either connected device. Before digital became the norm of AV technologies, SCART cables and connectors were the preferred choices despite their wire thickness and manageability coefficient.
While it supports RGB, composite and S-Video as well as stereo and mono audio signals, it can also be used for high-definition video signals. However, with the advent of HDMI cables and connectors in modern, flat TVs, the use of SCART systems has diminished. Learn more about the latest AV connection system in our blog Everything About HDMI Connectors.
In modern times, SCART is also known as a Pertitel connector or Euroconnector. This connection was standardised as the CENELEC EN 50 049-1:1989 standard, also referred to as the IEC 60933-1 standard.
What Does a SCART Cable Look Like?
Like with any AV cable, a SCART cable has a male end (SCART leads) which fits into the female port recessed in your device. The male ends have 21 pins, and both connectors are designed to fit only one way round.
This design makes it impossible to make improper connections. These cables usually have a maximum length of 10 to 15 metres, within which they can reliably transfer the analogue signals.
What are the Different Types of SCART Sockets?
When not considering minor variations, SCART sockets can be classified broadly into the following three types.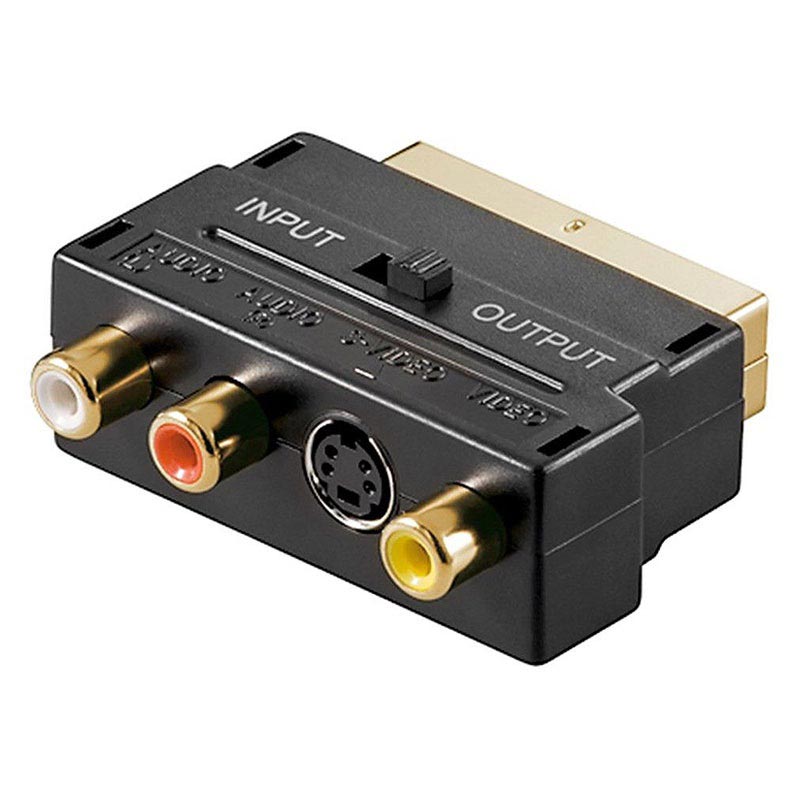 Since SCART is a multi-purpose connector, you can use it to connect to the S-Video SCART port. This port can also be used to connect an RGB SCART cable; however, this connection will only deliver a composite video picture.
This SCART socket is specifically designed to only support RGB signals. While the connection offers better quality than composite video, the RGB video quality will depend on the capabilities of the TV/Video-processors of your device.
The Japanese version of SCART, also known as EIAJ TTC-003 or JP-21 A, comes with a different pin location than its European counterpart. These sockets are usually encountered in the XRGB series of video processors.
The SCART system supports RGB, composite and S-Video; hence, some devices may have multi-purpose SCART sockets that will accept all three types of signals.
What Are the Different Types of SCART Leads?
Composite and RGB (with composite synchronisation) video, stereo audio input/output and digital signalling are carried by SCART cables. However, on the market, you will find the choice between two types of SCART leads.
These cables are compatible with a composite signal and RGB video. They have all pins connected and hence allow you to utilise the full potential of the SCART cable
The RGB SCART cable-leads only have the RGB pins connected in them. Hence, they are only capable of carrying RGB pictures without the audio. These cables can be directional and require additional cables to carry the audio signals.
What Are the Functions of Each SCART Pin Connector?
The following table highlights the functions of each pin in your European (EN 50049-1) SCART lead. Knowing what each pin does can help you figure out potential issues with your SCART connections.
| | |
| --- | --- |
| Connector Pin | Function |
| 1 | Audio output (right) |
| 2 | Audio input (right) |
| 3 | Audio output (left/mono) |
| 4 | Audio ground (pins 1, 2, 3 & 6 ground) |
| 5 | RGB Blue ground (pin 7 ground) |
| 6 | Audio input (left/mono) |
| 7 | RGB Blue up |
| 8 | Status & Aspect Ratio |
| 9 | RGB Green ground (pin 11 ground) |
| 10 | Control bus (AV.link) |
| 11 | RGB Green up |
| 12 | Reserved / Data 1 (non-standard) |
| 13 | RGB Red ground (pin 15 ground) |
| 14 | Normally Data signal ground (pins 8, 10 & 12 ground) |
| 15 | RGB Red up |
| 16 | Blanking signal-up |
| 17 | Composite video ground (pin 19 & 20 ground) |
| 18 | Blanking signal ground (pin 16 ground) |
| 19 | Composite video output |
| 20 | Composite video input |
| 21 | Shell/Chassis |
Frequently Asked Questions About SCART Connections
In this section, we deliver the answers to some of the popularly asked questions about SCART.
Why do SCART leads have gold plating on them? Is a gold plated SCART connector better than the normal connector?
The gold plating on the connectors is intended to protect the metal parts from oxidisation. Unless you are using these connectors in a damp, moist environment, or are constantly plugging and unplugging them, the gold plating offers very little benefit.
Can I play my retro games consoles with newer TVs? What to do if my TV does not have a SCART connector
Lovers of vintage gaming consoles can still enjoy their favourites on their modern television sets. Some newer television sets still do come with SCART ports which you can use to connect your video games directly.
But if you only have an HDMI port, then a SCART to HDMI adapter will allow you to create the connection. You can also use different types of SCART adapters, such as a SCART to VGA adapter and a SCART to USB adapter, to take advantage of other displays and monitors.
Alternatively, you can also take advantage of your VCR or DVD player with a SCART connection. These devices usually will have two SCART ports that allow you to daisy chain the connections.
Connect your console to the player's SCART port and the device's other port to the TV. Turn ON the game console and the TV, and switch to the appropriate channel to start gaming.
You can learn more in our blog about how to play old consoles on new TVs to find the best solution for your gaming console and TV pairing.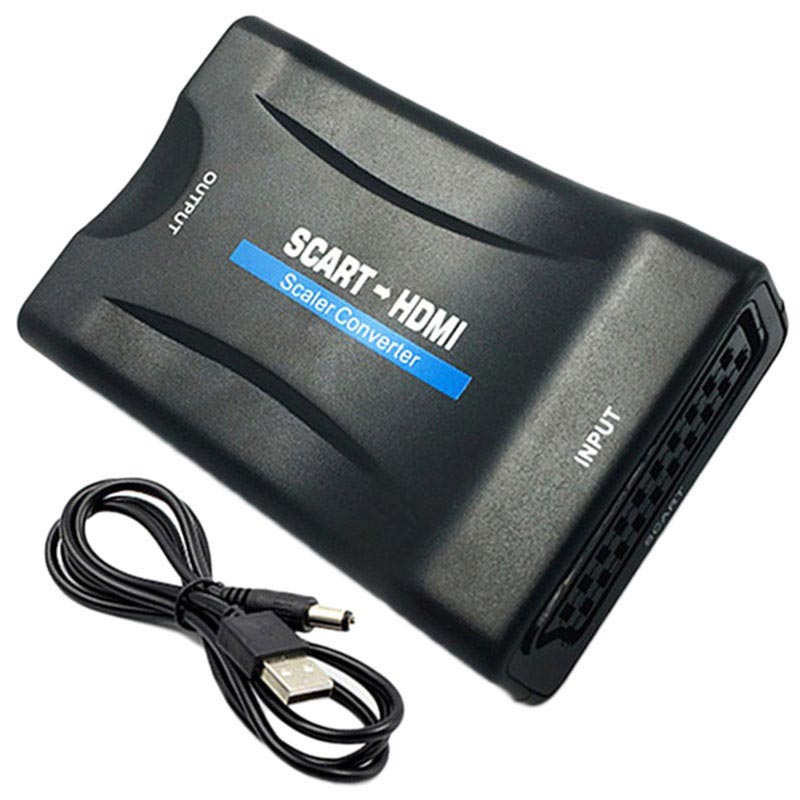 How to connect multiple SCART enabled devices to a single SCART port. Can I connect multiple vintage game consoles to a single SCART port?
You might have multiple devices that compete for the same SCART port on your AV equipment. Plugging and unplugging wires can be a hassle if all these devices are used with equal frequency.
The solution to this is to get a multi-SCART adapter, known as a SCART switch box or splitter which allows you to have multiple connections. These adapters are available as manual (select the device manually), automatic (automatically selects the active device), and remote-controlled (switch between devices using a remote).
Why is my SCART cable not working? How to clean SCART cables
The SCART cable is designed to fit in only one position. Hence, improper connections of the pins should not be an issue. If the fit of the connector is perfect and the problem remains, then here are a few things you can do to get the connection working.
Your cable and sockets may need a bit of cleaning. Before you begin the cleaning process, make sure all the devices and cables are unplugged and not connected to any power source. Use a soft brush and a lint-free microfibre cloth to wipe away any dust and dirt. Alternatively, compressed air will also get the job done.
You can also go in with a toothpick or an earbud to get into the nooks and crannies. Make sure you are gentle when cleaning using sharp objects. A pair of tweezers may also help adjust any pins that seem a bit bent.
Sometimes a little bit of rust or corrosion can cause a weak connection. You can use sandpaper to gently scrape it off. Stubborn dirt and grime can be dealt with using an isopropyl solution or appropriate cleaning products. Make sure everything is completely dry before using it again.
If cleaning has not resolved the issues, then consult the pin function section to identify which pin is not functioning. The issue could also lie with the hardware or incorrect sockets. Consider buying a new SCART cable or seek help from a professional.
How is the JP-21 SCART different from the IEC 60933-1 standard?
The following table showcases the function of the different pins in the Japanese version of the SCART connectors.
| | |
| --- | --- |
| Connector Pin | Function |
| 1 | Audio input (left) |
| 2 | Audio output (left) |
| 3 | Audio ground |
| 4 | Audio ground |
| 5 | Audio input (right) |
| 6 | Audio output (right) |
| 7 | Video ground |
| 8 | Video ground |
| 9 | Composite video input |
| 10 | Composite video output |
| 11 | AV control input |
| 12 | Ym input |
| 13 | Red signal ground |
| 14 | Ground |
| 15 | Red signal I/O |
| 16 | Ys input |
| 17 | Green signal ground |
| 18 | Blue signal ground |
| 19 | Green signal I/O |
| 20 | Blue signal I/O |
| 21 | Shell/Chassis |
What is the difference between SCART and DVI?
SCART cables are intended for analogue signal connections, while DVI (Digital Visual Interface) is designed to transmit uncompressed digital video. Another difference is that the DVI cables are not capable of carrying audio signals. Unlike DVI, SCART cables can carry stereo and mono audio signals.
While the two interfaces are different, you can find adapters and cables that allow you to create SCART to DVI and DVI to SCART connections between devices.
What is the difference between SCART and HDMI?
The two interfaces are capable of transmitting both audio and video. However, SCART cables can handle analogue audio and video signals while the HDMI (High-Definition Multimedia Interface) supports uncompressed video data and compressed or uncompressed digital audio data.
In comparison to the 560p maximum resolution of SCART, HDMI comes with 1080p resolution support. HDMI also has a larger range of compatible devices than SCART.
HDMI is the latest standard and is found on almost all modern audio-video devices. It also has backward compatibility with single-link DVI digital video (DVI-D or DVI-I), though not with DVI-A or dual-link DVI.
Connections between HDMI-enabled and SCART-enabled devices are possible via HDMI to SCART and SCART to HDMI cables and adapters.
Get Connected!
We hope this post has helped you learn about SCART connectors and all the things you can do with these cables. Keep yourself updated and learn more about the different technologies around you by subscribing to our blog!
Are you looking to buy new cables? Want to upgrade your gadget? Get in touch with us, and we will help you find the right match for you!