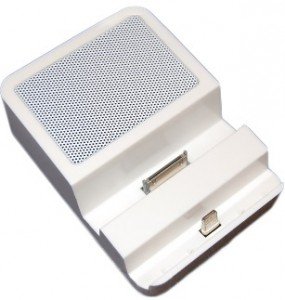 If you have various Apple devices, you have probably found yourself in an awkward situation that you have to charge them all at the same time. Worry no more!  We offer the practical solution in the form of a double dock with a speaker. The dock is compatible with Apple devices that have the Lightning connector as well as with the devices that come with 30-pin connector.
The design of the charging base is simple but at the same time elegant. It fits perfectly into every office environment. Its white colour and the fact that this dock falls into category of multi-functional accessories (as it plays more than one role), are the main factors that makes it very attractive buy.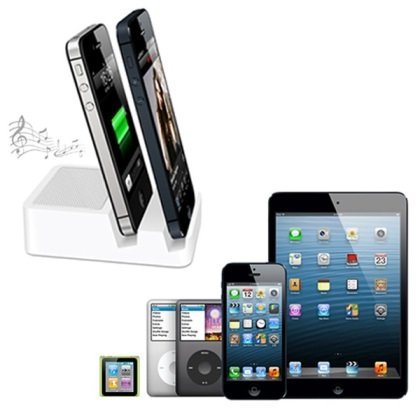 Dual Charging Dock Features:
1. The product can be used as a standard desktop charger. It can charge two devices with Lightning / 30 pin connectors at once. For example, you can charge your iPad mini or iPad 4, together with the iPhone 4S.
2. The possibility of data synchronization.
3. High quality amplified speakers spread the favourite tunes from your Apple device.
Genial device, don't you think so?! In short, the speakers provide rich experience when enjoying music or favourite movie. Bluetooth playback option supported by the wireless connection is also another advantage. The microphone input is available.