The battle between Android and iOS phones is a never-ending one, and when Apple recently released two new iPhone models, non-iOS users wasted no time in making fun of the iPhone 6 and its specs.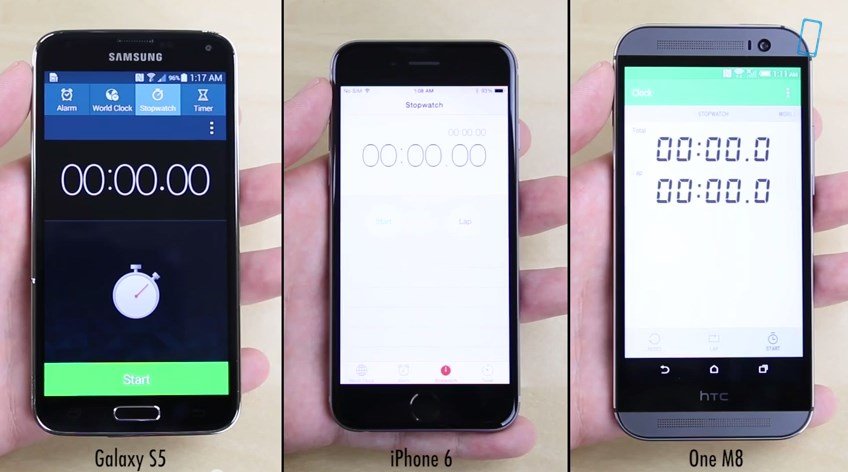 If you take into consideration that the latest Android phones sport at least 2GB of RAM and quad/octa-core processors, while the iPhone 6 comes with only 1GB of RAM and a dual-core processor, the mocking doesn't seem completely uncalled for. That doesn't mean that the iPhone 6 is not a solid device, and Apple's sales (10 million iPhone 6 and 6 Plus handsets sold during the launch weekend) speak in its defense, but facts are facts, and Android specs do sound a lot better than iOS ones.
With this in mind, Android devices should be able to easily beat the iPhone 6 when it comes to performance. But can they really? The guys at Phone Buff created a video in which they compared the iPhone 6, the Samsung Galaxy S5, and the HTC One M8 to see which one is the fastest. All smartphones were rebooted before the test, and used the same Wi-Fi network to ensure similar connectivity speeds.
Before reading any further, take a minute to think about this – which phone is going to be the winner in this test? You got it? Okay, let's move on. 🙂
All three phones were put through loading various webpages and apps (a virtual obstacle course), one after another, and the idea was to see how fast these would load, and how fast the apps can continue running even after being closed and reopened.
This is not the first speed test the guys at Phone Buff have created, and prior to it, the winner was the HTC One M8. However, in this particular one, the new iPhone 6 came out as an obvious winner, with the One M8 coming in second, and the Galaxy S5 remaining far behind it.
Did you expect the iPhone 6 to win? Do you think this is fair? Share your thoughts with us!