Famous Samsung "phablet", Galaxy Note 2, is emerging as a very practical and versatile device in full size. Many users do not seem to mind at all the 5.5 inch screen and have adapted their daily routine to this device without any problems; they use it daily like any other phone, but adding the advantage of having almost tablet-sized screen. Today we will show you the most useful Galaxy Note 2 accessories so you could make the most out of your phablet.
Cases and covers are always welcome, as they will protect your device from accidental scratches and other damage. Samsung offers official Galaxy Note 2 flip cases (you can find them online at a price of 25.40 GBP), but there are other options as well, such as rubber bumpers, back covers and cases with included stand.

Users have complaints on Google and Apple phones, since their devices no longer support expandable memory with Micro SD. Fortunately, phones and tablets from Samsung still offer this possibility. The Galaxy Note II is no exception and it supports memory cards up to 64GB. Obviously, some people will not need as much memory and will do just well with 16GB or 32GB, depending on budget and use of the phone. But, it would be a shame not to fill the phone up with a good content and enjoy it on Note 2 huge screen, right?
There are all kinds of desktop chargers for Samsung phones, but the most powerful of all is the one that comes with USB speaker and HDMI outputs. This accessory can directly convert your Galaxy Note II into a media centre. Make sure to check our site for some interesting offers.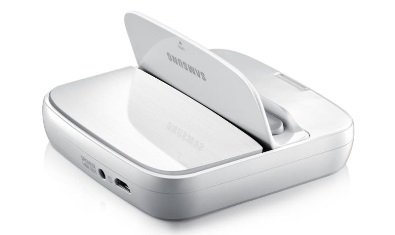 If we add a physical keyboard to the phone, what more can we ask for? The multitasking capabilities and a wide range of applications meant to improve its productivity can make the Galaxy Note 2 a handy, little personal "computer". If we consider the possibility of complementing the phone with a keyboard (to type text faster) and the stylus (for graphics and images) you can do things on your tablet in almost any way possible. We offer Bluetooth keyboards of different sizes, depending what your preferences are.
Huge capacity batteries can be attached to your Note 2, prolonging its battery lifetime. We will not fool ourselves saying that the device looks pretty and elegant in external battery case, but if we put this higher capacity battery on, we can enjoy our phablet for hours…and hours. Still, this option is here, waiting for anyone who wants to use it (the one in the picture is available for  only 27.00 GBP).