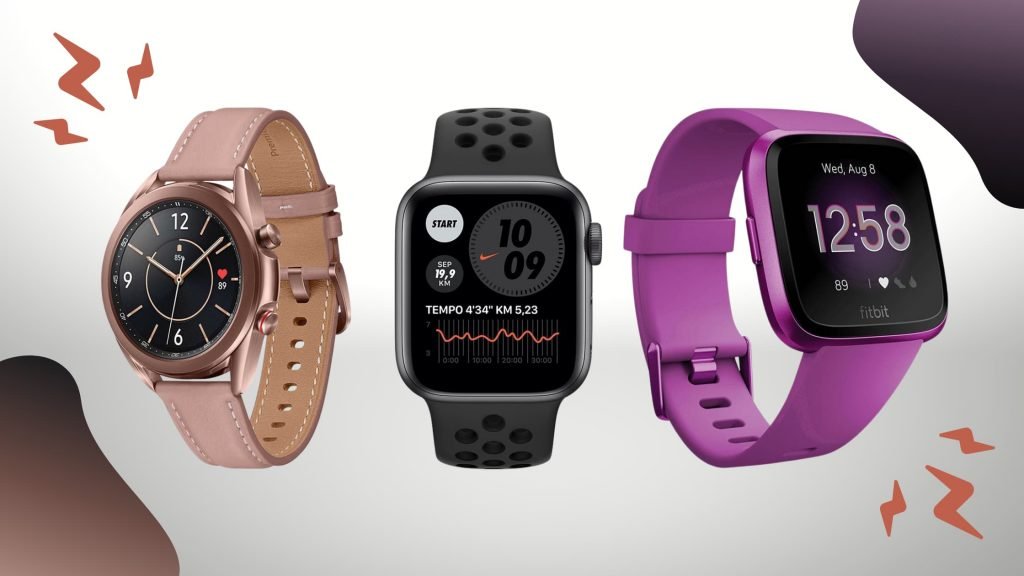 Ticwatch Pro or Apple's smartwatch? Wear OS watches or WatchOS? Finding the best smartwatch that meets all your fitness and health tracking needs no longer has to be an arduous task.
When choosing a smartwatch, don't get swayed by the number of features the gadget comes with. What's important is if it meets the workout styles of your interests, and fits your lifestyle.
If you love water sports, or if swimming is your primary workout, then a durable smartwatch that can tolerate all the splashing is an ideal choice. Do you lean more towards nature exploration? Is trekking your preferred activity? In that case, a smartwatch with GPS and emergency features such as Emergency SOS will be the best option.
We have compiled the best smartwatches out in the UK to meet your fitness and style needs!
Apple Watch Series for the Apple Loyalists
The perfect match for your iPhone, these Apple smartwatches bring you the best of Apple's tech and design. These watches come with many helpful features and even pre-installed apps that help improve your exercises' effectiveness.
Apple Watch Nike Series 6 with Nike Workouts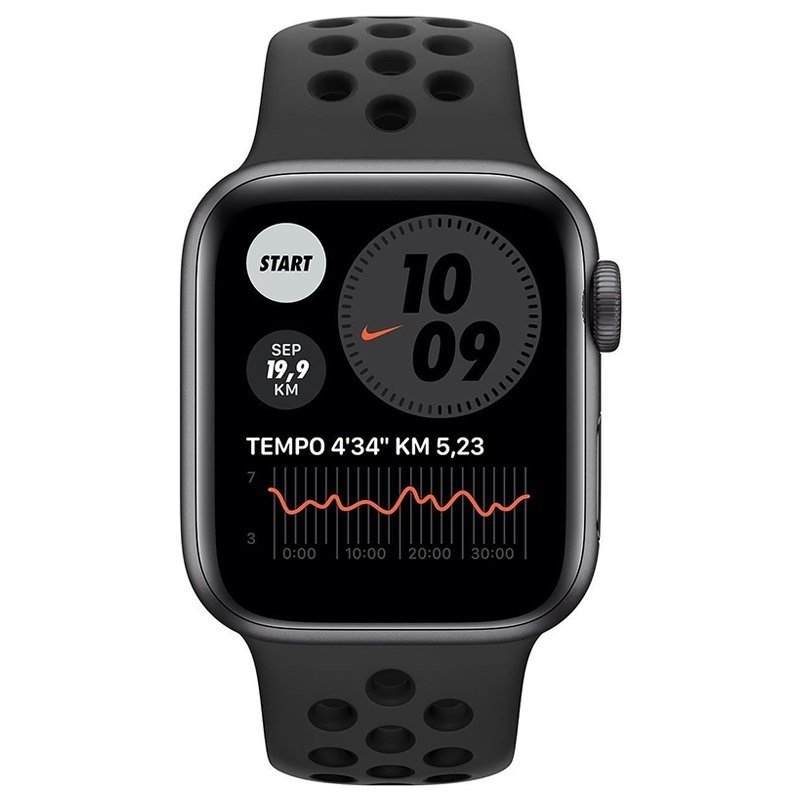 Choose the perfect workout for you from the pre-installed Nike Run Club app on the Apple Watch Nike Series 6. The partnership between these two well-known companies in their fields will help you improve your fitness with ease.
The Nike Series 6 smartwatch comes with the impressive Apple S6 chipset that lets you make the most of its fitness features. The smartwatch's revolutionary blood-oxygen-level measuring sensor combined with the pre-installed Blood Oxygen app receives crucial insight into your overall respiratory and heart health.
Features that will help you get the most out of a workout:
The Apple Watch Nike Series 6 allows you to install third-party apps, thereby enabling you to explore more workout options.
Keep the exercise motivation pumped up with the smartwatch's support for Apple Music albums or Apple Podcasts.
The watch has emergency features such as detection of irregular heart rhythms and an emergency SOS function.
This smartwatch will also help you improve your sleep health with its new sleep tracking function.
Apple Watch SE in Futuristic White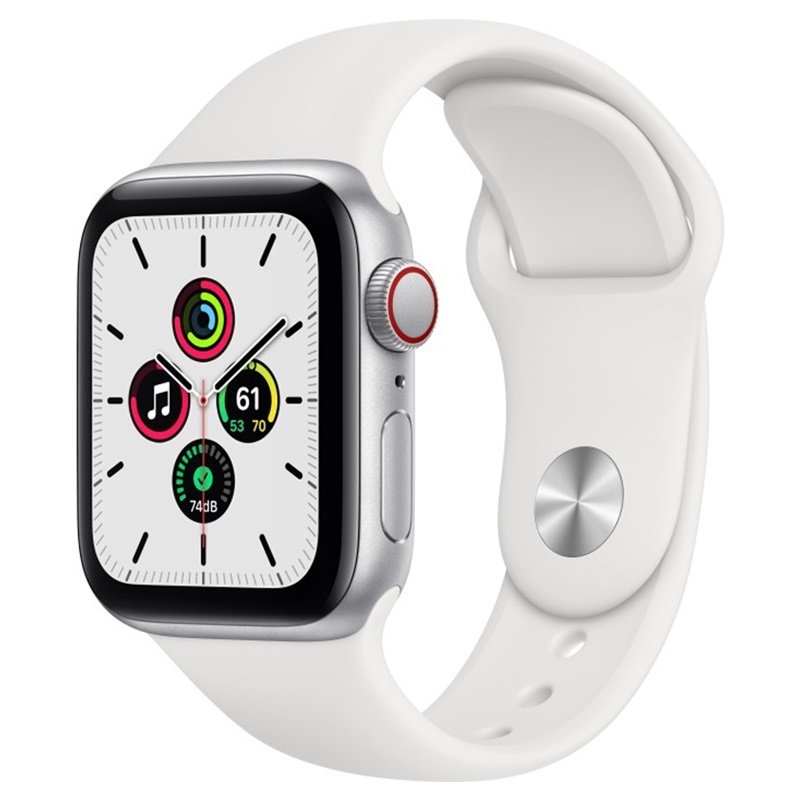 The Apple Watch SE in white makes you stand apart from the crowd. This Apple watch offers features like fall detection and emergency SOS, which caters to improving safety while you indulge in your exercises.
This intelligent gadget comes equipped with advanced sensors that assist you with improving your fitness. Get bored while working out? The Apple Watch SE also supports Apple Music albums and Apple Podcasts to keep you motivated.
Features that will help you get the most out of a workout:
The smartwatch comes with an Always-On altimeter. It gives you real-time data on altitude difference when you are ascending or descending.
It features Ion-X strengthened glass and water resistance of up to 50m for improved durability.
Easily track your calories burnt, heart rate and more with its integrated optical heart rate sensor.
The Apple Watch SE supports Bluetooth 5.0, Wi-Fi 802.11 b/g/n, NFC, and GPS (A-GPS, GLONASS) connectivity.
Apple Watch Series 5 to Always Stay on Track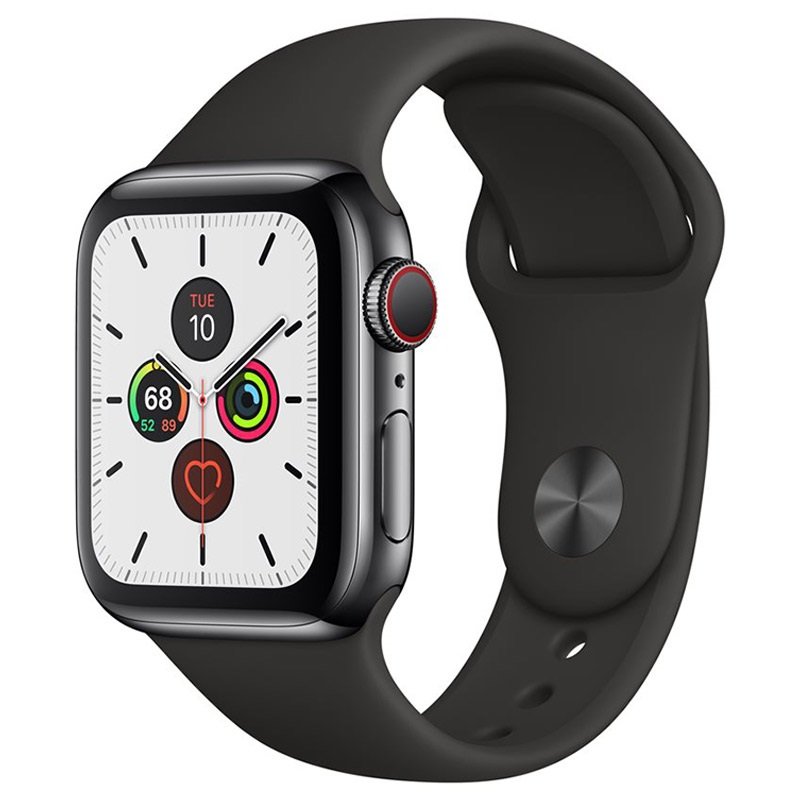 Apple Watch Series 5 's 1000 nits, Always-On retina display is more than just gorgeous. It makes viewing important fitness tracking information easy even under bright conditions.
With the Apple Watch Series 5, you can enjoy your trekking and camping adventures without any worries. The smartwatch comes with a built-in compass, GPS and altimeter that cater to your wandering soul.
Features that will help you get the most out of a workout:
Keep an eye on your heart health with its integrated optical heart rate sensor that lets you track calories burnt, resting heart rate, and much more.
Its IP68 waterproof rated construction makes it durable and safe to use in almost any weather condition.
Never miss a notification with its Always-On retina display that works well even in bright light conditions.
The Apple S5 chipset gives you the best performance, and the stylish design ensures comfortable wear.
Samsung Galaxy Watches, the Best of Android Smartwatches
Samsung Galaxy smartphones are already dominating the Android smartphone markets around the world. Why would their Galaxy smartwatches be behind? These Samsung smartwatches come in fresh and stylish designs that offer plenty of fitness tracking features.
Samsung Galaxy Watch 3 with a Twist of Elegant Classic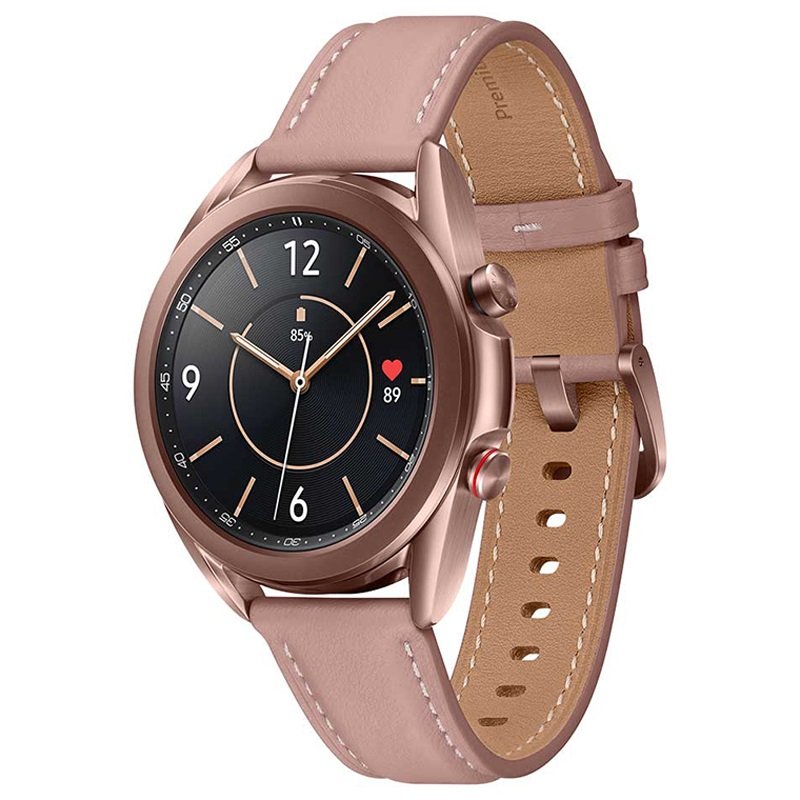 The Samsung Galaxy Watch 3 is for the ladies that love traditional styles. The watch comes in an elegant aqua bronze with a rotating bezel and two crowns with push-button functions for navigating through the tracking features. Thanks to being 14% slimmer than the previous model, this smartwatch makes for comfortable wear.
The stylish design makes going from work to workout hassle-free. The gadget automatically recognises walking, running, cycling, elliptical trainers, swimming, rowing, and dynamic workouts. Enjoy the powerful and efficient performance with its Exynos 9110 chipset.
Features that will help you get the most out of a workout:
Choose from over 120 workouts from its pre-installed Samsung Health app and make the most of your exercise sessions.
It comes with a built-in ECG sensor for measuring and recording heart activity.
It also sends out an SOS message to your predefined emergency contact (Wi-Fi model) in case of an accident.
The Samsung Galaxy Watch 3 is compatible with Bluetooth-enabled Android (Android 5.0 or higher) and iOS devices (iOS 9.0 or above).
Samsung Galaxy Watch Active 2 for a Fresh New Look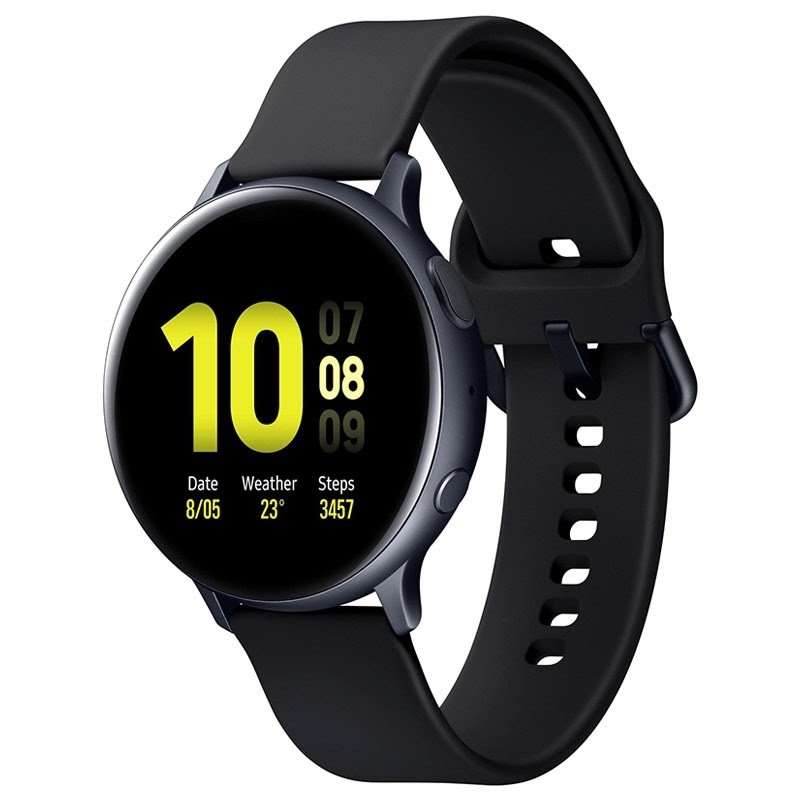 Samsung Galaxy Watch Active2 's larger customisable display makes scrolling apps and viewing notifications more comfortable. The touch-sensitive bezel is an upgrade from its predecessors and offers a fresh new look.
The Active2 smartwatch promises excellent durability with its IP68 waterproof rating and MIL-STD-810 Military-grade certification. Monitor your heart rate and record training specs such as speed, pace, and distance during your daily training regardless of the environmental conditions.
Features that will help you get the most out of a workout:
You can download your favourite third-party apps and enjoy the freedom to customise your activities as per your needs.
The Galaxy Watch Active 2 comes with the powerful Exynos 9110 chipset and also supports Qi charging.
Besides fitness tracking features, you can also enjoy health tracking and reminders such as sleep monitoring, calorie calculation, stand reminder, and smart alarm.
The Galaxy Watch Active 2 pairs with Bluetooth-enabled Android (Android 5.0 or higher) devices and iOS (iOS 9.0 or above) devices too.
Fitbit Versa for the Purist Fitness Tracker
When you think of fitness trackers, Fitbit is the name that pops up first. These watches are the best of the best when it comes to health and fitness tracking. Get the max out of every workout with the Fitbit fitness tracking watch's range of fitness features.
Fitbit Versa Lite Edition to Bring the Funk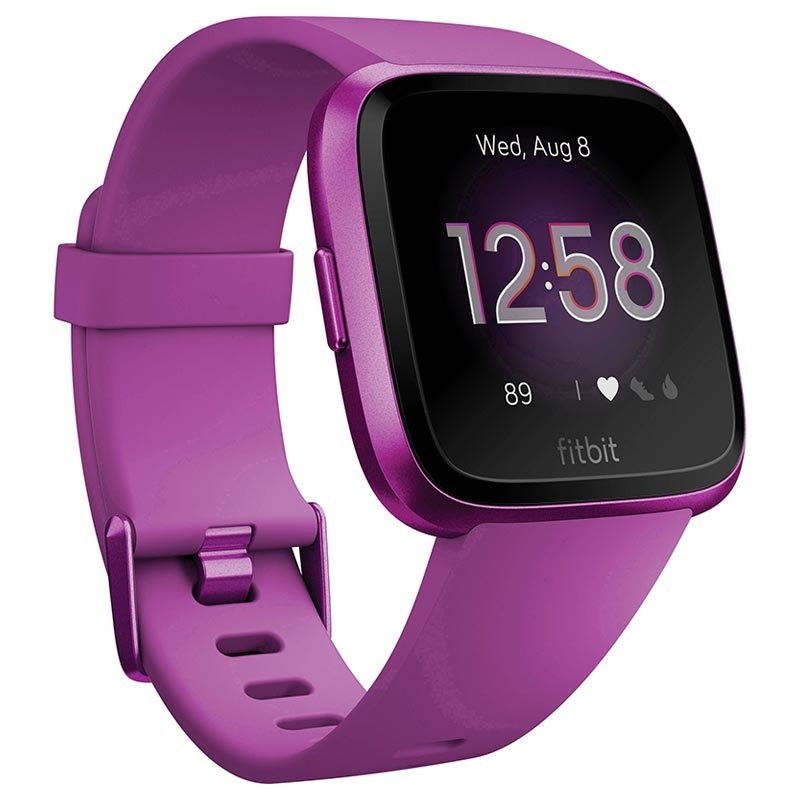 If dull blacks are not your thing, then the Fitbit Versa Lite Edition in purple is a match for you. This fun-coloured Fitbit also comes with fitness features designed to track women's health. Your significant other will love the thoughtfulness if you plan on giving her a Versa Lite.
The smartwatch offers up to 50m water resistance, allowing you to enjoy your swim and other water activities without any worries. It comes with more than 20 exercise modes and gives you real-time stats while you workout.
Features that will help you get the most out of a workout:
The Fitbit Versa Lite features automatic tracking and recording of steps, distance, and burnt calories.
Easily connect your smartwatch with your smartphone using the Fitbit app and personalise it to your needs and requirements.
Its variety of watch faces will never bore you and also let you match the mood or your outfit of the day.
In addition to messages, calls and calendar alerts, and app notifications, the Versa Lite also supports women's health notifications.
Fitbit Versa 3, the Ultimate Fitness Tracker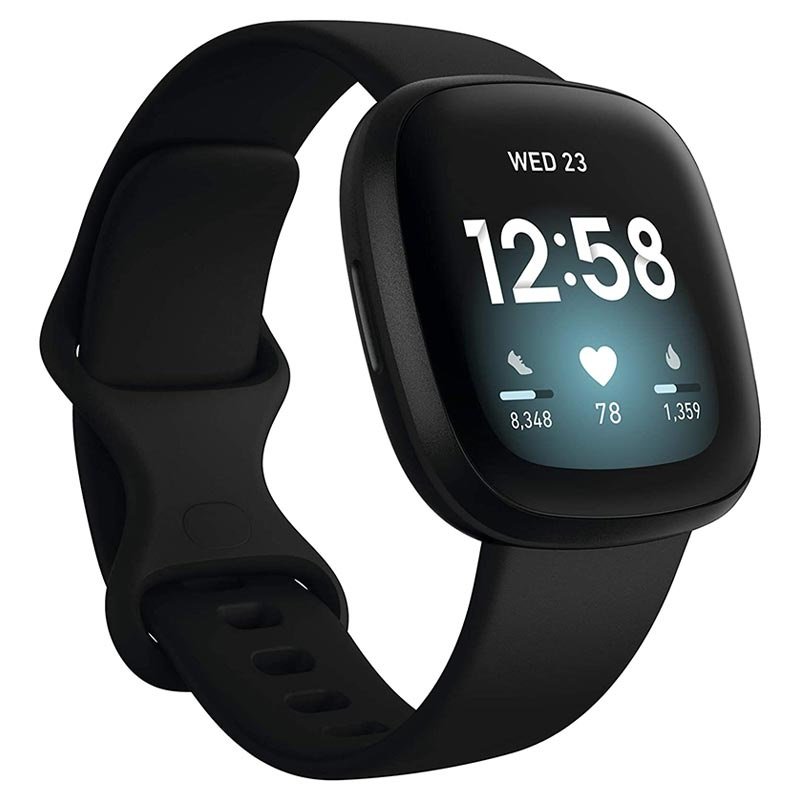 The Fitbit Versa 3's built-in Google Assistant and Amazon Alexa will let you enjoy the assistance of your favourite assistants with your voice. This stylish gadget and its smooth curves will woo you with its customisation options and range of features.
In addition to its built-in GPS, the Versa 3 also sports Advanced PurePulse 2.0 heart rate tech and oxygen saturation monitoring (SpO2). Get more out of your workouts with more than 20 goal-based exercise modes and its workout intensity map.
Features that will help you get the most out of a workout:
Android users get the bonus of reading and replying to messages and social media notifications right from their smartwatch.
Forgot your Bluetooth headphones? You can answer your calls with its built-in microphone and speaker and enjoy hands-free calling.
Its SmartTrack tech will automatically recognise the exercise you are doing, whether it's running, biking, hiking, swimming, or even yoga!
The Versa 3 is an all-rounder health and fitness tracker with features like a 24/7 heart rate monitor, sleep quality checker, and real-time pace and distance updates.
The Best of Hybrid Style Smartwatches
Sports watches have their charm, but the clunky and bulky design could use a bit more tweaking. The solution is smartwatches that fit all your sport tracking needs into a durable and sporty design. These watches will let you enjoy the look of sports watches while getting the benefits of smartwatches.
Garmin Vivoactive 3, the Best of Durability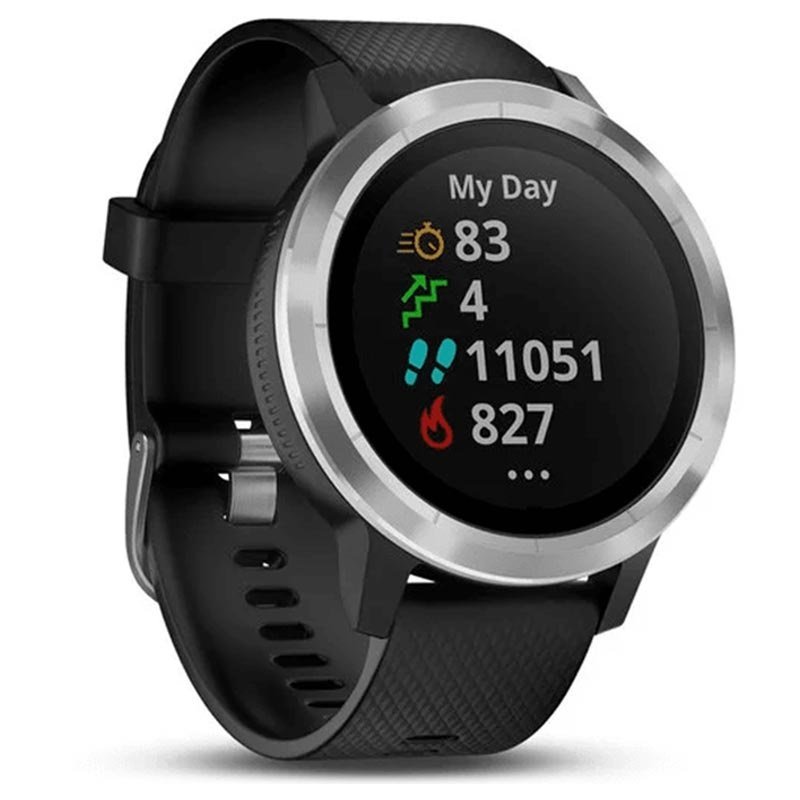 Garmin Vivoactive 3 comes with Gorilla 3 display and can handle up to 5 ATM of pressure, making it a highly durable sports smartwatch. This smartwatch is a digital take on traditional sports watches.
The Vivoactive 3 features a waterproof design allowing you to keep track of your fitness even while swimming. Additionally, it supports contactless payment, which gives you the freedom to go cash-free.
Features that will help you get the most out of a workout:
Use your Garmin Vivoactive 3 without a smartphone and enjoy more freedom.
It comes with 15 different pre-loaded sport modes to make tracking any sports activity easy.
It comes with plenty of features, including a GPS tracker and V02 max recording.
Excellent durable design that fits with the needs of any workout while also looking stylish.
Xiaomi Amazfit GTR with Top-tier Features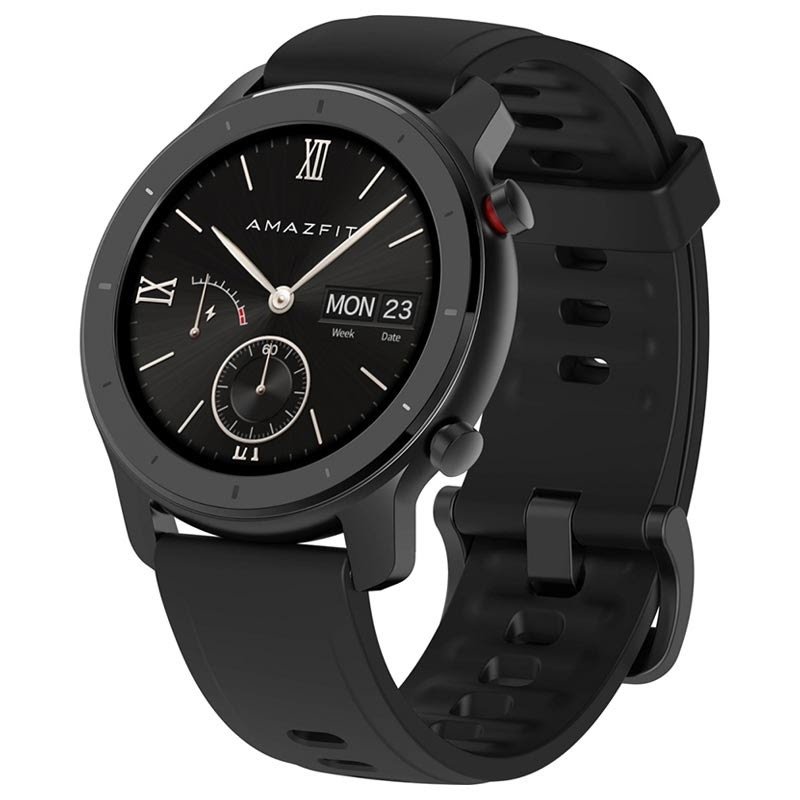 Boasting the classic looks of watches, the Xiaomi Amazfit GTR comes with a high-resolution AMOLED display that's also a traditional watch face with an elegant design. It features Corning Gorilla 3 tempered glass and anti-fingerprint coating.
Its plethora of sensors, along with 12 sports modes, helps you track your daily fitness and improve your health by learning about your exercise status. The fascinating battery life and innovative chip ensure you extract the most out of this little gadget.
Features that will help you get the most out of a workout:
The smartwatch comes with an incredible lithium-polymer battery that gives you up to 12 days of fitness tracking use and up to 34 days of basic watch-mode use.
It comes with built-in GPS+GLONASS, a BioTracker PPG biological tracking optical sensor, a 6-axis acceleration sensor, a geomagnetic sensor, an air-pressure sensor, a capacity sensor, and an ambient light sensor.
Its AMOLED Corning Gorilla 3 tempered glass and 5 ATM water and dust resistance give you excellent durability.
The Amazfit GTR supports Bluetooth version 5.0 and Wi-Fi IEEE 802.11b/g 2.4GHz wireless connectivity.
Huawei Watch GT2 with Revolutionary Battery Life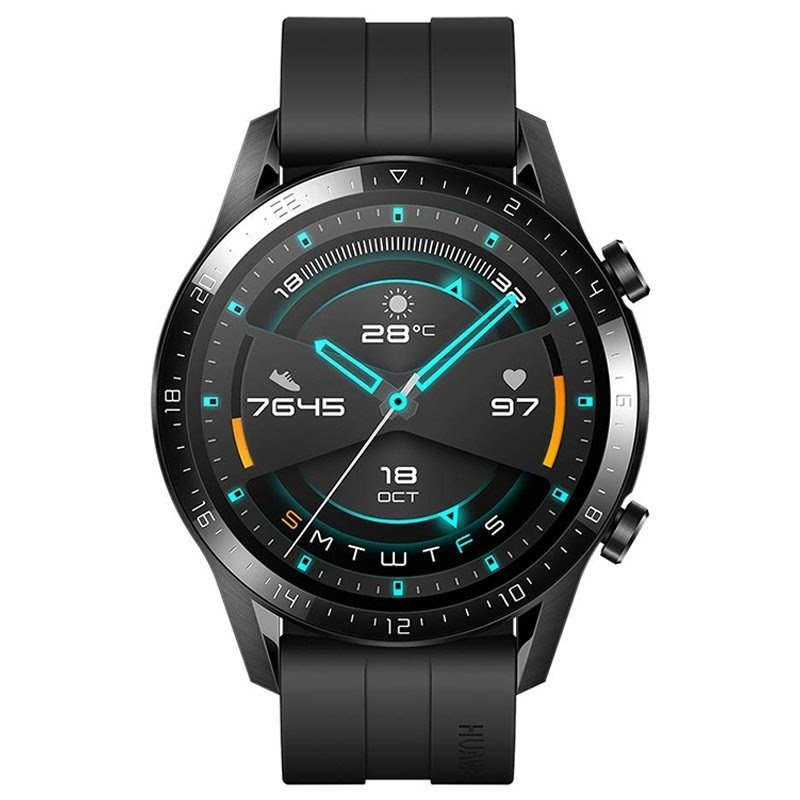 The Huawei Watch GT2, with its 3D curved display that mimics the look of a real sports watch, is a beauty to behold. The always-on display lets you never miss important information and notifications.
This stylish smartwatch comes with a built-in GPS that will never let you get lost. With its heart-rate monitor and burnt calorie tracking, fitness tracking is a breeze. Its exceptional battery will let you go on a single charge for up to 2 weeks!
Features that will help you get the most out of a workout:
The smartwatch has an extremely durable design. The high-quality glass created using gemstone processing technology is resistant to water and dust.
While predefined sports modes let you track sports activities like cycling and swimming, you can also learn to relax with its breathing exercise app.
Its automatic sleep detection is a great sleep tracking feature that helps you improve your overall health.
It comes with an accelerometer, gyro sensor, heart rate sensor, barometer, and compass to assist you with every fitness tracking need.
Keep Running on the Fitness Track!
Get yourself an armband to hold your Android phones and iPhones while you go on your jogs or workout, to always keep them on you, and to stay connected to your smartwatch.
Make sure you do not overexert yourself and make better use of your pick of the best smartwatches to improve your overall health!
Are you looking for more gadgets that will improve your quality of life? Get in touch with us, and we'll assist you in finding the right gadget for your needs.