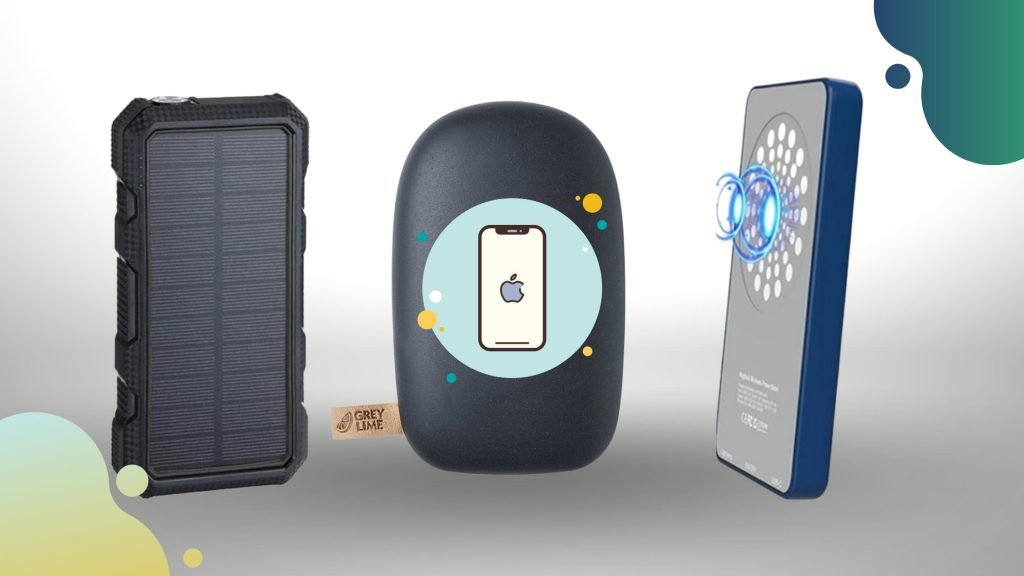 If you wonder why it is important to have a power bank, let us explain. It is not uncommon to plug your mobile phone in at night and forget about turning on the switch.
Even if you wake up to an uncharged iPhone and have to rush to work or school, you'll have no worries with one of the best power banks for iPhone in your hands.
In this blog post, we'll introduce you to our top five favourites to charge your precious Apple device. We also give you some tips on buying the right power bank if you wish to explore a little more.
Top 5 Portable Power Banks for iPhone
Power banks are a necessary accessory to have on you. Your search for the best power bank shall end with this list. We have chosen the best amongst every power bank charger for iPhone out there.
Let's dive right in!
Solar Power Bank with Qi Charging for Off-the-Grid Adventures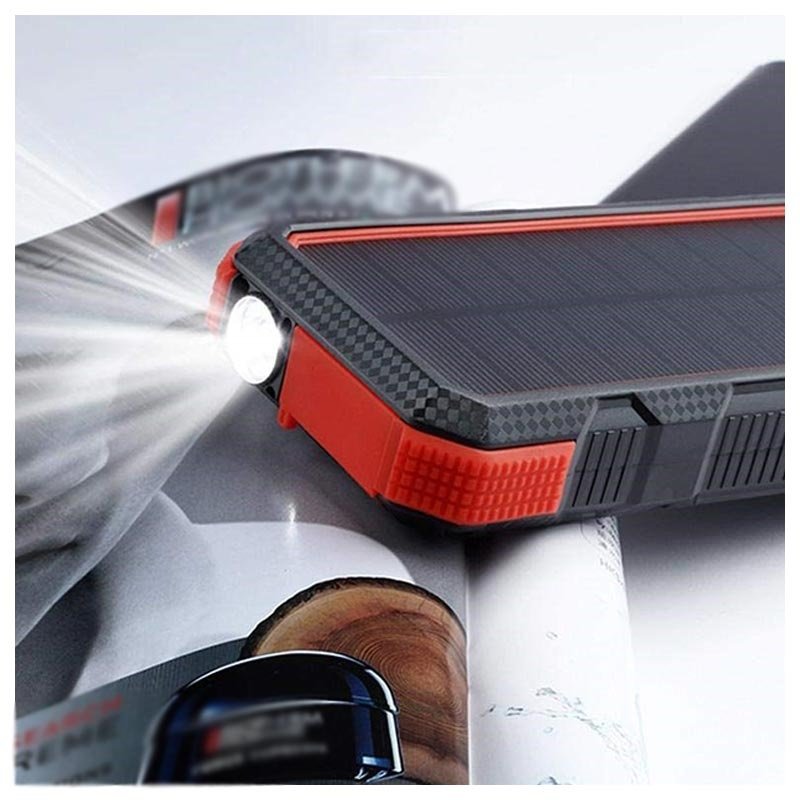 Outdoor fun does not have to be sans your favourite iPhone and iPad. This solar power bank comes in a rough and tough design to meet all your outdoor power needs. You can comfortably use it without worrying about the weather conditions, thanks to its water-resistant design.
The shock-proof housing ensures falls and bumps will not stop it from charging your Apple device. This power bank also boasts a Qi Wireless charger that lets you wirelessly charge your devices. You can take it to the beach or camping in a lush forest. Its ability to harness the sun's energy will ensure you never run out of charge.
Features that make it the best iPhone power bank:
Its 20,000mAh capacity will give you many full charges without constantly recharging your power bank.
Solar panels! This model comes with built-in solar panels that make recharging possible anywhere.
Its durable, rugged design not only looks great but is shockproof and waterproof, allowing you worry-free use.
It also comes with one QC3.0 USB port, one 2A USB port, and a USB-C PD port in addition to Qi charging to let you charge any device on the go.
Smoothly recharge multiple devices; up to four devices simultaneously!
GreyLime Power Stone II, an Inspiration from Nature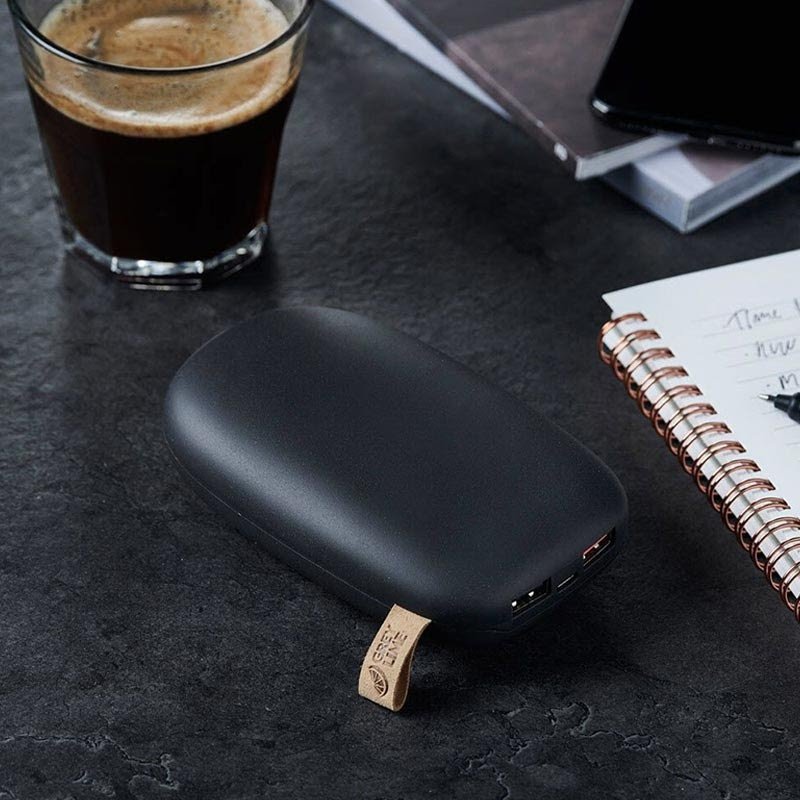 This gorgeous gadget looks like it belongs on a river bed, but that's not all there is to it. Styled after a pebble, the GreyLime Power Stone II has a smooth surface and natural curves. This handy portable charger's environmentally friendly materials help you reduce the digital environmental impact.
Power Stone II is undoubtedly the right power bank for the trendsetter. In a world of dull and boxy portable chargers, this little gadget stands a class apart from the rest. It comes with a USB-C PD, a USB-A and quick charge compatible USB-A ports to meet your charging needs.
Features that make it the best iPhone power bank:
This portable charger has a battery capacity of 10,400mAh, allowing you a full charge of your iPhone.
The Power Stone II comes with a Quick Charge compatible USB port with output levels of 5V/3A, 9V/2A, and 12V/1.5A.
This charger is also suitable for charging devices such as a tablet, GoPro, camera, PSP, and laptop.
Its environmentally friendly construction materials help contribute to a better world.
Magnetic Wireless Charger for Your iPhone 12 Collection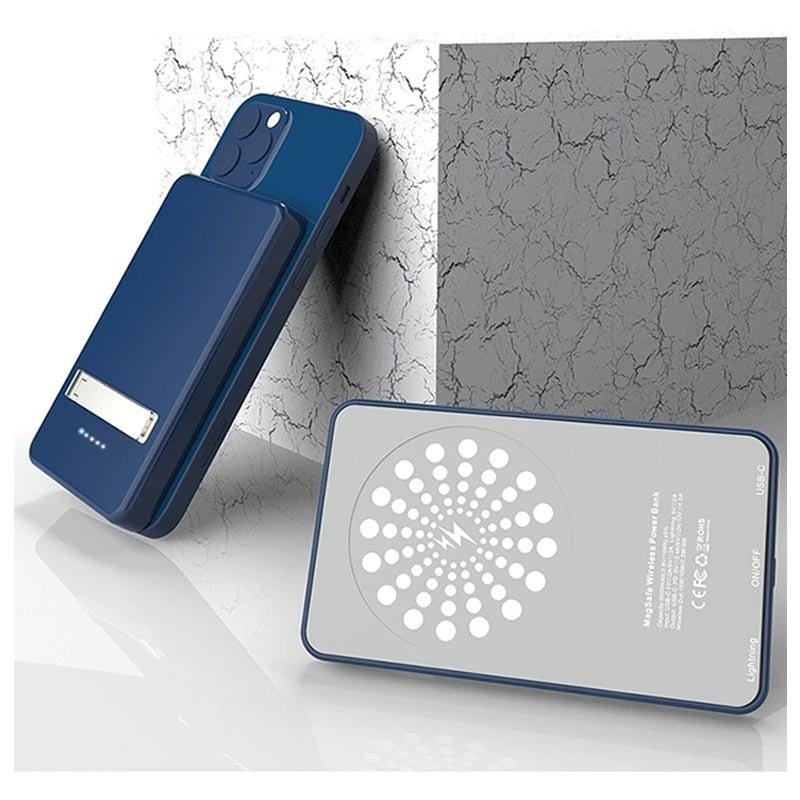 When seeking a wireless charge feature, nothing beats the slim magnetic wireless charger. This small power bank for iPhone features fast charging to get your devices up and running in no time. Its compact size also means extreme portability.
This portable charger also comes with some excellent features. You can attach your phone to the gadget via magnets. Additionally, it also comes with a kickstand that instantly transforms it into a holder. You can watch your favourite shows or attend your online meetings while you charge your phone.
Features that make it the best iPhone power bank:
This power bank is best suited for Apple smartphone models iPhone 12, iPhone 12 Pro, iPhone 12 Pro Max, and iPhone 12 Mini.
This gadget comes with built-in LED indicators to keep you updated about your power bank's battery status.
The power bank has a slim design that makes it easy to store and carry around.
The magnetic hold and the kickstand allow you to use your device hands-free when watching your favourite shows.
Anker PowerCore Select Power Bank for a Portable Mini Powerhouse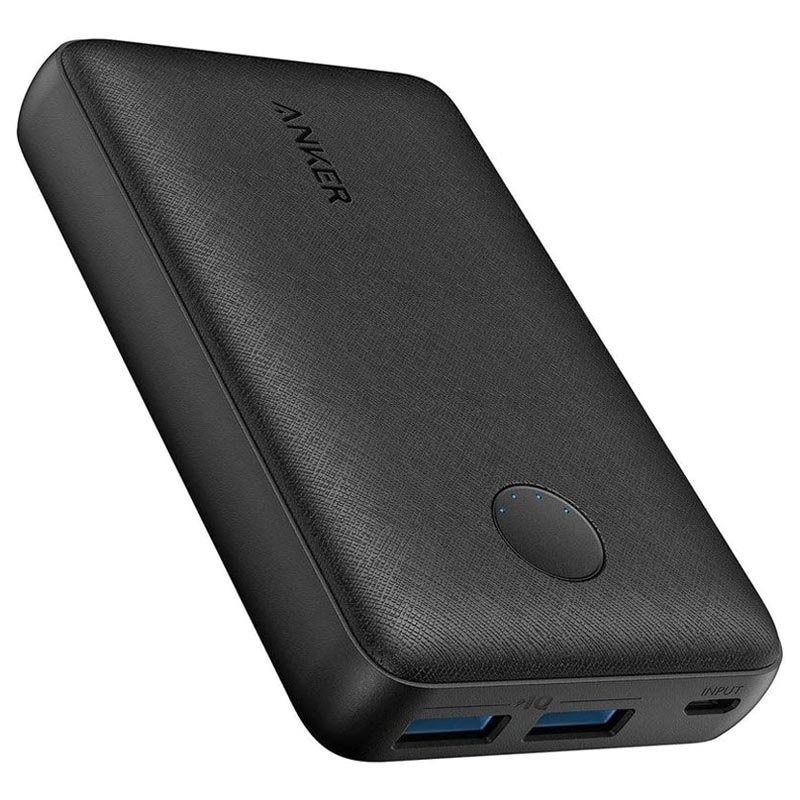 Though it weighs a mere 180g, the Anker PowerCore Select power bank still hosts a 10,000mAh battery capacity. The gadget uses premium components that ensure you get the most use out of it in terms of performance and longevity.
This small power bank features two intelligent USB ports that deliver charges at a charging speed of up to 2.4A. You can recharge your iPhone simultaneously with another device too! The device also boasts safety features that ensure safe and efficient charging of your devices.
Features that make it the best iPhone power bank:
The PowerCore Select features the PowerIQ and the VoltageBoost technologies that deliver charges safely and quickly to the connected device.
Despite its small size, this portable charger comes with a high-capacity 10,000mAh battery.
This Anker gadget is lightweight and extremely portable.
The power bank uses premium quality materials for extended use-life and brilliant performance.
Aukey PB-XN20 Power Bank for a Change from Boring Blacks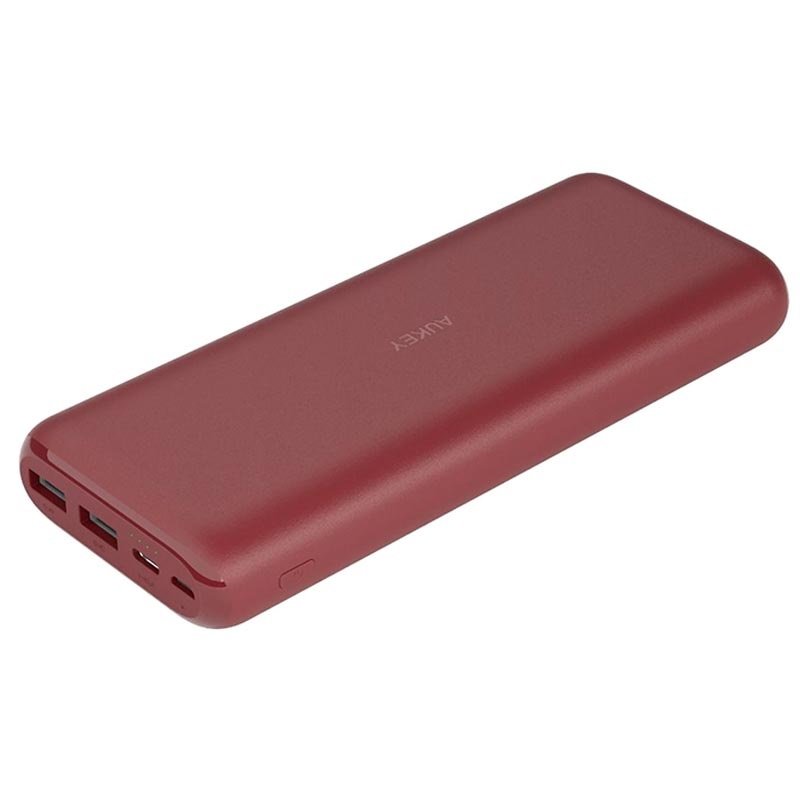 Aukey PB-XN20 power bank's sleek and fresh colour will impress you. This power bank boasts a high-capacity 20,000mAh battery that will charge all your devices. The slim design ensures it is easy to store without taking up too much precious space.
The power bank comes with AiPower technology supporting USB-A ports that deliver fast charging for your iPhone or tablet. You can also use a USB-C cable and get a maximum power output of 15W.
Features that make it the best iPhone power bank:
The Aukey power bank comes with four LED lights that indicate the power level of the charger. This feature helps you to never forget about keeping your portable charger always charged up.
It can also charge in low current charging mode by long-pressing the power button. This feature lets you safely charge your smartwatches and wireless earbuds.
Enjoy faster charging supported by AiPower technology with two USB-A ports.
The gadget is CE, FCC, and RoHS-certified ensuring the best quality.
What to Look for in a Power Bank?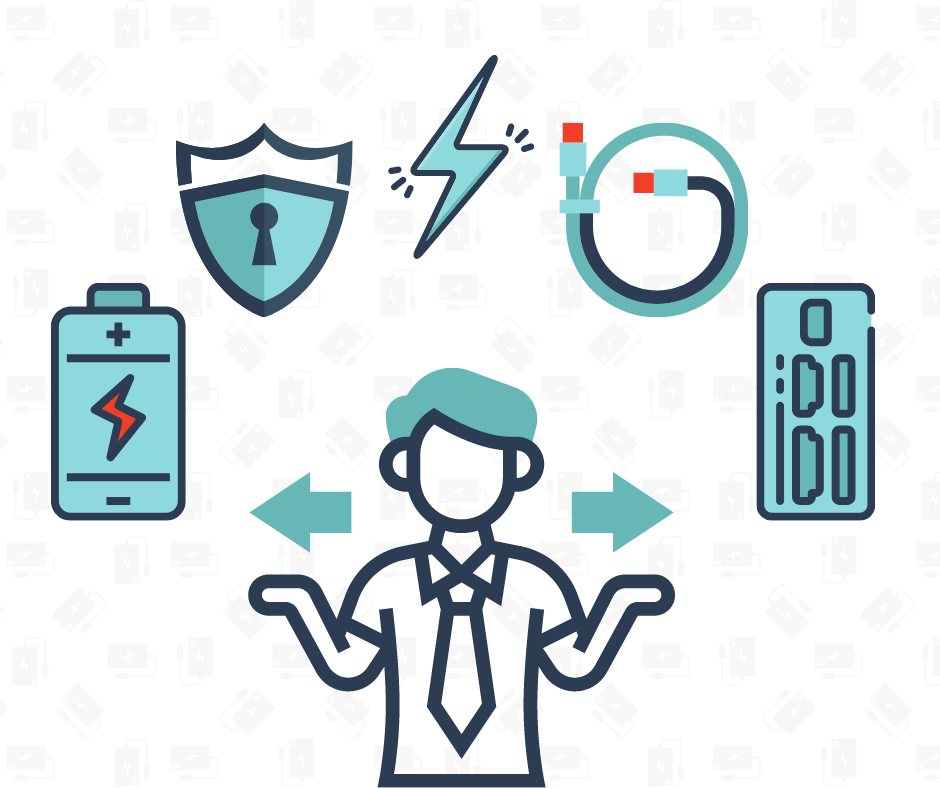 Though we hope our top five picks of the best portable charger will answer all your power bank needs, it does not hurt to know what to look for when buying a power bank.
Let us look at some things you should consider when purchasing one.
The Power Bank's Battery Capacity
Before you even consider the capacity of the power bank, you should know the battery capacity of your iPhone. Always opt for an external battery that can give you at least a full charge and a half. So, if your iPhone has a 4500mAh battery, choose a power bank with at least 5000mAh capacity.
Safety First
Look for safety certifications and other safety features when purchasing a power bank. It is always a good idea to have a feature that cuts off when your iPhone fully charges. Overcharging your devices will damage them, so helpful precautionary features are a plus.
Indoor or Outdoor
Where you intend to use the power bank, and how important portability is to you, are also important features to consider. In our picks, the solar power bank may be bulky if you need it to take to school. But it makes for a great portable powerhouse that can withstand different environments and weather types, which is perfect for camping.
Need for Speed?
Not all high-capacity power banks charge the same way. Look at the output power delivery level to be sure you get the charging speed that you need. The Fast Charge battery will have 5V/2.4A, and a Quick Charge will have a 9V/3A output charging speed. But be mindful that iPhones may not support the Quick Charge feature.
Cables and Connections
The fast-charging feature usually requires you to carry the appropriate lightning cable. But you can always look for power banks that come with the charging cable built-in to reduce clutter.
Multiple Ports for Shareability
If you are looking to charge more than just your iPhone, consider opting for battery packs with multiple ports. However, keep in mind that simultaneous charging may not give the same power output.
Giving Your iPhone a Personality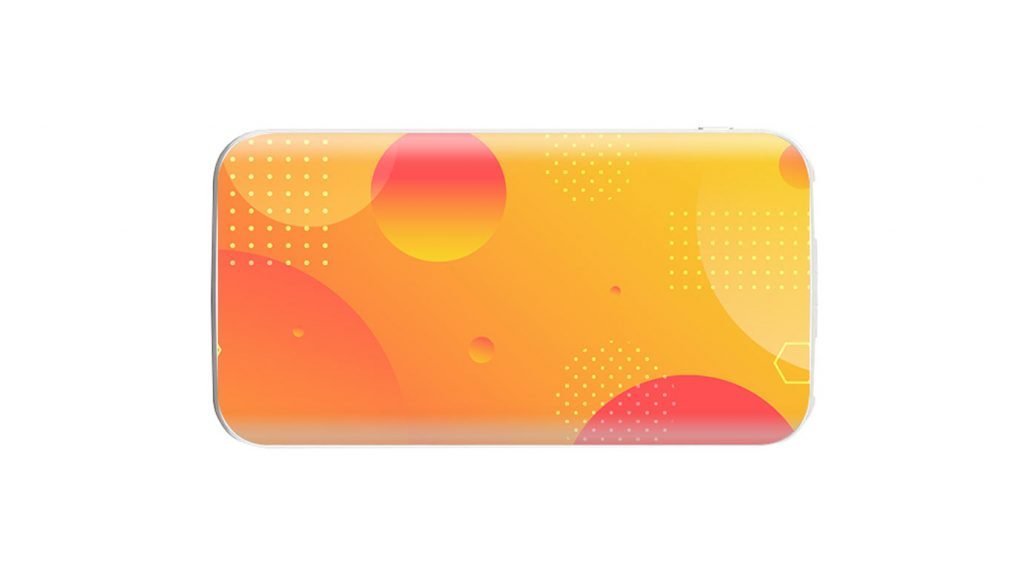 Show some more love to your iPhone with a personalised phone case and a power bank with our 2-minute 3-step personalisation app!
Step 1: Select the device you want to design.
Step 2: Select the model and case style.
Step 3: Upload your favourite image.
Preview your final cover and power bank in our preview window and click, 'Buy', once you are ready!
Stay Charged Up!
We hope our concise and thoughtful list of power banks for iPhone has helped you pick the best one for you.
You can learn more with our how-to guides and find our favourite gadgets on our blog links on our site.
Are you looking for more iPhone gadgets that make everyday life or travelling easy? Get in touch with us, and we will help you find your perfect match.