If you own a smartphone, tablet, wearable device, or all three, then you definitely know how fast their batteries can run out of power. We've got used to charging them on a daily basis, but what happens when you are out and about and need to power up? You might not always have a charger with you, and carrying around a power bank can be somewhat bothersome. Luckily, there is a compact and elegant solution that can help you out in these situations. 🙂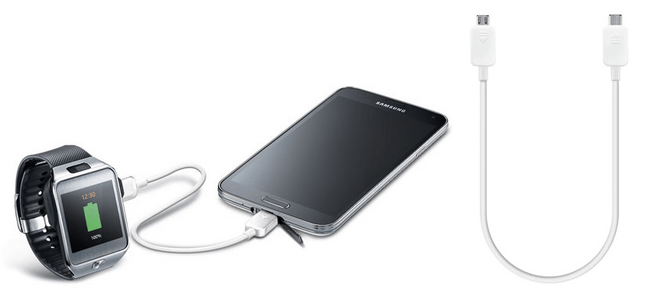 Samsung's Power Sharing Cable for the Galaxy S5 means that you can stop carrying a spare battery or a charger around with you. This cable lets you charge another microUSB device via your Samsung Galaxy S5 – it can be a smartphone, tablet, or a smartwatch.
Small enough to fit in your pocket, the Power Sharing Cable is the perfect accessory for users who are always in need of that little bit of extra energy. You can also "borrow" some power to a friend, if necessary! Plug one end of the cable into your Galaxy S5, the other into a microUSB port of a powerless device, and start charging it!
The Power Sharing app, available for download on the Google Play Store (and Samsung Apps store), lets you monitor the energy transfer between two devices and select how much power you would like to transfer.