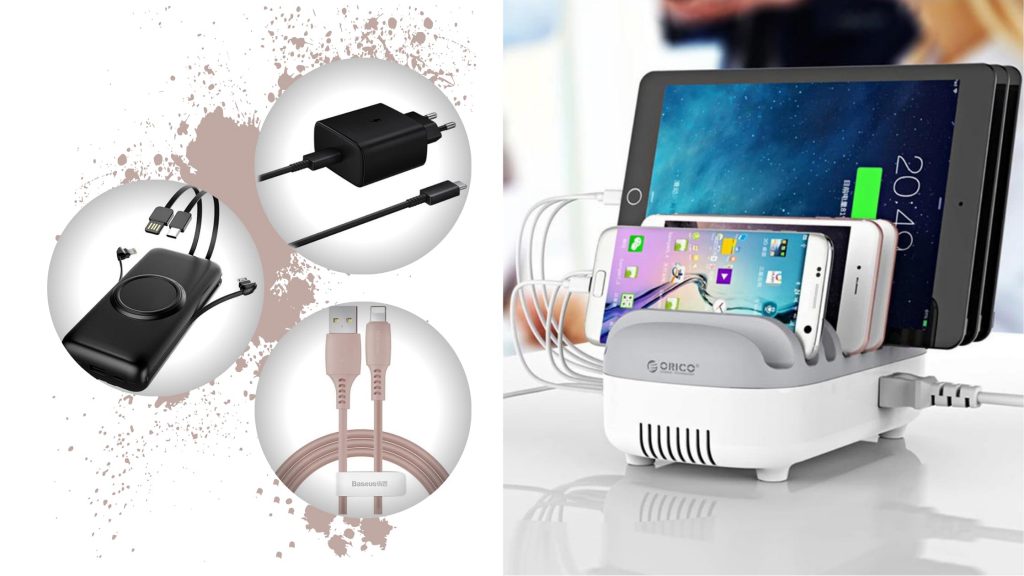 USB charging has become the norm for many devices, especially phone chargers. With so many options and varieties available, choosing the right one can get tricky.
Does a USB cable affect charging speed? Can you charge a laptop with USB chargers? Is there any difference between a USB-C and a Micro-USB connector? These and many more questions surely come to your mind when you are out hunting for the right cable and charger for your device.
In this post, we help you learn more about USB charging and guide you to buying the right cables and chargers for your portable gadgets and other devices.
What Does USB Mean?
USB stands for Universal Serial Bus which is an industry standard that defines specifications for cables and connectors as well as connection, communication, and power supply protocols between two devices.
The USB standard was released in 1996 and is maintained by the USB Implementers Forum (USB-IF). There are four generations of USB standards; USB 1.x, USB 2.0, USB 3.x, and USB4; which are in use as of today.
The following are the different versions of the USB.
| | | | | |
| --- | --- | --- | --- | --- |
| Version | Top Speed | Max Power Output | Power Direction | Cable Configuration |
| USB 1.1 | 12Mbps | 2.5V, 500mA | Host to peripheral | USB type A to USB type B |
| USB 2.0 | 480Mbps | 2.5V, 1.8A | Host to peripheral | USB type A to USB type B |
| USB 3.0 | 5Gbps | 5V, 1.8A | Host to peripheral | USB type A to USB type B |
| USB 3.1 | 10Gbps | 20V, 5A | Bi-directional | USB type C to USB type C, reversible plug orientation |
| USB 4 | 40Gbps | 48V, 5A | Bi-directional | USB type C to USB type C, reversible plug orientation |
What Are the Different Types of USB Cables?
The USB versions provide information about the speed and functionality of your charging cables. On the other hand, the type informs you about the physical shape of USB connectors.
The following is a summary of the most commonly used USB types.
| | | | |
| --- | --- | --- | --- |
| Connector Type | Official Name | Description | USB Version Compatibility |
| USB A | USB Standard-A | It is a flat rectangular plug and appears on one end of almost all USB cables. | USB Versions 1,2, and 3 |
| USB B | USB Standard-B | It is a square-shaped plug commonly used to connect computers with devices like printers and scanners. | USB Versions 1 and 2 type B plugs are compatible with USB Versions 1, 2, and 3. However, USB 3.0 type B plug is only compatible with USB 3. |
| USB C | USB Type C | It is the latest type of connector and has horizontal symmetry. USB Type C charging cables for smartphones work in the same way as standard phone chargers. | USB C plugs are only compatible with USB Version 3.1 and above. |
| USB Mini B | USB-Mini B | Now redundant, these plugs were commonly used as charging cables for older mobile phones, cameras, and MP3s. | USB Mini B plugs are compatible with USB Version 2.0 Mini B and Mini AB receptacles. |
| USB Micro B | Micro USB | Micro USB charging cables are standard plugs for all modern Android smartphones, but lately it is more often replaced with USB Type C. | USB 2.0 Micro B plugs are compatible with USB 3 Micro B receptacles. However, USB 3.0 Micro B plugs do not fit into USB 2 Micro B receptacles. |
| USB 3.0 Micro B | MicroB SuperSpeed | This is the new type of connector that is capable of transferring extra data. | The USB 3.0 MicroB connectors are only compatible with USB 3.0 MicroB receptacles and USB 3.0 MicroAB receptacles. |
How Does USB Charging Work?
A host and a receiver make up the USB network by connecting via ports. When you connect your smartphone to a laptop, the laptop serves as the host and the smartphone is the receiver. When connected directly to a power source, that source becomes the host.
Commonly, USB charging cables have 4 wires that match the 4 pins of your USB port. Since USB is a form of communication protocol, it allows the transfer of data between connected devices like smart TVs and smartphones. Data transfers are achieved via the inner pins.
Traditionally, power usually flows only in one direction via the outer pins. But, with technological advancements in power delivery, it is now possible for power to flow in both directions. You can also find versions of USB that include another 5 pins, which can be used with compatible charging cables featuring an extra 5 wires.
What are the Different Types of Charging Ports?
Ports serve as the doors for connection between devices. In general, there are 3 main types of charging ports.
| | | |
| --- | --- | --- |
| Port Type | Power Output | Devices Featuring the Port |
| Standard Downstream Port (SDP) | Offers 0.1A when connected. When configured for high power, the power output is 0.5A | PC, laptop |
| Downstream Port (CDP) | Delivers up to 1.5A of power | PC, laptop |
| Dedicated Charging Port (DCP) | Depending on the charging device, more than 1.5A of power delivery is possible | USB power module, wall charger |
Things to Consider When Buying a USB Charging Cable
Here are a few points to keep in mind when purchasing your next charging cable.
Cable Length: How Far Away is the Power Source?
Depending upon how far away your power source is, you may need a cable that is shorter or longer, unnecessarily long cables can be a nuisance, whereas short cables may cause unwanted tension.
Here is our recommendation of cable length depending on your source location
| | |
| --- | --- |
| Source Location | Recommended Cable Length |
| Desktop | 1-foot cable |
| Car | Standard 3-foot cable |
| Tables and other furniture | 6-foot cable |
| Hard to reach spaces | 9-foot cable for flexibility |
Connector Type: Choose the Right USB Connector
Apple products have their exclusive charging cables called Lightning cables. These cables cannot be used with other devices. Android and many of the other devices use Micro USB and USB C cables.
It is also important to ensure that you use compatible charging cables with appropriate charging adapters for your devices. Not all devices require the same output charge, and incorrect charging could damage your devices and charging accessories.
Cable Thickness: For Reliable Charging
Thicker cables do not reduce the current flowing through them like thin cables. Additionally, these cables tend to be stronger and are less prone to breakage in comparison to the thinner cables.
Also, look for cables with insulation that protects it from everyday wear and tear, to increase its durability and longevity.
Things to Consider When Buying a USB Charging Station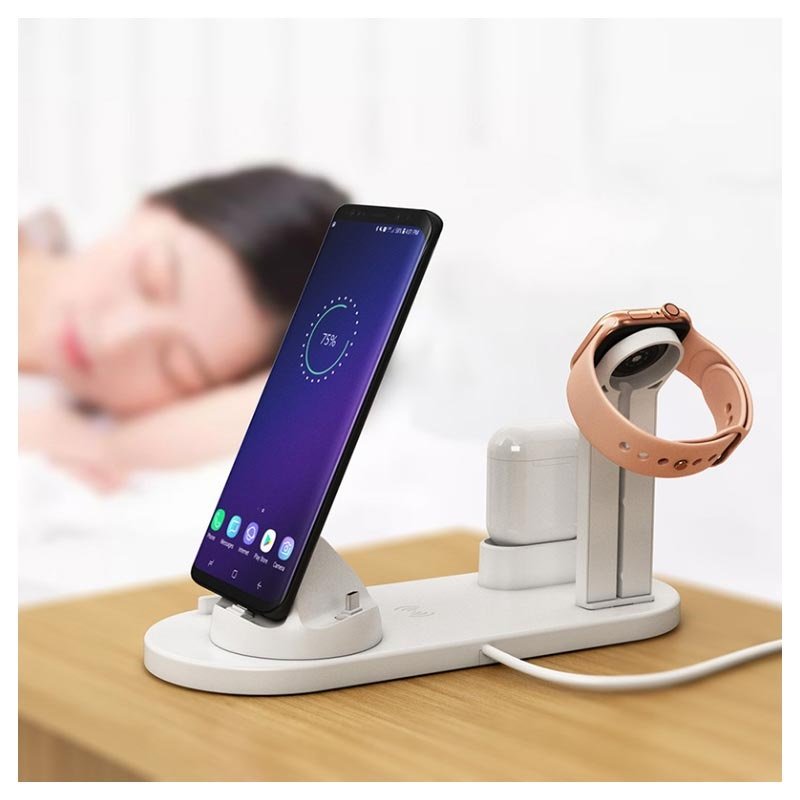 Charging stations are a great way to get organised and keep all devices in one place. These gadgets help mitigate the issue of leaving your devices around and not remembering where you left them.
It also helps to have all your USB charging cables in one place when your devices are running out of charge. When considering buying a USB charging station, keep the following in mind.
Power: What are Your Devices' Power Needs?
The amperage (A) of the charging station determines the power delivery. For small devices like a smartphone, ports with a minimum of 1A power are sufficient. But, for devices like your iPad or other tablets, ports with a minimum of 2A rating are necessary.
If you are considering using a fast-charging USB-C cable with the gadget, then consider power outputs of at least 2.1A. Keep in mind that high-powered ports with higher outputs will charge your devices faster.
You can also consider charging stations with power detection features that will detect your device and deliver the optimum amount of power to it.
Speed: Is Fast Charging a Priority?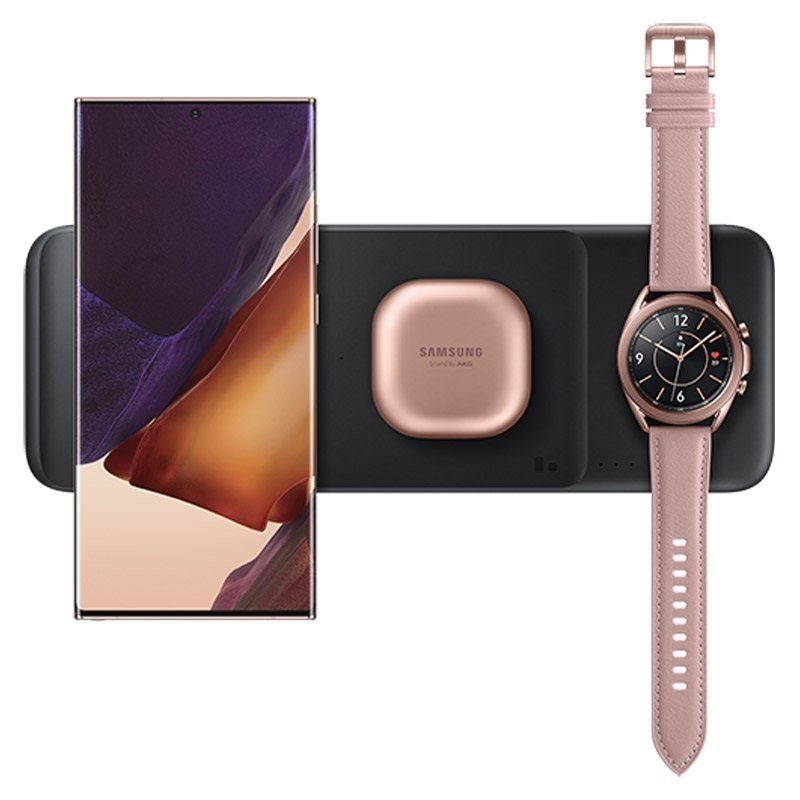 If you use less than the required power required to charge your device, it will add to the time it takes to get fully charged. As discussed previously, high power ports on the USB charging station will help you charge your devices faster.
You might have noticed that connecting the USB A to the USB C charging cable of your smartphone with your laptop charges it. But the speed is usually slow. While devices like laptops, PCs, and even TVs are capable of charging devices, they cannot be compared with USB charging stations.
Since these gadgets are designed solely for charging, the dedicated ports offer faster speeds. Additionally, with many Android smartphones as well as iPhones supporting fast-charging using Quick Charge technology and USB PD, combining them with a high-speed charging station delivers the best results.
When the speed of charging is a priority, we recommend going for charging stations that have ports with 2.4A or 5A power output.
Placement: Is it the Right Fit for Your Space?
Charging stations come in a variety of designs to make them as convenient to use as possible. For a space like your workstation or study desk, an on-the-desk charging station is useful. However, if you like a cleaner look, you can go for under-the-desk as well as in-desk charging stations.
In-desk charging stations, as the name suggests, lie flush within the tabletop. Installing these does require some cutting and chopping, which might not necessarily be your cup of tea. There are other options too, such as into-soft seating USB charging stations that are perfect for an entertainment space.
Number of Ports: The More the Merrier?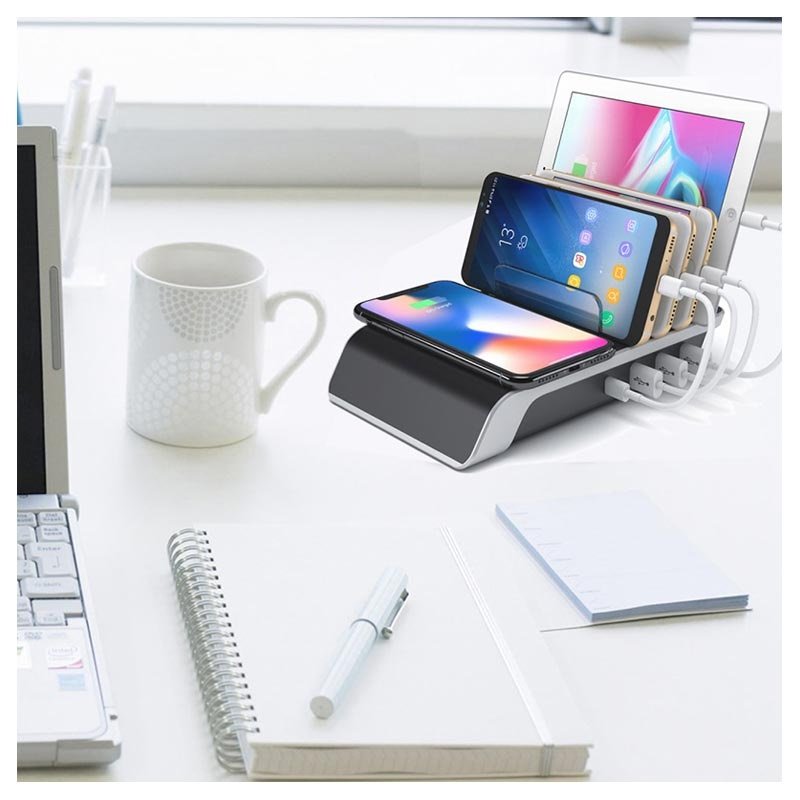 A basic charging station will have at least 2 USB charging ports. With a higher number of ports, you can charge more devices at once. However, charging stations have a maximum power output that is shared across the ports.
So, when you use all the ports of the charging station, the power shared by them will reach a limit. This could mean that some of your devices will charge slower due to decreased current available to them.
In addition to USB ports, you can also find charging docks that also incorporate wireless chargers into them. These are perfect for people that have a wide variety of devices, like wireless headphones and smartwatches that support wireless charging.
USB Hub and Charging Devices
A USB hub allows you to expand a single USB port to be able to connect to multiple devices. You can use it as a charging hub for your devices. It is possible for this gadget to charge your devices via the port it is connected to. However, the power is very low.
Furthermore, these gadgets usually generate a small amount of power amounting to 0.5A or less, which is not sufficient for charging most devices. USB hubs with power-saving modes or low-power states, may also completely stop charging your devices when they enter them.
A USB charging hub is possible if it has its own power source and is capable of charging. However, in comparison to a charging station, these are unlikely to be an effective way of charging your devices.
Why Do Some Chargers Charge Faster Than Other Chargers?
Charging power is dependent on the current (amps, A) and the voltage (V) available at the charging point. Since devices need to be charged within an optimum range, in the UK, chargers convert the 240V electricity supply to the standard 5V.
When charging is done via another device, the current allowed by that device determines the rate of charging. For example, computers permit a current of 0.5A making charging through them extremely slow.
Using charging plugs usually offer 1A of current to your USB charging cables. You can also find specialised USB charging modules that will offer you a current between the range of 1A to 5A.
Another factor that could be causing the difference is the cable itself. Your USB C fast charge cable is likely to give you a higher charging speed than the best USB C charging cable. This is because fast charging cables are designed with thicker wires in comparison to the thinner wires in standard cables. Thin cables reduce the amperage which causes an increase in the charging time.
Does USB C Charge Faster?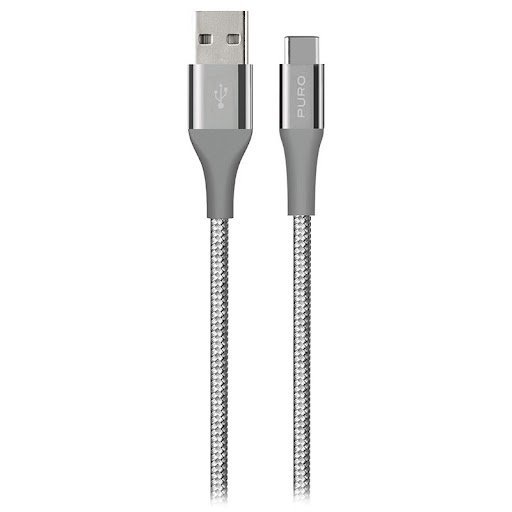 You will find that many fast-charging cables, like Samsung's fast charging USB Type C cable, sport the USB C connector. The USB C types are designed for handling the USB C Power Delivery protocol for fast charging.
These connectors' circuit boards are capable of handling high levels of power without being damaged or overheated. Therefore, in comparison to standard USB, USB C delivers faster charging to your devices.
What About Magnetic USB Charging Cables?
Magnetic USB chargers are not just aesthetically pleasing but also highly functional. These cables use magnets to bridge a detachable charger head to the cable used for charging.
You can leave the charger head in your phone, which doubles up as a protective plug. The detachable nature also means you will save your cables from fraying and being damaged by accidental pulling.
The small magnets do not have excessively strong magnetic capabilities, and hence are safe to be used with modern smartphones. Many magnetic cables also support fast charging. Make sure to check the packaging for this feature and the compatibility with adaptors and devices.
Additionally, you will find many featuring multiple connectors allowing these cables to be used with a variety of devices, so you are not stuck with just a magnetic USB C charging cable.
Can a Laptop Be Charged Via USB?
Depending on the available USB port on your laptop, it is possible to charge it with a USB charging cable. If your laptop only has a USB A port, it is not possible to charge it with a USB cable.
However, laptops with USB Type C ports can be charged through it. Plug one end of your USB C to USB C charging cable into the compatible port on your laptop and the other into a power source, and you are done.
Let's Get Charging!
Whether you are looking for USB adapters to enhance compatibility or need a USB-C to USB-C fast charging cable, we've got you covered. Get in touch with us to find the right products for your charging needs.