The first thing you will notice about the case is its turtle shell design, featuring high-gloss finish. So, if you are searching for an iPad 2 case that features beautiful, sleek, and modern design, you should give this case a try, especially since its manufacturer is well-know Case-Mate. It comes in three different colours (red, lime and white), so it's up to you to choose the one that will match your lifestyle.
SwitchEasy Cara Case is created with protection in mind, with regards to needs and style of the user. It is very easy to insert an iPad 2 in this case, as well as to remove it. All ports and features of the device are easily accessible. It consists of two parts – front one, which is made of scratch resistant polycarbonate material, and the back part, made of soft, highly flexible and shockproof elastomer material. Taking everything into consideration, this is one of the best folio-style iPad 2 cases currently available on the market, and at the same time one of the most useful pieces of iPad 2 accessories.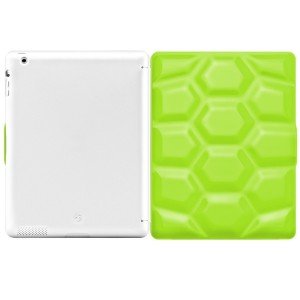 SwitchEasy iPad 2 Cara Case – Lime
If you are considering an upgrade to the new iPad 3rd generation, don't forget to visit our new category, "The New iPad 3 Accessories", where you can find everything you might ever need for the latest Apple device.