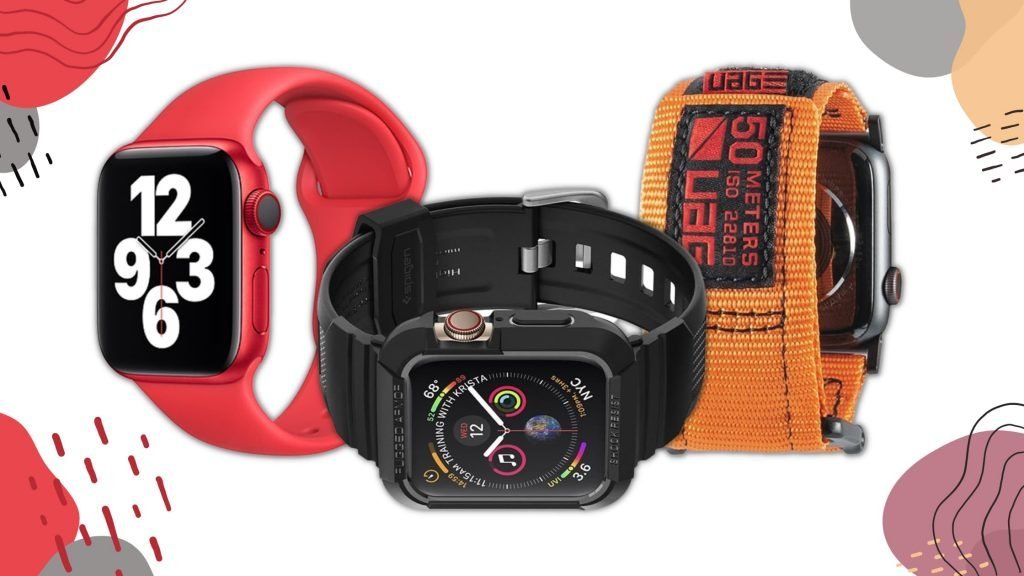 While the Apple Watch offers water resistance to a degree, the same may not be true for all Apple Watch straps. Natural materials like leather may deteriorate much faster when exposed to sweaty wrists. And metal watch straps may not be the comfiest when it comes to a workout.
The right band or strap for an Apple Watch also depends on the type of activity you partake in. A high-intensity workout needs a band that can handle all that sweat without being uncomfortable. Trekking activities may require a durable strap that will not be bothered by a few scratches.
In this post, we introduce you to the best Apple Watch straps for working out. We also answer some of the commonly asked questions about different watch straps and whether they are a good choice when it comes to working out. You can even find out what to look for when you are buying a new watch band for your activities.
The Softest Choice Amongst Apple Watch Bands
Silicone and fluoroelastomer materials make some of the best Apple Watch bands for working out. These are soft and highly durable materials. They also come in a range of vibrant colours that boost your good mood.
Apple's Sport Band: Extremely Durable Strap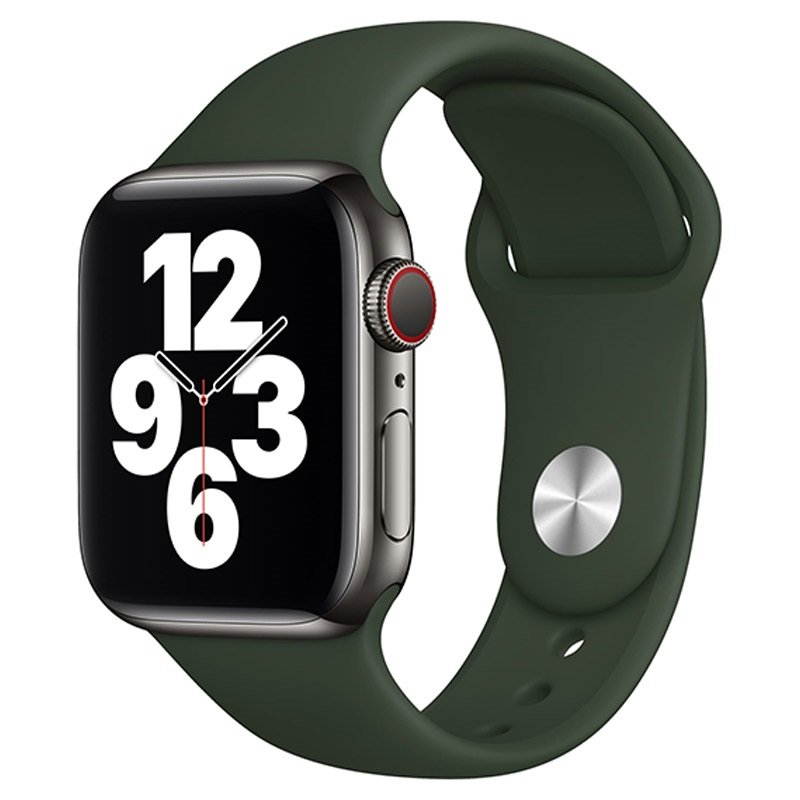 The sport band is an original Apple accessory for your Apple Watch. The soft material and the variety of colour choices are impressive. And the innovative pin and tuck closure will keep your watch securely strapped to your wrist.
The fluoroelastomer material is extremely durable and suitable for most kinds of workout. Additionally, this material has resistance to heat, oils, solvents, and fuels. These qualities make these straps one of the best Apple Watch bands for running.
Sporty features that make it the right choice:
The strap is available in sizes 40/38mm and 44/42mm that fit all Apple Watch case sizes.
The smooth finish of the fluoroelastomer material is soft and comfortable against the skin.
The strap can be used with the Apple Watch SE and series 1, 2, 3, 4, 5, and 6.
You can be sure of a secure fit even during workouts with the pin and tuck closure.
Puro Icon Silicone Band: Soft Yet Strong Band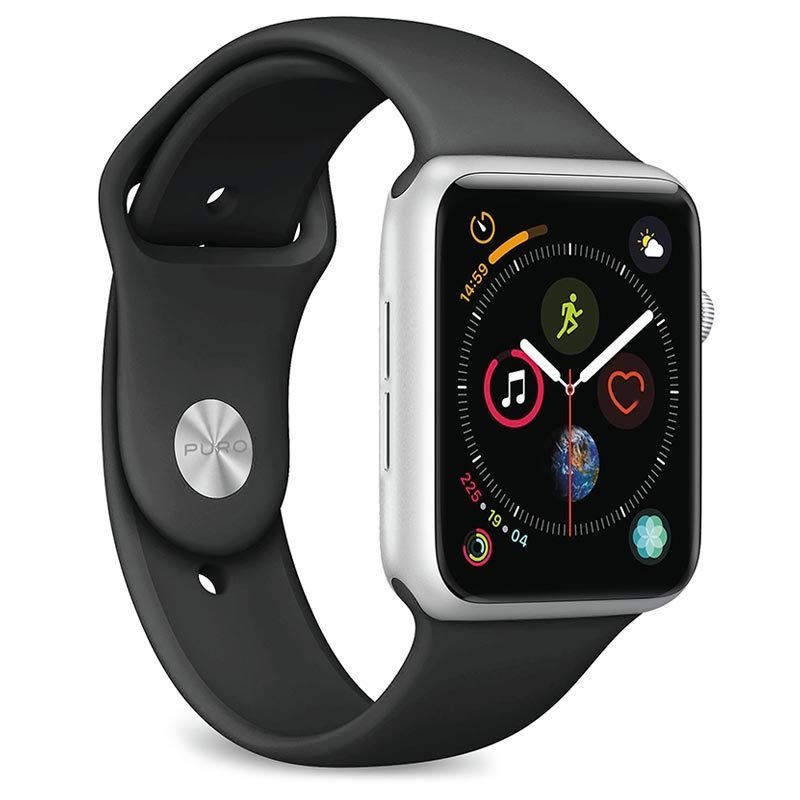 Silicone is known for its soft and cushiony feel, and the Puro Icon silicone band is no exception. This band ensures a great feel while you work out. And with its pin and tuck fastener, you can get the perfect fit on your wrist.
The lightweight strap ensures your focus is not disturbed and your fitness goals are met. The strap is easy to install on your Apple Watch, and its rounded shape complements the device.
Sporty features that make it the right choice:
The strap comes in two sizes allowing you to get the best fit for your wrist.
This silicone strap is compatible with Apple Watch Series 1, 2, 3, 4, 5, 6, and the SE.
The silicone material offers a gentle and cushiony feel against your wrist.
The hassle-free closure and skin-friendly design make this strap an ideal choice.
The Best Protective Strap for Your iWatch
If your Apple Watch needs to deal with the tough conditions of your adventures, then these picks will blow your mind. These straps also offer Apple Watch cases. With these straps, you truly get a two-in-one experience.
Spigen Rugged Armor Pro TPU Case: Protected and Ready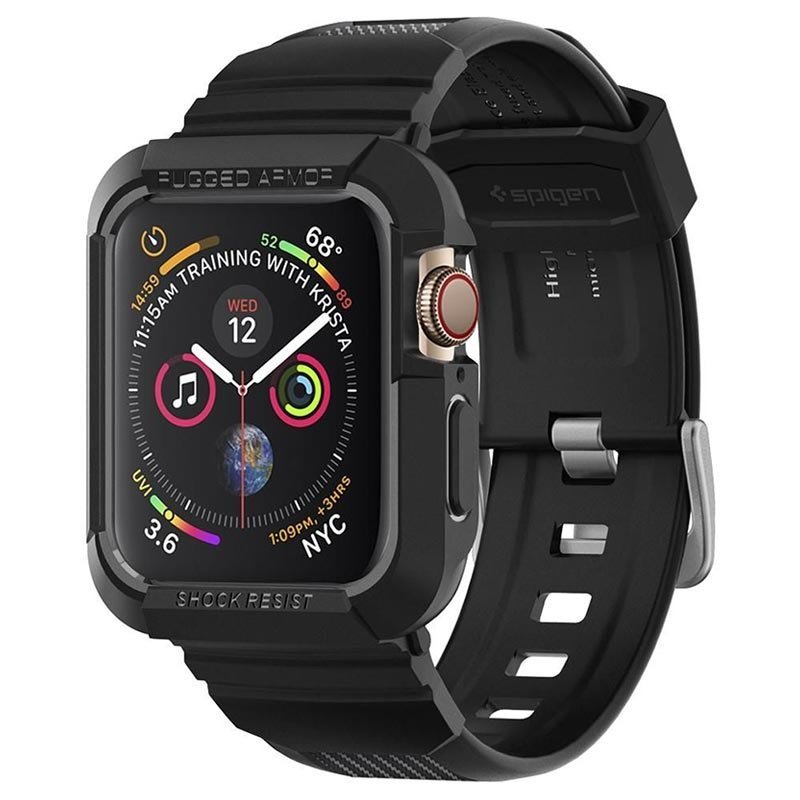 The comfortable feel of the Spigen Rugged Armor Pro TPU case will make your adventures more fun. This case and strap combination will keep your Apple Watch protected from all kinds of impact.
The design of the strap ensures all the functionality of your smartwatch is accessible to you. The pre-punched holes in the strap allow you to adjust it to your wrist size for comfortable wear.
Sporty features that make it the right choice:
This strap is compatible with Apple Watch Series 4, 5, and 6 and the Apple Watch SE.
Enjoy unparalleled impact protection thanks to the strong shock-absorbing quality of the material.
The TPU material is gentle on the skin and does not irritate even during long-term wear.
This rugged armour for your watch does not hamper its functionality.
Spigen Liquid Air Pro TPU Case: Unobstructed Functionality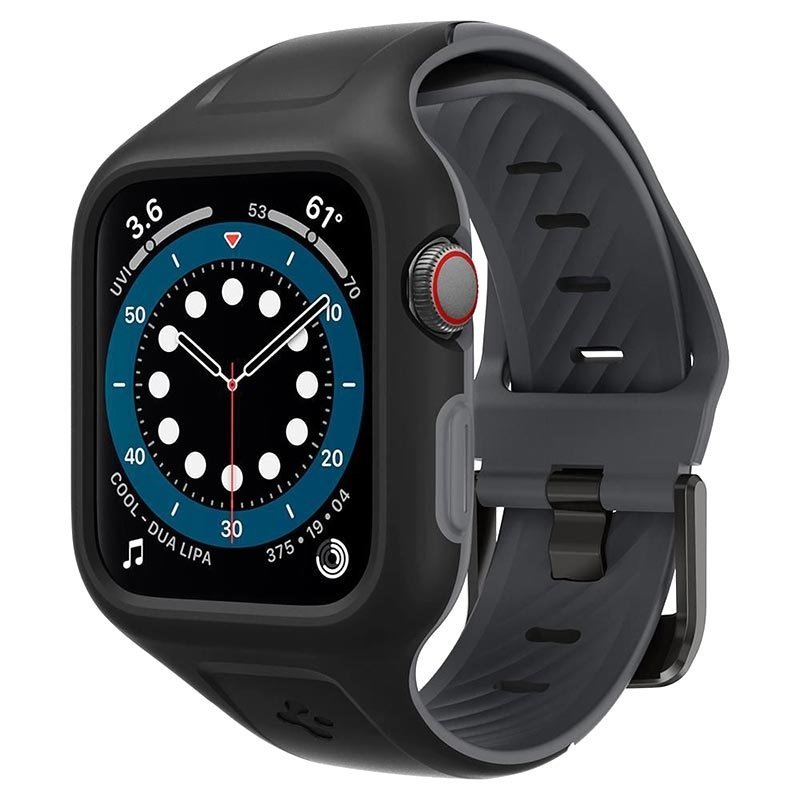 The protection of the Spigen Liquid Air Pro TPU case will not cost you the functionality of your Apple Watch. This strap and case combination does not need to be taken off to make use of the wireless charger.
The soft TPU material ensures the material feels silky-smooth against your skin. Despite its toughness, this strap is extremely comfortable to wear. You can enjoy all your activities without any worry.
Sporty features that make it the right choice:
The TPU material comes with a smooth and soft finish for a pleasant wearing experience.
This strap does not obstruct the functionality of the watch face or the digital crown.
The strap is compatible with Apple Watch Series 4, 5, and 6 and the Apple Watch SE.
It is easy to install and detach from your smartwatch.
The Best of Woven Nylon Apple Watch Straps
These nylon bands serve as an excellent Apple Watch sport band. The material is stronger, more durable, and scratch-resistant, making it perfect for just about any type of workout or vigorous activity.
Sport Loop Band: Brighten Up Your Workout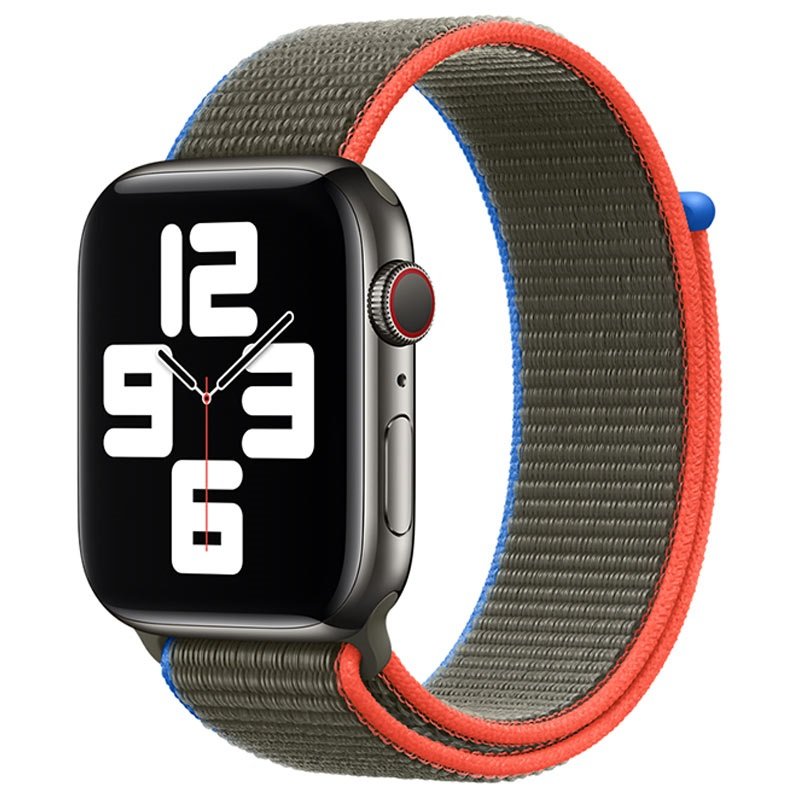 The sport loop band comes in vibrant, fun colours that include Sunflower and Surf Blue. With their vibrancy and durability, this original nylon Apple Watch band is a great companion.
The strap uses a hook and loop system of closure that makes it easy to wear as well as comfortable against the skin. The double-layer nylon weave makes the material breathable too.
Sporty features that make it the right choice:
The nylon textile tiny loop allows sweat to dry out very quickly.
The hook and loop fastener lets you resize it to your wrist size with ease.
This strap is breathable, lightweight, and soft, which ensures comfortable wear.
The strap is compatible with the Apple Watch SE and the 1, 2, 3, 4, 5, and 6 series.
UAG Active Strap: Secure with High Strength Materials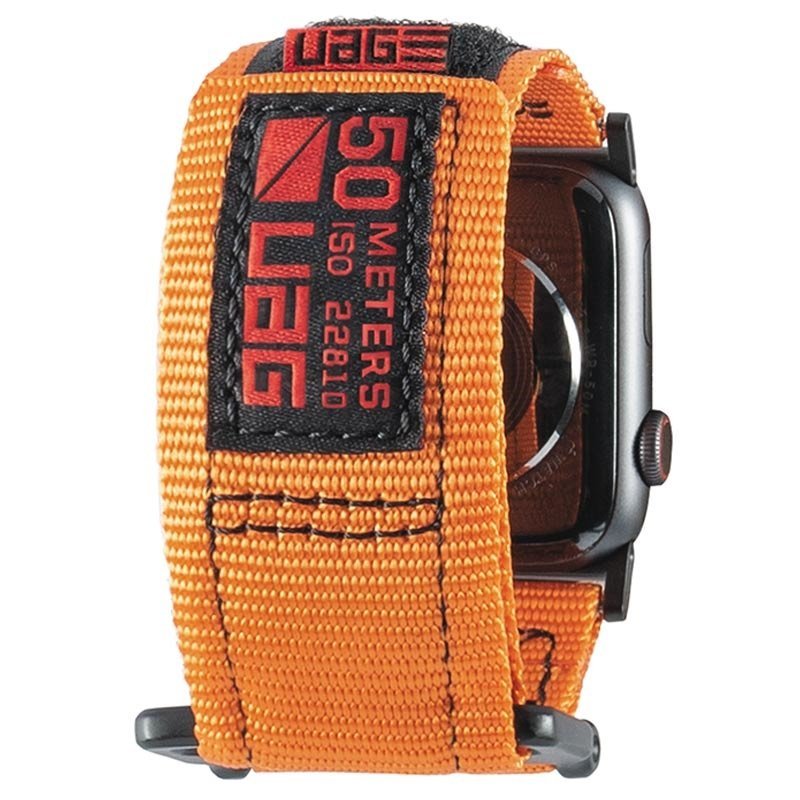 The high-quality nylon weave material of the UAG active strap is the best choice for a workout. The material feels soft and comfortable without causing any irritation to the skin.
Additionally, this nylon strap is water-resistant and offers great flexibility. Choose this strap for your Apple Watch if you love indulging in vigorous activities.
Sporty features that make it the right choice:
The nylon weave and the stainless-steel clasps make this a very durable and reliable choice.
The hook and loop fastener ensures a secure and comfortable fit.
The breathable nature of the material and its water-resistant characteristics help it to deal with sweaty situations.
The strap is compatible with the Apple Watch SE and the 1, 2, 3, 4, 5, and 6 series.
The Best Apple Watch Straps for Running
This watch strap is so good that we had to give it a category of its own. This strap allows you to keep your focus completely on your exercise without interfering with the tracking features.
Twelve South ActionSleeve 2 Armband: Infinitely Adjustable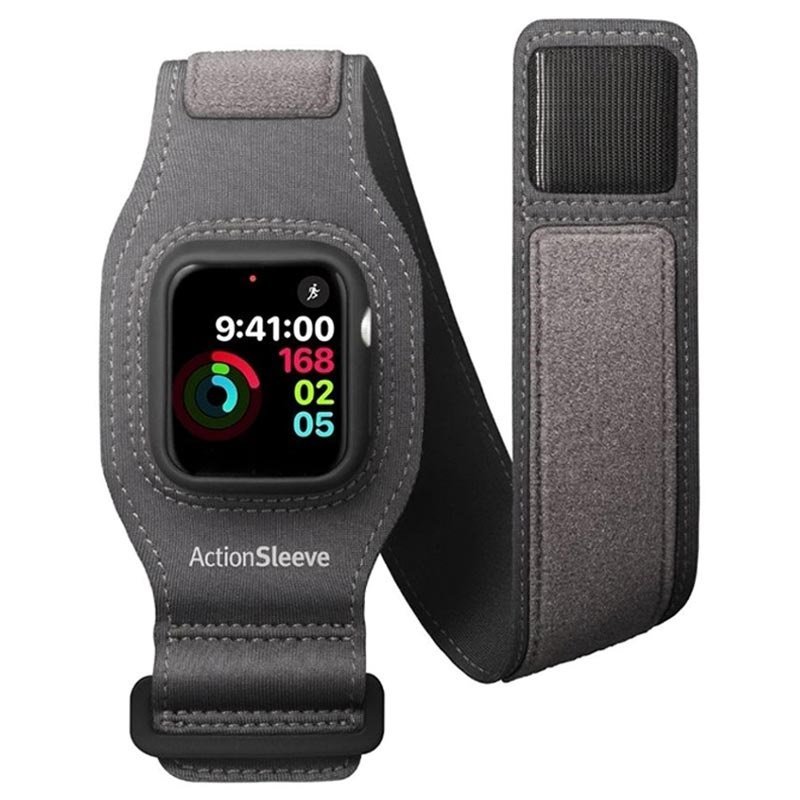 The Twelve South ActionSleeve 2 armband is a great choice for those that prefer to keep their wrists free during running or other workouts. The strap features a velcro closure using a loop system for a secure fit.
The strap is made from high-quality polyurethane with non-allergenic properties. An additional layer of fabric on the underside of the strap ensures comfortable wear over long periods of running.
Sporty features that make it the right choice:
The strap can be easily installed on your Apple Watch and does not obstruct the sensors.
The design ensures you have full access to all the features of the watch.
The velcro closure makes this strap easy to wear and adjust to perfectly fit your wrist or your arm.
The strap is compatible with Apple Watch Series 4, Apple Watch Series 5, Apple Watch Series 6, and the Apple Watch SE.
Frequently Asked Questions About Different Apple Watch Straps and Bands
In this section, we answer questions that commonly arise regarding Apple Watch bands and loops.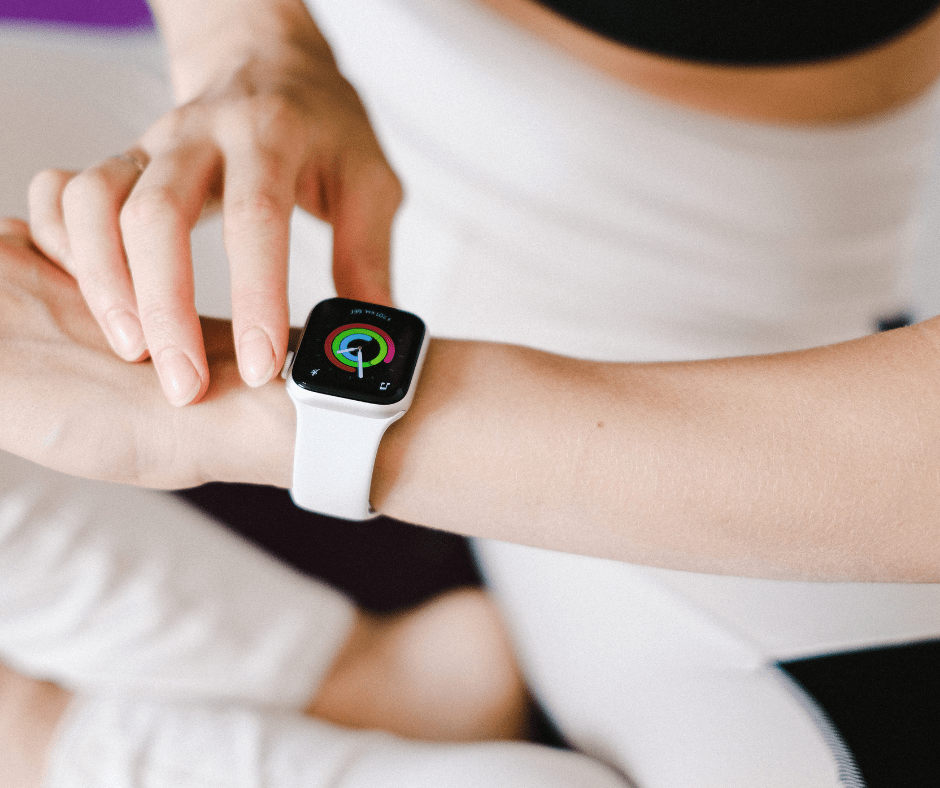 Can I use my leather straps for my Apple Watch whilst working out? Does sweat damage the leather bands of my smartwatch?
Many leather strap choices allow you to get the traditional watch feel with your Apple Watch. You can also find the leather loop option that uses a magnetic closure to bring a twist to the traditional style.
While leather looks great, it is not meant for the sweaty environment of a gym. Leather is a natural material that can degrade faster when exposed to liquids, high temperatures, and other elements. Furthermore, the salt in your sweat can hasten the process of deterioration and take away the charm of your leather straps and bands.
Are stainless steel straps suitable for working out? Can I work out in my Milanese Loop or Link Bracelet?
Stainless steel straps will always be in fashion and a practical choice because of the durability of the material. While they look gorgeous for an evening party or a professional environment, they may not be suited to a workout.
Apple says their stainless steel Apple Watch bands are not water-resistant, which means they will not handle sweat well. While, in general, stainless steel watches could be used whilst working out, the salts and exposure to the chemicals in the sweat can potentially damage it.
Furthermore, their bulkiness, in comparison to workout oriented straps like the Nike Sport Band, make them more of a nuisance.
How do I care for my Apple Watch strap or band? Should I clean my Apple Watch straps after working out?
Whether you work out in the humid and sweaty environment of a gym or go for a run in pristine nature, cleaning your device and accessories is important. In general, you should gently wipe the surfaces with a non-abrasive, soft microfibre cloth.
If your strap or band is quite dirty, you will need to use the appropriate cleaning methods to deal with it. You can learn more in our blog about cleaning tips and tricks for your Apple Watch bands and straps. And if you need some good cleaning products, check out our hygiene and cleaning products.
What should my selection criteria be for buying Apple Watch straps for workouts?
Apart from personal style, we recommend you buy the strap or band based on the activity you indulge in. Activities like meditation and gentle exercises like Tai Chi do not result in much sweat. Hence, you do not have to limit your choices.
However, for vigorous training-based workouts, make sure your choice meets most of the following features
The strap or band offers a comfortable fit.
The material is either breathable or wicks off moisture.
The metal elements of the strap or band are not prone to rust.
The strap or band dries off quickly.
For more aggressive workouts or activities like MMA, getting a two-in-one protective strap along with a screen protector for your Apple Watch is the best choice. In addition to all the above suggestions, we highly recommend that you check the material to ensure you are not allergic to it.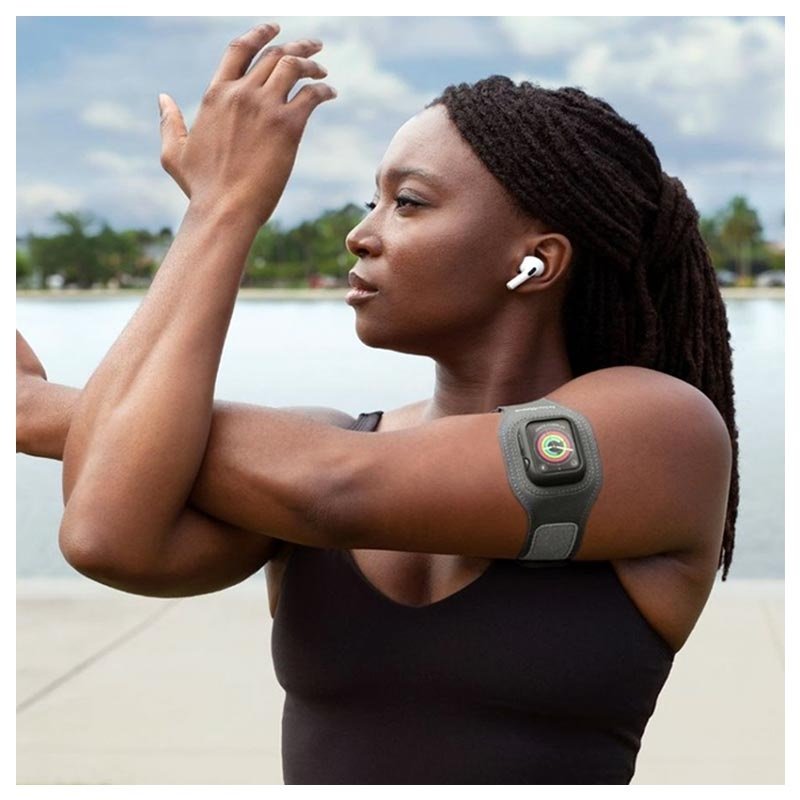 How do I choose the right size of Apple Watch band or strap?
When it comes to workouts, the watch strap should not be too tight nor too loose. An improper fit can not only be uncomfortable but can also result in skin irritations.
Ideally, you should use a tailor's soft tape measure to get the exact measurements. Wrap the tape around your wrist snuggly without it being too tight or loose. Take the measurement and round it up by half a centimetre.
But if a tape measure is unavailable; you could try using a piece of string or tape and a ruler to get the measurement. Wrap the string around your wrist, as previously mentioned. Cut or mark the measurement, and then lay the string flat next to the ruler to get your size.
Use the measurement to select the band or strap. We also suggest that you check the sizes when you are buying the same band style in a different colour. Since some strap colours are catered towards women, the sizing may vary.
Another thing to consider is the Apple Watch case sizes. Check out the compatibility of the strap with your Apple Watch model before making the decision.
Ready to Sweat it Out!
We hope our list of the best Apple Watch straps to workout in has helped you make the right decision. With your AirPods and the perfect workout band, you are ready for those workout plans!
Are you looking for more accessories to enhance your exercising experience? Get in touch with us to find the best gadgets!