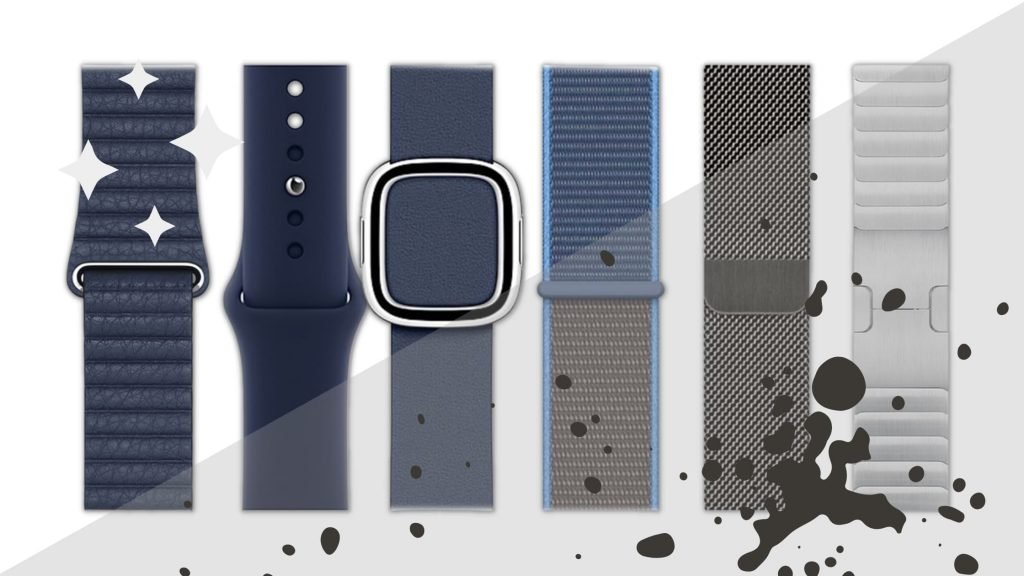 The Apple Watch offers many features whether you are into fitness training or just need a smartwatch to keep you updated on your to-do lists. These smartwatches have come to offer the best of traditional and digital technologies.
While the watch itself offers many digital face customisations, the range of Apple Watch straps and bands also adds personality. These straps and bands come in professional-looking leather to sporty braided straps. After a heavy workout or a hot day, cleaning them helps reduce skin irritation and other dermatological issues but also maintains the beauty of the device.
Whilst you are cleaning your AirPods, take some time to clean the strap and bands of your watch too. With clean devices, you can enjoy your workouts and other activities without any health worries.
A Short Introduction to Different Types of Apple Watch Bands
Knowing what type of band your Apple Watch has will help you decide on the most appropriate cleaning method. The right approach to clean your Apple Watch will ensure you do not damage the band and create flaws in it.
Solo Loop is made from UV treated liquid silicone that is stretchable, swim-proof and sweat-proof.
Braided Solo Loop is made from 16,000 recycled polyester yarn filaments around ultra-thin silicone threads, and therefore it's sweat and water-resistant.
Sport Band is made using a high-performance fluoroelastomer that can handle sweat and water.
Sport Loop is made from woven nylon and a moisture-wicking design that is breathable.
Nike Sport Band is made using lightweight fluoroelastomer to handle natural elements like sweat and water.
Nike Sport Loop is made using flexible nylon weave with Nike exclusive reflective threads. The design ensures moisture does not bother you.
Leather Bands are made from natural leathers from France. The leather develops a patina over age and discolours with exposure to liquids or direct sunlight.
Hermès Jumping Single Tour is made using nylon (textile), and it is swim-proof.
Hermès Leather Band is made from handcrafted calfskin leather. Leather is not suited for rough usage or exposure to elements like direct sunlight.
Stainless Steel Band is made from stainless steel that offers the best durability of all styles.
Start with Removing the Watch Strap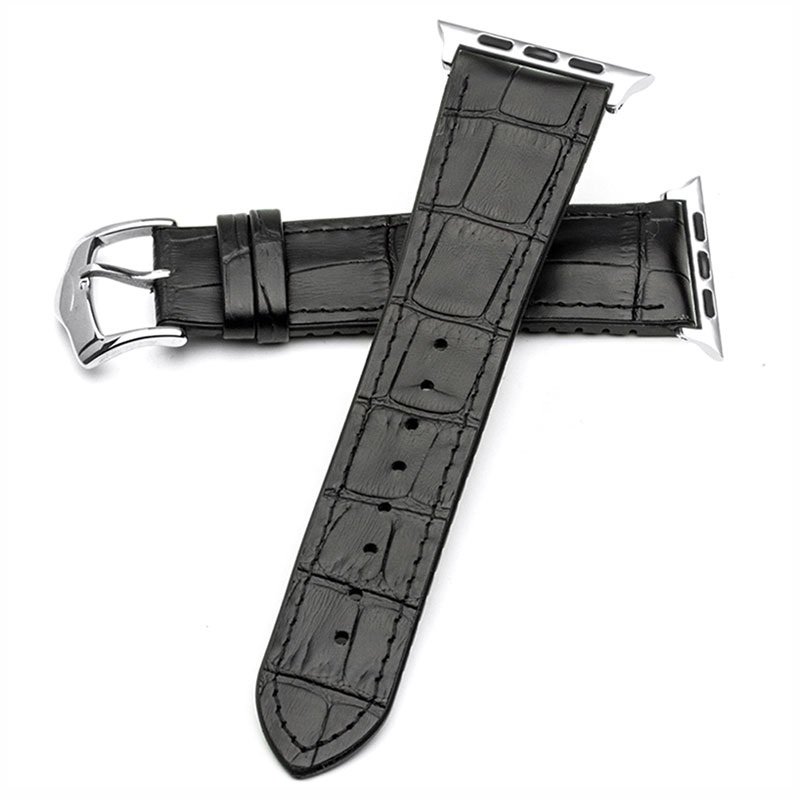 The first step to cleaning the band is to remove it from the Apple Watch. Follow these steps to separate the band from your AppleWatch:
Place the Apple Watch face down on soft, clean material like a microfibre towel or a padded mat.
On your Watch, press the band release button and gently slide the band out.
In case the band does not slide out, press and hold the release button and try again. For the Link Bracelet, close the closure and press one of the link release buttons to separate the band into two parts. Follow the above steps to remove the band from the watch.
Reinstalling the watch strap is a straightforward process that starts with sliding the strap while, at the same time, ensuring the watch face is down and with the text on the strap facing you. You should hear a click when the strap is successfully placed.
Do not force or use aggressive movements to insert the strap. If the strap does not click in, gently wiggle it up and down and slide it until it fits. It is recommended to avoid wearing your Apple Watch with an ill-fitted strap.
Caring for Your Apple Watch Straps
Care methods for the watch band differ based on the type of material. While the following tips will apply for most watch straps, cleaning instructions may vary for non-Apple branded bands and straps.
Cleaning Methods for Bands from Apple
The following methods are based on the suggestions from Apple on how to clean the bands they offer.
How to Clean Leather Bands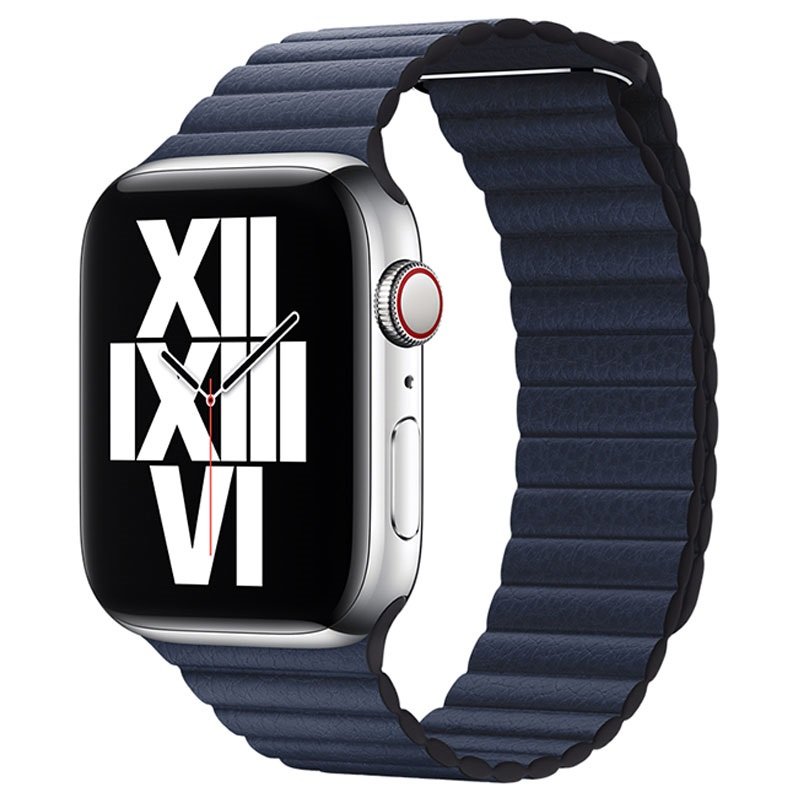 Leather, being a natural material, is subjected to change with age and exposure to different elements. The best way to clean a leather band is by using a non-abrasive, lint-free cloth.
If the band has some stubborn stains, you can lightly dampen a soft cloth with fresh water and wipe it. Soaking leather bands in water or any other cleaning products can cause serious damage. Leather is not water-resistant, and hence, such extreme cleaning approaches should be avoided.
Air-dry the strap or pat it with a soft cloth before reinstalling it. Never leave your leather bands in direct sunlight or exposed to high temperatures, as this can degrade the material. Apply a leather balm to keep the strap conditioned for better durability and flexibility.
How to Clean Solo Loop, Sport Band, and Nike Sport Band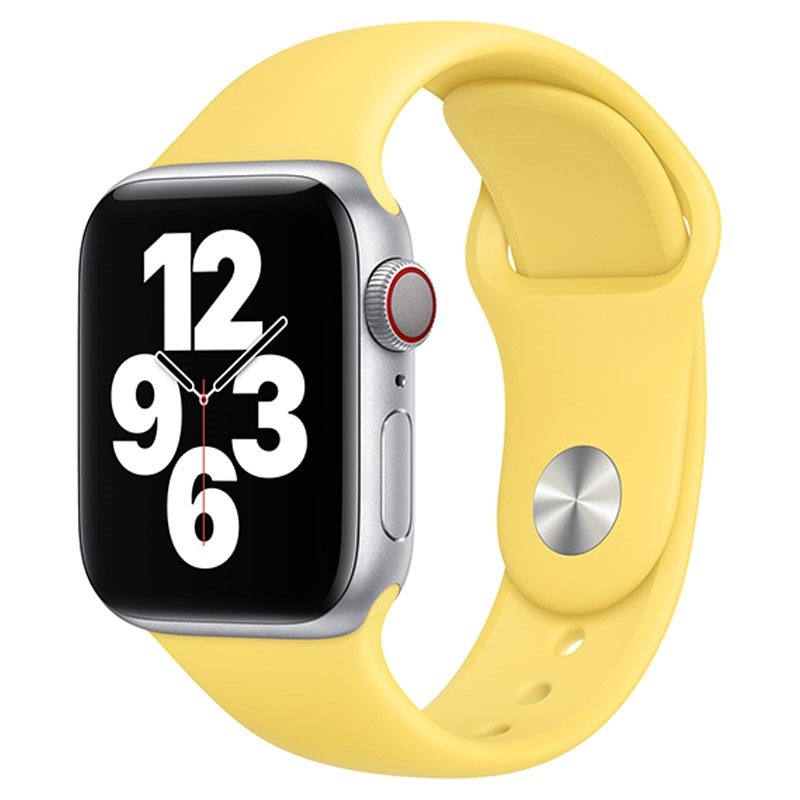 Regular wiping with a soft, non-abrasive, lint-free cloth is sufficient for everyday cleaning. However, if the bands have sticky or oily residue you can use a soft cloth dampened with clean water to wipe it down.
Alternatively, you can also use a mixture of warm water and mild, hypoallergenic hand soap solution to wipe the bands. Using cleaning wipes, such as a 70% isopropyl alcohol wipe or a 75% ethyl alcohol wipe, will also get the job done.
Braided bands can be cleaned using the method above. But the braided structure can hold dirt within its weaves. To address this, use a soft bristle brush like a baby toothbrush to gently sweep out the dirt. You can also dip the brush in a solution of mild soap and warm water.
Avoid using abrasive brushes on textile or woven straps, as these can damage the material. Always use gentle pressure to avoid disturbing the weaves or affecting the dyes. Nylon material can be soaked in water and gently washed.
Once you have cleaned the strap, make sure to completely dry it before reattaching.
How to Clean Stainless-Steel Bands and Metal Parts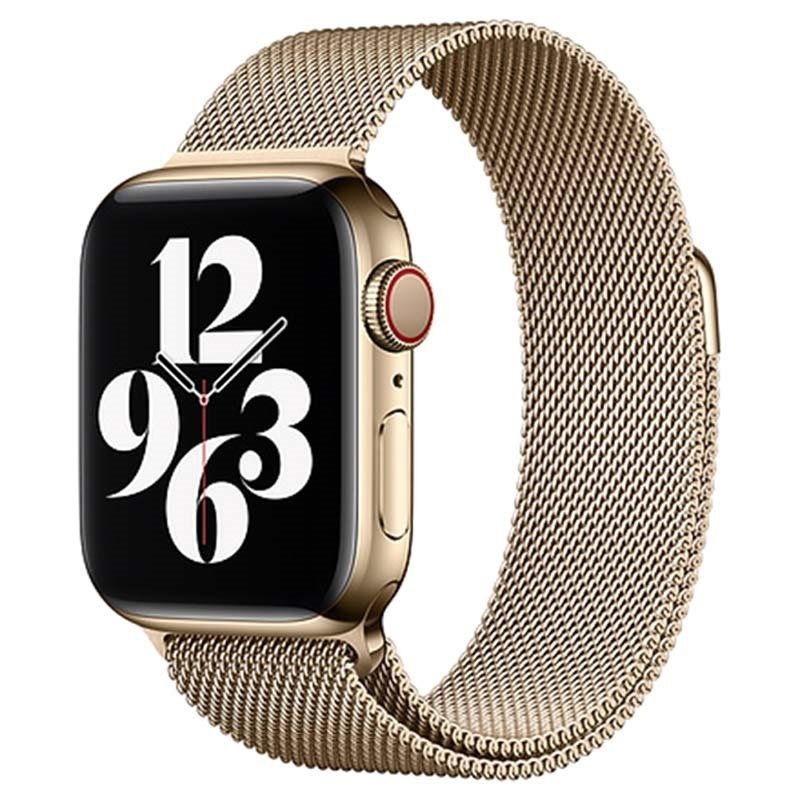 Using non-abrasive, lint-free cloth is the standard method to clean metallic surfaces or other watch band materials. You can also lightly dampen the cloth with fresh water to wipe down surfaces to remove clinging dust particles.
When drying, use a non-abrasive cloth like a microfibre towel to wipe the band before reattaching to the Apple Watch. Avoid using any kind of abrasive materials as these can cause scratches and dull the finish of metallic bands and closures. It is also advised not to use harsh chemicals to clean metallic straps.
Cleaning Methods for Other Apple Bands
The market offers different kinds of bands for Apple Watches that suit your needs and style preferences. The following are approaches to cleaning some of the commonly available strap materials.
How to Clean Wood Bands
Wood, like leather, is another natural material that will change with age and usage. Daily cleaning with non-abrasive, soft microfibre cloth will keep the wood bands clean and fresh.
Alternatively, grime and stubborn dirt can be cleaned using a thoroughly wrung damp cloth. But a word of caution, moisture is the natural enemy of wood. Ensure you dry the band completely to avoid water damage.
You can use a wood conditioner to keep the band looking polished and clean. It also helps improve the durability of the band and protects it from the elements.
How to Clean Resin Bands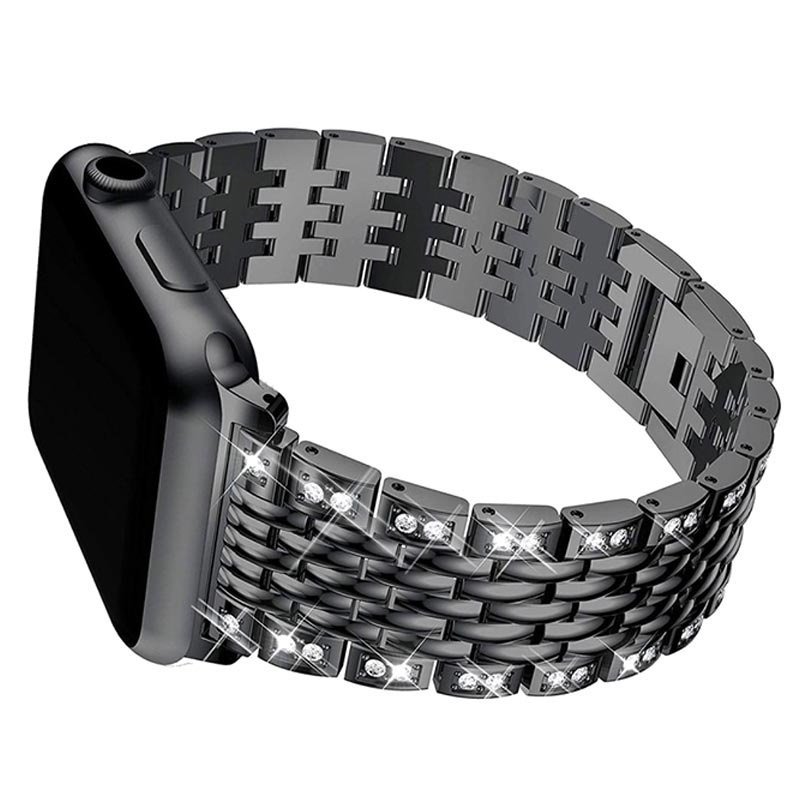 These durable bands come in a variety of designs, but can easily break when they hit hard surfaces. As with metal bands, abrasive cleaning products and materials can cause scratches and dull the look of these bands.
The best way to clean them is using a lint-free, microfibre cloth and wiping it down. It is highly advised to check for the cleaning instructions on the packaging before proceeding.
How to Clean Velcro Bands
Velcro bands are notorious for getting threads and other materials stuck in them. While the general cleaning method is using a lint-free, nonabrasive cloth or warm water and soap solution, the Velcro part needs different treatment.
To get dirt and other fluff out, lay the Velcro part on a solid surface and, using a toothbrush, gently brush out all the lint and debris. Ensure you fully dry the strap before use.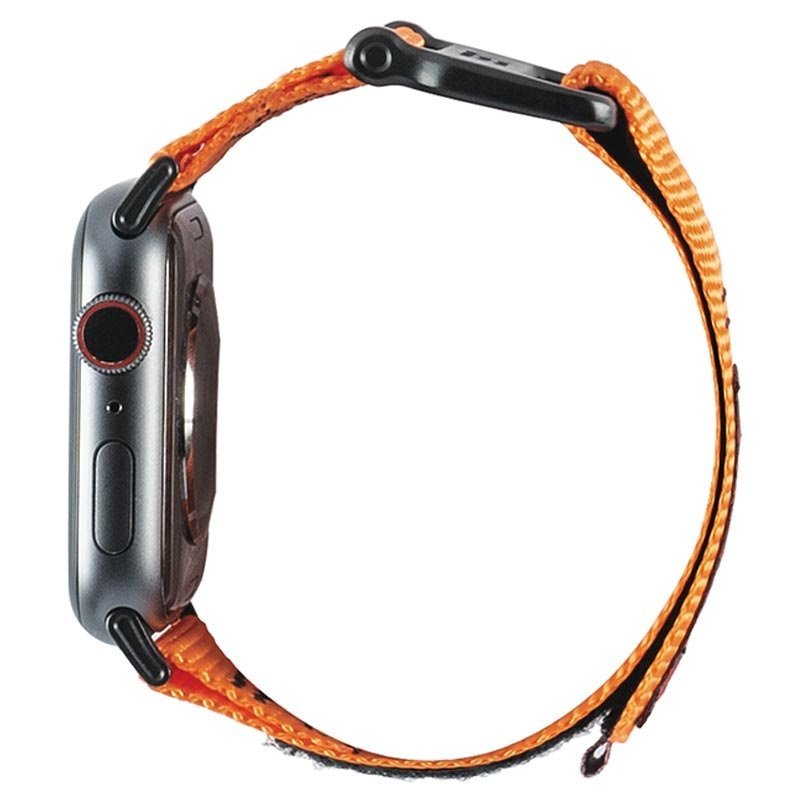 How to Clean Carbon Fibre Bands
This lightweight and extremely durable material can be cleaned with a soft cloth such as a microfibre cloth. While cleaning with a damp cloth is recommended for stubborn grime, ensure the water is fresh. Saltwater can affect the integrity of the material.
Always dry your Apple Watch band thoroughly before reattaching to improve its longevity.
Frequently Asked Cleaning Questions About Apple Watch Bands
In this section, we answer the frequently asked questions related to Apple Watch bands and straps.
Can you use a magic eraser on an Apple Watch band?
Yes, silicone, fluoroelastomer, and other such materials can be cleaned using a magic eraser. But be careful not to use it on non-water-resistant materials and delicate materials like leather.
To use this cleaning method, soak your magic eraser in water and completely wring it out. Do not use an extreme approach to wringing as it can tear the eraser. Using the damp eraser, gently scrub the band to remove dirt and stains.
You may have to re-wet the eraser during the process if it gets too dry. Once thoroughly cleaned, run the band underwater and completely dry it before use.
Why does my Apple Watch band smell? How do I remove odours from my Apple Watch band?
The main reason for odours on your watch band is a build-up of bacteria. Always make it a habit to wipe your Apple Watch bands following exercise and whenever they are exposed to lotions, creams, or other liquids.
Depending on the type of material, you can use a mildly scented hand soap to remove odours. Gently massage the soap on the band and wash it off. For delicate materials like wood and leather, go for material-specific cleaners to deal with the odour.
Always dry the bands completely before use to avoid bacteria or mould from affecting them.
Can I use baking soda to clean my Apple Watch bands? Does baking soda help remove odours from watch bands?
Baking soda is used to clean all sorts of things. It can be used to clean your Apple Watch bands and can potentially help reduce any odours lingering on them.
However, baking soda is an abrasive cleaning material and hence should be used with caution. It is also not recommended to use it with materials like leather, wood, and metal.
To use baking soda as a cleaning agent, create a thick paste with clean water. Apply the paste with fingers or a thin rag onto the strap or band and allow to sit for about 10 minutes. Gently wash the band and completely dry it before use.
Can I put my Apple Watch band in the washing machine?
It is not recommended to wash your Apple Watch bands in the washing machine. While Nylon material straps and bands can be washed in a washing machine, it is not the recommended approach. The small size of the band and the aggressive nature of washing machines will cause damage to the materials.
Always on Time with the Right iWatch Straps and More
Apple Watches are a great way to keep yourself organised and always on track with your fitness goals. Are you looking to enhance your smartwatch experience? Then, get in touch with us, and we will guide you to the right Apple Watch accessories!