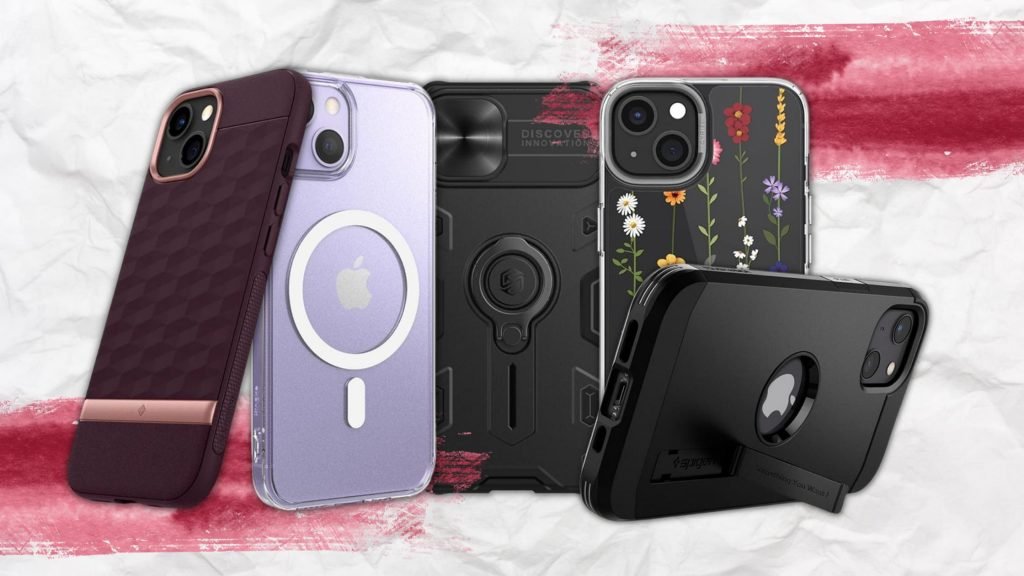 If you have got your hands on the latest Apple iPhone 13, then make sure you get it the best iPhone 13 case as well. To maximise the beauty of your new favourite gadget and to ensure it stays protected from the wear and tear of everyday use, an iPhone 13 cover is an important investment.
From Presidio Perfect cases to hybrid cases with built-in kickstands, the variety in design styles, functionality, and colours are unlimited. But choosing the right case all boils down to how you intend to use your iPhone.
Here are our top covers and cases for the iPhone 13 in the UK!
iPhone 13 Covers that are All About Nature
These iPhone cases are the perfect choice for nature lovers. With elements of nature enriching their beauty, these cases also serve to protect your phone
Spigen Cyrill Cecile Hybrid Case: Clearly Pretty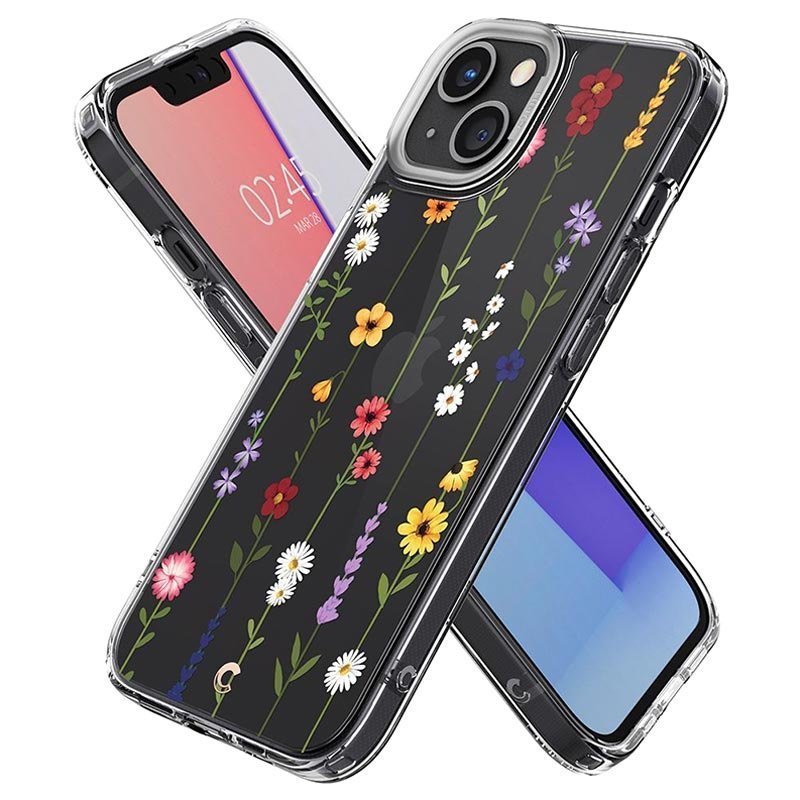 The Spigen Cyrill Cecile hybrid case is perfect for nature lovers. The beautiful floral pattern choices will delight you. The combination of the clear case with the print also allows you to showcase the beauty of your device.
It is made from polycarbonate on the back with flexible TPU sides that ensure a perfect fit. These durable materials also offer advanced protection with their Air Cushion technology on every corner.
Features that make it the perfect match for your iPhone 13:
It comes with a MIL-STD-810G-516.6 military grade drop protection certification.
The combination of a clear case and three options of floral prints make this a beautiful case.
You can use your wireless charger without removing the case.
This delightful case comes with cut-outs that ensure the functionality of the buttons, ports, and cameras are not obstructed.
Saii Eco-Line Biodegradable Case: Compassion for Mother Nature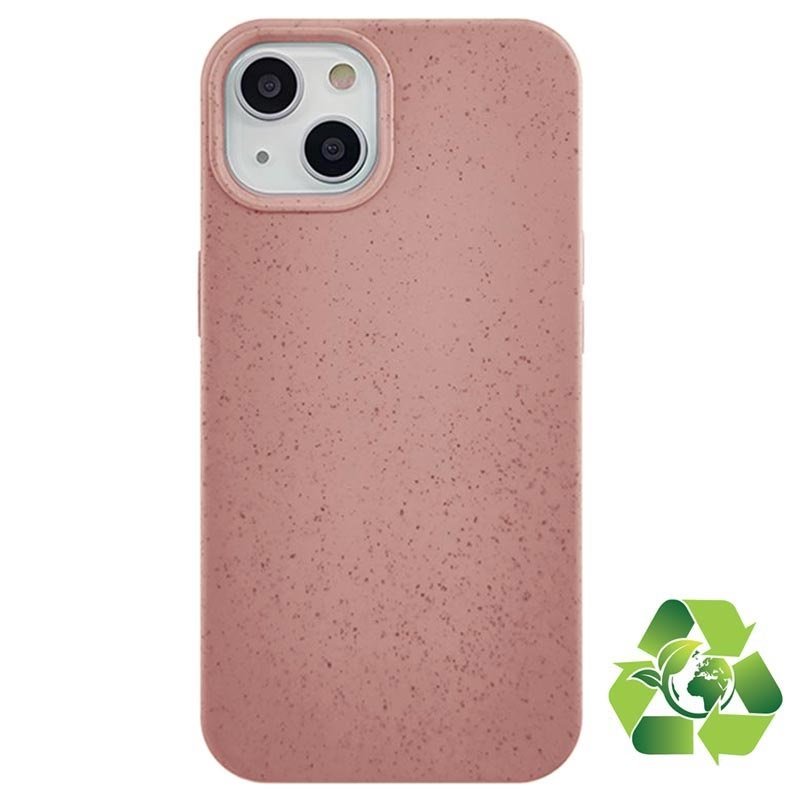 If you want to do your part in helping the environment, then the Saii eco-line biodegradable case is a must-have. This environmentally conscious case uses flexible TPU and natural wheat straw to deliver you a stylish iPhone 13 phone case.
This recyclable and biodegradable cover comes in three beautiful and soft colours that suit every palette. You will love the anti-fingerprint feature of the cover and the raised bezel protection for the screen and camera.
Features that make it the perfect match for your iPhone 13:
Thanks to our collaboration with OneTreePlanted, you plant a tree when you purchase this case.
The matte texture of the cover allows a good grip.
Enjoy wireless charging without having to remove the cover.
The raised bezel around the screen and camera protects from scratches during accidental falls.
iPhone 13 Protective Cases with a Perfect Viewing Angle
Whether it is a quick video call meeting or your favourite shows, a holder or kickstand can greatly improve the experience. These tough cases will allow you to do just that whilst offering rugged protection!
Nillkin CamShield Armor Hybrid Case: Keeps Your Camera Safe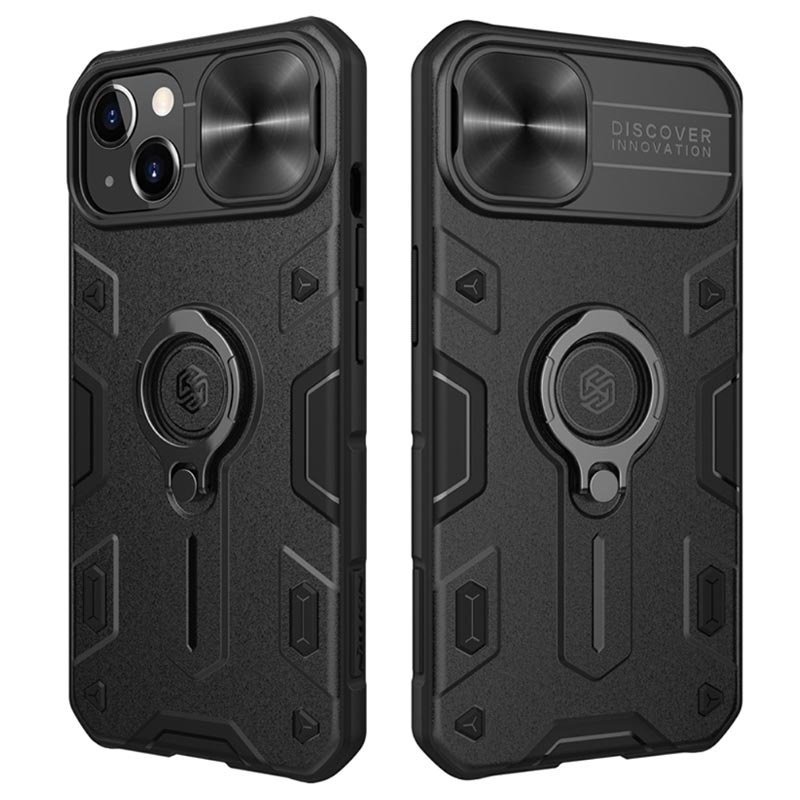 With the Nillkin CamShield Armor hybrid case, your camera gets some extra love with the sliding cover. This rough and tough case is an ideal choice for those that love outdoor adventures or are prone to dropping their phones.
It is made from hard PC and flexible TPU materials to give you ultimate protection. Additionally, the 360° ring holder lets you enjoy the perfect viewing angle and take the perfect selfies without dropping your phone.
Features that make it the perfect match for your iPhone 13:
The case comes with shock-absorbing bumpers on the corners to ensure excellent drop protection.
The rugged design gives you a good grip which is enhanced by the ring holder.
Its precise cut-outs and shield for the camera do not interrupt the functionality of the iPhone.
Since it is made from PC and TPU, it is very durable.
Spigen Tough Armor Case: With Air Cushion Technology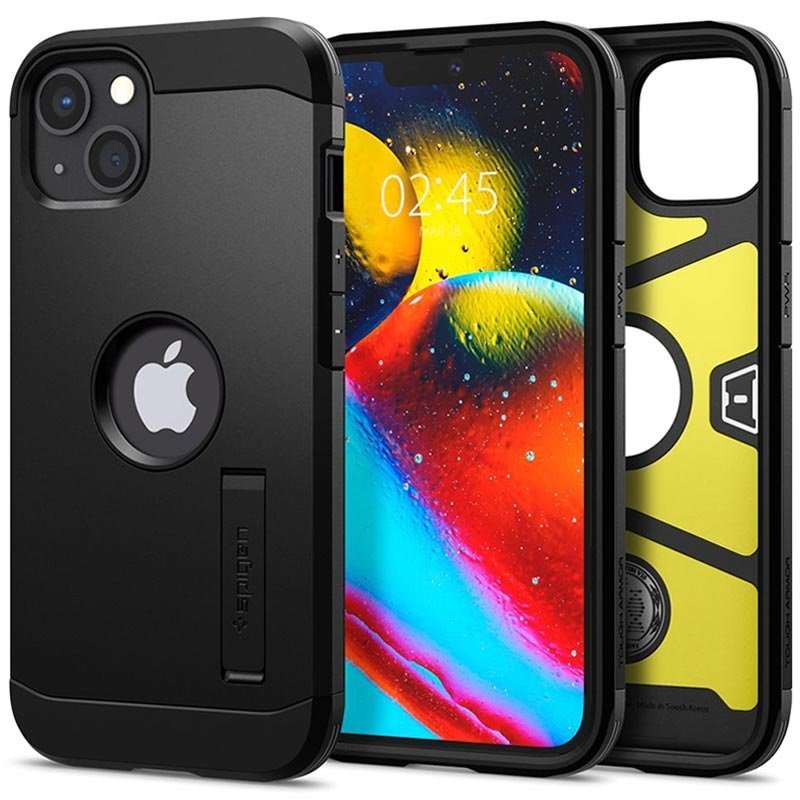 Expect the best protection with the Spigen Tough Armor case. Reinforced with Air Cushion Technology, this tough case will give you the best drop protection. Thanks to the double-layered TPU and hard polycarbonate construction, it is also highly durable.
It even comes with a built-in kickstand that gives you a hands-free experience. Plug in your AirPods and let the cover handle the viewing angle.
Features that make it the perfect match for your iPhone 13:
Don't worry about scratches on the screen when you keep it face down, thanks to the raised lip feature.
The double-layered TPU and a hard polycarbonate construction offer high durability and protection.
With the raised lip around your screen, you do not have to worry about scratches when you keep your phone facedown.
Enjoy all the functions of the buttons, ports, and camera unhindered thanks to the precise cut-outs in the case.
Best iPhone 13 Cases with MagSafe
These MagSafe compatible cases will allow you to easily use your MagSafe charger without the need to remove them. And the clear design will allow your iPhone 13 to shine in all its glory!
OtterBox Symmetry: With Antimicrobial Properties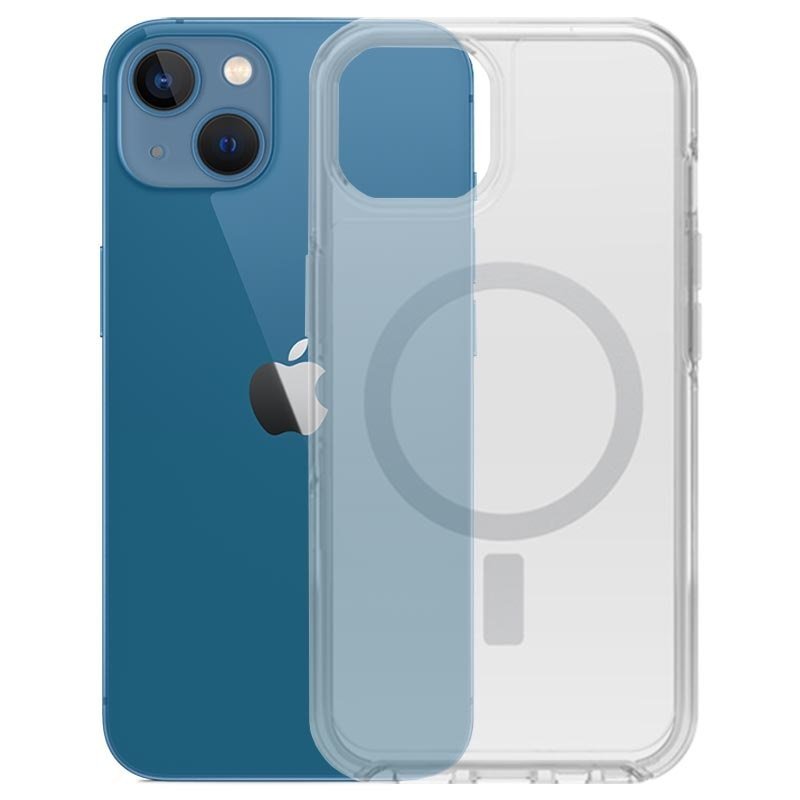 Say no to germs with the OtterBox Symmetry case for your iPhone 13. This translucent cover creates a soft feature over your iPhone. And with the silver-based additive, you will stay safe from germs and bacteria that you encounter in daily use.
With durable polycarbonate on the outside and synthetic rubber on the inside, your iPhone is protected from scratches and everyday wear and tear. The soft inside also ensures that you don't accidentally scratch the iPhone when taking off the cover.
Features that make it the perfect match for your iPhone 13:
The OtterBox Symmetry is MagSafe compatible and can be used along with other MagSafe accessories.
The minimalist and sleek design does not add any additional bulk to your phone.
Your health is prioritised with its silver-based additive's antimicrobial properties.
This high-quality hybrid case offers reliable protection against drops, bumps, and scratches.
Ringke Fusion Magnetic Hybrid Case: Powerful Magnetic Connection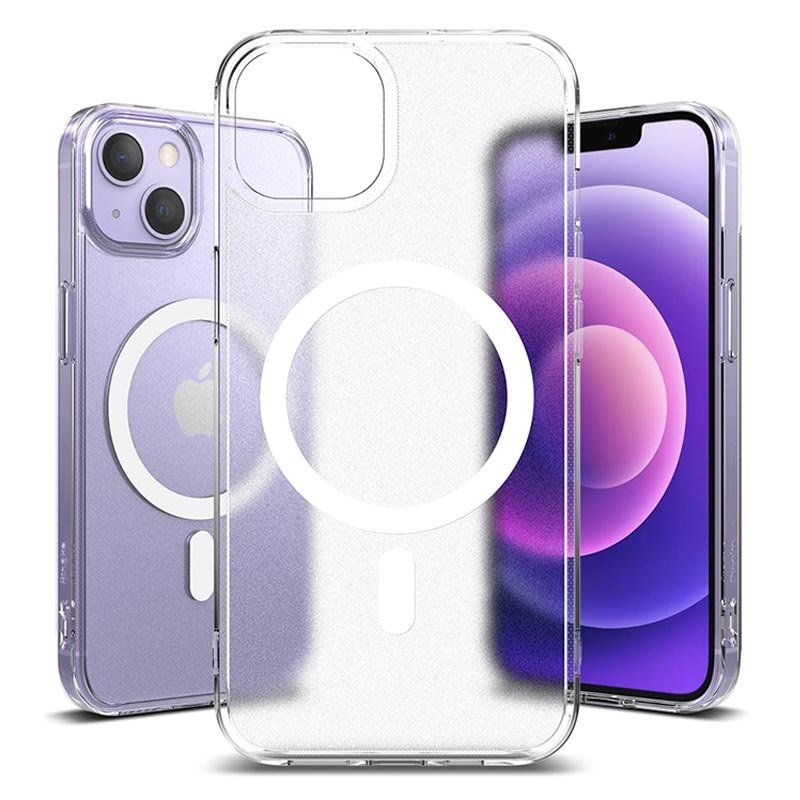 Made from matte polycarbonate and TPU combination, the Ringke Fusion magnetic hybrid case lets you step into the MagSafe ecosystem. This case comes with 38 magnetic pieces that align with the MagSafe ring of your iPhone for a strong hold.
The reinforced edges as well as the raised bezels around your display provide your smartphone with top-quality protection. The matte look does not take away from the beauty of your iPhone 13 and allows you to show it off too!
Features that make it the perfect match for your iPhone 13:
This minimal case provides excellent protection against impacts, bumps, scratches and everyday wear and tear.
The magnets in the case give you a strong connection and an opportunity to accessorise with magnetic accessories.
Thanks to the reinforced edges and raised bezel, your screen stays protected from accidental damage.
The matte finish allows you to showcase your iPhone 13 without diminishing its beauty.
Unique iPhone 13 Cases to Stand Out from the Crowd
These stylish cases will add glamour to your iPhone 13. Their unique design enhances the appearance, while their durable construction keeps your Apple phone protected.
Case-Mate Soap Bubble Case: Glimpse of a Galaxy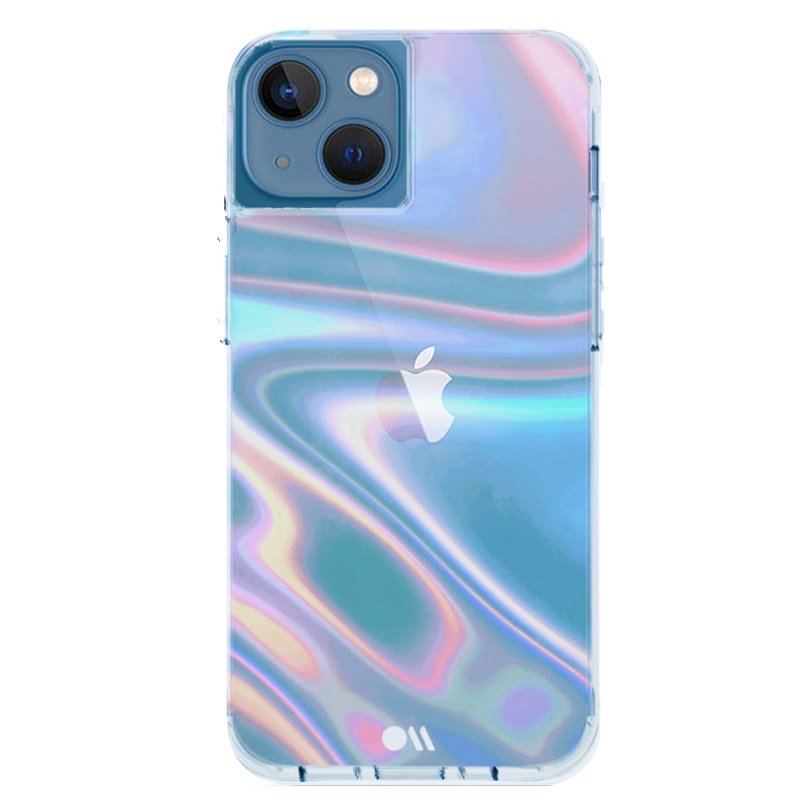 The Case-Mate Soap Bubble case is a stylish choice for anybody. It makes for a perfect gift for those that love to be unique. The soap bubble design on the clear case adds a touch of glamour to your iPhone 13.
This fancy case comes with an antimicrobial MicroPel layer to keep you safe from all the germs and bacteria you encounter. This iridescent case will protect your iPhone reliably from scratches and bumps. Plus, it has been drop tested from a height of three metres.
Features that make it the perfect match for your iPhone 13:
The iridescent reflective design of the clear case adds sparkle to your iPhone.
Thanks to the MicroPel layer, you are protected from everyday germs and bacteria.
It has been tested for drops from three metres to give you peace of mind.
The cut-outs and support for wireless charging make this case a great choice.
Caseology Parallax Hybrid: Unparalleled Elegance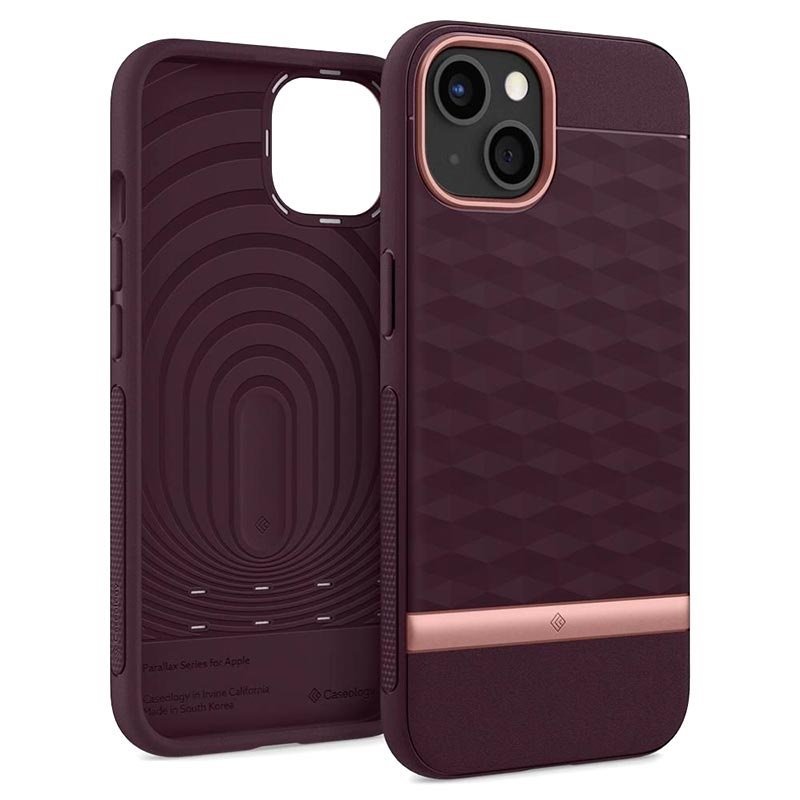 Nothing compares to the elegant design and construction of the Caseology Parallax hybrid case for your iPhone 13. This luxurious looking case also comes with a tastefully designed kickstand that offers an optimal viewing angle.
The clever design incorporates a built-in textured TPU grip to enhance your hold on your iPhone. No more accidental slips! It gives reliable protection against falls, on the off chance it happens, with its reinforced corners.
Features that make it the perfect match for your iPhone 13:
It is made with a TPU shell with a PC frame for a durable and long-lasting product.
Its unique construction and slim fit do not add bulk whilst offering excellent grip.
Thanks to the raised bezels around the camera and display, they are safe from scratches when you put your phone down.
This case meets the military-grade protection standards for your iPhone 13.
Classic Cover Choices for Your iPhone 13
Silicone and leather have always enjoyed great popularity when it comes to iPhone covers and cases. These are our top picks from the classic category for your new iPhone 13.
iPhone 13 Apple Silicone Case: From the Makers of the iPhone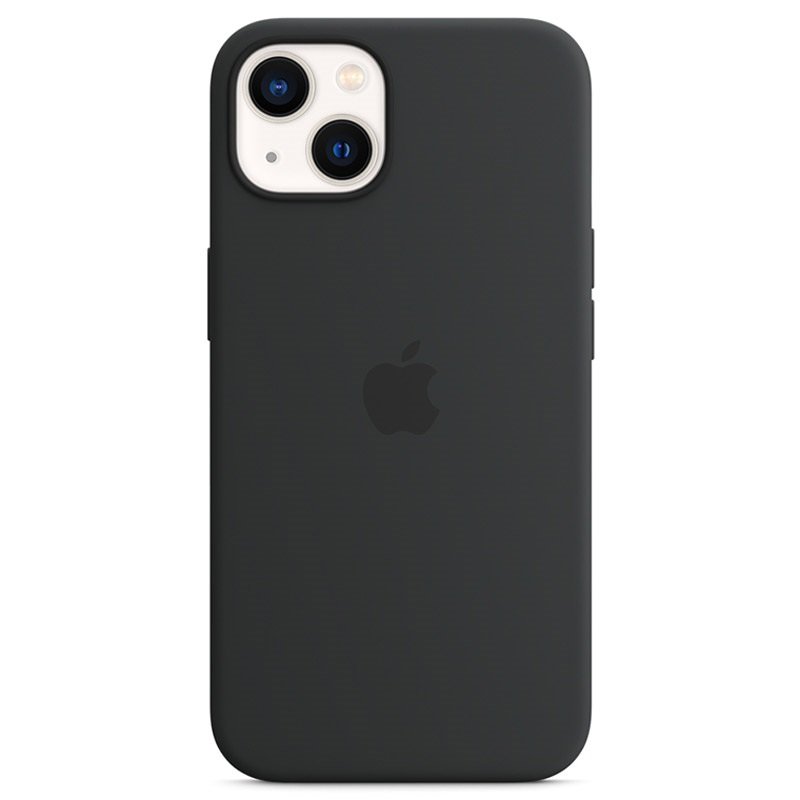 The genuine iPhone 13 Apple silicone case will fit like a glove over your iPhone 13. This silicone case with MagSafe comes in a wide range of colour options. While the classic options are great, you will love the Pink Pomelo, Blue Jay, and other fun colour choices.
The silicone case feels soft and gentle against your skin and comes with an anti-slip grip on the sides. Additionally, the inner soft microfibre layer keeps your iPhone always protected. Enjoy all your MagSafe accessories and safely charge with your Qi-chargers without taking this cover off.
Features that make it the perfect match for your iPhone 13:
It is made from high-quality silicone with a soft finish and an inner lining of microfibre.
The case comes with integrated MagSafe magnets which make installing it easy.
The MagSafe compatibility allows you to enjoy MagSafe compatible accessories and chargers.
It offers reliable protection against accidental falls and bumps without adding additional bulk.
Qialino Classic Wallet Leather Case: The Premium Choice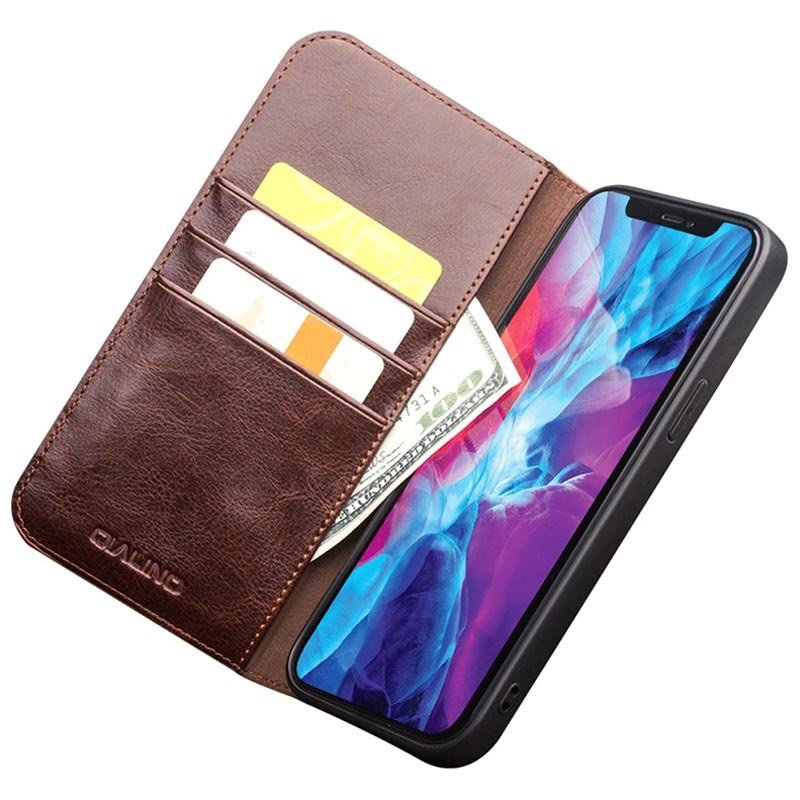 Experience the classy and timeless look of leather with the Qialino classic wallet leather case for your iPhone 13. This wallet case comes with pockets for your cards and even some cash. The dual-purpose case allows you to lighten the load in your pockets.
The leather folio case also folds up to create a stand for your iPhone 13. This design creates a stable stand for your iPhone and offers the perfect viewing angle. Whether it is an important video call or connecting with family, do it hands-free with this leather case.
Features that make it the perfect match for your iPhone 13:
It is made from premium genuine leather for a luxurious feel for your Apple phone.
Forget your wallet and carry your important credit cards, ID and even cash with this wallet case.
The front panel comes with a precise cut out for the earpiece, so taking calls is easy.
Thanks to the precise cut-outs, the functionality of your buttons, ports, and camera is not obstructed.
Rugged Cases for the Ultimate Protection
These cases are built like armour for your iPhone 13. They are made to handle any tough situation your device could be in.
UAG Pathfinder Series Hybrid Case: Supreme Protection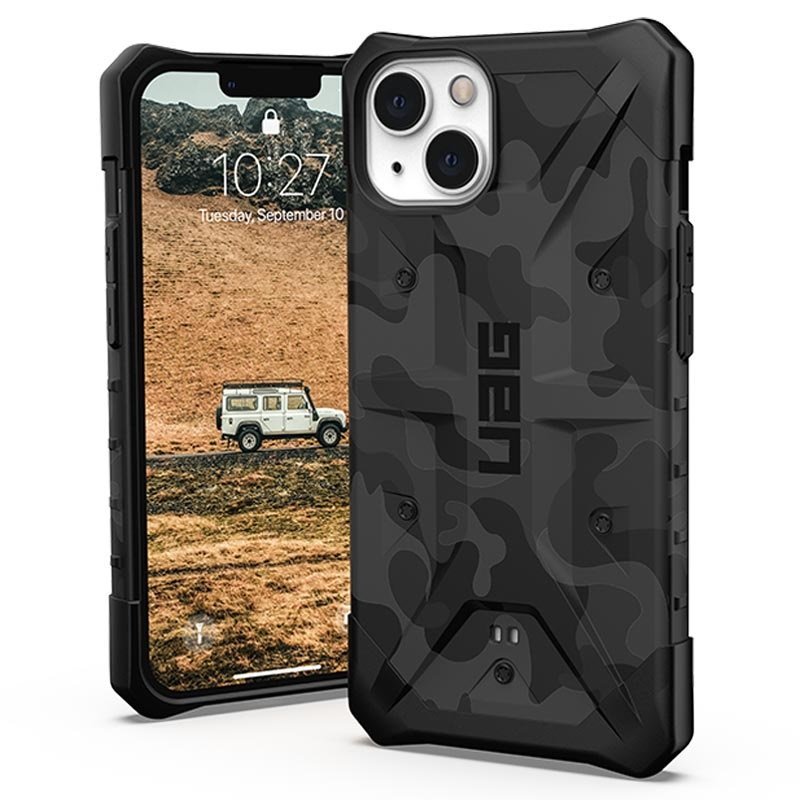 The UAG Pathfinder Series hybrid case comes in a stylish camouflage design that adds to its protective aura. Expect the highest level of protection with this multi-layer case for your iPhone 13.
Built with a durable and strong plastic outer shell, this case also comes with an inner impact resistant, soft core. Despite its toughness, this case is still lightweight and easily slips into your pocket.
Features that make it the perfect match for your iPhone 13:
This UAG case meets military drop-test standards with its MIL-STD 810G 516.6 rating.
It comes with raised lips around the display and features rubberised non-slip pads for added grip.
The case comes with precise cut-outs and oversized buttons to ensure access to all its external functions.
You do not have to take off the cover to use it with your wireless chargers.
Extreme IP68 Magnetic Waterproof Case: Lets You Take a Dive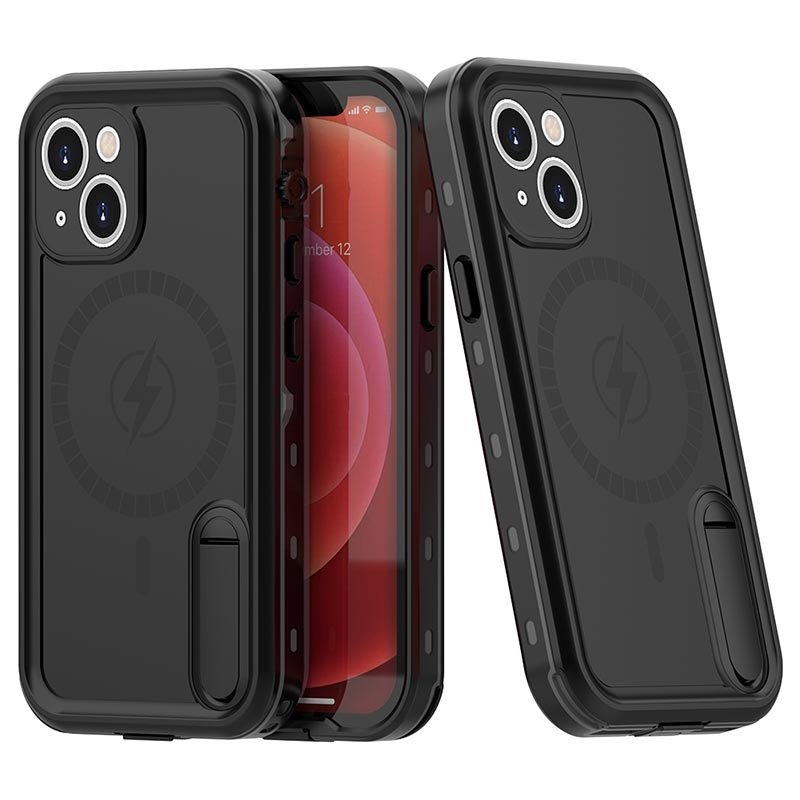 If you want to make a splash on your next adventure, then the Extreme IP68 magnetic waterproof case is the choice you must make for your iPhone 13. This clever case comes with an IP68 waterproof rating that protects your phone on your wet and wild adventures.
This is one of the best MagSafe cases with full-body protection. Thanks to its integrated screen protector, you do not have to make additional purchases. It also comes with an integrated kickstand for a hands-free viewing experience.
Features that make it the perfect match for your iPhone 13:
The IP68 waterproof rating ensures your iPhone 13 is protected from water, snow, sand, and dirt.
With its integrated screen protector, your screen will always be smudge- and scratch-free.
It comes with six strong magnets that make this case perfect for the MagSafe ecosystem.
Despite completely sealing your phone, the ports, buttons, and camera are fully functional and accessible.
One Stop for Your iPhone 13
We hope our selections have helped you find the perfect companion for your Apple flagship iPhone 13. It will help you greatly to learn about how to clean your iPhone 13 covers to get the most out of them. Also, don't forget to get an iPhone 13 screen protector for that dazzling, new screen as well.Are you looking to upgrade your listening experience on your iPhone with AirPods? Or perhaps you need an iPhone 13 Pro Max case as a gift? MyTrendyPhone is your one-stop shop for all your iPhone accessories and other gadgets. So, get in touch with us and we will match you up with the right products.