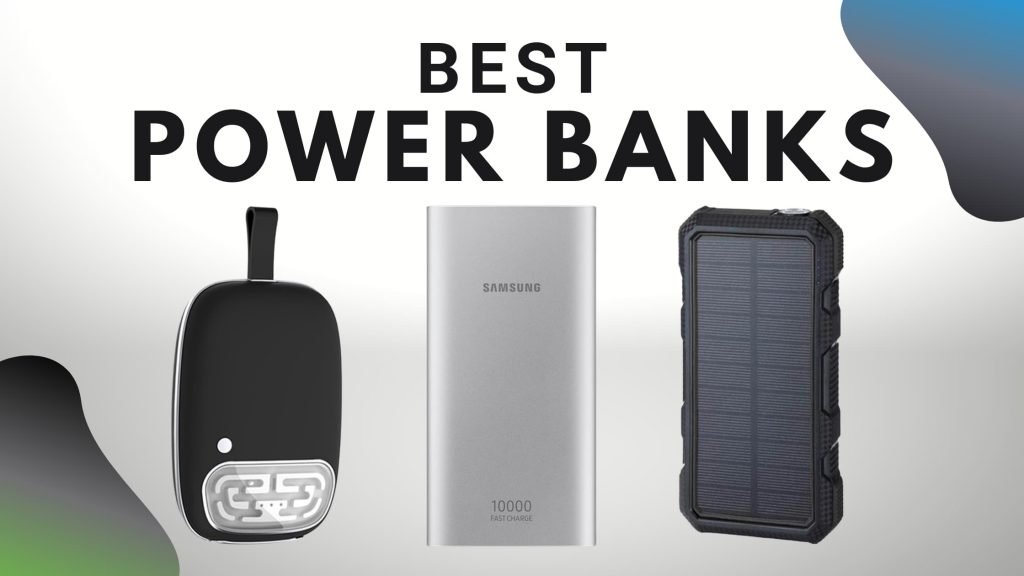 There is no time to stop and wait for your devices to charge up in today's world. Smartphones and tablets are everyday essentials. They can have a massive impact on your work or school life if its battery runs out. Ease your battery power worries with our top picks for the best power banks out there.
If you are an environmental lover and love going camping, a solar-powered power bank that will survive through just about any weather is your best friend. But if you traverse the concrete jungles of the city and don't want added bulk, a mini fast charging power bank will match your pace.
Like something stylish? Samsung's silver finish power bank brings the elegance of metal to your gadget collection. How about a mirror finish power bank that screams glamour?
Don't get disappointed with a dead camera battery on your family trips with 20,000 mAh battery capacity power banks that keep the fuel going. Add a little bit of magic to power banks, and you can have a portable powerhouse that also keeps your hands warm.
Level up your portable power banks with our favourite picks for 2021!
Small Sized Powerhouses to Pop into Your Bag
Forget about bulky power banks with these small and compact portable chargers. Do not let their size fool you. These little powerhouses will keep all your everyday digital devices powered up and always ready.
Aukey Premium Power Bank for Big Impact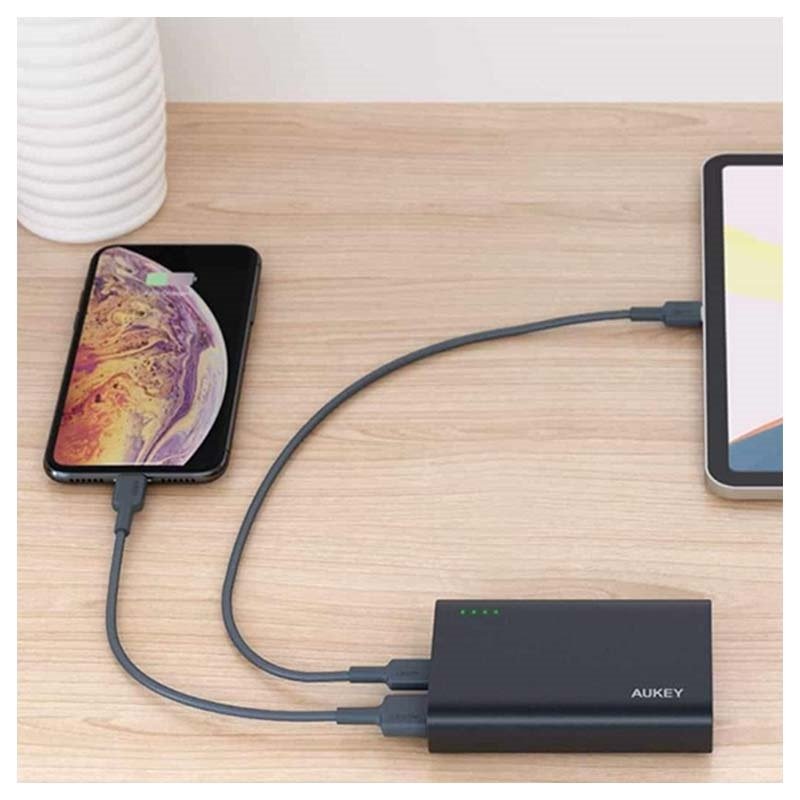 Weighing in at just 232 grams, the Aukey PB-XD12 USB-C Premium Power Bank comes with a battery capacity of 10,000 mAh and delivers a total output of 18W. Get your devices charged quickly and efficiently with its QC 3.0 USB port.
Its fit-into-your-palm size makes it extremely portable and easy to store. The dual USB ports let you charge two devices simultaneously. Pop in the Aukey Power Bank into your college bag and keep your smartphones, tablets, and other small devices juiced up.
Get powered up with these fantastic features:
Adaptive charging technology ensures the right amount of charge delivery to your devices.
Excessive current will never be a problem with its safety protocols that protect your device against overheating and overcharging.
Enjoy four times faster charging, with its QC 3.0 technology.
Mini Fast Power Bank that Delivers the OOMPH!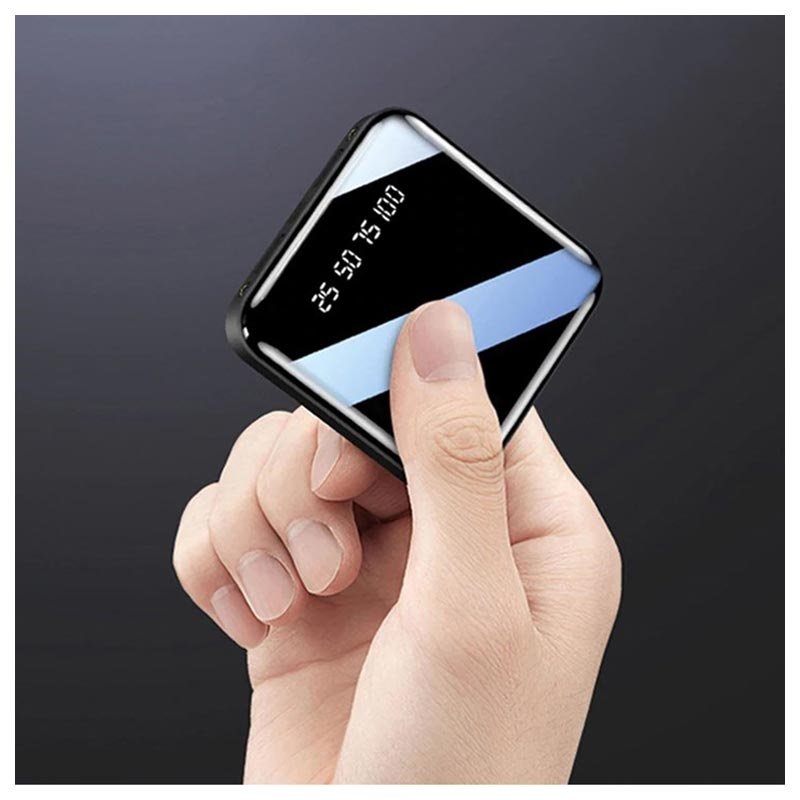 The stylish mirror finished Mini Fast Power Bank is a small and compact powerhouse for when you're on the go. This pocket-sized power bank sports a 10,000 mAh battery capacity to fuel all your devices without being bulky. It weighs just 250 grams!
In addition to its oh-so-gorgeous design, the mini power bank features an LED display to let you know the remaining battery capacity. Use your charging cables to charge up to two devices at once with its dual USB design.
Get powered up with these fantastic features:
Mirror casing and elegant LED display make it an elegant addition to your everyday essentials.
Dual USB ports and 10,000 mAh allows you to fast charge two devices simultaneously and share its energy with a friend in need.
This handy mini power bank also comes with two built-in flashlights that are helpful in any emergency.
Power Banks with Charging Speeds that Will Wow You
Fast-paced life needs fast-paced solutions. These fast-charging power banks are perfect for the busy, busy people that are hustling through life. Don't pause your life to get your devices charged up with these portable chargers.
Samsung EB-P1100 Power Bank, Stylish in Silver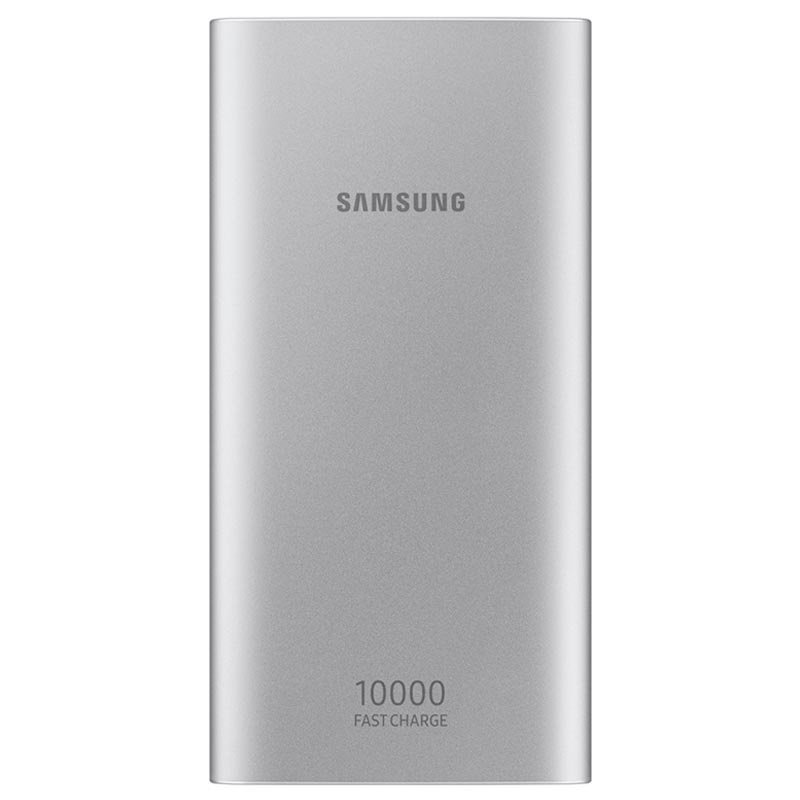 The Samsung Fast Charge Power Bank EB-P1100 is an elegant power bank with its silver metal finish and high-quality craftsmanship. The device comes with Samsung's Adaptive Fast Charging and Quick Charge 2.0 support to keep up with your fast-moving lifestyle.
This gadget comes with a fast-charging USB-C and a standard charging USB port that let you charge two devices simultaneously. The power bank fully charges in just 220 minutes when in fast-charging mode!
Get powered up with these fantastic features:
Stay informed about the status of device-charging and power bank's remaining battery capacity with the LED indicator.
Get your devices charged rapidly, efficiently and safely with the power bank's Over-current and Over-voltage Protection.
Its 10,000mAh battery capacity comes in a slim and stylish casing and supports all USB supported devices.
Xiaomi Mi Power Bank 3 to Charge in a Flash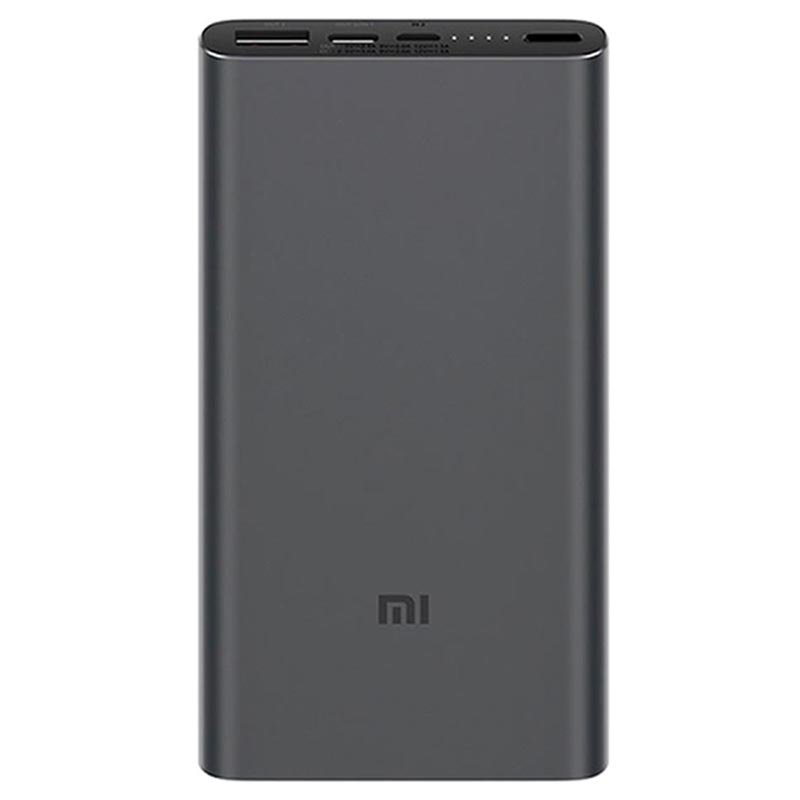 The Xiaomi Mi 18W Fast Charge Power Bank 3's 10,000 mAh battery delivers a total of 18 W of power. And if simultaneous charging of just two devices doesn't seem that great to you, Xiaomi will let you charge three devices at the same time!
Thanks to its aluminium body, this gadget is fit for your entire day's charging needs. The power bank also comes with four LEDs that keep you informed about the remaining battery capacity at all times.
Get powered up with these fantastic features:
The Xiaomi Mi power bank supports fast charging with lightning cables to get your devices quickly powered up.
Do you have small devices that need slow charging? With a push of a little button on your gadget, it will activate slow charging-mode and safely charge devices like smartwatches and wireless headphones.
With its fast bidirectional charging feature, charge both your devices and the power bank faster and have your power bank always ready.
The Best High-Capacity Portable Power Bank
With these generous, mammoth power banks, you can satisfy the power needs of all your mobile phones or tablets wherever you are. Whether you are camping or on a business trip, these power banks will give you full charges.
Setty Portable Power Bank with Ultra-slim Design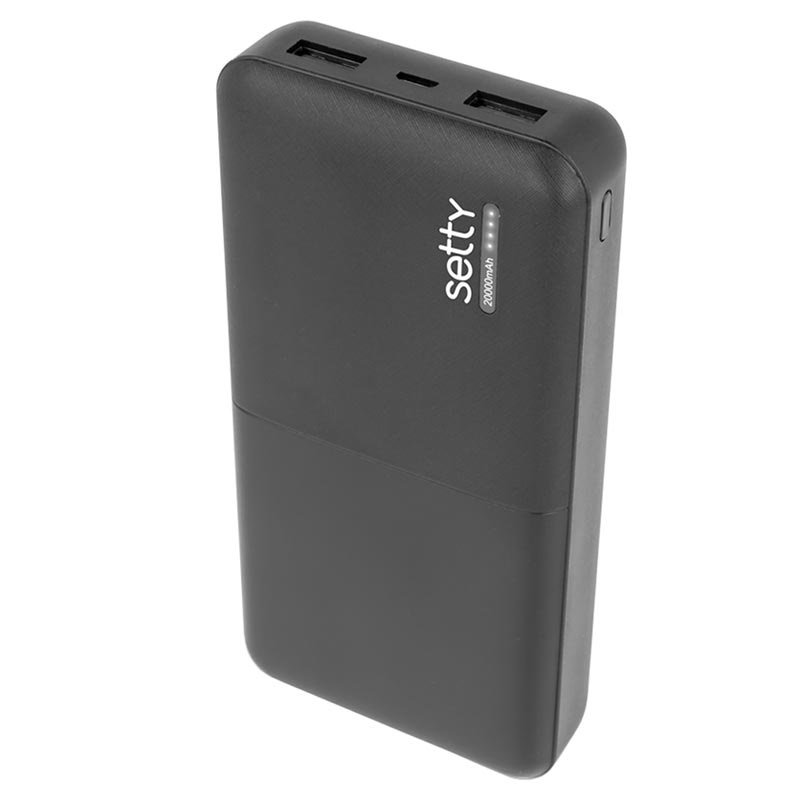 The Setty Portable Power Bank is a traveller's best companion. This 20,000 mAh power bank has an ultra-slim design that makes it easy to carry around. The lightweight gadget is a perfect companion for students and office goers that are constantly shuffling through their tasks.
This power bank comes with two separate USB ports allowing you to charge two devices simultaneously. The device also comes with an LED indicator that keeps you updated on the battery capacity remaining.
Get powered up with these fantastic features:
Its Li-Ion battery gives you 20,000 mAh battery capacity to meet all your charging needs.
Simultaneous USB supported charging for two devices gets your most essential gadgets ready to use without waiting.
Ultra-slim design increases portability, letting you carry it with you no matter where you go.
Universal Power Bank for the Wild Ones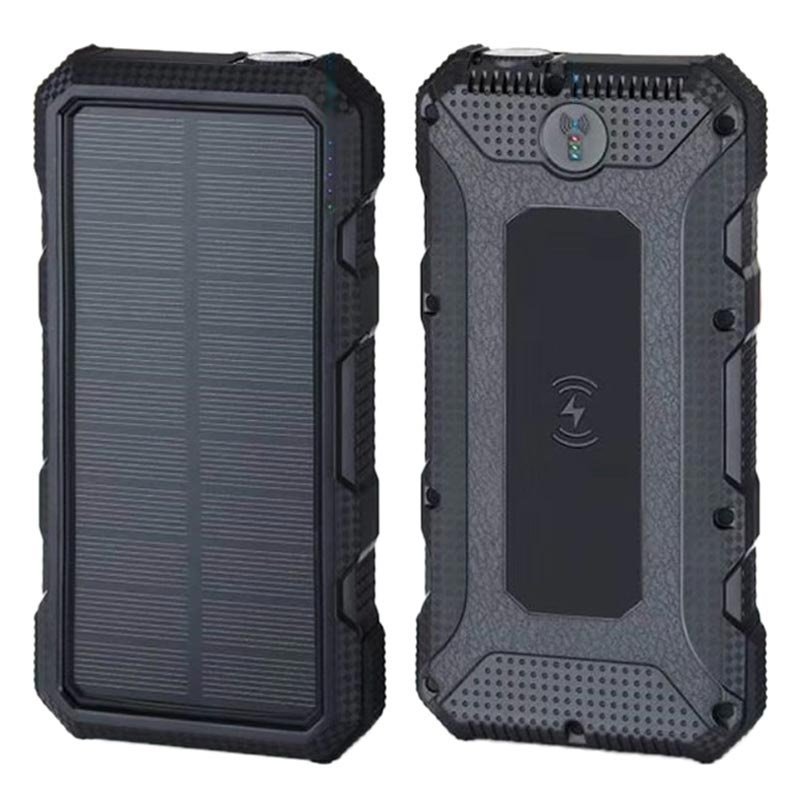 Get yourself some Vitamin D while your power bank harnesses the sun's energy to juice up its battery. This Water-Resistant Fast Solar Power Bank/Qi Wireless Charger is an absolute must for all those off the grid adventures. With its 20,000 mAh battery capacity, you'll always have the power to keep your devices alive even in the jungle.
The power bank comes in a rough and tough rugged casing, ideal for heavy wear and tear. Its in-built solar panels not only make it the best solar power bank but also environmentally friendly. Don't worry about rain and harsh weather destroying this power bank; it is water-resistant!
Get powered up with these fantastic features:
Charge multiple devices with absolute ease with this universal power bank and enjoy fast charging with its PD and QC3.0 feature.
The power bank is a wireless power bank too! Enjoy wireless charges for all your Qi-enabled devices.
Bonus feature alert! The gadget has a built-in LED flashlight with standard, strobe, and SOS modes of functioning, perfect for all camping needs.
Stay Warm and Powered-Up
Cold winters, or just a workspace that feels like the arctic, these power banks will keep you warm and toasty while also charging your devices. Their small and convenient design makes them extremely portable, letting you pop them into your pockets!
Baseus Power Bank with Skin-Friendly Warmer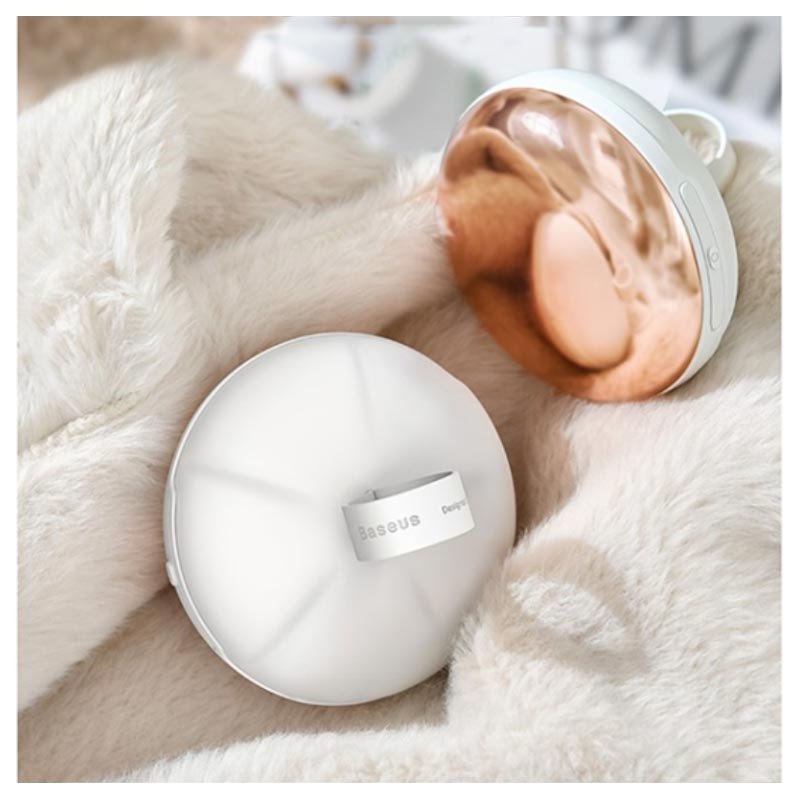 Keep your hands warm with the Baseus Double-Sided Skin Care Hand Warmer and Power Bank. Its beautiful and elegant design makes it look like a work of art rather than a power bank and a hand warmer.
Enjoy up to 5 hours of heating with the Baseus hand warmer. The device also comes with an automatic shut-off, freeing you of any worry about forgetting to turn it off. This small portable power bank offers 4000 mAh of power to charge your USB supported device.
Get powered up with these fantastic features:
Its PC, aluminium and silicone construction materials make it extremely comfortable to use.
Double-sided heating! Electroplated sides and pleasant feeling silica gel sides let you use the warmer as you see fit.
The quick heating feature warms the device up in just 6 seconds so you can enjoy any of the three levels of warmth (45° to 55°C) without waiting too long.
W01 2-in-1 Power Bank Will Never Let You Get Bored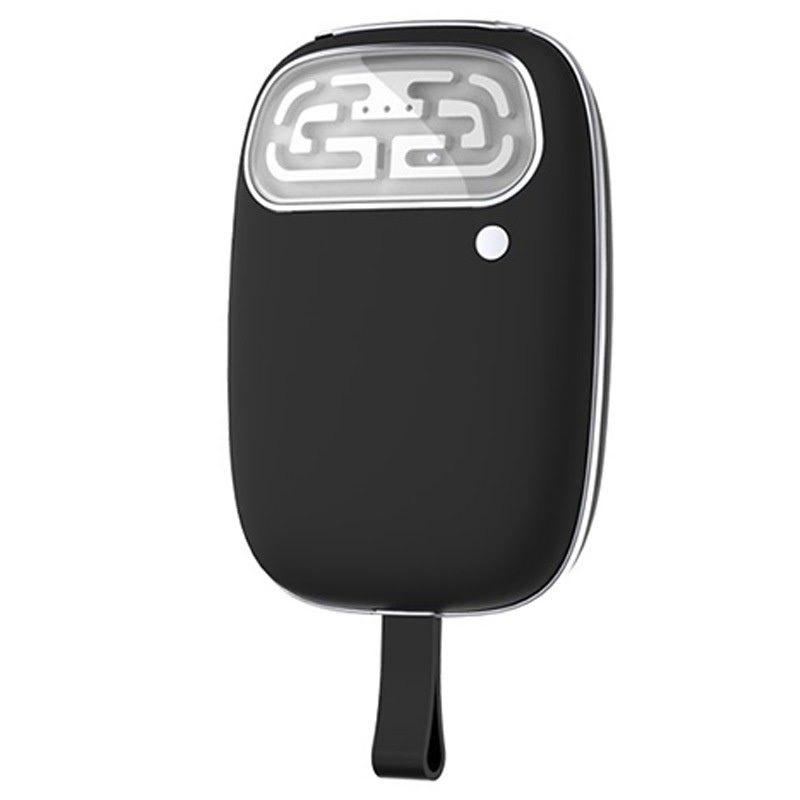 Don't know what to do while waiting for your dead phone to come back to life? The 2-in-1 Maze Ball Puzzle Hand Warmer Power Bank W01 comes with a fun little ball maze that will keep you entertained while charging your device.
The soft silicone layer on the gadget makes holding it a pleasant experience. You can enjoy heating temperatures of 45° to 55°C in just 4 seconds! Enjoy up to 14 hours of warmth with this 10,000mAh power bank. Wintry vacations are incomplete without this gadget.
Get powered up with these fantastic features:
Exceptional battery life allows you to charge large devices such as cameras and laptops, so you never have to worry about wall chargers on the go.
Thanks to its Overheat Protection and Overcharge Protection, both you and your devices are always safe.
Compact size and easy-to-hold design, in addition to the fun ball maze game, makes it ideal even for children to use without any worry.
The All-Rounders Amongst Portable Power Banks
These power banks are worth every penny spent on them. They are perfect if you need an extra 30 minutes on your Nintendo Switch to complete a level or a wire-free charging experience for your Qi-enabled smartphones.
Anker PowerCore II for the Ultra-powerful Charge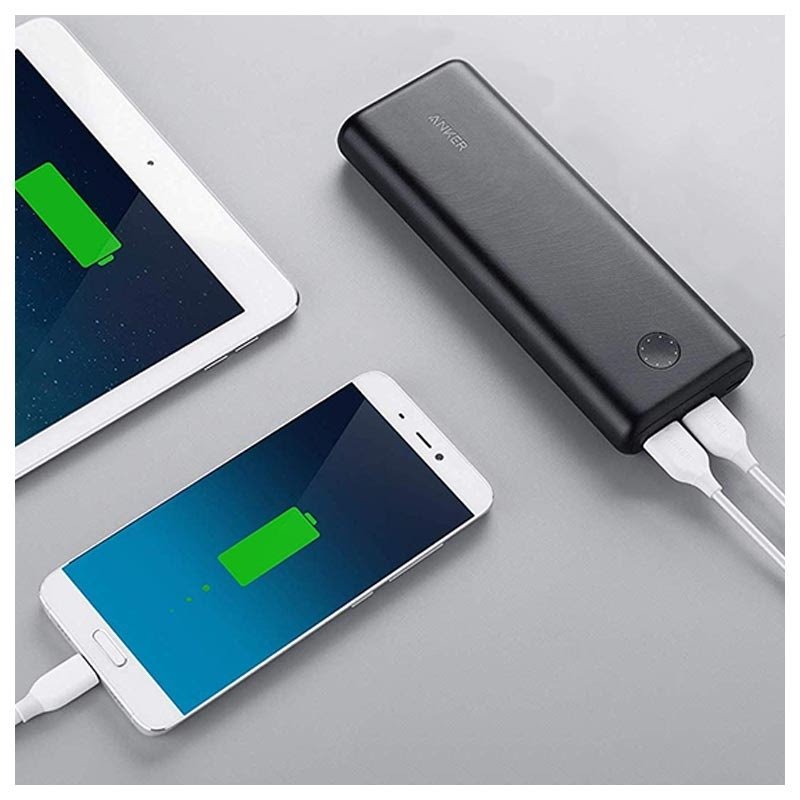 With Anker PowerCore II, you can get outstanding battery capacity and fast charging. The portable charger has a 20,000 mAh battery capacity that will keep your devices up and running for a long while.
This gadget also comes with PowerIQ 2.0 technology, allowing you to get rapid charging on the go. The slim design makes this power bank travel friendly. Make sure you pack it in your backpack on long flights to watch your favourites on your iPad.
Get powered up with these fantastic features:
It has two USB ports with PowerIQ 2.0 technology for all your quick charging needs.
20,000 mAh battery capacity will fuel every USB supported device.
Extremely travel-friendly design.
GP Q10A Wireless Power Bank to Harness the Qi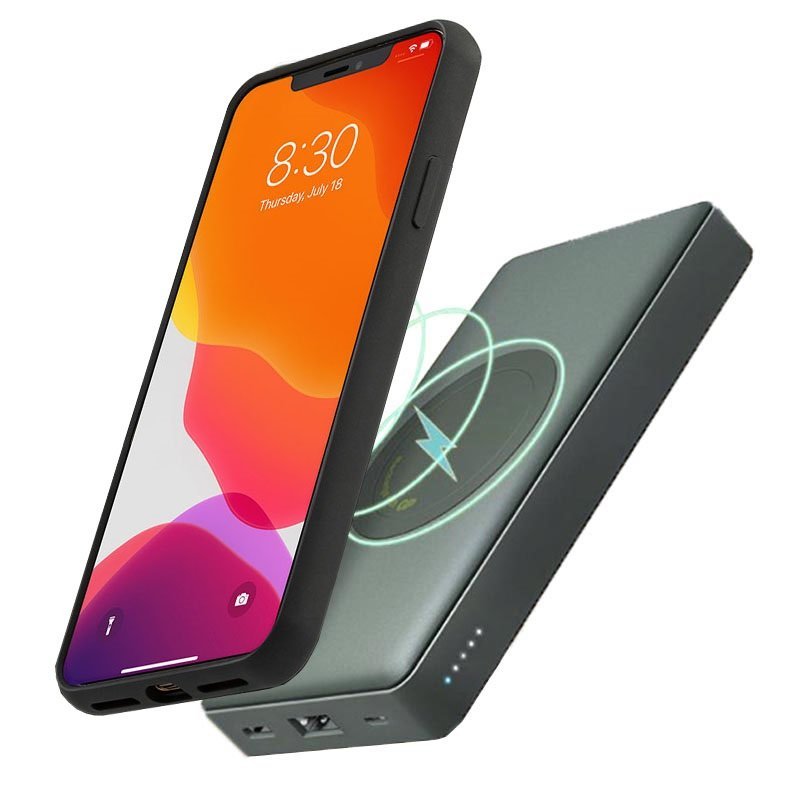 Are you looking for a wireless charger for your Samsung or iPhone that is perfect for travelling? The GP Q10A 10000mAh Wireless Power Bank is the one for you. This 10,000 mAh power bank comes with wireless charging, so you don't have to get yourself tangled up with charging cables.
Keep your phone's protective cover on it and still get the best of wireless charging with this smart gadget. In addition to the integrated 10W wireless charger, the GP Q10A also supports Quick Charge 3.0 and PD 3.0 with 18W output.
Get powered up with these fantastic features:
The power bank weighs only 284 grams, making it easy to carry around without adding unnecessary bulk.
Charge your Qi charging enabled devices hassle-free and quickly.
Tension-free usage, with its built-in safety protection, shuts down charging in case of overheating.
Always on the Move
Life might be busy but make sure to take a break to listen to your favourite music on your headphones and look at the world around you too!
Power banks are just one of the many devices out there that make life more efficient and smoother. Want to find perfect gadgets that meet the demands of your lifestyle? Let's have a chat!