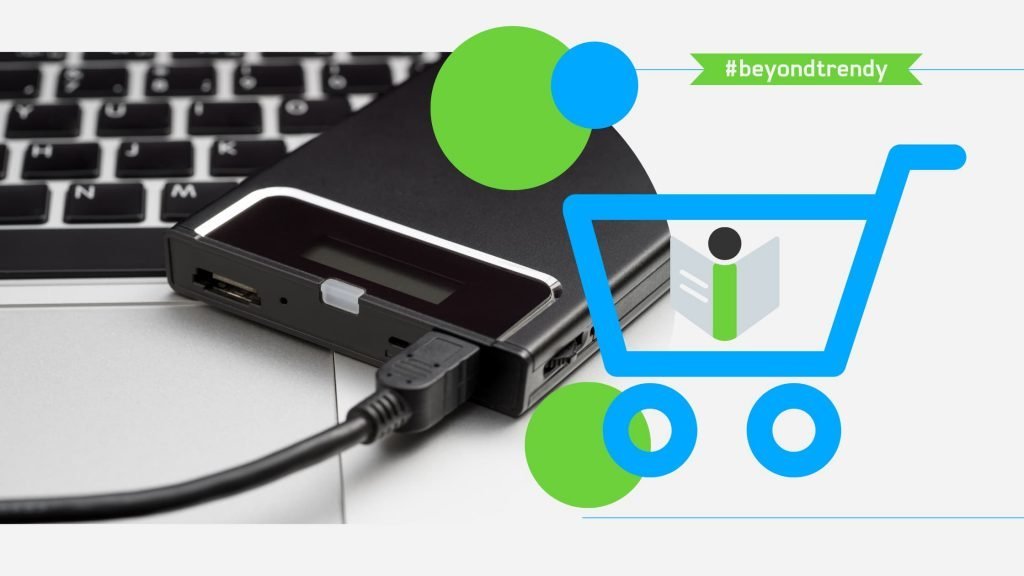 With digital data dominating our world, external hard drives are a necessity. There are many different storage devices apart from an external hard disk. Each gadget comes with its own pros and cons, which you can discover in our blog post about portable storage devices.
In this external hard disk buying guide, we will look at the working of these storage devices and learn about the things to consider before buying external hard disks.
What is an External Drive?
External drives are equipment primarily used to expand the storage capacities of devices like desktops and laptops. Unlike the internal drive you find in your computer and other devices, an external drive is a portable storage solution.
These portable hard drives are connected via USB cables for transferring information and managing the files stored on them. While they have similar functionality to USB pen drives, external drives offer higher storage capacities.
What are the 2 Types of External Hard Drive?
External storage drives are available in two varieties: Hard Disk Drives (HDD) and Solid-State Drives (SSD). Both external drives serve the same purpose; however, they vary in their mechanisms and other specifications.
Hard Disk Drives (HDD)
HDDs are designed with mechanical components based on magnetic recording technology. Data is written and read by the read/write arm onto a spinning platter. An actuator is used to control the actions of the arm.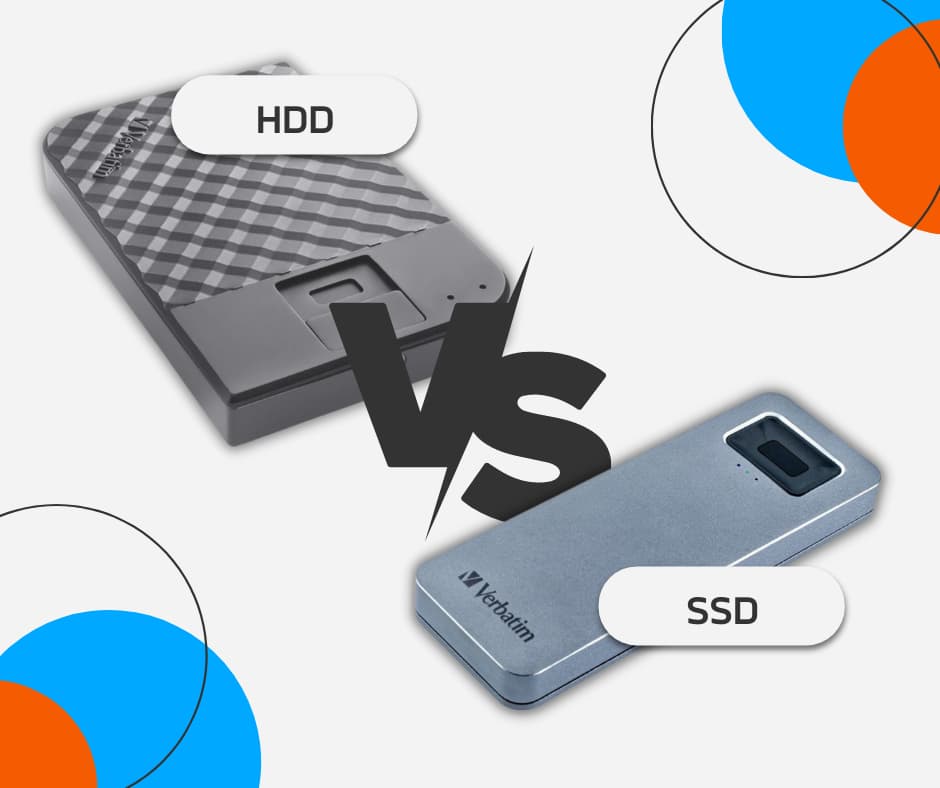 Solid-State Drives (SSD)
SSDs employ tiny gate transistors to create a faster non-volatile memory and have better performance than HDDs. Their read/write process is similar to USB memory sticks.
So, which is better, SSD or HDD? Below is a quick overview of these external storage devices.
| | |
| --- | --- |
| HDD | SSD |
| Multiple terabyte capacities are available. | Multiple terabyte capacities are available. |
| Relatively more reasonably priced than USB pen drives and memory cards. | More expensive than portable HDDs. |
| Requires an external power source and a USB cable to connect with the host device. | Requires a USB cable, which provides the power as well as data transfers. |
| Consists of mechanical parts which are noisy and can overheat. | Offers noiseless operation since it uses gate transistors. |
| Relatively slower transfer speeds than external SSDs. | Fast and responsive performance. |
| Easily damaged by bumps and falls. | Has good durability. |
| Moving parts may wear out over time. | Data recovery may not be possible in case of SSD failure. |
How Long do External Hard Drives Last?
On average, external hard drives can last an average of 3 to 5 years under optimal usage conditions. However, their lifespan is affected by factors like temperature, external damage, as well as how you use them.
The read-write cycle capacity, especially in external SSDs, is another factor that affects the lifespan of these storage devices.
It is always recommended that you revisit the data stored on your external drives occasionally or even consider backing up data onto cloud storage.
How Do I Choose a Good External Hard Drive?
Here are a few features to consider when you are ready to buy an external hard drive.
Storage Capacity
The storage space that you need will depend on what you intend to use your external hard drive for. External hard drives are preferred for their higher capacities in comparison to other portable storage solutions.
We recommend opting for twice the capacity you will need to accommodate for future needs that may arise.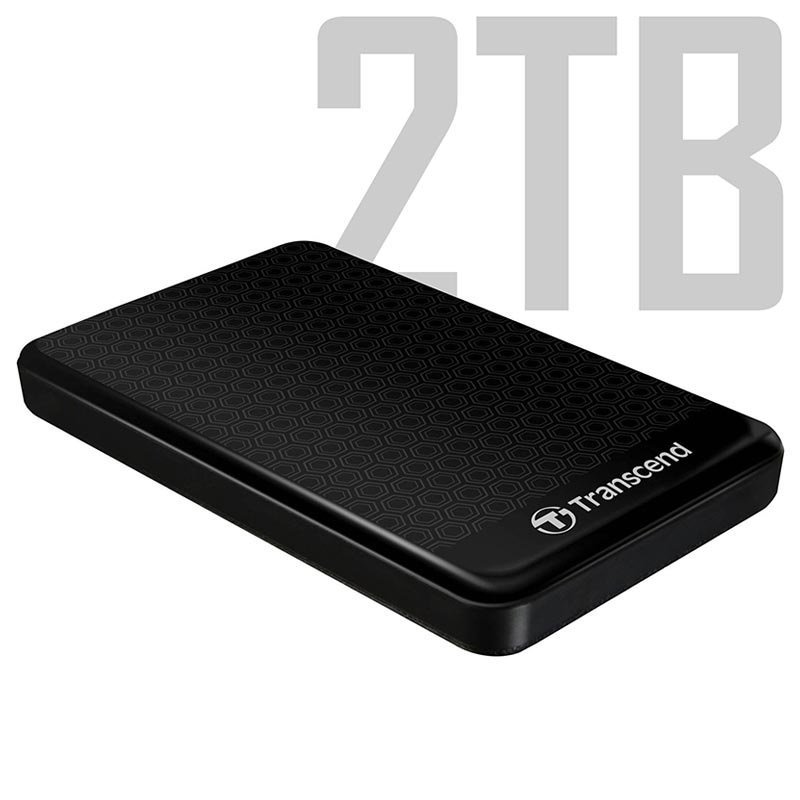 Drive Size
If portability is not a requirement, choosing an external desktop drive like the Seagate Backup Plus Desktop Drive could be a smart choice. These drives tend to be bulkier than portable drives, but offer high storage capacities. SSDs are also a lighter option compared to HDDs as they do not involve mechanical parts.
Despite their small sizes, external drives are still relatively larger than devices like USB flash drives and memory cards, which can offer you the same storage capacities.
Price Range
In comparison to external hard drives, internal hard drives tend to be less expensive. However, when compared to other storage solutions, external drives offer a good amount of storage capacity at their price point.
Prices of these storage devices may also be affected by additional features such as data protection features.
Transfer Speed
External SSDs offer super-fast transfers in comparison to HDDs. Transfer speed is not limited to the underlying technology used.
The interface connecting your drive to the host system is also crucial. Modern external drives make use of a USB interface. The latest and the fastest protocols are USB 3.0, USB 3.1, and USB 3.2. USB 2.0 is an old standard that we do not recommend.
Connector Type
Typically, you will find external hard drives featuring USB type-A connectors. However, recent technological advancements are gearing towards the newer, smaller USB C reversible connectors. Some connectors operate the Thunderbolt 3 or Thunderbolt 4 protocols while using the USB C ports for faster speeds.
Apart from USB cables, older devices may use alternative connectors like eSATA and Firewire, which we recommend avoiding due to their reduced relevancy.
Durability
The sturdiness of your storage device is important for keeping your data safe. The mechanical elements of HDDs make them more prone to damage from falls and bumps. On top of this, SSDs are more shock resistant.
Most external drives these days come in a rugged protective casing, which minimises the fall damage to an extent. Investing in protective cases is a good idea when opting for external hard drives.
Data Security
If you intend to use external drives for confidential data, you might want to consider its security features. Software encryption solutions are available for many external drives to protect the data stored.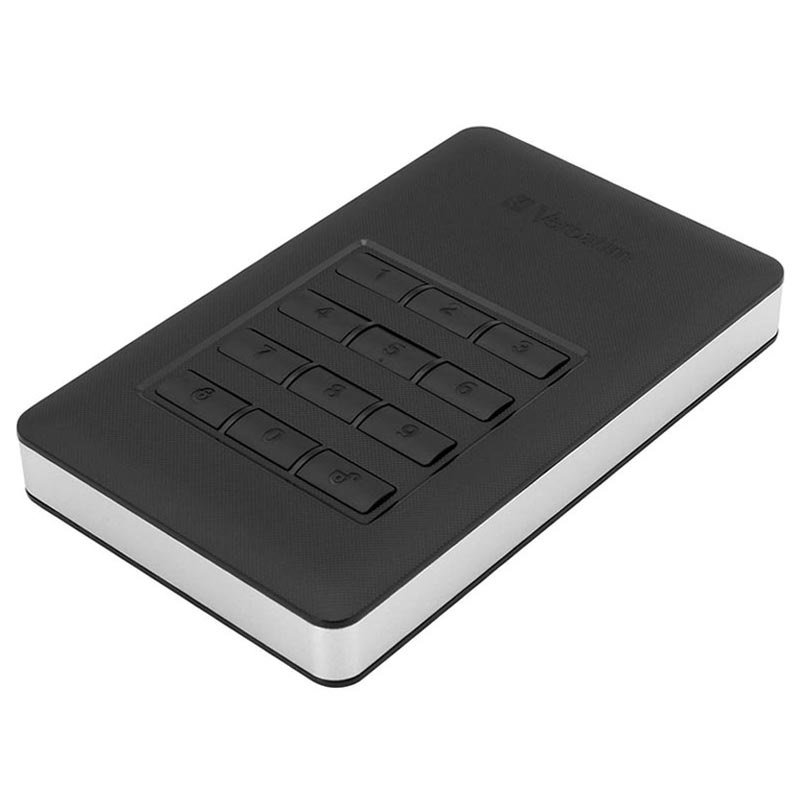 Compatibility
Most external hard drives are compatible with the common operating systems with compatible connectors. However, you may need to format these drives to the corresponding file systems of non-compatible devices.
You can also look for hardware encryption or physical security system features like PIN-code or finger scan features for added security of your stored data. Western Digital and Seagate external hard drives are some of the options for secure storage devices.
Frequently Asked Questions About External Hard Disk Drives
In this section, we answer some of the commonly asked questions about external drives.
How do I set up an external hard drive?
The set-up for external drives is quite straightforward. Make sure you have the right connectors to connect the storage device to your system. Plug the connector into the corresponding ports of the drive and the system. If your external drive requires an external power source, make sure you have it connected as well.
Some external hard drives may have a power button which you need to turn on to begin data transfer. In most cases, simply connecting the drive causes it to be automatically detected by your system. Alternatively, you can access the drive from File Explorer or similar on your system.
How do I store photos and videos on my external drive?
You can simply drag-and-drop, or copy and paste, the files into the external drive File Explorer window. Any kind of digital data can be stored on an external drive. Make sure that the drive has enough capacity to support all the data you intend to store on it.
What is an external hard drive used for?
Primarily, external drives are used for digital data storage. However, their use is not limited to only archiving. Following are some other ways you can use external drives:
Backups
Backing up your computer systems or other information systems may serve you well in the long run. Using external drives as a backup for your system can help you restore it to a stable version after dealing with a catastrophic event like a virus attack or physical damage to internal storage.
Some external hard drives offer the option of automatic backup as well, but need to be constantly connected to your system to do so.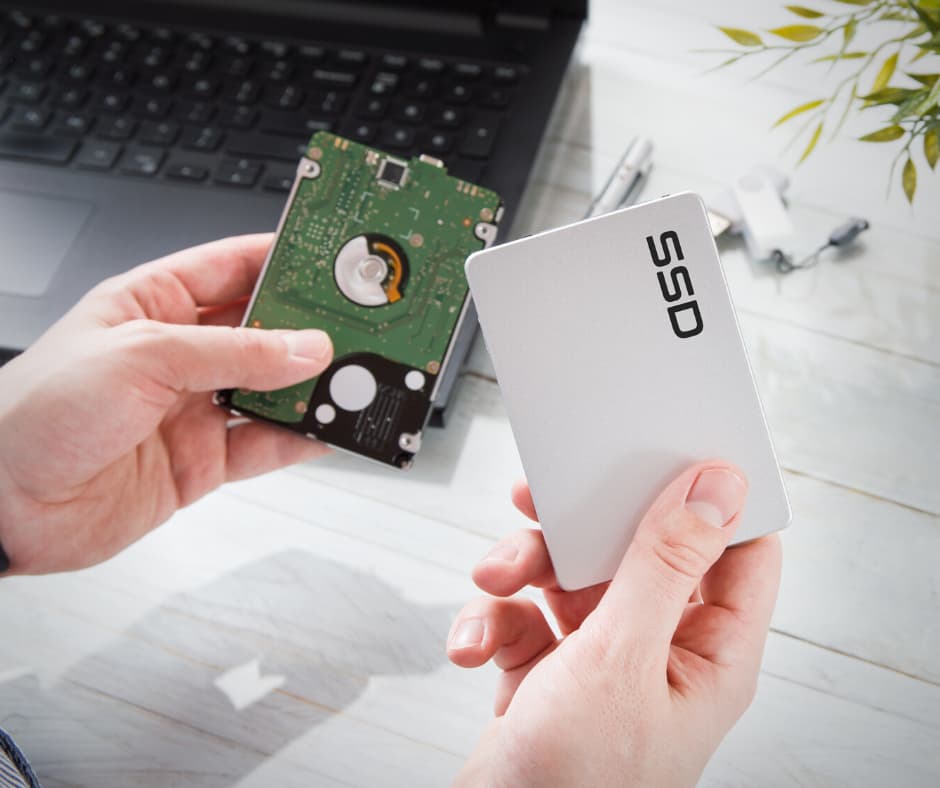 Digital Editing
Tasks like video editing, photo editing, digital illustration, 3D rendering, audio editing, and advanced simulations require a lot of storage capacity. Having an external hard drive helps assist your systems while you edit.
In these intensive tasks, RAID (redundant array of independent drives), that is connecting two or more hard drives to act as a single hard drive, is beneficial. Since these tasks can result in crashing your hard drive, RAID processing helps prevent loss of data.
Editing also benefits from using external hard drives as scratch disks, as these reduce the load on your internal hard drives and prevent any unfortunate event from affecting them.
Data Sharing
When you need to share a large amount of data, external hard drives are a perfect choice. They may also offer a quicker solution than cloud storage that will have long upload and download times for large-sized data.
Additionally, external drives also come with security features that help share sensitive data without any worry. We recommend opting for drives that have Thunderbolt or USB-C fast connectors to benefit from high-speed transfers.
Gaming
Modern games require large storage spaces for the perfect experience. We recommend using Thunderbolt or USB-C fast connector external drives to enjoy amazing performance and gameplay.
The PS4 external hard drive, PS5 external hard drive and Xbox external hard drive, amongst others, are available for gaming consoles with enough storage capacities for a lag-free gaming experience.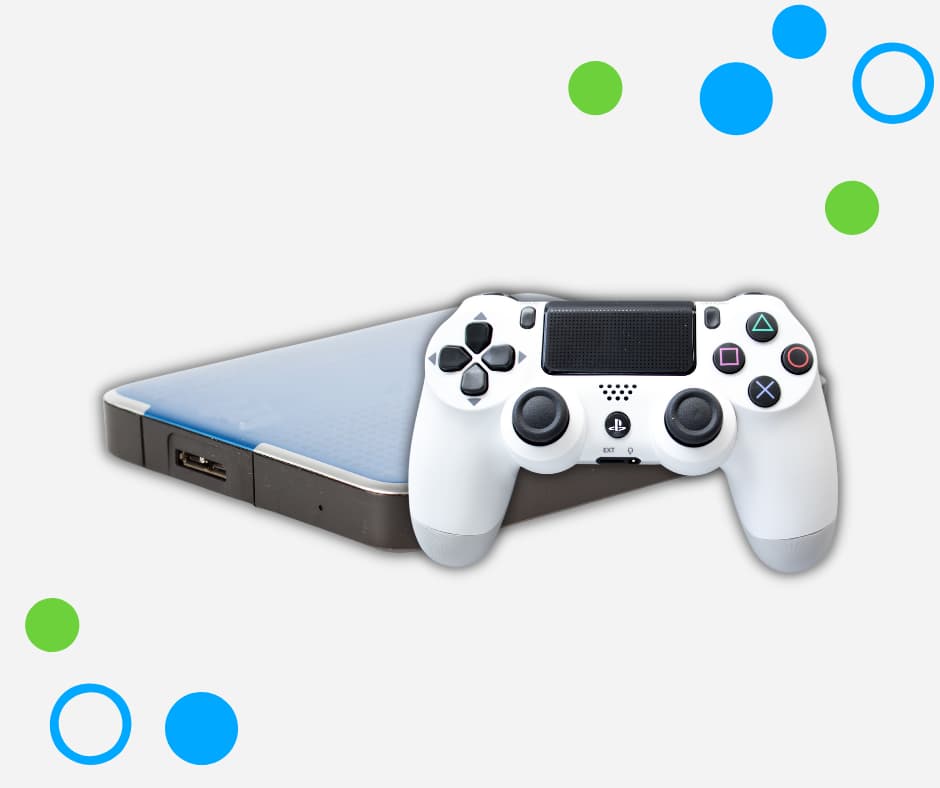 Are SSD external hard drives better than HDDs?
If you are looking for a durable and high-performance external drive, then an SSD is a great choice. These storage devices rely on electrical mechanisms for data storage and have better shock resistance than HDDs. Additionally, they are noiseless, energy-efficient and tend to be more lightweight than HDDs.
However, SSDs are usually more expensive than HDDs of the same capacity. They also have a limited lifespan as the cells decay after a certain number of read-write cycles. Additionally, SSDs have a lower potential for data recovery should the device fail.
Can external hard drives be used with smartphones?
External hard drives can be used with devices supporting USB On-The-Go (USB OTG). This specification allows devices to act as hosts or peripherals as needed. You simply need to connect the OTG-compatible devices and use File Explorer for data transfers.
However, small devices usually do not have the power capacity to power external hard drives of large capacities. In this situation, we recommend that you add a source of additional power. To achieve this, use an adapter that allows you to connect a power bank. Remember to connect the power bank and your host device before connecting your external drive.
Do external drives have Wi-Fi connectivity?
Technical advancements are allowing more features to be included in external hard drives. You can find external hard drives that support Wi-Fi as well as Bluetooth communication, or that feature an Ethernet port.
Some examples include the WD My Passport Wireless Pro and Toshiba's external hard drive, the Canvio® Aerocast™ Portable Hard Drive.
What size external hard drive do I need?
On average, the following capacities of external hard drives should be sufficient for the different types of digital data:
| | |
| --- | --- |
| Type | Size |
| Documents | 128GB to 256GB |
| Photographs/images | 100GB to 1TB |
| Photographs/images (professional/editing) | Over 1TB |
| Videos (SD) | 1TB to 2TB |
| Videos (HD) | 2TB to over 4TB |
| Videos (production/editing) | Over 4TB |
| Music (compressed) | 256GB |
| Music (lossless) | 500GB |
| Music (production) | 1TB to 4TB |
Search for the Best External Hard Drive
We hope with this informative post you were able to learn more about external hard drives and how to make the right choice. If your storage needs are not so large as to require an external hard drive, or you need something more compact, consider checking out our USB stick buying guide.
Find more storage solutions for your work or personal needs from our wide range of storage products and devices. You can also get in touch with us to learn more about what type of storage media works best for your requirements!