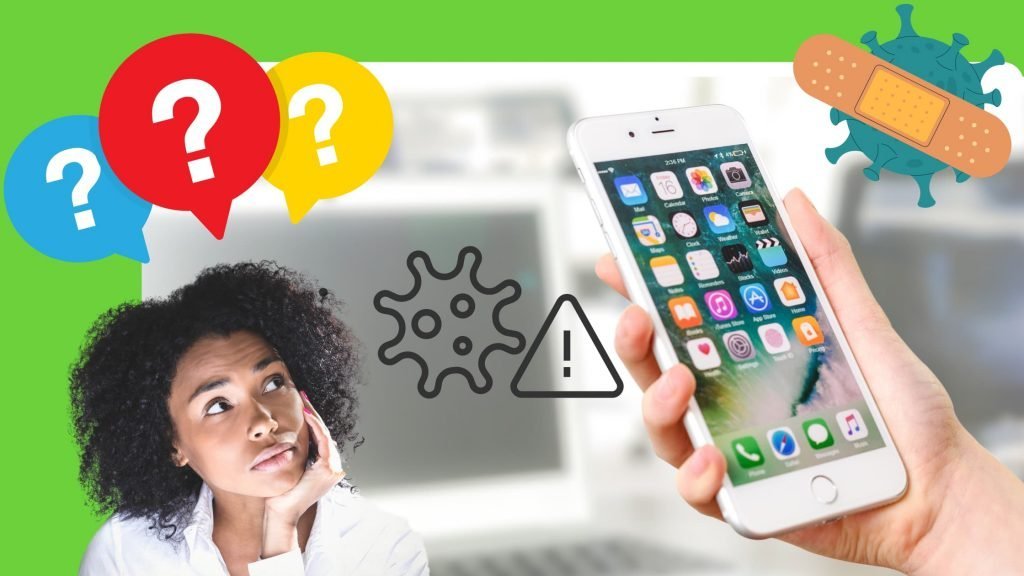 There are two giants in the smartphone industry, Apple iPhones and Samsung smartphones. Over the years Apple has proven itself as a reliable manufacturer, offering great features that have kept its loyal fanbase hooked.
This year too, the rumours about iPhone 14 have stirred up the enthusiasts. Everyone is curious and excited about what new features they will be seeing! The iPhone has a reliable system in place which includes support for Siri voice assistant and cloud storage amongst others.
And while Apple technologies keep advancing and bringing the best to its users, viruses are still an issue. At present, no ransomwares are crawling about, but viruses and malware infections do happen. Just like how choosing the right iPhone accessories are essential to physically protect your iPhone, choosing the right software and following good user practices are important to keep your iPhone protected.
In this post, we will share with you some practices that will keep your phone protected from viruses and malware as well as what you can do to get rid of these unwanted guests.
Can iPhones Be Infected by Viruses?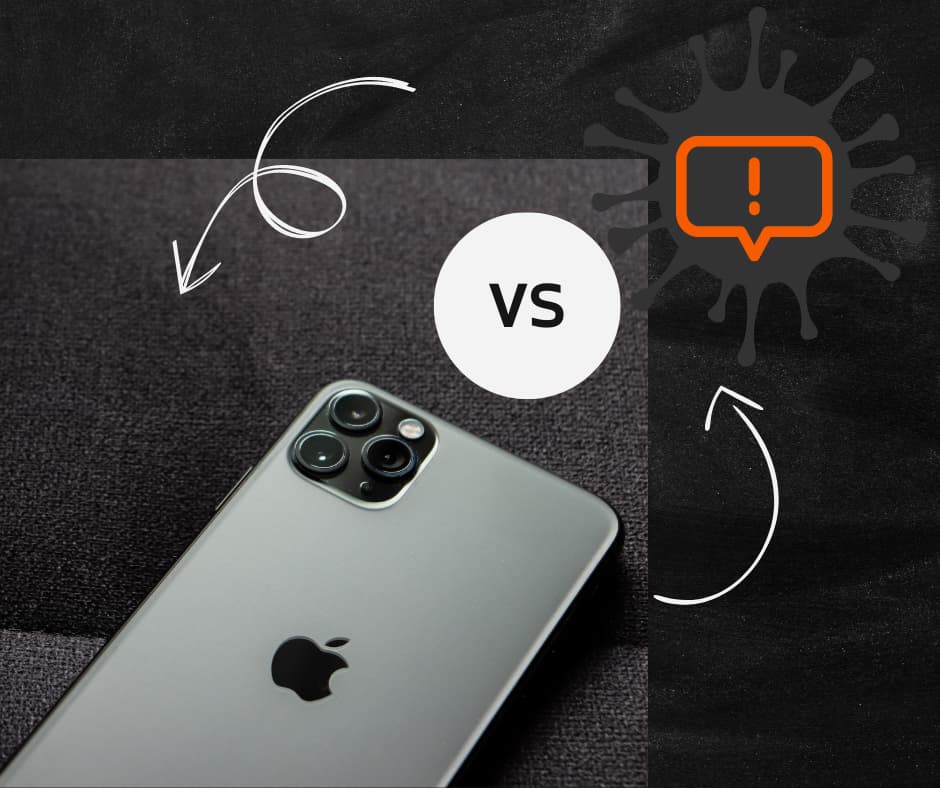 Apple as a brand undergoes a good amount of scrutiny regarding its privacy policies and security features. There is no doubt that the brand puts a great amount of effort into making sure your privacy is protected.
But, while it may seem a rare occurrence, iPhones can get affected by viruses and malware.
In general, your iPhone 12 or iPhone 13 are less prone to being attacked by viruses. This is because the Apple operating system creates a separate virtual space for each app. Since viruses need to interact with apps, this restricted environment makes it difficult to do so.
Additionally, Apple only allows downloads from the Apple Store, which has a strict vetting process. This means that every app on the store undergoes a thorough check to ensure malicious apps or processes are not downloaded by you.
Why Do iPhones Get Infected by Viruses?
As we mentioned, it is rare for iPhones to get infected by malware and viruses because of the protocols implemented by Apple. However, it is not impossible.
In most cases, viruses and malware find their way into iPhones that have been jailbroken.
What does jailbreaking your iPhone mean?
As you know, you cannot delete pre-installed apps and can only download new ones from the App Store. People that wish to have more control over their phone's operating system use jailbreaking, which is a less legitimate approach that is similar to unlocking the phone.
Jailbreaking allows the user to bypass security restrictions and other restrictions by allowing root privileges. Essentially, a jailbroken phone allows you to delete pre-installed apps, download from other sources, and anything software-related that would otherwise be restricted.
However, jailbreaking means that the security of your iPhone is weakened, which in turn exposes your iPhone to the threat of malware and viruses.
How Do I Know If My iPhone Has a Virus?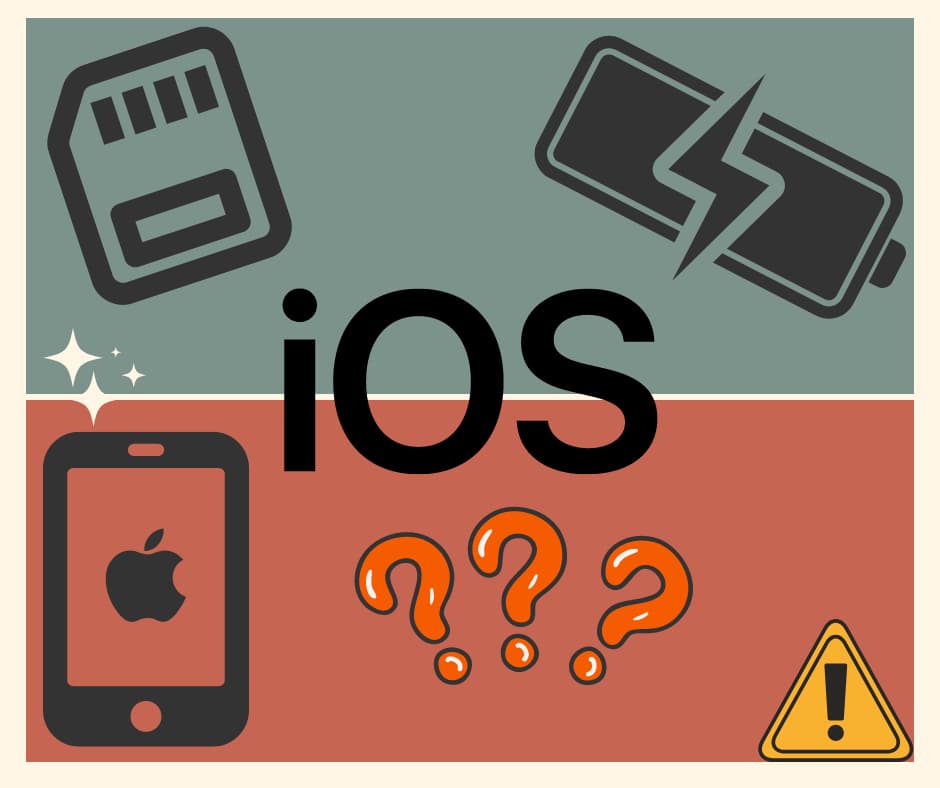 Sometimes battery issues, a full memory, or not updating your apps or iOS can make your iPhone behave strangely.
You can find answers to battery issues with our post, "How to Increase Your Phone And iPhone Battery Life the Ultimate Guide". We also recommend getting a full diagnostic of your iPhone with our iPhone Repair services before making any conclusions.
Here is a checklist that could help you work out whether there is a possibility of a virus infection
Is your iPhone jailbroken?

Do your apps crash repeatedly?

Does your iPhone overheat?

Do you have apps that you do not recognise?

Do you see pop-ups even when the browser is closed?

Does your phone bill not match your usage?

Have you noticed an unexplainable increase in data usage?

Are you noticing app purchases that you haven't made?

If you have ticked a couple of the above boxes and cannot find a logical explanation, your iPhone may have been infected with a virus or malware.
How Do You Remove a Virus from Your iPhone?
"How to remove virus from iPhone calendar", "how to remove virus from iPhone 6s", and "how to remove WhatsApp virus from iPhone" are probably some of the search queries that led you to this post.
Here are some ways to remove a virus from iPhones.
Restart Your iPhone
While this may not resolve a virus issue, it can help resolve any app issues that are causing your iPhone to act suspiciously.
Power off your iPhone by holding down the Side button and the Volume Up button until you see the 'slide to power off' slider. TouchID-enabled iPhones just require you to hold down the power button. Use the slider to turn off your iPhone.
Give it a few moments before you restart. To restart your device, follow the same steps as above until you see the Apple logo appear, after which you will see the passcode entry screen.
Clear Web History and Data
Webpage redirect issues can be resolved by following the steps below:
Go to Settings

Select Safari and then Clear History and Website Data

Tap Clear History and Data to confirm

Uninstall Suspicious Apps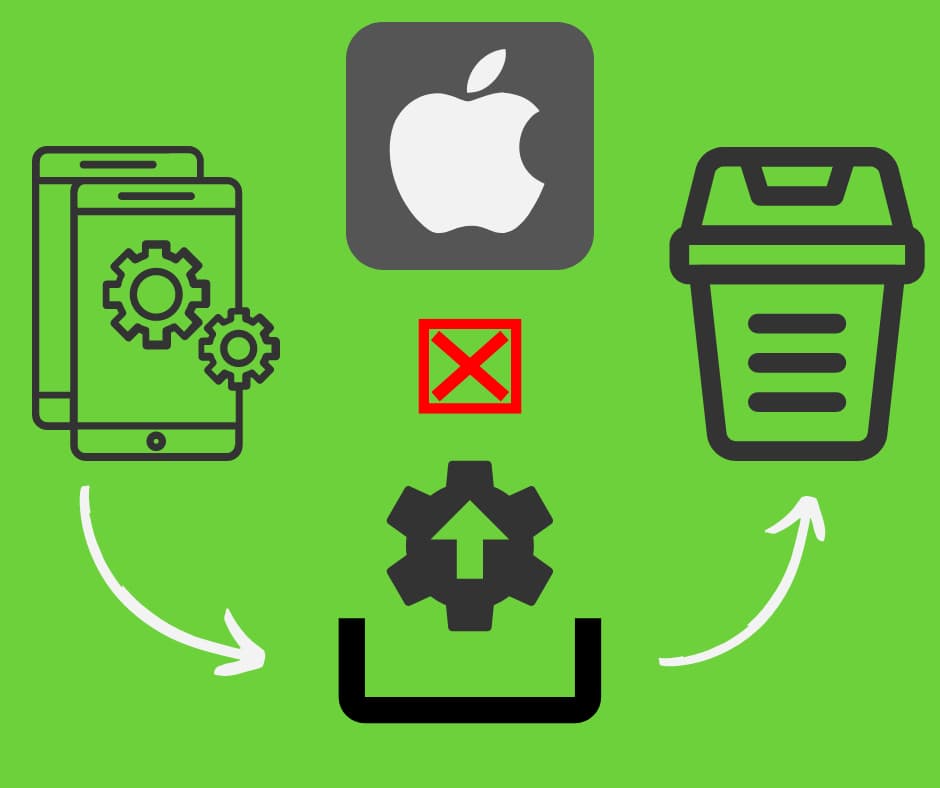 If you find apps on your iPhone that you do not recognise, immediately delete them. It is also advisable to delete apps that you might have installed around the time you started noticing issues with your iPhone.
Restore from Backup
If you back up your device regularly, then you can try to restore your iPhone to a previous state. iPhones can be backed up on iTunes, iCloud and even on your PC.
To restore from iTunes (connect to a Mac or PC running iTunes) or iCloud (connect to Wi-Fi), follow the steps below:
Open the Settings app

Go to General then Reset and then tap on Erase All Content and Settings. Remember that this is an irreversible step which will delete everything on your iPhone.

Power up your iPhone after the deletion

Follow the steps after the Hello screen

You will reach the Apps & Data page

Select either Restore from iCloud Backup or Restore from iTunes Backup

For iCloud backup, you will be asked to log in with your Apple ID after you select Restore from iCloud Backup. You will then see a list of backups from which you can select the appropriate backup by tapping it to initiate the restoration process.
If you select the iTunes option, you will see the Welcome to Your New iPhone page. Agree to sync your iPhone with iTunes, following which you will reach the device summary page. You will have to turn off the Find My iPhone setting on your iPhone before you can proceed with the restoration process.
Select Restore Backup on the device summary page and you will see a list of available restoration points. Select the appropriate one and click on Restore.
You may have to repeat the restoration process if the issues persist.
Revert to Factory Settings
As a last resort, you may have to restore your iPhone to its factory settings. Since this process is irreversible and will delete everything on your iPhone, having a backup of important data is a necessary step.
To reset your iPhone, follow the steps below:
Go to Settings

Then select General, followed by Reset

Tap on Erase All Content and Settings, and confirm the process by entering your passcode

Once the process is complete, set up your iPhone as a new device

How Do You Keep Your iPhone Safe from Viruses and Malware?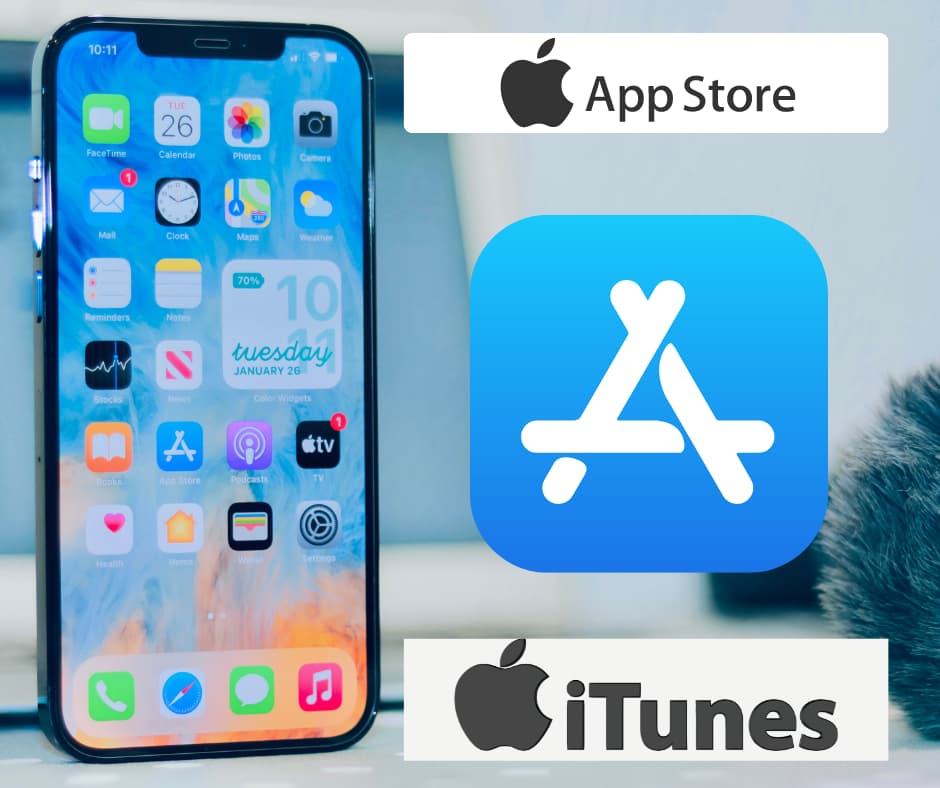 Here are a few best practices to follow to keep your Apple devices safe from virus infections and malware.
Install an iOS Security App
As we have discussed, iOS creates a separate space for each app to work. So, while anti-virus software would work perfectly on your Android smartphones, it might not be of much help on your iPhone. However, some apps can help with improving the security of your iPhone.
Don't Jailbreak
This is probably an obvious piece of advice. While jailbreaking gives you more freedom in using the operating system as you want, it also lowers your iPhone's security. Additionally, jailbroken iPhones might not be covered by any type of guarantee or warranty.
Download from the App Store
As we have mentioned previously in this post, Apple vets all the apps that make it into their App Store. Hence, it is always in your best interest to only download from Apple's online app stores.
Keep Your iOS Up-To-Date
Every time an update is released for your iOS, it comes with fixes and tweaks that improve not just the performance of your device but also security. Since manually updating the device might not always be possible, it is a good idea to automate the process.
Follow the steps below to set up automatic updates for iOS:
Open the Settings app

In the menu, tap General

Tap on Software Update

If Automatic Update is not switched on, turn it on by toggling all settings so they turn green

Turn On App Updates
Just as with operating systems, apps also undergo updates to fix any possible loopholes and other issues they might have. Setting automatic updates for apps as well will offer you better protection against unwanted malware and viruses.
Follow the steps below for automatic app updates:
Open the Settings app

In the menu, tap App Store

Toggle App Updates to green under Automatic Downloads

Best Practices to Protect Your iPhone from Hackers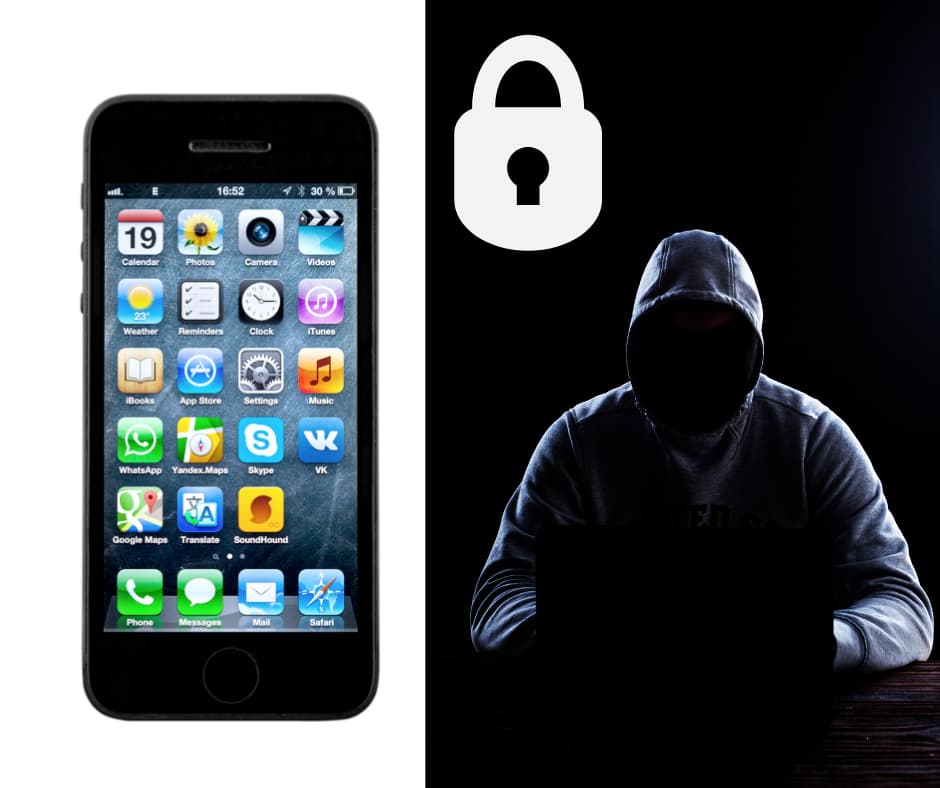 Under normal conditions, your iOS does a great job at protecting your iPhone from virus and malware threats. But threats might not always come from within the device.
Here are a few tips for minimising the possibility of your iPhone being hacked.
Turn On Find My iPhone
The Find My iPhone feature not only helps you locate your device but also allows you to remotely wipe your personal data. So, even if your iPhone ends up lost or stolen, you can still ensure that no one accesses your data.
Turn on Find My iPhone with the following steps:
Open Settings and tap your name/picture

Tap iCloud

Tap Find My iPhone in the menu

Toggle Find My iPhone to green

An additional feature on iOS 13 and later is that you can find your iPhone even if it is offline. This is done using Bluetooth pings. Turning on this feature on supported iPhone devices can really help as well.
To remotely clear your data, follow the steps below:
Log into the Find My app or iCloud website

Tap on Devices

Select your iPhone

Tap Erase iPhone and confirm

Your data will be deleted automatically when your iPhone is connected to the internet.
Use Strong Passwords
Having a strong password will significantly reduce anyone being able to guess your password to hack into your iPhone. While Face ID or your fingerprint security features do limit access, a passcode is still a way into your phone.
We recommend you use passcodes or passwords that are at least 6 to 8 numerals/characters long. Choosing a passphrase is an even better option. Choose an alphanumeric password with a mix of numbers, letters, case sensitivities, and symbols. Avoid using easy-to-guess passwords like birthdays, email ids and similar.
Do Not Open Unknown Links
Facebook messenger, WhatsApp, and other similar communication apps are places where harmful links that lead you to viruses and malware are becoming a growing issue. Do not open links or download media from unknown senders.
Even if you receive a message from a trusted family or friend, you cannot always trust a forwarded message that could have come from an unknown source.
Manage App Permissions
Many apps require access to your contacts, camera, and other aspects that may not even be relevant to it. You have the option to manage and control what access apps can have.
iOS versions 13 and above have incorporated many safeguards against apps gathering information without your knowledge. So, this is another good reason to keep your iOS updated.
Be Mindful About Sharing Your Location
With social media being as popular as ever, sharing your location tags on pictures is very common. It is not just location tags however. Sharing personal details without thinking twice can make you a victim of social hacking and other issues.
Use Two-Step Authentication
Having an extra layer of protection on your device is always a good thing. Many apps and services offer a two-step verification process that reduces the risk of unauthorised access to your data.
Turn Off Auto-Fill
Auto-fill makes life so much easier. But if someone has access to your unlocked iPhone, they most likely have access to auto-fill. Consider turning off this feature, especially if you tend to be forgetful about where you leave your mobile phone.
Use a VPN When Using Public Networks
Public Wi-Fi can be used by hackers to access your device. If you tend to use public Wi-Fi a lot, it would be a smart decision to invest in a VPN service.
How to Remove Calendar Viruses from an iPhone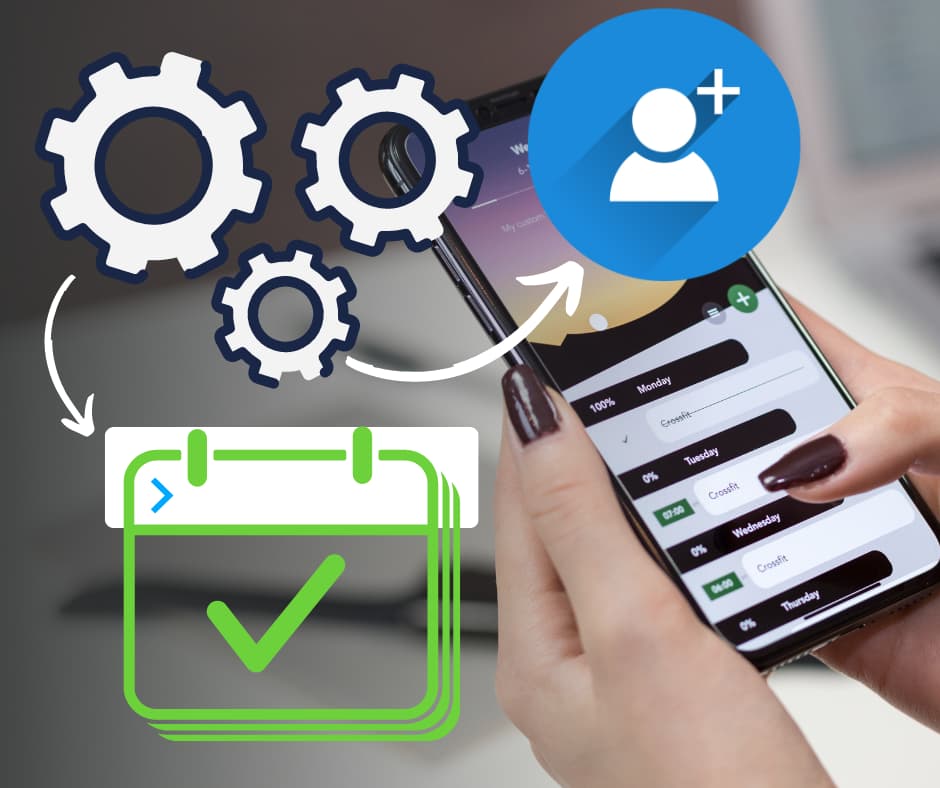 Questions about calendar viruses and spam are top concerns that people search for solutions for online. In this section, we offer solutions for these issues.
How to Remove the Subscribed Calendar Virus from an iPhone
Tap on Settings

Tap on Calendar in the menu

Tap Accounts

You will find a list under Subscribed Calendars

Tap on any subscribed calendar that you do not recognise

Tap Delete Account at the bottom

Tap Delete Account again to confirm

Keep Your iPhone Safe
Scams like Paysafecard or similar are designed to make you lose your cool and make you behave irrationally. Whenever you encounter any suspicious activity or behaviour on your iPhone 6, iPhone 7 or even iPhone 13, try to remain calm and do some research.
Follow our recommended best practices on and off your iPhone, and do not jailbreak your phone if you want to enjoy Apple's security features.
Want to learn tips and tricks for your iPhone? Looking for an accessory upgrade for your device? Get in touch with us and we will assist you with our expertise!