USB microSD memory card and SIM card reader is an innovative piece of mobile accessories with a small form factor and retractable USB plug. The reader is barely larger than a microSD memory card. The reader weighs only 3 ounces. The perfect companion for the Micro SD memory card. Connect USB microSD Card & SIM Card Reader to a USB port on your computer and you can easily read and write data. Compatible with any computer USB port and one of the following operating systems: Windows 98/SE/ME/2000/XP/Vista/7, 10.4.5 Mac.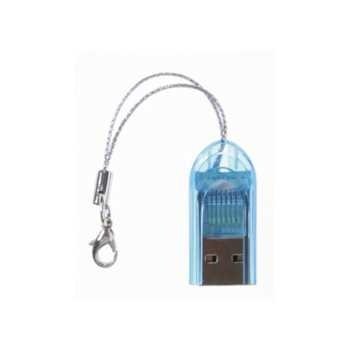 Features
* Compatible with microSD / TransFlash memory card
* Fully compatible with USB 2.0 specification
* Converts your microSD card into a USB 2.0 Flash Drive
* read / write to the microSD card (no adapter required!)
* Weight: 3 ounces
* Portable Mini MicroSD card reader is perfect for your mobile lifestyle.
* Works as a portable Micro SD / TF Card to USB adapter.
* With simple plug & play installation, USB card reader is very easy to use.
* High speed data transfer – up to 480Mb per second.
* USB powered, no external power supply.
* Perfect for MP3, PDA, digital camera, mobile phone, computer, etc.
* Lanyard included
* Size: 3.3 x 1.6 x 0.7 inches
* High quality and competitive price!