The new, colourful, cut-and-go iPod shuffle is available in five colours: silver, blue, green, orange and pink. With the new built-in clip, you can walk, run or dance with your favourite songs on your sleeve (or your pocket, shirt, jacket or purse). With iTunes on your Mac or PC you can easily charge your iPod shuffle. You can simply select the playlists, audiobooks, podcasts and other audio files to synchronize. The controller on the front of the iPod shuffle is 18 percent bigger than the previous iPod shuffle models, so it's even easier to see and use controls. Press the center button to play and pause. Press the outer buttons to skip forward or back and adjust the volume. The new iPod shuffle is back-compatible with all iPod accessories.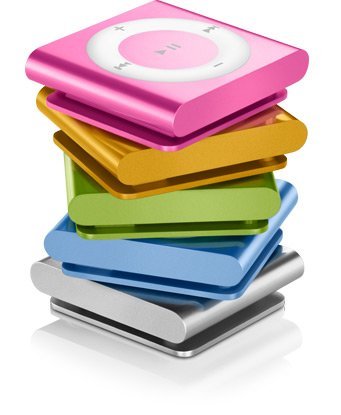 Technical specifications:
Capacity: 2GB flash drive2, stores data via USB
Connections: 3.5 mm jack for audio and USB charging
SIZE: Height: 29.0 mm Width: 31.6 mm Depth: 8.7 mm with a clip, Weight: 12.5 ounces
In the package: iPod shuffle, Apple headset, iPod shuffle USB cable (45 mm), Documentation
Battery and power:
– Up to 15 hours of audio playback
– Fully charged in about 3 hours
– Built-in rechargeable lithium-ion battery
– Charging via USB or power adapter connected to a computer
iPod accessories recommended
Apple In-Ear Headset is an Apple headset with microphone and remote control, specially designed to provide crystal clear audio with advanced clarity. There are also several other headset models compatible with iPod shuffle.
Apple cable with dock connector and USB connector lets you charge and sync your iPod shuffle with your computer.