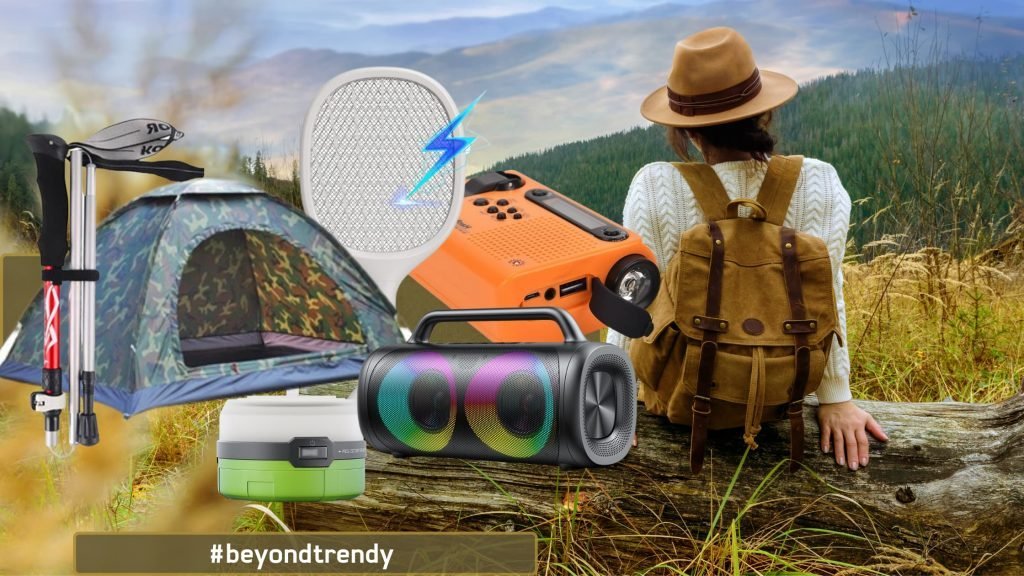 Enhance your outdoor experience with cool camping gadgets. If you have been asking "what camping equipment do I need?", you will find your answers in our Outdoor Accessories section!
Modern camping requirements are all about ultralight camping gear and collapsible camping gear. When buying camping gear, there are a few things to keep in mind. For example, how long do you plan to camp? What are the weather conditions? Maybe, you want to try glamping that brings a bit of both worlds together!
Camping equipment and gear benefits from being water-proof if they will come into contact with the elements. On the other hand, glamping gives you the freedom to bring your favourite electronics along.
It is also important to consider who you are camping with. When children are involved, it is a good idea to carry additional items for entertainment. Perhaps, a smartwatch with an SOS function and tracking is a good idea. Bug repellents are also a good idea for everyone.
In this post, we have curated the items you need for the basics of camping, such as a tent or lights, as well as some cool gadgets that you probably didn't even think about. Our list aims to help you quickly find all the important items you will need for your camping trip!
Essential Camping Gear for Every Camping Style
Outdoor camping is incomplete without a camping tent! There are many camping accessories you can fit into a good tent, but prioritising a nice comfortable sleeping solution will have you thanking your past self.
Portable Waterproof Camping Tent for All Weather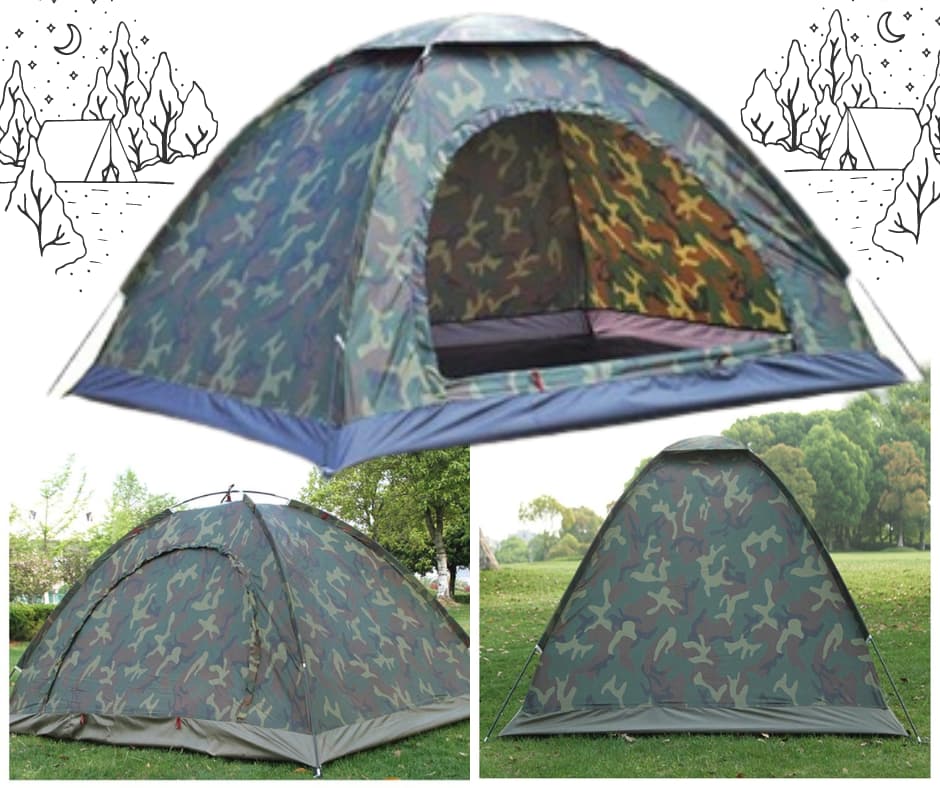 This Portable Waterproof Camping Tent has a 210D waterproof Oxford fabric base layer and a top layer made of 180T tape with water- and UV-resistant coating. It comes with enough space for two people to comfortably sleep and packs into a compact shape.
We would say this tent is a must-have for families even if you aren't going camping. You can set this tent up on the beach, or use it for a picnic so your kids can take a break from the sun.
Features that make this a cool piece of camping gear:
The tent comes with a bag that makes it easy to store and improves portability.

The structural rods are made from fibreglass and offer good flexibility when setting up the tent.

The waterproof design allows you to enjoy camping in all weather conditions.

The tent is good enough for two people and comes with a zippered door as well as a window.

Self-Inflating Sleeping Pad to Sleep Comfortably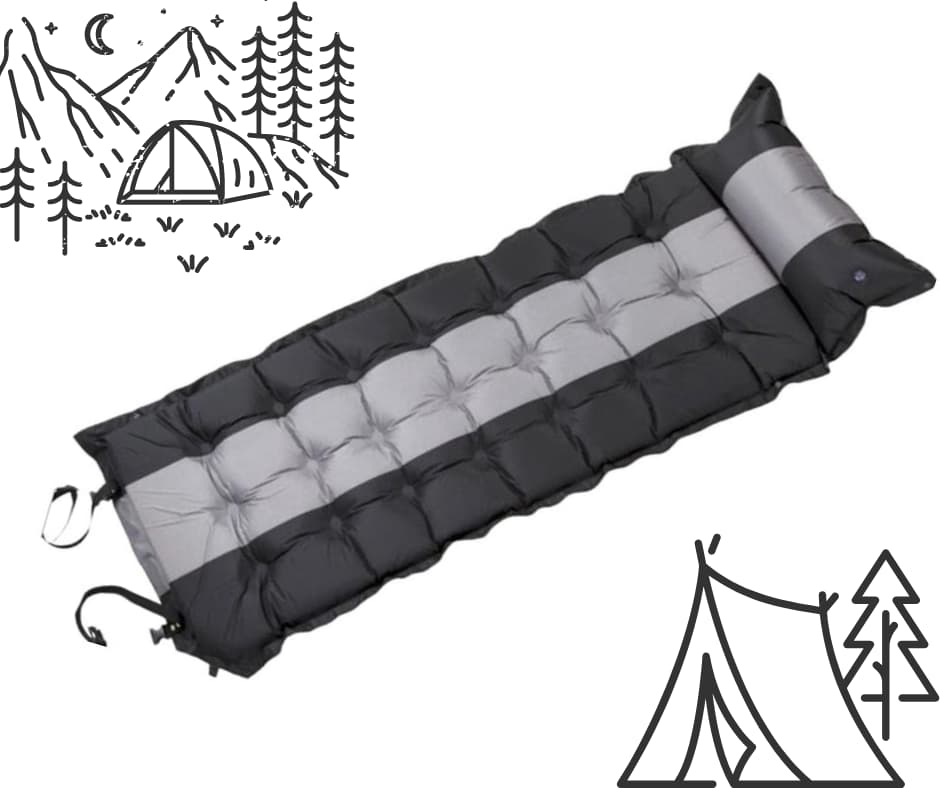 After all the trekking and fun you have had during the day, resting on the Self-Inflating Sleeping Pad will feel like heaven. This cosy sleeping solution is made from 210D fabric and PVC that is moisture-proof.
Its hassle-free auto-inflation process just requires opening the air valves. And in just about 2 minutes you will have an airy, cushiony sleeping pad ready. When it is time to pack up, it rolls into a compact shape that is easy to carry.
Features that make this a cool piece of camping gear:
The sleeping pad can be easily rolled up and attached to your backpack.

Its moisture-proof construction makes it ideal for all environments.

This outdoor camping gear is ready to use within 2 minutes thanks to its self-inflating design.

The sleeping pad has dimensions of 192cm x 64cm x 5cm, which is a suitable size for most people.

Cool Camping Accessories to Shine Bright
Shine some light within your tent or camping area with this outdoor gear. These are functional and practical outdoor gadgets that also are cool camping gear gifts.
Goobay 3-in-1 Foldable LED Camping Lantern with Space-saving Design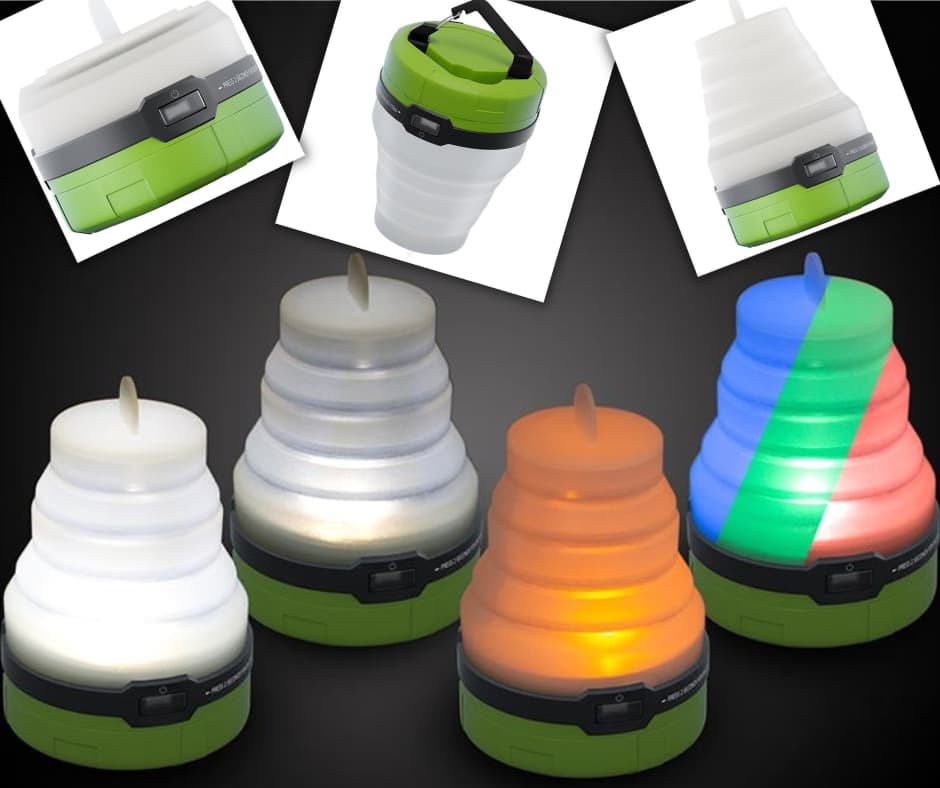 The collapsible design of the Goobay 3-in-1 Foldable LED Camping Lantern allows it to be easily packed along with your survival camping gear. It also comes with a foldable carabiner for easy attachment to various spots.
This LED light weighs a mere 72g making it a lightweight camping tool to add to your camping gear. It offers four light modes and has a splash-proof design following the IPX4 standard, making it suitable for different weather conditions.
Features that make this a cool piece of camping gear:
When used in candle and RGB mode you can get up to 60 hours of working time.

The foldable carabiner and collapsible design make it easy to store and use in various ways.

It has four light modes, white 100%, white 50%, candlelight, and RGB, suitable for a variety of purposes.

Additionally, it features a 2 sec on/off switch to prevent accidental activation.

Portable LED Camping Lantern to Stay Powered Up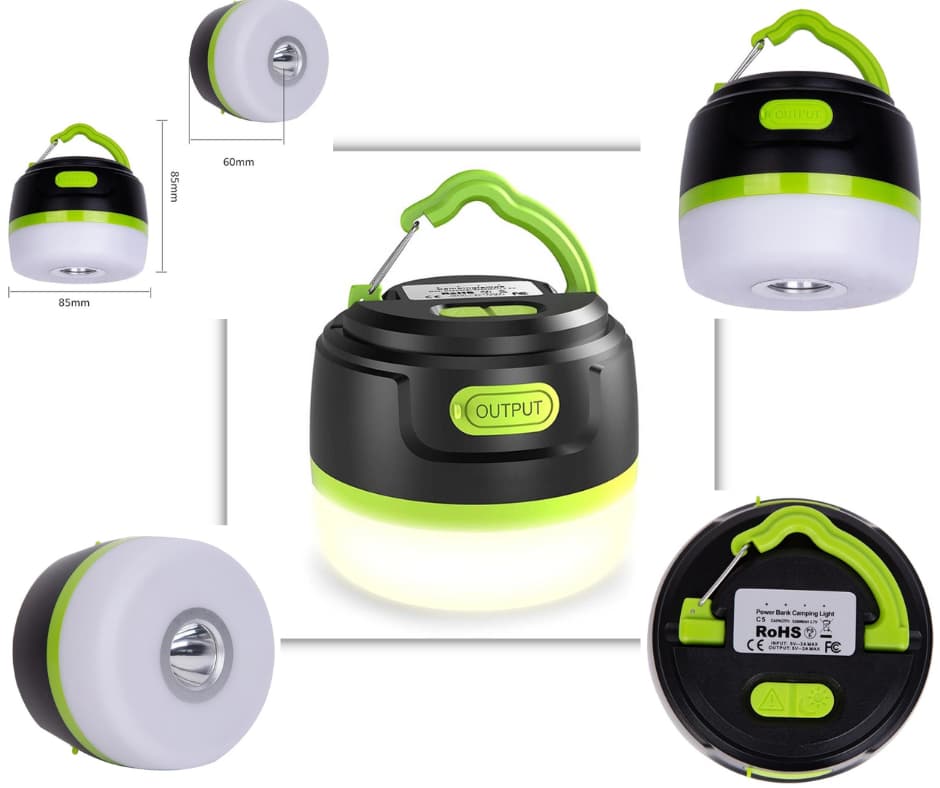 In addition to offering illumination, the Portable LED Camping Lantern is also a power bank that you can use to recharge your smartphone and other devices. It comes with an integrated lithium-ion battery of 5200mAh capacity.
The portable lantern features five light modes, which include high, medium, low, burst flashing, and SOS. When used in the low light mode, you can get up to 100 hours of use with a single charge.
Features that make this a cool piece of camping gear:
The camping equipment has an IP65 water resistance rating making it suitable for outdoor use.

Its compact and lightweight design makes it easy to store and highly portable.

The portable light features built-in magnets to attach to your tent poles or any metal surface.

Its 5200mAh lithium-ion battery can be used as a power bank.

Camping Essentials for Music Lovers
While camping under starry skies listening to the sounds of nature has its own charm, bringing your music is also fun. These sound gadgets are just what you need!
HanRongDa HRD-900 Camping Radio for the Traditional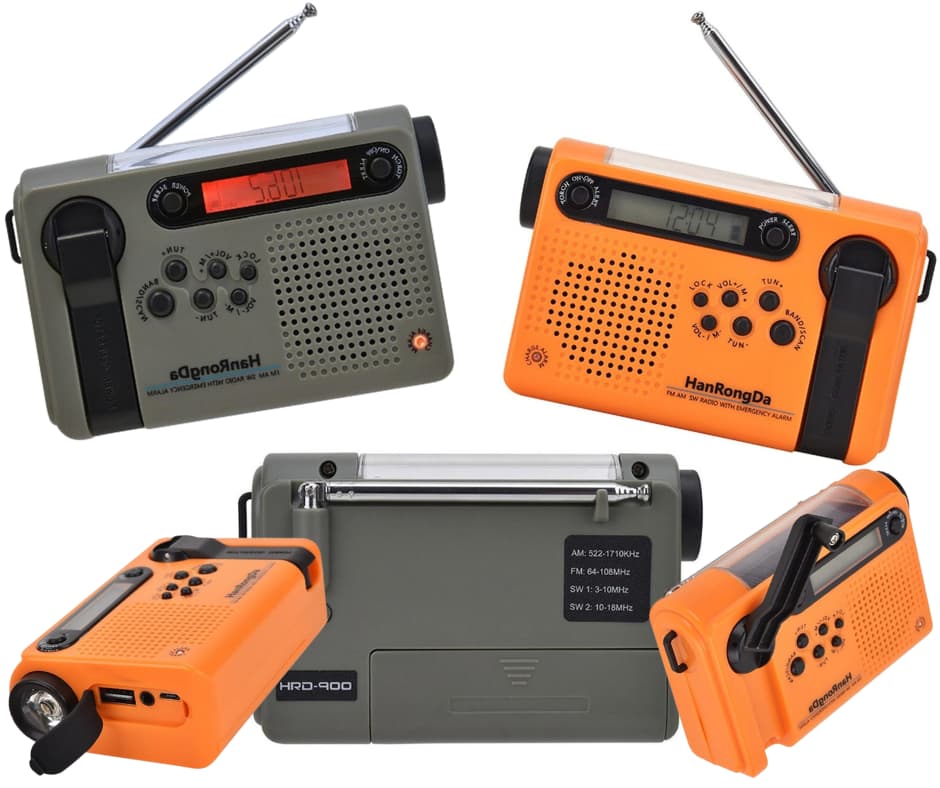 Sometimes it is best to leave the music selection to a radio station that you can listen to on the HanRongDa HRD-900 Camping Radio. This camping radio supports an FM range between 64.0-108MHz and an AM range between 520-1710KHz.
In addition to being a radio, it also features a built-in LED flashlight with an SOS mode. When you activate the SOS mode, it also emits an audio signal to draw attention to you. Furthermore, you can also use the HRD-900 as a power bank.
Features that make this a cool piece of camping gear:
The HanRongDa camping radio comes with a 2000mAh rechargeable battery.

You can recharge it via USB, integrated solar panel, or integrated crank.

It comes with a lanyard and carabiner so you can easily attach it in different places.

In addition to the powerful mono speaker, you can also listen to the audio via the 3.5mm headphone output.

Joyroom JR-MW02 Bluetooth Speaker to Party Under the Skies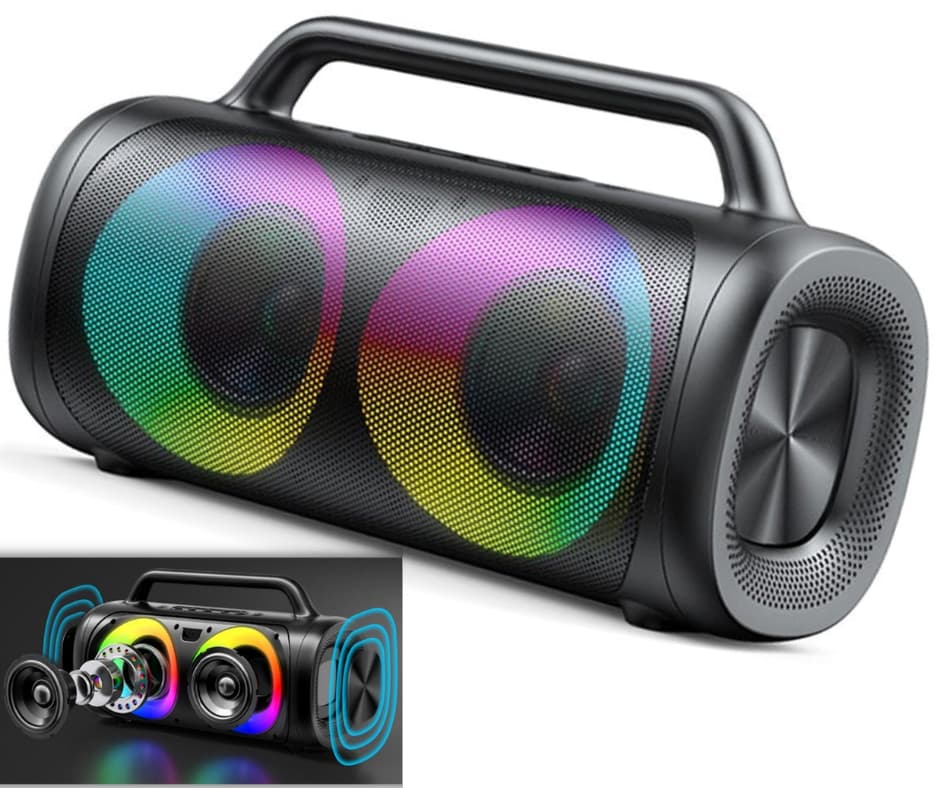 The integrated LED lights in the Joyroom JR-MW02 Bluetooth Speaker allow you to turn your camping ground into a party ground. With the unique RGB lighting effects, enjoy a light show that moves with the rhythm of the music.
We also recommend it as a kid's camping tool for backyard camping and sleepovers. It comes sealed with silicone and has an IPX5 water-resistant rating that makes it perfect for outdoor use. And with its dual speaker units with a metal diaphragm, the music will be pumping.
Features that make this a cool piece of camping gear:
The Joyroom speakers come preinstalled with nine light modes that make lights flash to the beat of the music.

Enjoy up to 6 hours of non-stop playback with its 2400mAh rechargeable battery.

In addition to Bluetooth 5.0, it also supports FM, TF card, AUX and USB.

The multifunctional buttons allow you to switch songs and light mode, and even take calls.

Wild Camping Gear for the Outdoors
You might think of these as unusual camping tools. But, camping in the wild comes with a few cons, like mosquitoes and cold weather.
Benks DW01 Electric Mosquito & Fly Swatter to Zap the Pests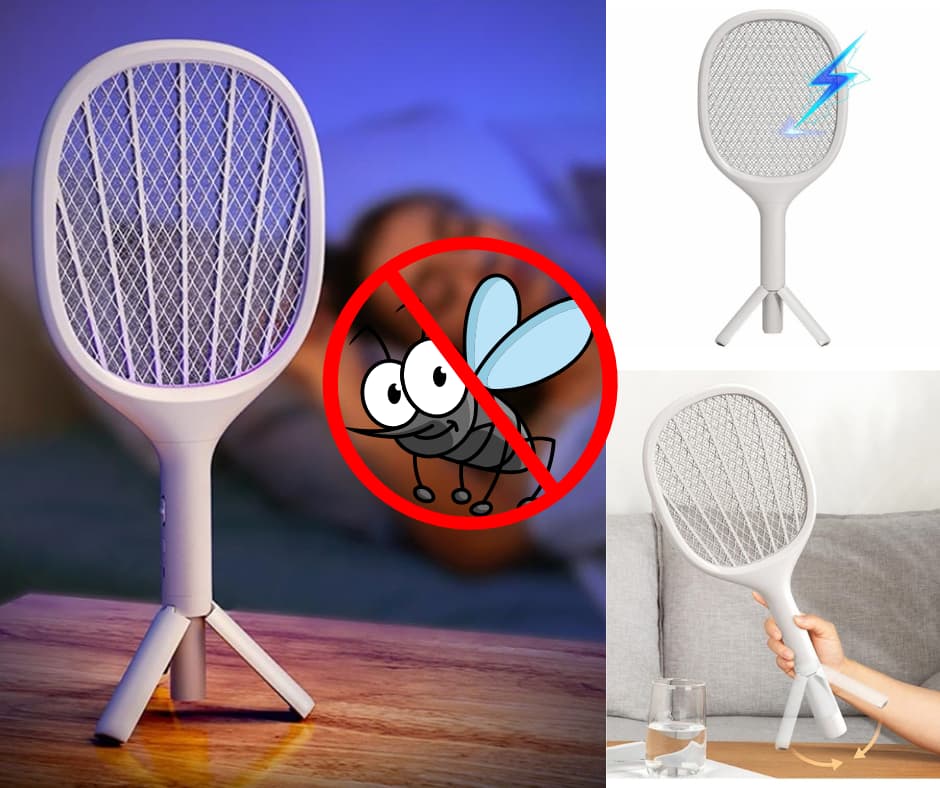 Benks DW01 Electric Mosquito & Fly Swatter is a must-have item on your camping gear list. Mosquitoes and other pesky insects can ruin your whole camping experience and can even make you sick.
The electric swatter comes with 3000V of insect-killing power. It is made of high-quality, heat-resistant material so you can use it without any worry. Plus, the integrated tripod stand lets you set in on any stable surface.
Features that make this a cool piece of camping gear:
Benks DW01 electric mosquito swatter also functions as a cosy night light.

With 3000V of power, the swatter instantly kills any type of flying insect.

It comes with a 2000mAh rechargeable battery that will last for days.

The integrated tripod makes it convenient to stand up the swatter.

Fast Heating Foot Warmer to Beat the Cold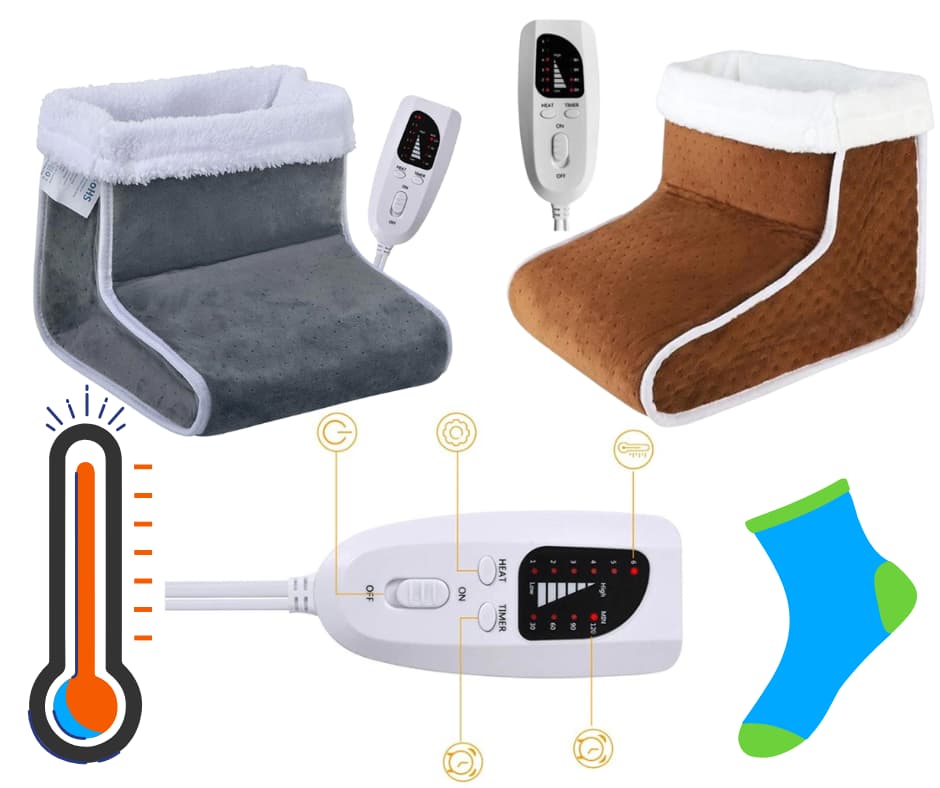 When you think of winter camping gear, the Fast Heating Foot Warmer is probably something that does not pop into your mind. But we assure you, it will become your best purchase for winter camping.
The cosy foot warmer comes with a fast-heating function and 6 temperature levels and timer functions. You can easily adjust the different functions using the in-line remote. By using the foot warmer, you will improve blood circulation and relieve pain.
Features that make this a cool piece of camping gear:
You can remove the inner lining and wash it for improved hygiene.

With its fast-heating feature, it is great for quickly warming up cold feet.

The in-line remote makes it easy to adjust the temperature and timer.

It supports 40, 44, 48, 52, 56, and 60°C temperatures and foot sizes of up to 29cm.
Basic Camping Gear for Trekkers
Here are two items that should be on the camping gear list for beginners. Whether you are climbing uphill or setting up camp next to a lake, this gear will help you out.
Weixier B666 Travel Backpack to Store Your Essentials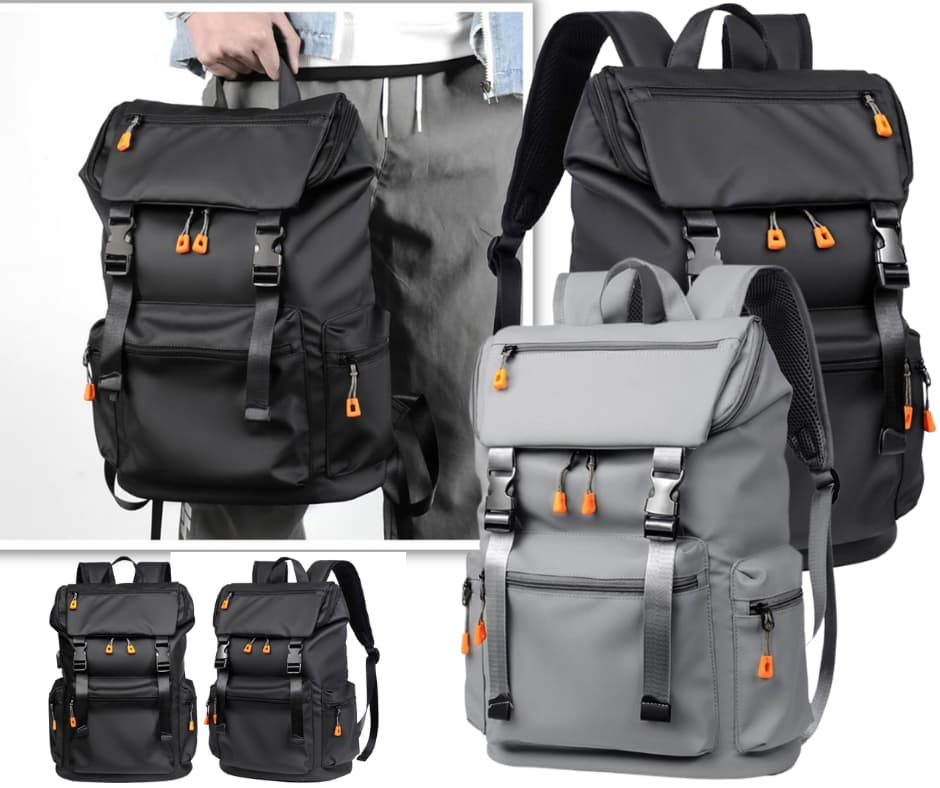 The Weixier B666 Travel Backpack looks gorgeous and is an extremely practical item to have on your trekking and camping trip. The backpack features many zippered compartments and a honeycomb design on the shoulder strap, that is lightweight and breathable.
Its large capacity and functional design make it a great choice for all types of activities and extend its usability. It also comes with a USB port that allows you to easily charge your devices without having to scramble through your backpack.
Features that make this a cool piece of camping gear:
The travel backpack comes with many zippered compartments that allow you to store a variety of items.

The USB port makes it easy to access your power bank without needing to open your backpack.

The backpack is water-resistant, scratch-resistant, and wear-resistant.

This backpack's fashionable and practical design makes it a great choice for everybody.
Kodenor Aluminium Alloy Adjustable Trekking Pole to Climb Every Hill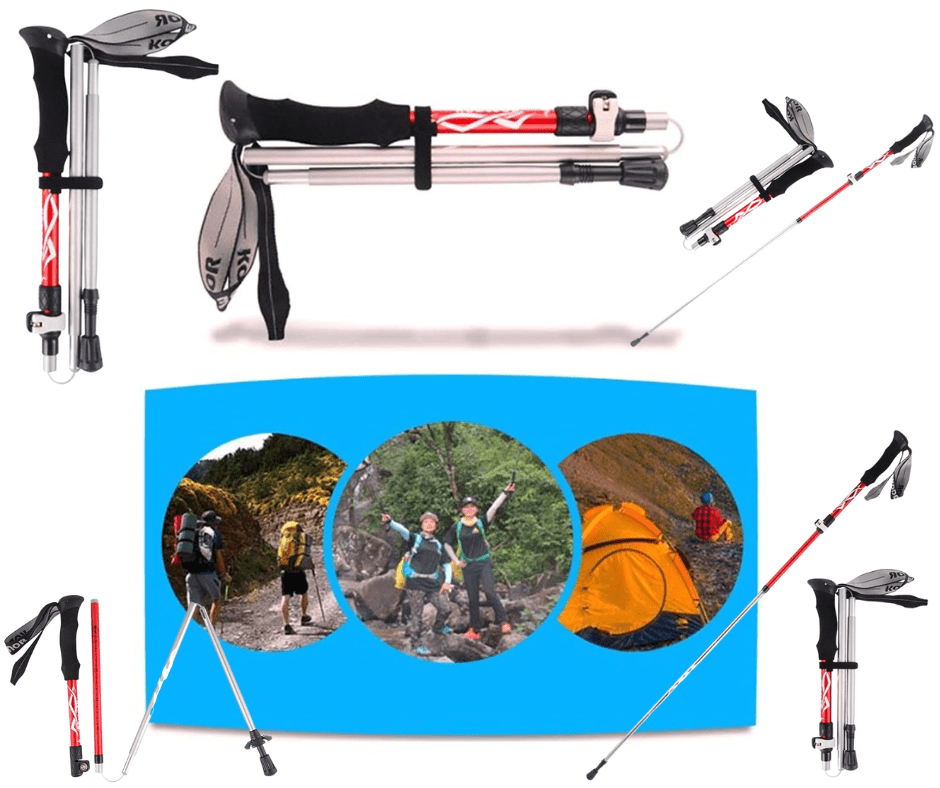 Steady your steps with the Kodenor Aluminium Alloy Adjustable Trekking Pole. This is an ultra-durable and ultralight piece of camping gear thanks to its aluminium alloy construction. It also comes with adjustable hand-straps that stop it from falling from your grip.
It has a 5-section adjustable design to create the right height for you. Additionally, the secure locking system ensures simple operation and makes this trekking pole easy to store. Its high-density EVA handle has a soft construction with an amazing grip and is sweat-absorbent.
Features that make this a cool piece of camping gear:
The lightweight construction and foldable design make it easy to use and store.

The soft EVA handle provides a good grip and is sweat-absorbent.

The trekking pole reduces fatigue, improves efficiency, and strengthens muscles.

The tip material is made of tungsten steel for extra durability and the pole has an advanced outer lock system.
Where to Buy Camping Gear?
Looking for cheap camping accessories or camping equipment? At MyTrendyPhone we have a variety of products ranging from summer camp gadgets to camping gear you didn't know you needed!
Find camping gear on sale at great prices with us. You can get in touch with us to find out what are the coolest camping gadgets, what gear you need for camping and more! We would love to help you find the right products and gadgets from the best camp cooking gear to camping gear for dogs.