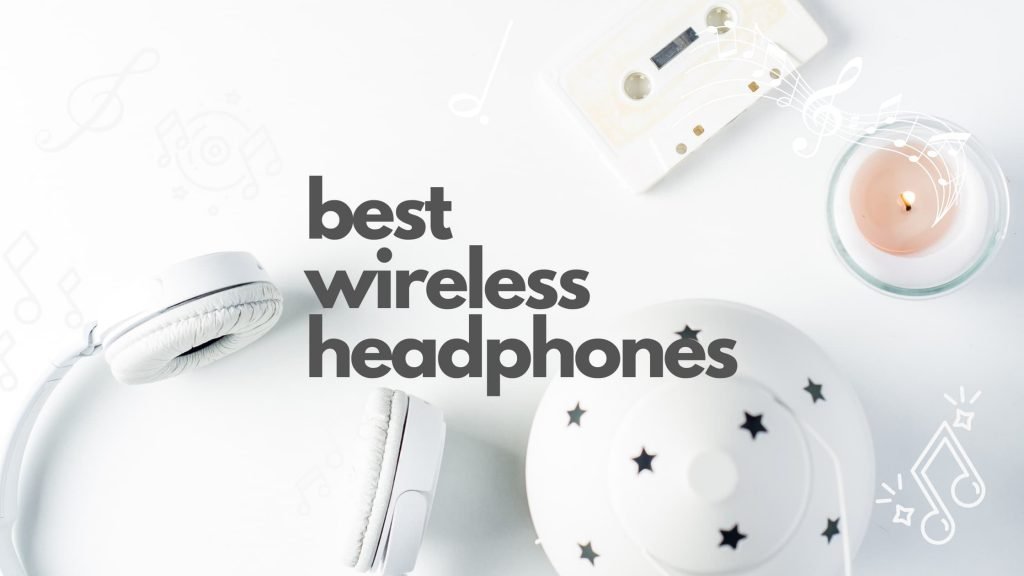 Finding your perfect soulmate can come with a lot of ups and downs, a lot of tears and cheers, but finding the best wireless headphones does not require such trials.
The number one complaint people have about Bluetooth headphones is battery life! But with the Sony WH-1000XM4 or the Marshall MID, you can enjoy your music all day without stopping for a recharge.
If you are more into classic and minimal styles that do more than only deliver music to your ears, we have chosen the best of the best among them too!
Whether you're dancing in the rain or working out till you are drenched with sweat, you don't have to miss out on the right music. With our picks of wireless headphones with excellent water resistance, you can enjoy your music in any weather.
Whether you are looking for a cheap, budget-friendly over-ear headphone or a minimalistic, sleek, professional in-ear earphone, our list has covered all your needs.
The Best Wireless Headphones for Sports
Enhance your running and gym workouts with these perfect wireless earphones. These wireless headphones are sweat damage resistant, allowing you to enjoy intense workouts with your favourite soundtracks.
Huawei AM61 Stereo Headset Lite for Runners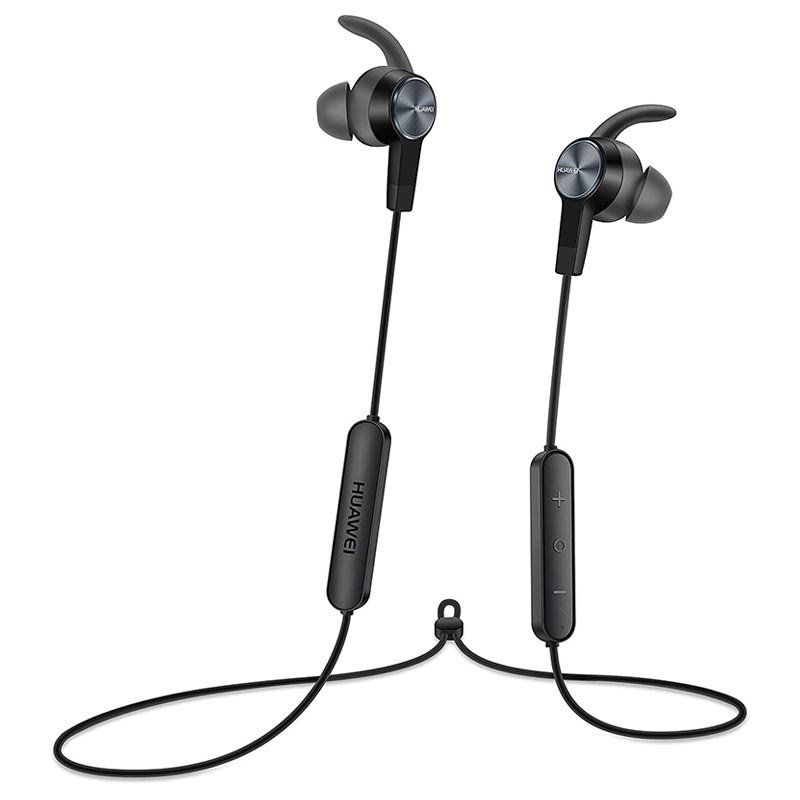 Its lightweight design and around-the-neck band make the Huawei AM61 Stereo Headset Lite the right wireless headphone for an outdoor fitness enthusiast. Unlike other wireless earphones, the tangle-free cable lets you keep the headset on you between breaks.
The AM61 headset comes with a volume, track and call control remote, and an integrated microphone for a hands-free calling experience. Enjoy powerful bass and high-quality audio with its 11-mm large drivers.
Pump out the music with these brilliant features
These Huawei headsets have an IPX5 waterproof certification to ease your worries about water and sweat damage.
Use these headphones outdoors or indoors with your Bluetooth-enabled devices with its reliable Bluetooth version 4.1 technology.
Huawei's noise-cancelling technology ensures all you get is the audio quality that you want, no trouble.
Get up to 11 hours of playback time and up to 240 hours of standby time with its powerful battery.
Jabra Elite 65T Active Earphones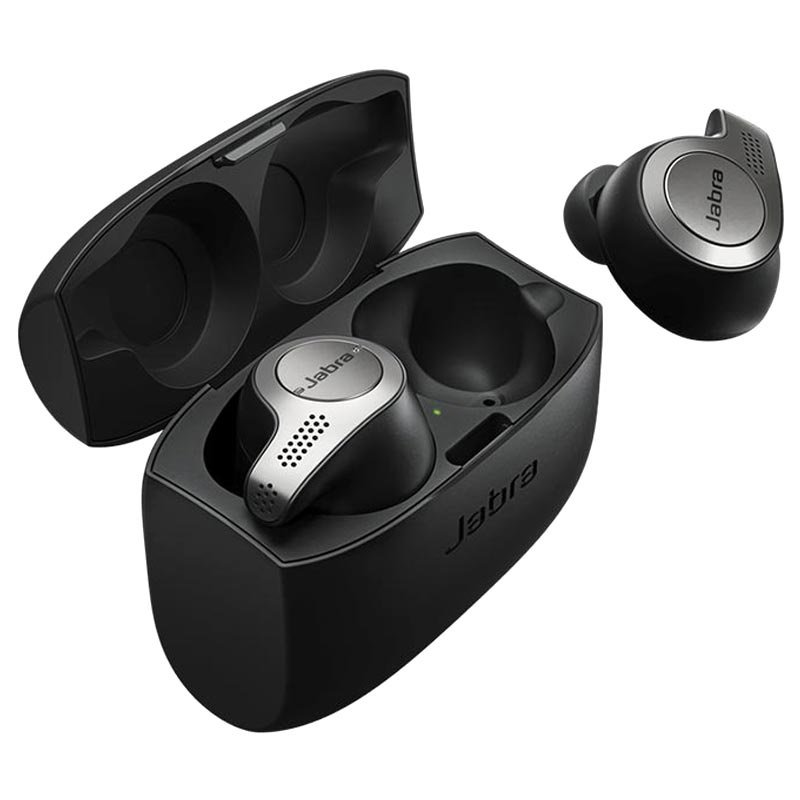 Complete your go-getter lifestyle with the Jabra Elite 65T Active Earphones. This pair of headphones has a bold and impactful design despite its discreet size. Keep yourself connected with your smartphones and other Bluetooth- supporting devices with Bluetooth 5.0 technology.
The Jabra wireless headphones come with four-microphone technology allowing you crystal clear calls. And thanks to its IP55 waterproof certification, splashes, dust, and rain will never spoil your listening experience.
Pump out the music with these brilliant features
The Elite 65T Active earbuds let you pair with two devices simultaneously while supporting a Bluetooth pairing list of up to 8 devices.
With its pocket-friendly charging case, you can extend the battery life by up to 15 hours.
Additionally, its rapid charging feature offers one hour of battery life with just 15 minutes of charging.
Get a perfectly comfortable fit with its replaceable silicone earplugs available in 3 different sizes for comfortable wear.
The Best of Apple AirPods
No good headphone list is complete without mentioning the Apple wireless headphones. Whether your preference is professional and stylish or gamer traditional, these choices will give you exactly that. Gift your iPhone a perfect partner, with these AirPods.
Apple AirPods Pro for the Classic and Professional Look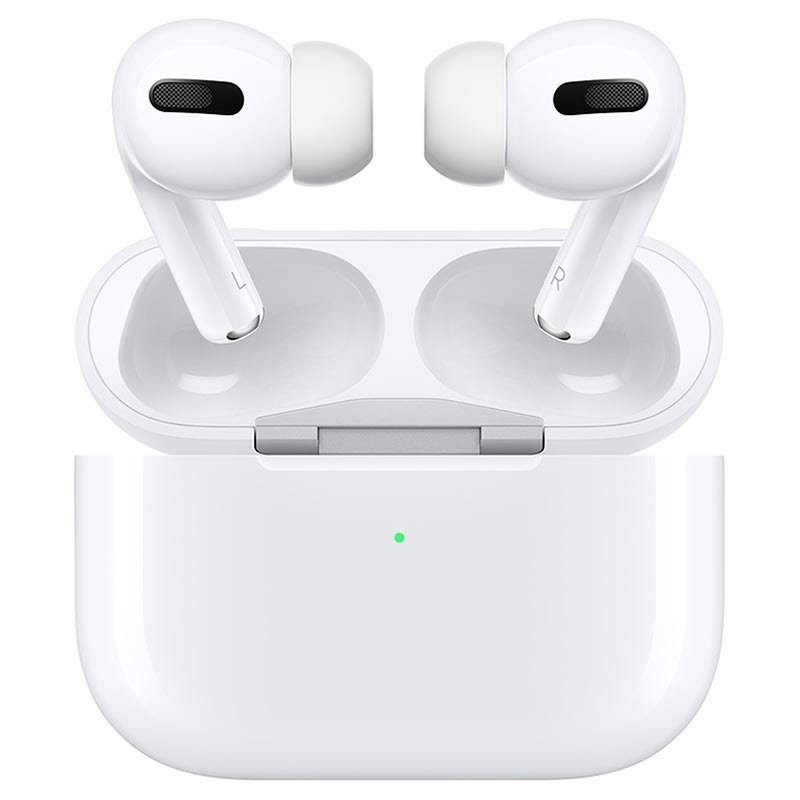 The Apple AirPods Pro's ultra-ergonomic design and quick gesture and touch controls will have you falling in love with it. You can also access Siri assistance with these smart earphones.
Its 'Active Noise Cancelling' and 'Special Transparency Mode' let you control the intrusion from the outside world. At the same time, these AirPods sport an integrated microphone, which ensures clear voice calls.
Pump out the music with these brilliant features
These AirPods have a waterproof rating of IPX4, which means that they are durable and resistant to splashes.
With its Qi-charging feature, you can experience the futuristic style of wireless charging. But, don't worry, it also supports wired charging with a Lightning charging feature.
Easily toggle between Active Noise Cancelling and Special Transparency Mode with gesture controls.
Apple AirPods Max for the Futuristic Feel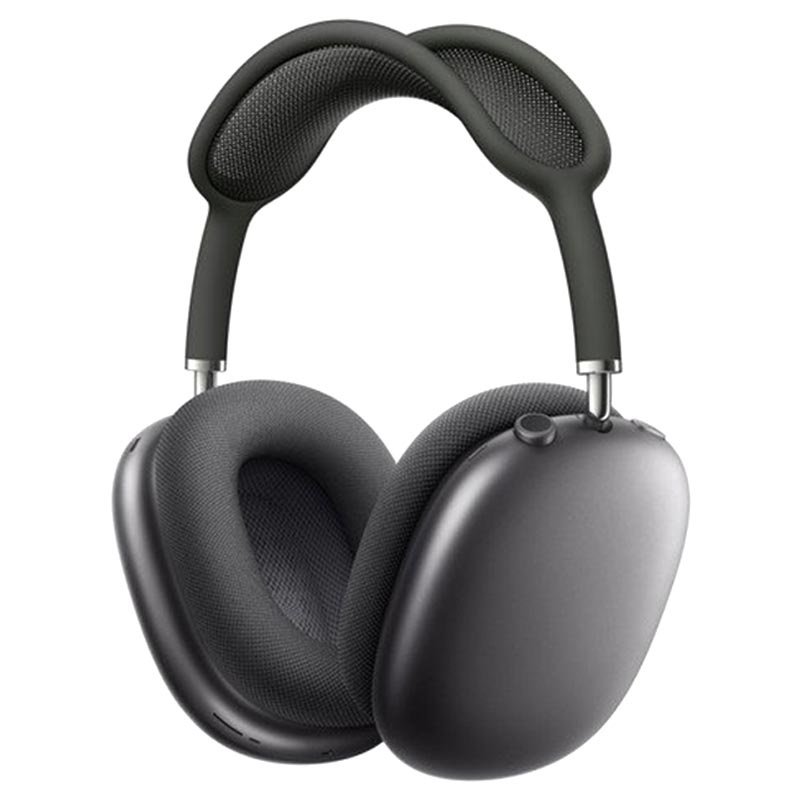 Apple AirPods Max's stainless steel frame design provides flexibility and comfort. These headphones ensure the utmost comfort, even during prolonged wear, thanks to their breathable knitted mesh canopy and soft-to-the-touch materials.
Enjoy AirPods Max's impressive sound quality with its Active Noise Cancelling feature and spatial audio with dynamic head tracking for a truly immersive listening experience. Get the feel of watching movies in a theatre, even when you are just watching them on your iPad.
Pump out the music with these brilliant features
These come with a Smart Case that conserves its battery life and also makes storage easy and convenient.
Its smart construction ensures an, even distribution of weight to reduce on-head pressure. The soft materials of the headphones make them comfortable to wear.
The AirPods Max offers adaptive EQ and precision control over audio management and also supports Siri.
Enjoy a crystal-clear calling experience with its nine microphones set-up for noise cancellation and voice input.
The Best of True Wireless In-Ear Headphones
Experience the joy of True Wireless headphones with these picks. Purposefully designed to be functional, these in-ear headphones are clean and elegant gadgets that suit every occasion.
OnePlus Buds Z Earphones for a Day Filled with Melody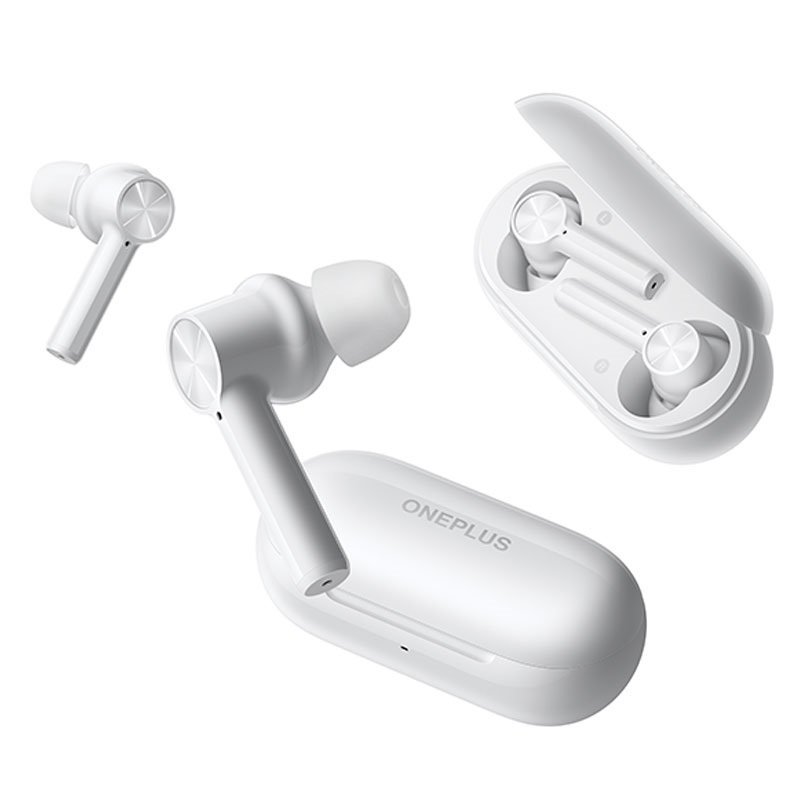 Rain does not have to be gloomy anymore! With OnePlus Buds Z Earphones' IP55 water-resistant rating, dance in the rain or sweat it out with high-intensity workouts worry-free.
Its advanced 10-mm dynamic drive delivers a deep bass definition. On the other hand, its Dynamic 3D stereo with Dolby Atmos or with Dirac Audio Tuner digital technology enhances the listening experience.
Pump out the music with these brilliant features
Download the HeyMelody app on your Android 6.0 or higher smartphone for OnePlus' smart assistant.
A single charge gives you a whopping 20 hours of battery life! And thanks to its 10 minutes of fast charging, you get a bonus of 3 hours.
Improve your call experience, thanks to its environmental noise cancellation feature.
Connect to any Bluetooth-enabled device with its Bluetooth version 5.0 connectivity.
Huawei FreeBuds Pro for Enhanced Human Voices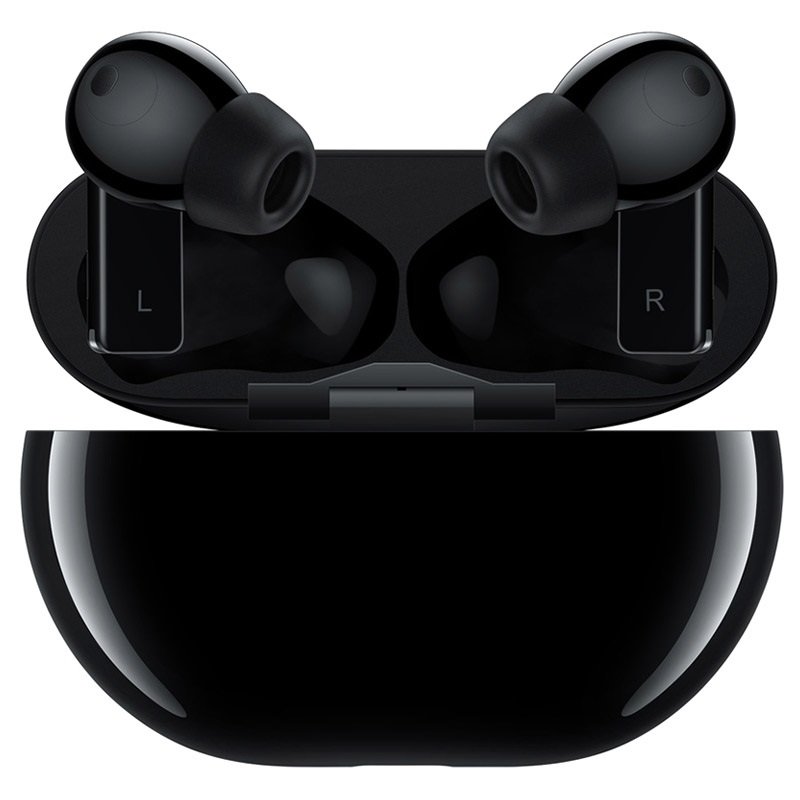 With Huawei FreeBuds Pro's three microphones system and Bone voice sensor, experience clear voice calling like never before. The FreeBuds Pro comes with three modes of noise control; Off, Awareness, and Noise-cancelling (Only with the Al Life app) to give you a superior music experience.
Easily connect with up to two devices simultaneously, whether your device is a smartphone, tablet, PC, or another smart device! Switching between devices is as simple as pinching either earbud. End your calls and get right back to your favourite shows.
Pump out the music with these brilliant features
Ergonomic design and soft silicone earbuds (available in three sizes) ensure the FreeBuds Pro headphones fit you comfortably.
Its Bluetooth version 5.2 gives you a stable and reliable connection with a range of Bluetooth-enabled Android and iOS devices.
Keep the earbuds safe and charged with its accompanying charging case that ensures an additional 36 hours of battery life.
Need a mic? Pinch the stem of the earbud twice, and you have a microphone ready in just 5 seconds.
The Best of Stylish Over-the-Ear Headphones
For the old school style lovers, these over-the-ear headphones are a stylish and functional accessory. Enjoy your music in comfort for long hours with these wireless Bluetooth headphones. Whether you are playing multiplayer games or taking a break, get the best listening experience with these!
Sony Wireless Headphones with Features Galore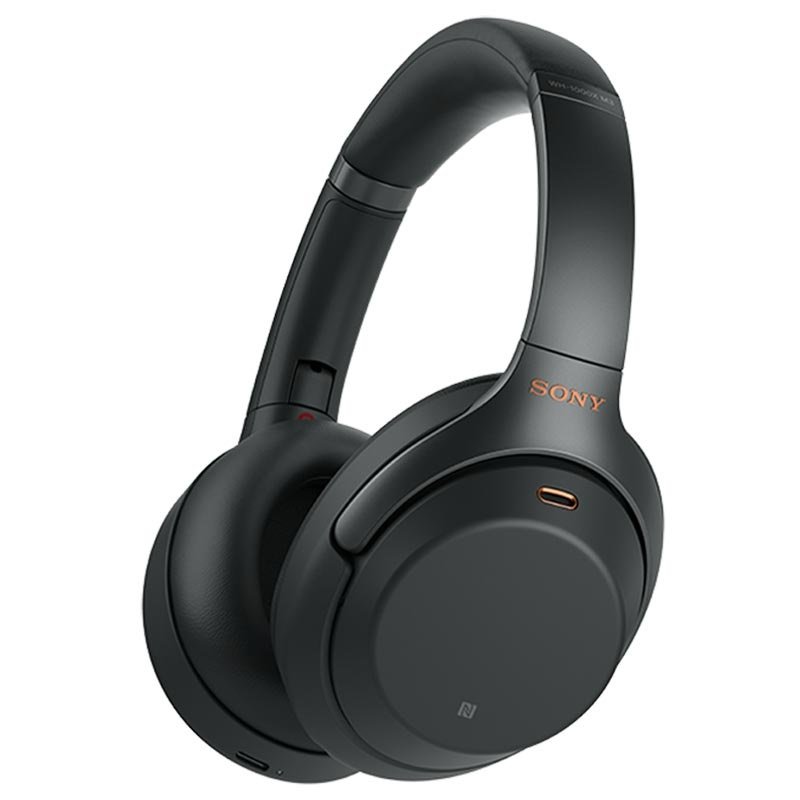 The Sony WH-1000XM4 Wireless Headphones come packed with features that will have you falling head over heels for them. Its 40mm sound drivers and Q1N processor audio system deliver top-notch sound, every time.
A must-have for gamers, these wireless headphones feature Speak-to-Chat that automatically pause anytime you start speaking and restarts your music once done. Don't miss out on any of your tasks with its touch sensor and Quick Attention tech.
Pump out the music with these brilliant features
It comes with five built-in microphones to recognise and react to your voice with the Precise Voice Pickup technology.
Its Proximity sensor and two acceleration sensors extend the battery life and enjoy your music for longer.
Long-lasting battery! Get up to 30 hours of playback and with just 10 minutes of fast charging to get up to 5 hours of playtime.
Love your virtual assistant? The WH-1000XM4 supports Google Assistant and Amazon Alexa voice assistants.
JBL E65BTNC Headphones to Cancel the Distractions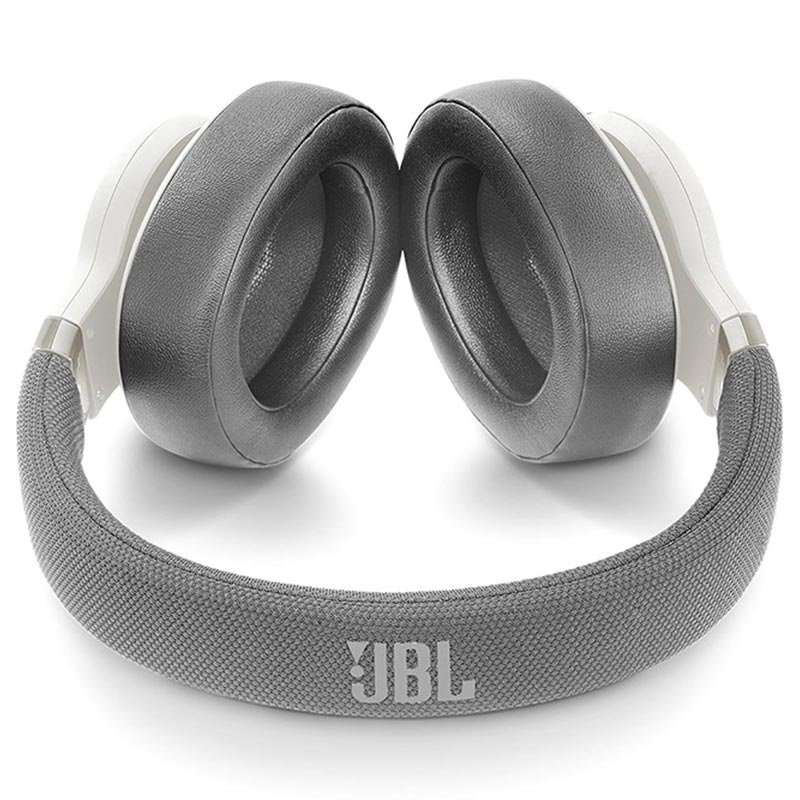 The JBL E65BTNC Headphones reduce ambient sounds with their Active Noise Cancellation feature. You can switch between your music and voice calls with just a push of a button thanks to its integrated microphone.
These JBL wireless headphones come with a padded band and ear cups that let you enjoy your music for long hours without being uncomfortable. Enjoy rich sound and deep bass with its premium design.
Pump out the music with these brilliant features
JBL E65BTNC's premium design makes it unique and stylish.
Experience fantastic audio with its 40 mm sound drivers and reliable Bluetooth version 4.1 connectivity.
Comes with a 3.5 mm audio jack that lets you continue listening to your favourites even when the battery runs out.
Its rechargeable 610 mAh Lithium Polymer battery gives you up to 24 hours of music playback.
The Best of Active Noise Cancellation Headphones
Bose and Marshall are the bosses when it comes to sound devices. These wireless noise-cancelling headphones are a smart choice for those that enjoy every little nuance of music. Take your pick and dive into your music.
Bose QuietComfort 35 II Headphones for Immersive Experience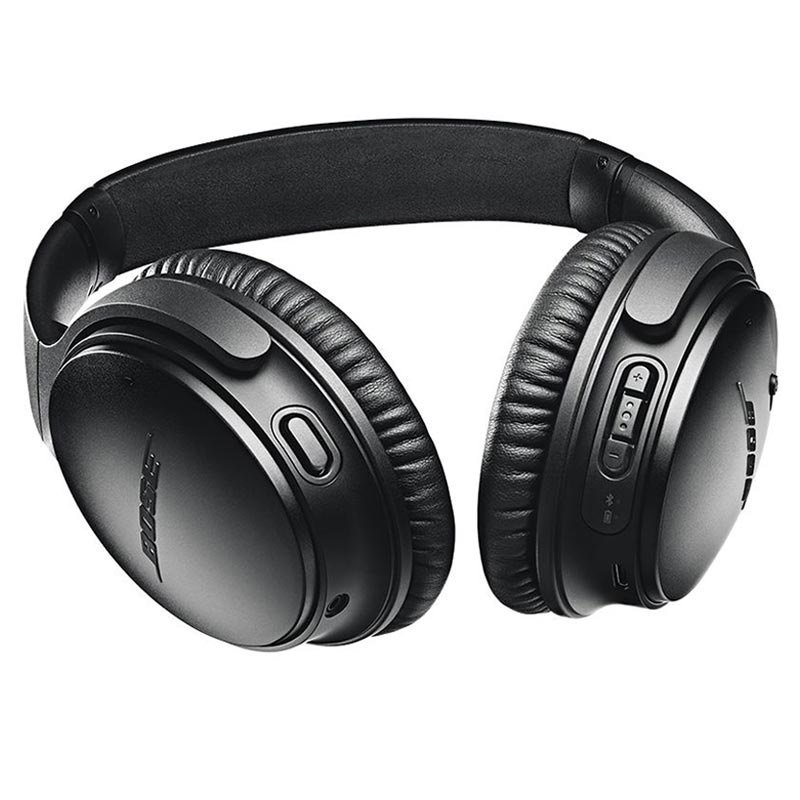 Immerse yourself completely into the world of your music with the Bose QuietComfort 35 II Smart Headphones. These smart headphones feature optimised Active Noise Cancellation that completely cuts off the outside world.
Their ergonomic and lightweight design makes them comfortable to wear for long hours. Besides being an excellent accessory to enjoy music, you can also take your calls with its integrated microphone and manage playback with its button controls.
Pump out the music with these brilliant features
Use it wirelessly with its Bluetooth version 4.1 or as a wired headphone with the accompanying AUX cord.
With its dynamic sound drivers combined with noise cancellation technology enjoy exceptional, high-quality sound.
Comes with a carrying case that makes storage easy.
Marshall MID Headphones for a Premium Listening Experience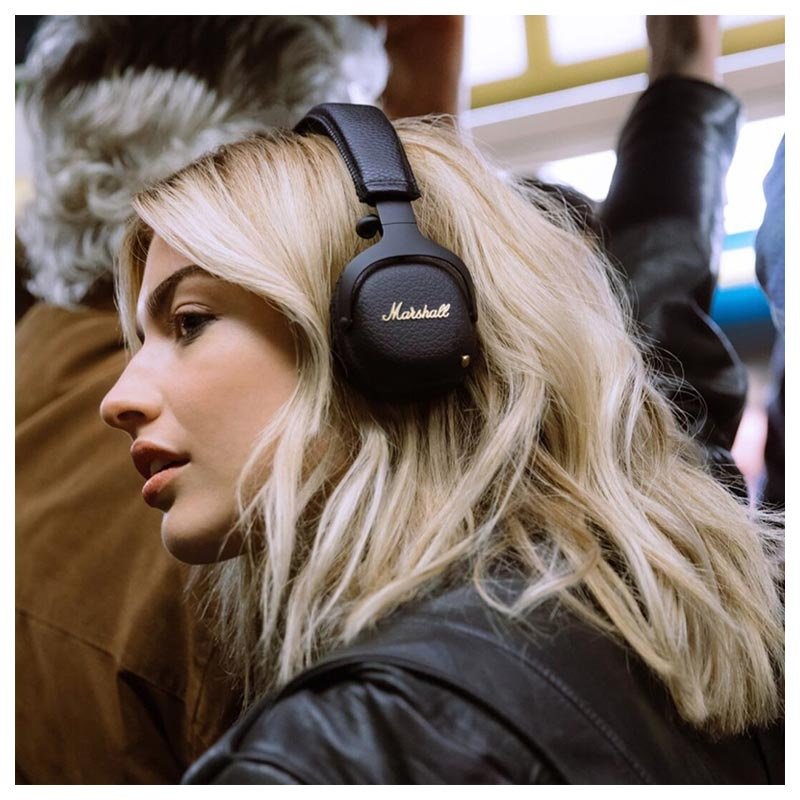 The Marshall MID Headphones' stylish leather design makes them an edgy and bold addition to your life. Additionally, the foldable feature and the classy carrying case makes them easy to store when not in use.
Enjoy your music without external disturbances with its premium Active Noise Cancelling feature that lets you lose yourself to your music. Stand out from the crowd with this stylish offering from Marshall's.
Pump out the music with these brilliant features
These headphones offer aptX Bluetooth connectivity that gives you a stable and steady connection with your devices for up to 10 m.
Enjoy up to 30 hours of music listening with its in-built rechargeable battery.
You can also connect the Marshall wireless headphones to any device with its 3.5mm cable that comes with a built-in microphone.
It has a foldable design and comes with an edgy travel case that makes them easy to store.
Keep Your Feet Tapping!
Enhance your experience of music with the right pair of wireless headphones! With different styles available out there, we hope our list has helped you pick one that fits in perfectly with your lifestyle and preferences.
And whilst headphones are perfect for those times, you want to be in your private world when you're out in a crowd, a Bluetooth speaker is the way to go when it's time to party!
Whichever gadget you choose for listening to your playlist, immersing in your movies, or enjoying hands-free calling, make sure to keep them free from germs and other unwanted entities. Check out our collection of Cleaning & Hygiene products!
Are you looking for more options for wireless headphones that sound good? Contact us to have a chat, and we will help you find the perfect one for you!