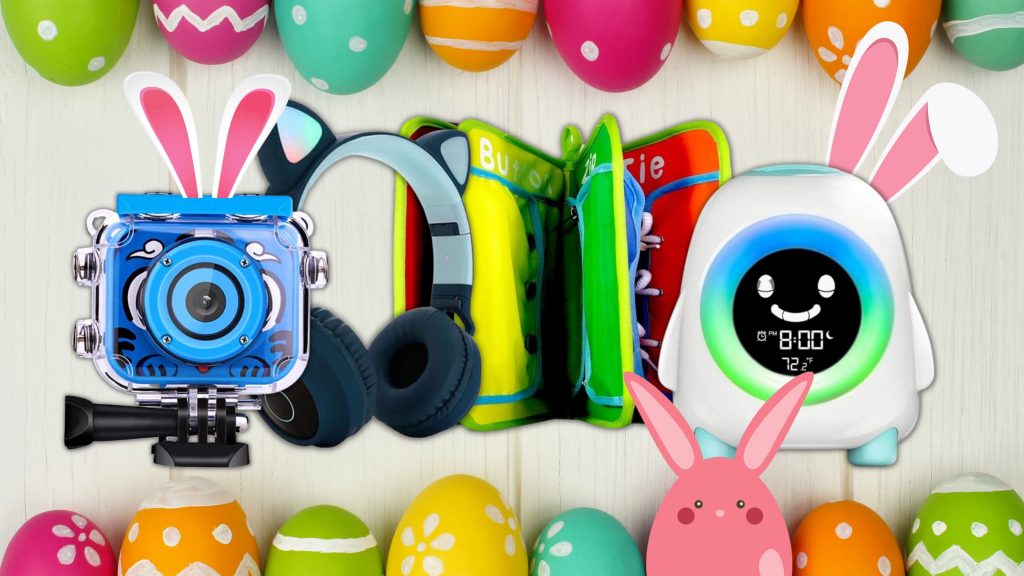 Easter is a fun time for kids and fun gadgets make their experiences even better! Filling Easter baskets or goody bags shouldn't be limited to chocolate Easter eggs, and bunny-shaped confetti. Take this Easter's experience a notch higher with cool and fun presents too.
Our selection of Easter gifts for kids is perfect for both boys and girls. We have also included ideas that even teenage girls and boys would love.
Make Happy Snaps with These Easter Gifts for Kids
Taking photos and making memories are not just for grown-ups. These digital cameras are an excellent choice for kids of all ages.
Kids Digital Camera to Snap those Easter Bunnies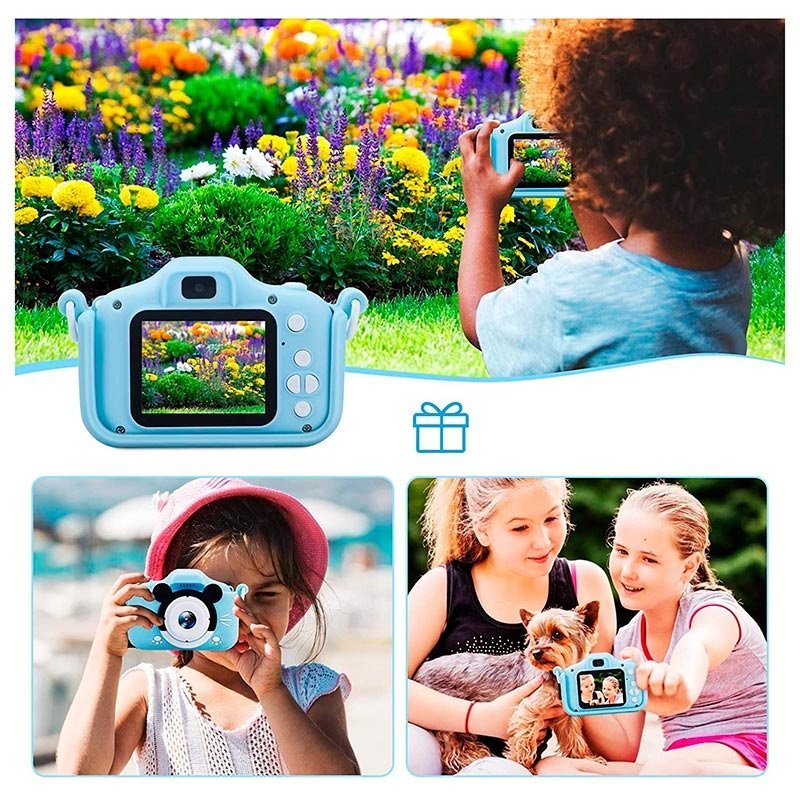 Make the outdoor experience even more exhilarating for the kids with the Kids' digital camera. It features an 8MP camera and a 4-inch LCD screen that allows them to capture amazing shots. And with its handy neck strap, they will be able to always keep it on themselves.
The camera features 4 funny frames and 4 colour filters to allow them to experiment with their photos and videos. In addition to the fun features, it also supports continuous shooting, autofocus, and timed photography.
Features that will make kids love this perfect Easter basket gift:
The camera comes with a 32GB microSD card that allows them to take as many photos and videos they want.
Thanks to its built-in rechargeable lithium batteries, you do not have to keep purchasing batteries or worry about the kids taking them out.
You can use it with a range of USB-supported devices like computers and portable chargers.
It is made from a shock-proof and eco-friendly silicone shell that is non-toxic and perfect for little ones.
Waterproof HD Digital Camera for Splashing Fun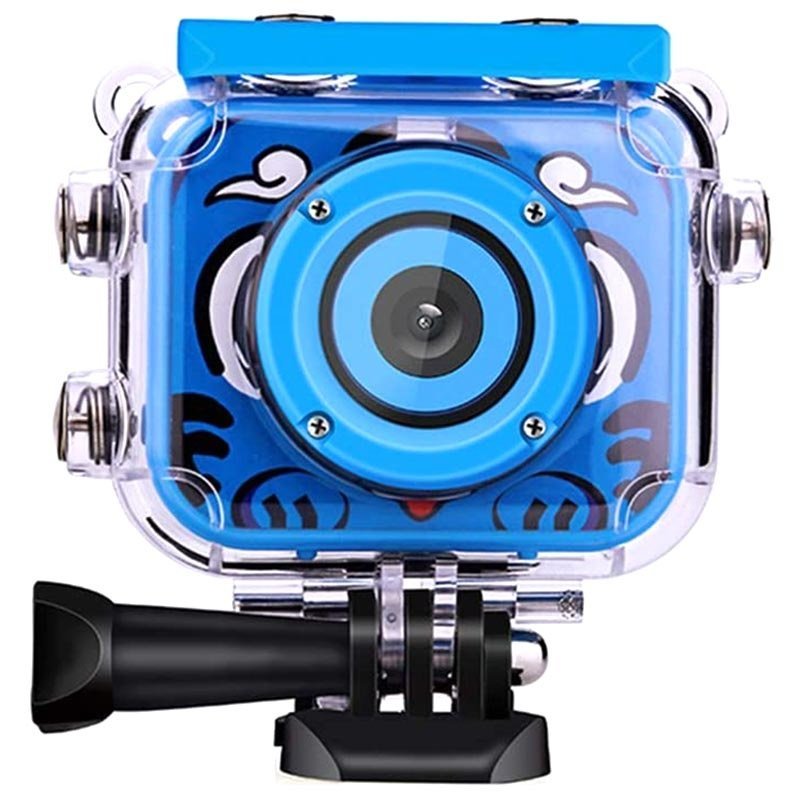 Let your kids capture all the splish-splash with the Waterproof HD digital camera AT-G20G. The camera's waterproof case allows amazing underwater photography up to a depth of 30m. It also comes with a 2-inch LCD screen to get the right shot.
This camera comes with a variety of photography and videography features which include time-lapse, slow motion, timer shooting, and high-speed continuous shooting. And with its 8 mounting accessories, kids can test out their directing abilities.
Features that will make kids love this perfect Easter basket gift:
Its built-in rechargeable battery provides enough playtime while being kept out of reach.
The camera also comes with classic games that the kids can have fun playing with when they are done taking photos.
Its 8 mounting accessories allow for different set-ups for more fun.
Kids can make their photos more exciting with the cartoon stickers feature.
Unique Easter Gifts for Kids with Crafting Talents
These picks are perfect for a creative kid's Easter basket. Our crafting picks will help them develop their motor skills as well as get their creativity flowing.
TH6689 Kids Drawing Projector for Happy Drawing Sessions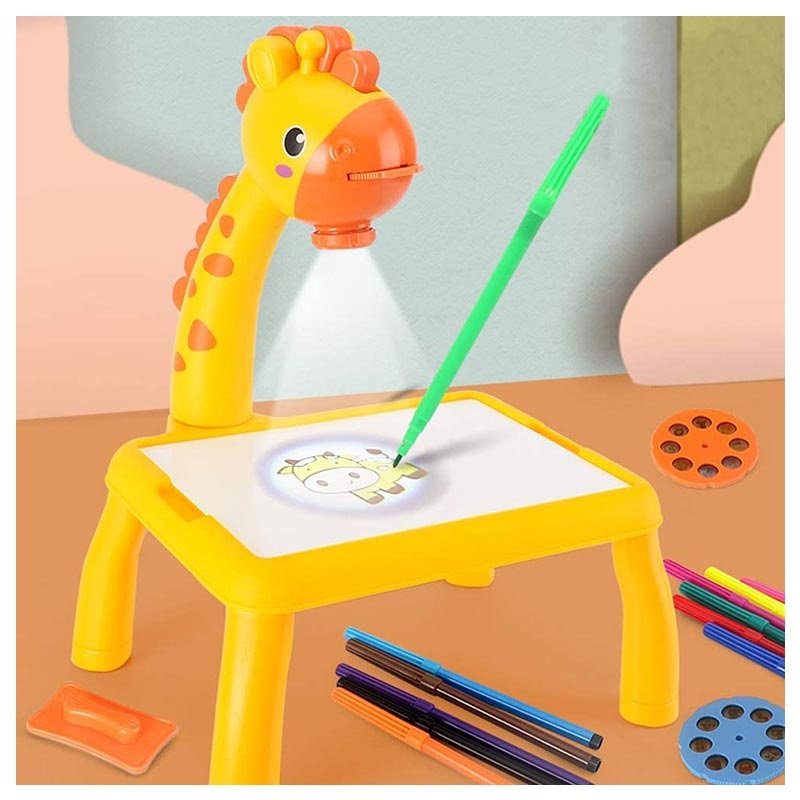 The TH6689 kids drawing projector is a fun way for young kids to test their motor skills while staying entertained. The projector comes with three projection cards each having 8 animations. While tracing, kids can also listen to the included cheerful music to help keep them engaged.
The 12 colourful markers make the tracing and drawing experience more enjoyable for the kids. When you are done, use the eraser tool to start with a new creation. It also comes with a drawing book for more colouring fun!
Features that will make kids love this perfect Easter basket gift:
Use it as a drawing table or a drawing pad by simply removing the supporting legs.
Its 24 projection patterns help develop motor skills in a fun and engaging manner.
The whiteboard can also be used for other activities and for creating other drawings.
This cute Easter gift is a great educational gift for toddlers and young children.
Low-Temperature Rechargeable 3D Printing Pen for Exciting Creations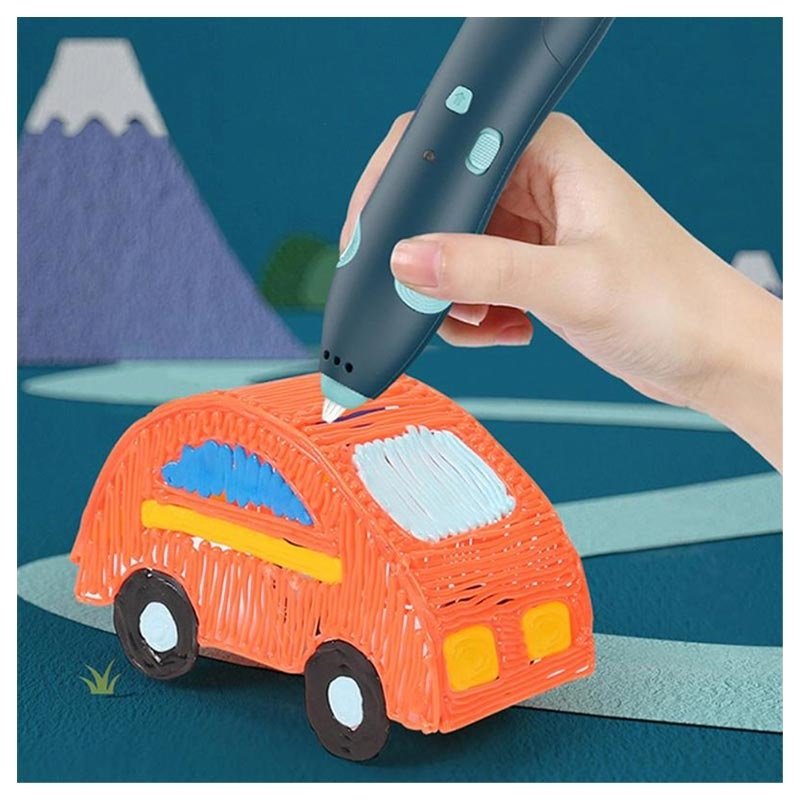 The Low-temperature rechargeable 3D printing pen is an ideal Easter gift for older kids as well as teenagers. This wireless printing pen will allow them to create 2D and 3D creations of their favourite characters, wonders of the world, and much more.
The printing filament stays under 40 degrees Celsius making it safe for use by children. You can also adjust the temperature, as well as the speed, to experiment with the printing styles. Its one-button operation also lets them stay focused on their creations.
Features that will make kids love this perfect Easter basket gift:
The 3D printing pen comes with a built-in rechargeable battery for wireless operation.
The kit comes with 10 x 3D paper films, 3 x refill filaments, 1 x transparent copy board, and 1 x cleaning needle.
Children can test their problem-solving and creativity by creating 3D designs that could also make great Easter-themed decorations.
It uses a simple one-button operation which, together with a comfortable grip design, makes it easy to use.
Alternative Easter Gifts for Kids
These Easter basket ideas are an added bonus to the chocolate Easter egg. These sound gadgets come in cute designs and are also very durable.
Rabbit Design Walkie Talkies XJ11, Upgraded Easter Egg Hunt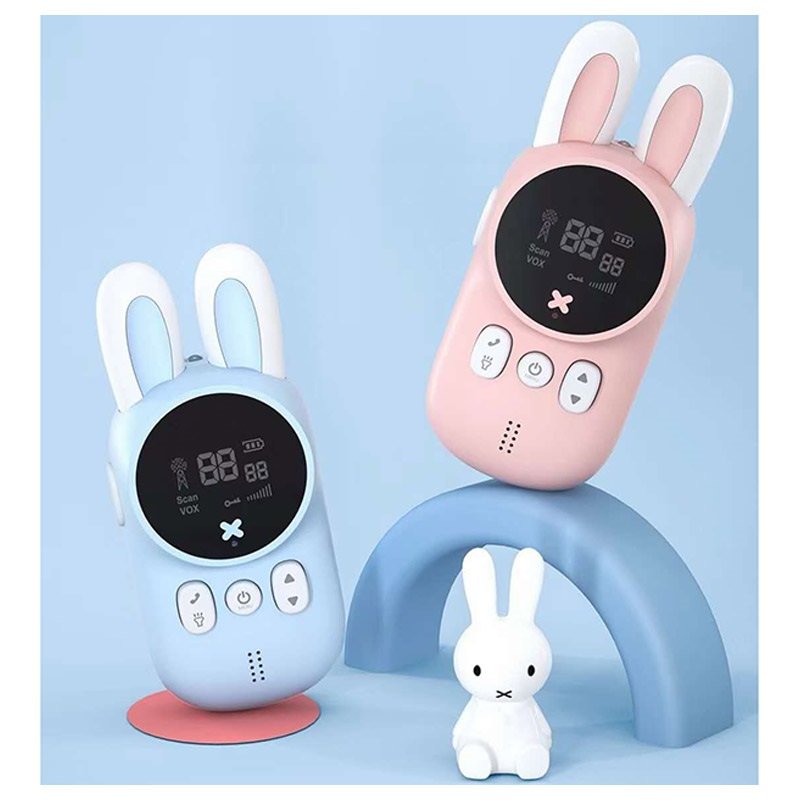 The Rabbit design Walkie Talkies XJ11 is a great Easter basket idea for little boys and girls. Its adorable bunny rabbit design is made from lightweight and high-quality ABS and PC materials. This walkie talkie is a good choice for kids that are still too young for smartphones.
With this walkie talkie, you can enhance the experience of searching for Easter treats. The gadget also features an LCD screen and a built-in flashlight for an improved user experience. In addition to the push-to-talk button, you can also use the voice activation (VOX) function to talk without having to press the button.
Features that will make kids love this perfect Easter basket gift:
Experience safe communication with its support for 20 radio channels and 99 group codes.
Whether you are indoors or outdoors, enjoy the impressive audio quality and stable transmission within 3km.
In addition to being lightweight and cute, it also comes with a practical belt clip.
Its built-in flashlight, LCD screen, easy-to-use buttons, and voice activation feature make it a great gadget.
Foldable Bluetooth Cat Ear Kids Headphones for the Stylish Kids
The Foldable Bluetooth cat ear kids headphones will let your kids listen to their personalised Easter playlist while looking fancy. It also makes for a great Easter present for older kids and teenagers. The cat ears come with LED lights that make this an even cooler gift.
The headband design and cushy earcups ensure equal distribution of weight, so they can wear them for a long time. This headphone is a great choice for gaming, online learning and even picking up calls thanks to its built-in microphone.
Features that will make kids love this perfect Easter basket gift:
The foldable design makes it easy to store and highly portable.
You can connect these with Bluetooth enabled devices for a wire-free listening experience.
In addition to the LED lights, they also come with a 3.5mm audio jack, a MicroUSB port, and support for a microSD memory card.
Its multifunctional buttons and built-in microphone allow you to use it for many different purposes.
Perfect Easter Basket Gifts for Babies
They may not be old enough to take part in the Easter activities, but that doesn't mean they should miss out on the gifts. These gadgets are a great choice for first Easter gifts for baby girls or baby boys.
Rotary Starlight LED Projector, Sleeping Under the Stars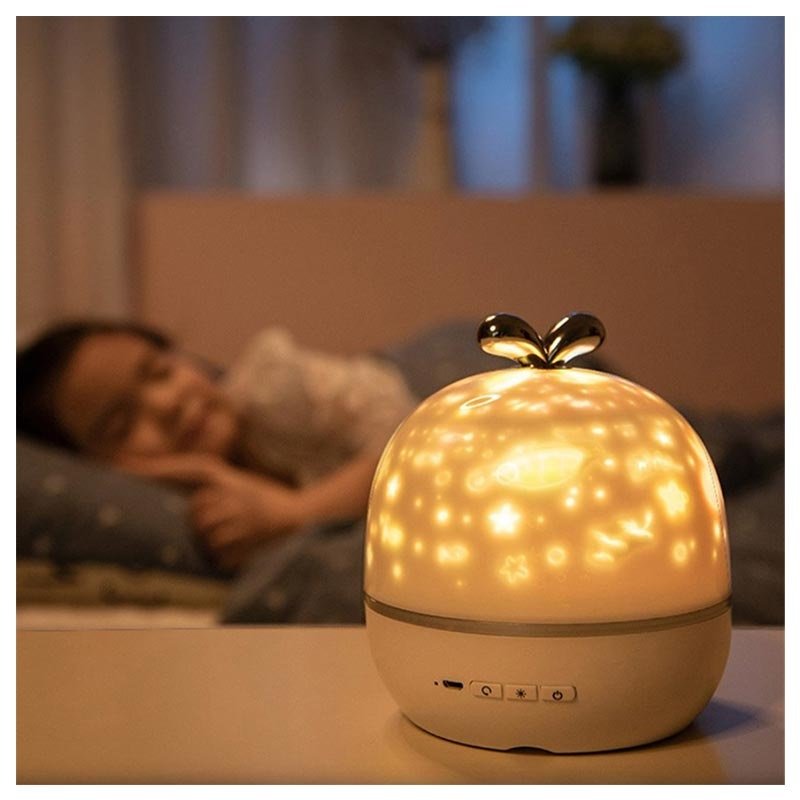 Bring the starry skies into your baby's room with the Rotary Starlight LED projector. The projector comes with 6 different themes, including stars, oceans and more. With its 360-degree rotation, create a beautiful and calming atmosphere in any room.
You can choose between its three light settings to create the right ambience. When you want it to act as a night lamp, simply remove the animation film. Since it uses LED lights, it does not get hot and saves energy.
Features that will make kids love this perfect Easter basket gift:
It comes with a built-in song that creates a beautiful experience to go alongside the animated lights.
You can choose between the universe, ocean life, horse and stars, Love Forever, Christmas, and Happy Birthday projections.
It comes with control buttons that allow you to manage the light settings and more.
It is energy efficient and creates a calming and pleasant sleeping environment.
Smile Kids Alarm Clock, An Egg-cellent Choice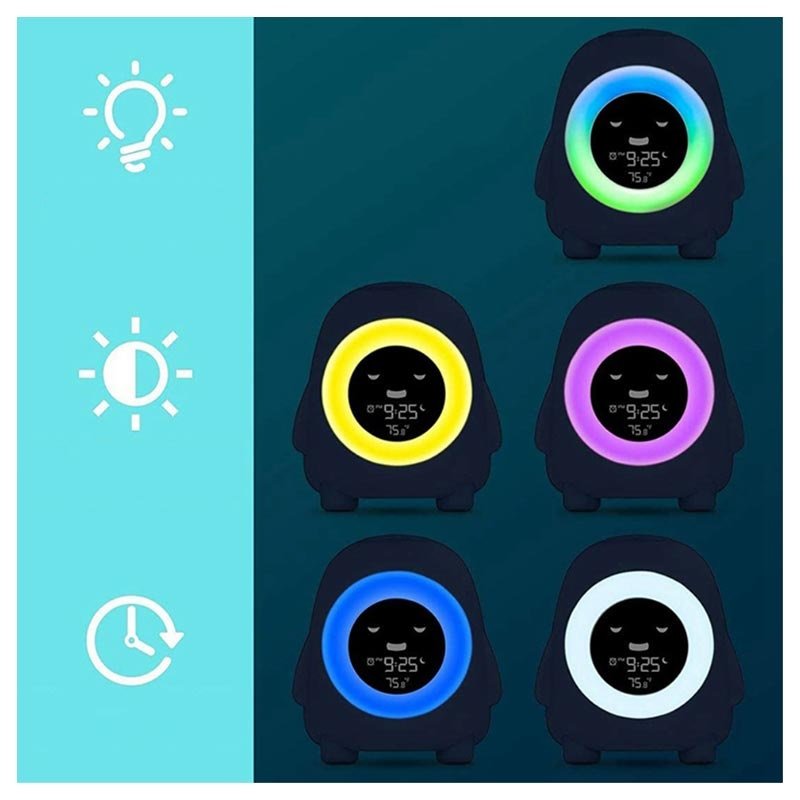 The Smile kids alarm clock's egg-shaped design fits right in with a nursery or a toddler's room. Choose from three smiling display options and five different lamp colours to create a joyful mood. With its built-in buttons, setting up and managing this smiling clock is easy.
In addition to displaying the time, you can also stay informed about the room temperature. You can set 8 nap times and choose from 5 versions of alarm music to create a schedule for your baby or toddler. Its cute design is also futuristic and classy, so you won't be compromising on your room's style.
Features that will make kids love this perfect Easter basket gift:
The built-in LCD screen displays time, temperature (Celsius, Fahrenheit), smiling faces and makes it easy to set up an alarm.
The clock comes with LED mood lights that can be set manually or automated.
The beautiful and futuristic construction fits in well with all types of interiors.
With its variety of alarm sounds, light colour, and smiling face choices, your baby will wake up happy.
Easter Gifts for Toddlers
These Easter presents are ideal for toddlers who want to be big boys and girls. With these presents, they can be more independent.
Dress Learning Book, For Big Boys and Girls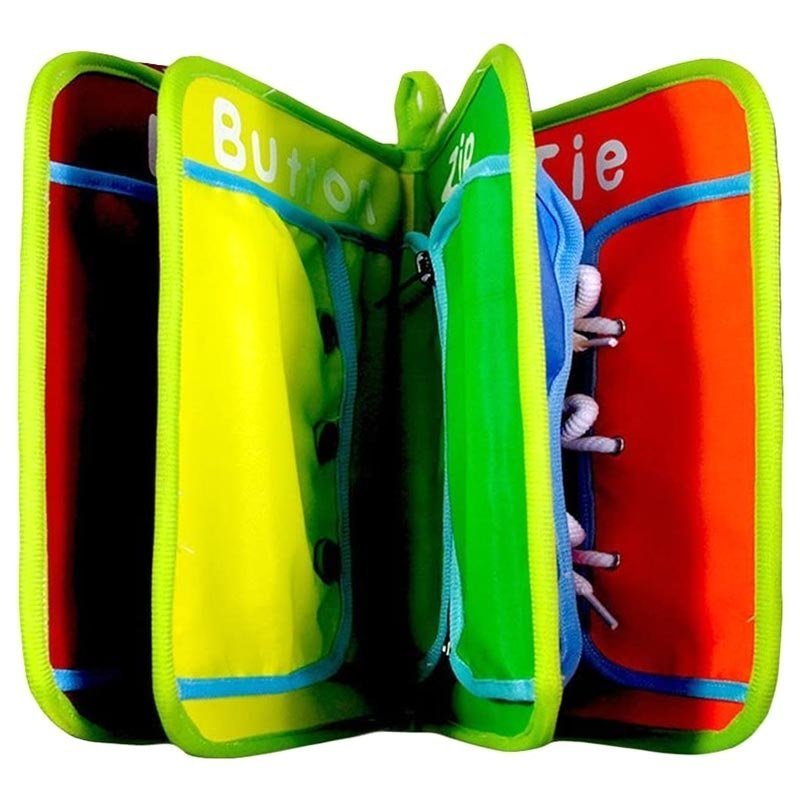 With the Dress learning book, your child can learn to dress themselves up. It is made from environmentally-friendly Oxford fabric that is easy to wash. You can let your child get as messy as they want while they learn new skills with this book.
The book features six boards with lace, zip, button, buckle, tie, and snap which helps them improve their coordination and motor skills. The colourful design also keeps them engaged and makes learning a fun activity.
Features that will make kids love this perfect Easter basket gift:
This activity book is perfect for children aged 3 years and older.
It is made from soft, eco-friendly Oxford fabric that is easy to wash.
The six activity boards help develop the fine motor skills and cognitive abilities of the child.
This cloth book will help your child feel more confident and independent.
Kids Shockproof Carry Case for the Tech Ready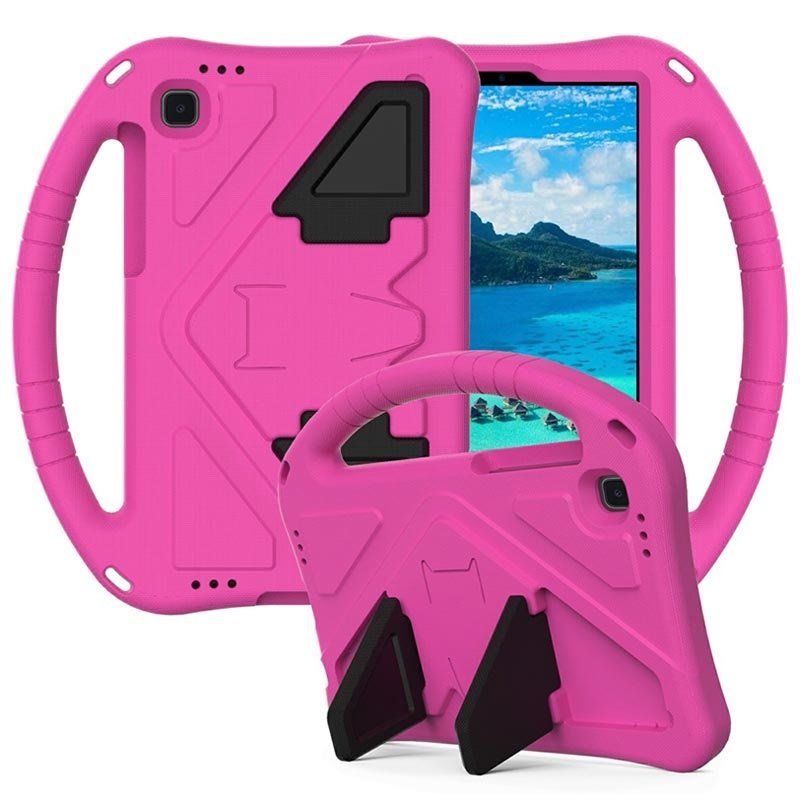 The Kids shockproof carry case for the Samsung Galaxy Tab A7 Lite will keep the tablet safe from all accidental bumps and falls. The case is made from eco-friendly and non-toxic EVA material and is available in three colours: pink, blue, and black.
The sturdy and durable case comes with cut-outs that do not block access to ports and cameras. Additionally, it also features a handle for easy carrying and a kickstand when your kid wants to enjoy a hands-free experience.
Features that will make kids love this perfect Easter basket gift:
This Samsung Galaxy Tab A7 Lite case is eco-friendly, highly durable, and offers great protection against falls and bumps.
The handle allows your child to easily carry their tablet with them wherever they go.
Thanks to its kickstand feature, you can set up the tablet on any surface to make video calls or keep the kids entertained with their favourite shows.
It comes with precise cut-outs that do not block the functionality of the buttons, ports, and cameras.
Personalised Easter Gifts for Kids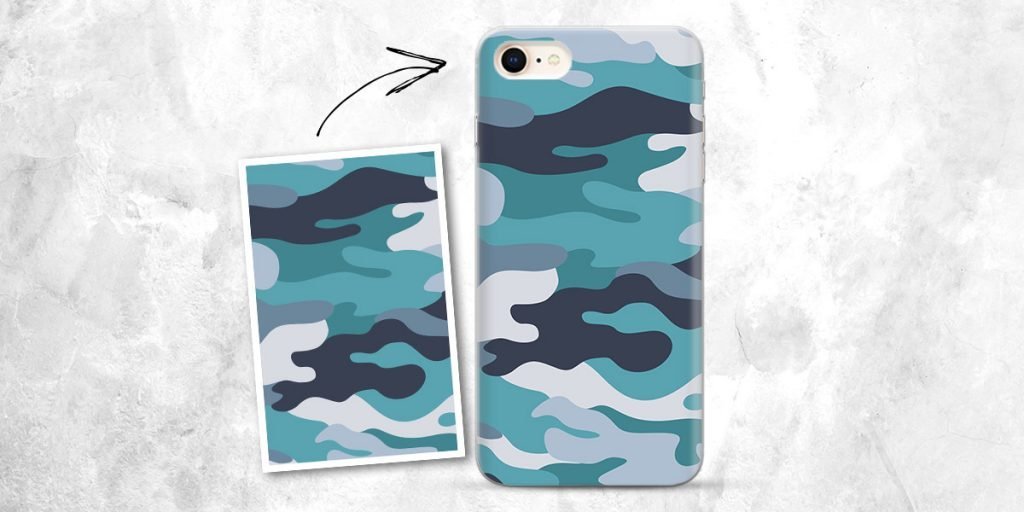 Your teenager can appreciate a personalised Easter gift. But personalisation can also be a great way to get your younger children involved and create beautiful memories at Easter!
With our Design Your Own Cases & Gadgets online app, you can create a personalised gift for your children, or create one with them!
Turn your child's pavement chalk drawing, or your favourite childhood Easter memory with your children, into a gorgeous case for their phone or other gadgets. Just follow the steps below.
Step 1
Select whether you want to customise a cover for a phone or a tablet. You can also customise gadgets! Then select the brand and the model.
Step 2
Select the case type you want for your phone or tablet.
Step 3
Upload your image, whether it is a photo or some digital art that your child created, and preview the final look.
Once you are satisfied with your creation, click on Buy, and we will help you bring your creation to life!
Easter Bunny Approved
With our curation of Easter Bunny approved gift ideas, you will no longer have to wonder what to get for your kids! But apart from the gifts, make sure you have a fun time with them hunting for Easter eggs and creating memories this Easter.
Are you looking for more cool gift ideas? Whether you are looking for a smartphone as an Easter gift for a teenage girl or a drone for an older boy, we have a variety of products to choose from!Get in touch with us, and we will help you with your Easter gift hunt!