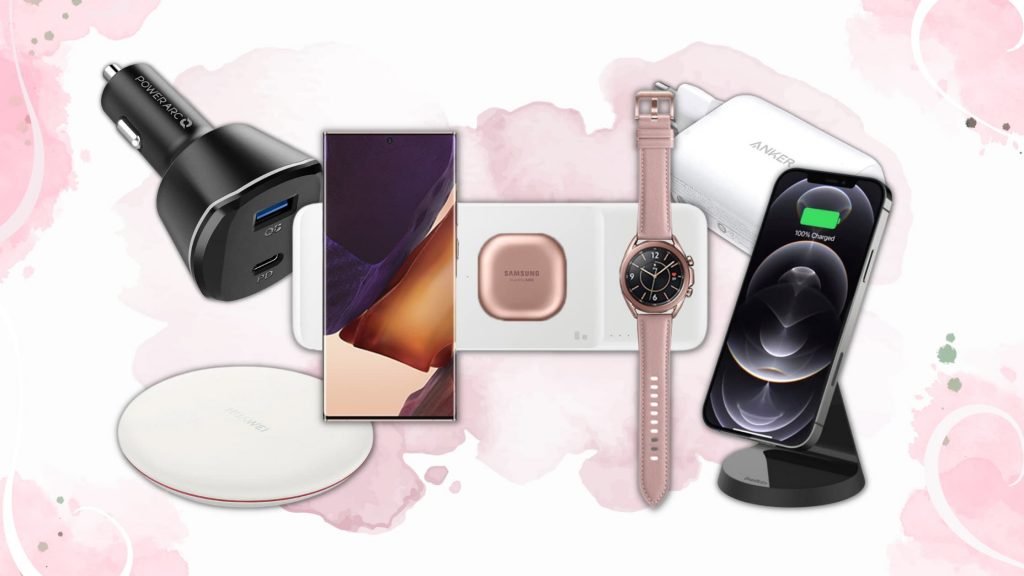 A good phone charger will help you charge your Android phones faster and more reliably. With the development of charging technologies, you can experience faster charging rates without the worry of damaging your batteries or your smart device.
Android chargers with USB C ports can also be used with your Apple Lightning cables sporting the USB C connector on one end. And when it comes to fast charging your smartphones and other gadgets, nothing beats a good fast-charging USB C cable and high-power delivering power adapter.
There are many choices when it comes to how you can charge your device. When you have forgotten your power bank, a car charger will help you top up your battery. If you love a clutter-free desk then a charging station is a must.
In this post, we have shortlisted some of our top picks for Android chargers that will deliver power to your device reliably.
Best USB C Chargers for Android Smartphones
A USB C cable and a power adapter deliver the best charging speeds. You can learn more about USB charging in our USB Charging Guide.
Anker PowerPort III Pod USB-C Wall Charger, Universal Wall Charger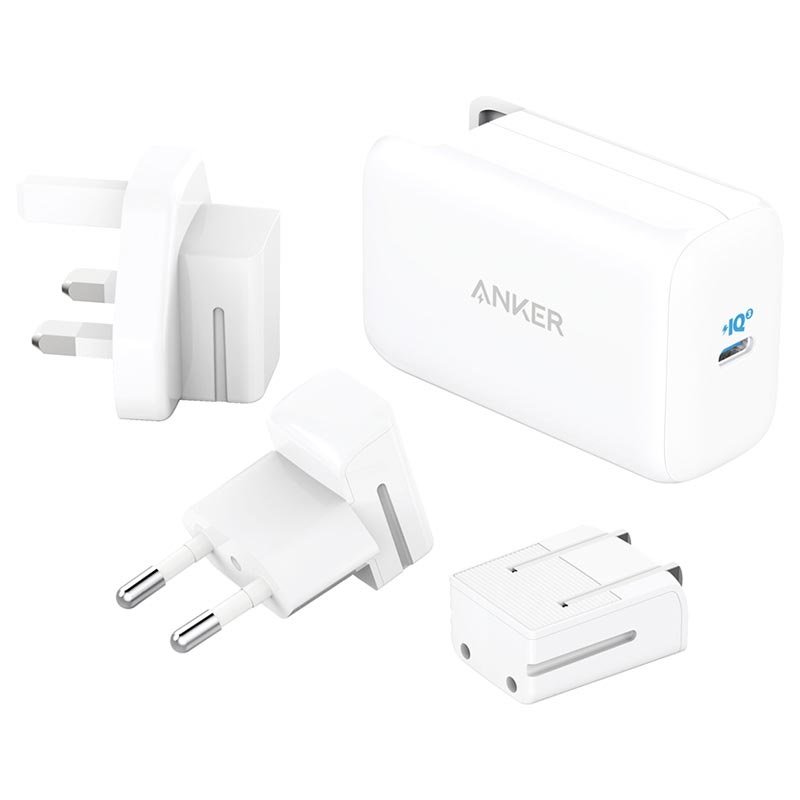 Whether you want to charge your phone or MacBook, with the Anker PowerPort III Pod USB-C wall charger, you can. This USB wall charger supports a wide range of high-speed charging standards to fulfil your device's charging needs.
Additionally, it comes with EU, US, and UK plug adapters that make this a reliable, perfect travel companion. And with its MiniFuel technology, you can expect optimised charging and heat dissipation while charging your smartphones, tablets, and laptops.
Charge up your devices with these features:
This wall charger features PowerIQ 3.0 technology and has a maximum power output of 65W, which is perfect for fast charging.
This universal fast charger can be used with your USB C charging cables allowing you to expand its range of applications.
Thanks to its MiniFuel technology you get better charging performance and heat dissipation.
The charger can charge your MacBook Pro 16" to full capacity in up to 2.5 hours.
Spigen PC1800 PowerArc Dual USB Car Charger, Dual Charging On-the-Go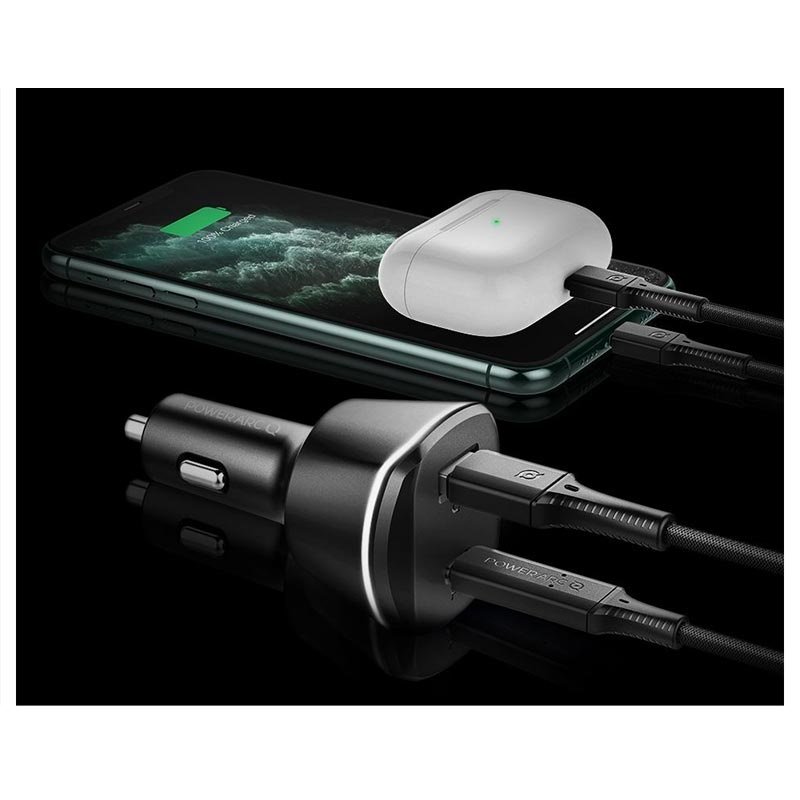 With the USB A and USB C ports, the Spigen PC1800 PowerArc Dual USB car charger is the best USB car charger for Android as well as Apple devices. This charger is perfect for road trips when you have many devices with fast charging needs.
Enjoy up to 18W of power delivery for devices compatible with Quick Charge 3.0 charging technology. This car charger comes with safety features that ensure safe charging via both ports. The integrated LED indicator makes it easy to use in low light conditions.
Charge up your devices with these features:
The internal chip ensures safe current and voltage distribution to both the USB ports.
It offers up to 30W of power delivery that enables you to quickly charge devices like your iPhone 8 and iPads.
Use this gadget with USB-C and USB-A connector cables to charge two devices simultaneously.
The LED indicator enhances its usability under low light conditions.
Best Wireless Chargers for Android that Act as Stands
With a two-in-one function, these wireless charging stands will be the best purchase you ever make for your smartphones. Now you can watch your favourite movies or read your ebook while you charge your devices!
Zens Ultra-Fast Qi Wireless Charging Stand, Modern Design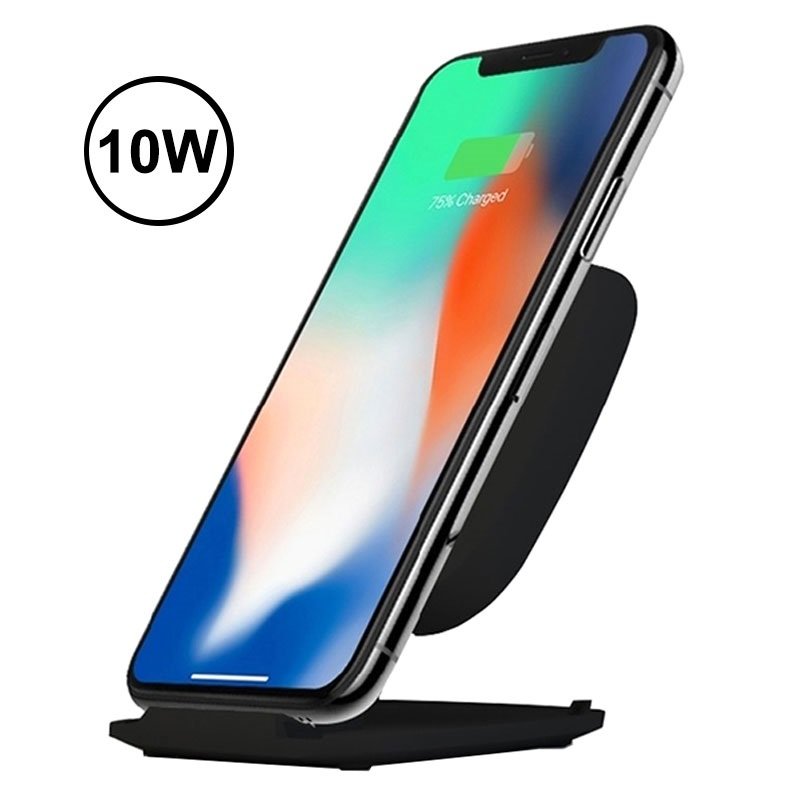 The folding design of the Zens Ultra-Fast Qi Wireless charging stand makes it extremely portable and easy to store away when not in use. The charger comes with an auto-shutdown function, which is perfect for preventing the overcharging of your device.
The folding design also allows it to turn into a charging pad! This Qi-certified charger can be used with all your Qi-enabled smartphones as well as your Apple smartphones including iPhone X, iPhone 8, and iPhone 8 Plus.
Charge up your devices with these features:
The modern folding design enables you to use the charger as a standing charger as well as a charging pad.
The charger can be used with Qi-enabled Android devices as well as Apple devices.
It comes with an auto-shutdown feature that turns OFF charging once your device is fully charged.
The device requires no set-up. Simply place your device on top of it to begin charging.
Belkin BoostCharge Magnetic Wireless Charger Stand, The Minimalist Choice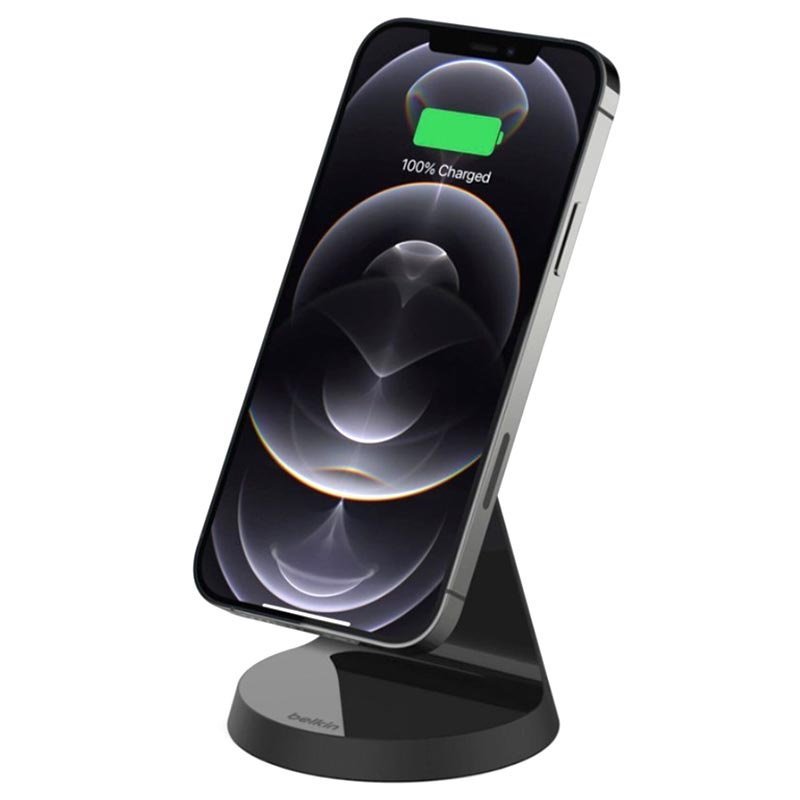 If you want a sleek looking charger that doubles up as a smartphone holder, then the Belkin BoostCharge Magnetic Wireless charger stand is the right choice for you. This charging stand is compatible with smartphones featuring a magnetic wireless charging receiver.
Thanks to its MagSafe compatibility, you can reliably charge your iPhone 12 and iPhone 13 series with it too. The strong magnets hold the mobile phone perfectly, whether it is placed horizontally or vertically on it.
Charge up your devices with these features:
It comes with a 20W PD3.0 power adapter to satisfy the wireless charging needs of your smartphone.
Its integrated LED light keeps you updated about the charging status of your device.
It is compatible with the MagSafe ecosystem and therefore can be used with MagSafe-featuring Apple products.
The strong magnets securely hold your device in both landscape and portrait orientations.
Best Wireless Charging Pads for Your Smartphone
Charging pads are great to keep the clutter of wires out of sight. These charging pads are functional and bring a futuristic look to any space.
Goobay Dual Fast Qi Wireless Charging Pad, Double-Up on Charging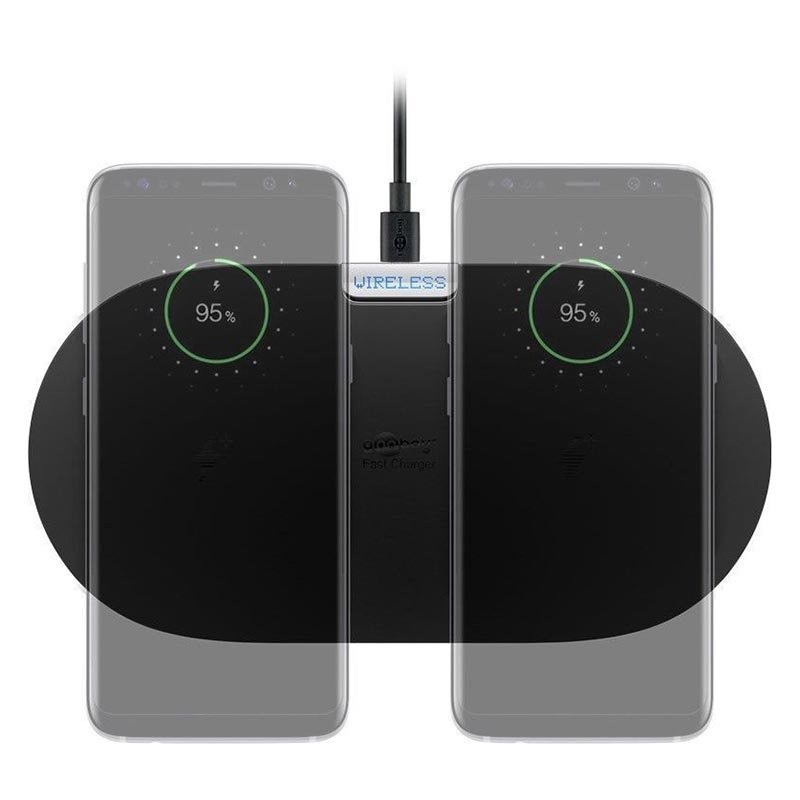 Need your personal and work mobile phones to be charged at the same time? The Goobay Dual Fast Qi Wireless charging pad allows you to simultaneously, and wirelessly, charge up to two devices.
Thanks to its optimisation and safety features, you can reliably recharge your device's battery worry-free. Its slim and classy design fits in perfectly with all types of environments without taking up too much space.
Charge up your devices with these features:
This wireless charger allows you to charge your devices reliably and safely with automatic detection and allocation of power.
It delivers up to 10 watts of power for faster charging of your Qi-enabled smart devices.
The dual charging features means no more waiting when you are in a hurry.
The slim and elegant design fits perfectly in any office as well as any home space.
Genuine Huawei SuperCharge Fast Wireless Charger, Super Charge Your Phone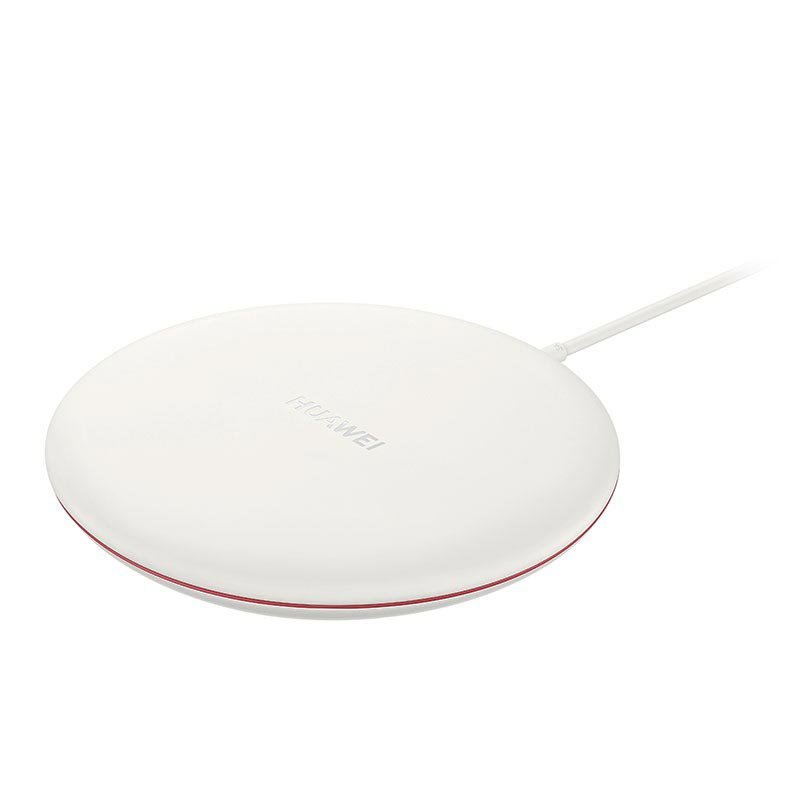 Pair your Huawei Mate 20 Pro with the Genuine Huawei SuperCharge Fast Wireless charger CP60 to reach supercharging speeds. This charger can also be used with other Qi-enabled devices.
We love the simplistic and clean design that is perfect for a minimalist's workspace whether at work or at home. The charger delivers a power output of about 15 watts, which is great for quickly charging devices.
Charge up your devices with these features:
This Huawei wireless charger works perfectly with all Qi-enabled devices.
The slim and minimal device construction creates a serene look.
The charger delivers 15W of power, ideal for fast charging a Huawei Mate 20 Pro or other compatible devices.
It comes with a USB C cable to use with compatible power adapters.
Best Charging Station for Your Digital Gadgets
Want to stay organised as well as recharge the batteries of your most-used devices? These charging stations are a great addition to a work or study desk.
3-in-1 Magnetic Wireless Fast Charging Station, Keep it Together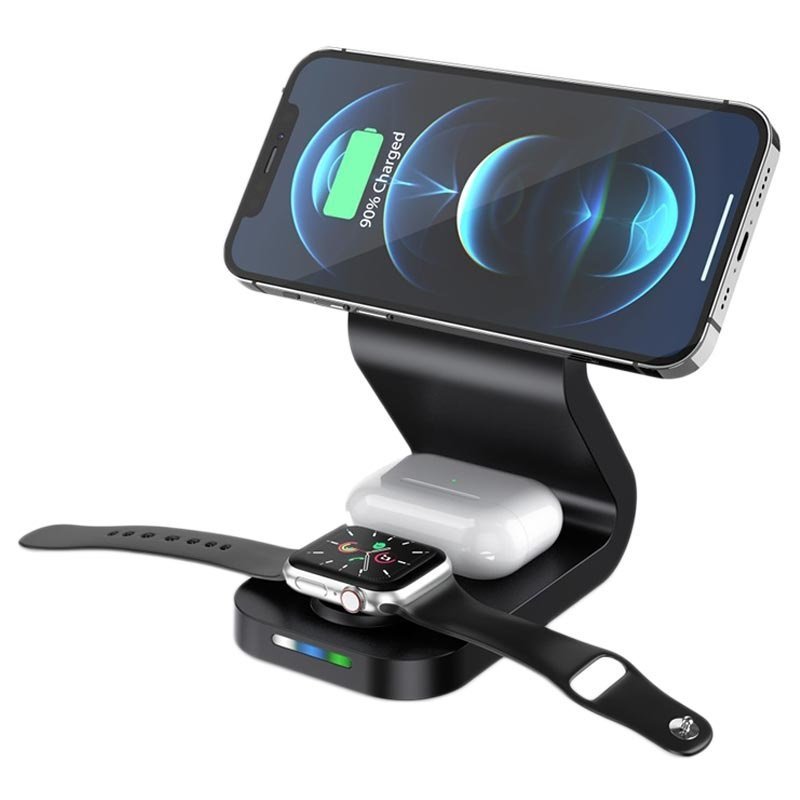 The 3-in-1 Magnetic Wireless Fast charging station B16 has a stylish design that also does not take up too much space. It features three charging areas dedicated to charging your smartphone, smartwatch, and wireless earphone cases.
The three LED lights give you clear indications of the charging status of the different devices placed on it. Additionally, its MagSafe compatibility means it is perfect for the trio of Apple gadgets.
Charge up your devices with these features:
This charging station comes with multiple protection protocols that ensure the safe charging of all your devices.
It has power outputs of up to 15W for smartphones, up to 2W for smartwatches, and up to 5W for earphones.
The magnets in the smartphone charger area firmly hold the device in place and are compatible with MagSafe phone covers.
You can keep updated on the charging status of your devices with the dedicated, colour coded LED lights.
Genuine Samsung Wireless Charger Trio, For the Samsung Family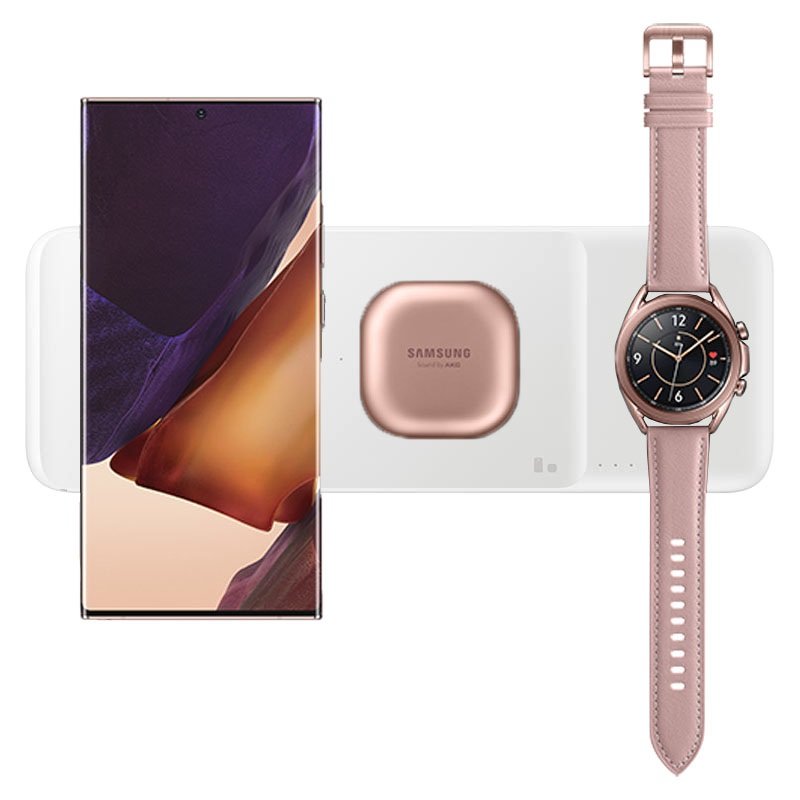 With a dedicated spot for your Samsung Galaxy smartwatch and smartphones, the Genuine Samsung Wireless charger Trio EP-P6300 is a no-brainer when it comes to Android wireless chargers.
The charging pad allows you to charge two smartphones or a smartphone and your favourite earbuds along with a smartwatch at the same time. You can also use it with your Apple devices, making it a win-win for both sides.
Charge up your devices with these features:
The charging pad is compatible with Qi-certified devices and can also be used for charging Apple devices.
This Samsung Android wireless charger supports fast inductive charging up to 9W and charges fast-charging Apple devices at 7.5W.
Smartwatch charging is only supported for Galaxy Watch3, Active2, and Active smartwatches.
You can easily charge smartphones that have covers with a thickness of up to 3mm.
Best Wireless Chargers for Under £25
You do not have to break the bank when looking for a wireless charger. Our top two picks will satisfy both those that love to bring a pop of colour and those that like to keep it professional.
Saii Foldable Fast Wireless Charger, Mess-free Charging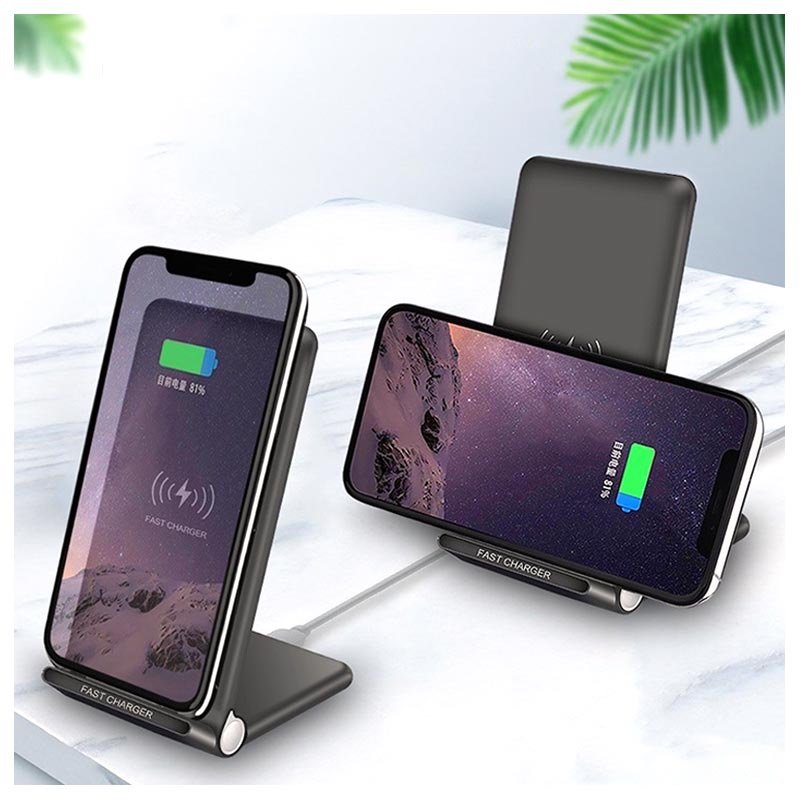 You can use the Saii Foldable Fast Wireless charger as a charging pad or a charging stand depending on the need of the moment. This wireless charger is elegant and is made of high-quality materials.
When you need to charge, simply place your device on it and it will begin the charging process. This wireless charger delivers up to 15W of power when combined with the right power adapter, allowing you to fast charge your devices.
Charge up your devices with these features:
The wireless charger delivers power outputs of 15W, 10W, 7.5W, and 5W, making it suitable for charging a wide variety of smartphones.
It supports a maximum charging distance of up to 10mm.
The foldable design allows you to choose your perfect angle of viewing while also charging your device.
It comes with a helpful charging status indicator to keep you updated on the charging process.
Nillkin Kitty Qi Wireless Charger, Cute and Efficient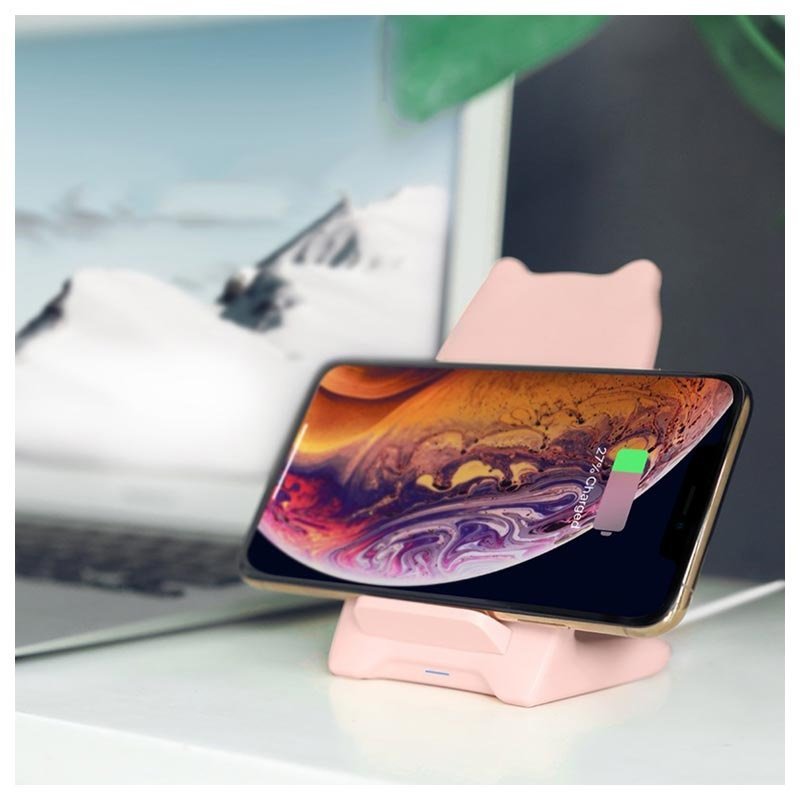 For those that love to bring in some colour and quirkiness, the Nillkin Kitty Qi Wireless charger is an amazing choice. Its cat ear design is adorable and makes for a perfect gift for a cat lover or any animal lover in general.
The charging stand creates a perfect viewing angle whether you place your phone vertically or horizontally for charging. It also comes with multiple safety protocols in place to ensure the safe charging of your devices.
Charge up your devices with these features:
It features smart ID device recognition that along with the safety protocols ensure optimal and safe charging of devices.
The charger can be perfectly used with the latest Android smartphones and iPhones supporting wireless charging.
The adorable design comes in two cute colours and creates a joyful mood.
Boost the Battery of Your Android Devices
Finding the best chargers for Android phones in 2022 should no longer be a problem with our handpicked selection of chargers for your devices. We recommend you learn more about fast-charging with our Fast Charging guide, to get a better idea about buying the best fast charger for Android.
Whether you are looking for a wireless charger or a fast charger, keeping your smartphones healthy requires more than just keeping them charged. Make sure you keep your mobiles updated and check for power-draining applications to make the battery last longer.Find the best Android portable chargers, the best Android wall chargers, and much more with our vast collection of mobile phone chargers and charging accessories. Don't hesitate! Get in touch with us and make that reliable purchase for your gadgets.