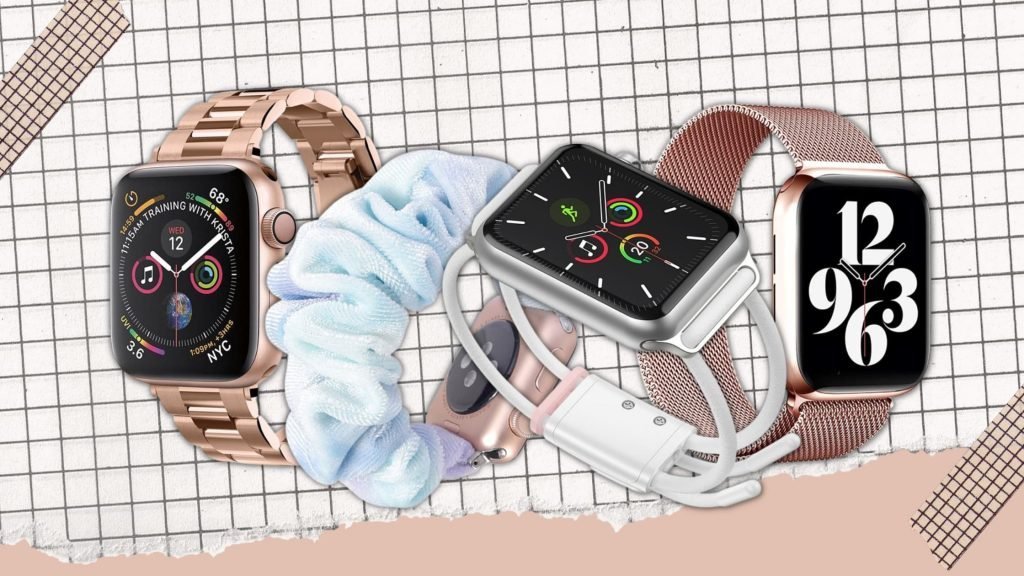 With a beautiful Apple Watch strap to wrap your Apple Watch securely on your wrist, working out becomes more fun. But straps do not just have to be limited to the workout environment.
You can change up the style of your Apple Watch by simply swapping out the watch strap. Sporty options like the Solo Loop or nylon weave straps look great. On the other hand, fluoroelastomer and silicone bands feel so good and so soft!
When it is time to shift from the sweaty environment of the gym to work, leather straps or metal straps are a great choice. But if you are looking to stand out with a unique Apple Watch band, we have picked some great options just for you.
Do not forget that to maintain the longevity of your smartwatch straps you should take good care of them as well. In our guide on how to clean your Apple Watch straps, you will be able to pick up helpful tips and answers to some commonly asked questions about them.
Here are our picks for the best Apple Watch straps for women!
The Best of Original Apple Watch Bands for Women
We have said it before, we will say it again; nothing compares to an original. With these original bands and straps from Apple, your Apple Watch will get the best of the best. We have selected two styles for a day and night look.
Apple Sport Loop: A Breathable Band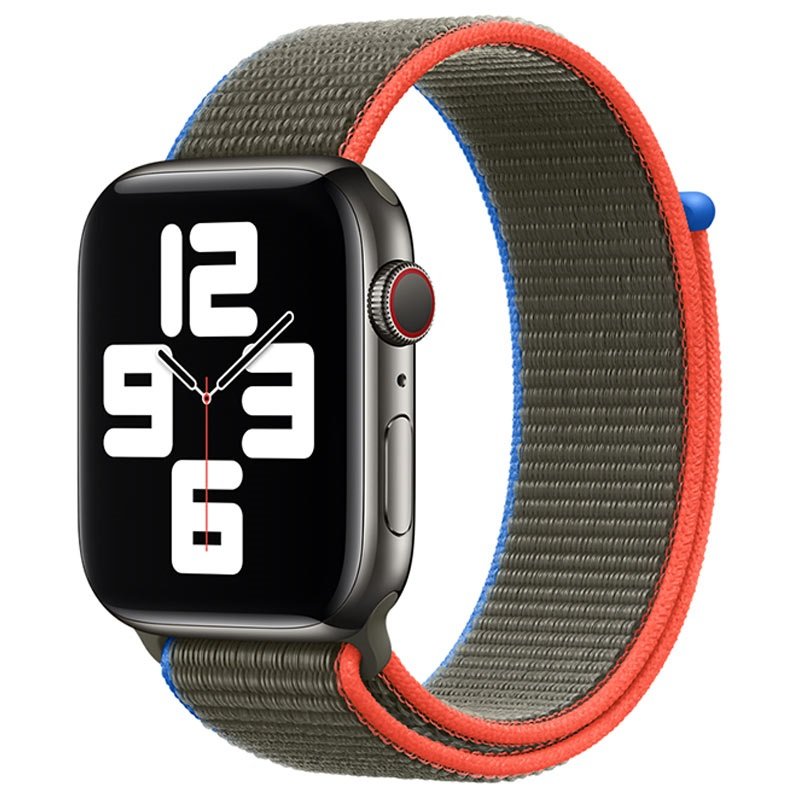 The Apple Sport Loop is the perfect choice for running, cycling, and just about any activity you can think of. These nylon bands have a woven double-layer to create a breathable fabric that keeps the sweat off you.
The hook and loop system makes it perfect for all wrist sizes. This easy and effective closure will ensure a secure fit without being uncomfortable. Sweat it out to meet your fitness goal without worrying about damaging the watch strap.
Features to look out for with this strap:
The official Sport Loop is designed for the Apple Watch SE/6/5/4/3/2/1.
The tiny loops created in the double layer make it breathable and ideal for high-intensity workouts.
Its lightweight and soft design causes no discomfort even during long-term wear.
The hook and loop closure feature gives you the right fit every time.
Apple Modern Buckle Band: Perfect for a Romantic Evening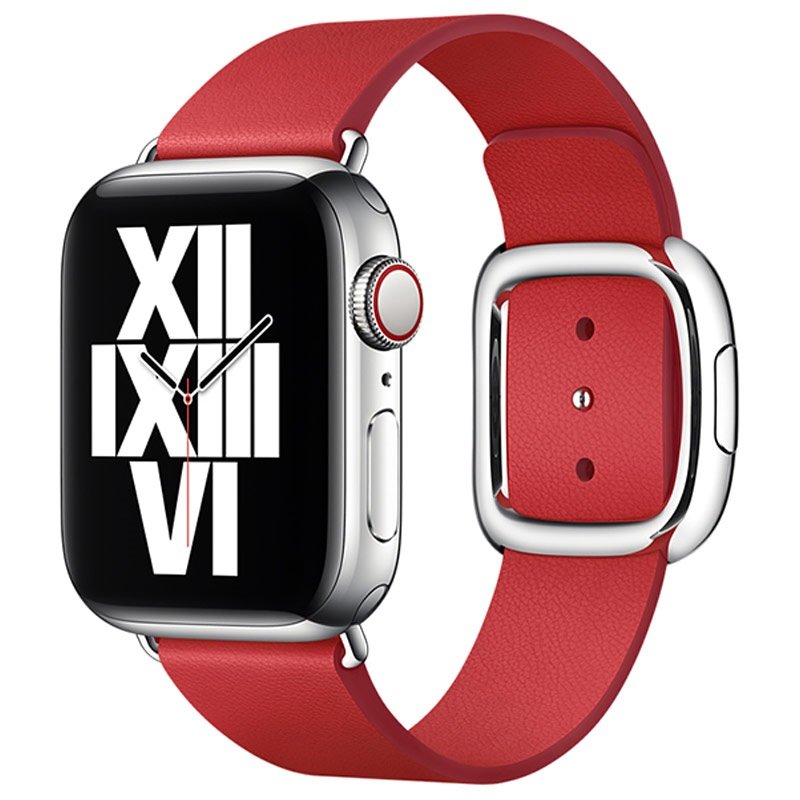 Heading to an important meeting or an evening date, the Apple Modern Buckle band is an ideal choice for you. Apple has designed this strap keeping comfort in mind with the combination of Granada leather from France and an inner Vectran weave layer.
It comes with a large buckle that resonates with the dial of the Apple Watch. With pre-punched holes and a simple closure style, this watch will look elegant on your wrist. You can find these leather straps in red, blue, brown, and saddle brown colours.
Features to look out for with this strap:
The inner Vectran weave layer provides flexibility and hardiness as it did in the Mars Rover's landing airbags.
The variety of colours make them perfect for your Apple Watch SE/6/5/4/3/2/1.
The supple Granada leather from France brings the luxury of leather to your modern gadget.
Expect the most comfortable fit with its pre-punched holes and buckle closure.
The Best Metal Apple Watch Straps for the Classy Women
Metal straps and bands are never going out of style. This traditional choice now comes in a variety of design styles and colours. Whether you need something soft or something bold, metal Apple Watch straps will give more power to the woman you are.
Puro Milanese Strap: An Elegant Metal Band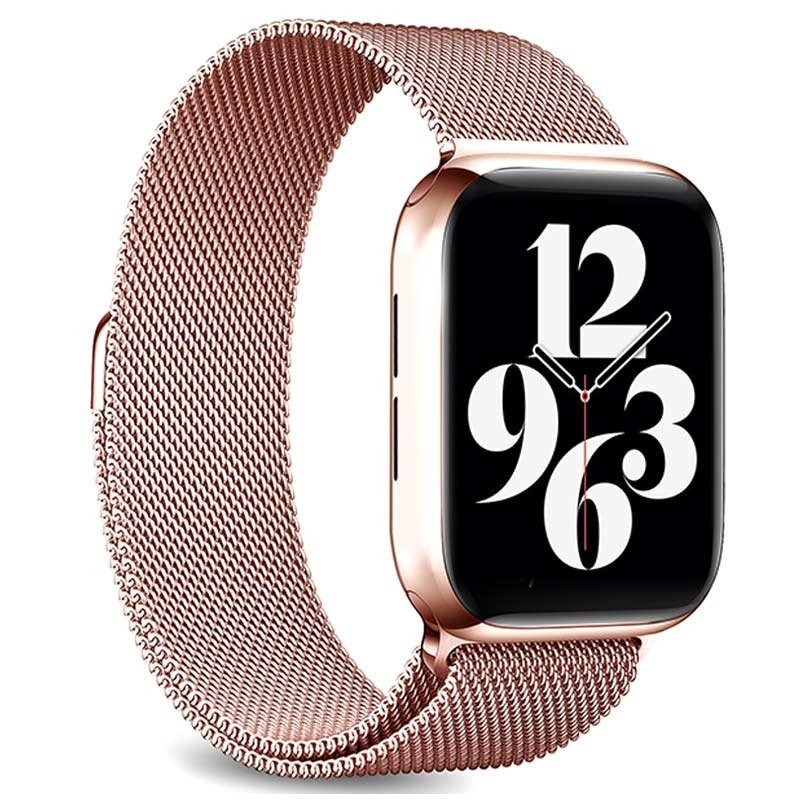 The Puro Milanese strap is the epitome of elegance amongst metal straps available for the Apple Watch series. The loop style and magnetic clasp create a smooth band without any bulky buckles.
The intricate mesh-like design and the range of elegant colours add femininity to your Apple Watch. You can expect excellent durability with this stainless-steel band. Always look elegant with this strap, whether it is at work or on a day out with friends.
Features to look out for with this strap:
The stainless steel material of the strap offers excellent durability.
Thanks to the loop style and magnetic closure, the watch strap fits most wrist sizes.
The intricate mesh weave design brings elegance to your smartwatch.
Use the trendy Puro Milanese strap with your Apple Watch Series SE/6/5/4/3/2/1.
Glam Stainless-Steel Strap: Pretty in Silver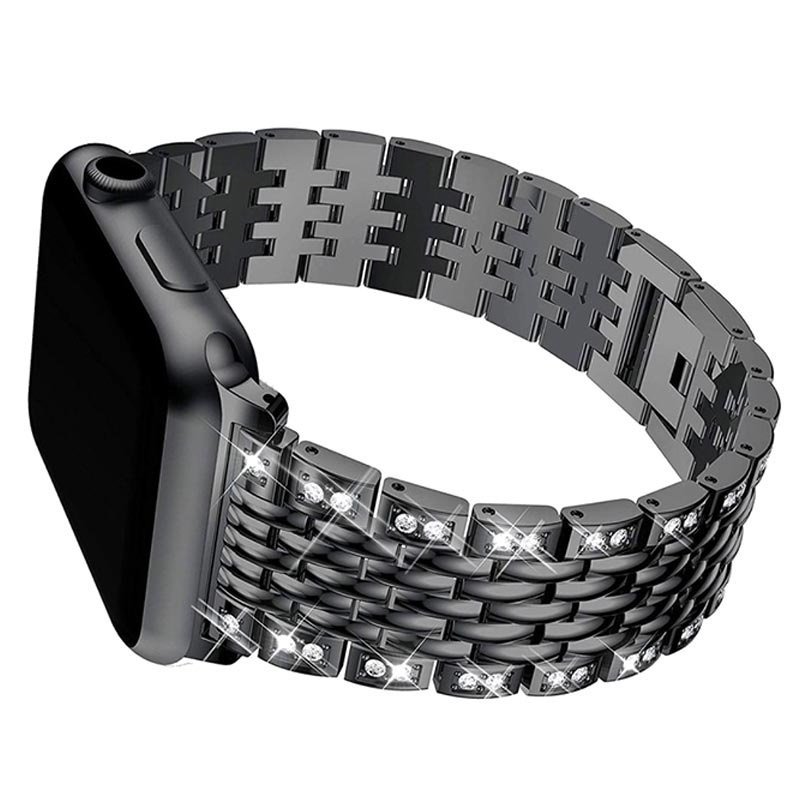 With the glam stainless-steel strap, get the look of traditional metal watches with your Apple iWatch. This stylish wristband is made from highly durable stainless-steel material that can handle everyday wear and tear.
It also comes decorated with the sparkle of rhinestones to bring femininity to the cool metal. Thanks to the metal clasp, you get a secure fit. You can easily upgrade your Apple Watch with this stainless-steel strap.
Features to look out for with this strap:
This modern wristband comes with connectors on both ends for easy installation.
Make your Apple Watch Series SE/6/5/4/3/2/1 glamourous with this metal strap.
The rhinestone embellishments give this strap a luxurious and feminine appeal.
Enjoy a secure and comfortable fit with its metal clasp closure.
Spigen Modern Fit Strap: Bold and Beautiful Choice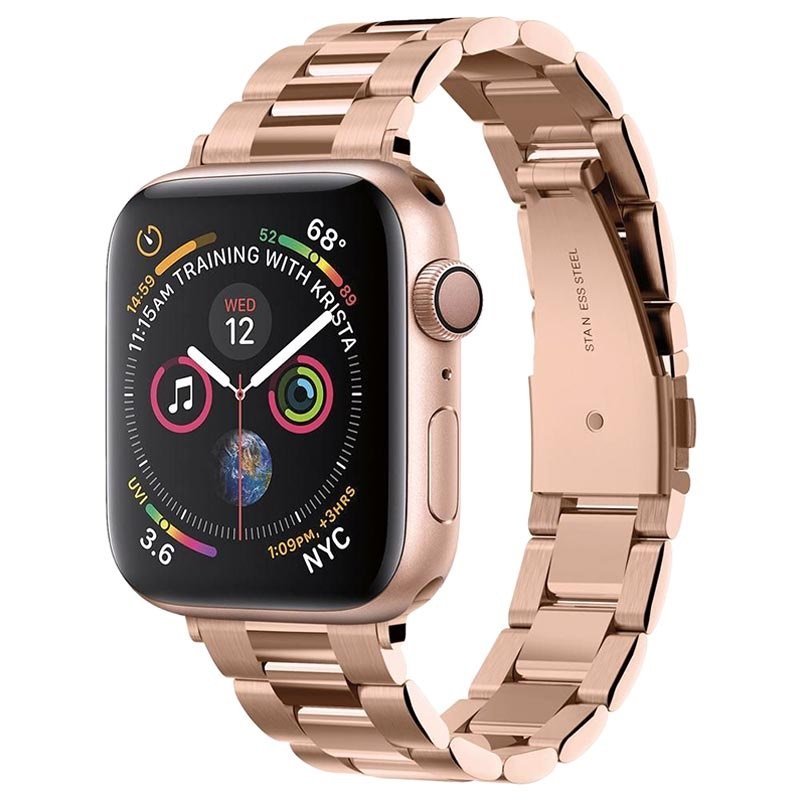 With rose gold, black or silver Spigen Modern Fit straps, whichever you choose, you will look fabulous. This metal strap brings you an elegant alternative to silicone or textile bands. Look classy and in control with the luxurious look of this metal strap.
Made from stainless steel, it ensures you will get a lot of use out of it. The durable material fits well with many environments and will enhance your look. Keep your Apple Watch secured to your wrist with its metal folding buckle.
Features to look out for with this strap:
Its adjustable strap and clips ensure you get a snug and comfortable fit.
The stainless-steel material looks elegant and offers great durability.
The timeless design of this strap looks amazing with your Apple Watch SE/6/5/4/3/2/1.
Enjoy quick and secure closure with its metal folding buckle.
The Best Leather Apple Watch Straps for Ladies
A classic choice, leather bands are perfect for formal occasions as well as everyday wear. The natural, soft feel of leather makes it comfortable against the skin. However, genuine leather tends to develop a patina over time which only adds to its beauty.
Slim Leather Strap: A Wrap of Elegance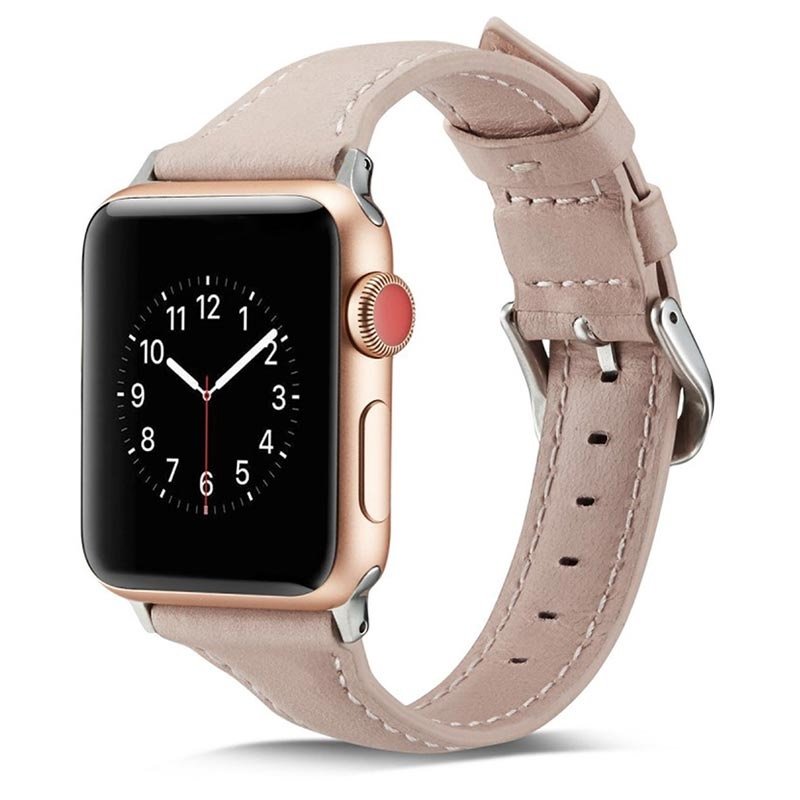 The simplistic style of the slim leather strap is in line with traditional ladies' leather watches. Since the strap is made from high-quality genuine leather, you can expect a rich feel with this natural material.
It comes with a classic butterfly closure, which enhances the elegance of the strap. You can choose the pink colour strap if you love to try something extraordinary. It also comes in more traditional leather colours: black and coffee.
Features to look for with this strap:
The strap comes with pre-punched holes to adjust the fit to your wrist size.
Its classic butterfly buckle mechanism allows for intuitive operation.
It is available in three colours: pink, black, and coffee.
You can use it with your Apple Watch SE/6/5/4/3/2/1.
Pattern Leather Strap: Make a Fashion Statement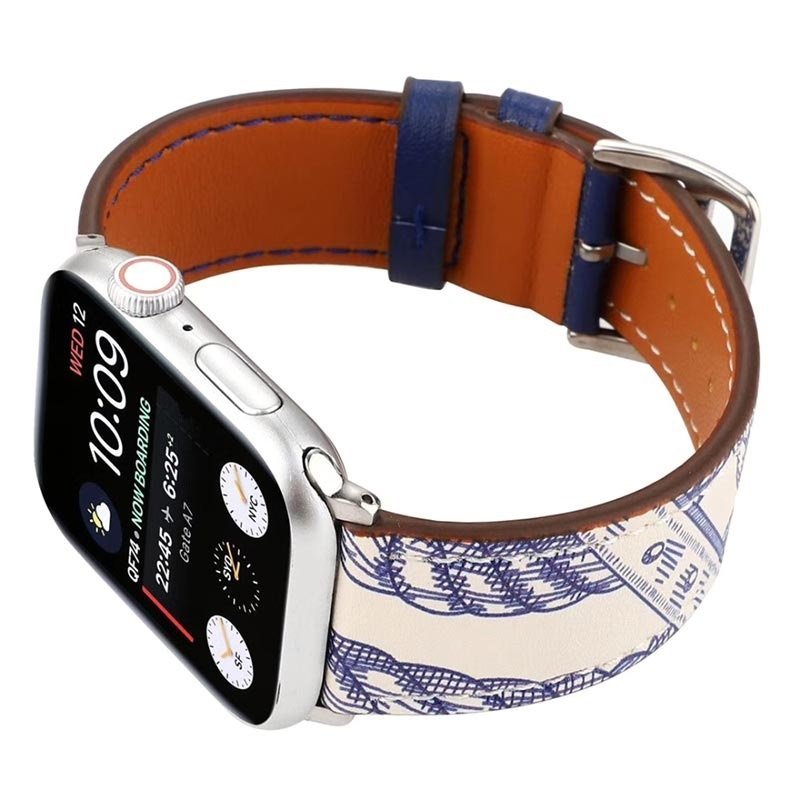 With the pattern leather strap, you are bound to stand out in a crowd. Its beautiful design brings freshness to the classic style of leather straps. Its easy installation allows you to shift from work to chill mode easily.
It is made from genuine leather, whose supple feel is simply amazing. You also get the classic metal buckle along with pre-punched holes to ensure a secure and perfect fit. We highly recommend this leather strap for its uniqueness.
Features to look out for with this strap:
This stylish leather strap is available in blue, red, and black design colours.
The stainless-steel buckle always gives you a secure fit.
Its supple leather material feels exquisite on the wrist.
Your Apple Watch SE/6/5/4/3/2/1 will look gorgeous with this strap.
The Best Sports Band for Women's Apple Watches
A clunky band or strap will only hinder your workout. The right choice is the softness and smoothness of silicone and similar materials. These sports bands bring a pop of colour and vibrancy to your gym session.
Apple Sport Band: The Cushiony Choice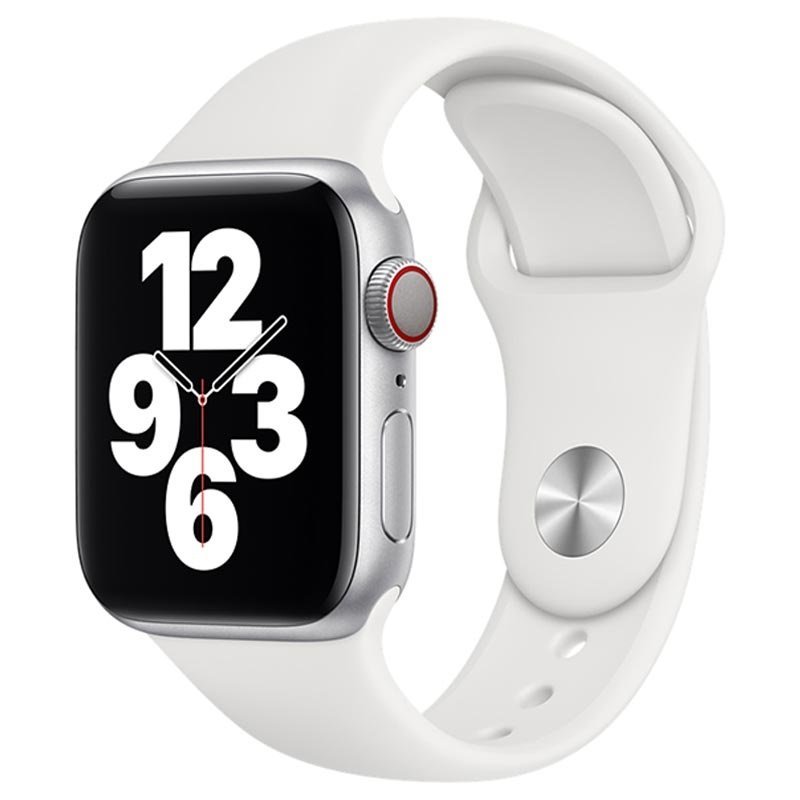 This genuine Apple sport band will feel like wearing the clouds on your wrist. The soft feel and texture of the band make it gentle against the skin. And the variety of colours available will blow your mind.
The fluoroelastomer material is not only soft but extremely durable. It is perfect for your gym workouts or outdoor activities. And its pin and tuck closure makes it easy to wear. This band is as good as a snuggle buddy, but for your wrist.
Features to look out for with this strap:
This Apple Watch band is available in ginger, red, white, Deep Navy, black, and Cyprus Green colours.
Despite the soft and gentle feel, this fluoroelastomer sports band is strong and durable.
The innovative pin and tuck closure, along with the pre-punched holes, ensure a comfortable fit.
This is a good match for your Apple Watch SE/6/5/4/3/2/1.
Puro Icon Silicone Band: The Lightweight Strap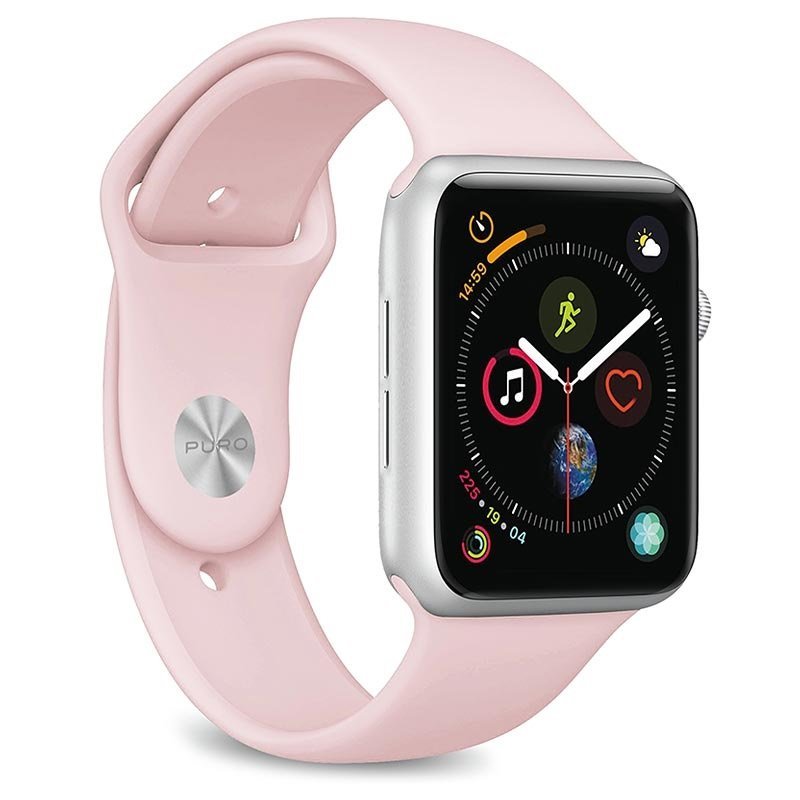 The Puro Icon silicone band is lightweight but big on comfort. It is made from silicone material that gives you the best wearability. The skin-friendly nature of the material means no more irritations after a long workout.
It comes in soft pink, vibrant red, and the classic choice, black. The hassle-free closure also makes this strap a great choice for working out. The pre-punched holes ensure the best fit for your wrist.
Features to look for with this strap:
It comes with two straps of sizes S/M and M/L making it perfect for couples too.
The pin and tuck closure and adjustable lengths make wearing it a breeze.
Thanks to the silicone material's soft and skin-friendly nature, you will enjoy wearing this during workouts.
Get your Apple Watch Series SE/6/5/4/3/2/1 these soft silicone bands to enhance your workouts.
The Best Extraordinary Ladies' Apple Watch Straps
Are you looking to steer away from the traditional choices? Look no further than our top three picks of women's Apple Watch Bands that are anything but ordinary. With options like these, you can have a watch band that complements your outfit, as well as your mood.
Rhinestone Fan-Shaped Strap: Bring the Sparkle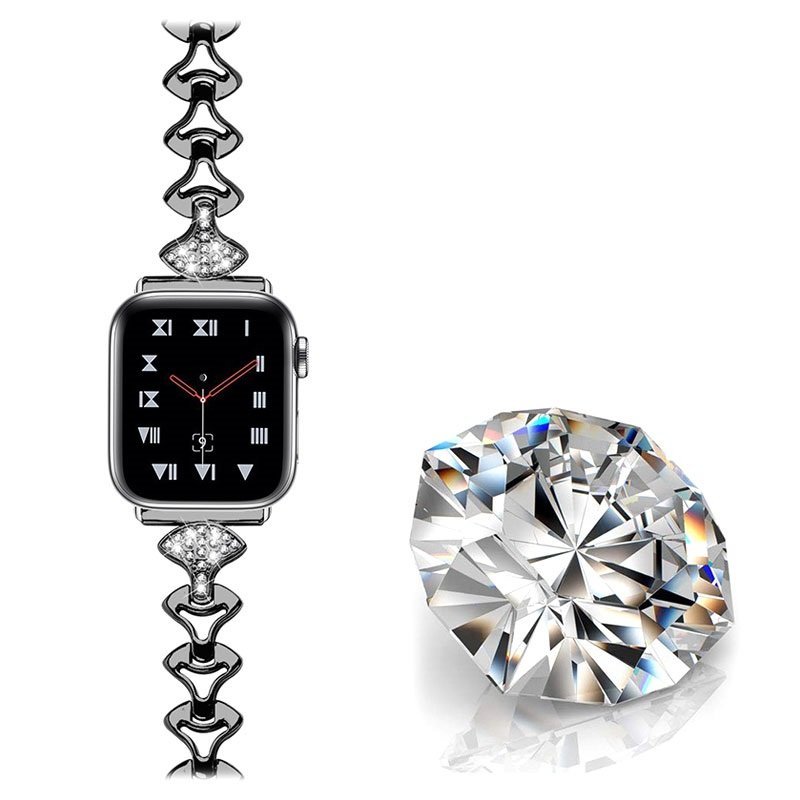 Add some sparkle to your Apple Watch with the rhinestone fan-shaped strap. This stylish strap comes with a unique fan-shaped design decorated with rhinestones. Give your Apple Watch a feminine touch with this strap.
It is made from premium aluminium alloy that is ideal for everyday wear. You can adjust it to fit your wrist by removing the foldable clasps. This wristband is ideal for all occasions where you need to shine.
Features to look out for with this strap:
The strap is made from premium quality aluminium alloy for a lightweight yet stylish design.
Its foldable clasps can be removed to create the perfect fit for your wrist without compromising on its style.
It comes with a quick-release clasp that is easily installed and removed from your Apple Watch.
Bring a touch of femininity to your Apple Watch SE/6/5/4/3/2/1 with this unique strap.
Baseus Let's Go Strap: For the Minimalist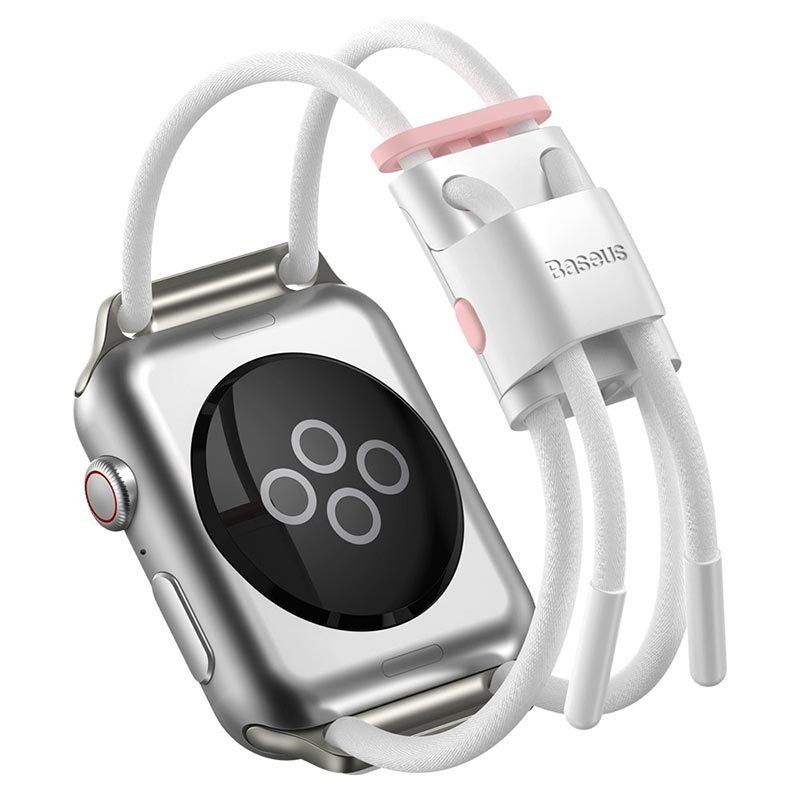 Do you love simple, minimal designs? Then you will love the Baseus Let's Go strap! This unique Apple Watch strap is made from cotton, linen, and polycarbonate materials to give you a lightweight, airy solution to a watch strap.
Look trendy with its minimalist design that keeps the focus on the gorgeous Apple Watch. With its rope design and retractable clasp, you feel no added bulk on your wrist. Get the most out of workouts with this airy watch strap.
Features to look for with this strap:
The Let's Go band is ergonomically designed to give you the most comfortable fit regardless of how long you wear it.
This modern bracelet is skin-friendly, easy to store, and can be easily adjusted with its rope design.
Keep your Apple Watch Series 5/4/3/2/1 fashion-forward with the uniqueness and simplicity of this strap.
The lightweight and super air permeability of the design will keep you relaxed.
Scrunchie Strap: For the Girly Girl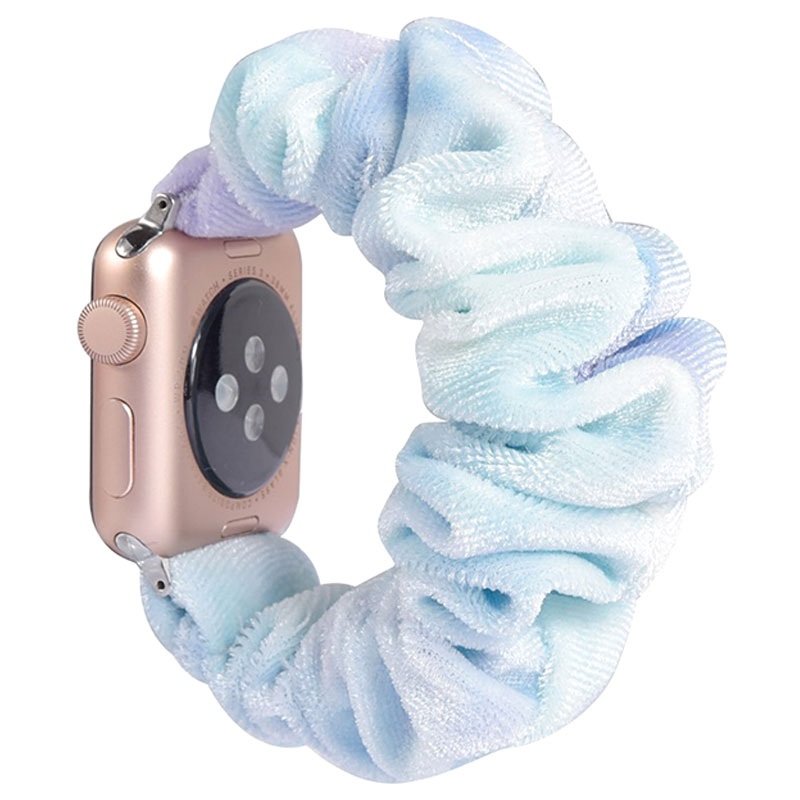 Trick the eyes with this scrunchie strap for your Apple Watch. This cute and comfortable wristband will make you forget you are wearing a digital gadget. The soft materials also make this comfortable on your wrist.
It also makes an ideal gift for teenagers and young women. Since it is designed to not just look, but also act like a scrunchie, wearing it is just that simple. You can choose from a delightful range of colours that include pink, blue, Deep Purple, and a special Christmas design.
Features to look out for with this strap:
Make your Apple Watch SE/6/5/4/3/2/1 cute with this adorable scrunchie strap.
This elastic strap is easy and comfortable to wear.
The soft quality elastic fabric of the strap is gentle on your skin.
Choose your favourite scrunchie style from their colour options.
Ready to Make a Statement
We hope that our selection has helped you find the best ladies' Apple Watch band for your needs. With a clean Apple Watch and your AirPods, you are ready to achieve the goals you have set for yourself. And the Apple Fitness+ app will help you get your daily workout goals met if you couldn't make it to the gym on time.
Want to know more about Apple products? Are you looking to upgrade your smartwatch experience? At MyTrendyPhone, we want to help you find the best of the best. So, get in touch with us!