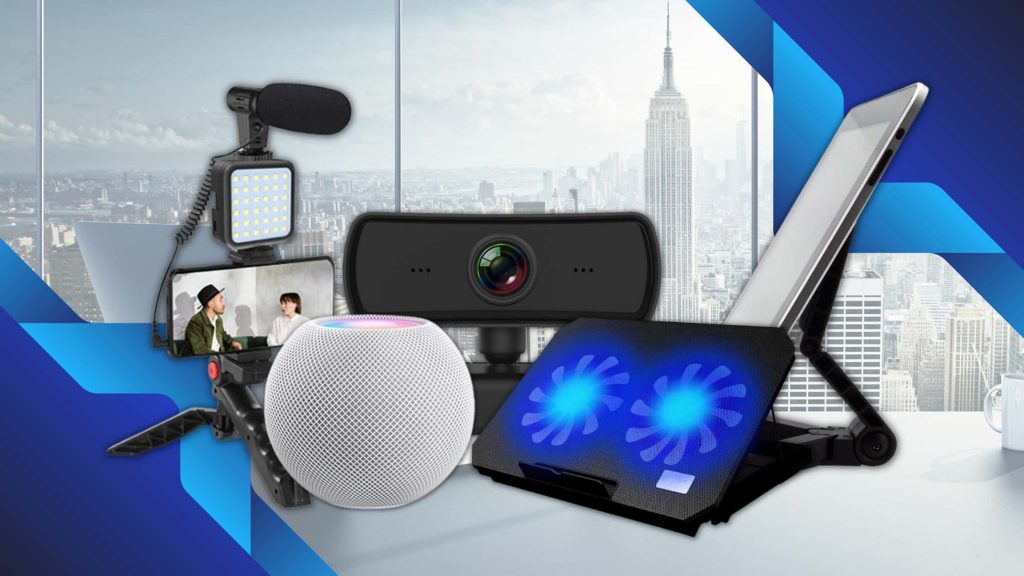 Whether you are working from home or just need to spruce up your workstation at the office, office and desk accessories play a crucial role.
Desk organisers, pen pots, and other office accessories and stationery help you to become more efficient. But having cool desk accessories and office tech gadgets makes life much easier in this digital age.
In this post, we have curated the 10 best office gadgets and cool desk gadgets for 2022. Since working from home is the new norm, finding the right product is important to stay motivated and keep yourself away from distractions.
Best Home Office Gadgets for Working Comfortably
These office productivity gadgets will help you work comfortably and keep you motivated. Combine these with our work from home tips to have a relaxing workspace.
Sit in Comfort with the Non-Slip Orthopaedic Office Chair Seat Cushion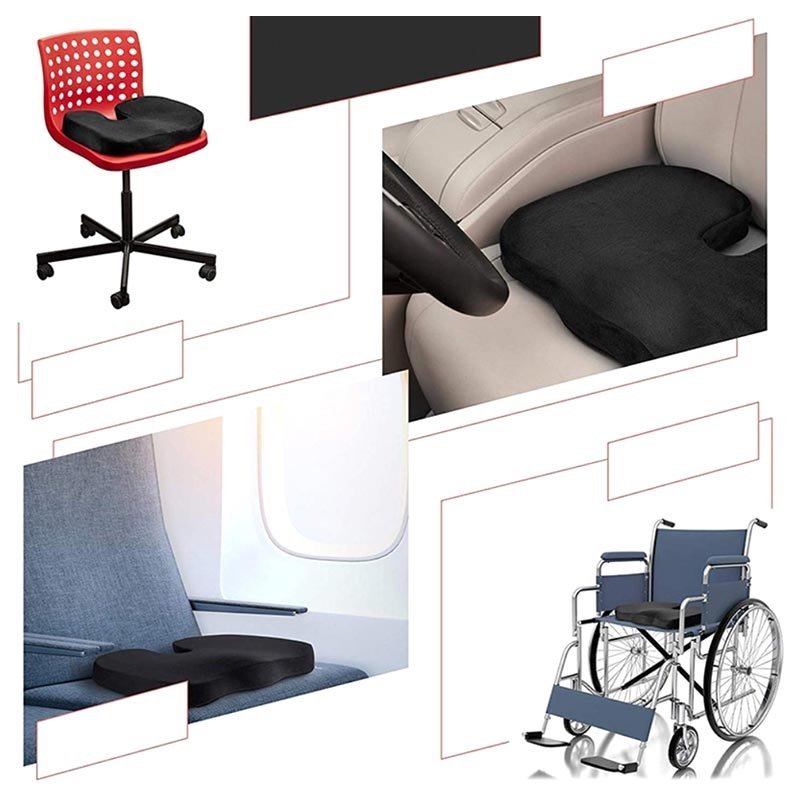 The Non-slip orthopaedic office chair seat cushion will help alleviate the stress on your body from sitting for long hours. This seat cushion uses a combination of gel and memory foam that makes your office chair comfortable.
Office life can be very sedentary. With this orthopaedic cushion, you maintain a healthy posture while sitting. An improved posture helps promote blood circulation and spine alignment, so you can focus more on your work without causing your body any trouble.
Features that make work life easier:
The non-slip design ensures you do not have to worry about the cushion sliding off the chair.
The ergonomic design of the cushion makes you sit with the correct posture.
The gel and memory foam make the cushion extremely comfortable and let the heat dissipate properly so you don't get too hot.
The cushion helps eliminate pain in your lower back, legs and spine caused by sitting for too long.
Universal Portable Tablet Stand to Keep Everything in Sight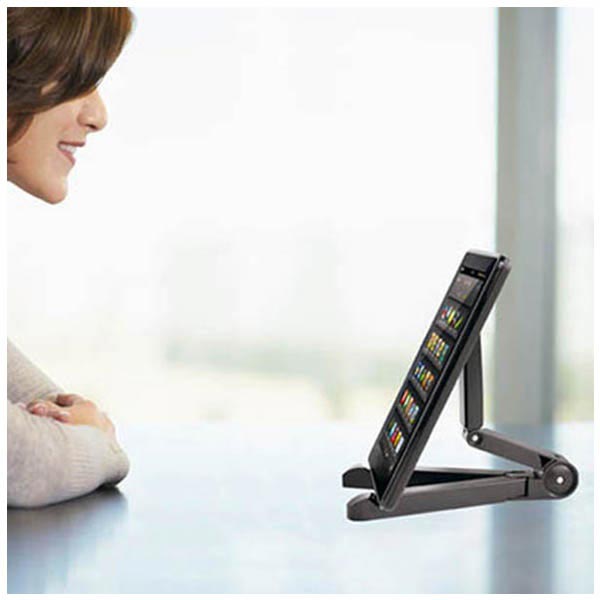 The Universal portable tablet stand will be a very useful desk accessory if you use your tablet in tandem with your other office gadgets. The portable design allows you to use it wherever you go. The stand can securely hold tablets, with or without their covers, measuring between 7″ and 10.1″.
Having a tablet stand also helps you keep your desk tidy and frees up valuable space. The foldable design of the stand allows you to easily put it away when not in use.
Features that make work life easier:
The foldable tablet stand can hold tablets measuring between 7″ and 10.1″.
You can place your tablet in landscape or portrait modes.
The stand folds up into a compact shape that is easy to store and carry.
The anti-slip design ensures the stand is secure on flat surfaces.
Smart Office Gadgets to Stay Futuristic
Smart office gadgets help you work more efficiently with less effort. Here are our top favourites.
Keep Your Virtual Assistant Accessible with the Apple HomePod Mini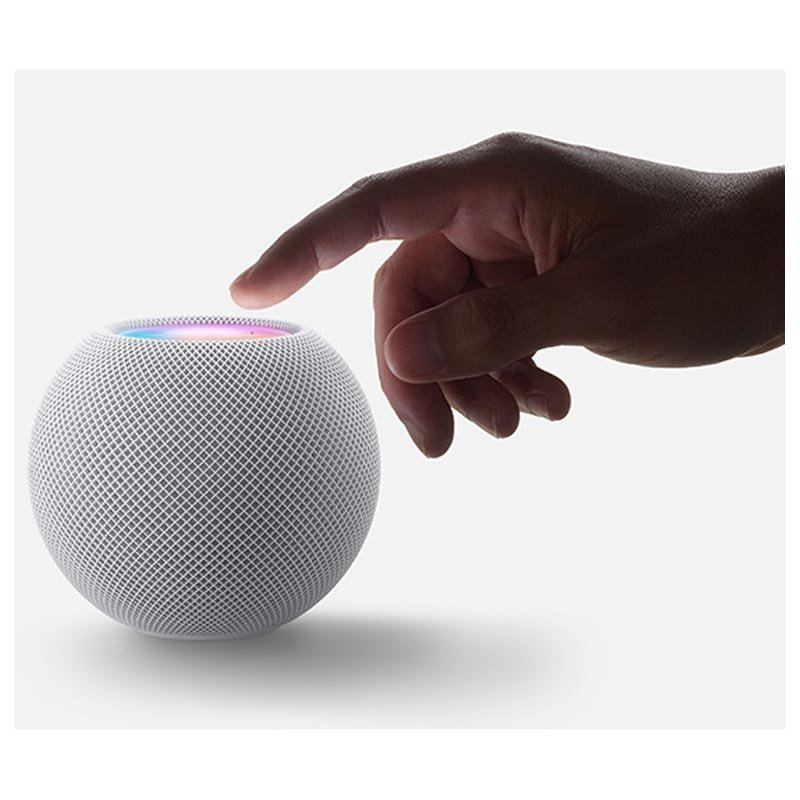 The Apple HomePod Mini smart Bluetooth speaker enables you to take a break from working to enjoy music. Experience multiroom audio when you pair together multiple HomePod Mini speakers. You can also enjoy its intercom feature with iPhone, iPad, Apple Watch, AirPods and CarPlay.
Its four microphones easily pick up voice commands so you can invoke Siri and get things done. Additionally, it comes with a flat touch-sensitive pad on the top to invoke Siri as well as to manage music and audio volume.
Features that make work life easier:
The intelligent virtual assistant can recognise up to six people's voices.
The HomePod Mini features Apple's S5 chip which analyses the music and adjusts the speaker's output.
This high-tech gadget supports Bluetooth 5.0 as well as Wi-Fi 802.11n.
Use the Home app along with HomeKit compatible devices to manage tasks like opening doors, adjusting temperature and more.
Wake Up On-time with the Ksix LED Alarm Clock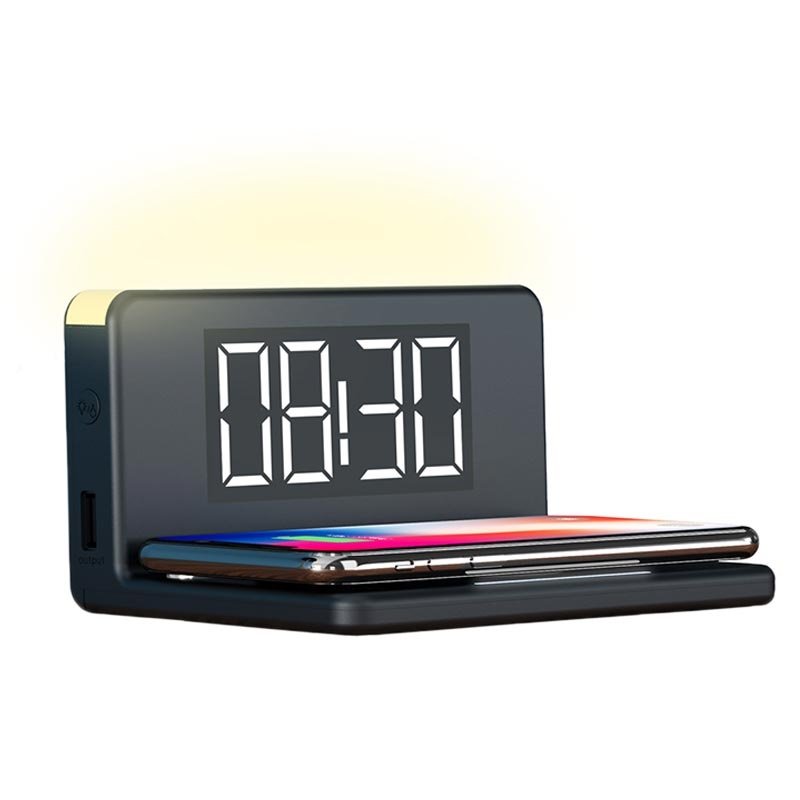 With the Ksix LED alarm clock keep your smartphone charged and wake up on time. Its Qi-wireless charging pad allows you to fast-charge compatible devices when paired with a QC2.0 or higher wall adapter. Additionally, it also comes with a USB port that you can use with non-Qi compatible devices.
The alarm clock comes with a snooze feature that lets you snooze your alarm in 5-minute intervals. The Ksix clock also comes with a soft night lamp with three different brightness levels that you can adjust with the push of a button.
Features that make work life easier:
The Ksix clock is a great desk accessory for a cool office with its integrated Qi-charging pad.
As a bedside clock, you can use its alarm function as well as the night light feature.
The Qi-charger is safe to use with both iPhones and Android smartphones.
It comes with a USB port that can be used to charge other devices.
Best Desk Accessories for Meetings and Livestreams
Are you looking for cameras that don't make you look blurry? These cameras are a must-have office desk gadget for online meetings or budding social media stars.
Look Sharp with the 4MP HD Webcam with Autofocus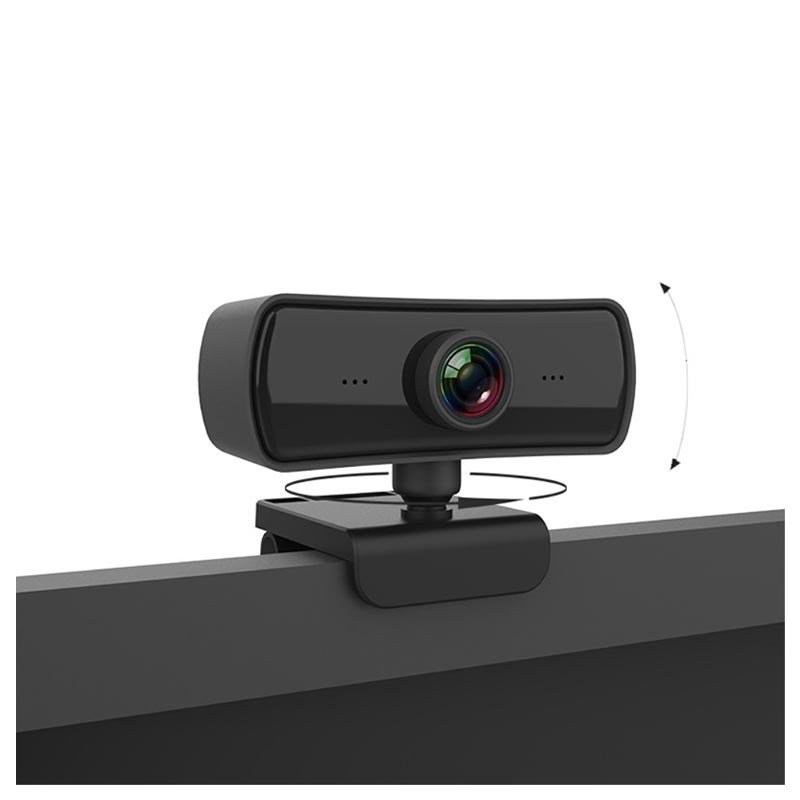 Whether you work from your home office or work office desk, the 4MP HD webcam with autofocus will help with your online meetings. This high-resolution camera comes with an integrated clip that you attach to a monitor or any other device.
With its 30 frames per second capture rate, experience crisp images over a video call. The camera can also be adjusted so that you are in proper view. Additionally, the autofocus function ensures there are no distractions during the call.
Features that make work life easier:
It features a built-in microphone with noise reduction for clear audio quality.
Thanks to its 360-degree rotation, you can easily adjust the angle.
Its 4MP CMOS sensor and autofocus feature make it a good choice for live streaming as well.
Its USB interface lets you Plug-n-Play without the need for any additional drivers.
Get Ready for the Views with the KIT-01LM Vlogging Camera Kit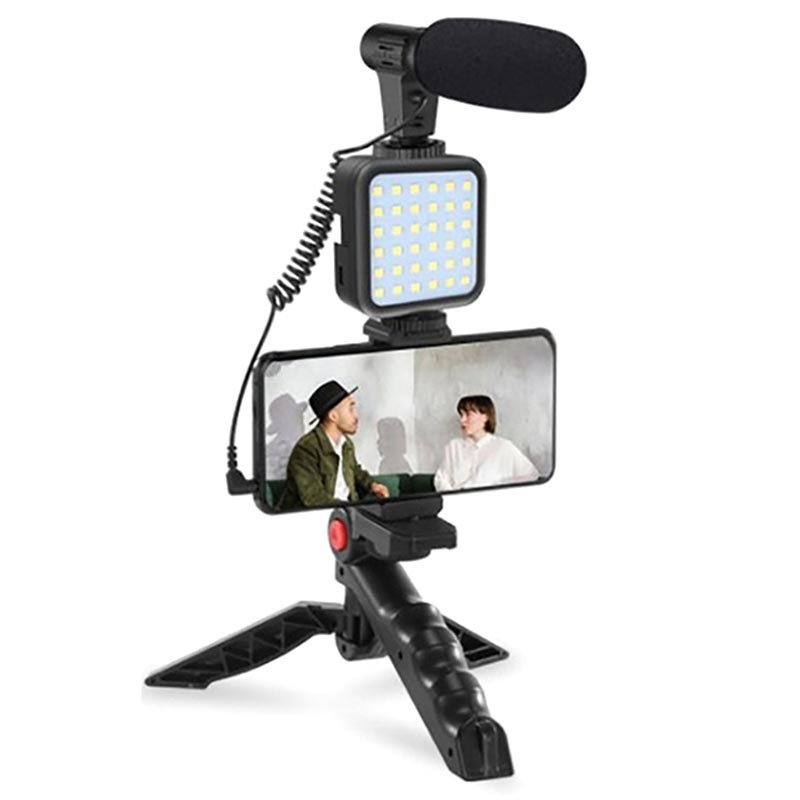 Start your career as an influencer with the KIT-01LM vlogging camera kit. The camera kit comes with all the necessary tech gadgets you will need to vlog or livestream. The kit comes with an adjustable smartphone holder which is compatible with phones measuring from 58mm to 105mm.
The tripod ensures you get a stable recording, while the LED light offers the appropriate level of lighting. The kit also features a shock-absorbing cardioid microphone with an anti-interference function. Connect your smartphone with a 3.5mm audio jack and you are all set.
Features that make work life easier:
Adjust the brightness of your LED light to create the right lighting effect for your vlogs, livestreams and more.
The adjustable phone holder allows you to position your phone vertically or horizontally so you can make videos for all types of social platforms.
The kit also comes with a wireless remote control to give you more flexibility.
The four-in-one nature of the kit makes it one of the coolest desk gadgets an aspiring or veteran social media personality can have.
Cool Gadgets for Desk Setup
Work does not have to be boring with these back to office gadgets.
Uhappy U43 Mini Portable Wi-Fi LED Projector for Discussions Anywhere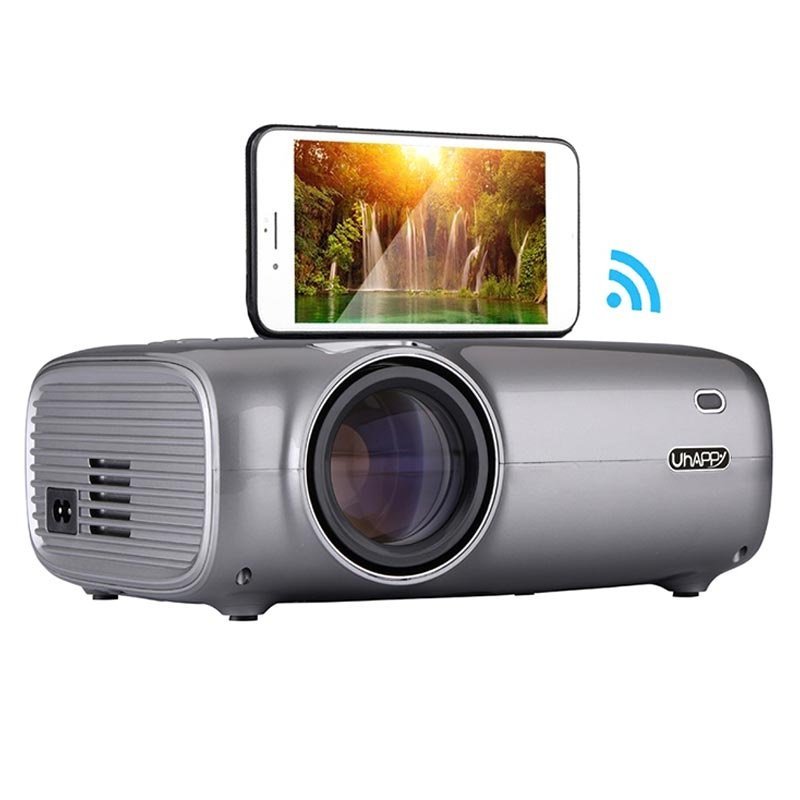 The Uhappy U43 mini portable Wi-Fi LED projector is a useful office gadget to have. When you need to have a quick presentation displayed from your smartphone, the Uhappy U43 will accomplish those tasks without any hassle.
It is simple to install and operates without any complicated processes. Its Wi-Fi connectivity support lets you connect a wide range of devices to it. Additionally, it also supports AV, VGA, USB, SD and two HDMI multimedia interfaces.
Features that make work life easier:
The Uhappy projector comes with a remote control for easy operation of the gadget.
Thanks to its twin mute fan cooling system you are guaranteed quieter cooling of the gadget.
The projector also supports red-blue and red-green 3D.
It features optical keystone correction that achieves graphic vertical trapezoidal distortion through optical and image systems.
Turn Your Smart TV into Your Monitor with the 2.4GHz Wireless Keyboard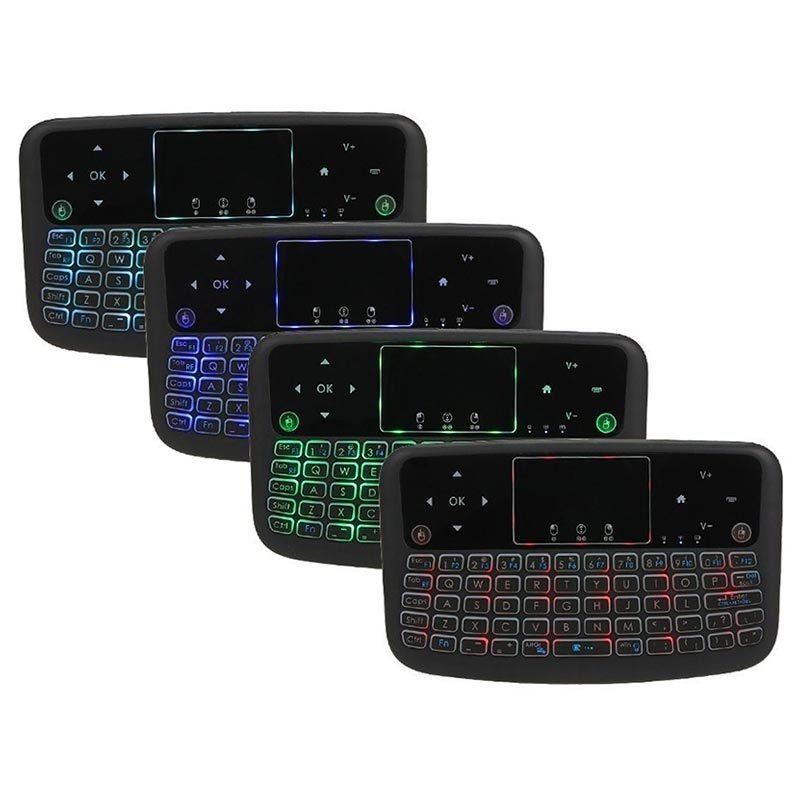 The 2.4GHz wireless keyboard with multi-colour LED light for smart TV will help you easily use your television for both work and play. The keyboard features responsive buttons as well as a precise tracking pad so you can forget about needing a mouse and a mouse mat.
Its convenient plug-and-play operation allows you to use it with your PC as well as a wide range of Android devices. It also features a cool backlight in four colours. Enjoy a stable connection with its USB dongle and 2.4GHz technology.
Features that make work life easier:
The wireless keyboard features an automatic wake up/sleep function ensuring better battery life.
You can easily navigate the operating system, surf the web, control media playback, and even play video games.
It comes with a rechargeable Li-ion battery so you do not have to deal with the hassle of buying batteries.
The backlight makes it easy to use even in low-light conditions.
Best Desk Gadgets for Laptops
Laptops have replaced desktops in many workspaces. Enhance your laptop usability with these laptop stands.
Get Yourself the N99 Laptop Cooler with Adjustable Stand to Keep it Cool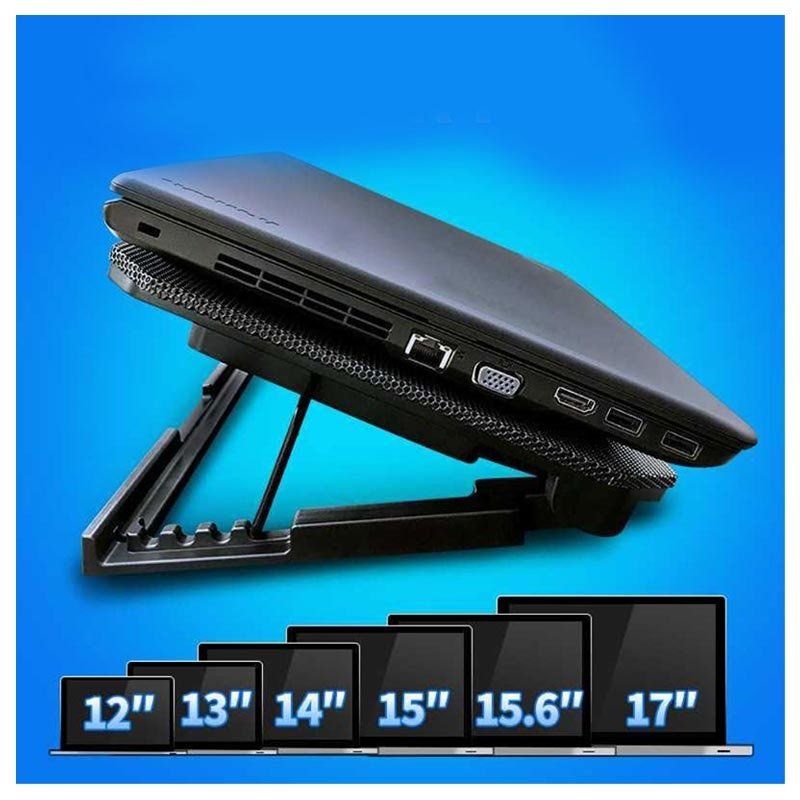 Overheating laptops can significantly slow down your work, therefore, investing in the N99 laptop cooler is a must. When you are working on CPU-intensive or GPU-intensive tasks like video editing, the N99 acts like an air conditioner for your laptop.
Its two 14cm diameter fans do their job without being too noisy and are powered via a USB cable connection. In addition to keeping the temperatures low, the N99 features a four-level adjustable stand.
Features that make work life easier:
The N99 laptop cooler stand features two low-noise fans to prevent the laptop from overheating.
The stand also features two LED lights that make it one of the coolest office desk gadgets.
The four-level adjustable stand lets you keep your laptop at an appropriate level.
It comes with a 75cm non-removable USB cable to power up the fan.
360-Degree Universal Rotary Desktop Stand for a Laptop to Level Up Your Workspace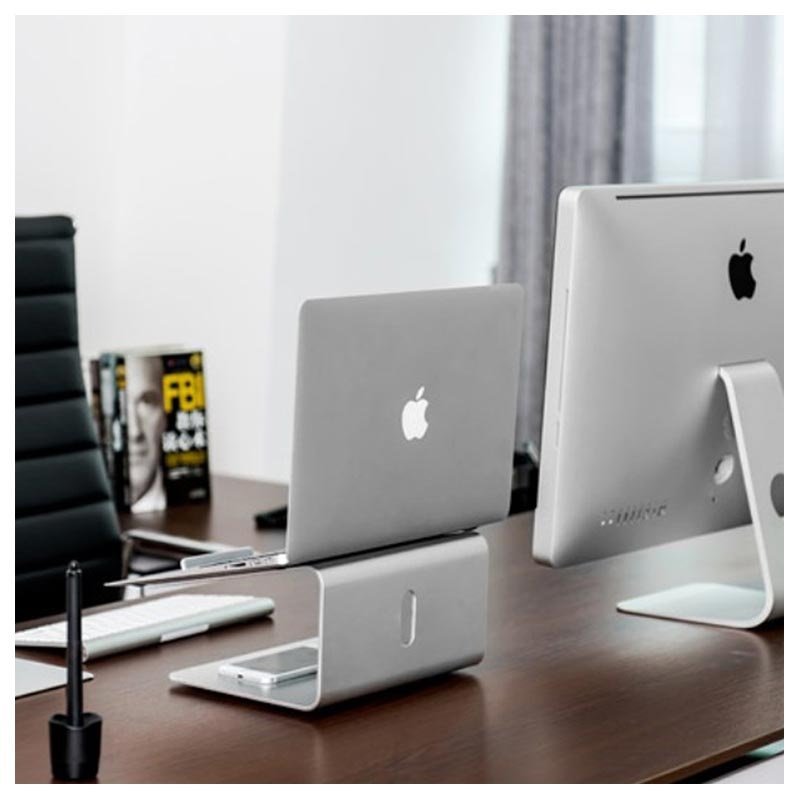 Set up your standing desk with the 360-degree universal rotary desktop stand for a laptop. It comes with anti-slip pads that keep your laptop firmly in place. The minimal and stylish design further makes it a great addition to a work desk.
By elevating your laptop, you greatly improve heat dissipation which in turn keeps your laptop's performance high. The base's rotary pads make it easy to swivel the laptop smoothly to bring more fluidity to your work style.
Features that make work life easier:
It is made from durable materials and designed to provide a convenient elevation to your laptop.
It comes with a built-in cable opening to connect additional devices such as a keyboard, mouse or even office toys.
It is compatible with laptops up to 15″ in screen size.
It comes with a rotary bottom and anti-slip pads for improved convenience and stability.
Modern Office Gadgets to the Rescue
It does not have to be all work and no play all day. Having office toys and gadgets that help you relax, such as fidget spinners, can help you be more productive. Take time to relax so you do not have to deal with burnout. You can check out our list of our favourite headphones and Bluetooth speakers that will help you balance work and play.
Are you looking for more desktop gadgets? Want some fun office gadgets for stress relief like a fidgeting toy to help you with your thinking time? These and many more products await you at MyTrendyPhone. Get in touch with us to find out more about our products and to learn how to get more productive with the right gadgets!