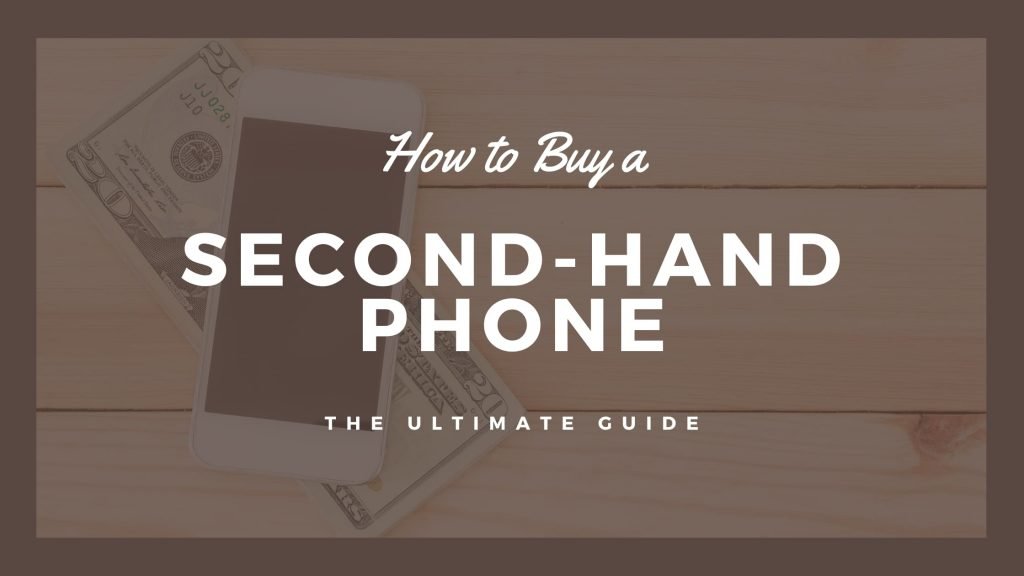 Are you looking to get an upgrade on your smartphone, but your budget can't stretch to match the price range of a new one?
Are you looking for an Apple iPhone to complete the trio with your Apple Watch and Apple iPad, or you are an Android lover in search of your Samsung Galaxy S10? If the budget can't stretch, you should look into buying used phones.
Now, you may have your qualms about purchasing a second-hand mobile phone. If second-hand equals cheap phones, there must be something wrong with them, or maybe not?
Well, not when you buy them from authentic sources and outlets!
Check out our guide on how to make the best second-hand or refurbished mobile phone purchase in the UK.
Before the Used Mobile Phone Search Begins
If your current smartphone suffers from a broken screen or software issues, getting it repaired might be a cheaper option than buying another mobile phone. You can avail of our repair and screen replacement services and have our professionals put their expertise to work.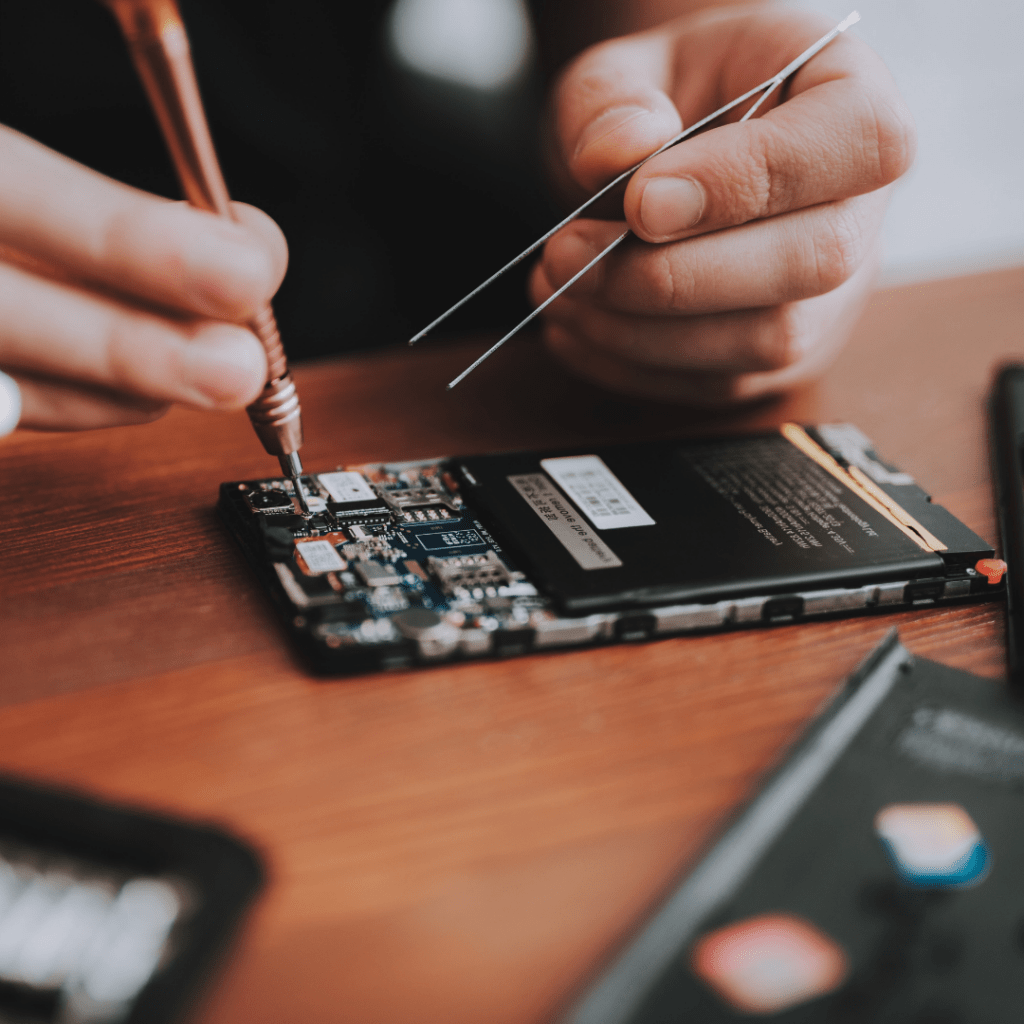 But if your smartphone is beyond hope, then second-hand mobile phones will spare your wallet. Even before you start scouring the internet or retail shops, you should have an idea about what you want. The following list should help you with your decision.
Consider the primary use that you will be using your mobile phone for.
Think about the minimum specifications you want the mobile phone to have.
Screen size is another crucial factor you should consider.
Consider the quality you are ready to settle for with your next phone.
Mobile phones can be available either locked to the same network or unlocked.
Set the maximum amount you are willing to spend.
What is the Difference Between Pre-Owned and Refurbished Mobile Phones?
Since you have decided to settle for a second-hand smartphone and have begun your research on them, you will encounter the words Refurbished, Pre-owned, For Parts and Broken. Here is a quick guide on these terms to set you on the right track!
For Parts and Broken Mobile Phones for DIY Projects Only
We highly recommend you do not go for For Parts and Broken used phones for sale unless you are into scavenging and building your own devices. These smartphones do not have any functionality, and they are available on the market for their hardware parts like LCDs.
But if you are looking for spare parts, check out our wide range of authentic mobile phone spare parts.
What you should go for are Pre-owned and Refurbished phones. These smartphones are functional, meaning you can start using them to receive your calls and take selfies as soon as you make the purchase.
Factory Refurbished Mobile Phones as New Ones
Ideally, a Factory Refurbished mobile phone is the best choice, though they may be a little pricier than second-hand phones. The buyers usually return these mobile phones for being faulty or damaged to the manufacturer.
Manufacturer returned mobile phones undergo thorough testing and diagnosis, followed by necessary repairs by the manufacturer to return them to their original appearance. They are then sanitised and packaged with original accessories in generic retail manufacturer boxes.
Pre-owned Mobile Phones for Low Budgets
On the other hand, pre-owned mobile phones are usually functional. Their owners resold them as soon as they upgraded to a new smartphone.
When purchased directly from the owner, these used phones come as they are. It means that if the power button isn't working or it has a cracked screen, that's how you are buying it. Buying directly from the seller can be unpredictable, making the task of purchase a stressful one.
MyTrendyPhone's Purchase Recommendation
We recommend buying from trusted retailers or online shops that offer you a wide range of options with different quality grading to suit your budget. Used phones sold by retailers offer you a safer buying experience.
Purchasing from retailers offers you consumer rights benefits and even warranties.
It means that if the retailer describes the used smartphone to be fully functional with no hardware or software issues, it must meet the stated functionality.
However, within 30 days of purchase, if you find that the smartphone doesn't meet the stated quality, you can return it.
Unlike buying from a private seller, retailers give you a 6-month window for return if the product is not as described as per the Consumer Rights Act 2015.
Grading Systems to Rate the Quality of Used Mobile Phones
When buying a second-hand phone, you'll often come across a grading system to let you know what you are buying yourself. Whilst pre-owned smartphones will have some signs of usage, a grade will allow you to discover the quality you can expect when purchasing them online. The quality of used mobile phones also influences their pricing.
General Overview of Grading Systems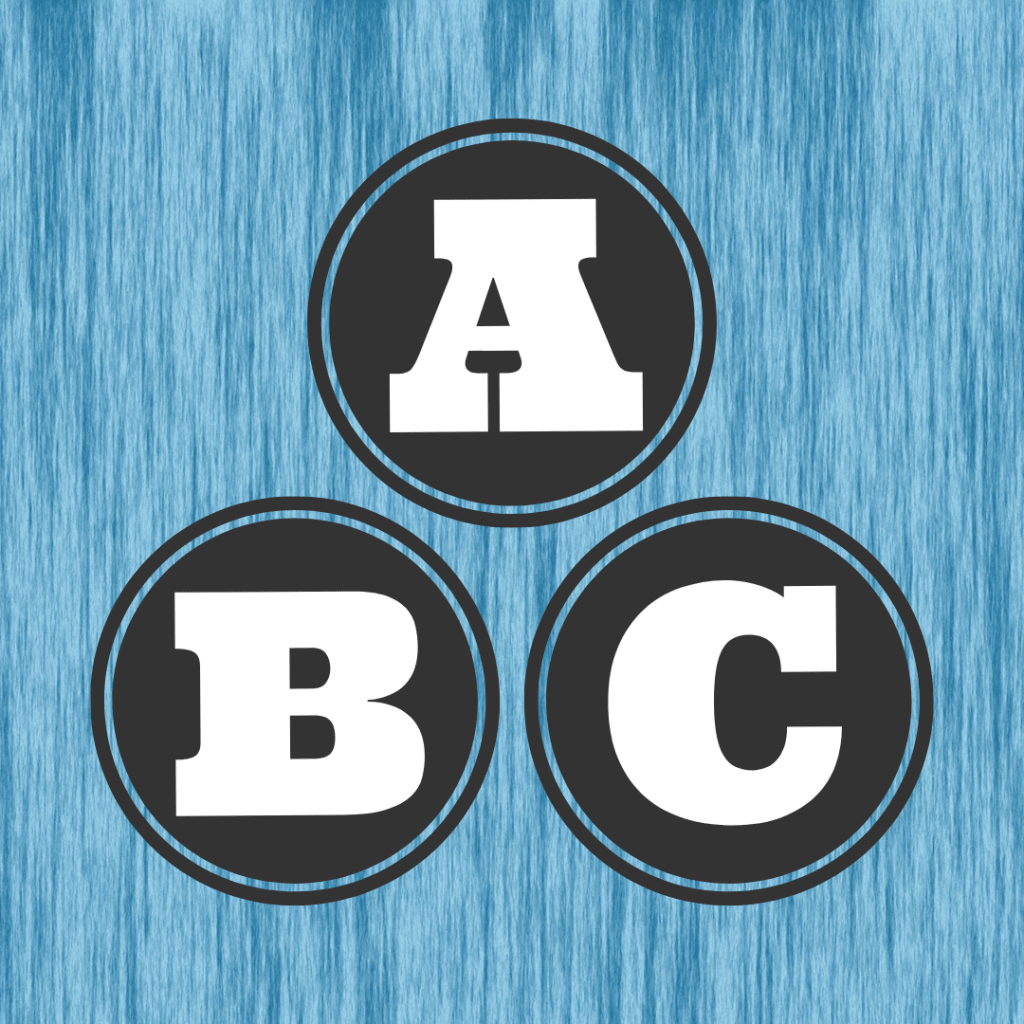 Typically, pre-owned mobile phones will have a three-tier grading system that would look something like this:
Grade A
As good as new! Phones rated Grade A will have the appearance of almost new mobile phones with no visible flaws, such as scuffs or scratches on the phone's surfaces. They are also most likely to come with all the original accessories and in the original packaging.
Given the mint-condition they are in, these mobile phones tend to be on the higher end of the price range amongst second-hand mobile phones. However, they are a great choice that offers potentially long-term use.
Grade B
Expect Grade B rated second-hand phones to be slightly cheaper than Grade A phones. These mobile phones will have visible signs of use, such as scratches. However, you'll still be buying yourself a fully functional phone without any operative damage; No broken screens or buttons.
These mobile phones can also be expected to come with their original accessories and packaging, and make for a great bargain compared to their newer counterparts.
Grade C
Second-hand mobile phones rated Grade C fall on the lower end of the price range and also quality. These are fully functional with no cracked screen but these phones will have visible signs of usage, such as dents or scratches.
Unlike with Grade A or B, these mobile phones are highly unlikely to come in their original packaging or accompanying accessories.
Grading Made Simple with MyTrendyPhone's Quality Grade System
MyTrendyPhone uses a simple and easy to understand grading system to make the online or offline purchases of used smartphones in the UK hassle-free. Our grading system is as follows: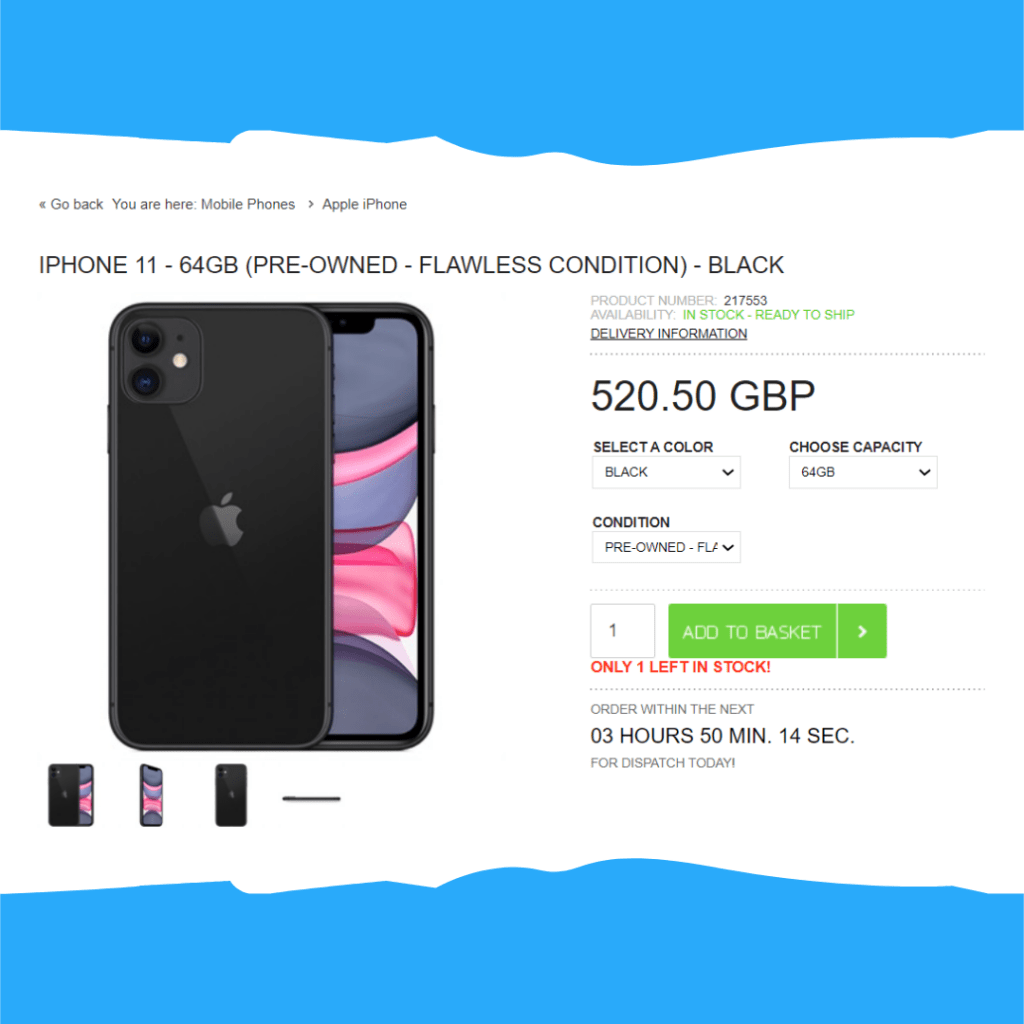 Flawless Condition
The best among second-hand mobile phones! Smartphones graded as Flawless Condition are either returned without much usage or look as good as new. These mobile phones do not have any scratches or other signs of wear and tear. Additionally, they come in perfect working condition so you can make your purchase worry-free.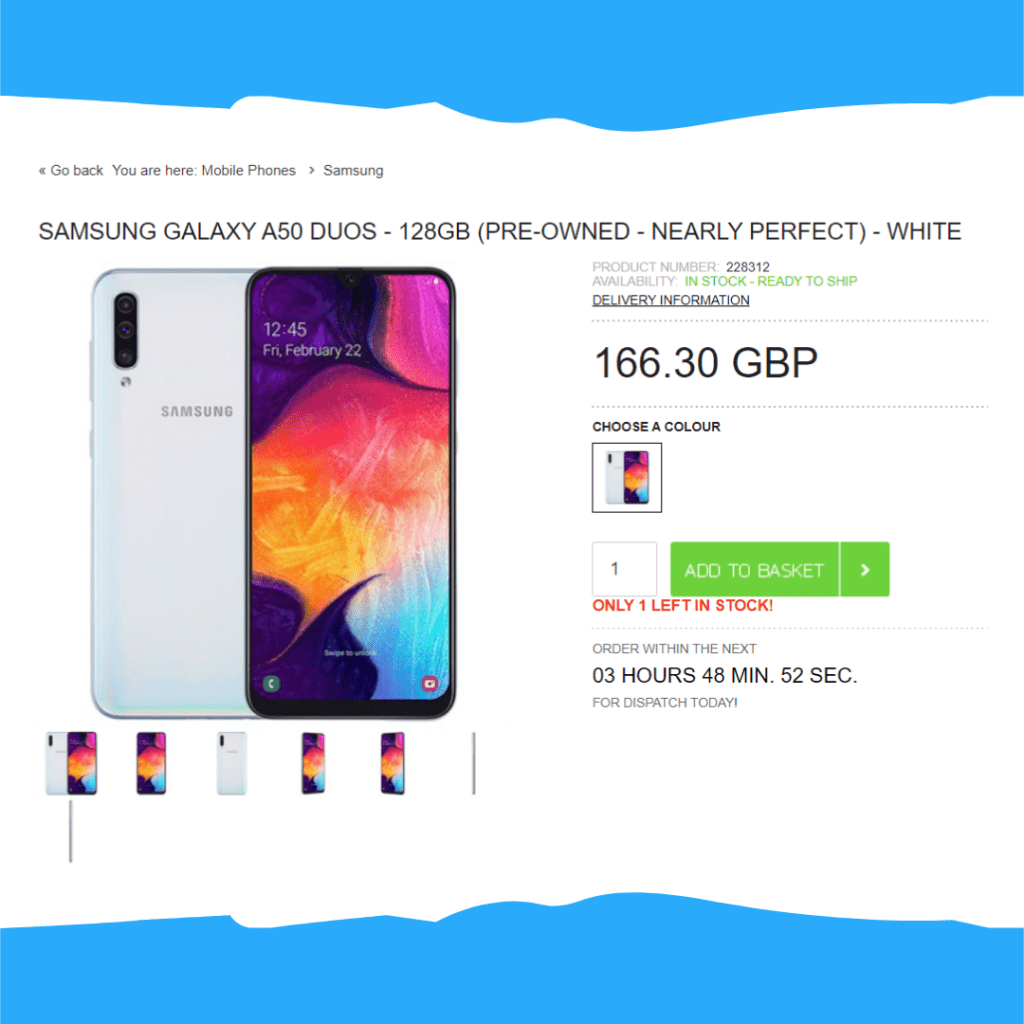 Nearly Perfect Condition
With barely visible signs of everyday usage, the Nearly Perfect Condition used mobile phones look almost brand new. Save a few pounds with these completely functioning smartphones to get yourself upgraded from your old one.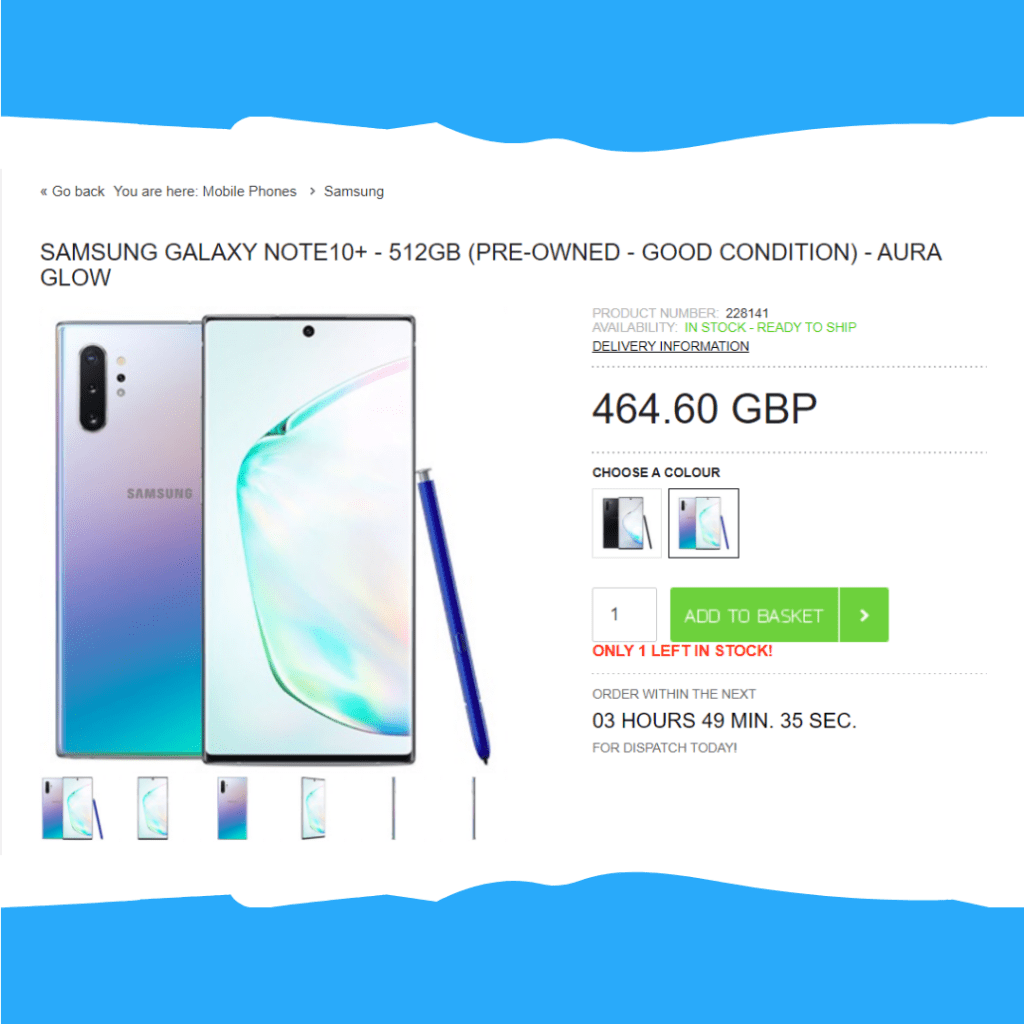 Good Condition
These used mobile phones are almost as good as new. The Good Condition used phones display some signs of daily wear and tear, such as minor scratches on the back cover or the display screen. However, these phones are fully functional and purchasing them is a bargain.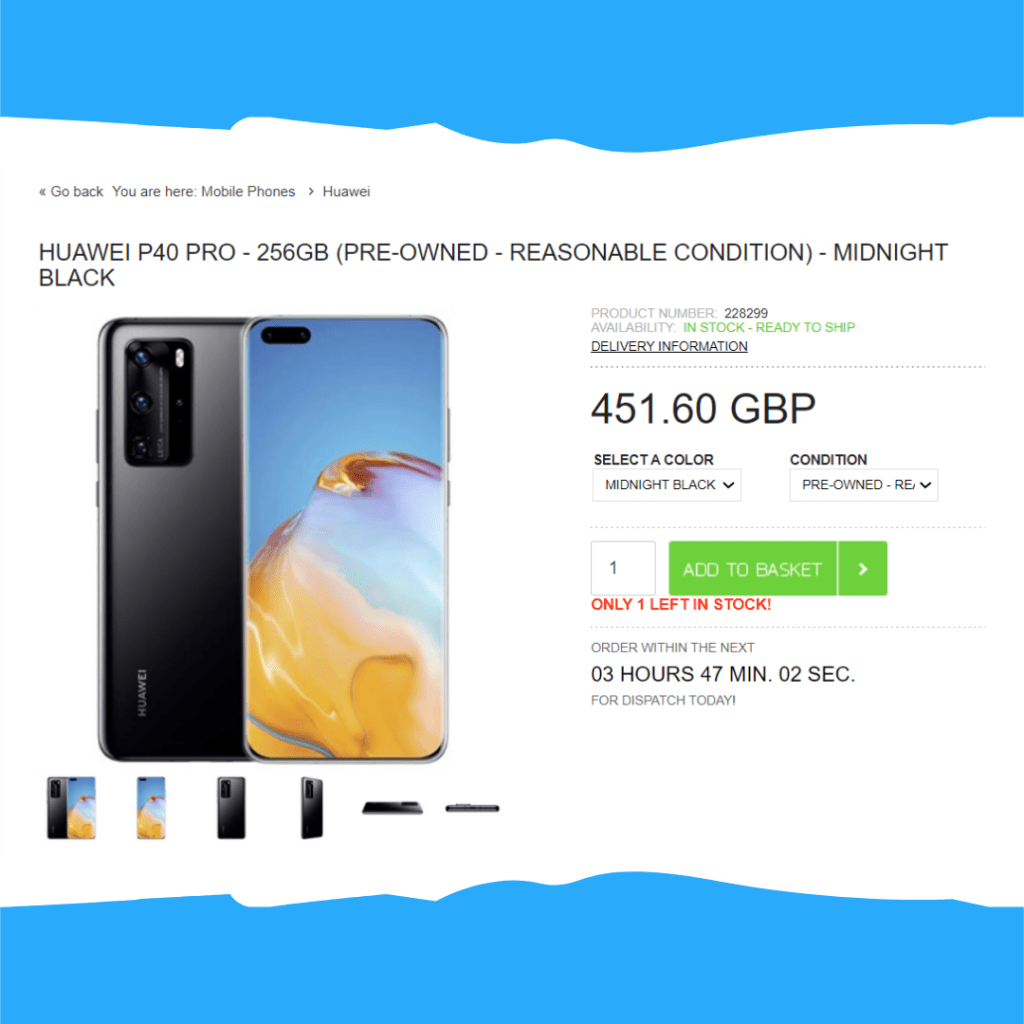 Reasonable Condition
Used smartphones categorised as Reasonable Condition have a higher degree of wear and tear. Often these used phones may have some dents on the metal casing and scratches resulting from usage. Whilst their outlying condition may not be as good as new, these smartphones are still fully functional.
Preparations for an Inspection
Whether you buy directly from its previous owner or a retailer, going prepared for an onsite inspection of the used smartphone will help you make a quick decision. Following a quick visual inspection for dents and scratches on the surfaces, including screens and camera lens, and any corrosion in the ports, check the following:
Have a visual inspection of the insides and its battery, if you can open the back.
For smartphones that support SD or microSD, it is beneficial to test them out with one.
Take your favourite headphones (We have an outstanding selection of headphones too, in case you need one) and test the headphone jack.
Bring a charger or a battery (Are you looking for power banks and portable chargers?) to test the charging port.
For an even more in-depth inspection, go prepared with hidden codes that almost all smartphones come with today.
These codes allow you to check different aspects of the used mobile phone, such as providing usage statistics and battery information or running an LCD test. They will vary depending on the smartphone you are buying, but are always available with a quick internet search.
Another factor to consider, especially when buying directly from an owner, is to ensure that it isn't a stolen mobile phone.
Every mobile phone comes with a unique 15 to 16 digit International Mobile Equipment Identity (IMEI) that you can use to check its history. You can find this code in the About Device-section on the phone or by typing *#06# on the dial pad to display it on the screen.
Both paid and free services allow you to use the IMEI to check if the product is stolen or not.
Where to Buy Second-hand Mobile Phones?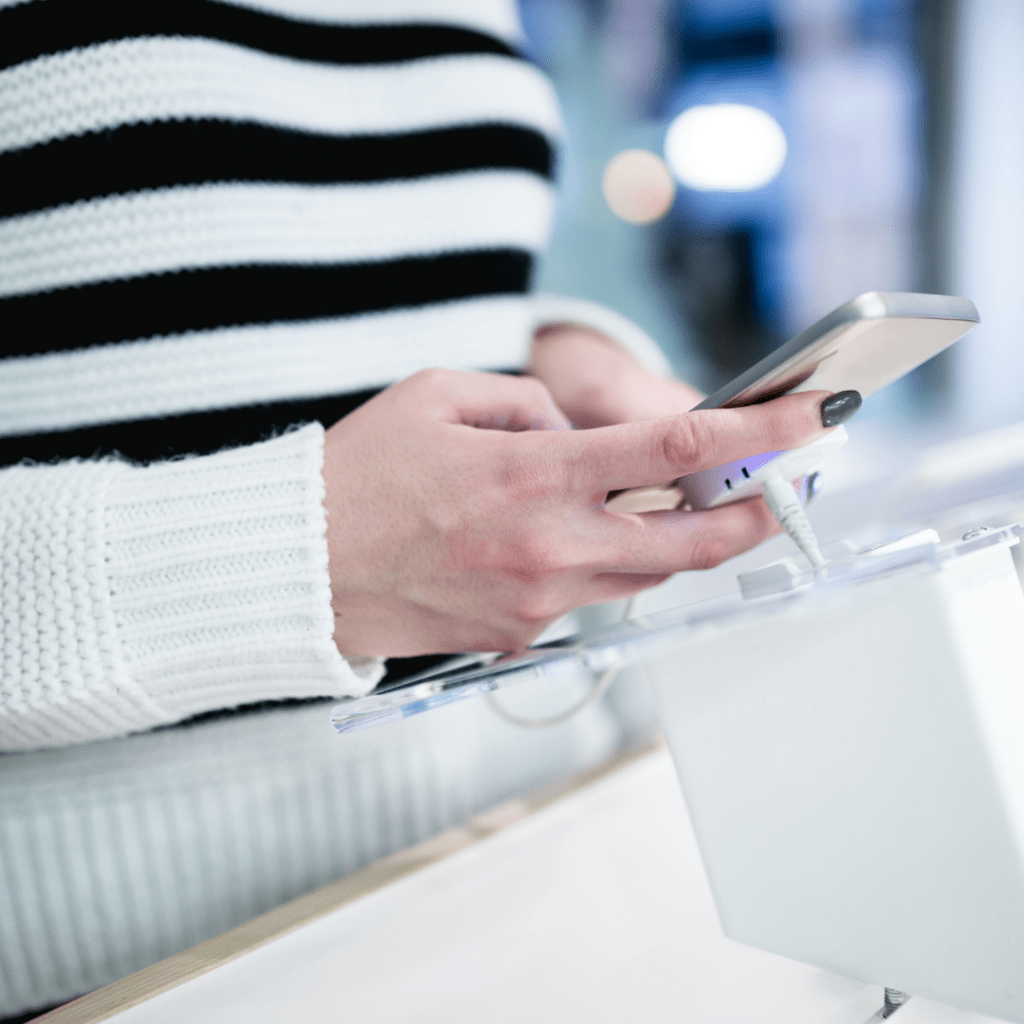 Are you wondering where you can get your hands on the best used Android and iOS mobile phones?
Look no further! We have it taken care of, for sure.
Find your favourites with our wide range of pre-owned and factory refurbished smartphones at the best prices.
What Can You Expect When Buying with MyTrendyPhone?
MyTrendyPhone sells certified second-hand and factory refurbished mobile phones that you can easily browse in our online shop! You do not have to spend your time travelling and moving from shop to shop, nor do you have to get disappointed when a private seller isn't selling what they described.
Online shopping also makes it easy for you to compare the prices against brand new products. At the same time, it allows you to weigh up your options before you finalise the purchase.
We test each device for their functionality before putting them up for sale. Our simplified grading system also ensures you aren't confused with what quality you are buying. When you buy with us, you get what you read in the description.
The products come in their original or generic packaging with their accompanying accessories; charger and a charging cable. So, you'll still get the feel of making a new purchase.
As we have mentioned previously, buying from a retailer also comes with the benefit of warranties.
MyTrendyPhone offers a 12-month warranty when you buy from us! You can also expect fast delivery once you have made your purchase.
Considering Selling Your Old Phone?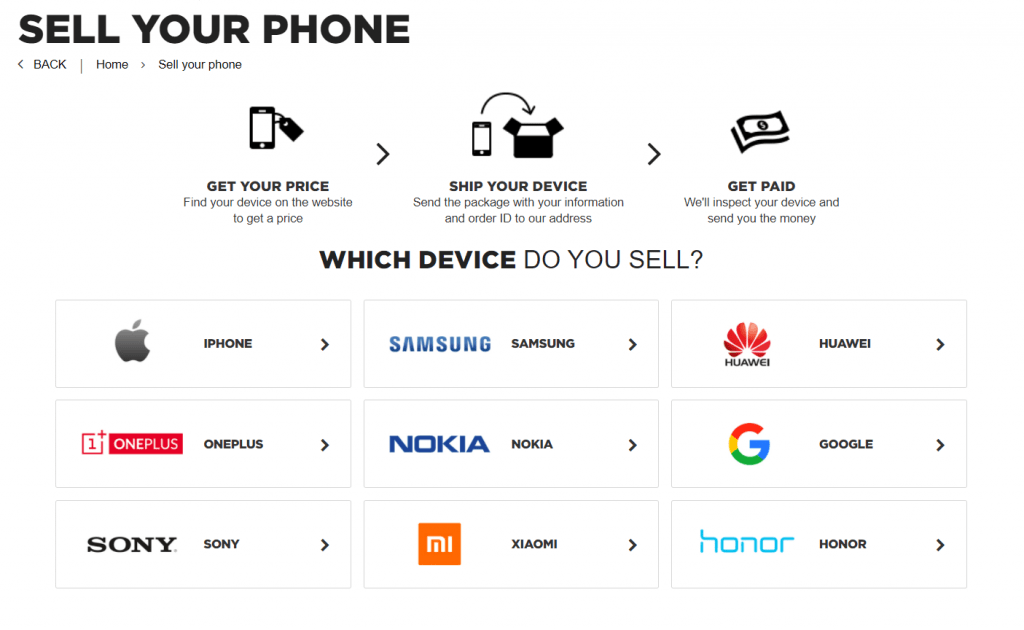 Every home has plenty of gadgets that do nothing but take up space. With the constant rollout of new and improved Android and iOS smartphones in the market, and the urge to have the best, make some money off your old devices instead of locking them up in boxes and drawers.
Sell Your Phone to MyTrendyPhone
MyTrendyPhone offers a simple 3-step process to sell your phone to us!
Step 1
Choose the brand of the smartphone you want to sell from our list online.
Step 2
Package the used phone with your information and Order ID and send it to our address.
Step 3
We will inspect the device on receipt and on finalisation of our checks, we will send you the money!
Doing Your Part for the Environment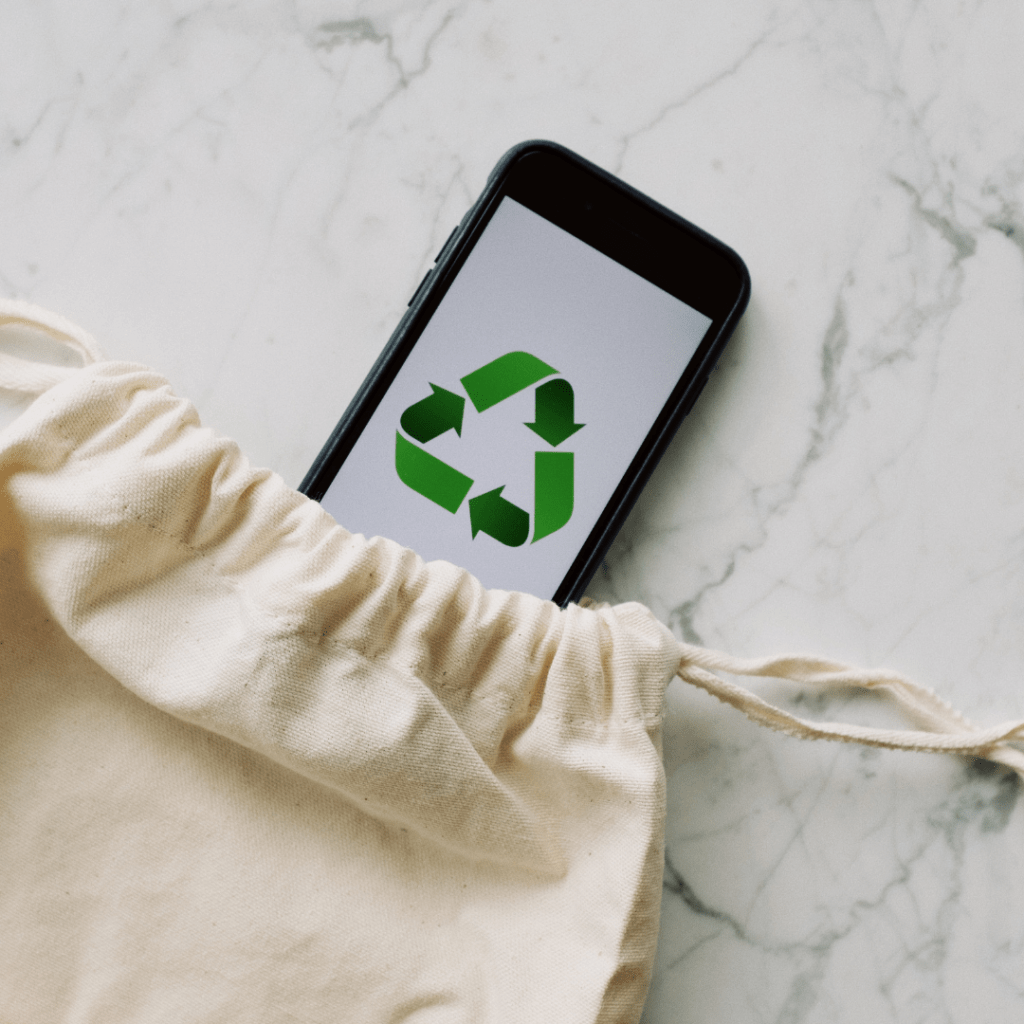 As technology advances and new products replace the old ones every other week, there is more and more e-waste in the world. Most waste ends up in large dumps that stagnate over time.
A lot of chemicals and valuable materials go into the making of your mobile phones and gadgets. Tossing them into landfills where they do not undergo any processing, contributes to the leaking of toxic chemicals into our environment.
Selling your old mobile phones helps increase the usable life cycle of the device while earning you some cash. To go hand in hand with the selling bit, is buying a second-hand phone to reduce e-waste.
There is still hope for mobile phones that don't work. Recycling your outdated or dead smartphones is a responsible choice. Materials extracted from these devices become the raw materials for new products.
Learn more about the impact of e-waste and recycling with our handy-dandy recycling infographic!
I've Got My Eyes on You!
Buying a pre-owned or factory refurbished mobile phone is money-saving and a responsible choice that helps make our Earth a better place to live.
Hopefully, with our guide, you can make smart choices when buying yourself a new, albeit used, mobile phone. When you have chosen one, give it some extra love with a screen protector and add a touch of your personality with a good phone cover!
Are you looking for more tips, or some other gadgets and gizmos? Let's have a chat!