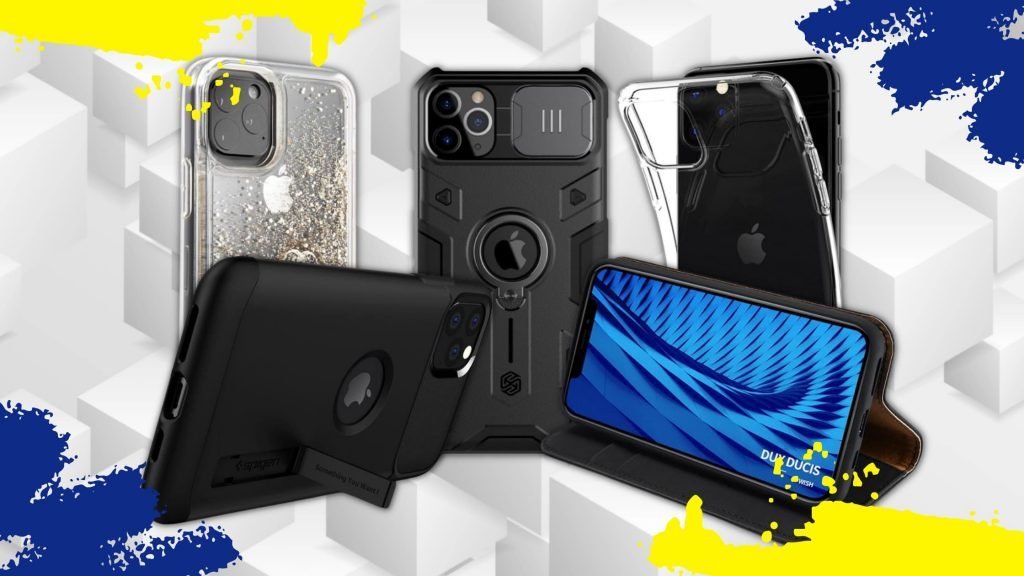 The right iPhone 11 Pro case will allow you to show off your Apple mobile and even enhance the protection. Everyday usage of your smartphone exposes it to minor mishaps like falls and scratches. Hence, an iPhone 11 Pro cover is an investment worth every penny and they are available in a variety of colour options too!
From colourful silicone cases to folio cases that give you space to store cards, the options are unlimited. When choosing a case or cover for your iPhone 11 Pro, keep in mind the most important features that you need.
While rugged protective cases give the best drop protection, these iPhone cases and wireless charging may not go hand in hand. On the other hand, materials like leather can deteriorate with age and exposure to different elements, like sweat and high temperatures.
We have selected the best iPhone 11 Pro cases in the UK with a mix of styles that offer different levels of protection and functionality. And while you are bound to find the best cover or case in this post, we recommend some further reading. Learn about how to clean your phone covers to extend their usable life and durability.
Best iPhone 11 Pro Clear Cases to Showcase its Beauty
The charm of clear cases is undeniable. They allow you to put on display the beautiful construction of your phone. They also give you the opportunity to try some creative DIY to showcase your creative side.
Spigen Liquid Crystal TPU Case: With Special Air Cushion Technology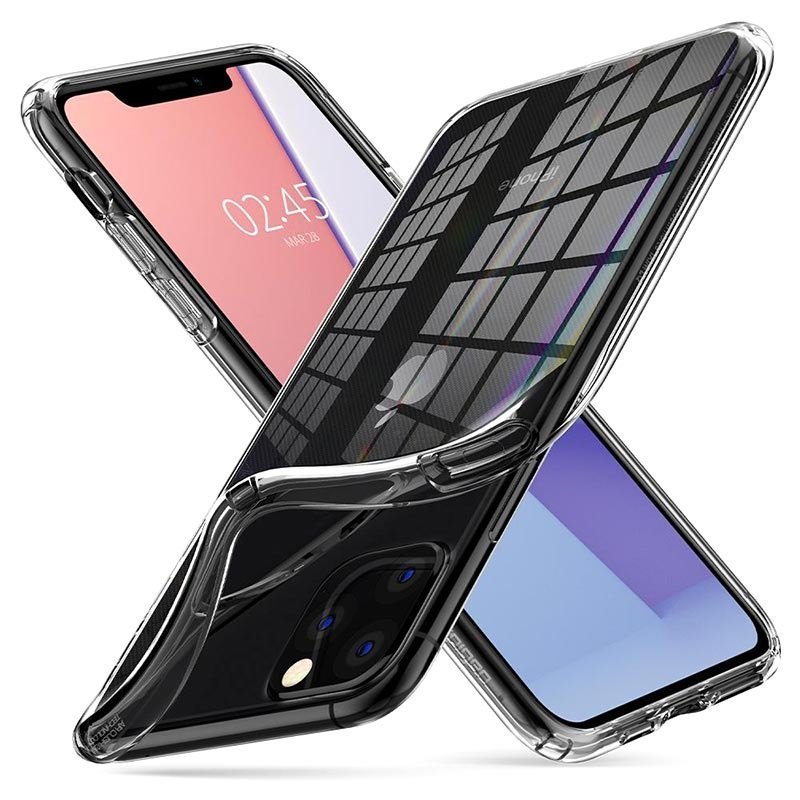 The Spigen Liquid Crystal TPU case is one of the best transparent cases for you. This clear iPhone 11 Pro case comes with Air Cushion technology that protects your phone's corners from the shock of falls and bumps.
The single layer of TPU material offers good protection against scratches and smudges. The lightweight construction makes this the right choice if you hate bulky protective cases. The cover comes with precise cutouts and responsive buttons that do not hinder accessibility.
Why this case is the right choice for your iPhone 11 Pro:
The lightweight TPU material offers good protection without added bulk.
It comes with specialised Air Cushion technology that offers reinforced protection to the corners of your phone.
Your access to the buttons and ports are not obstructed thanks to the precise cutouts and responsive buttons.
The case boasts silicone flexibility and is extremely durable.
Spigen Ultra Hybrid Case: Lightweight Protection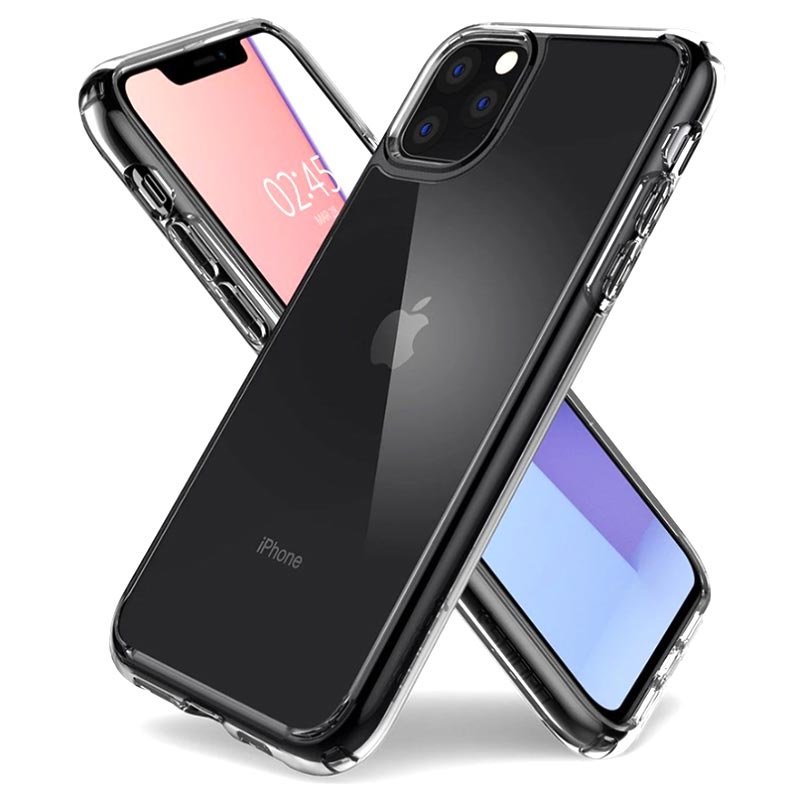 The lightweight construction of the Spigen Ultra hybrid case ensures that protection does not come with a heavy weight to carry. The clear case allows you to showcase your iPhone 11 Pro while keeping it in pristine condition.
The high-quality construction materials keep your phone safe from the wear and tear of everyday use. The materials are also durable and will last you a long time. This slim case comes with reinforced corners that improve shock absorption.
Why this case is the right choice for your iPhone 11 Pro:
It uses high-quality damage-resistant polycarbonate and TPU for ultimate protection.
The enhanced shock-absorbing corners ensure falls and impacts do not destroy the beauty of your phone.
Thanks to its lightweight design, the cover is not bulky.
It comes with precision cut-outs and moulded buttons to ensure the functionality is not obstructed.
Best iPhone 11 Pro Case with Screen Protector
With other cases, you will have to buy an iPhone screen protector. But these phone cases, designed with screen protectors, will hit two birds with one stone. These cases not only offer the best of protection but also look stylish while doing so.
Supcase Cosmo Hybrid Case: Cute and Trendy Protective Cover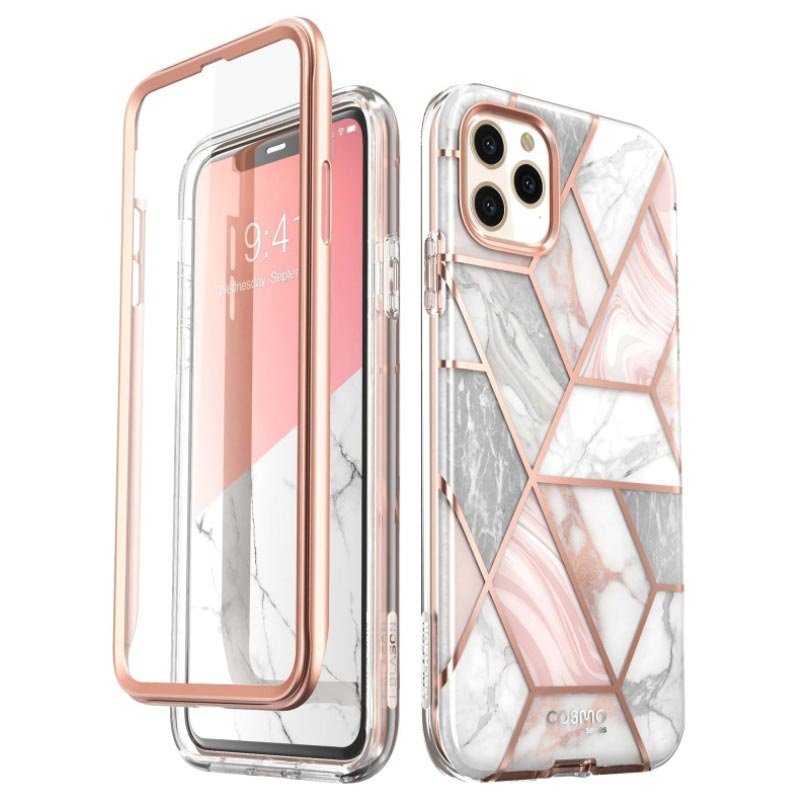 The stylish design of the Supcase Cosmo hybrid case will make you forget it is a protective case. The construction of the case keeps in mind every possible protective feature to keep your iPhone as good as new.
It uses patterned polycarbonate on the back with a TPU bumper to provide the ultimate protection to the body of the phone. Additionally, the front panel with raised edges and a built-in screen protector brings in a second layer of protection.
Why this case is the right choice for your iPhone 11 Pro:
Protecting your iPhone is a lot more fun with the trendy marble design of the Supcase Cosmo case.
The protective features come in two parts: Polycarbonate and TPU bumper, and the raised edged front panel with an integrated screen protector.
The case does not hinder the wireless charging capabilities of your phone.
Thanks to its military graded protection against falls and shocks, your phone will always be safe.
Love Mei Powerful Hybrid Case: Heavy-duty Protection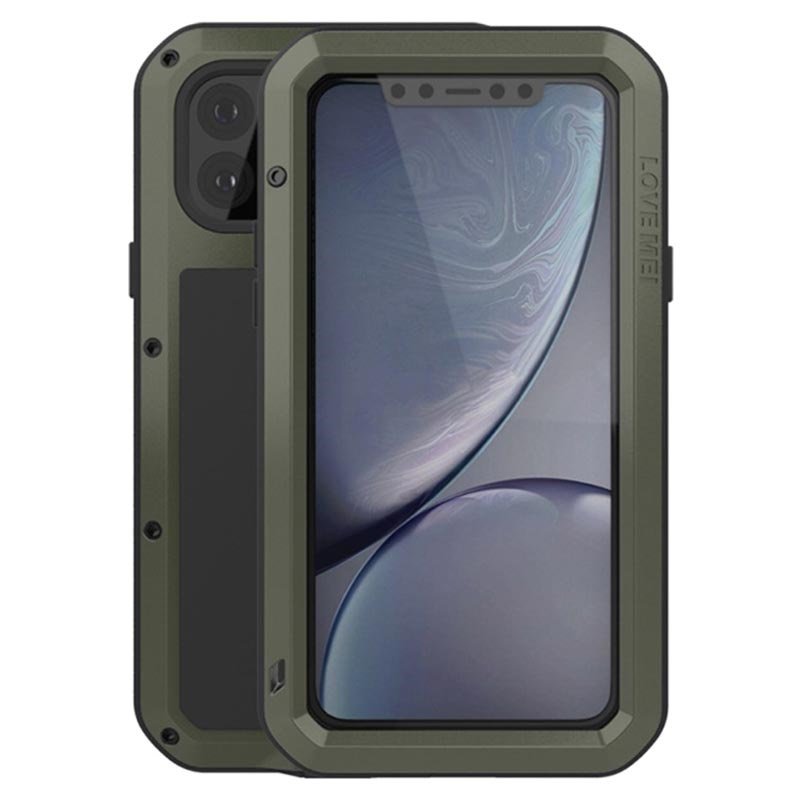 The protection of the Love Mei Powerful hybrid case comes with a stylish design. It uses a hybrid design made from metal, silicone, and tempered glass. Its multi-layer protection keeps your Apple iPhone 11 Pro protected from environmental elements too.
Enjoy extra protection with the silicone bumpers that offer great drop protection. Additionally, the integrated screen protector keeps your screen clean and smudge-free. This all-in-one solution is the perfect choice for an outdoorsy person.
Why this case is the right choice for your iPhone 11 Pro:
It comes with an inner honeycomb design that keeps your phone cool.
The silicone bumpers and the multi-layer protection of durable materials ensure high levels of protection for your device.
The integrated screen adds another layer of protection to your display.
It is easy to install and remove.
Best iPhone 11 Pro Cases for Protection
If the protection of your iPhone is the top priority, then you will love these top two picks of ours. With a case offering the ultimate protection against impact and fall damage, your adventures will be filled with fun.
Nillkin CamShield Armor Hybrid Case: For Any Extreme Outdoor Activity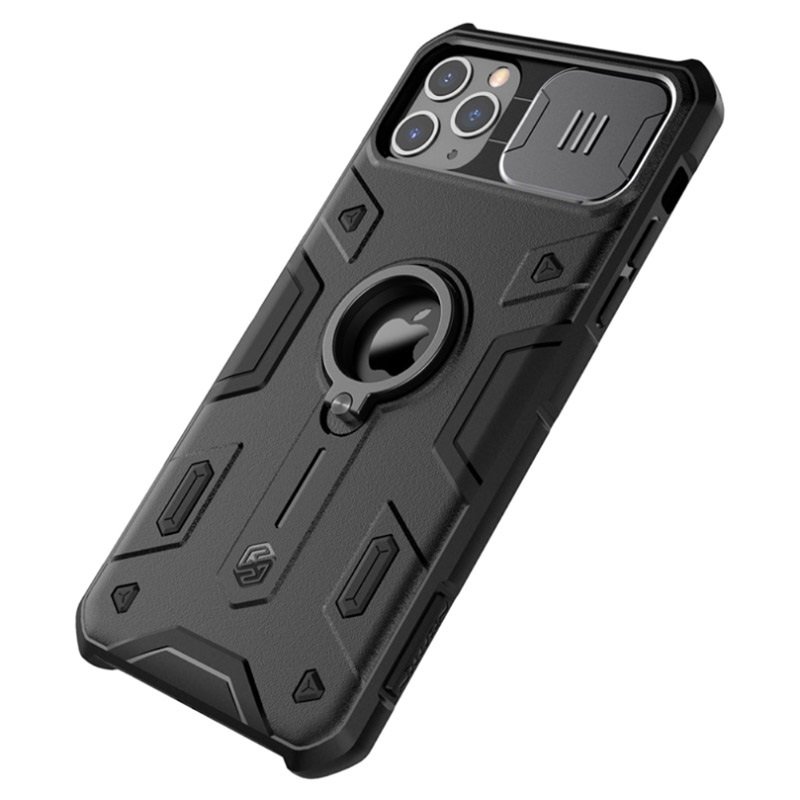 The tough and rugged construction of the Nillkin CamShield Armor hybrid case makes it the right choice for an adventurer. It is constructed using a hard PC and flexible TPU materials for reliable protection.
The case also comes with a slide cover for your camera to keep it protected from scratches. Additionally, the 360-degree rotating ring holder adds another addition to improve grip. The holder also transforms into a kickstand, doubling up its usability.
Why this case is the right choice for your iPhone 11 Pro:
The non-slip texture of the case along with the ring holder helps prevent accidental slips.
It comes with shock-absorbing bumpers on all four corners for enhanced protection.
The sliding camera cover ensures the camera remains safe regardless of the rough activity you indulge in.
The case ensures access to all the buttons and ports with its tactile buttons and precise cut-outs.
Griffin Survivor Endurance Case: Ultra-slim Protective Case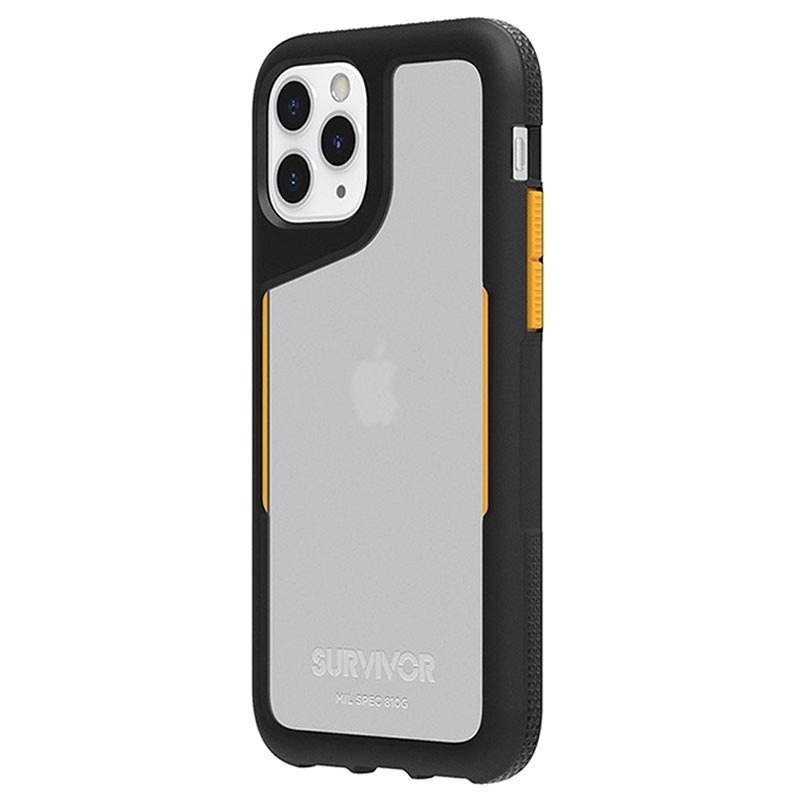 Despite the ultra-slim construction of the Griffin Survivor Endurance case, you can expect the best impact protection. The TPU, polycarbonate, and silicone case combination safeguards your iPhone from everyday accidents.
The case is designed with Griffin's exclusive shock-dampening system, which efficiently decreases impacts and shocks. And thanks to its rugged design and textured buttons, you will always have a strong grip on your iPhone 11 Pro.
Why this case is the right choice for your iPhone 11 Pro:
It features reinforced edges that protect your iPhone against 3m drops.
Thanks to the raised rims around the camera lens and the display screen, these surfaces are safe from scratches.
The textured button covers protect against dust and provide tactile clues to the button position.
With Griffin's exclusive shock-dampening system your iPhone will handle just about any situation.
Best Cool iPhone 11 Pro Cases to Get Your Hands On
These best iPhone cases 2021 will help your iPhone 11 Pro stand out from the crowd. As opposed to traditional iPhone 11 Pro covers, these models bring a bit of personality and even some more functionality.
Dux Ducis Wish Wallet Leather Case: For Those Always on the Go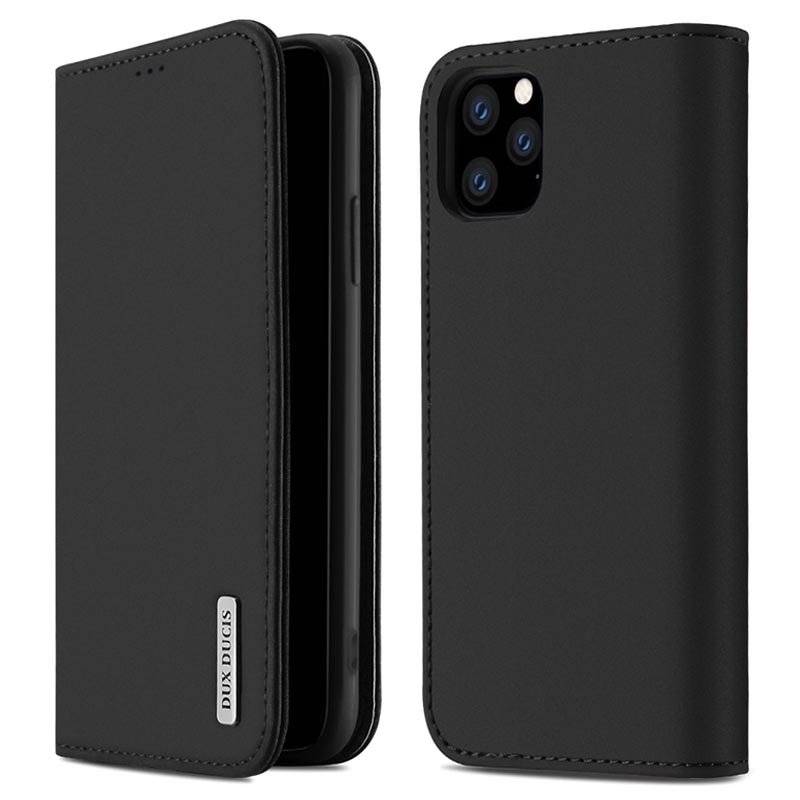 Minimise the things you carry with the Dux Ducis Wish wallet leather case. This wallet case allows you to carry important cards like your ID cards and credit cards as well as cash. With this handy phone case, you do not have to carry your wallet.
It is made from genuine leather that offers a luxurious appearance. The inner shell keeps your phone in place and well protected. The front flap also features a magnetic clasp for added protection.
Why this case is the right choice for your iPhone 11 Pro:
It comes with two card slots and a cash pocket to help you minimise the bulk you carry.
The high-quality genuine leather adds a layer of luxury and sophistication to the wallet case.
The magnetic closure ensures all your items and your phone remain in place.
The front flap also doubles up as a stand for your iPhone with the perfect viewing angle.
Guess Glitter Collection Case: A Cute iPhone 11 Pro Case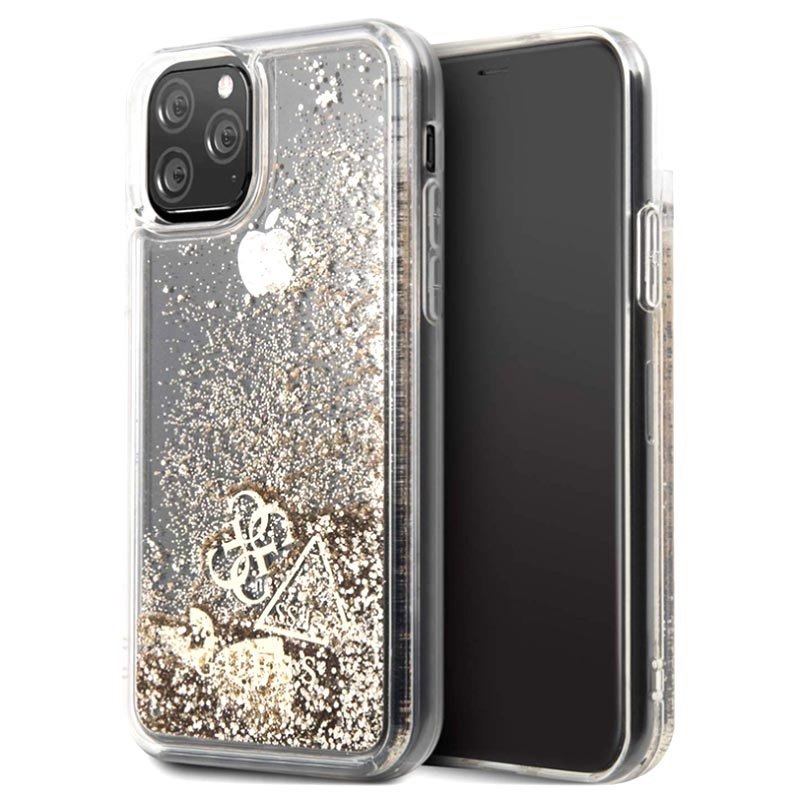 Looking for a gift or something extraordinary for an iPhone 11 Pro? Choose the Guess glitter collection case for its quirky design. The combination of the clear case with the liquid glitter brings a magical touch to the case.
Do not be fooled by its cuteness. This cute but tough case offers great protection against falls and impacts. It is constructed with thermoplastic polyurethane and polycarbonate materials to give you a durable case that lasts.
Why this case is the right choice for your iPhone 11 Pro:
This glittery case comes with a UV resistant, high-gloss finish to add a touch of sparkle to your iPhone 11 Pro.
Thanks to the precision cut-outs for ports and moulded side buttons, the functionality of your iPhone will not be hindered.
This protective case does not add any additional bulk to your phone.
The liquid glitter and floating sparkling details make this case stand out in a crowd.
Backup Battery Case: Never Run Out of Charge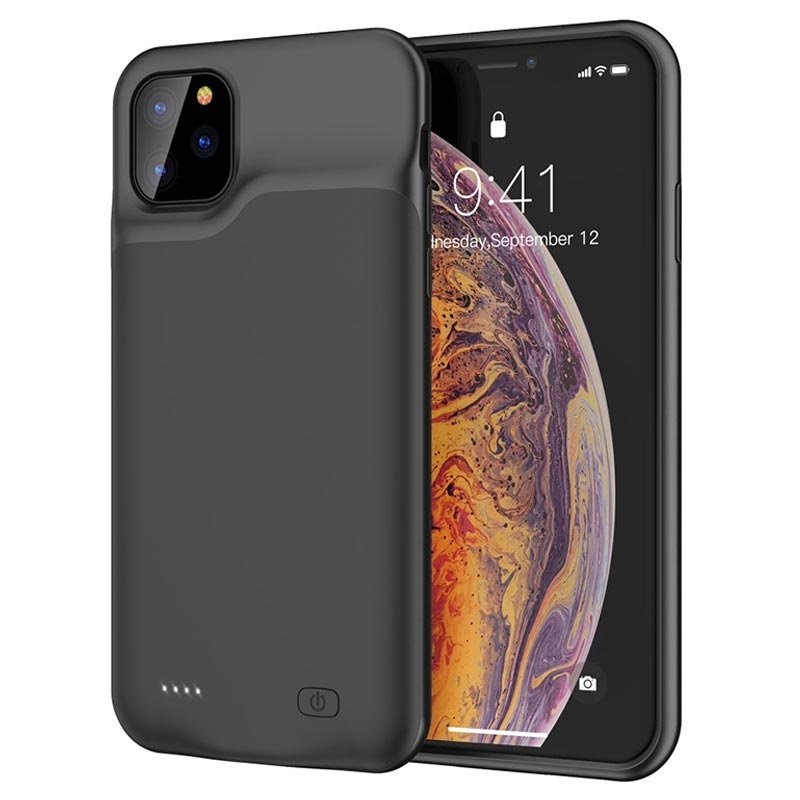 Solve all your iPhone battery woes with the backup battery case. This iPhone 11 Pro smart battery case comes with multiple protection systems for reliable and safe charging of your device. And since it is constructed exclusively for your iPhone 11 Pro, it ensures a perfect fit.
The battery case also comes with protective features that safeguard your phone against everyday wear and tear. It also ensures none of the functionality of your favourite iPhone is affected.
Why this case is the right choice for your iPhone 11 Pro:
The battery case has a battery capacity of 5200mAh to meet all your charging needs.
Enjoy safe and reliable charging on the go with its glove-like fit and multiple protection systems.
The case protects your iPhone from scratches and other everyday wear and tear.
It comes with an LED indicator and Power-Up button which makes using this case an easy task.
Best iPhone 11 Pro Cases with Add-ons
Love going cashless and just need your credit and debit cards? Spending time watching TV shows or movies on your phone? These best, thin iPhone 11 Pro cases will make your day easier with their practical additions. Cut down on the clutter with the cardholder feature or get the best viewing angle with the integrated stand without compromising the protection of your iPhone.
Spigen Slim Armor Case: Military Grade Drop Protection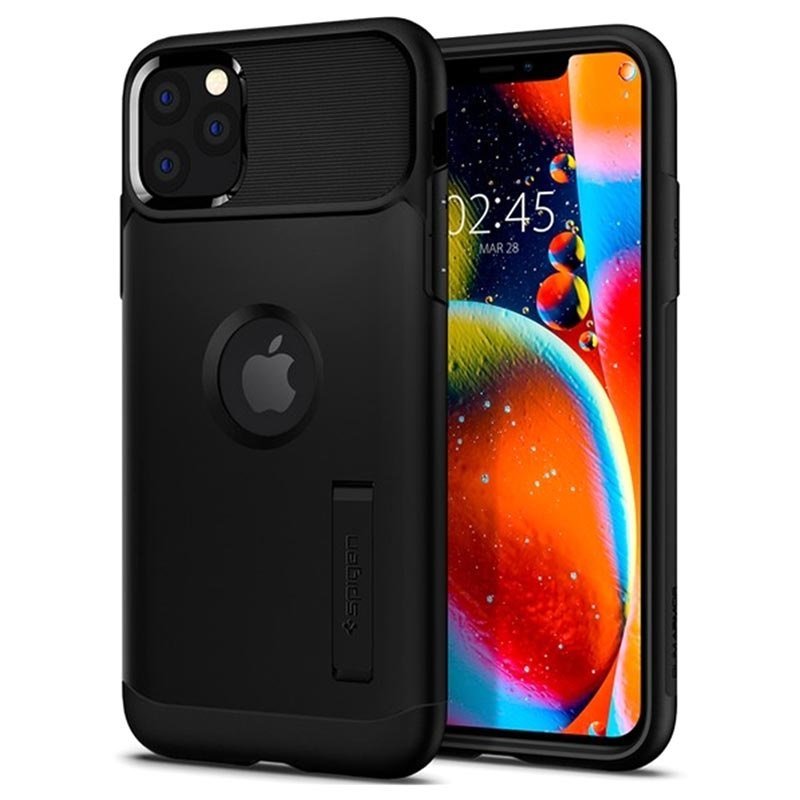 With MIL-STD 810G-516.6 drop protection and Air Cushion technology in all corners, the Spigen Slim Armor case is a must-have. This sleek-looking protective case gives you excellent protection against scuffs, shocks, and drops.
The case also comes with a slide-out stand that holds your phone in the right position. Relax and watch your favourite shows while keeping your hands free with this clever accessory.
Why this case is the right choice for your iPhone 11 Pro:
The protective case has successfully passed military standard drop tests to give you peace of mind.
The Air Cushion Technology in the corners offers an additional layer of protection from impacts.
It is constructed using an inner shock-absorbent TPU reinforced with an outer rigid plastic shell.
The dual-layered design offers durability without compromising on appearance.
KSQ Case with Card Pocket: A Pocket-friendly Solution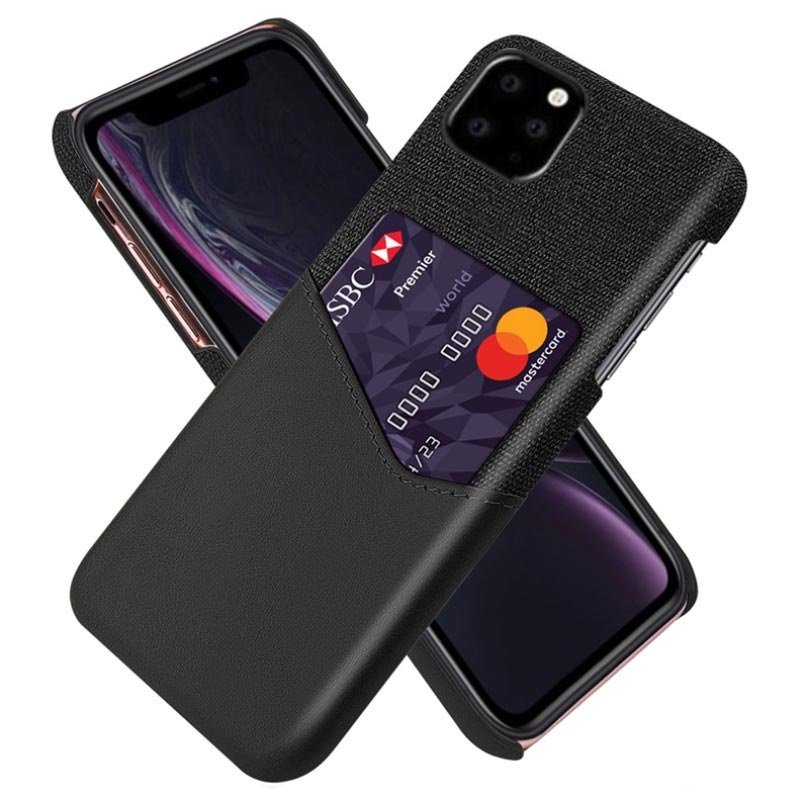 With its slim design, the KSQ case with card pocket is a pocket-friendly protective iPhone 11 Pro case with a card holder on the back. It features an integrated pocket on the back to hold essential cards. You no longer have to search through your wallet or purse to find your ID card.
The classy and sophisticated appearance of the phone case makes it ideal for work and professional environments. You can expect a good level of protection against scratches, dents, and drops with this iPhone case.
Why this case is the right choice for your iPhone 11 Pro:
The snap-on installation and easy accessibility to ports and buttons make this case easy to use.
The three-layer design incorporates polycarbonate, polyurethane, and cloth materials for a sophisticated look.
Thanks to the integrated pocket, you can keep your important cards always in reach.
The ultra-thin construction makes this case lightweight and pocket-friendly.
Custom iPhone 11 Pro Case for Your Refined Tastes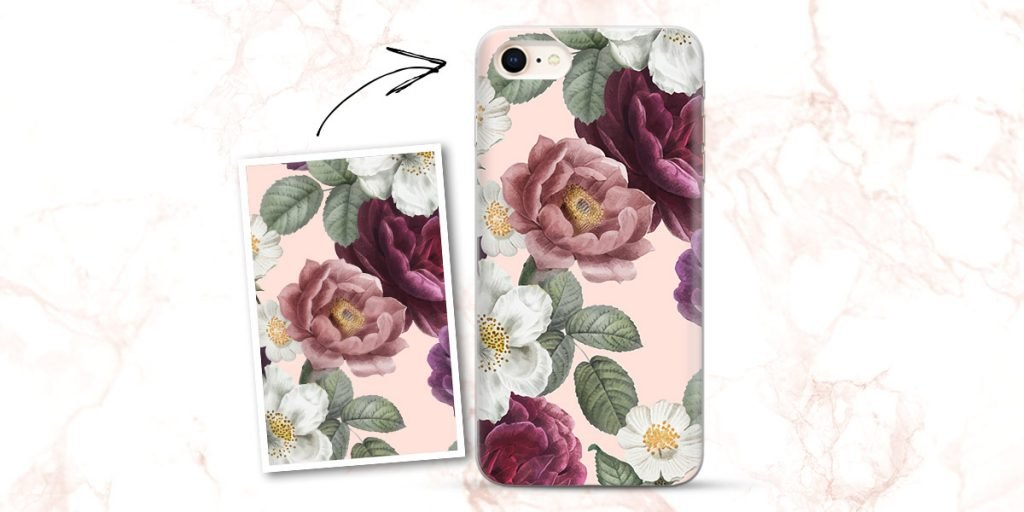 With our Design Your Own Case application, you can have a personalised iPhone 11 Pro case in just two minutes. This easy three-step process will also allow you to create cases for iPhone 11 series phones including the iPhone 11 Pro Max!
Just follow these steps and see your creation come to life in our preview window.
Step 1: Select Phone as your device, followed by Apple as the brand and iPhone 11 Pro as the model.
Step 2: Choose your case type from our options of Hard Cover, TPU Case, Flip Case, and Universal Wallet.
Step 3: Upload your favourite photo, drawing or any image.
Review your customisation, and you are done once you click Buy! We will have your case or cover ready and delivered to you in no time.
You can also use our personalisation application to customise tablet covers and other gadgets and accessories.
Finding the Perfect Fit!
We hope you were able to find the right case or cover in our "best iPhone 11 cases and covers in the UK" list. In addition to covers, it is always a good idea to invest in an iPhone 11 Pro screen protector and good cleaning products.
Are you looking to upgrade your iPhone 11 experience with AirPods? Or do you want to partner your Apple smartphone with an Apple Watch? Get in touch with us, and we will help you enhance your experience with Apple products and accessories.