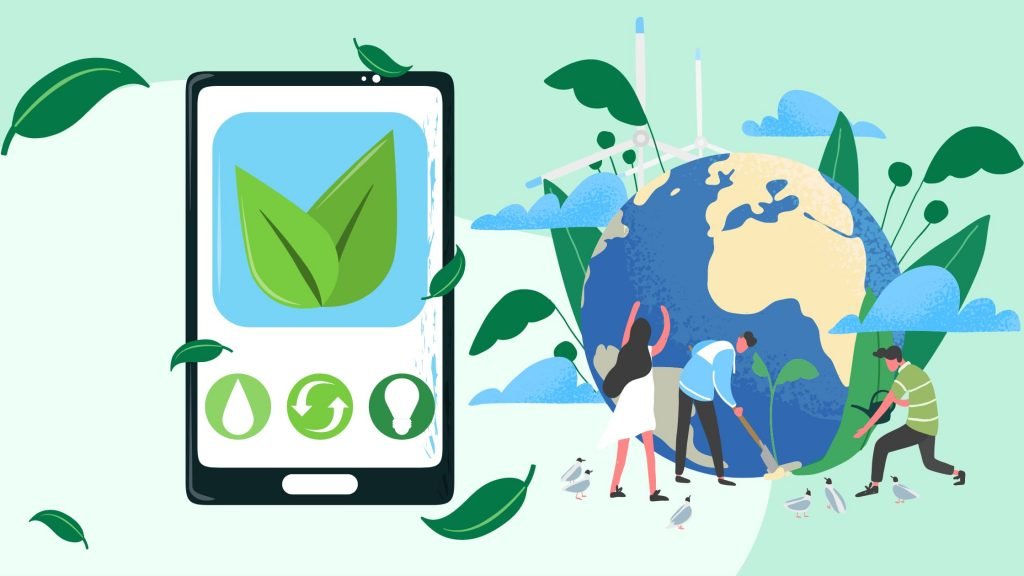 It is not easy to think of modern life without smartphones and their ability to communicate in different forms. While we can read the energy consumption of our phones by their battery, the real problem these devices cause for the environment is not limited to your power grid.
A study by Lotfi Belkhir and Ahmed Elmeligi published in the Journal of Cleaner Production assessed the environmental impact of consumer electronics such as mobile phones, tablets, laptops. They also evaluated the contribution of Information and Communication Technology (ICT) to the global carbon footprint. The study highlighted that smartphones would be the leading contributor to environmental damage by 2020, outranking laptops and PCs.
Primarily, the research duo from McMaster University in Canada found that 85% of smartphone emissions comes from production. Every year or two, telecommunication industries put out a new smartphone into the market. These gadgets rely on high-cost mining of precious metals to produce the chips and motherboards. The frequent replacement of these devices further elevates the production-related emissions.
Additionally, mobile communication, whether it is a text message or uploading of videos to social media, enlist telecommunications networks and data centres. While their production-related emissions do not have that high of an environmental impact, the same cannot be said about operations. The vast amount of energy consumed in operating these units comes from non-renewable sources such as fossil fuels, which have already been identified as severe pollutants.
The study predicts that if the CO2 emissions and other greenhouse gases (GHGs) trends continue, the tech industry's contribution would be equivalent to half the worldwide transportation sector's carbon footprint by 2040.
How Does Charging Your Phone Affect the Environment?
As you are aware, most of the electricity produced and distributed worldwide comes from fossil fuels. The burning of fossil fuels produces many environmentally harmful products. A study conducted by Juniper Research predicted the carbon emission from charging mobile phones would become one of the highest pollutants in coming years.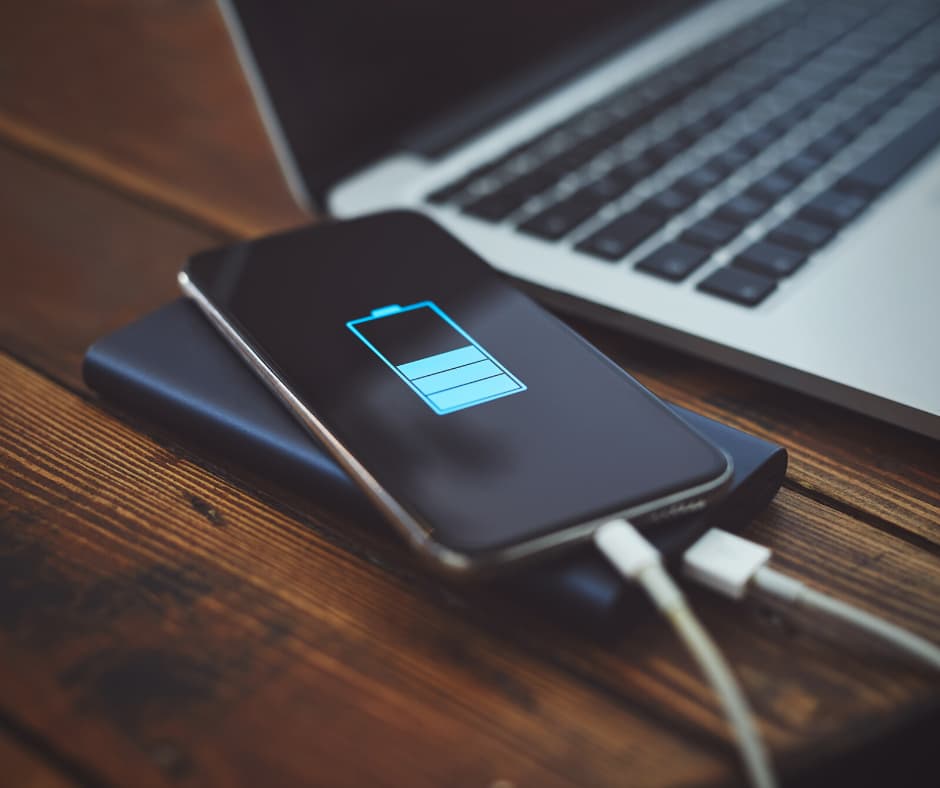 What Can You Do to Minimise the Effect of Phone Charging on the Environment?
Of course, it is impossible to go without charging your mobile device as it serves many functions in everyday life, work, or academia. On an individual level, you might not always have the choice to opt for a renewable source of energy. You can, however, look for solar-powered power banks and other similar options and use them whenever possible.
How you charge can also impact mobile phones and the environment. It is not recommended to keep your device charging overnight. This practice usually leads to overcharging your battery and wastes electricity. Unplugging your power adaptors when not in use will also help reduce the wastage of electricity.
If you find battery issues with your mobile phone, we recommend you check out our post "How to Increase Your Phone And iPhone Battery Life – The Ultimate Guide". Battery issues can lead to ineffective charging, which in turn can have a detrimental effect on the environment.
Another problem with charging is mobile phone chargers. Android users may be able to share their chargers and charging cables, but not with iPhone users. Many mobile phones are also transitioning to the faster USB standards that rely on USB-C type connectors. Technological advancements are necessary, but in the process a lot of production waste is created.
Whether it is your unused charger or phone batteries, make sure you dispose of them appropriately to avoid introducing harmful pollutants into the environment.
Why Should You Reconsider Buying a New Mobile Phone?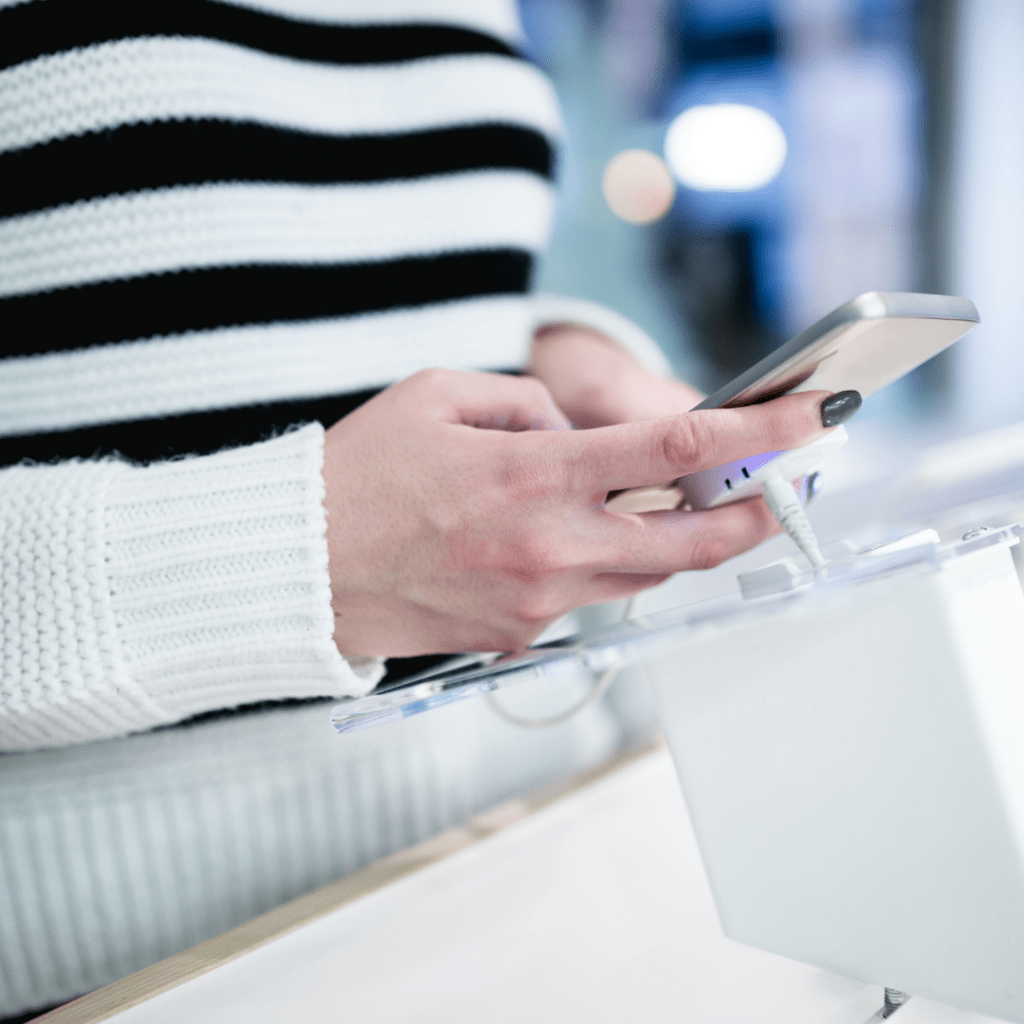 The fast-moving world demands quick decisions, which might make you think buying yourself a new smartphone is better than repairing your old one. But as we have mentioned, numerous studies have pointed out the carbon footprint of mobile phone production is a major concern.
Opting for a new phone might seem like a quick and easy solution, but it is costing the Earth its health.
Why Should You Consider Repairing Your Mobile Phone?
We recommend having your broken or sluggish phone sent to a repair expert. At MyTrendyPhone UK, we have a professional mobile phone repair service that offers you an accurate diagnosis of hardware and software issues as well as repairs at competitive prices.
Repairing your phone will help reduce e-waste. It is also a great way to extend the service life of your device. If you want to do the repairs yourself, you can check out our repair guides and find the right spare parts with us.
Why Should You Consider Buying Refurbished or Pre-owned Devices?
If you must buy a new mobile phone, we highly recommend you go for refurbished or pre-owned smartphones. This is one way of helping reduce e-waste while also finding the best find on a budget. You can find some great choices and options for pre-owned smartphones with us.
Why is Proper Disposal of Your Smartphone Important for the Environment?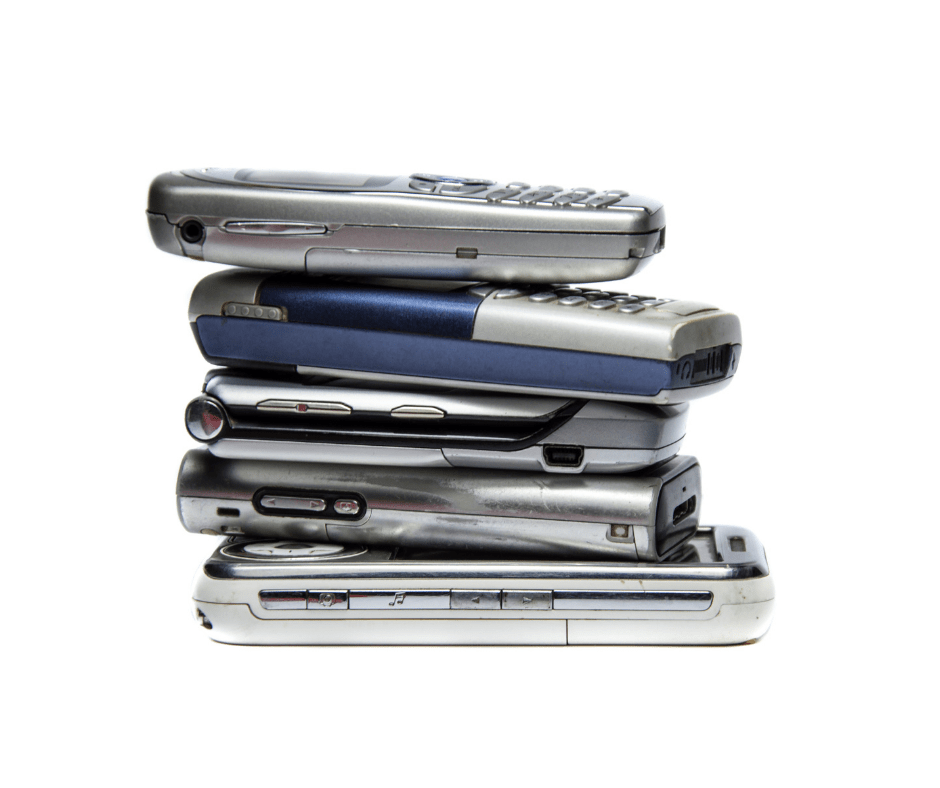 The construction of mobile phones involves many hazardous elements such as mercury, lead, and cadmium, amongst others. When you throw away your device with the general waste, these hazardous materials can leak into the soil and even water sources, thereby poisoning the environment and, in turn, you. Furthermore, burning them releases toxic gases that further damage the environment.
Our helpful infographic on e-Waste and recycling electronic gadgets will help you educate yourself and take the right steps.
How Does Recycling Phones Help the Environment?
Technological innovations now allow us to recycle up to 80% of the materials in our mobile phones. These materials can also be reused to make other electronic devices, which helps to reduce the production-related emissions of mining the materials.
Recycling your phone will also conserve energy. Did you know a recycled mobile phone saves about 44 hours of laptop charge?
Why Should You Resell Your Old Phone?
If your smartphone or mobile phone is in perfect working condition, consider reselling it instead of chucking it in the bin. Not only will you be able to make a bit of cash for yourself, but you will also be reducing the toxic impact of throwing away these devices.
With MyTrendyPhone UK's Sell Your Phone service, selling your mobile phone is a hassle-free process. We also offer the best price for your device on the market!
How Are Mobile Phone Accessories Harming the Environment?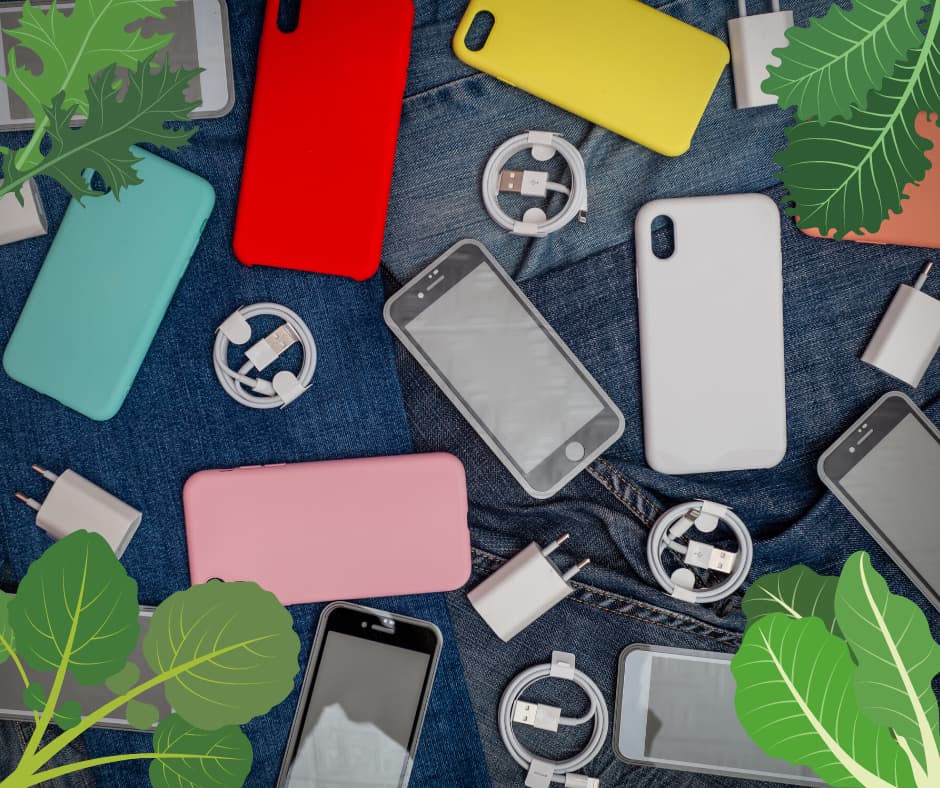 When you think of a mobile phone's environmental impact you probably do not think of all the phone accessories like covers, stands, grips and more. Mobile phone accessories are frequently replaced by consumers which leads to more waste that could be otherwise avoided.
Many accessories are made up of plastic and other non-biodegradable materials. While some accessories use materials that can be recycled, people do not make a conscious effort to send them to recycling centres, or sometimes they do not even have that option.
Why are Mobile Phone Cases Bad for the Environment?
From showing off your preference to protecting your mobile phone from water damage, mobile phone covers and cases do a lot. However, these frequently replaced accessories can have a significant impact on the environment right from the production stage.
Plastic Cases
This is the most common type of mobile case, which comes in a variety of styles and budget options. While cheap production methods without any environmental considerations are an issue, so is the disposal of these covers.
Plastic covers can take hundreds of years to break down and decompose; in the process, they also leak harmful elements into the soil and water. Additionally, burning them releases toxic gases into the air, which can have serious effects on your health as well.
Silicone Cases
Preferred for their feel and durability, silicone cases are top-selling mobile accessories. Their durability is a concerning factor in terms of environmental pollution. Like plastic, these too take centuries to decompose and are non-biodegradable.
Their production also releases toxic gases into the atmosphere and small particles from these cases stay in the air.
Rubber Cases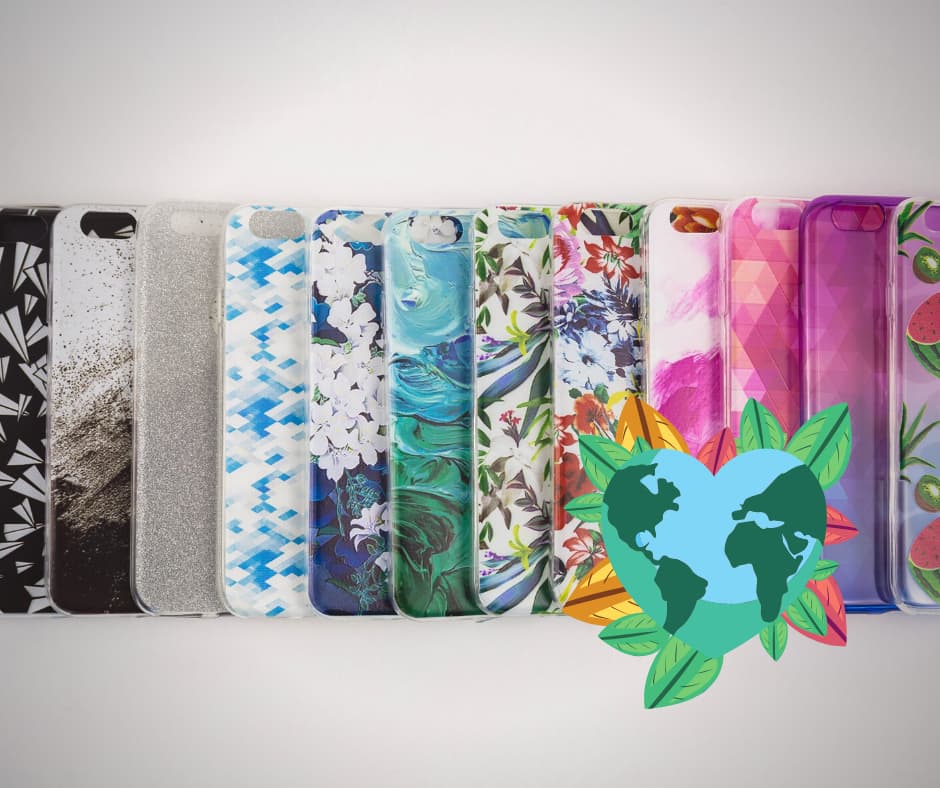 Many protective cases and covers use rubber to offer shock-protection to mobile phones, protecting them from falls and bumps. While rubber is naturally produced, it still takes approximately five decades to fully decompose.
Additionally, during the process of decomposition, the chemicals used in the hardening and drying processes leak into the environment. Though rubber might be a better option than plastic, it is still not without its flaws.
Carbon Fibre Cases
Carbon fibre cases offer the ultimate durability and are the preferred choice for protective cases. However, the production of these cases takes up a lot of energy, which most likely comes from burning fossil fuels. Production of about one tonne of carbon fibre is equivalent to the energy required to produce steel fourteen times over.
This material does not decompose which is one of the reasons for its durability. Throwing it in the bin means it only piles up in overflowing landfills.
Leather Cases
Revered for their premium quality, leather cases are the first choice for professionals and those that want to keep things classy. But natural leather requires the use of chemicals for softening and preserving.
The alternative, faux leather, takes up to 500 years to completely decompose. Without appropriate environmentally friendly processes and ingredients, these cases impact the health of the environment.
Why are Eco-friendly Mobile Accessories the Way to Go?
Many environmentally-friendly phone cases are constructed using recyclable or biodegradable materials that are better for the environment. Additionally, their packing also tends to follow the same practices. Many eco-brands also focus on contributing to the betterment of the environment by planting trees or contributing to the efforts of helping the environment when their products are purchased.
Consider purchasing from our Eco-line of products for some great accessories and gadgets that will help reduce the environmental impact of smartphones. Our sustainable alternatives of phone cases that are good for the environment are gorgeous and do not compromise on effectiveness. Furthermore, our collaboration with One Tree Planted ensures a tree is planted for every purchase you make from our sustainable line of products.
How to Be an Ally to the Environment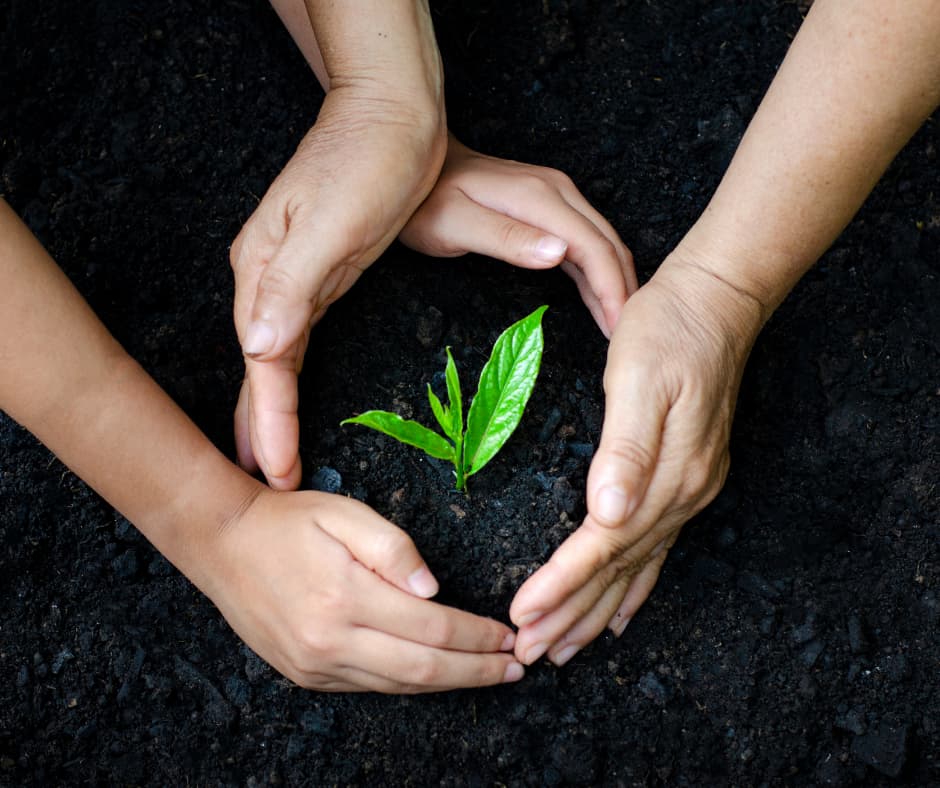 You have probably now understood the effect of mobile phones on the environment is not something to be ignored. Though your efforts to reduce the effects of mobile phones on the environment may feel insignificant, they truly are not.
Here is a summary of the steps you can take to help the environment:
Do not overcharge your smartphones and do not charge them overnight.
Consider repairing your phone instead of throwing it away.
Recycle or resell old mobile phones.
Upgrade to a new phone only if it is necessary.
Consider buying refurbished or pre-owned mobile phones.
Limit the purchasing of mobile phone accessories.
Properly dispose of smartphones and mobile phone accessories.
One Step Towards a Better World
We hope you have learned a lot and will be mindful of the environmental impact smartphones have. Until better practices and processes that are protective of the environment's health come into the picture, it is up to us to do what we can.
Want to learn more about eco-friendly products? Get in touch with us to make the right choices and keep yourself updated on everything tech!