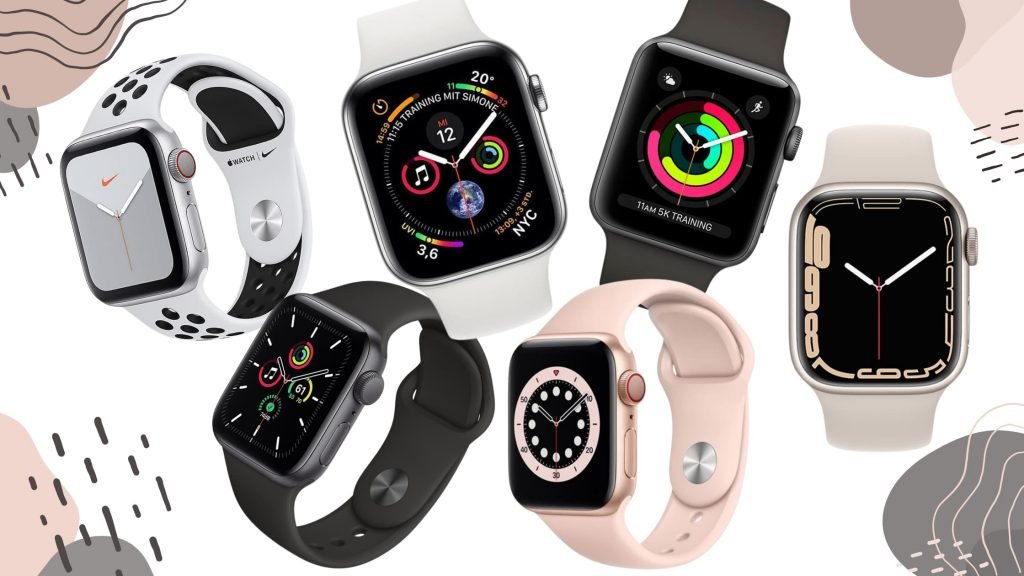 Apple Watch, or iWatch as it is also commonly known, is a must-buy for anyone with great admiration for the brand. These smart gadgets offer a great balance of features for everyday life.
While the market offers many fitness trackers and pedometers with dedicated features, we would suggest considering an Apple Watch for fitness. Whether you want your Apple Watch for running or an Apple Watch for swimming, the range of sensors has kept on improving since the 4 series. The support for third-party apps and the dedicated Apple Fitness+ app makes these watches a good balance between a watch and an activity tracker.
Consider these smartwatches as a tiny smartphone on your wrist. With the wearable featuring touchscreens, a microphone, and a speaker, along with support for digital eSIM, you can use them independently of other devices.
There is plenty to look at with Apple's smartwatches. While the latest is the best of the best, models from other series also have fantastic features. In this post, we will walk you through the different Apple smartwatch models and help you find the answer to which Apple Watch you should get.
What Does an Apple Watch Do?
Before we discover the different models available, let us answer the most important question: what is the need for an Apple Watch? Like any other smartwatch, your Apple iWatch keeps you connected with your smartphone notifications and acts as a fitness tracker.
The following are some Apple Watch features you can find with their watches:
Makes calls or texts right from your wrist
You can take advantage of the fitness and health tracking sensors to stay on track with your fitness goals
Uses the Maps app for your navigation needs
Can be used to find your Apple devices or items with AirTags using the Find Devices and Find Item apps respectively
Allows payment with Apple Pay using the Wallet app
You can enjoy your music or podcasts with the Apple Music app
Acts as a remote control to manage the music on your phone, take photos, and even control your Apple TV
Unlocks your Mac device without entering a password by simply bringing your watch in close contact
The above features will vary based on the models. But these highlights should let you know how useful having an Apple Watch is.
Learn more about the difference between fitness trackers and smartwatches with our blog Fitness Tracker Vs Smartwatch: Which Should I Buy?
Know More About Each Apple Watch Series
In this section, we dive into the details of each model and give you a glimpse of what you will be getting yourself if you make the purchase.
Apple Watch Series 7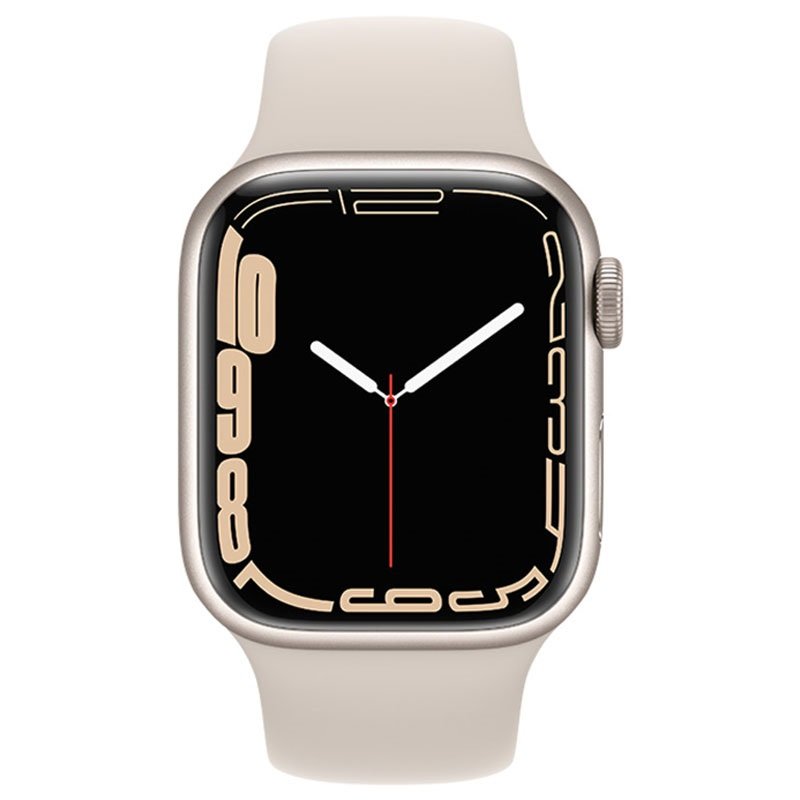 The new flagship smartwatches are undoubtedly the best choice amongst Apple Watches. One of the main upgrades to this series is the display size. While the overall size of the display unit remains the same, the smaller bezels (1.7mm) have allowed the screen size to increase to 41mm and 45mm touchscreen options.
The Apple Watch 7 also features a digital keyboard, which, combined with the increased screen space, makes texting an easy task. Attending calls is also possible with the now slightly larger single hole on the side for the speaker/mic.
While the battery still offers the same power as an Apple Watch 6, the included charging puck with a USB-C end enables 33% faster charging. Like the previous versions, the watch is waterproof; however, now the case also has an IP6X dust-proof rating. Furthermore, its improved crack-resistant screen also makes it more durable.
The watch features the new redesigned S7 chip and has a host of health and fitness sensors that help you track both low and high-intensity workouts. Furthermore, the always-on display is 70% brighter than its predecessors, allowing easy viewing even in bright light conditions.
Apple Watch Series 6
The iWatch series 6 is a great middle-ground option between the series 5 Apple Watch and the series 7 watches. In terms of the display, the OLED screen with the always-on feature boosts to full brightness when you turn it towards yourself, which works great even during bright daylight.
It is also relatively thinner than the iWatch series 5 and comes with upgraded fitness and health sensors. The most talked-about feature of this series is the blood oxygen monitor which is a helpful sensor for heart health or respiratory system monitoring.
The watchOS 7 introduced with this series offers a sleep tracking tool which helps you get an improved quality of sleep with features like the Wind Down. While the battery could fare better, it manages to last a whole day if used properly. However, the fast-charging feature allows you to maximise the use.
Apple Watch Series SE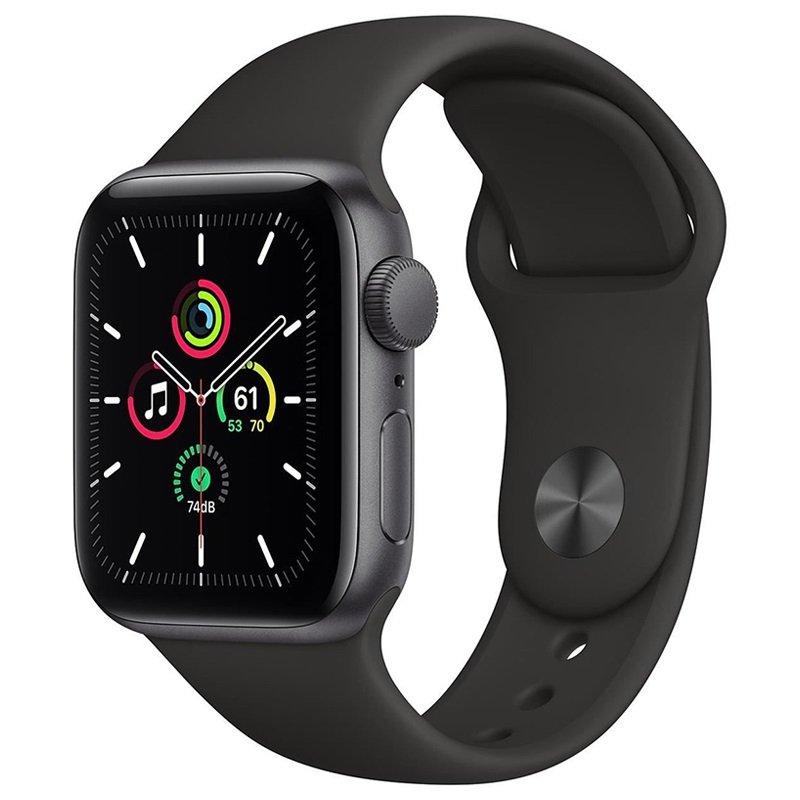 The Apple Watch SE was introduced along with the series 6 watch as a budget-friendly option. We would recommend this for a first Apple Watch or as an upgrade from a series 3 Apple Watch or earlier versions.
While not as feature-rich as the series 6 and above, the SE still comes with basic fitness and health features. It makes it a great option for those that want to get a taste of fitness tracking but aren't yet fully committed to the idea.
The watch itself shows limited information on its screen which is ideal for a new fitness enthusiast. If you use it along with the fitness app, you can unlock options like VO2 Max, average walking and climbing speeds, and resting heart rate.
In comparison to the 6 series watch, the SE is missing the always-on display feature and blood oxygen sensor. However, you still get features like fall detection, an always-on altimeter, and the Taptic Engine for 'tapping' your wrist.
Apple Watch Series 5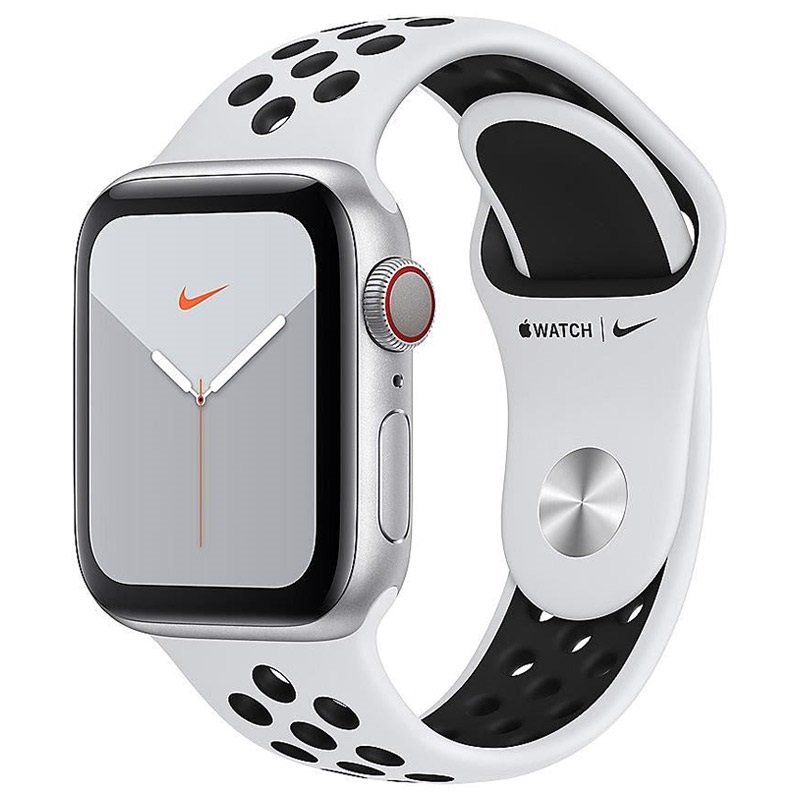 In comparison to the older models, you get the options of titanium models, a ceramic white model, and the special editions from Nike and Hermes with the Apple series 5 watch. Though not hugely different from the Apple Watch 4, this series does come with a few upgrades.
One of the highlighted features is the always-on display which allows you to view the screen without having to raise your wrist. However, this display may be too bright to be used at night. An additional upgrade in comparison to the predecessor is the 32GB memory space.
The watch comes with decent fitness and health tracking features that include GPS, heart rate monitor, accelerometer, and a compass. However, the watch 4 might be a better option, as the battery life on this series is relatively poor in comparison.
Apple Watch Series 5 44mm and 40mm do not have significant price differences, which makes them a decent choice over the series 3 watch.
Apple Watch Series 4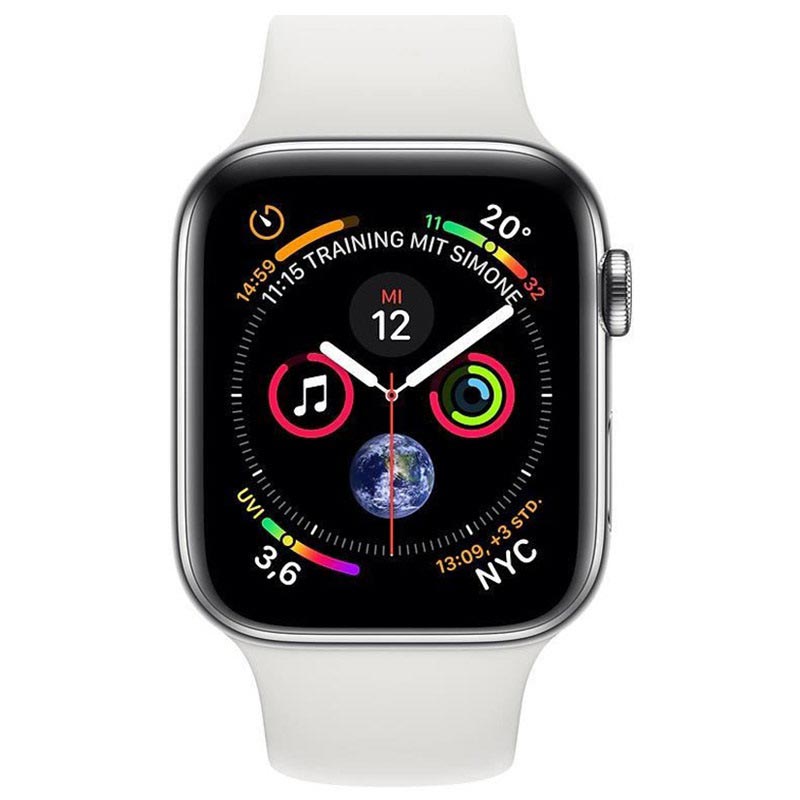 If you are considering between Apple Watch 5 and Apple Watch 4, then the latter might be a better choice. The key difference from its successor is the lack of an always-on display and the larger onboard memory. In other aspects, this series is relatively as good as the next model.
The Watch 4 comes in 40mm and 44mm versions, making the screen larger than its predecessor. Additionally, it is relatively thinner. The LTPO AMOLED capacitive touchscreen display is also a great update over the previous versions in terms of saving battery.
The lightweight design makes it comfortable to wear even when you are engaged in sports. And with the fully ceramic underside, it has a better hypoallergenic nature. However, this series may not be an ideal Apple Watch for women since it tends to look bulky on thinner wrists.
As a fitness and health tracker, this series offers decent features for everyday activity tracking. Still, the side button, which feels more recessed, could be difficult to notice without looking for it. The speaker and mic quality and positioning are also improved in comparison to the previous versions.
Apple Watch Series 3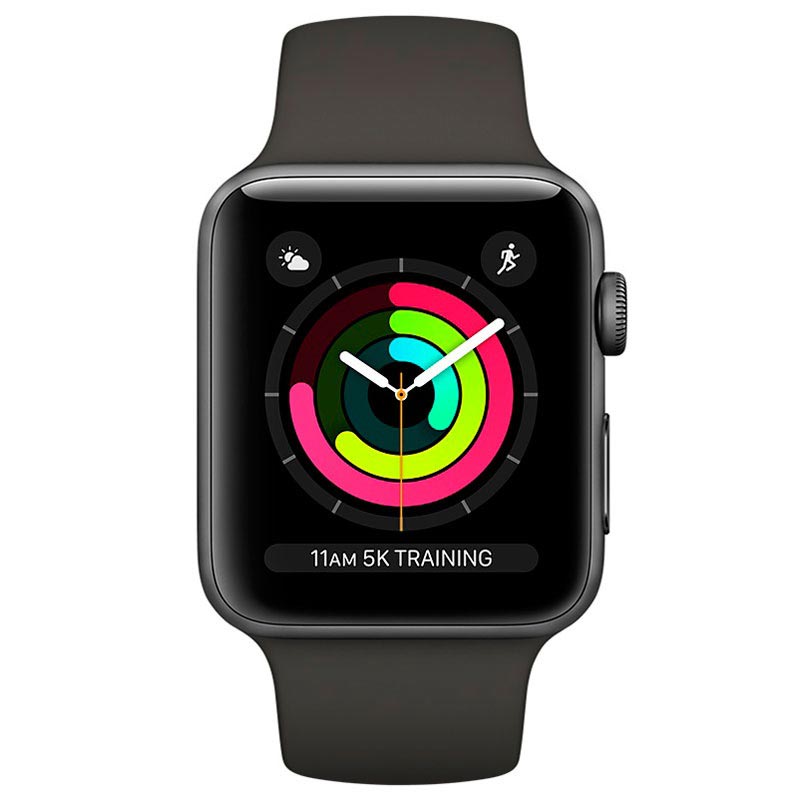 The last series from the oldest iterations, the Apple Watch 3 is the cheapest in the line of Apple smartwatches. We would recommend it as a great Apple Watch for kids since it is available with just GPS or just cellular connectivity. The device can be easily set up with iPhone 6S (or later) with an iOS 13 or later system.
In comparison to the Apple Watch Series 2, the Digital Crown has a firmer feel and the display comes with slightly rounded edges. Though the battery has not improved much. Additionally, the silicone band is gentle against the skin making it comfortable to wear.
In terms of an activity tracker, the watch comes with a heart rate sensor. Apps like the Activity Rings and Breathe are great for keeping track of your daily activity and managing stress. While not as great as the newest collection, this watch still comes through in delivering the most important functions you'd expect from a smartwatch.
Frequently Asked Questions About Apple Watches
Here are the answers to some commonly asked questions about these smartwatches.
Which Apple Watch is the best for children?
We recommend the Apple Watch 3 as a good choice for a child. It pairs easily with an iOS 13 or later iPhone 6S or newer Apple smartphones. The set-up requires turning on the Bluetooth and scanning the watch face after opening the Apple Watch app. Once set, you enter the details and decide which apps you want to be installed as well as set the passcode.
How to unpair an Apple Watch
To unpair your watch from your iPhone, follow these steps:
Ensure the two devices are in close proximity so that it can be easily detected
On your iPhone open the Apple Watch app
Head over to the My Watch tab and tap on All Watches
Tap the info icon next to the watch you want to unpair
Select the Unpair Apple Watch option to remove the watch from the paired devices
How many Apple Watch colours are there?
Here is a quick overview of the colours each series is available in.
Watch Series
Colours
7
Aluminium: Midnight, Starlight, Green, Blue, and (PRODUCT)RED
Stainless Steel: Silver, Graphite, and Gold
Titanium: Titanium, and Space Black
6
Aluminium: Silver, Space Grey, Gold, Blue, and (PRODUCT)RED
Stainless Steel: Silver, Gold, Graphite, and Space Black
Titanium: Space Black, and Titanium
SE
Aluminium: Silver, Gold, and Space Gray
5
Aluminium: Silver, Space Gray, and Gold
Stainless Steel: Stainless Steel, Space Black, and Gold
Titanium: Titanium, and Space Black
Ceramic: White
4
Aluminium: Silver, Space Gray, and Gold 
Stainless Steel: Silver, Space Black, and Gold
3
Aluminium: Silver, Space Gray, and Gold 
Stainless Steel: Silver, and Space Black
Will the Apple Watch work without an iPhone?
You need your iPhone to pair the watch since Apple considers them as companion devices for your smartphone. However, once paired, many of the features on the watch work just fine without the mobile device.
Can Apple Watch measure blood pressure?
You need to pair your watch with a compatible blood pressure device to be able to record it in your health apps.
Is the Apple Watch waterproof?
Despite the waterproof certifications, your iWatch is not meant for deep diving and other similar water activities. These watches are water-resistant, which means they can handle swimming and other shallow-water activities up to 50 metres.
Apple Watch Series 4 and older are not water-resistant and hence are not suitable for rigorous activities.
Which Apple Watch straps are good for exercising? Are Apple Watch bands water-resistant?
If your Apple Watch case supports swapping out its straps and bands, you will love the range of options available to you. You can check out our picks of the best bands and straps for the Apple Watch to find the right one for you.
Not all bands and straps are waterproof. Leather straps can handle light exercise but aren't made for HIIT workouts. On the other hand, stainless steel straps may just be too uncomfortable in a gym environment. Regardless of the type, follow the right watch strap cleaning steps to make them last longer for you.
At a Glance
Here is a quick overview of the specs of each series so you can quickly figure out which Apple Watch to buy.
| | | | | | |
| --- | --- | --- | --- | --- | --- |
| Series | Size | Chip | Water Resistant | Always-on Screen | ECG and Blood Oxygen |
| 7 | 41mm / 45mm | S7 dual-core processor | Yes | Yes | Both |
| 6 | 40mm / 44mm | S6 with 64-bit dual-core processor | Yes | Yes | Both |
| SE | 40mm / 44mm | S5 with 64-bit dual-core processor | Yes | No | No |
| 5 | 40mm / 44mm | S5 with 64-bit dual-core processor | Yes | Yes | ECG |
| 4 | 40mm / 44mm | S4 with 64-bit dual-core processor | No | No | ECG |
| 3 | 38mm / 42mm | S3 with dual-core processor | No | No | No |
Watch Out!
We hope our guide helps you to decide which Apple Watch is right for the iPhone 11 or maybe even your iPhone 13. Whichever watch you settle for, learn how to clean your Apple Watch properly to extend their life and improve their performance.
Are you looking for Apple Watch men, Apple Watch ladies, or an Apple Watch accessory? Get in touch with us and we will help you find the right product for you or to give to a loved one!