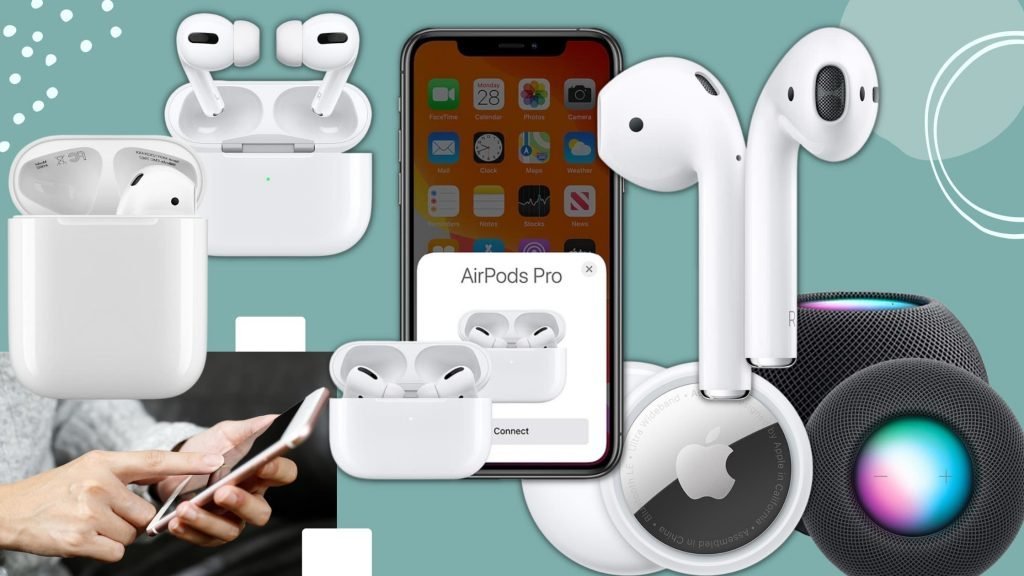 The Apple iPhone is the epitome of sophistication for professionals and minimalists. Many people prefer not to bring an outsider into the Apple ecosystem, so why should the accessories be non-Apple?
Apple iPhone accessories are designed to be uniquely Apple. They stand out in a crowd of smartphone accessories with their build-quality and minimalist designs. For many, Apple and its products are thoughtfully designed without tacky or unnecessary elements, which makes them perfect for work-to-play transition.
The best iPhone accessories are undoubtedly original Apple iPhone accessories. The company puts their gadgets and accessories through stringent tests to ensure high customer satisfaction. When you purchase, say, an original iPhone charger or Apple AirPods with a charging case, you can be sure they will deliver high performance without causing you or your iPhone any damage.
Here are our recommendations for Apple iPhone original accessories that you should invest in.
Apple iPhone Case and iPhone Cover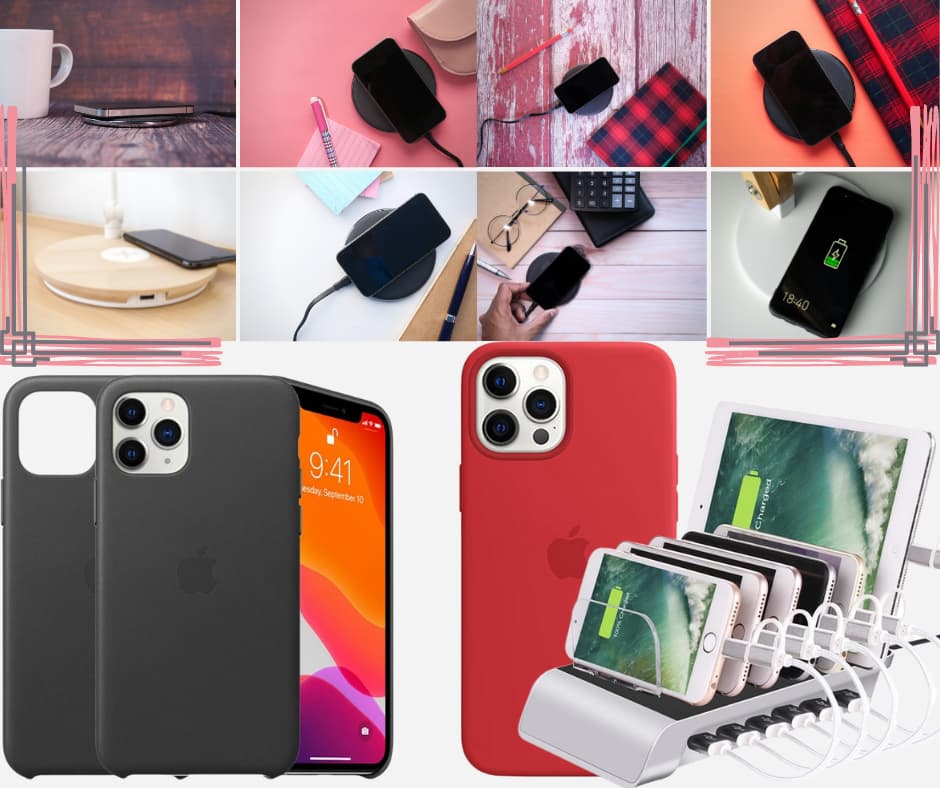 The stylish design of an iPhone is worth showing off. But leaving the exterior of your iPhone exposed also makes it easy to get scratches and scuff marks on it. That is why having a good quality cover or case can make a huge difference. And the unique design of the iPhone does not get hidden away by these protective accessories.
Original Apple iPhone case reviews will let you know about their exquisite quality and durability. There are plenty of choices as well. Whether you prefer the classic look of a leather iPhone case or something funky with a pop of colour, you will find an original Apple iPhone case that meets your requirements.
Since wireless charging has become popular, as well as being a safe charging option in public spaces (check out "Answers to All Your Wireless Charger and Charging Questions" to learn more), cases and covers that do not interfere with it are important.
Take, for example, the iPhone 11 Pro Apple Leather Case, which comes in a variety of colours for those that like a twist on the classy material. Its ultra-slim design is lightweight and features an inner lining of microfibre that does not scuff your iPhone. You can keep this cover on your iPhone while using a Qi charger.
Another great choice from the Apple accessory collection is the vibrant and stylish iPhone 12 Pro Max Apple Silicone Case that works perfectly with Apple MagSafe iPhone chargers and accessories. It feels amazing to the touch and comes with integrated magnets that ensure a strong hold when using a MagSafe charger.
You can learn more about charging with cases in our post, "Relieving All Doubts About Wireless Charging with A Case".
Apple MagSafe charger, Power Adapters and Lightning Cables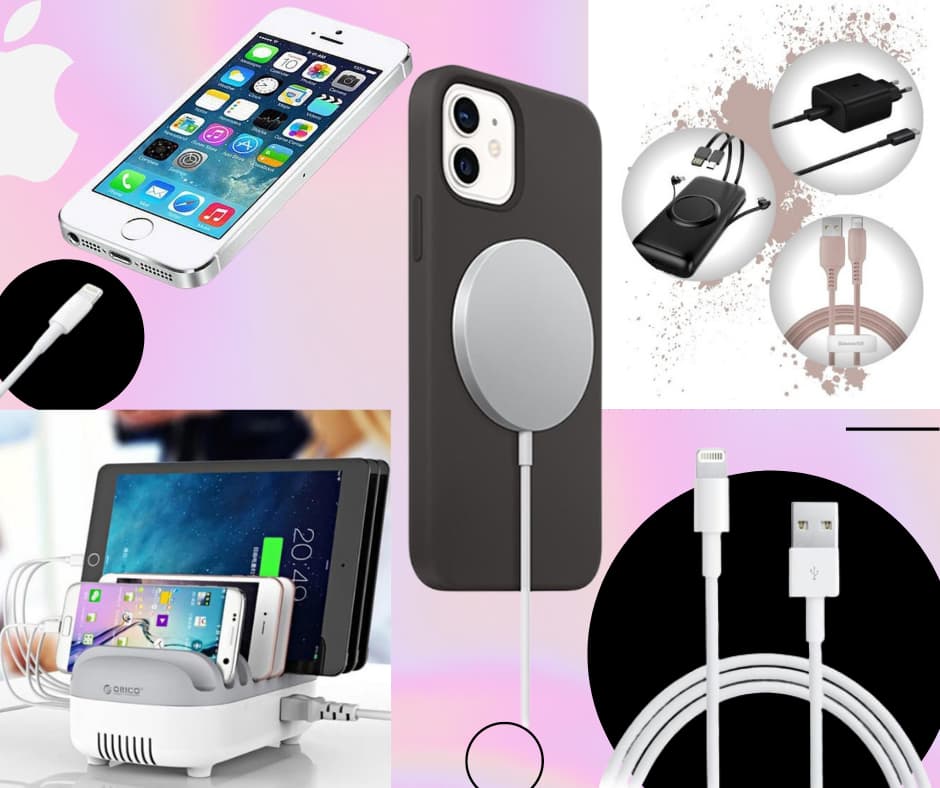 Apple uses a patented cable for the majority of its devices. The lightning cables are a must for many iPhone models, though a shift to USB-C type connectors is expected across the whole range of Apple products. Learn more about USB-C charging cables with the "USB Charging Guide: Find the Right USB Charging Cables and Chargers."
Depending on your device and adapter, your cable choice could be an Apple MD819ZM/A lightning to USB cable which comes with a USB 2.0 connector on one end, or an Apple Lightning to USB-C Cable that supports faster charging with the right power adapter. We highly recommend opting for an original Apple iPhone charger cable if you do not want to deal with overvoltage or other similar issues.
But as you know, the latest series features MagSafe charging, which makes the Apple MagSafe Wireless Charger a must-have. This wireless charger comes with an integrated USB-C cable to connect to a power adapter. Once the charger is connected, all you need to do is place your iPhone on it to initiate charging.
Wireless chargers are safe, if not safer than wired charging. While both types of charging come with built-in safety features, the ease of using a MagSafe charger outweighs all else. Additionally, it is much safer to use a wireless charger than to connect your iPhone to a lightning cable in a public space.
Apple's wireless chargers can also be used to charge AirPods Pro and AirPods with a Wireless Charging Case (2nd generation)!
Apple AirPods, EarPods, and Other Audio Accessories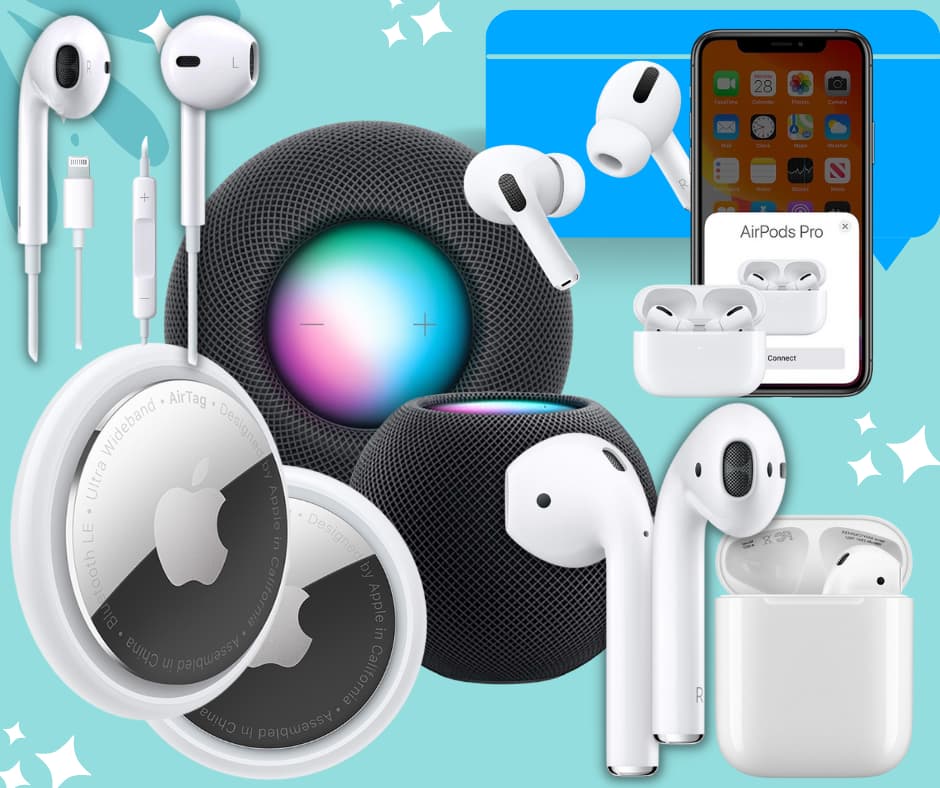 You won't find a 3.5mm audio jack on your iPhone, and hence Apple EarPods with a lightning connector is the only option. Apple's EarPods are designed to give you the best experience whether you are listening to music or taking calls. They come with an integrated mic and control buttons that make it easy to manage your calls and music playback.
But if you aren't a fan of wired tech, then the Apple AirPods 2 is a great choice. It comes with a charging case that makes it easy to store and also boosts the battery life. Want more features with your AirPods? Then why not try the Apple AirPods Pro. Both AirPods feature an integrated mic that allows you to take calls and also activate the Siri virtual assistant.
With the Pro version, you get advanced features like Active Noise Cancellation, Transparency Modes, and gesture controls. These true wireless earphones work not only with your iPhone but also with your Apple iPad and Apple Watch.
Other Apple Accessories
Apart from the above-mentioned Apple iPhone accessories, Apple offers a variety of other products that can be used with your iPhone.
Take, for example, the Apple HomePod Mini Bluetooth speaker. It is a great piece of Apple tech to have in your home or office. This speaker can be used in combination with your iPhone to control smart home accessories, or it can be used as an intercom. Its sophisticated design and plethora of functions make it a great addition to your growing Apple family.
An even more useful accessory from Apple is the Apple AirTag. Whether you are forgetful or want extra security while travelling, this Bluetooth tracker pairs with your iPhone (iOS 14.5 or later) and allows you to find lost items. You can even ask Siri to find the AirTag or use the Find My app to ping this gadget's location.
Accessorise Your iPhone with Genuine Apple Products
Apple offers many more useful and fun accessories for your iPhone, such as an Apple MagSafe Wallet, Apple AirTag keyrings, or an Apple MagSafe Duo charger that lets you wirelessly charge up to two MagSafe compatible devices at once.
You can discover Apple products and more with our huge collection of smart gadgets and other tech. If you are feeling confused, get in touch with us to get all the assistance you need when buying an Apple product, or to learn some helpful tips!