Can you bring your power bank on a flight?
Has a power bank become a big and important part of your life? It is without a doubt your inseparable friend wherever you go. You simply cannot imagine the day without using your dear mobile phone or tablet? Then you know how important it is to keep it fully charged around the clock.
Are you planning to go on a flight any time soon? Beside ensuring that your external battery is compatible with your iPhone 13 Pro Max case, iPhone 13 Pro case, iPhone 13 case, or an iPhone 13 mini case, you are probably wondering if it is allowed on the airplane. You will need your device charged as soon as you land, especially if the journey lasts long.
You can stop worrying because we have a good news for you: Yes, power bank is allowed on the flight!
Rules and guidelines that apply to power bank on airplane
Before packing for the trip and arriving to the airport, you should inform yourself of all the rules and guidelines that apply to external battery sources such as power banks. As you already know, all airlines have many rules that must be observed so that all travelers can enjoy a safe and secure flight. Emergency chargers are also no exception. Some rules and guidelines may vary depending on the departure and arrival countries, but the majority of them applies to all countries.
Read out our infographic checklist to find the most common rules:


? Kopiert til utklippstavlen
According to the Transport Laws, in order to be able to carry a portable charger with lithium-ion batteries on board, the batteries must be less than 100 Wh and contain less than 2g of lithium.
You can count how much Watt hours (Wh) your portable charger has according to the following formula:
mAh/1000 x V = Wh
The mAh (millimeter hours) shows the capacity of your emergency charger ie measures electrical power per hour. V is nominal voltage ie the difference between electrical potential on both ends: fully charged and fully discharged battery.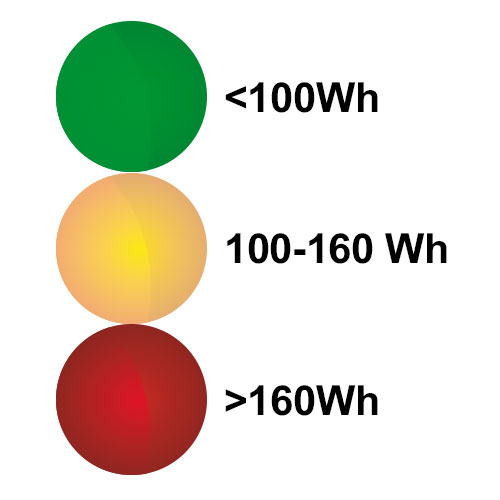 Watt hours show how much watts the batteries can supply your unit per hour and generally applies to different types of batteries. According to a number of regulations, the manufacturers are also required to label their products with Wh since 2009, so most models should have this information either on the case or in the manual. The limit of 100 Wh often applies to models with a capacity of up to 27000 mAh and voltage between 3.6 - 3.87 V.
If the power banks are over 100 Wh, it is still possible to carry them on board. This applies to the batteries with a strength of between 100 - 160 Wh. If that is the case, you have to apply for approval from the airline and you must not take more than two products. This often applies to the models that are between 27000-40000 mAh.
In some cases, you can also get approval for a large power bank of more than 160 Wh, but in this case it is regarded as dangerous goods and must be transported in a special space and requires additional costs. Conditions for such transport are determined according to IATA regulations. Fortunately, such models are very rare.
Most portable chargers have different certifications such as CE, RoHS and FCC, but UN 38.3 is the most important certificate it must have if you want it with you on board.
For safety reasons you should have your battery bank in hand luggage and protected against short circuit. You do this by taping over ends or using integrated protection if available. It is also recommended to pack it in its original packaging and if you choose to have several portable chargers, you should pack them separately.
Powerbank in a checked baggage: Why not?
Do you wonder why an external battery should not be checked in?
Do you remember China Southern in February 2018 or Lufthansa in the summer of 2017 when powerbanks started burning in these cabins? Just think of what could have happened if these were in checked baggage where various flammable objects were lying and there was no one who could prevent fire in the cargo area ... It doesn't sound so good, right?
Regardless of how much a power bank is safe and have different certificates, some chemical reactions can occur unexpectedly. These can cause explosion and fire. In this case, these require rapid reaction and proper handling so that large damage can be prevented and that all travelers can land at their planned destinations safely and on time.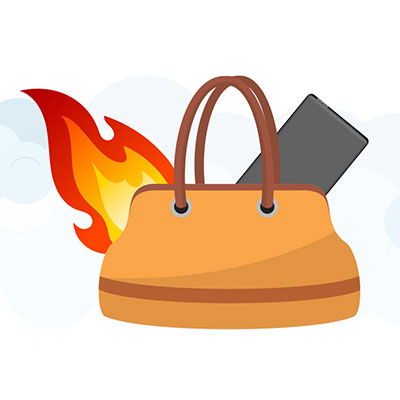 Now you are ready to fly with your power bank!
All of the above rules and restrictions apply to most well-known airlines in the UK such as Virgin Atlantic, British Airways, FlyBe, Jet2.com and EasyJet.
As soon as you check in and get on board relax and enjoy the trip that take you to your favorite destination. You can enjoy your fully charged device throughout the trip and capture your fun memories in picture or video. If you need any information, we are sure that your airline will help and if you need additional information about a particular power bank from our range, you are most welcome to call or email us!